Creating a quality product your community will want to use over and over again is the underlying goal of a Bonfire campaign because selling more t-shirts, mugs, totes, or hats is how you're going to reach any other goals you set out to achieve. This chapter explains how to design a quality product with Bonfire that your community will love. As you work through the steps of this chapter, we'll be referencing some of the ideas you nailed down in Chapter 1, such as your campaign goals and your knowledge of your community. So, keep those close to reference as you move through this next chapter.
Create Your Design Brief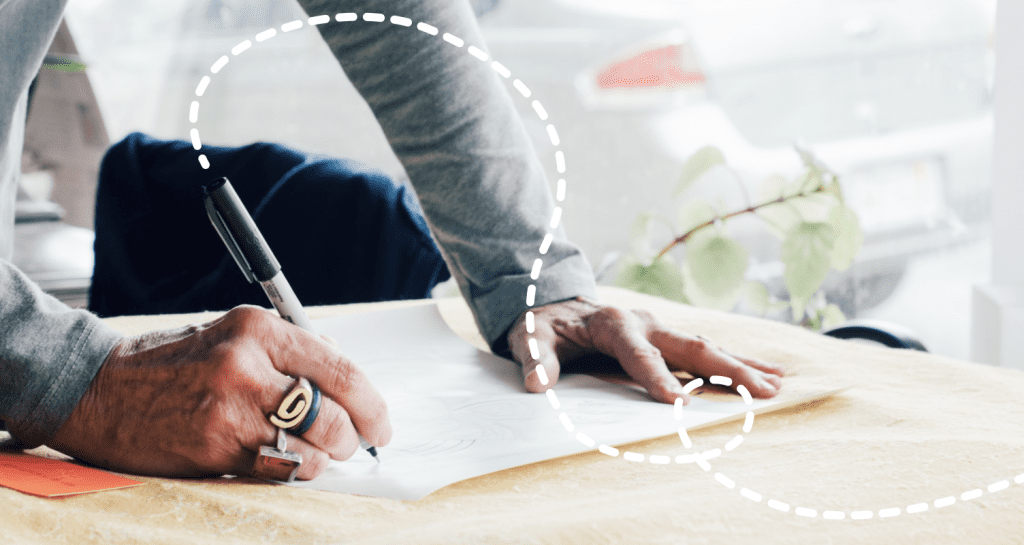 The first step of creating the products you want to offer is to lay out your design brief for the products that need to be created. A design brief is the guiding document used by your designer to create your artwork files. It will have all of the details about what you are looking for in your designs, in one cohesive document. Do this in collaboration with anyone else who is involved in or has the final say in your products and design. The design brief will be the road map for the designer of your products, so you want to make sure it's on the right track before you hand it over to the person designing your products. Here are some of the things you'll want to decide on in order to fill out your brief effectively:
Select the Products You Want to Sell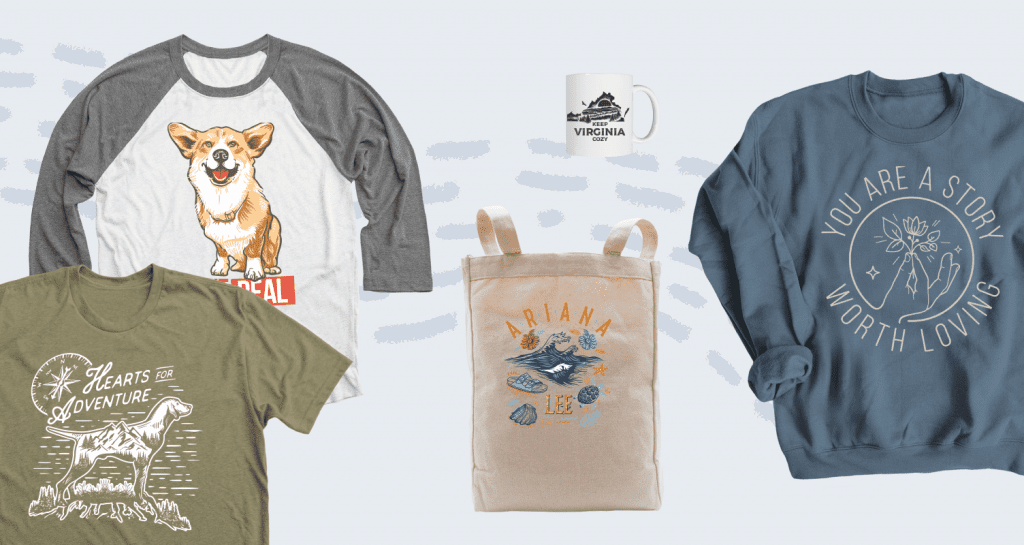 Bonfire has a broad inventory of premium custom apparel items as well as tote bags, mugs, hats, and more. We source top-notch products that your community is bound to love. As you look through our product catalog, think about what products would be most desirable for your community. Also think about your goals — if your primary goal is to make as much money as possible, we've found that limiting product choices helps your buyers convert at a higher rate and avoid decision fatigue.
Select the Product Colors You Want to Offer
It's important to have a general sense of what types of products you want to print on before the designer starts. The shirt colors chosen will likely affect the ink colors selected, so make sure you think through what shirt colors are non-negotiable in your product offerings.
Another way to approach this choice is by thinking about what t-shirt styles and colors your community prefers, as well as what the core purpose of these products will be. Statistically, we sell more dark shirts than light shirts, which means Charcoal, Black, and Navy are safe, neutral fan favorites. But, if you're designing products to be worn outside in the heat of a Texas summer, you may want lighter t-shirt colors to keep your buyers cool.
Determine Ink Color Count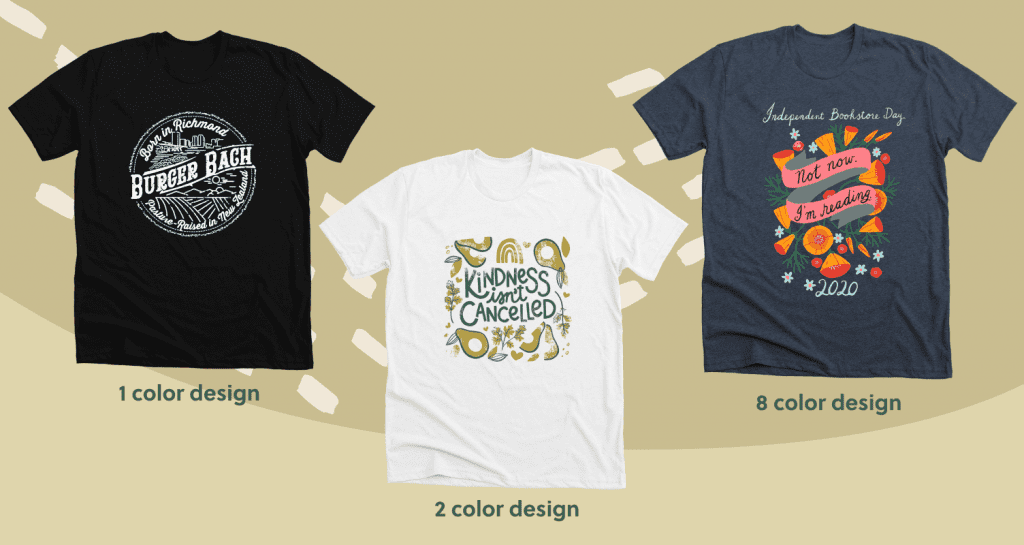 The number of ink colors you choose to use in your apparel designs will set the base cost of the products. Going back to the goal of your campaign, if you are looking to raise maximum funds, or keep the overall cost of shirt productions low, you'll want to limit your ink colors to 3 or less. The shirt that will raise you the most funds is a 1-color, 1-sided shirt. But don't worry, you can still make an awesome shirt even if you need to stick to one color. To learn more, read our guide about how you can make an amazing 1-color t-shirt design.
Set Visual Element Requirements 
As you complete your design brief, take some time to determine the words, imagery, logos, or colors that must be included in your t-shirt design. It's important to have a list of guidelines around your design so that you have a starting place when you begin your creative process. But it's also important to ensure all key decision makers have the opportunity to be involved in this step of the process, especially if you are creating these products within a company, nonprofit, or organization.
Gather Design Inspiration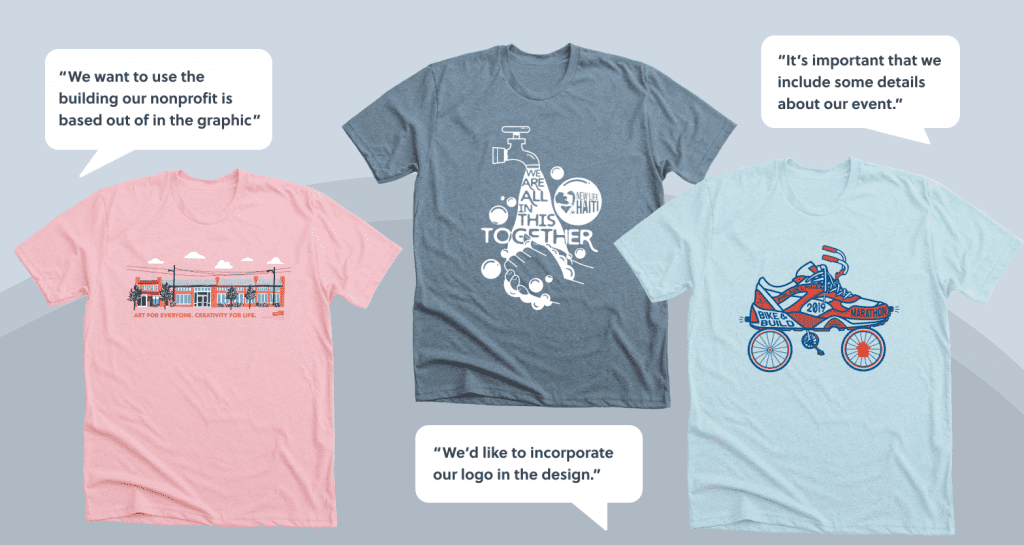 When it's time to start designing your products, it will help the designer to have a few images to work off of that show the general aesthetic you are drawn to and looking for in these designs. Think of it like music: for many, it's easier to select a few songs to define a genre of music they enjoy, than to find the specific words or phrases to define the genre they like.
Gather images of other t-shirt designs you like to help you communicate the type of style you want to go for with your designs. You can find inspiration by exploring some of our favorite designs on our Instagram, Pinterest, and in the Staff Picks section of the Marketplace.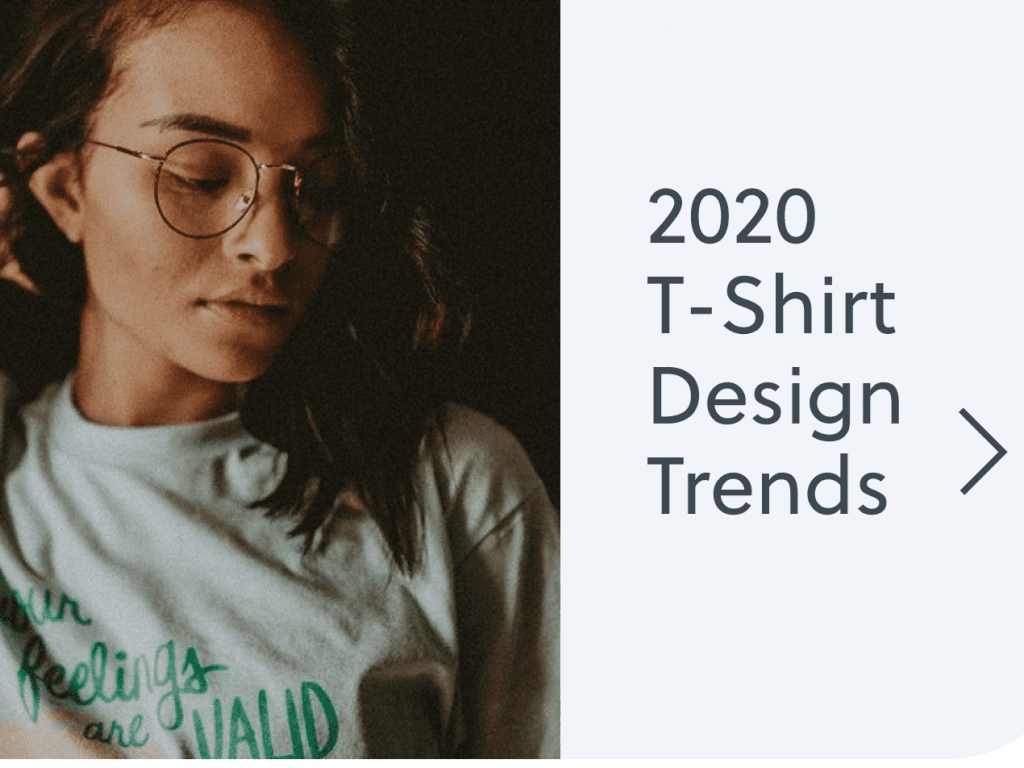 Once you have a selection of 3-5 designs that inspire you, take some notes about what you are drawn to in each one. Is there a specific illustration style or font that you would like to use? Is there an ink color pairing you keep falling for?
Finalize Your Design Brief
With all the information you've gathered thus far, compile your design brief. This will lay out everything the designer of your products will need to know in order to accurately and quickly bring your ideas to life.
While this can feel like a daunting task, the more time you invest in the design brief, the faster the design process will go, and the happier you will be with the result.
Design Your Products
Now that you've written your design brief, you need to decide which designer will be bringing your product designs to life. There are three ways to get your products designed with Bonfire: designing the product yourself, hiring a designer, or using Bonfire's collection of free, customizable design templates.
Designing Your Products Yourself
Taking on the design piece of creating products on Bonfire doesn't have to be difficult. And you don't have to sacrifice the design quality, either! Here are some tips for you if you've chosen to design products yourself:
Use current and existing assets
Do you have access or rights to brand creatives, typography or art files? You can reuse and repurpose creatives you already have, like brand logos and marketing illustrations. These assets already contain styles, typography and color palettes that resonate with your audience. If you're creating custom shirts for your business, or organization, sticking with the imagery and colors of your brand is a great place to start.
Use typography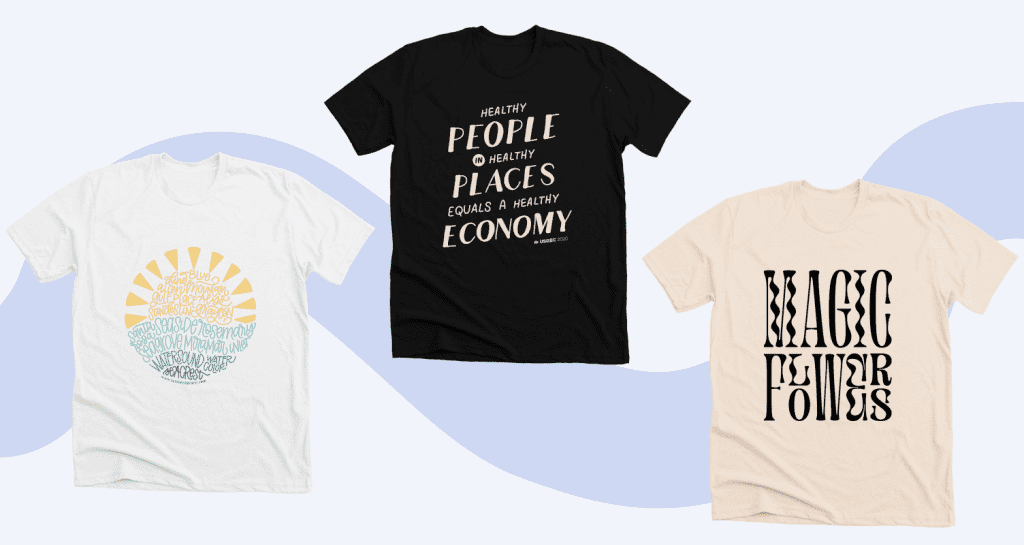 If you are looking for a low effort but high-impact design for your product, lean on typography for your artwork. Broad, appealing phrases will maximize the interest in your shirt and in turn, bring in more sales. Typographic designs are an easy way for anyone to create an awesome t-shirt design, without any expensive design programs.
You may already know of a word or phrase that will connect with your community, but if you are unsure, think about what unites them. Design your products with these resonating words and sayings that will reinforce a sense of community around the products. Use unique fonts on your shirt to create a piece of art out of just these words or pair your phrase with other design elements and imagery.
Read Bonfire's design guides
Our blog is chock-full of so much content that can help you on your design journey. Read up on the top t-shirt design trends of the year, or discover great font pairings for your next design. We also have specific guides on how to design a t-shirt, mug, and tote bag.
If you need additional inspiration, follow our Instagram and Pinterest boards, visit our blog, or explore our Marketplace where we showcase all of the designs our community has created.
Hiring a Designer
Whether time is a valuable resource for you or the design requires more than you're able to create, many of our sellers hire a designer to bring their ideas to life. You can choose to ask around your network for help creating your graphics. Or, you can hire one of our talented graphic designers to create them for you. For as little as $49, you can get the concierge design experience of your dreams. Simply send us that design brief you pulled together, and our talented team of designers will work with you to create a design that fully embodies your vision.
Using a Free Customizable Template
If you need a free design option but also need more design guidance than a blank slate, our selection of over 500 free customizable t-shirt design templates can help ease you into the process. You can create an amazing design for your community without the need for special design software. No matter what you are creating a t-shirt for, our fully customizable templates will allow you to have a starting point, and make edits to personalize it to your specific brand or cause.
Bring Your Designs to Life in the Design Tool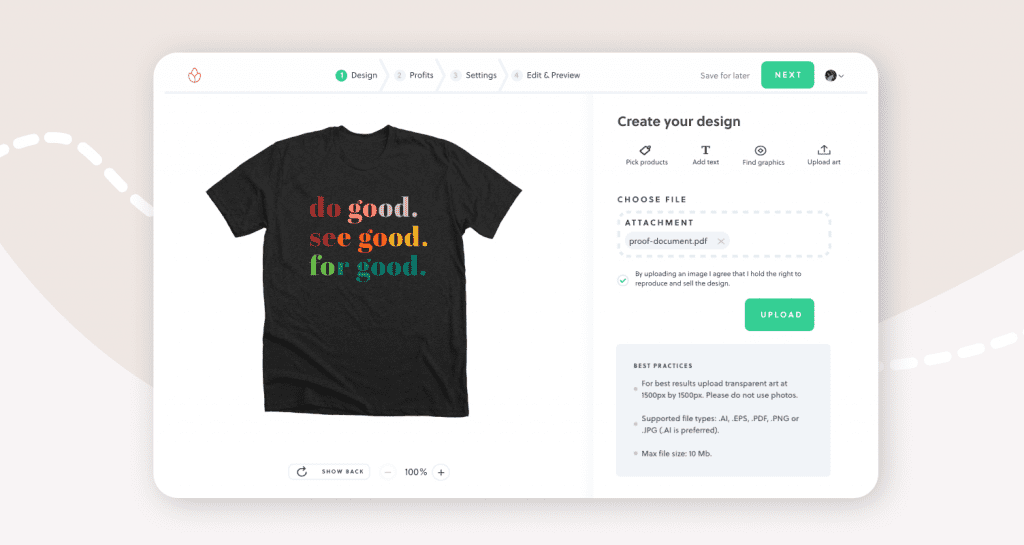 When the designs are ready, you will upload them into our Design Tool in order to prepare for the launch of your campaign(s).
If you're uploading your own custom artwork, follow these design file recommendations to make sure it looks its best when it's printed:
Upload an .AI or .EPS file with a transparent background
Export your artwork from vector graphics if you can't upload an .AI or .EPS file
Use a print file that's at least 1500px x 1500 px and 300 DPI (dots per inch)
Once you've uploaded your design, or created it within the design tool, you can select your apparel styles and colors. Our t-shirt design tool makes it easy for you to test color options out and see what looks best. We've worked hard to make sure that the t-shirt images in our design tool match what the shirts look like in real life. So, if you don't like the way your design and t-shirt pairings look online, you are really not going to like them in person.
This is a great time to ensure you like the way the designs stand out on the products you've selected. When in doubt, remember to go with selections that have a high contrast with the ink colors you've chosen. So, choose dark colored products for light designs, and light colored products for dark designs.
Another thing to remember is that certain products will require their own campaigns, since they are such different products and require different production and shipping needs. If you sell a mug or a tote, they will need to be launched in their own campaign, even if they'll be featuring the same design as a shirt.
Launch Your Campaign
Once your products are designed, you can set your prices, complete your campaign page, and launch your campaign. At this point, you can begin promoting and selling your products.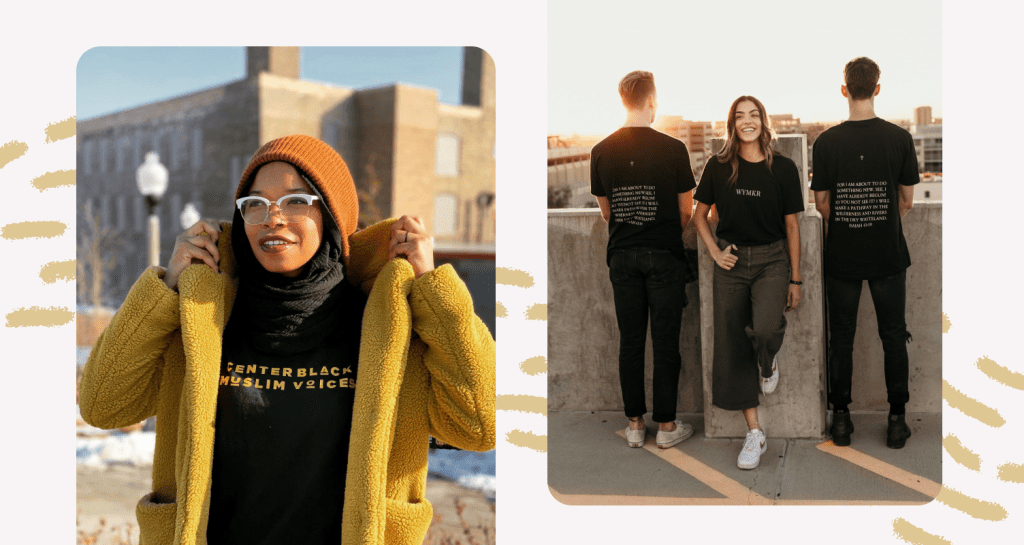 In the next chapter, we'll walk you through how to promote your campaign to your community.