Local animal rescue charities are some of the noblest and hardest-working organizations in the world. Animal rescue charities speak for those who have no voice. Whether they're saving dogs, cats, or elephants, animal rescue charities rely on the generosity of others in order to continue operating.
For animal shelters today, fundraising has changed as online fundraisers are now here to stay. To earn money for your cause, these animal shelter fundraising ideas offer examples of how your organization can connect with supporters in-person and make the most of your digital presence online. 
We'll explore 20 of our favorite fundraising ideas and events. Check out the categories below to find the best idea for your animal shelter: 
Let's get started with our favorite fundraising idea for animal shelters: t-shirt fundraisers. 
Our Favorite Animal Shelter Fundraising Idea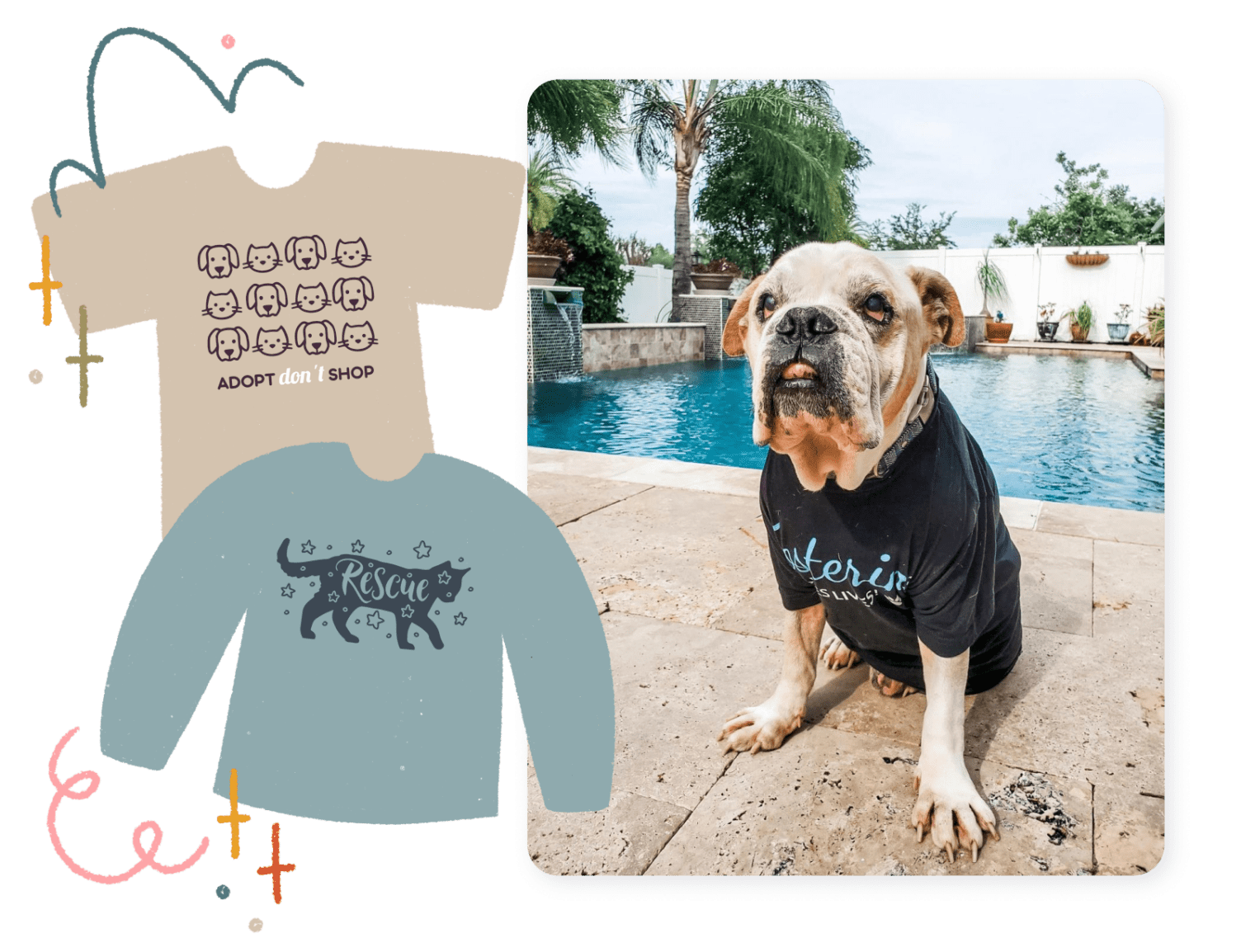 T-Shirt Fundraising
Raise funds for your animal shelter by creating and selling branded merchandise through a t-shirt fundraiser. T-shirt fundraisers can bring in revenue for your animal shelter all year long once you set up your online store. From there, supporters can purchase t-shirts with their favorite designs and wear them around your local community to promote your animal shelter whenever they go out. 
To get started with a t-shirt fundraiser, you'll need to identify your audience, design your t-shirts, and promote them. Of course, to make the t-shirts, you'll need to partner with a t-shirt fundraiser like Bonfire. 
When you use Bonfire for your animal shelter fundraiser, there's no monthly subscription, no inventory costs, and no upfront costs. Our goal is to make each step of the fundraising process as easy as possible for you and your animal shelter. Other benefits include:
You can launch your campaign in five minutes or less.
You can manage your fundraising campaign on the go from any internet-connected device.
We ship all of the shirts to your supporters.
You get 100% of the campaign profits.
If you need help finding inspiration for your shirt's design, you can use one of our free customizable animal rescue t-shirt templates to get started.
Animal Shelter Fundraising Ideas with High ROI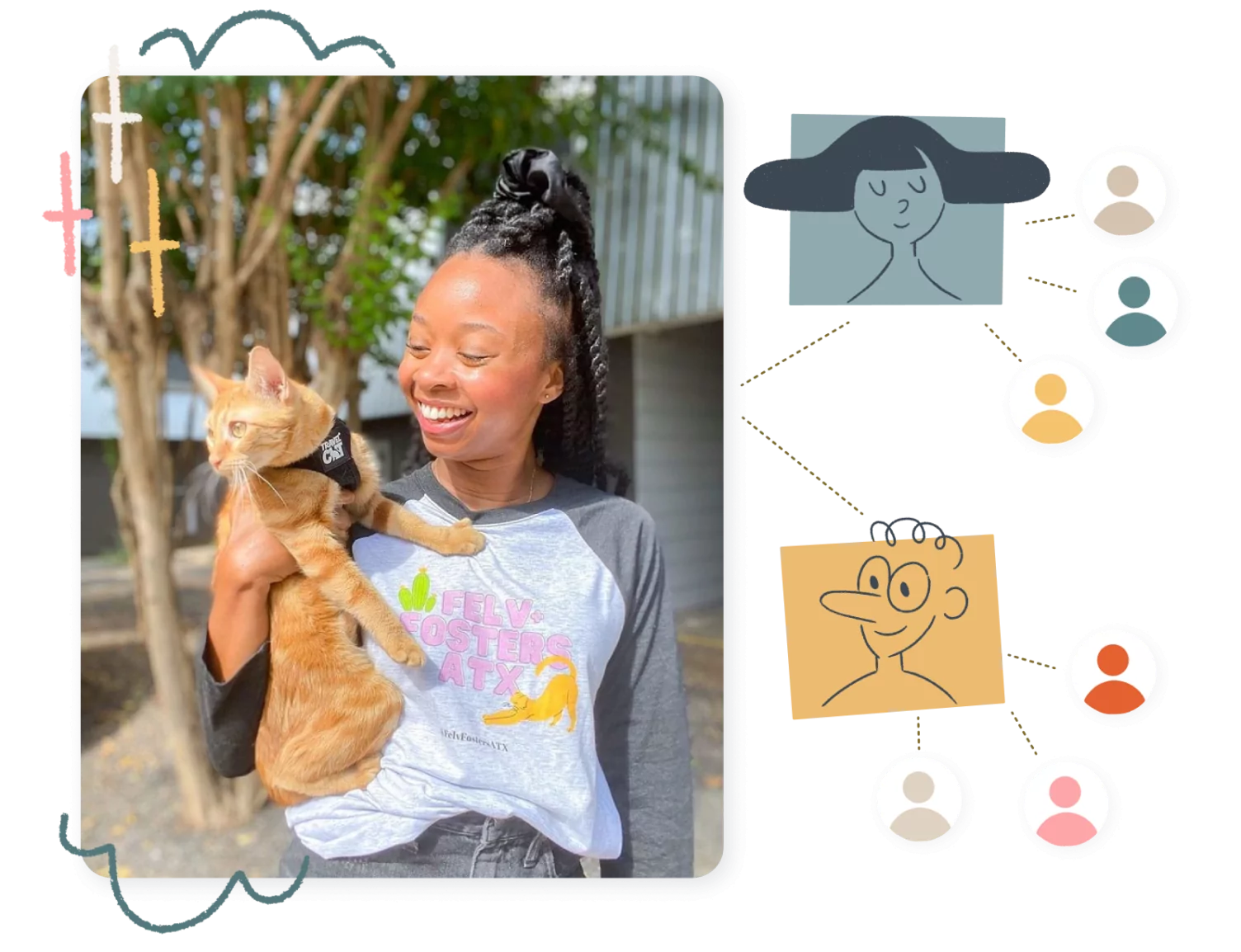 Local Business Partnerships
Dog and cat lovers are everywhere, including at local businesses. Get in touch with businesses that might be willing to partner with your animal shelter. The partner can then provide a sponsorship, help promote your fundraisers, or otherwise support your organization. 
When choosing which businesses to approach about a potential partnership, consider the:
Business type. Businesses that are focused on animals, like doggy daycares and pet supply stores, are more likely to partner with your animal shelter than unrelated businesses. 
Philanthropic history. Has the business given to other nonprofits in your area? If so, they're more likely to give again to organizations like yours. 
Connection to your shelter. Does anyone at your animal shelter know someone who owns or can put you in contact with a business owner? If so, that connection could be your foot in the door to starting a partnership. 
Your best bet is to find businesses that hit all three criteria. From there, make your pitch by explaining how your shelter can help them in return by earning them good publicity. 
Local News Agency Partnerships
Some animal shelters have partnerships with local news agencies. While the partnership may not raise funds directly, it can help spread awareness about your organization and potentially get more pets adopted. 
To partner with a local news agency, get in touch with your local paper, radio station, or local news station. It helps if you have a connection first, but you can also generate news attention by hosting events, creative fundraisers, and other activities that will attract your community. 
Silent Auction
Silent auctions can require a lot of upfront preparation, but in return, your animal shelter will have the opportunity to earn a significant amount of revenue and even potentially strengthen your relationships with local businesses. 
To host a silent auction you'll need to follow these steps:
Assemble an event team 
Recruit volunteers 
Procure items 
Book a venue
Promote your event
Host your auction 
Follow up afterwards 
The most tricky part of hosting an auction is often the procurement process. Consider what types of items are likely to receive many bids, such as unique items that can't be easily bought at a store like experiences, such as horseback riding lessons, a massage, or even a vacation getaway. 
Reach out to local businesses to request items for your auction. Just like with finding a sponsor, organize your list of potential contributors based on their likelihood of giving, as well as how much value their potential contributions have. Then, start by reaching out to your lowest priority sponsors to help your procurement team to practice their pitch as much as possible before approaching high-value sponsors. 
Peer-to-Peer Campaigns
Peer-to-peer campaigns are fundraisers wherein your animal shelter's supporters will collect donations on your organization's behalf by reaching out to their friends and family. When making their pitch, your supporters can share their personal reasons for why they support your animal shelter. Then, donors will contribute to a fundraising page set up specifically for that supporter so they can donate to them as directly as possible. 
You can take your peer-to-peer campaign to the next level by turning it into a t-shirt peer-to-peer fundraiser. During this campaign, your supporters will raise funds by selling custom t-shirts. They can design these t-shirts themselves to help show off their connection to your shelter and create a sense of unity among their friends and family, who will all sport matching t-shirts in support of their loved one. 
Donation Matching
Your animal shelter can potentially double some donations you receive with donation matching. When an employee who works for a company with a donation-matching program donates to your shelter, they can apply for a matching gift grant to have their employer contribute as well. Most employers will match the gift 1:1, but some will have different rates and rules for donation matching. 
You can tap into donation matching by encouraging your supporters to research if their employer has a matching gift program. From there, provide them any assistance they'll need to complete their donation matching form. 
As many of your supporters likely won't be familiar with matching gifts, make sure to promote this fundraiser on both your donation page and through email to get the word out and provide any needed directions. 
Animal-Centric Animal Shelter Fundraising Ideas
Dog Training Class
If your animal shelter has a connection with someone who has dog training experience, consider hosting a dog training class for people who are thinking about adopting. This is a great way to get potential adopters to start interacting with the animals and to be more prepared for when they actually own a dog. Plus, your shelter's dogs can get a bit of exercise, too!
To hold training classes, ensure you have a large enough space for the trainers and dogs to work and a qualified dog trainer to lead the classes. You'll also need waivers for participants to sign if they're working with shelter animals.
Dog Wash Event
Host a day of dog baths and cleanings for a small fee. Gather necessary supplies, recruit volunteers who are comfortable handling and washing animals, and choose a good day for your event with lots of sunshine. 
If you're hosting an event like a dog run/walk, consider hosting your dog wash shortly afterwards. Participants who joined in your last event will likely appreciate the opportunity to get their dogs squeaky clean after a day of exercise. 
Dog Walks and Runs
5K walks and runs are particularly popular with animal shelters because participants can bring their dogs with them. You can walk dogs from the shelter or invite participants to bring their own pets. 
There are several strategies for monetizing your event, such as:
Make it a pledge fundraiser. Instead of hosting a straightforward walk or run, consider turning it into a walkathon where participants will collect pledges from friends and family, then walk as much as they can with their pets on the day of the event. 
Charge an entry fee. When participants sign up, charge an entry fee. This can help guarantee you raise a certain amount of funds with each participant rather than relying solely on donations.  
Sell merchandise. Athletic-based events like 5Ks are a great opportunity to sell merchandise and concessions. Set up a booth to sell t-shirts, snacks, water bottles, hats, and any other merchandise your animal shelter has created for your event.  
5Ks are also flexible events that can be hosted virtually. During a virtual 5K, participants will track their own progress, but your animal shelter can still collect registration fees and pledge donations and even promote merchandise on your online store. Plus, when hosted virtually, participants can run with dogs in whatever location their pets are the most comfortable. 
Sponsor-a-Pet
Your animal shelter can raise funds for specific pets with special needs, such as veterinary costs, by hosting a sponsor-a-pet campaign. With sponsor-a-pet, donors will be able to donate to support a specific pet's care, helping to forge a bond between your supporters and your shelter's animals. 
To promote your sponsor-a-pet campaign, create a page on your website with photos of several different pets available for sponsorships. Write a description for each pet discussing their behavior, things they like, and what their needs are. To help build an emotional connection, you can even write these descriptions in the voice of each featured pet!
After sponsors choose a pet, send them regular updates on how the pet is doing, such as if they are recovering well after a surgery or simply did something cute (especially if you have a photo of them doing it).
Pet Photographs
Pet owners love taking photos of their cats, dogs, and other furry friends. Some of them may appreciate the opportunity to have a professional photograph taken that showcases their pet's best side, too. 
To run a pet photographs fundraiser, you'll first need to have someone who can take the photographs. This could be a member of your staff or volunteer with some photography experience or a pet photographer who is willing to donate their time or work at a reduced rate. 
From there, you'll need to set up a location for the photographs, such as a studio or outside in a more natural environment. After supporters come in to have their photos taken, the photographer can edit them and send out portraits based on what sized photographs each customer ordered. 
Pet Yoga
Pet yoga is a trendy way for dog, cat, and even goat lovers to exercise around a few furry friends. Essentially, during pet yoga, a yoga instructor will lead a class through exercises while pets are present to both help relax and entertain the participants. 
To host a pet yoga class, you'll need to reserve a space, ensure you have enough yoga mats or at least a suitable floor for both yoga and animals, and recruit a yoga instructor ready to lead your participants. Also, make sure the animals you choose to bring to your yoga sessions are calm, friendly, and have handlers to watch them. 
Creative Animal Shelter Fundraising Ideas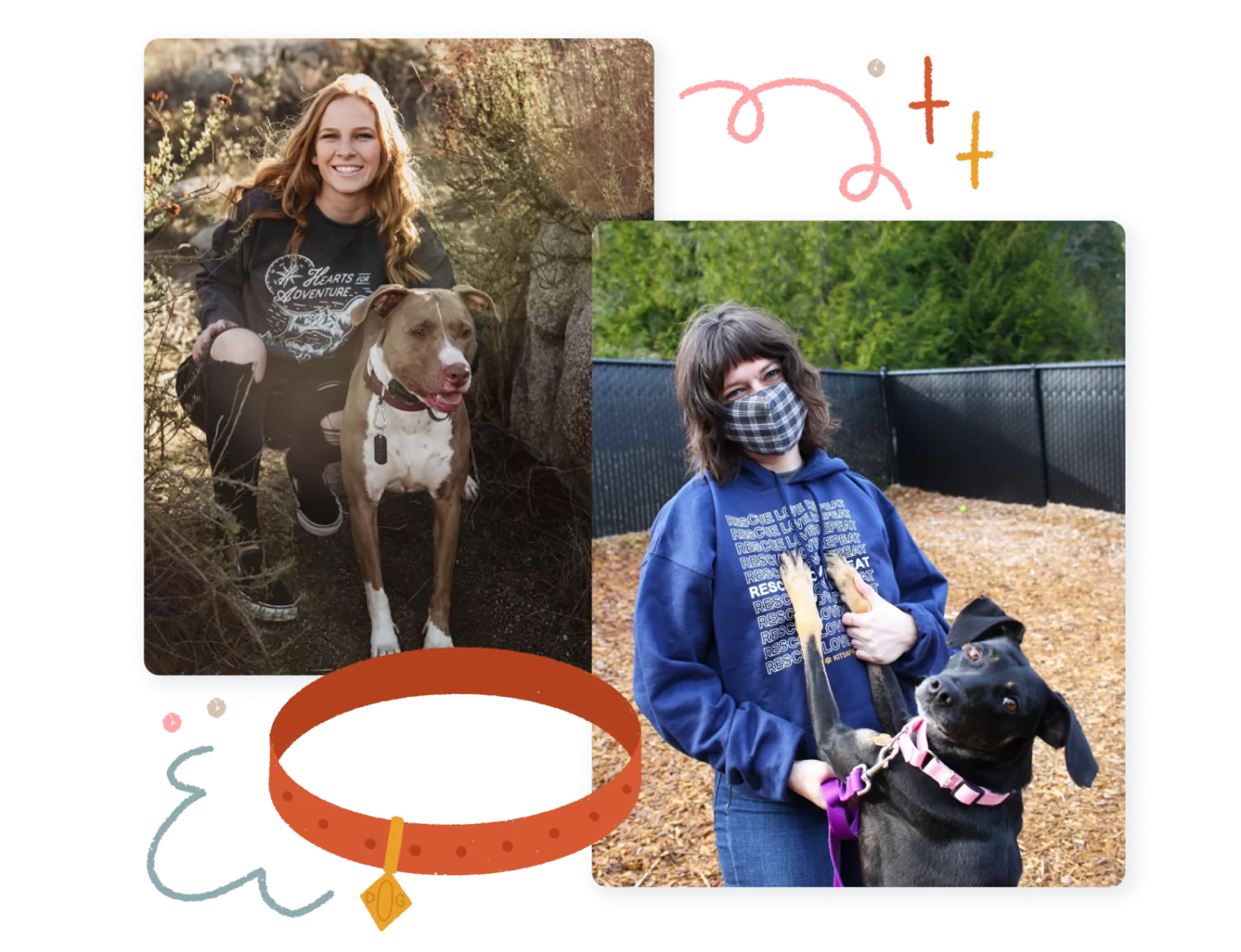 Storytelling Contest
Cat and dog owners love to share stories about their pets. Why not reward them for their stories? Set up a contest on social media and ask cat and dog owners to share their favorite  pet story. Reward the best stories with prizes or challenge participants to collect the most likes, comments, or other votes on an external poll. You can charge an entry fee for the contest or simply ask for donations. 
When hosting your contest, set up guidelines for content entries and ask participants to alert you when their story is live by tagging your animal shelter's social media account. 
Charity Boxes
Charity boxes are essentially decorated donation jars that supporters can drop a few dollars into every time they see one. For your animal shelter, create charity boxes with images of adoptable pets. Then, spread them around to local businesses like grocery stores, convenience stores, and ideally, as many pet-themed businesses as possible. 
Donations made through charity boxes are meant to add up over time, and animal shelters can earn even more by timing when they put out and collect their boxes' earnings. For example, adding charity boxes to a local pet supply store around the holidays might bring in some extra presents for your shelter. 
Treadmill Relay 
Treadmill relays are a great winter-friendly fundraising idea that offers people a way to be physically active indoors to support your animal rescue or charity.
To raise funds, have participants donate for each minute that they run, or you can offer them a flat rate for a given time slot.
For your treadmill relay, you'll first need to find enough treadmills to use during the event. Try partnering with a local gym and either host it at their location or arrange to have the treadmills transported to a different location. In exchange, your animal shelter can help promote the gym to give them a publicity boost for helping a good cause.
Dog Treat Bake Sale
Dedicated pet owners, specialty shops, and hobbyists enjoy creating homemade dog treats, and many pet owners who don't will likely be excited to buy handmade, high-end treats for their pets. You can bring these groups together by hosting a dog treat bake sale. 
Determine your date and location, then invite local shops who make their own treats and anyone else who wants to share their recipes with the world to participate. Decide how you'll raise funds during your event before getting in contact with potential sellers. For example, you could have a portion of sales go to your shelter, ask sellers to pay a fee to participate, or simply set up donation boxes around your venue and ask both sellers and buyers to make a donation some time during the event. 
Animal Calendar Sales
Do you find yourself looking at the amazing animals you're around so often and saying "these are some really photogenic pets"? If so, creating a calendar featuring all of these furry friends is a great way to raise money for your organization and to market animals that are up for adoption.
For each featured pet, add their name to the photo and other fun details that may help them find a new home. Be sure to take the pictures far in advance of when you intend to start selling the calendars, so you'll have plenty of time to edit them and put the calendar together before the start of the new year. Then, to promote your calendar, choose a few images to preview to show off your quality product and get them excited to see which pets are featured for each month. 
Charity Car Wash
Car washes are an easy way to raise money for all types of organizations. Bring your animal shelter's pets to your charity car wash and let drivers interact with them while their cars are washed. Drivers get to hang out with cute animals, and they leave with a clean car.
Recruit volunteers who don't mind being wet and will also be able to help handle your shelter's animals to ensure all experiences with drivers are positive ones. 
Ice Cream Social
During spring and summer, you can help your local community cool off and raise money for your shelter at the same time by hosting an ice cream social. Ahead of your event, ask guests to register so you can get a headcount to determine how much ice cream you should have on hand. 
Along with the ice cream, determine what else will happen at your social. It could just be an opportunity for community members to chat with one another, or you could allow pets to attend—whether from your shelter, ones that belong to attendees, or former shelter pets that found a home in your community. 
---
The hardest part about fundraising is choosing what fundraiser to do. That's why we always recommend choosing fundraising ideas that not only suit your needs but also get you inspired. At the end of the day, you want to be excited when promoting your campaign to raise money for your animal shelter.
Ready to start raising money for your shelter?
Launch a free apparel fundraiser on Bonfire! There's no inventory required, and you keep 100% of the profits.