If you've been considering making merch to help expand your brand, you've come to the right place! Whether you're a musician, artist, influencer, YouTuber, or any other type of online creator, it's time for you to design and produce your own custom merchandise.
At Bonfire, we make it incredibly easy for creators like you to design, sell and ship your branded merch. Our print-on-demand services do the majority of the work for you. Once your Bonfire merch store is up and running, you'll get to enjoy all the perks of selling your own merch—and you'll get to keep all the profits, too!
We've put together everything you need to know to design and sell custom merch on Bonfire. With these simple steps, your store will be up and running in no time.
Why You Should Make Custom Merchandise
Selling custom merch provides three solutions in one: promoting your brand, fostering stronger connections with your followers, and raising funds for your next project! It's a win, win, win. Your fans will love the chance to support you directly and get something awesome in return.
Ready to jump right in?
Start making your own premium custom merch for free on Bonfire.
How to Make Custom Merch
When it comes to designing your merch, you want to make sure you know why you want to make merch and who you are making it for. Here's our advice on streamlining your ideas to create the perfect merch for you and your fans.
Clarify Your Brand Identity
Do you have a recognizable brand identity? If you've been marketing yourself for a while now, you most likely do, but if you're just starting out, you might still be developing your brand identity. Either way, it's valuable to spend time thinking about what makes your brand unique. This will help you clarify your vision and overall aesthetic, and make sure your merch designs accurately reflect your brand.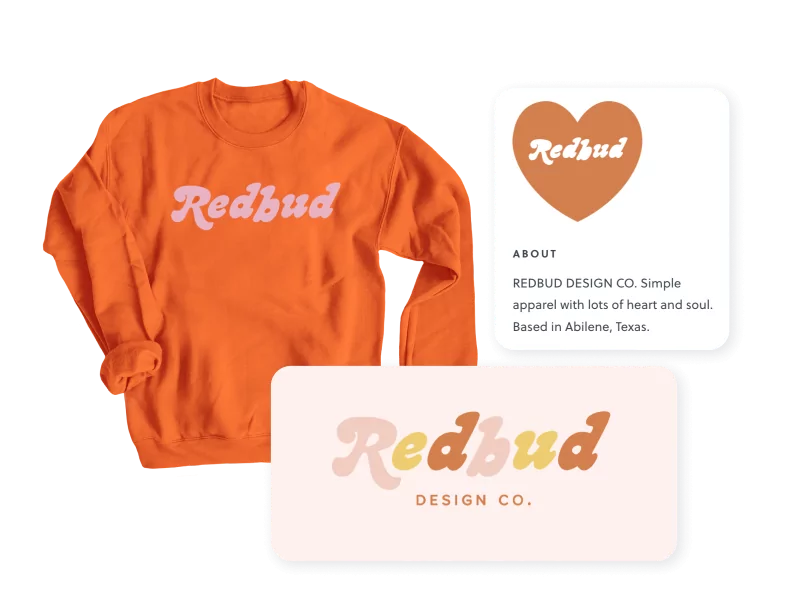 Understand What Your Audience Wants
Now that you've determined your brand identity, it's time to focus on your audience and get to know them better! Your audience for your custom merch consists of your followers, fans, supporters, or customers. Even though you may feel as though you have a pretty good understanding of your audience, making merch that they will truly love requires digging a little deeper into who your audience is and what they want.
Start by asking yourself the following questions:
Who do you hope will buy your custom merch?
Where and how do you typically interact with this audience?
What do they value about you and your work?
Are there any running motifs, jokes, or catchphrases your audience loves and would enjoy seeing featured on your merch?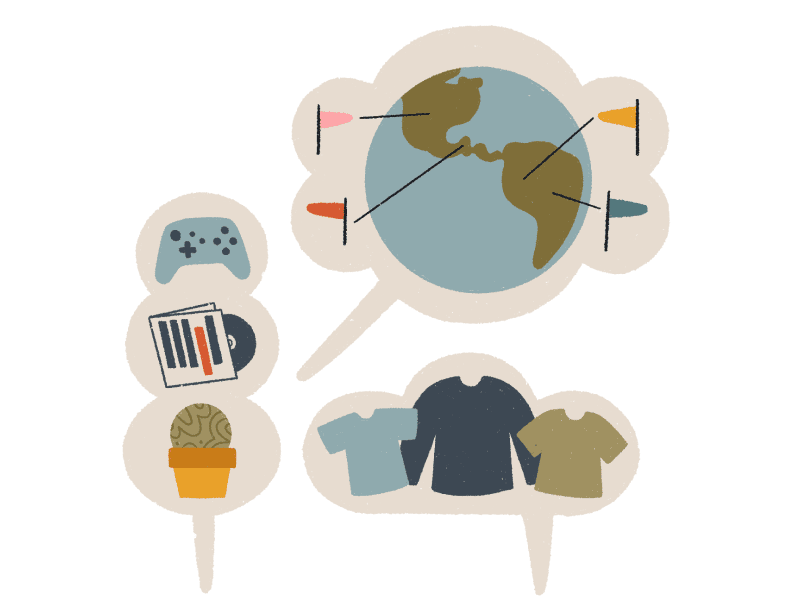 After you've answered these questions for yourself, consider asking your audience questions directly to learn even more! Here are a few ways you can do that:
Create polls on Instagram that ask your followers to help you make design decisions. Think "this or that" questions that require them to vote on their favorite out of two options at a time. Ex: Which color do you like better? Which font do you prefer? Which shirt style would you wear?
Prompt your audience to answer questions in Instagram Stories. Ex: If I were to create custom merch, would you buy it? I'm designing custom merch—what styles would you like to see? What was the last t-shirt you bought?
Collecting data on what your audience likes and dislikes is helpful for designing custom merch and is also helpful for maintaining audience engagement over time. Your audience will notice the time you are spending to get to know them, and they will appreciate it.
Design Your Merch and Select Your Products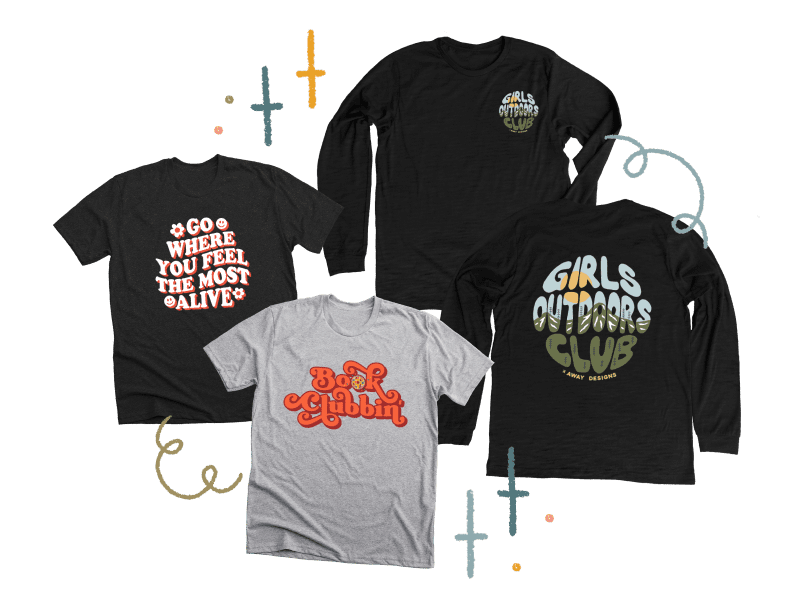 Now comes the really fun part! Using what you've learned about your audience and your goals for creating custom merchandise, you can start to brainstorm concepts and create mock-up designs. Follow some best practices to guide your merch designs. You can check out our full guide to designing the perfect t-shirt, but here are some main points to remember:
Have you decided what products you'd like to offer? If you haven't yet, browse through Bonfire's product catalog to view our wide range of available products. Depending on the products you choose, the recommended design format and dimensions may change, but don't worry—this information is readily available for each product!
Take your time to get your custom merch designs just right. Carefully refining your designs will have a huge payoff once you launch your t-shirt campaign!
Learn more about our products
Pick a Merch Platform That Fits Your Needs
There are plenty of t-shirt and design platforms to choose from, but Bonfire is the smart choice for all your custom merch needs. We provide several free and easy-to-use ways for you to create your custom designs and sell them to your audience.
Here are some incredible features that Bonfire offers:
With multiple options for selling and ordering your custom merchandise, Bonfire simplifies the entire process and offers more freedom of choice.
How to Sell Your Custom Merch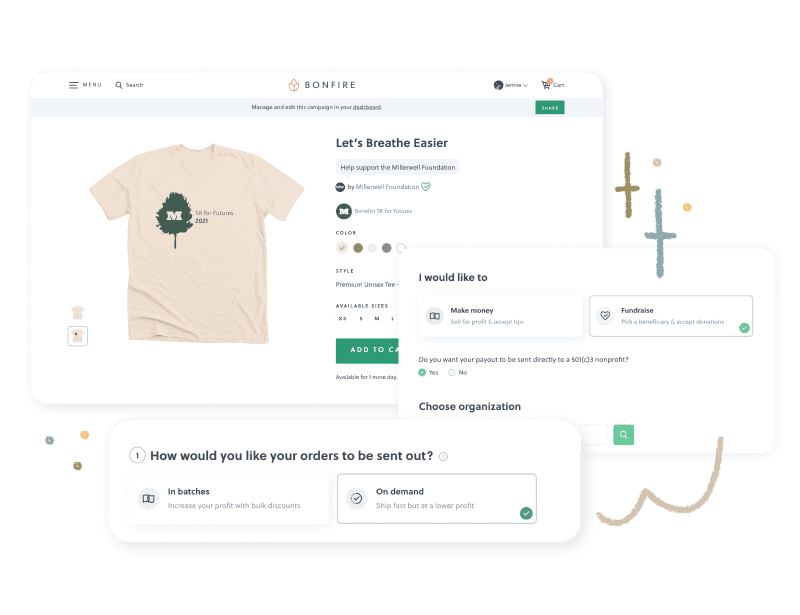 On Bonfire, there are four options to consider when making custom merch. Let's take a look and decide which one is best for you!
Sell your shirts online through a campaign. Set your prices, decide how you would like your orders to be printed and shipped, and determine the length of your campaign. You can either give your campaign an end date or turn Smart Launch on to have your campaign automatically relaunch when a customer places an order. To receive the highest possible profit margins, you can set your campaign to print in batches. Batch campaigns gather orders over a chosen period of time (between 2-21 days), print, and ship them all at once.
Utilize print-on-demand. Print-on-demand allows orders from your campaign(s) to be printed and delivered between 8-14 business days after the order is placed and without additional constraints. However, this approach does include a cut to overall profits.
Use your merch to raise funds.

Giving Campaigns

are a perfect way to fundraise for your favorite cause. Connect your campaign to the nonprofit you want to fundraise for, then we'll send them 100% proceeds you raised once your campaign ends.
With multiple options for selling and ordering your custom merchandise, Bonfire simplifies the entire process and offers more freedom of choice. Plus, on Bonfire, you get to create a free online merch store to host all of your merchandise in one place for your users to browse.
There are no minimum order requirements, so you can order as few as one custom printed t-shirt, model it, and start promoting! Plus, when your buyers order merch through your Bonfire store, all order processing and fulfillment are taken care of for you, and items are shipped directly to your customers.
Decide When to Launch Your Merch Campaign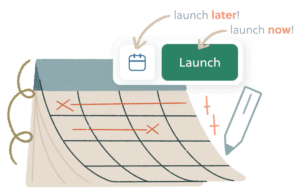 When it comes to launching your campaign, you have two options: you can either launch your campaign now or schedule to launch your campaign at a later date. Both are great options, so just choose the one that works best for you!
To launch now – click the green Launch button and watch your campaign go LIVE!
To launch later – click the calendar icon to set your desired launch date.
Whichever option you choose, be sure to let your community know the details so they know when to buy!
Helpful tip: We've seen Sellers have success when they spread their campaign launches out by 90 days. If you are planning to launch multiple campaigns, use the Schedule Campaign feature to schedule your merch drops in advance!
How to Promote Your Merch
Once you've finalized the design for your merch, chosen your products, and decided on the best way to offer your t-shirts, it's time to launch your campaign! Try to promote your merch in a way that gets your followers engaged with your content and generates a lot of interest and excitement about your merch. To do this, we recommend doing these four key things:
Scheduled Posts
Create scheduled posts on different social media platforms following a distinct beginning, middle, and end pattern. Ex: If you plan on selling your merch for a limited time only, plan to promote it before it launches to build anticipation, then again around the middle of the run to keep the excitement going, and finally towards the end to encourage last-minute sales. Also, thank all of your buyers for supporting you and purchasing merch.
Use Simple Links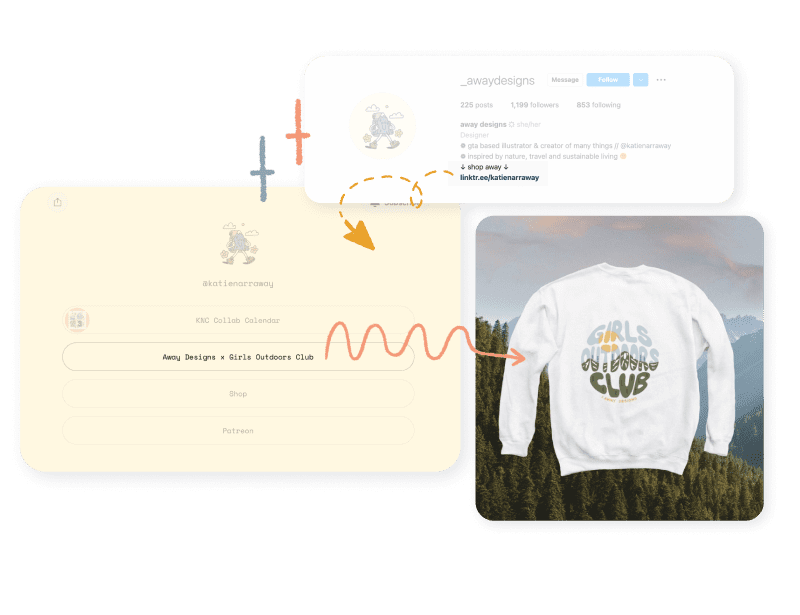 Using simple links, that prioritize the user experience, will make it easy for your followers to directly access your merch store. Ex: Include a link to your Bonfire store in your bio or Linktree on Instagram.
Create Engaging Visuals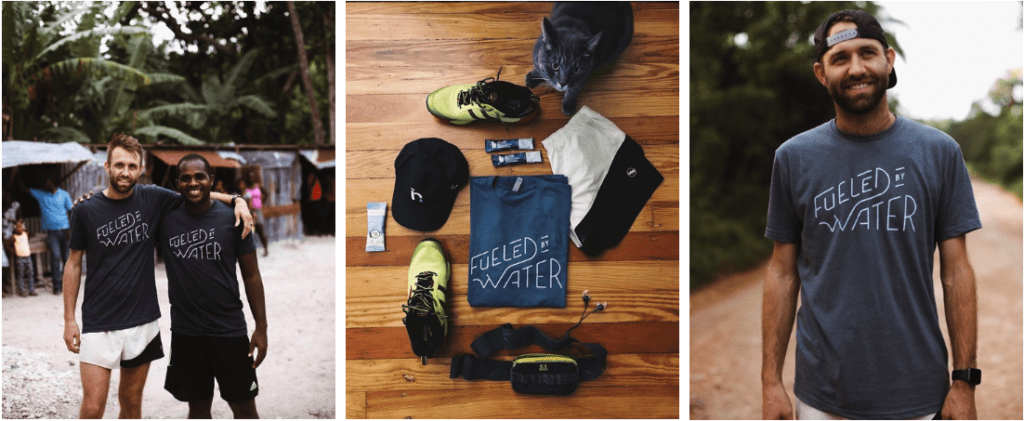 Use engaging visuals and mockups to promote your merch. Include photos of yourself (your friends, family, etc.) wearing the merch after ordering a few through Bonfire Supply. If your store offers different apparel styles, be sure to showcase different looks. In this age of constant scrolling, you want to make sure your visuals are strong enough to catch someone's eye—think bold colors, clear imagery, and text that's super easy to read (if you include text). Remember to always stick to your established brand aesthetic.
Vary the Content 
Make sure to vary how you promote your merch to avoid becoming too repetitive or pushy. Find ways to incorporate your merch into your usual content and posts. This approach will feel authentic and natural. Wear your merch in your YouTube videos, share customer photos in your Instagram Stories or on your main feed, create a TikTok that shows how to style your merch, etc.
Have fun and play around with creative ways to promote your shirts! Your unique content, voice, and audience guided your design process; let them guide your promotions, too.

Sell your merch on YouTube
Use our Merch Shelf integration to add your merch directly below your videos so followers can like, subscribe, and buy.

Setup Your Merch Shelf
Remember that your custom merch should serve multiple purposes: to make money, engage your followers, and promote your brand. Following best practices like these will ensure your promotional strategy is as effective as possible.
Launch Targeted Ads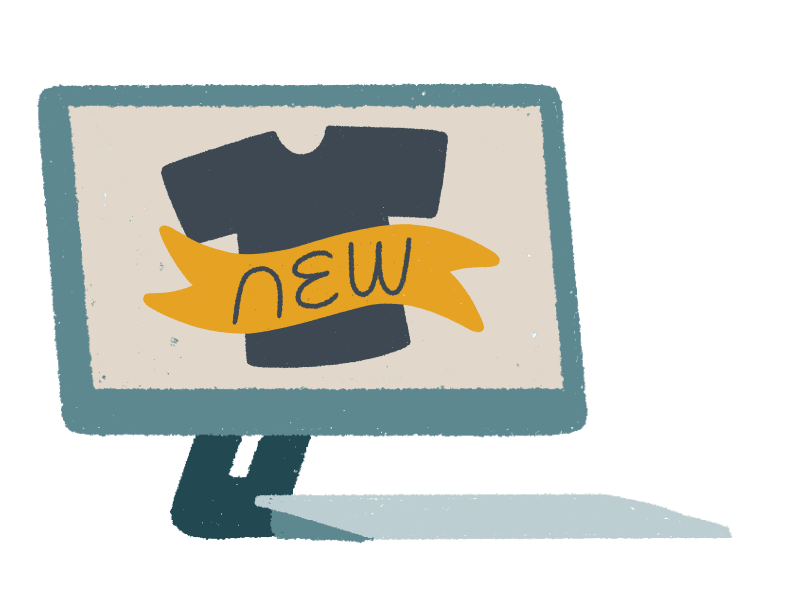 If you are a creator (or organization) with a significant budget, consider investing in targeted ads to help get your merchandise in front of more of your audience.
Make sure to use targeted ads strategically to get the most out of your investment. When deciding which platforms to partner with for your ads, focus on the platforms your followers use regularly, as well as the platforms where you interact with your followers the most often.
After an initial push of targeted ads, many creators can switch to relying on other effective marketing strategies, such as word-of-mouth and ongoing audience engagement.
Encourage Engagement from Your Followers
The biggest strength of social media as a promotional tool is the fact that your audience can visibly and directly engage with your campaign in real time. Getting your followers involved with your merch promotion is an essential element of any successful t-shirt campaign. There are two easy ways to do this:
Ask for shares. Ask your followers to spread the word about your merch on their profiles, especially if they made a purchase. This is an effective strategy when your merch is raising money for a cause or if your work is highly socially or politically motivated.
Ask for pictures. Choose a special hashtag, then ask your fans who ordered a shirt to post a photo of themselves wearing it. Ask for permission, then repost their photo and publicly thank them. This is a fantastic way to promote your apparel because people love to see merchandise in action, being worn by real people out in the world.
By asking your social media audience to get directly involved in your promotional campaign, you can increase interest in your merch. Seeing others participate is a powerful motivator that encourages your followers to join the fun or be a part of the movement.
These kinds of promotional strategies are often referred to as circles of engagement. By generating a cycle of interest, participation, and purchases that continually attracts new customers, promotional engagement strategies allow your followers to get directly involved ( and stay involved) with your campaign.
---
Designing and selling custom merch is an excellent idea for all types of creative individuals. From garage bands to local businesses, YouTubers to writers, designing a custom t-shirt is a smart way to connect with your fans, promote your brand, and earn some money while you're at it.
We hope you're feeling inspired and excited to create your own custom merch today!
Start selling merch the easy way with Bonfire

100% free

Easy set up

Fast payouts