Whether you're fundraising for a personal cause or a nonprofit organization, there are countless reasons why you or your organization may need to raise money.
We've broken our fundraising ideas into several categories. Use this list to jump between sections:
Plus, each fundraising idea is ranked by fundraising potential, cost, and popularity to help you determine which solution will fit your needs.
Are you ready to start raising money for your cause? Let's dive into our hand-picked favorite fundraising ideas.
Our Favorite Fundraising Ideas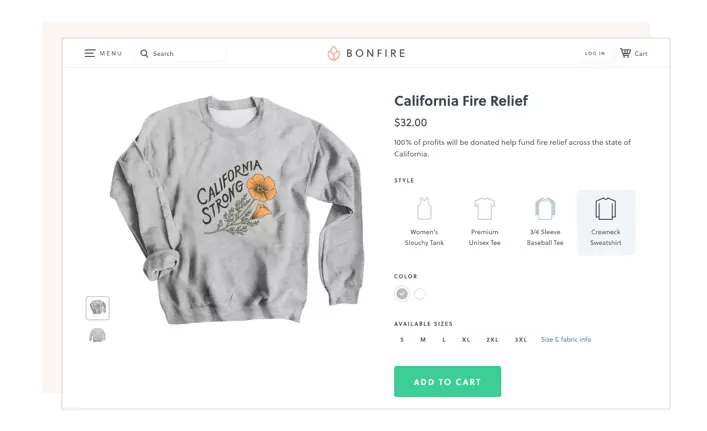 1. T-Shirt Fundraisers
Fundraising Potential: +++++
Cost: Free
Popularity: √√√√√
Designing and selling t-shirts is a great fundraising idea that both individuals and organizations can use to raise money. A t-shirt fundraiser is a win-win situation for everyone involved: the campaign creator gets to raise money and promote their cause via merchandise, and supporters get a memorable item in return for their donations.
If you're raising money on behalf of a nonprofit, Bonfire will even send the funds directly to the organization your raising money for at the end of your Campaign.
If you're interested in running a t-shirt fundraiser for your cause, find a fundraising platform, like Bonfire, that allows to you sell apparel and will ship your items for you. Then, start designing your shirt to represent your cause or project.
Finally, launch your campaign and spread the word about your t-shirt fundraiser via email, social media, and word of mouth.
Start fundraising with custom apparel on Bonfire

100% free

Easy setup

Fast payouts
2. Local Restaurant Partnership
Fundraising Potential: +++
Cost: $
Popularity: √√√√√
Did you know that you can raise money by inviting your friends out to eat? When you collaborate with a local restaurant, you can raise a portion of the night's proceeds for your cause. And partnering with a restaurant isn't as difficult as you might think.
Many restaurants offer programs to help local organizations raise money. All you have to do is get in touch with the manager of the restaurant in your area.
Once you've settled all the details of the event, invite your friends, family, and community members to come and show their support. The more people that attend, the more money and awareness you can raise for your cause.
3. Design Challenge
Fundraising Potential: ++++
Cost: Free
Popularity: √√√√
If you're thinking about incorporating custom merchandise into any of your fundraising projects, make sure to include a design challenge! These contests are an easy way to boost interest in your campaign and get donors more excited to purchase a t-shirt.
Ask your supporters to submit their t-shirt design ideas for your next event, and then either choose a winner or let everyone vote on their favorites. Next, use a custom t-shirt service, like Bonfire, to order a batch of the winning design or let supporters order their own.
4. Peer-to-Peer Fundraising
Fundraising Potential: +++++
Cost: $$
Popularity: √√√√
Peer-to-peer fundraising is one of the most popular fundraising trends in recent years. This style of fundraising essentially involves recruiting volunteers who volunteer on your behalf by creating their own unique pages, which they then promote to their friends and family online. Nonprofit organizations are big fans of this campaign style because it dramatically expands their online communities in an organic way.
Peer-to-peer fundraising is a fairly flexible technique for raising support online, but it typically requires investment in dedicated campaign software.
Get creative by incorporating peer-to-peer elements into your fundraising project, and be sure to carefully compare the top platforms before making a decision.
5. Coupon Books
Fundraising Potential: ++++
Cost: $
Popularity: √√√√
Coupon books are a classic fundraising idea, especially for community-based groups like churches and neighborhood associations. Reach out to local businesses to arrange special deals and promotions that will be available to the public only via your coupon books.
This fundraising idea is a great way to strengthen your organization's ties with the community as a whole, as businesses appreciate the promotion and donors love a deal!
The trickiest part of creating and selling coupon books is deciding on the right price to ask for it. Think carefully about what donors might be willing to pay, and weigh it against your organizations, the value of the deals, and the cost of printing the books.

Personal Fundraising Ideas
Personal fundraising has been on the rise in recent years. Individuals develop and host their own fundraising projects for a number of reasons, most commonly:
To contribute to and support a charitable cause
To raise support for a personal issue, like healthcare costs
To fund a personal creative or entrepreneurial project
Personal fundraising strategies tend to work best online, but you can adapt all kinds of ideas to your projects depending on your goals and budget. Here are a few of the most reliable and engaging personal fundraising ideas to get you started:
6. Crowdfunding Campaign
Fundraising Potential: ++++
Cost: Free
Popularity: √√√√
Crowdfunding is one of the easiest ways for individuals to get started fundraising. Remember, though, that this personal fundraising idea requires you to have a very clear goal or an emotionally compelling story that inspires support.
Offering products or rewards in exchange for crowdfunded support is a classic way to incentivize donations. Crowdfunding with custom apparel is a common example.
Look for low-risk crowdfunding platforms that offer plenty of customization options and fair processing fees.
7. Pledge Challenges
Fundraising Potential: +++
Cost: $$
Popularity: √√√
Unique pledge campaigns are a great way to catch the attention of supporters for your personal fundraising project. This fundraising idea involves you asking for pledges in exchange for a completing a specific challenge.
A typical example would be an individual asking for pledges to be collected once they complete a challenging or long-distance cycling trip. Of course, long-distance cycling isn't for everyone, but the pledge format works well as a personal fundraising idea, even if it's for mowing lawns or completing another selfless task.
These campaigns require considerable planning. If you choose to conduct a pledge challenge, think about ways to boost the impact of your campaign, or pair it with another fundraising idea, like custom merchandise.
8. Bake Sales
Fundraising Potential: +++
Cost: $$$
Popularity: √√√
Potluck-style fundraising ideas will be a recurring theme in this list. Food is a reliable way to attract attention and incentivize supporters to donate to your cause!
For personal fundraising projects, consider hosting a fancy "supper club" event in a community space, and ask for donations in exchange for admission. These events work well for personal fundraising projects in which a community comes together to support a neighbor in need. 
Alternately, you might tone this idea down into a similar event, the classic bake sale. Get creative to find the right idea for your project, but remember that there's no motivator quite like a good meal or snack!
9. Fundraising Letters
Fundraising Potential: ++
Cost: $
Popularity: √√√
In today's modern age of email and internet, there's something nice about receiving a hand written letter from someone. Reach out to your donors by sending them a personalized letter explaining what you're fundraising for. You'll be shocked at how positively people respond! Plus, for some groups and individual projects, writing fundraising letters is an extremely cost-effective way to raise support in a relatively short amount of time.
Individuals looking to fund a personal project or upcoming trip can generate a lot of interest quickly by simply taking the time to reach out to community members who might be interested in making a donation.
Take the time to perfect your message, explaining in just a few sentences why you're raising money and what you'll do with the donations, and compile a mailing list. Give readers an easy way to make a donation, like providing a URL to your donation page or crowdfunding campaign. You can be inspired by these fundraising letter templates to help you get started.
Quick and Easy Fundraising Ideas
Sometimes fundraising can feel like an insurmountable challenge, especially if you work at an organization with only a few people on staff. If you need quick support for an upcoming project, don't be afraid to try new fundraising ideas!
These quick and easy fundraising ideas require relatively little investment of time and money compared to their potential results and popularity with donors:
10. Matching Gifts
Fundraising Potential: ++++
Cost: $
Popularity: √√√√√
Corporate matching gifts are a great way for eligible nonprofits to take advantage of funds already earmarked for corporate philanthropy initiatives. Many people don't know about these programs, and therefore can't take advantage of them. A gift matching program is a policy at a company where the employer agrees to match an employee's donation to the same nonprofit, without the employee having to give more of their own money!
Offer your supporters a matching gift database for them to use to look up their employer, and remind them on social media or via email to check if their employer is willing to match their donation.
11. Coffee Bean Sale
Fundraising Potential: +++
Cost: $$
Popularity: √√√
To get this fundraising idea started, find a local coffee shop or wholesale provider to purchase the coffee beans at the wholesale price. If you're not sure how to reach out to a company for sponsorship, check out these fundraising letter templates from Qgiv.
Once you get your partnership established, set up an online shop or sell your coffee beans in a busy area in your community.
Let people know why you're raising money, and get the word out by promoting your coffee bean sale online and posting flyers around the community.
12. Dog Walking
Fundraising Potential: +++
Cost: Free
Popularity: √√
If you're looking for a free way to raise money for your cause or project, you can offer dog walking services to the pet owners in your neighborhood. This incredibly easy fundraising idea doesn't require any materials except time!
Let people around your community know that you're available to walk their dogs by posting on social media. Raise money by charging per walk.
Don't forget to tell pet owners that all the money is going toward a great cause as they'll be more likely to continue using your services in the future.
13. Text-to-Give Tools
Fundraising Potential: ++++
Cost: $$$
Popularity: √√√
Meeting your donors where they are (their smartphones!) goes a long way to boosting their engagement with your project and mission. Text-to-give and text-to-donate tools are one of the newer trends in fundraising and have become extremely popular in the nonprofit space. It gives your supporters the ability to make a donation to your charity, right from their phones.
Since text-to-give services charge a processing fee, these tools are used mainly by nonprofits or other groups that host fundraising events. But, once you've got it set up, these campaigns are a quick and easy way to boost donations for all of the future campaigns and events you host.
14. Penny Drive
Fundraising Potential: ++
Cost: Free
Popularity: √√√√√
With so many variations on the classic penny drive, you can get as creative as you like with this easy fundraising idea. Keep it simple by going with the traditional fundraiser, and ask local shops to showcase your donation jar in their store.
15. Specific Date and Amount Fundraiser
Fundraising Potential: ++
Cost: $
Popularity: √√
The specific date, specific amount fundraiser is an easy way to raise money for any cause, especially for individuals that want to raise money quickly.
Basically, you'll pick a day and a reasonable dollar amount and ask people to give that amount on the day you've chosen. 
The day you pick can be significant to the cause you're fundraising for, like honoring the date a loved that passed away due to cancer to raise money for cancer research and awareness.
16. Used Book Sale
Fundraising Potential: ++
Cost: $
Popularity: √√√√
Used book sales and rummage sales are some of the easiest fundraising ideas for groups of all sizes, particularly community groups and organizations.
You might choose to structure your used book sale in a number of ways. Usually, the fundraising organization will ask for donations of used books to sell at the event later on, but feel free to get creative to find the method that works best for your community.
Used book sales are easy fundraising ideas because they require very few additional investments other than the time it takes to plan, set up, and host them. Used books are a fun impulse purchase for many people, so with the right selection, you can raise quite a lot of support!
17. Holiday Candygrams
Fundraising Potential: ++
Cost: $
Popularity: √√√
Sending a candygram is a great way to let your friends and family know you care about them. You can spread a little joy and raise money this holiday season by selling and sending personalized messages with candy and other delicious treats attached.
Sell candygrams at your office, in your neighborhood, or anywhere you'd like. Just make sure to get the contact information of the recipient so you can send the candygram to the correct person.

Inexpensive and Free Fundraising Ideas
Is your budget the biggest limiting factor of your fundraising project or campaign? We've got you covered.
Whether you're raising money for a charitable cause or personal project, you've always got options when it comes to cost-effective, inexpensive, and free fundraising ideas. Here are some of our favorites:
18. Chain of Hearts Fundraiser
Fundraising Potential: ++
Cost: $
Popularity: √√√
For a certain amount of time, your organization can sell paper hearts (or any shape you'd like) to members of the community. Supporters can write their name or a short message on the paper and tape them around your organization's lobby.
Alternatively, your nonprofit can partner with a local retailer. Have them sell paper hearts to their patrons, allowing you to spread the word outside your current donor base. You've likely seen this technique used by nonprofits in your local grocery store.
Whatever approach you decide to take, this easy fundraising idea is a simple way to raise money and awareness for your cause.
19. Balloon Raffle
Fundraising Potential: ++
Cost: $
Popularity: √√√
A balloon raffle is a fun and inexpensive fundraising idea that both individuals and nonprofits can use. All you need to get started are balloons, raffle tickets, and a prize.
Place a raffle ticket inside of every balloon, and charge $1 for each balloon. Everyone will pop the balloons they purchase to find their raffle ticket. The person with the winning ticket gets the prize.
Balloon raffles work best when they are an activity nested within a larger event, where you have a large audience of donors in one location, like during a fundraising gala or auction.
20. Community Potluck
Fundraising Potential: +++
Cost: $
Popularity: √√√√
Potlucks are among the most reliable fundraising ideas out there! A communal gathering of neighbors sharing a meal is the perfect way to strengthen your ties with your community, give your supporters a memorable experience, and raise support for your organization's cause.
Take the time to plan your community potluck event, promote it to your community, and find the right event space. Give attendees plenty of time to register to bring a dish, and decide how much you want to charge for tickets.
21. Cute Baby Contest
Fundraising Potential: ++
Cost: Free
Popularity: √√√
Raising money for your cause can be as simple and heartwarming as organizing a baby photo contest! Everyone at your office or in your community can participate by bringing in a silly, adorable, or even embarrassing photo of themselves as a child.
Line up all the photos and have people vote on their favorite one by placing money beside the images they like.
The person with the photo that has the most money wins! You can give the winner a prize or split the money you raised to make this fundraiser as inexpensive as possible. This could be a great idea for an event that's raising funds for an adoption, or an organization that works for the good of babies and small children, like a diaper bank.
22. Garage Sale
Fundraising Potential: +++
Cost: Free
Popularity: √√√√
Hosting a garage sale is a great way to give unwanted items a new home and raise money for your cause. You won't need a lot of time to plan this event, so it's perfect for a last-minute fundraising idea.
Gather all the items around your home that you no longer want, and ask your friends and family members to donate items to your garage sale.
Open shop right outside your home and post signs around the neighborhood to draw in interested buyers. To bring in an even bigger crowd, promote your garage sale on social media a few weeks in advance. Creating an event on Facebook an easy way to spread the word.
23. Discount Cards
Fundraising Potential: +++
Cost: $
Popularity: √√√√
Discount cards can be one of the cheapest fundraising ideas for organizations and individuals if you invest plenty of time into developing them. That means you'll need to reach out to plenty of popular local businesses to set up unique discounts and promotions.
The only real expense you'll have with this fundraising idea is the cost of printing the discount cards. With the right promotions from the right local businesses, though, you'll make that up in no time! Discount cards are one of our favorite fundraising ideas for sports teams, but they work great for other groups in both small towns and tight-knit neighborhoods.
24. Community Classes
Fundraising Potential: +++
Cost: $
Popularity: √√√
Are you an expert at HTML code? Have a green thumb? Or know basic photography skills? Put your expertise to use, and set up a class to raise money for your cause or project.
Charge admission to attend and place a donation jar in a visible location so participants can give more. Don't forget to spread the word about your class on social media and via email.
Host one class or host a bunch of courses depending on your schedule and how much you need to raise.
Creative and Fun Fundraising Ideas
Sometimes the best way to ensure the success of your fundraising campaign is to make sure it stands out from the crowd! These creative and fun fundraising ideas will almost always perform better than even the most well-organized but run-of-the-mill fundraising project.
Let's walk through a few of our favorites:
25. Envelope Fundraiser
Fundraising Potential: ++++
Cost: $
Popularity: √√√
Envelope fundraisers can be adapted to fit any organization, no matter the size. All you need to get started are some envelopes and a bulletin board.
Have someone number the envelopes and post them on the bulletin board in a centralized location. Donors can simply choose the envelope that corresponds with the amount they want to give and place their donation inside the envelope. Once all the envelopes have been filled, the fundraiser is over.
Best of all, this easy, inexpensive idea has a high fundraising potential. If 100 envelopes are filled, your organization could raise over $5,000 for your cause.
26. Craft Fair
Fundraising Potential: ++++
Cost: $$
Popularity: √√√√
With the rise eCommerce platforms like Etsy and the growing popularity of tutorial content on YouTube, more people than ever enjoy spending their free time creating things. Visual art, pottery, and knit apparel are common examples.
Consider organizing a craft festival fundraiser for your community! This fundraising idea has the potential to raise a lot of money and can be fairly inexpensive when planned carefully.
Your main expenses will be space and marketing materials, although you can likely partner with a local park to save on the cost of renting a space for the day. Promote your event and charge vendors a fee to set up a booth or stand. You might just create a new neighborhood tradition!
27. Branded Merch Sales
Fundraising Potential: ++++
Cost: $
Popularity: √√√√
Organizations that want to give donors a way to show their support should consider selling branded merchandise. From custom t-shirts with your logo, and hats to coffee mugs and water bottles, there are plenty of items you can sell!
What's more, selling merchandise before a fundraiser or volunteer engagement can help you raise extra money. Plus, a crowd of people all wearing the same shirts can drum up excitement about your fundraiser!
Work with a merchandise company that lets you brand your own products or use a fundraising platform, like Bonfire, to sell branded shirts online.
28. The Give It Up Challenge
Fundraising Potential: ++
Cost: Free
Popularity: √√
One way to raise money without spending a dime is to start a "Give It Up" challenge. We all have our guilty pleasures — be it fast food, expensive coffee drinks, or a weekly movie night.
By giving up this expense for a couple months, you can put the money you save toward your cause. To make the challenge more interesting, ask your friends to participate and pledge their savings toward your cause.
With more people on board, you can hold each other accountable and raise more funds.
29. Food Truck Partnership
Fundraising Potential: ++
Cost: Free
Popularity: √√√√√
Partnering with a local food truck is both an easy way to raise some support for your project or cause. Reach out to a food truck entrepreneur in your neighborhood to discuss your cause and ask if they'd be willing to take part in a percentage fundraising event.
Many food trucks will likely be eager to get involved in order to help out and reach new customers for the first time!
Reach out to other local organizations in your area that host large gatherings of people. These groups are typically in the best position to partner with a food truck. However, get creative to adapt this idea to your own project and implement it into your other fundraising ideas and events.
30. Pet Costume Party
Fundraising Potential: +++
Cost: $
Popularity: √√√√
Here's a creative way to get everyone (including your four-legged neighbors) excited to support your project or cause; host a pet costume party and contest!
Start organizing your event by securing a pet-friendly space to host it. A local park is probably your best bet.
Solicit donated prizes from local businesses, promote your event, and register contestants. Charge for admission and refreshments on the big day. Pet costume events and parades make great additions to other kinds of public fundraising events, like fall festivals.
31. Online Bake Sale
Fundraising Potential: +++
Cost: $
Popularity: √√√
Put a twist on the classic bake sale fundraising idea by hosting one online! If you're a nonprofit or individual with supporters that don't live in your community, this is a great way to get them involved in donating to your cause.
You and a few volunteers can bake delicious treats to sell on your website. An online bake sale works best because it gets your fundraiser in front of more supporters, increasing your revenue and reach.
High-quality pictures are essential to your online bake sale, so make sure you take compelling images of your treats to capture their best angles.
32. International Food Festival
Fundraising Potential: ++++
Cost: $$
Popularity: √√√
If you're considering hosting a potluck-style event but aren't sure of the best way to get your supporters really excited to get involved, consider organizing an international food festival.
Global food culture is more popular than ever! Your international food festival can be potluck-style, where each participant volunteers to bring a home-cooked dish, or you can reach out to local restaurants and invite them to participate.
The latter type of food festival fundraising event will require considerable advance planning, but it's a great way to get people really excited to come support your cause. Heavily-themed and planned events are also great opportunities to sell custom merch to your attendees!
Online Fundraising Ideas
There's no escaping the centrality of the internet to our daily lives! This is particularly true of the world of fundraising, where digital tools and social networks have made it easier than ever to tell our stories and reach wider audiences.
There are a few essential social media and online fundraising ideas to be aware of if you're trying to start an online fundraising project. Think of these ideas as the building blocks for your strategy:
33. Online Giving Sites
Fundraising Potential: +++
Cost: Free
Popularity: √√
Did you know that your supporters can raise money for your nonprofit simply by browsing and shopping online? Sites like Facebook and GoodSearch make it easy for people to set up an account, browse the internet like they normally would, and raise money for their favorite organizations.
To start raising money from day-to-day online activities, let your donors know that these websites exist and educate them on how much of an impact these small gestures can make for your nonprofit.
Don't forget about your staff! Encourage them to use these sites during and outside of work to help your nonprofit raise even more money.
34. 50/50 Raffle
Fundraising Potential: +++
Cost: $
Popularity: √√√√
Whether you pair it with a larger fundraising event or host it as a stand-alone fundraiser, a 50/50 raffle is a quick and easy way for organizations and individuals to raise money. The 50/50 raffle works like any other raffle — except the winner gets half of the funds you raise and you get the other half.
Since the prize is half the funds raised, supporters are more motivated to purchase raffle tickets and encourage their friends and family members to do the same.
Use the online outlets where you have the most followers to spread the word about your raffle, and announce the winner during an event where you can discuss your cause or project in more depth.
35. Online Merchandise Store
Fundraising Potential: +++++
Cost: $
Popularity: √√√√√
Custom merchandise is one of the most flexible and cost-effective fundraising ideas for individuals and groups to raise money for a projects or cause, and an online merch store makes it easy to host all of your products in one place. Combining the popularity of custom-designed apparel, water bottles, backpacks, mouse pads, canvas totes, and more with the ease of online ordering is a no-brainer.
Pro Tip
If you've already considered designing custom fundraising merchandise, be sure to choose a platform or service that offers multiple ways to sell apparel online.
This strategy works well as a nonprofit or personal fundraising idea, especially if you have any kind of substantial following online as a content creator or other personality in your space. All it takes is some creativity and a bit of promotion to start making a profit on merchandise.
36. Crowdfunding
Fundraising Potential: +++
Cost: Free
Popularity: √√√
Crowdfunding has quickly become one of the most popular and accessible fundraising ideas out there for a wide variety of causes. The crowdfunding campaign structure essentially encourages a large number of donors to make relatively small donations, all working to help the campaign reach its main goal.
Crowdfunding is a viable option for organizations, groups, and individuals with compelling projects and causes to share.
The popularity of crowdfunding, though, means you'll need to do some planning ahead of time to ensure your campaign catches the attention of donors. Make sure your goal and project is exciting or emotionally compelling, and consider offering special rewards or perks to encourage more donations.
37. Social Media Challenges
Fundraising Potential: +++
Cost: Free
Popularity: √√√√
Remember the Ice Bucket Challenge? That viral social media challenge was incredibly successful at raising support and awareness for ALS research.
Your own social media challenge probably won't get quite as popular as the Ice Bucket Challenge, but it's still one of the most effective fundraising ideas for creative individuals and organization.
Think about your online audiences and the mission of your fundraising project. Get creative to think of a fun challenge and accompanying hashtag, then start promoting it! Just make sure to give viewers clear instructions for where they can donate online.
38. Email Campaign
Fundraising Potential: +++
Cost: Free
Popularity: √√√
The smallest to the largest nonprofits rely on email campaigns as one of the most effective fundraising and communication methods available. It's the most direct way to engage with individuals who have already expressed interest in supporting your work.
While it may be difficult to rely on email-based fundraising ideas for a personal project, organizations, community groups, and online entrepreneurs or influencers can more easily leverage their online contacts to raise support and awareness through email.
Email appeals are only effective when they direct readers to a specific place to donate, like your crowdfunding campaign. Use crowdfunding email templates to get started drafting a compelling message.
39. Donation Pages
Fundraising Potential: ++++
Cost: Free
Popularity: √√√√
Creating a donation page is an essential part of most online fundraising ideas. Unless you're using a dedicated crowdfunding, peer-to-peer, or merchandise fundraising platform, you'll need a way for supporters to actually make a donation online in a professional and safe way.
With the right marketing strategies, a well-designed donation page can go a long way to help you reach your fundraising goals.
Social media platforms increasingly offer their own built-in donation processing tools, but always remember to weigh your options. Standalone donation pages are typically more flexible and can be incorporated into more of your online fundraising ideas without tying you to a single platform.
40. Online Auction Fundraiser
Fundraising Potential: +++++
Cost: $$$
Popularity: √√√
Charity auctions are one of the most reliable fundraising ideas for nonprofit organizations, but planning a complex event can be a challenge. Thankfully, online auction software and services have made auctions a more realistic fundraising idea for more groups than ever before.
You'll need to invest in dedicated mobile bidding software, so this fundraising idea works best for groups whose budget can handle the cost. Next, gather up donated items from local businesses to auction off, and start promoting your online event.
Big Money Fundraising Ideas
These last fundraising ideas are all about big returns. If your organization needs to fund a major project or event, these are the sorts of fundraising ideas you'll need to focus on.
These fundraising ideas and best practices all require a heavy investment of time and resources, so they're typically best suited for groups with the budgets and personnel to handle them.
41. Grants
Fundraising Potential: ++++
Cost: $$
Popularity: √√√√√
Foundations, corporations, and governments often give grants to qualifying organizations that submit an application. While most grants have a lot of competition and the grant-writing process can be time-consuming, the rewards are worth it. One grant can be enough to significantly boost your revenue (or at the very least help you boost your nonprofit's awareness).
For instance, Google offers an Adwords Grant to nonprofits. The grant consists of $10,000 of monthly funding, which can help your nonprofit become more present on Google, bringing in more potential supporters (and funds!).
To get started, you'll need to research grants that coincide with your nonprofit's goals and core mission as this will increase your chances of receiving a grant. We recommend checking out Candid, who are industry leading experts in helping people and organizations find funding and grants.
42. Donor Research
Fundraising Potential: +++++
Cost: $$$
Popularity: √√
For established nonprofit organizations, donor research is the most effective fundraising idea for finding and approaching individuals with the ability and desire to make large gifts in support of your mission. This process is also commonly called prospect research.
As an organization grows, it increasingly needs to seek out the support of these major donors, and conducting donor research is the best way to make sure you find the right supporter to ask.
When it's time for your organization to begin thinking about this fundraising idea, you'll likely need to invest time and money into new donor research resources, although DIY prospect research is often effective, too.
43. Corporate Sponsorships
Fundraising Potential: ++++
Cost: $$
Popularity: √√√
This big-money fundraising idea works for fundraising projects of all sizes. Whether you're a nonprofit organization, group, or individual, always take the time to consider whether any prominent businesses in your community would be interested in supporting your work.
A sponsorship is essentially a trade; your sponsor offers financial or in-kind support for your cause or project, and you offer them positive publicity in exchange.
This is a particularly effective strategy for large-scale public events, like marathons and festivals, although it's always worth it to brainstorm potential partners for any project.
44. Golf Tournament
Fundraising Potential: +++++
Cost: $$$$
Popularity: √√√√
Golf tournaments are another fundraising idea with the possibility to yield huge returns on the resources you spend to plan them.
Consider offering additional golf games, challenges, and donation opportunities throughout your tournament to help you exceed your fundraising goals and to keep your attendees entertained the entire time.
Of course, you can adapt the concept of a tournament event to any community, budget, or fundraising project. Any activity that your supporters enjoy is fair game!
45. Fundraising Auction
Fundraising Potential: +++++
Cost: $$$$
Popularity: √√√
Charity auctions are a quintessential fundraising idea for nonprofit organizations because they work.
All sorts of organizations host charity auctions in order to attract big-money support, although it's important to remember that these events often require substantial investments of planning and resources.
However, charity auctions can easily be adapted for smaller groups without massive budgets. Just look for local businesses willing to donate auction items and focus on giving your supporters a fun evening!
---
There you have it, 45 fundraising ideas that can work for any organization's cause. Use a combination of these ideas to reach your fundraising goals and further your cause. We know you can succeed!
Are you ready to launch a t-shirt fundraiser for your cause?