Raising money for a charity through an online fundraiser is one of the best ways that you can support a nonprofit and cause that you care about. While you could simply donate money to the organization yourself, the social impact and increased awareness that's generated from a crowdfunding campaign can have a much larger impact and raise more funds for the charity.
This guide is full of fundraising tips and best practices to teach you everything you need to know about how to successfully raise money for charity.
Find a Charity You Want to Raise Money For
With over 1.5 million registered U.S. nonprofit organizations, choosing one to raise money for can often be the hardest part of this entire process. With great resources like our nonprofit directory, you can easily find detailed information about every organization you're considering raising money for. 
If you're not sure where to start when researching nonprofits, start by asking yourself what kind of charity you want to raise money for. What kind of causes are you passionate about supporting? Some of the most popular types of causes include:

Popular Charity Causes
Once you've picked your cause, find a charity in that category that you want to raise money for. Don't be afraid to spend some time researching all of the different organizations to find the charity that most closely aligns with your values. 
Pro Tip
Don't be afraid to reach out to the charities you're considering raising money for. They'll be able to give you information about upcoming events, a breakdown of donation amounts and the impact it has for their organization, and access to any free marketing and promotional assets they have.
Launch Your Fundraiser
Now that you've selected the charity that you're going to raise money for, it's time to create your fundraiser. We recommend using an online fundraising website that allows you to launch a crowdfunding campaign for free, has minimal processing fees on donations, and gives you the option to have the money you raise sent directly to the charity.
If you launch your fundraiser on Bonfire, then you can have all your proceeds and donations sent directly to the charity of your choice by launching a Giving Campaign. Our platform is free to use, there are no inventory fees, and all you have to do is select the nonprofit you're raising money for in step 3 of the setup process and we'll send them 100% of the money you raised money once your campaign ends.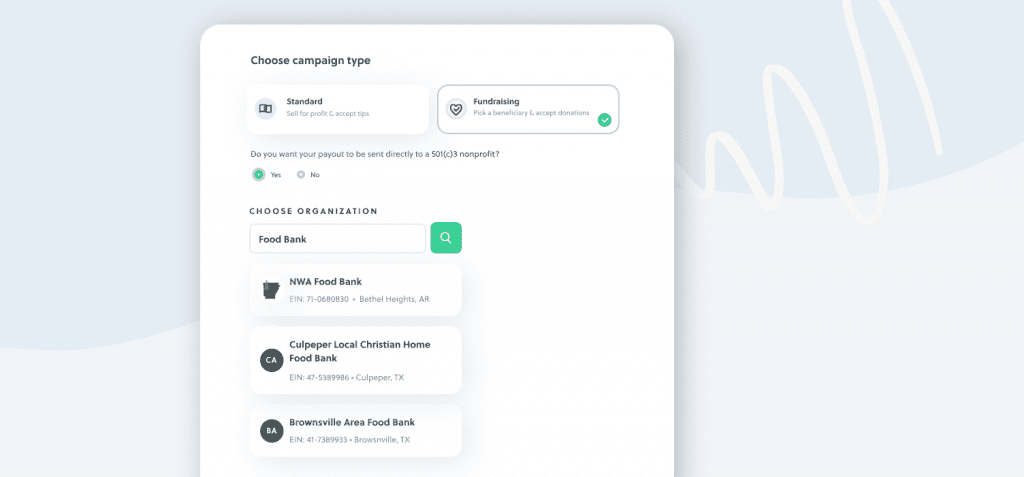 We also give you all of the resources you need to create a great-looking design for your t-shirt. Whether you want to upload your own custom artwork to our design tool, customize one of our free t-shirt design templates, or use Bonfire Studio, our concierge custom design service, your success is our number one priority.
As a final step before you officially launch your fundraiser, edit your campaign page to tell everyone why you chose to raise money for this charity. Talk about what resonated with you when you came across this organization, and how you hope to help push their cause forward. Telling your story about why this charity and its cause means so much to you will drive your community to support you and your campaign and show everyone that you genuinely care about this mission.
When it comes time to launch your fundraising campaign – you have two options: you can launch your campaign now (as soon as you're done creating it) or you can schedule to launch your campaign at a later date. Both are great options, so choose whichever one works best for you!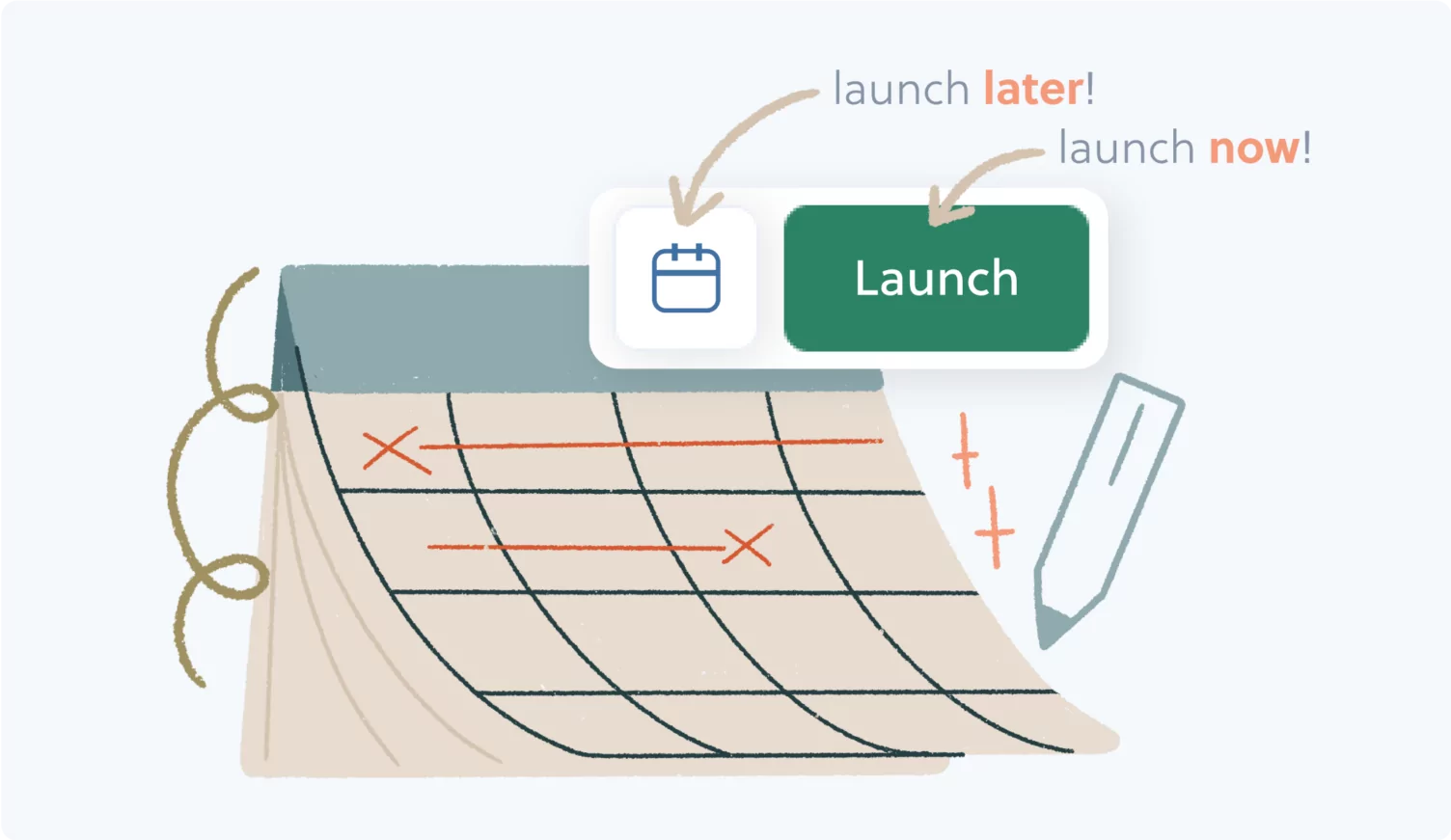 To launch now – click the green Launch button and watch your campaign go LIVE!
To launch later – click the calendar icon to set your desired launch date.
Whichever option you choose, be sure to let your community know the details so they know when to buy! 
Ready to launch your t-shirt fundraiser for charity?
Promote Your Fundraiser
Social Media
Once your fundraiser is live, it's time to start promoting your campaign. Start by posting it across Facebook, Twitter, Instagram, and Instagram Stories. Don't forget to update your social bios to contain your campaign link so your followers can easily find your fundraiser.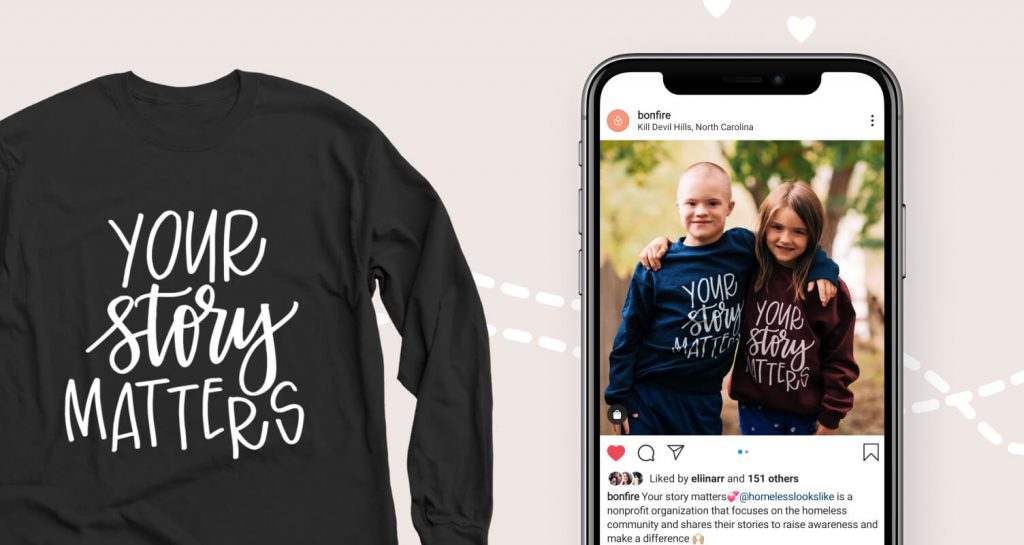 Local News
Try to work with local news stations, blogs, and newspapers to get your campaign featured in the news. This type of news story has become more and more popular with news outlets in recent years, so it's likely you can find someone who's interested in covering your fundraising campaign.
Newsletter
Send out an email newsletter promoting your fundraiser so your community knows how they can help you raise money for your selected charity. Be careful that you don't overwhelm your subscribers with daily emails, which can lead to people getting annoyed with your messages and not making a donation at all.

Instead, we recommend sending an announcement email when your fundraiser first launches, a mid-campaign email to remind everyone that your fundraiser is still going on, and a final reminder email when there's only 24 hours left to participate. 
Friends and Family
You can drastically increase the reach of your campaign by having the people you're closest with repost and share your fundraiser across their social platforms. This can help your fundraiser pick up some initial momentum by getting some additional shares from the very beginning, and it will help you reach new people who you don't know but would be interested in supporting your fundraiser.
Website
Publish a blog post on your website about the campaign you've launched and the charity that you're raising money for. This can be a good place to really tell your story about why you've chosen to become actively involved with this charity and how people can support this cause through your fundraiser.
Don't forget to link to your fundraising page from your website's homepage and main navigation to make it as easy as possible for people to find.
Bonus Promotion Tips
Download our free Promotion Checklist to get 4 additional tips to help you raise as much money as possible.

Donate the Money You Raised
Once your fundraising campaign has ended, it's time to make your donation to the charity! If you hosted your fundraiser on Bonfire, then we send all the money you raised directly to the charity for you.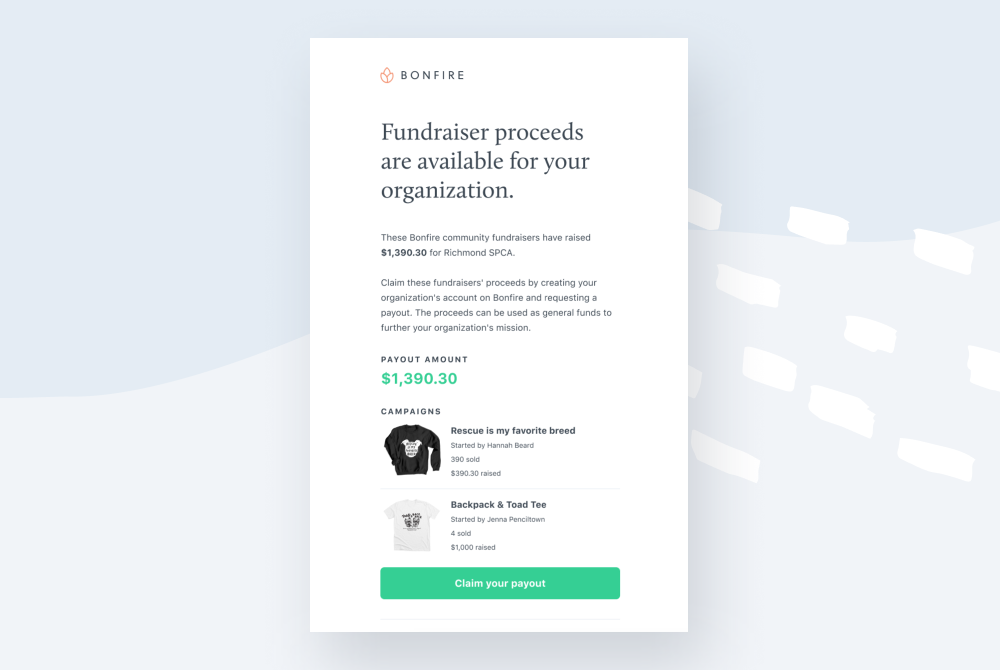 If you ran your campaign on another site, you might be required to send the check to the organization yourself. 
Then, let your supporters know that the campaign has successfully come to an end and the money has been donated to the charity. Have some fun with it, and post a picture with your donation receipt! 
Start Raising Money For Charity Today
Fundraising for charities is as important as it's ever been, and they rely on the help and support of people like you to keep their mission alive. Launch a free fundraiser on Bonfire today to start raising money for your favorite charity.