Imagine being able to harness the power of your individual donors to raise money on your behalf, while strengthening the relationship between your nonprofit and those donors at the same time. With peer-to-peer fundraising, you can do just that!
Peer-to-peer fundraising is the ultimate form of nonprofit fundraising. You can raise money, multiply your audience, and strengthen connections with existing supporters all in one fell swoop.
Of course, to make your next peer-to-peer campaign worthwhile, you need a bit more than wishful thinking on your side. First, make sure you know a thing or two about successfully executing a peer-to-peer fundraiser.
If your nonprofit is considering launching its first peer-to-peer fundraiser, or if you're looking for a refresher on peer-to-peer fundraising best practices, you're in the right place. We've pulled together everything you need to know, from the fundamental building blocks to actionable advice like selling t-shirts alongside your campaigns, resulting in the ultimate playbook for fundraising professionals just like you. Whether you're a first-time campaign manager or a seasoned professional, we'll answer any questions that you might have, including:
What is Peer-to-Peer Fundraising?
What Are The Different Types of Peer-to-Peer Fundraising Campaigns?
How Does Peer-to-Peer Fundraising Work?
Is Peer-to-Peer Fundraising Effective?
What Are Some Fundamental Peer-to-Peer Fundraising Strategies?
What Peer-to-Peer Fundraising Ideas Will Take Participation to the Next Level?
Peer-to-peer fundraising is a powerful way to maximize donations and supporter relationships, but only if you're equipped with the knowledge and motivation to do so. Let's dive in so you can start preparing for your next campaign.
Launch a free peer-to-peer apparel fundraiser on Bonfire

100% risk-free

Easy setup

Fast & secure payouts
What is Peer-to-Peer Fundraising?
Peer-to-peer fundraising is a social fundraising strategy where individuals collect donations from their peers on behalf of a nonprofit organization. During these fundraisers, volunteers create their own online campaign pages, set goals for how much they want to raise, and then leverage their existing social networks and relationships to ask for donations. When the fundraiser ends, the money raised by these dedicated volunteers goes straight to the nonprofit organization.

What's the Difference Between Crowdfunding and Peer-to-Peer Fundraising?
As its name suggests, crowdfunding refers to securing funding from the crowd. The organization's fundraising team organizes a campaign page and then asks many individuals to donate — typically smaller donations like $5, $10, or $50 (but sometimes more!) — in order to reach a goal to fund a specific project or cause.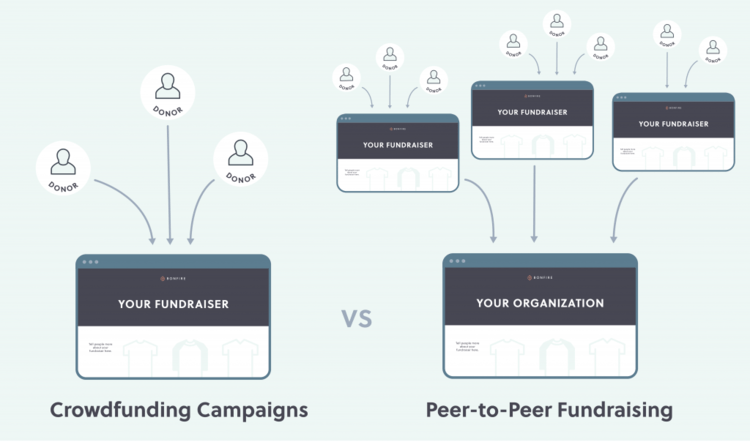 Peer-to-peer fundraising is a multi-tiered approach to crowdfunding. You recruit participants who then create personal fundraising pages and ask their friends and family to make donations (hence the term 'peer-to-peer'). Rather than requesting donations from one network of people, you have a large group sourcing donations from a number of different networks.
What Are The Different Types of Peer-to-Peer Fundraising Campaigns?
Depending on your nonprofit's fundraising goals, there are three different types of peer-to-peer fundraising campaigns that you could run: rolling campaigns, time-based campaigns, and giving days. Each one has its own benefits, largely depending on the time frame in which your cause needs to secure funding.
Rolling Peer-to-Peer Fundraising Campaigns
Rolling peer-to-peer fundraising campaigns go on indefinitely and are usually intended for general fundraising purposes. Market these types of campaigns using your social media posts, monthly newsletters, and your website's main navigation, so users can easily make a donation or launch their own campaign. 
This type of campaign fits into your supporters' life events, making it easy for them to launch a campaign near their birthday, holiday, or just because they want to support their favorite nonprofit!
Time-Based Peer-to-Peer Fundraising Campaigns
Time-based peer-to-peer fundraising campaigns take place within a specific timeframe (commonly around 6 to 8 weeks) and are usually tied to a theme or scheduled event. Some of the most common events for time-based campaigns include walk-a-thons, 5Ks/10Ks, bowl-a-thons, and golf outings. 
These types of peer-to-peer fundraisers take more forethought in terms of scheduling and a proactive marketing approach to drive donations throughout the entire campaign.
Giving Days

Peer-to-peer giving days challenge donors to raise as much money as they can or reach a certain goal in 24 hours or less. A great example of this is Giving Tuesday, which is a global generosity movement that occurs on the Tuesday after Thanksgiving every year. You can encourage your donors to raise as much money as possible through peer-to-peer fundraising during one of the most charitable days of the year. 
Alternatively, you can schedule a giving day on any other day. Many nonprofits choose a day related to their cause, such as a conservation organization on World Wildlife Day. These campaigns create urgency for your supporters and donors, driving them to help you reach your goal in this short period of time. 
How Does Peer-to-Peer Fundraising Work?
Peer-to-peer fundraising is a straightforward process that your team needs to understand before you can successfully organize your own campaign. Let's break it down into steps that your team can follow when planning a well-thought-out fundraiser.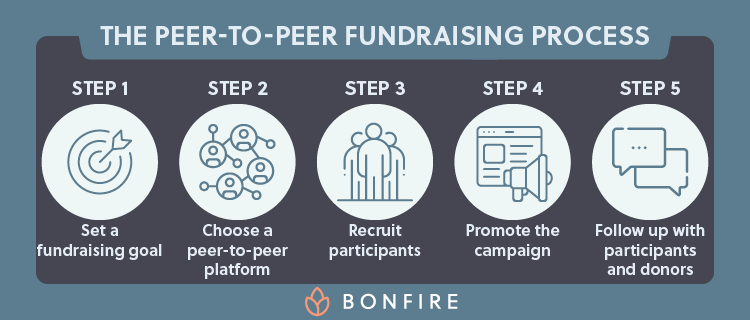 1. Set a Fundraising Goal
Before strategizing how you'll form a team and secure donations, your nonprofit needs to set a goal for the overall campaign. This will be a major driving force for your peer-to-peer fundraiser. It gives everyone an overarching goal to work toward and provides participants with a reference point when creating their personal goals. 
There are two types of goals to consider:
Financial goals. This is simply how much money your nonprofit wants to raise. Consider factors outside of individual contributions, such as sponsorships and registrations if your campaign leads up to an event.
Non-financial goals. These goals are more ambiguous, typically pertaining to how your organization can grow its audience and impact. For example, one of your non-financial goals could be recruiting a certain number of new donors to your organization. 
As a rule of thumb, your nonprofit should set achievable yet aspirational goals within both of these categories, using past campaign results as a reference point for what you can actually achieve. Bear in mind that your goals should also be achievable within the time frame you have in mind.
2. Choose a Peer-to-Peer Fundraising Platform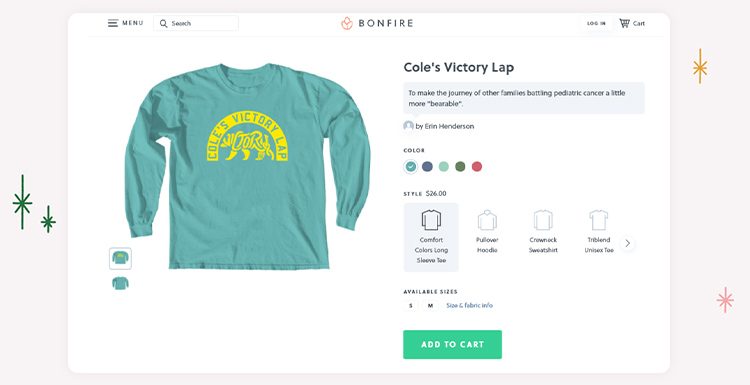 Like any other online fundraiser, your nonprofit needs technology to get the job done. A dedicated peer-to-peer fundraising platform empowers your donors to create their own campaign pages and securely collect donations from their friends and families. They don't have to worry about doing anything other than customizing their campaign page to emphasize their connection to your cause and sharing that page online.
Ideally, you should choose a platform that:
Makes it easy to get up and running. Your nonprofit should be able to customize its profile, and peer-to-peer participants should be able to add text, images, and videos to their campaigns within a few minutes.
Limits upfront costs to your organization. That way, all the money your supporters raise will go directly to your nonprofit, rather than to pay the platform's fees.
Stay connected with donors afterward. Make sure you can access each supporter's full name, contact information, and donation amount, making follow-up incredibly easy.
If you want to get creative with your campaign, try out our t-shirt peer-to-peer fundraising platform. Bonfire empowers your supporters to launch their own t-shirt campaigns to support your nonprofit. All they have to do is select your nonprofit as the beneficiary, encourage their friends to buy a t-shirt, and your organization will receive the funds once the campaign is over. Bonfire will even ship the t-shirts directly to buyers.
Launch a free peer-to-peer apparel fundraiser for your nonprofit

100% risk-free

Easy setup

Fast & secure payouts
As we'll explore later, offering t-shirts alongside your campaign is a fantastic way to drive donations. Donors give a tangible item that represents your nonprofit's purpose which helps to solidify their choice in supporting the cause.
3. Recruit Participants and Have Them Create A Personal Giving Page
Once you have the technology to create your campaign, start reaching out to potential volunteer fundraisers. Most nonprofits reach out to their existing networks, focusing on those who have historically supported their organization. This can include people like:
staff members
volunteers
donors
board members
partners
past event attendees
Take to different platforms (e.g social media, email, SMS, etc.) to share the opportunity and maximize your pool of potential participants. Some supporters may be responsive to emails, while others may be more likely to sign up if you call or text them. Leveraging multiple platforms effectively expands your reach and makes it more likely you'll connect with different supporters.
However you get into contact with them, share the steps they need to know to create their campaign page, so they can get up and running quickly.
4. Promote the Campaign
Peer-to-peer fundraising is the epitome of teamwork. Between your nonprofit and the campaign's participants, everyone should work together to promote the campaign and drive donations from their personal networks.
Supporters should leverage social media to spread the word to as many people as possible at once. However, let participants know that they're free to text, email, and call their friends and family to solicit donations. All they need to do is share the link to their campaign page.
Beyond initially sharing their campaign page and purpose for fundraising, supporters should: 
Regularly update their networks to inspire them to continue giving, letting everyone know how far they have to go to reach their goal.
Shout out top donors and challenge others to take the lead.
Share pictures of their time with the organization, whether it's of them volunteering or attending an event.
Leverage storytelling methods to emphasize why the cause is so important to them. 
Similarly, your nonprofit can share milestone updates, shine the spotlight on standout participants, and continue recruiting new participants throughout the campaign. Your fundraising participants along with your campaign team are all responsible for the success of your peer-to-peer campaign, so make sure everyone is aware of how they can do their part.
5. Follow Up with Fundraisers and Donors
If you don't continue to engage your peer-to-peer fundraisers, it'll be easy for them to put their campaigns on the back burner after the excitement wears off from the initial launch. Prevent them from losing steam by continuously reaching out with updates and words of encouragement. You might send a weekly email or create a Facebook group to let them know how the campaign is going overall and strategies to step up their efforts.
When your peer-to-peer fundraiser eventually comes to a close, your team should:
Thank everyone for their generous contributions. Send thank you notes to donors for giving their hard-earned money to support your cause, and do the same for participants who took the time to make your campaign successful. Let everyone know how much you ended up raising.
Make sure everyone receives their t-shirts. If you sold t-shirts alongside your campaign, reach out to double-check that buyers received theirs.
Remember, one of the main benefits of hosting peer-to-peer fundraisers is to multiply your nonprofit's reach. Following up right after your campaign enables you to kick new relationships off on the right foot and solidify existing relationships with those who already support your cause.
Is Peer-to-Peer Fundraising Effective?

If you're considering hosting a peer-to-peer fundraiser but aren't sure if it's the best avenue, here are some of the benefits you can expect from hosting one:
Organically raise money. The individuals who create fundraising pages on your behalf do so because it's a cause they care about. This type of personal investment in your cause makes it easier and more natural for them to share the fundraiser with their friends and family. 
Spread brand awareness by tapping into donors' networks. Especially when you incorporate factors such as branded apparel, you'll get your nonprofit's brand in front of more people and connect with new supporters who you might not otherwise come into contact with. 
Deepen participants' engagement in the cause by giving them hands-on responsibility. They'll feel personally responsible for the success of your cause when they act as an ambassador for the organization. 
Leverage social proof to establish trust and maximize donations. People are more likely to engage if their friends are the ones soliciting donations. They feel a connection with the person asking for contributions and will want to support their interests.
You can see why so many nonprofits turn to peer-to-peer fundraising as part of their regular development efforts. Between solidifying existing relationships to forming new ones, your nonprofit can't go wrong by pursuing this method.

What Are Some Fundamental Peer-to-Peer Fundraising Strategies?
To ensure the highest possible success with your peer-to-peer campaign, you need to have a few best practices under your belt. Let's walk through some basic strategies that nonprofits often implement during their campaigns.
Tell Your Organization's Story
On your organization's main fundraising page, give an overview of who you are and what your nonprofit's mission is. This can go beyond just text! Add pictures or videos of your team members and projects to your peer-to-peer fundraising page to help people see the faces behind all of the hard work you do. 
Encourage your donors to take note and emulate storytelling methods in their own outreach. Show them how to share their own connections to the cause and share personal images that showcase their involvement, such as a picture from after they finished your annual 5K or helped at a volunteer event. This will help draw in your donors and get them more invested in your cause. 
Give Your Participants the Resources They Need to be Successful
Make it as easy as possible for your donors to launch a peer-to-peer fundraising campaign on your behalf. Provide them with a fundraising toolkit that contains everything they'll need to be successful. This could include things like:
Your organization's official mission statement
Brand guidelines and logos
Candid photos they can use to enhance their fundraising campaign page (if they don't have a personalized one available)
Links to your social media profiles
Social media and email templates they can copy and paste
The easier it is for people to get up and running, the more likely they are to participate. Remember, your fundraising and marketing teams are professionals who know what makes for a standout social media post or email. Share some of their expertise and give everyone the tools they need to succeed— and they will!
Identify Your Key Supporters to Create Some Initial Momentum
Because so much of your success relies on your donors starting their own fundraisers on your behalf and then reaching out to their own networks, it's crucial that your peer-to-peer campaign starts off on the right foot. 
You might start with a soft launch by asking a few people to start fundraising first. Identify and reach out to some of your key donors who have demonstrated a strong passion for your cause and have a large reach online and offline. This will create some initial momentum for your peer-to-peer fundraiser, using it as a way to get more people to sign up to fundraise when you do an official launch.
Set Individual Goals

As the very first step in your campaign, you should've set an overall campaign goal for your peer-to-peer fundraiser. To help you reach this goal, you should break it down into smaller goals for every volunteer to strive toward in their personal campaigns, so that everyone knows how much they need to raise.
You can give everyone a recommended goal when they sign up to participate, but encourage them to increase it if they think they're up for the challenge.
What Peer-to-Peer Fundraising Ideas Will Take Participation to the Next Level?
With the basic building blocks down, you can move forward by developing a strategy that truly makes your peer-to-peer fundraiser stand out. Let's take a look at three peer-to-peer fundraising ideas that fundraisers can use to boost participation and donations.
Offer T-Shirts Alongside The Campaign
When your nonprofit sells custom t-shirts that represent your cause, it empowers your team to spread brand awareness and maximize donations since you'll provide donors with something tangible in return for their contributions. 
Peer-to-peer fundraising multiplies that impact since you'll have a huge team of volunteer fundraisers selling the apparel. Long after your campaign ends, your supporters will think of your nonprofit, because they'll have a custom t-shirt that reminds them of you each time they wear it. When they go out in public, others will naturally see it, potentially sparking interest in your cause.
Our peer-to-peer apparel fundraising platform makes it incredibly easy for participants to offer branded t-shirts alongside their campaigns. Here's how it works: 
Create your organization's official profile, where you can tell your story, upload your logo, add a cover photo, and share links to your social profiles and website. 
Choose what design options are available for your supporters to use. Work with our custom design team to create a customizable design template that supporters can personalize, or you let your supporters create their own designs.
Promote your campaign to your community. Rrecruit volunteers to set up their campaign pages, which you can display on your organization's profile. The easy-to-use content editor allows them to add text, images, and videos without coding.
Participants share their campaign pages with their friends and families, encouraging them to buy a t-shirt to support your cause. When their campaign ends, the t-shirts will be shipped to everyone who bought them.
Stay connected with donors after your campaign. From your Bonfire Dashboard, you can easily download a list of everyone who contributed to your campaign, including their names, contact information, and donation/purchase amounts. You can directly import this information into your CRM.
Bonus: Use our Bonfire + Classy Integration. If you're already using Classy for peer-to-peer fundraising, then you can enable the Bonfire + Classy Integration to empower your supporters to easily sell apparel alongside their campaigns on Classy. At the end of each Bonfire campaign, donor data is automatically synced with Classy, and the supporters get their shirts.
It's that simple! All of the money your supporters raise will be sent directly to your nonprofit. We make sure payouts are frustration-free, alerting you when a new payout is available and sending it directly to you via PayPal, Check, or ACH. Not to mention, we also offer reduced payment processing fees and free access to our fundraising platform for all verified 501(c)(3) nonprofits, making sure you get the most out of your campaign as possible.
Launch a free peer-to-peer apparel fundraiser on Bonfire

100% risk-free

Easy setup

Fast & secure payouts
Gamify The Experience
Motivation will naturally be high at the start of your campaign. However, participation will dwindle if your campaign takes place over the course of a few weeks. It's up to you to keep everyone's spirits high, and one way to do that is to gamify the experience. 
In other words, you want to make it fun to participate by incorporating competitive aspects like:
Fundraising thermometers. Keeping a running tally of donations in the form of a thermometer gives your fundraising team and donors an idea of your campaign's progress. Participants will know to step up their efforts if necessary to reach your goal, and donors might give an even larger contribution to see how much they can make the thermometer move.
Leaderboards. Show off your top fundraisers or donors to thank them and inspire others to step up their efforts to get a shoutout. If your software doesn't automatically generate a running tally of who's raised the most money, just showcase the top performers or contributors on your nonprofit's social media profile.
Incentives for reaching milestones. Break up your participant's goals into bite-sized pieces by giving them milestones to work toward. You can pair each major milestone with some sort of reward, like a campaign t-shirt, custom water bottle, or something else to inspire them.
Some friendly competition goes a long way in keeping the momentum going throughout your nonprofit's fundraising campaign. Adding elements like this will inspire everyone to do their best, directly impacting how much money they end up raising for your cause.
Pair It With An Event
Many nonprofits pair their peer-to-peer fundraising campaigns with a big celebratory event to give everyone something to look forward to. This helps build hype around your campaign, increase attendance rates if you were already planning on hosting an event, and provides a natural opportunity to share fundraising results with your entire community.
Most often, peer-to-peer fundraisers are paired with events such as:
"Thon" style events
Galas
Street festivals
Not able to bring everyone together? Try hosting a virtual celebratory event, like an online gala. You can even provide hybrid opportunities to engage both your in-person crowd and your at-home supporters. Whether you're meeting in person or staying home, a well-planned event is a surefire way to keep everyone invested until the very end of your campaign.
---
At the end of the day, peer-to-peer fundraising is a great way for your nonprofit to raise money, strengthen your relationship with your supporters, and expand your reach to new audiences. If you haven't already, start outlining your nonprofit's peer-to-peer campaign strategy to take your organization's fundraising efforts to the next level. In no time, your nonprofit will create an inspired fundraising team that will go to great lengths to see your nonprofit succeed.