Imagine being able to harness the power of your individual donors to raise money on your behalf, while strengthening the relationship between your nonprofit and those donors at the same time. With peer-to-peer fundraising, you can do just that!
If your nonprofit is interested in learning more about how to launch a peer-to-peer fundraiser, or if you're looking for a refresher on peer-to-peer fundraising best practices, then you're in the right place. This guide will help you understand what peer-to-peer fundraising is, how it works, its benefits, the different types of peer-to-peer fundraising campaigns, and how to make the most of your campaign.
Use our new Classy integration to easily sell custom apparel alongside your Classy campaign and raise additional funds for your organization.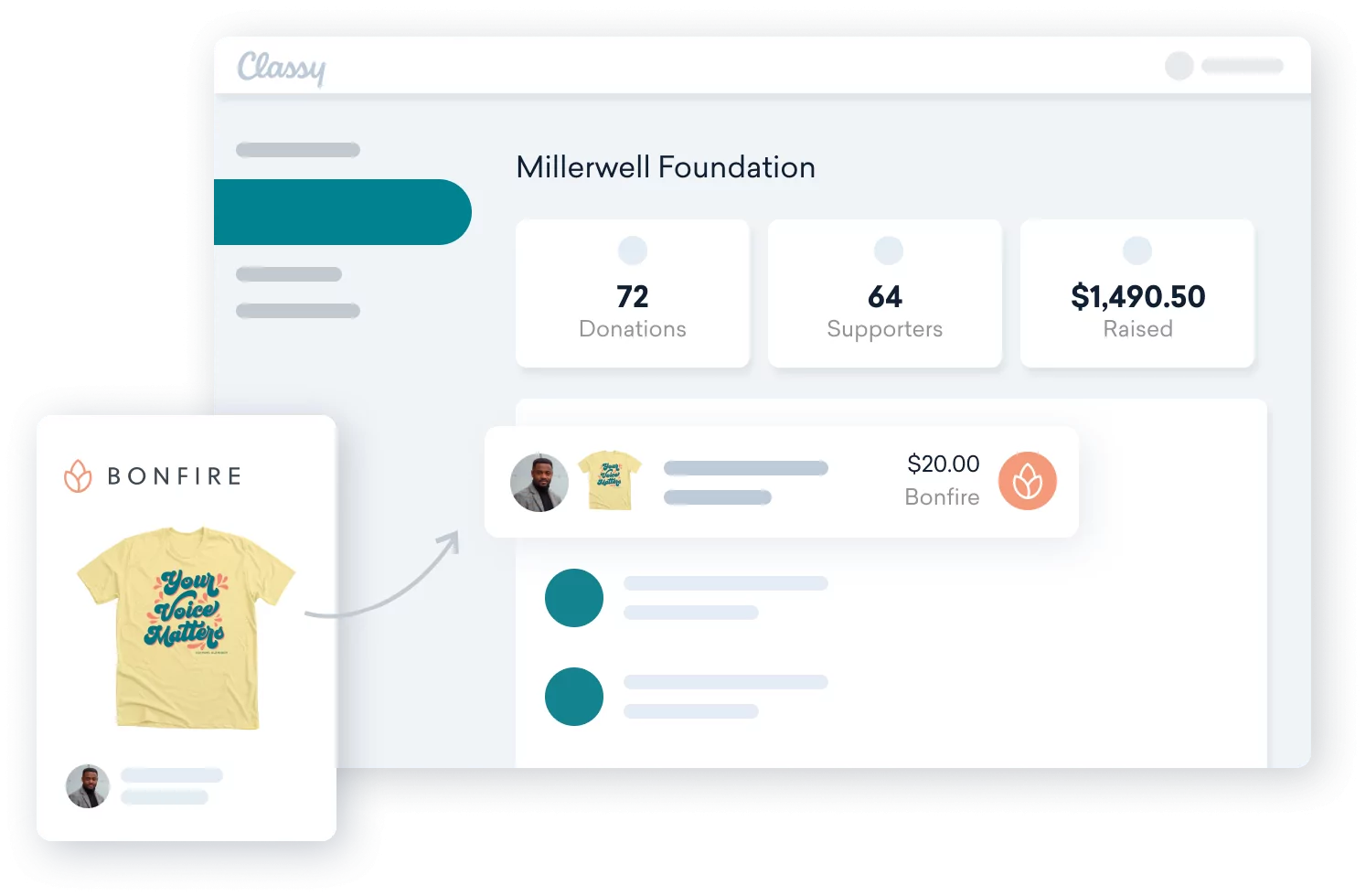 What is Peer-to-Peer Fundraising?
Peer-to-peer fundraising is a social fundraising strategy that gives individuals the ability to raise money on behalf of a nonprofit organization. Users will create an online fundraising page, set a goal for how much they want to raise, and then leverage their existing social networks and relationships to ask for donations. When their fundraiser ends, the money that the individuals raised will go straight to the nonprofit organization.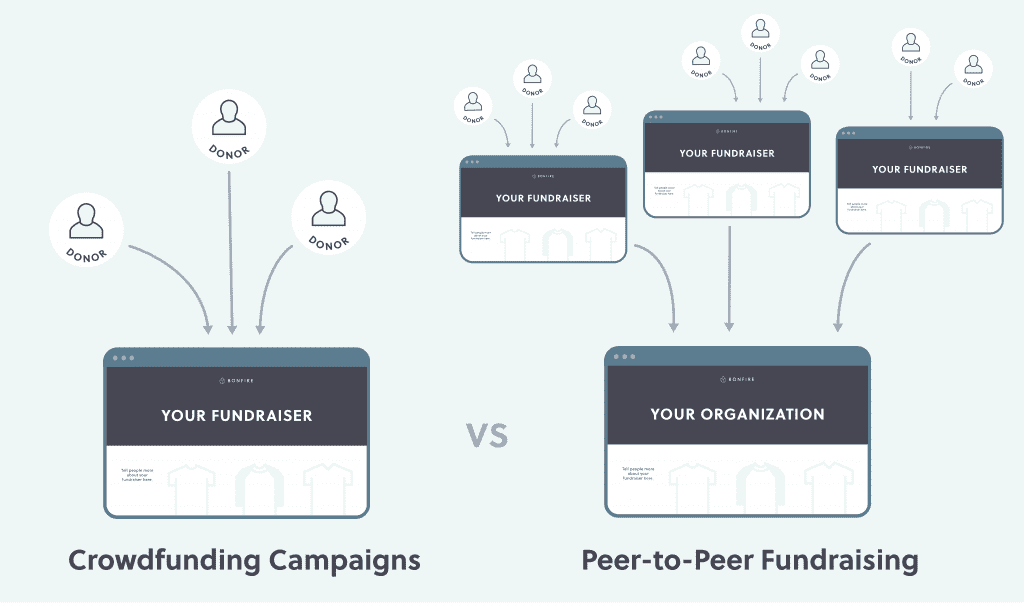 How is this different from crowdfunding? The money raised during a peer-to-peer fundraising campaign will always go to the nonprofit organization it's raising money for. In a crowdfunding campaign, the money that's raised can go towards anything like personal causes, business start ups, and projects.
How Does Peer-to-Peer Fundraising Work?
In its most basic form, a peer-to-peer fundraising campaign follows these steps:

Determine what type of peer-to-peer campaign you want to run and set a financial goal for how much money you want to raise
Choose a peer-to-peer platform and create a main fundraising page that represents your organization.
Reach out to your donors to inform them about your campaign page and ask if they would be interested in launching their own fundraising page.
Donors create personal fundraising pages on behalf of your nonprofit.
Donors solicit donations from their friends and family members and get the word out about their campaign by sharing their campaigns on social media.
Your nonprofit tracks the overall progress of your campaign and provide your donors with continued support and resources to promote their fundraisers.
Benefits of Peer-to-Peer Fundraising
There are three primary benefits of using peer-to-peer fundraising as part of your nonprofits overall fundraising strategy:
🤝 Strengthen Your Relationships with Supports
By empowering your donors with the ability to create their own fundraising pages with their own story about why your cause is so important to them, you give them the opportunity to feel personally connected to your nonprofit. Through this, your relationship with your donors will be closer than ever.
💰 Organically Raise Money & Awareness
The individuals who create fundraising pages on your behalf do so because it's a cause they care about. This type of personal investment in your cause makes it easier and more natural for them to share the fundraiser with their friends and family.
⏰ Save Your Organization Time & Money
Because peer-to-peer fundraising relies on the relationships of your donors to raise money on your behalf, you're able to save your nonprofit time and money that it would have cost your organization to get the same result.
Types of Peer-to-Peer Campaigns
Depending on your nonprofit's fundraising goals, there are three different types of peer-to-peer fundraising campaigns that you could run.
Recurring Peer-to-Peer Campaigns
Recurring peer-to-peer campaigns go on indefinitely and are usually intended for general fundraising purposes. These types of campaigns are great to include in your social media posts, monthly newsletters, and on your website in the main navigation so users can easily make a donation or launch their own campaign.
Time-Based Peer-to-Peer Campaigns
Time-based peer-to-peer campaigns take place within a specific timeframe and are usually tied to a scheduled event. Some of the most common types of time-based campaigns include: walk-a-thons, 5ks/10ks, bowl-a-thons, and golf outings.

Launch a Peer-to-Peer Event on Bonfire
Enhance your organization's next event by empowering your community to launch apparel-based fundraisers on your behalf.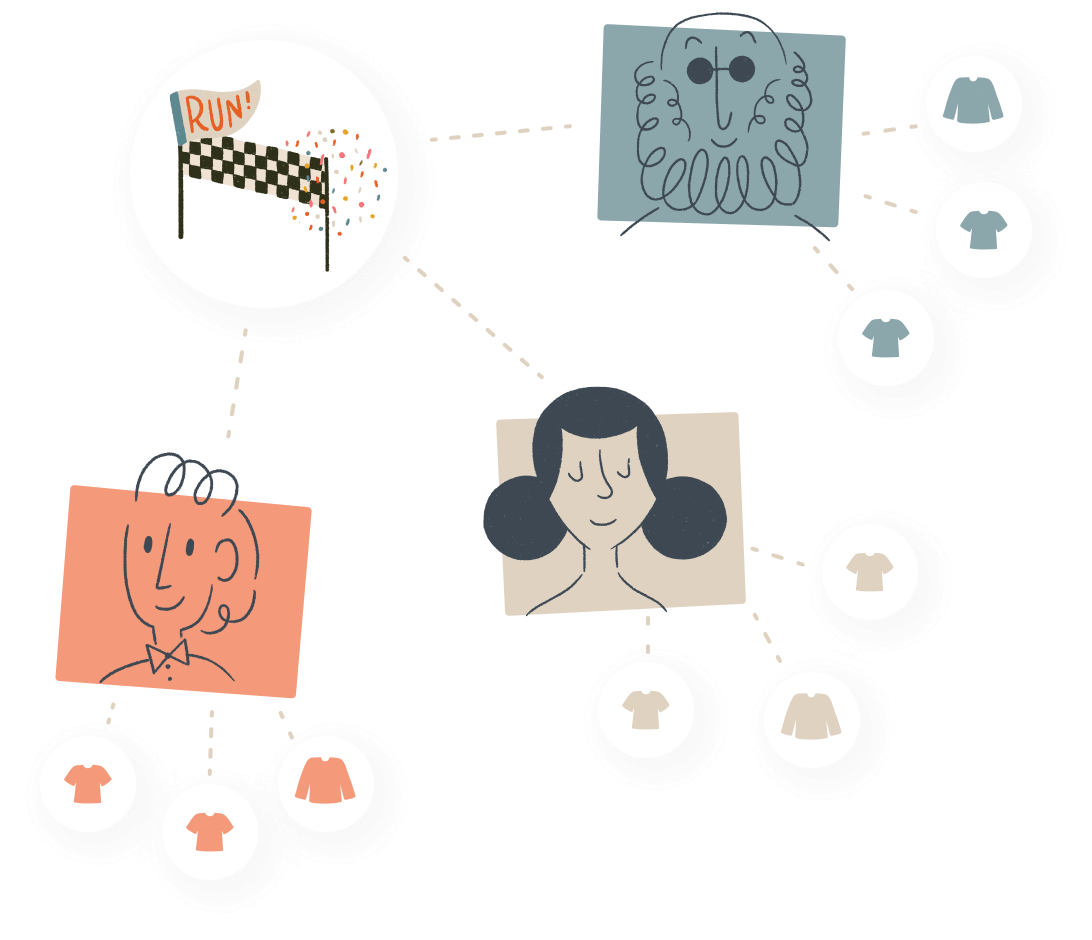 Giving Days
Peer-to-peer giving days challenge donors to raise as much money as they can or reach a certain goal in 24 hours or less. A great example of this is Giving Tuesday. You can encourage your donors to raise as much money as possible during one of the most charitable days of the year.
Peer to Peer Fundraising Best Practices
To ensure your organizations peer-to-peer campaign has the highest possibility of success, follow these three tips:
Tell Your Organization's Story
On your organization's main fundraising page, be sure to give an overview of who you are and the mission of your nonprofit. This can go beyond just text though! Add pictures or videos to your fundraising page to help people see the faces behind all of the hard work you do. This will help draw in your donors and get them more invested in your cause.
Identify Your Key Donors to Create Some Initial Momentum
Because so much of your success relies on your donors starting their own fundraisers on your behalf and then reaching out to their own networks, it's crucial that your campaign starts off on the right foot. To help ensure this, identify and reach out to some of your key donors who you know are passionate about your cause and have a large reach online and offline. This will create some initial momentum and social proof for your campaign from the very first day it launches.
Give Your Donors the Resources They Need to be Successful
You want to make it as easy as possible for your donors to launch a fundraising campaign on your behalf. To do this, provide them with a fundraising toolkit that contains everything they'll need to be successful. This could include things like:
Your organization's official mission statement
Brand guidelines and logos
Candid photos they can use to enhance their fundraising campaign page
Links to your social media profiles
Social media and email templates that they can copy and paste
Thank Your Donors
Acknowledge the hard work and effort that your donors are doing for your organization. An easy easy way to thank everyone is to post a big thank you message on Facebook, Instagram and Twitter. But we encourage you to go beyond just a simple social post! Consider personally reaching out to all donors who launch a campaign on your behalf to thank them. If there are some donors who are going above and beyond your expectations, try and do something special to let them know how thankful you are.
---
At the end of the day, peer-to-peer fundraising is a great way for your nonprofit to raise money and to strengthen your relationship with your supporters. If you haven't already, start outlining your nonprofit's peer-to-peer campaign strategy to take your organization's fundraising efforts to the next level.