👋 This product is part of our extended catalog and is only available to Bonfire verified creators. To see if you are eligible to become a verified creator on Bonfire, click here!
Reusable water bottles are an essential everyday item for many of us. Whether you're working from home, out running errands, at the office, or at the gym – having a water bottle nearby is a must. Custom designs take standard water bottles to the next level, turning them into a fun accessory that people actually enjoy carrying with them throughout their day.
At Bonfire, we offer a customizable Stainless Steel Water Bottle in our product catalog. Designing a unique water bottle for your community is quick, easy, and fun. Your buyers are sure to love this option!
Let's take a closer look at how to design a custom water bottle so you can go ahead and get started.
Get to Know the Stainless Steel Water Bottle
Once you're in our Design Tool, check out the product details for the water bottle.
The Stainless Steel Water Bottle holds up to 17 oz.
It is designed to keep liquids hot or cold for hours.
The bottle is white with stainless steel accents on the lid and on the base.
It's sleek, classic, and guaranteed to showcase your design beautifully.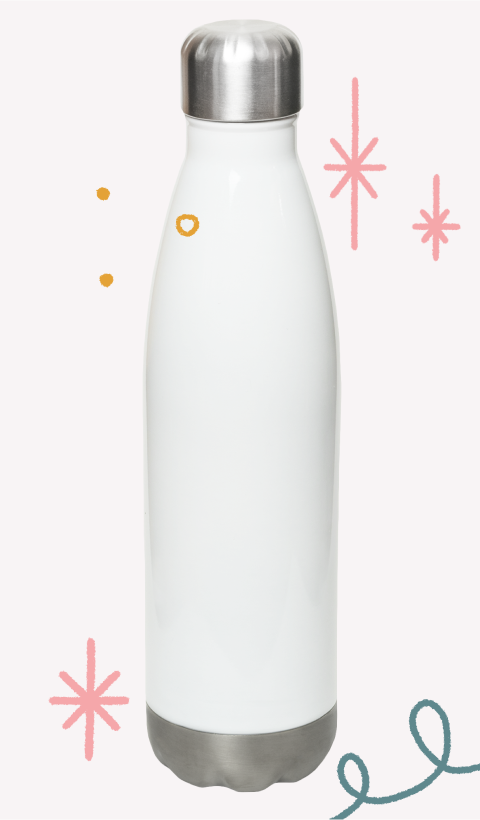 Think About the Big Design Picture
If you are offering multiple products in your Bonfire shop, it's important to consider how your products exist together as a collection. It might be beneficial to focus on an overarching theme, feeling, or message that is incorporated into all of your products.
Here are some helpful questions to ask yourself while planning the design of your water bottle:
Would you like the designs on all of your products to be the same, or different?
Will you use similar colors, imagery, or text to tie your designs together aesthetically?
Who is your target audience for your water bottle, and what design would resonate best with them?
What design would look best and stand out the most against the white background of the bottle?
Now that you have thought through the look and feel of your water bottle, it's time to move on to the next step.
Create Your Design
You made it to the design stage of your Stainless Steel Water Bottle! Before getting started, take a look at the customization tools. Small changes can make a big difference in the overall design, so take your time and have fun!
Add Text 
You have the ability to add your own text to your water bottle if you'd like! Options for changing the font, color, spacing, arc, rotation, and size of your text really help you get the text just right.
Find Graphics
Browse our extensive clip art gallery to find graphics that can be added to your design! This tool can be incredibly helpful if you don't have the time or the means to create a new design on your own. Select a graphic that works with your message and your aesthetic and you're good to go!
Upload Art
If you have a logo or design that you would like to use for your water bottle, you can go ahead and upload it directly to our design tool! 1500px by 1500px transparent artwork is preferred and original vector artwork works best if you have it. Our printing method allows up to 8 colors in your design. (Avoid the use of full-color photos or gradients.) We support AI, EPS, PDF, PNG, and JPG files. It's fun to put your logo or your artwork on merch, upload your design and see what you think!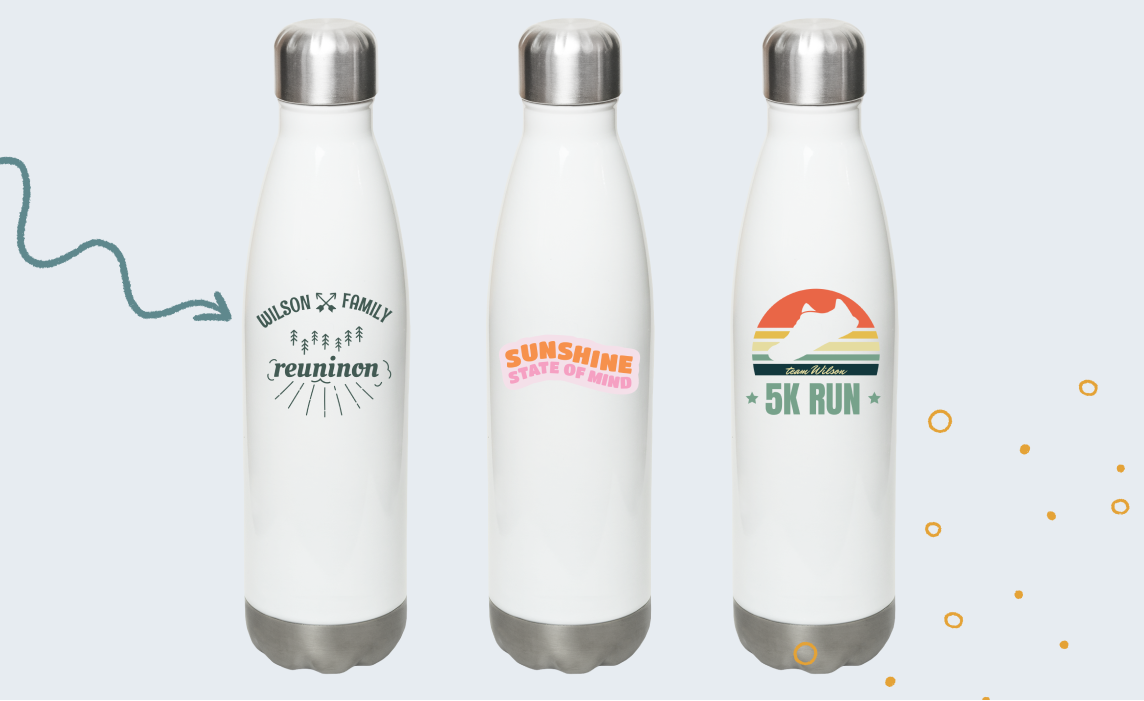 Water Bottle Design Ideas
Use a Trendy Lettering and Fonts
There are so many lettering styles to choose from when creating your water bottle! Each lettering style comes with its own unique vibe, so take your time deciding which style feels right for your design. Browsing Pinterest and Instagram for lettering examples is an awesome way to get inspiration and also stay up to date on current lettering trends.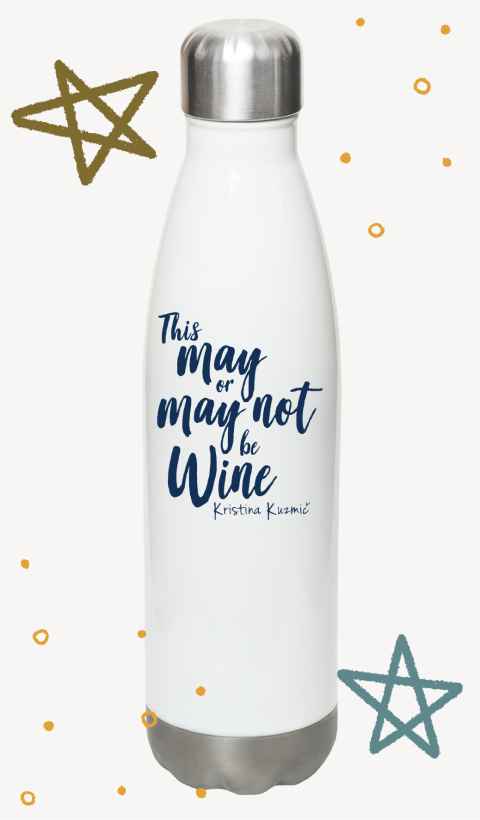 Handwritten Script
A modern lettering style that provides a touch of whimsy and elegance. The handwritten script works great for quotes. It's simple but lovely, and your buyers will be drawn to the look of it.
Bubble Letters
This lettering style is playful and fun. Bubble letters make words or phrases stand out in a visually appealing way. Try a solid background behind your bubble letters for even more POP! Your buyers will enjoy the big personality that bubble letters will bring to your design.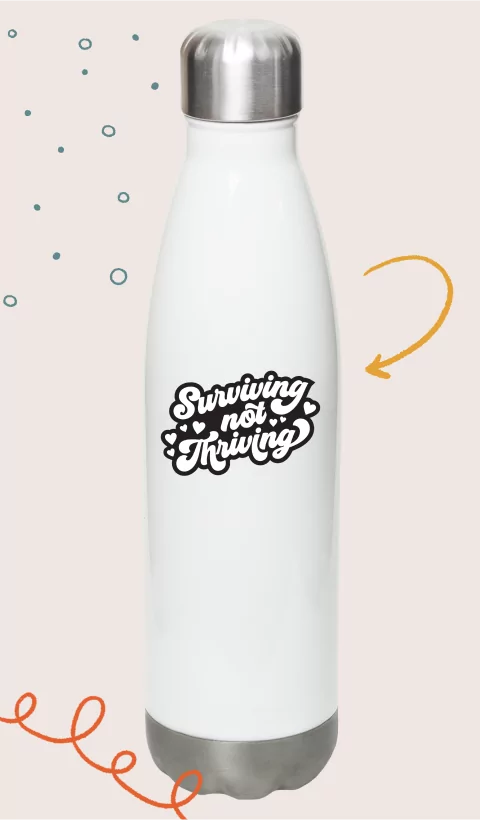 Match Your Water Bottle with Your Tee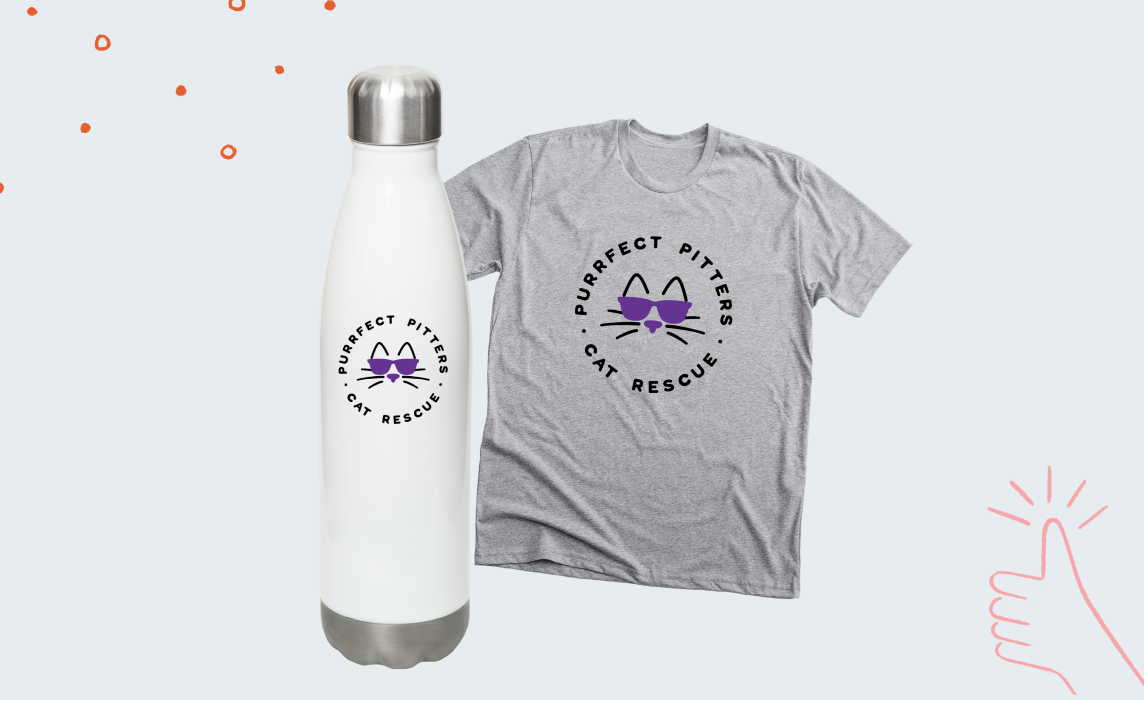 If you are offering a water bottle in your shop alongside other custom merchandise, such as a tee, consider having them match! Not only is it fun for your buyers to purchase matching merchandise items, but this option also saves you the time and effort of creating a new design. This works really well if you have a logo design or a popular design that has already proven to sell well.
Have Fun with Your Colors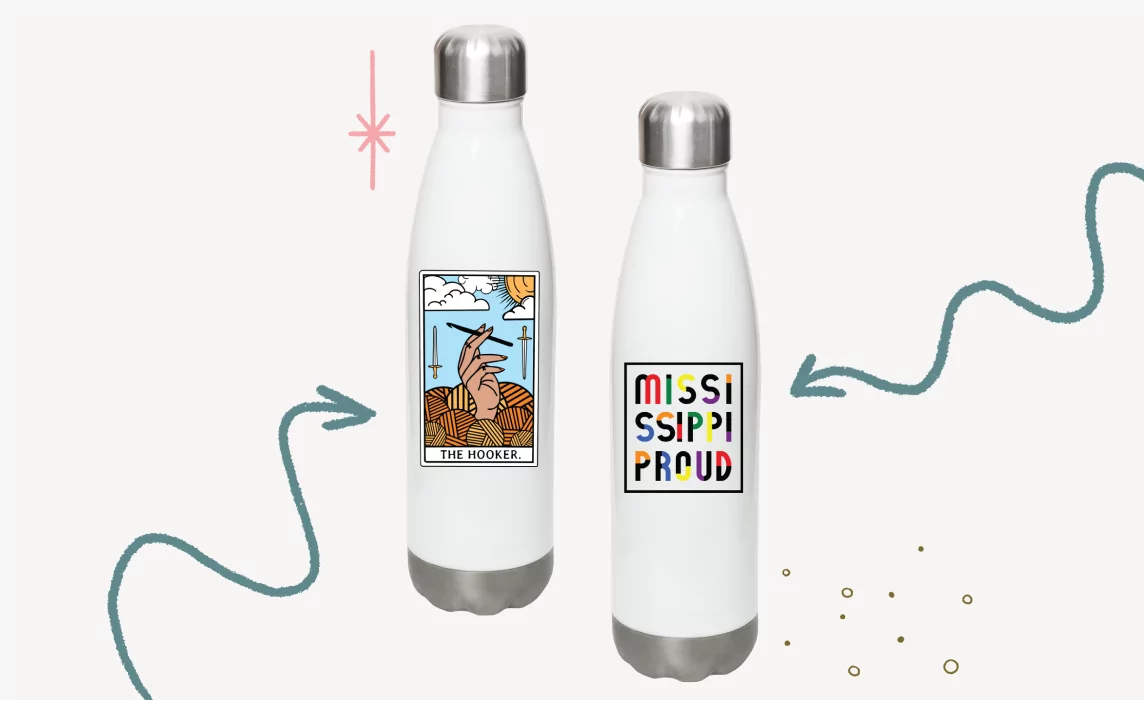 Bright, bold color palettes, as well as soft, muted color palettes, have been making a comeback recently in the style world. These two-color trends exist on opposite ends of the spectrum, but provide so many exciting possibilities for your design! When deciding which color scheme to choose, think about how you want your design to make people feel.
If you'd like them to feel upbeat and energized, go with brighter colors like neons, warm shades like reds, oranges, pinks, and yellows, or high contrast colors. If you'd like them to feel peaceful and calm, go with soothing colors like pastels, cool shades like blues, purples, and greens, or try out some earth tones. The base color of your water bottle is white, so whichever way you choose to go with your colors – loud or understated – the end result will look incredible.
---
Hopefully, you're feeling confident and ready to finalize the design of your very own Stainless Steel Water Bottle! Once it's complete you can add it to your Bonfire store or place an order through Supply. Your buyers will love this customized water bottle that they can use and enjoy daily!