With digital trends on the rise and technology here to stay, fundraising has grown and expanded to more online spaces than ever before.
Individuals and organizations can capitalize on their online networks and effortlessly acquire a larger reach to help increase donations and support causes.
Fundraising sites can be used for personal fundraising to cover medical expenses, tuition, or other costs as well as for organizational fundraising to cover office construction, management software, projects, and more. But with so many different sites to choose from, it can be overwhelming to pick the right one to match your needs.
To help you get an introduction to the all of the best options available, check out our list of top online fundraising websites providers below!
The 10 Best Fundraising Websites
1. Bonfire
Best T-Shirt Fundraising Site
Bonfire is a top fundraising site that allows individuals and nonprofit organizations alike to raise money by selling custom t-shirts. Their platform is 100% free and it only takes a few minutes to design a product, set your prices, and launch your fundraiser. Plus, if you'r raising money on behalf of a nonprofit, Bonfire will send the funds directly to the organization your raising money for at the end of your Campaign.
Bonfire has an extensive offering of custom apparel options that come in a variety of styles, fits, and colors for you to choose from for your fundraiser. You can also create your own online t-shirt store to host all of your products and fundraisers in one place.
If you need some shirts from your fundraiser before it ends for an upcoming event, you can place a bulk order through Bonfire Supply.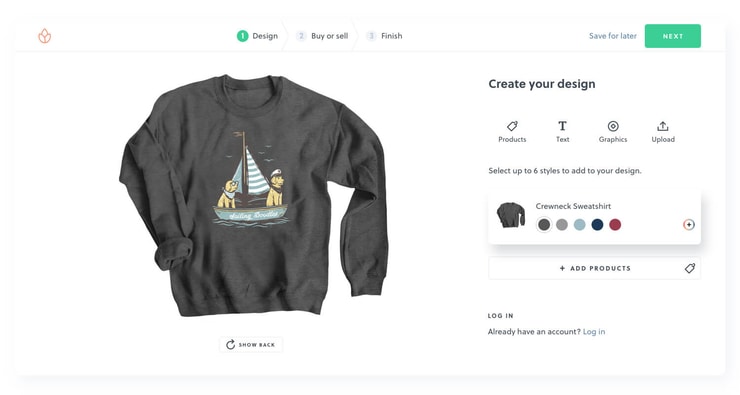 Bonfire Pricing
Bonfire lets you keep your profits! Their platform is free to use. The only charges are the following:
Donation fee – if you enable the option to receive additional donations at checkout, Bonfire will deduct an 8% fee for transaction fees. The other 92% goes right to you. If you're a nonprofit organization, then the donation fee is only 3.5%.
Shipping (domestic) – $3.99 for the first product and increases by $2.50 for each additional product from the same Campaign. For orders with 4 or more products from the same Campaign, shipping is a flat rate of $11.49.
Shipping (international) – $9.99 for the first product and increases by $4.00 for each additional product from the same Campaign. For orders of 4 or more products from the same Campaign, shipping is a flat rate of $21.99.
2. Fundly
Best Crowdfunding Website
Fundly's cheap fundraising website comes loaded with dozens of helpful features. Your Fundly fundraising page will feature your most powerful and impactful photos and videos front and center, so your supporters can instantly visualize the reason you're raising money.
With Fundly, there's no minimum amount you have to raise in order to keep your funds. Your funds can be withdrawn in a quick 24-hour turnaround and you can set up automatic transfers to get your money faster.
Plus, when your campaign begins, you'll receive email updates and alerts that will help direct you through the starting stages. These updates are an easy way to keep track of your progress and keep supporters in the know.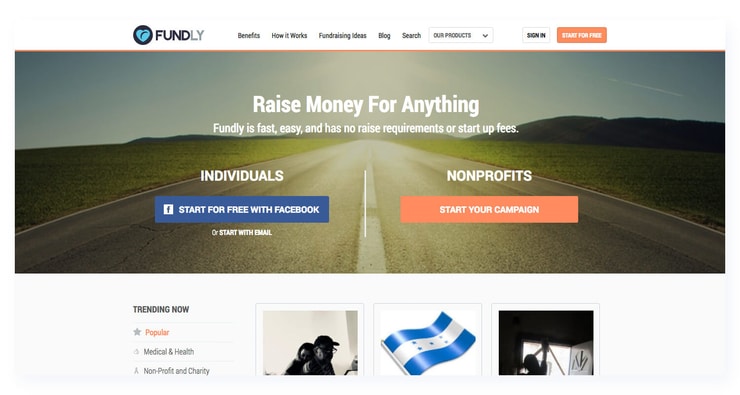 Fundly Pricing
Fundly charges a 4.9% platform fee and credit card processing fee of 2.9% + $0.30.
3. Edco
Best Team and School Fundraising Website
Edco believes that fundraising is a team sport! This is particularly true for K-12 schools or clubs, where all too often a single individual is put in charge of an overwhelming fundraising project. With digital tools from Edco, it's easier than ever to get everyone involved.
Set up your school, club, or team's fundraising page in just 3 minutes, then get started promoting your campaign. Get students and parents in on the action with easy social media sharing tools.
Best of all, any donations to an Edco-hosted campaign are tax-deductible, and you can withdraw raised funds whenever you want! By taking all the admin hassle out of the equation, Edco team fundraising might be the perfect way to take your project to the next level.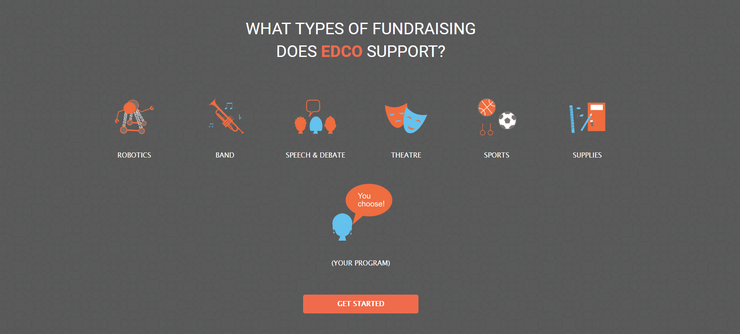 Edco Pricing
Edco charges a 4.9% service fee and credit card processing fee of 2.9% + $0.30 per credit transaction.
4. Double the Donation
Best Nonprofit Matching Gifts Database
Double the Donation is a leading provider of matching gifts program information. They take the guesswork and uncertainty out of finding matching gifts-eligible donations by doing the research for you and providing ways to get that information to your donors easily.
They offer a variety of services, including a personalized Double the Donation page for your organization or a fully customizable plugin to embed onto your own donation page, so your donors can maximize the impact of every donation and help you take advantage of corporate philanthropy.
By making matching gifts information easily available to your donors while they're making their donations, you can increase awareness of corporate philanthropy programs and encourage them to initiate the matching gifts process as they complete their donation.
The database is frequently and rigorously updated, so you never need to worry about missing out on matching gifts from qualified donors.
Matching Gifts Database Pricing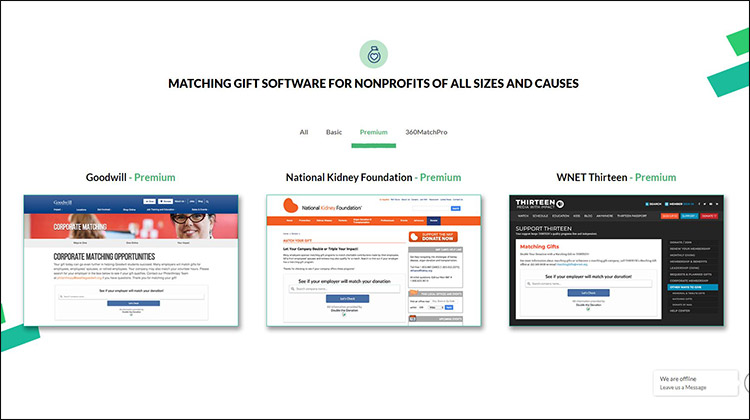 Double the Donation Pricing
Double the Donation offers two price points, dependent on your needs and the size of your nonprofit. See those options here.

5. Kindful
Best donor management software
Kindful offers a suite of fundraising and donor management tools that help nonprofits build stronger relationships with their communities and improve their donation process. Their platform has 12 different fundraising tools, including popular features like donation pages, embeddable donation buttons, event ticketing and registration landing pages, and text-to-give. While their donor management tools include must need features like donor life cycle analytics, list segmentation, donor accounts, unlimited admin users, and relationship tracking.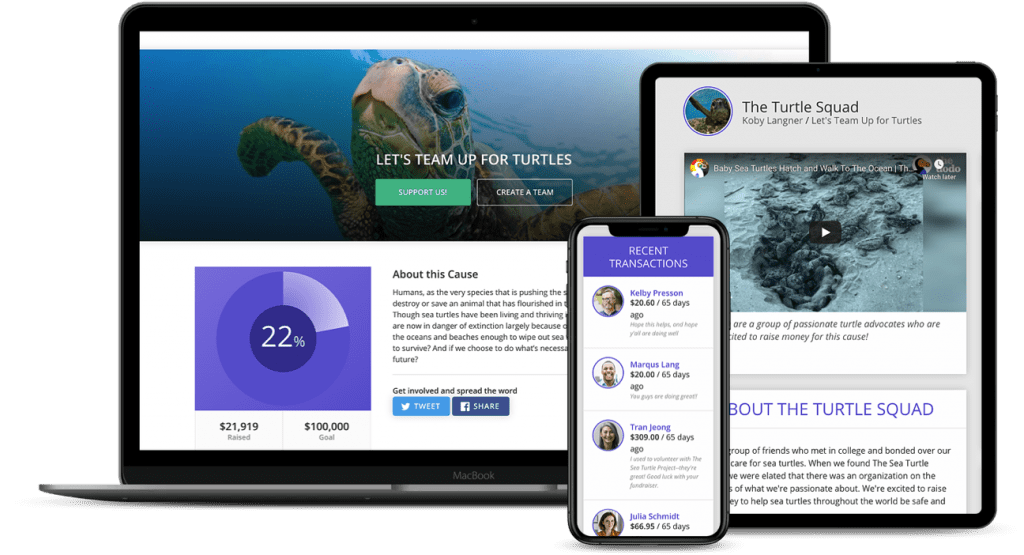 Plus, their platform integrates with over 30 different software providers including other fundraising apps and websites.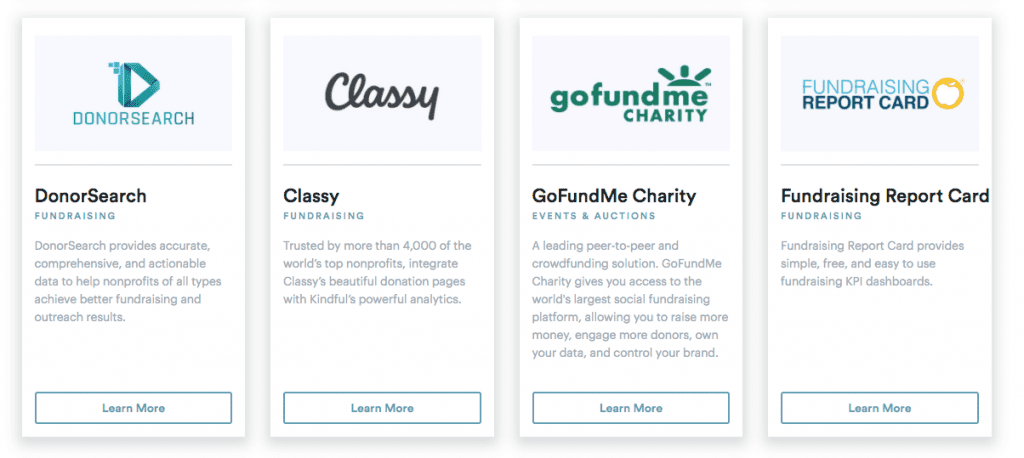 Kindful Pricing
If you have less than 1,000 contacts and don't need their full suite of tools, then you can signup for one of their product bundles. The Kindful Triple Play bundle starts at $199/mo and the Donor Insights bundle starts at $299/mo. But if you have more than 1,000 contacts, then pricing starts at $100/mo and can go as high as $700/mo.
6. Crowdfunder
Best Equity Fundraising Website
Crowdfunder has a network of over 12,000 angel investors that will be at your disposal when you start a campaign.
With this equity crowdfunding platform for startups, you'll have plenty of added benefits like detailed analytics, newsletter templates, and ad campaigns to help you maximize your fundraising by creating additional streams of revenue.
In addition, their fundraising coaches have experience in raising over $150 million, so you can be sure that their team can help bring your campaign to success with no stress!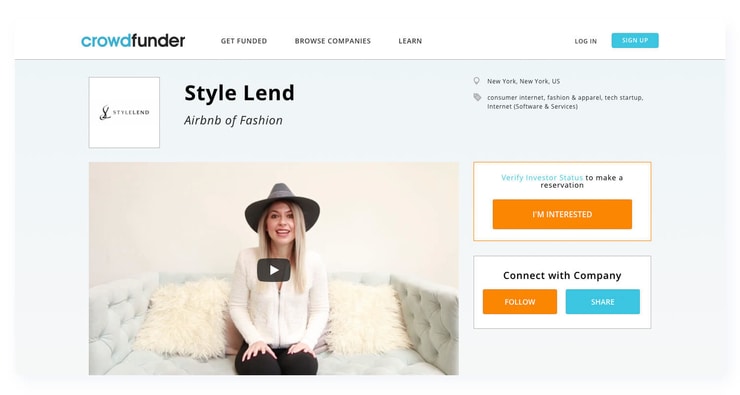 Crowdfunder Pricing
Crowdfunder's fundraising website starts at $399 a month.
7. Indiegogo
Best Fundraising Website for Creative Projects
With over 650,000 projects housed on their site and 15 million visiting their site every month, Indiegogo is a leading fundraising site for work in categories like tech, social innovation, design, marketing, and more!
Your Indiegogo crowdfunding page will prominently display videos and photos featuring your mission, project, or product with compelling text to portray the importance of your efforts. Between these benefical features and Indiegogo's team of 9 million backers, your campaign is sure to be a success!
Plus, you can request access to Indiegogo's free Crowdfunding Field Guide at any time to learn how to build up your campaign, craft strategies, and get the most from your resources.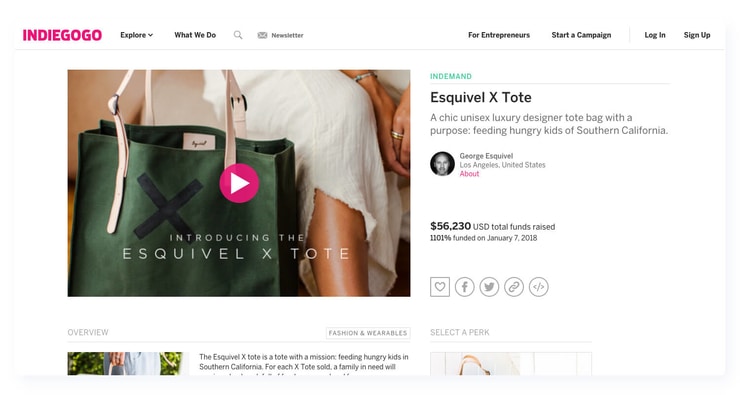 Indiegogo Pricing
If you're fundraising for a cause, there's no platform fee, just a 3% + $0.30 credit card fee! If you're raising money for your entrepreneurial project, there's a small 5% platform fee and a 3% + $0.30 credit card fee.
8. Kiva
Best Micro-lending Website
Kiva's top online fundraising website works in 83 different countries and has connected 1.7 million givers with important projects and causes.
Kiva's platform works on a loan system for microfinance organizations. When your supporters donate to your cause or mission, they're simply giving you a loan that you'll pay back, which is naturally a huge incentive and encourages giving.
With all categories in full effect on Kiva's website, your mission, whether its related to health, agriculture, education, or something new, is sure to find financial backing.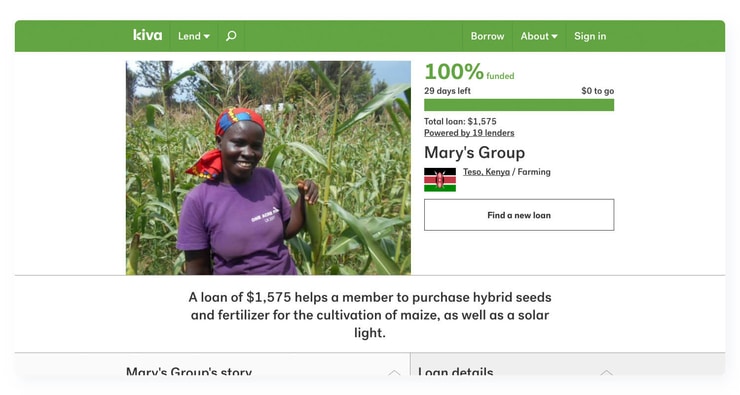 Kiva Pricing
The only fee you'll encounter is an interest rate on your loans!
9. Experiment
Best Fundraising Website for Scientific Research
Experiment is the ideal fundraising site for scientific projects. With categories like biology, anthropology, art and design, and more, Experiment helps "fund the next wave of scientific research."
With Experiment's all-or-nothing platform setup, your campaign must reach its fundraising goal in order for your supporters' pledges to be charged.
With over 120,000 members backing nearly 800 experiments with over $7.5 million pledged, your campaign is sure to be a success!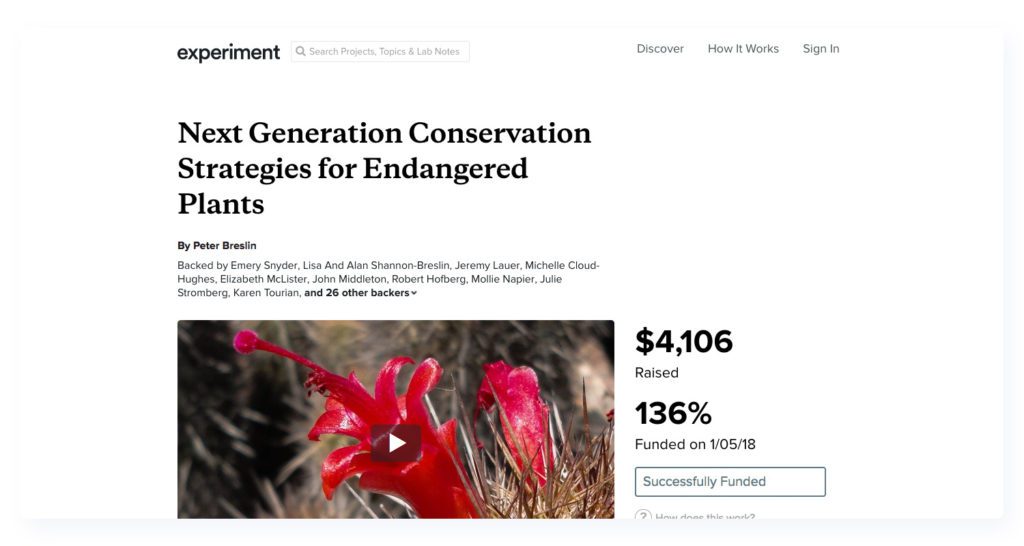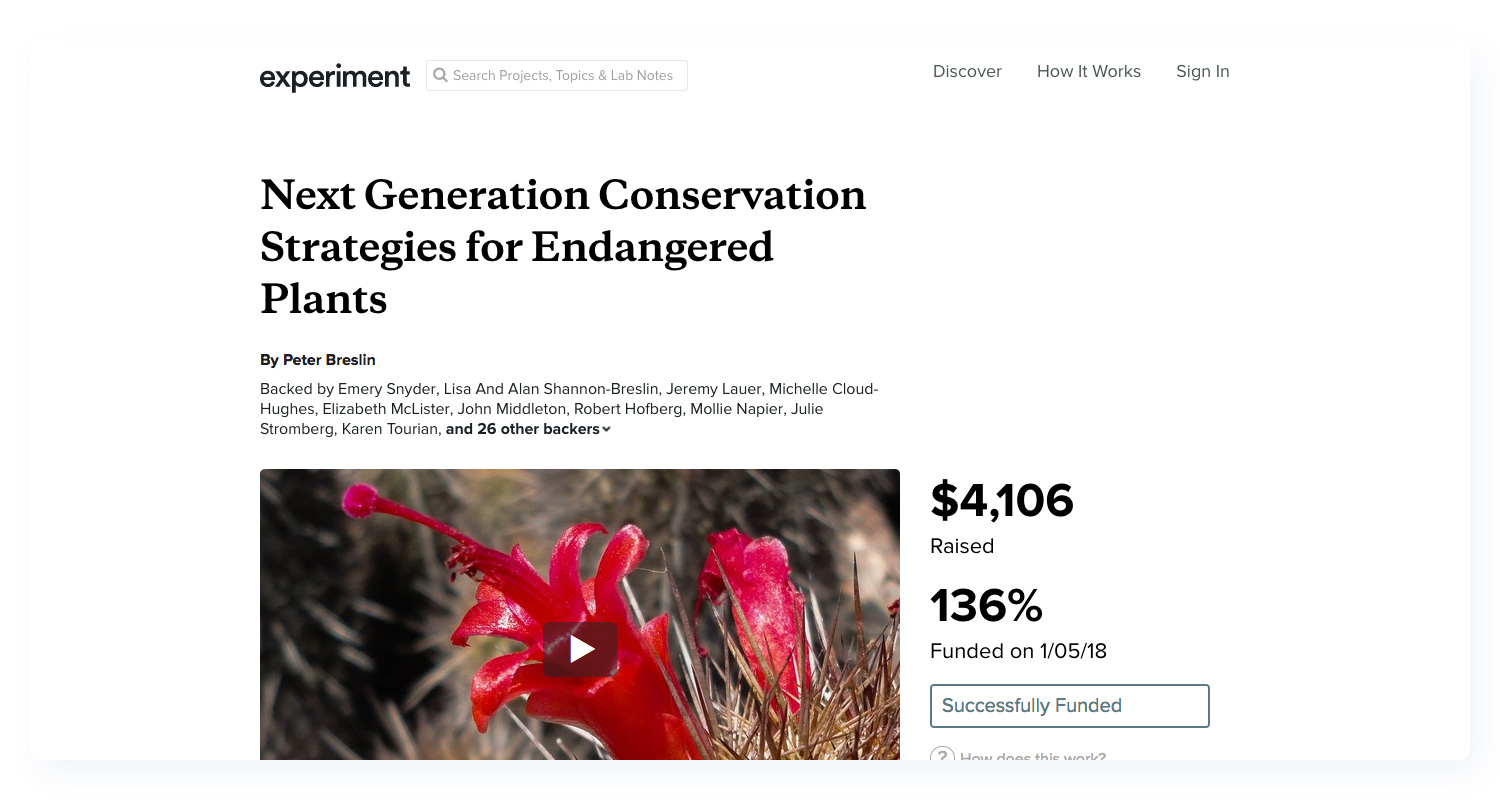 Experiment Pricing
It's free to start a project on Experiment's fundraising site. If your campaign is fully funded, Experiment will charge an 8% platform fee and a 3-5% payment processing fee.
10. DonorsChoose
Best Fundraising Website for Education
Started by a Bronx public high school teacher, DonorsChoose is a popular fundraising site for classrooms in need in the United States!
DonorsChoose fundraising pages allow you to post vivid photos while breaking down exactly where each donation goes and tracking your campaign's overall success.
With over 2.9 million supporters, Donors Choose has funded 1 million projects and improved the educations of over 25 millions students. No school should be low on funds and no student should go without proper resources to encourage learning.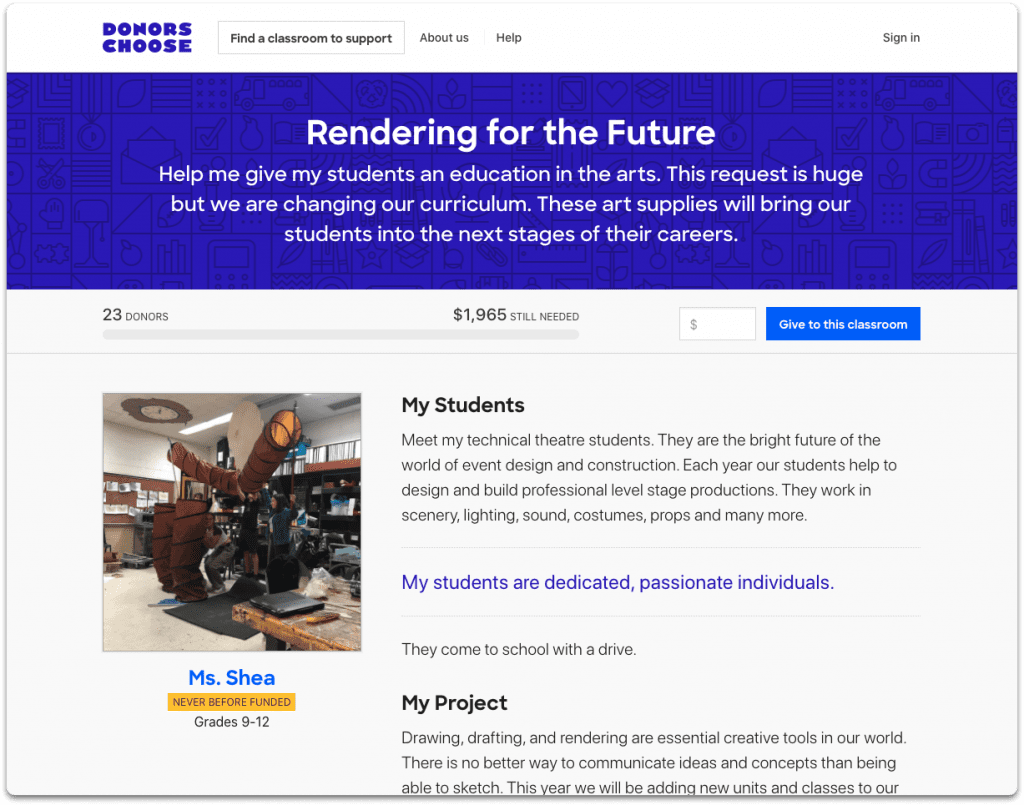 DonorsChoose Pricing
DonorsChoose is free for teachers around the U.S.! If your fundraising goal isn't met, all pledgers can redirect their previous donations to your next project.
11. DoJiggy
Best Fundraising Software for Events
DoJiggy offers a wide range of fundraising software and event tools for nonprofits and schools. Their software will help you raise money for any cause or goal you have, while helping you streamline some of the administrative work related to the campaigns. Ultimately, they want their products to give you more time to establish and maintain your relationships with your donors.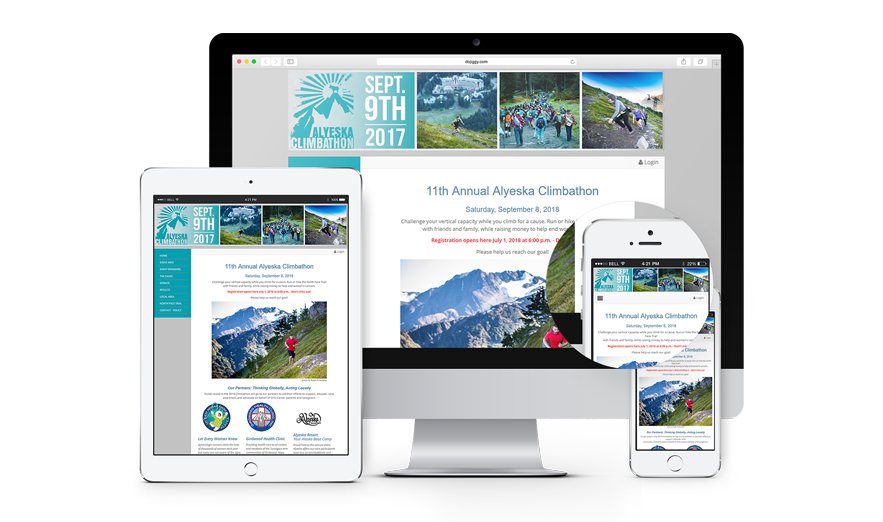 Some of their fundraising software and event products include:
Online donation software
Event management software
Crowdfunding software
Golf tournament software
Online storefronts to sell merchandise
DoJiggy Pricing
| | |
| --- | --- |
| Plan | Price |
| Pledge for Crowdfunding | $499 annually + .20 per credit car transaction for users not using their payment and merchant services |
| Donations | $39/month |
| Golf & Events Pro | $399 annually |
| Unlimited Initiatives | $259/month |
---
Now that you have our 10 top online fundraising websites, your projects will never go without funds! All that's left to do is select a provider, market your campaign, and raise money.