With digital trends on the rise and technology here to stay, fundraising has grown and expanded to more online spaces than ever before. Individuals and organizations can capitalize on their online networks and effortlessly acquire a larger reach to help increase donations and support causes.
Professional fundraisers have recognized the potential that comes with going digital. Fundraising sites can be used for personal fundraising to cover medical expenses, tuition, or other costs as well as for organizational fundraising to cover office construction, management software, projects, and more.
To help you find the platform for you and your needs, we've put this list together of the 13 best fundraising sites for any cause.
Website
Best For
Platform Fee
Processing Fee
Bonfire
T-shirt fundraisers
None
3.5% – 8% per additional donation
Classy
Nonprofits
Custom
2.2% + $0.30 per transaction
+1% for AMEX
Fundly
Crowdfunding
4.9%
2.9% + $0.30 per transaction
Edco
Schools & teams
4.9%
2.9% + $0.30 per transaction
Double the
Donation
Gift matching
None
None
Kindful
Donor management
None
As low as 1% + $0.30 per transaction
Fundable
Startups
None
3.5% + $0.30 per transaction
Indiegogo
Innovative tech
5%
2.9% + $0.30 per transaction
Kickstarter
Creative projects
5%
3% + $0.20 per pledge
Kiva
Micro-lending
None
None
Experiment
Scientific research
8%
2.9% + $0.30 per transaction
DonorsChoose
Classroom fundraisers
None
None
DoJiggy
Fundraising events
4.9% – 7.9%
2.9% + $0.30 per transaction
How to Select the Right Fundraising Site
New to fundraising, or, not really sure what you should be looking for? We recommend asking yourself these three key questions to help you pick the right option for you and your fundraising needs.
Are there startup costs or platform fees?

The fees associated with the fundraising site you choose can make or break your efforts. High fees will detract from the donations you receive, which means less money for your cause. You'll need to consider platform expenses and go with a low-cost or risk-free option. If you're trying to figure out which fundraising sites have the lowest platform prices and payment processing fees, this article lays out all your options.
Who owns your donor data?

A huge concern with going digital is the level of security. Anytime technology is involved, there's an inherent risk of handling personal information like credit card numbers and personal addresses. People won't feel comfortable donating if there's a chance their data will be compromised, so ask about security from your fundraising site provider to protect your donors' information.
What level of customer support is available?

Nothing is worse than an automated response (or no response at all) when you're faced with a high-priority problem. Look for a reliable customer support team when narrowing down your options. If you're faced with a technical issue, will you have to wait several days for a response, or can you expect a speedy reply? Readily-available support can mean all the difference when raising money for your cause online. If they don't offer you a way to see customer reviews on their site, see if they're listed on sites like TrustPilot or G2.
---
Best for t-shirt fundraising
Bonfire
No platform or inventory fees
Great for nonprofits & individuals
Industry leader in apparel fundraising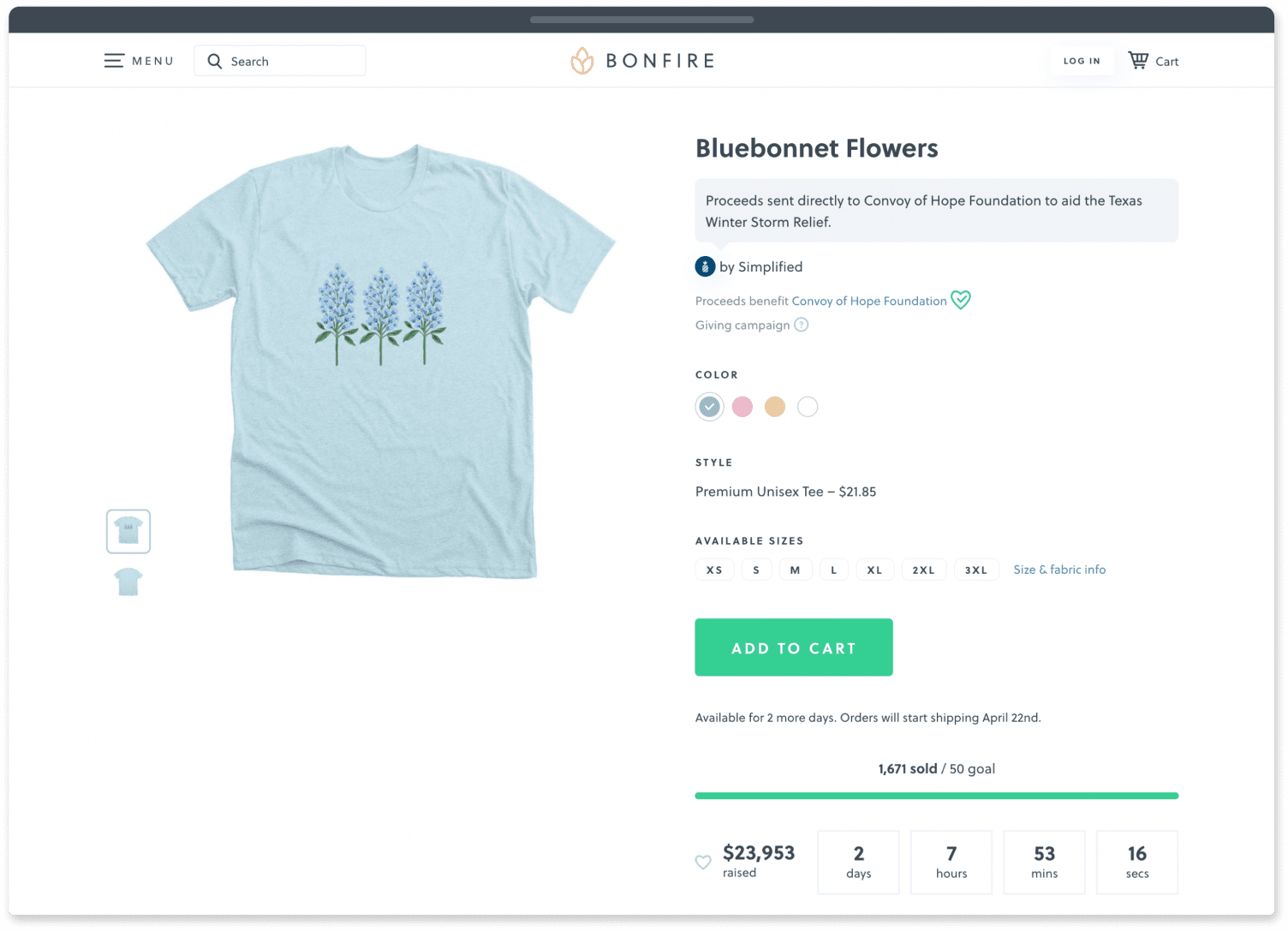 Bonfire is the industry leader in custom t-shirt and apparel fundraising. Their free platform gives individuals and nonprofits an easy, risk-free way to raise money online. Best of all, you keep 100% of the profits, and they handle all of the logistics like printing and shipping all of the apparel you sell.
Risk Free
With Bonfire, there are no costs to get started. They handle everything from payment processing, order fulfillment, and customer service so you can focus on connecting with your community. Simply create your design, launch your fundraiser, and Bonfire handles the rest. At the end of your fundraiser, Bonfire pays 100% of the profits out to the fundraiser's organizer or directly to their designated nonprofit.
Multiple Ways To Fundraise
Whether you're an individual, an organization, or a nonprofit, Bonfire offers you several ways to raise money with custom apparel. If you're looking to raise funds directly for yourself or a personal cause, you can launch a fundraising campaign. If you'd like to raise funds for a specific nonprofit, Bonfire also offers Giving Campaigns, which sends the money you raise directly to the nonprofit of your choice. They also give nonprofit organizations the ability to run peer-to-peer t-shirt fundraisers for upcoming events or special occasions.
Nonprofit Feature Suite
Verify your nonprofit on Bonfire and you'll get access to a suite of special fundraising tools and features designed specifically for nonprofits. These features include reduced donation fees from 8% to 3.5%, access to their Classy Integration, customizable organization profile pages, chapter-based fundraising, and downloadable supporter lists that contain the contact information of all your campaign supporters.
Pricing and Fees
Bonfire is free for anyone to use which means you keep 100% of the money you raise. The only fee Bonfire will ever collect is an 8% processing fee on additional donations. But if you're a verified nonprofit on Bonfire, then your processing fee is reduced to 3%.
---
Best for nonprofits
Classy
International fundraising
Classy is the leading fundraising platform that empowers nonprofits to raise more money online and maximize impact through their world-class fundraising tools. The innovators behind this platform work to modernize the giving experience and accelerate social impact for worthy causes. Their robust fundraising solutions provide everything your nonprofit needs to tap into social campaigns, online events, international fundraising, and so much more.
Online Donations
Create multiple streams of revenue to fund your cause. Collect one-time and recurring donations on your website with customized, mobile-responsive donation forms. Manage and promote your fundraising events with ease, too. You can collect registrations, accept discount codes, and engage guests with various marketing tools. If you want to try different fundraising avenues, run branded crowdfunding and peer-to-peer campaigns.
International Fundraising
Classy enables cross-currency international fundraising, giving you access to a whole world of potential supporters. Across all campaigns, eliminate barriers and grow your movement by empowering supporters to fundraise and donate using their local currencies.
Donor Management
Deepen donor relationships with Classy Manager. This feature gives you access to all donor information and fundraising performance data in one location. Gain a 360-degree view of supporters' histories to understand what drives them to give. Easily search, filter, and segment supporters by donation type, size, and frequency to deliver customized donation appeals.
Integrations
As part of their initiative to influence social change, Classy's team actively builds out their platform's functionality, which now integrates with 15+ leading providers in the nonprofit space, including Bonfire.
Pricing and Fees
Fee Type
Price
Platform fee
Reach out for a quote
Payment processing
2.2% + $0.30 for Visa, Mastercard, and Discover
+1% for American Express
ACH payments
1% + $0.30
Payout fees
No additional charge
Foreign exchange fee
No additional charge
---
Best for crowdfunding
Fundly
Secure payment processing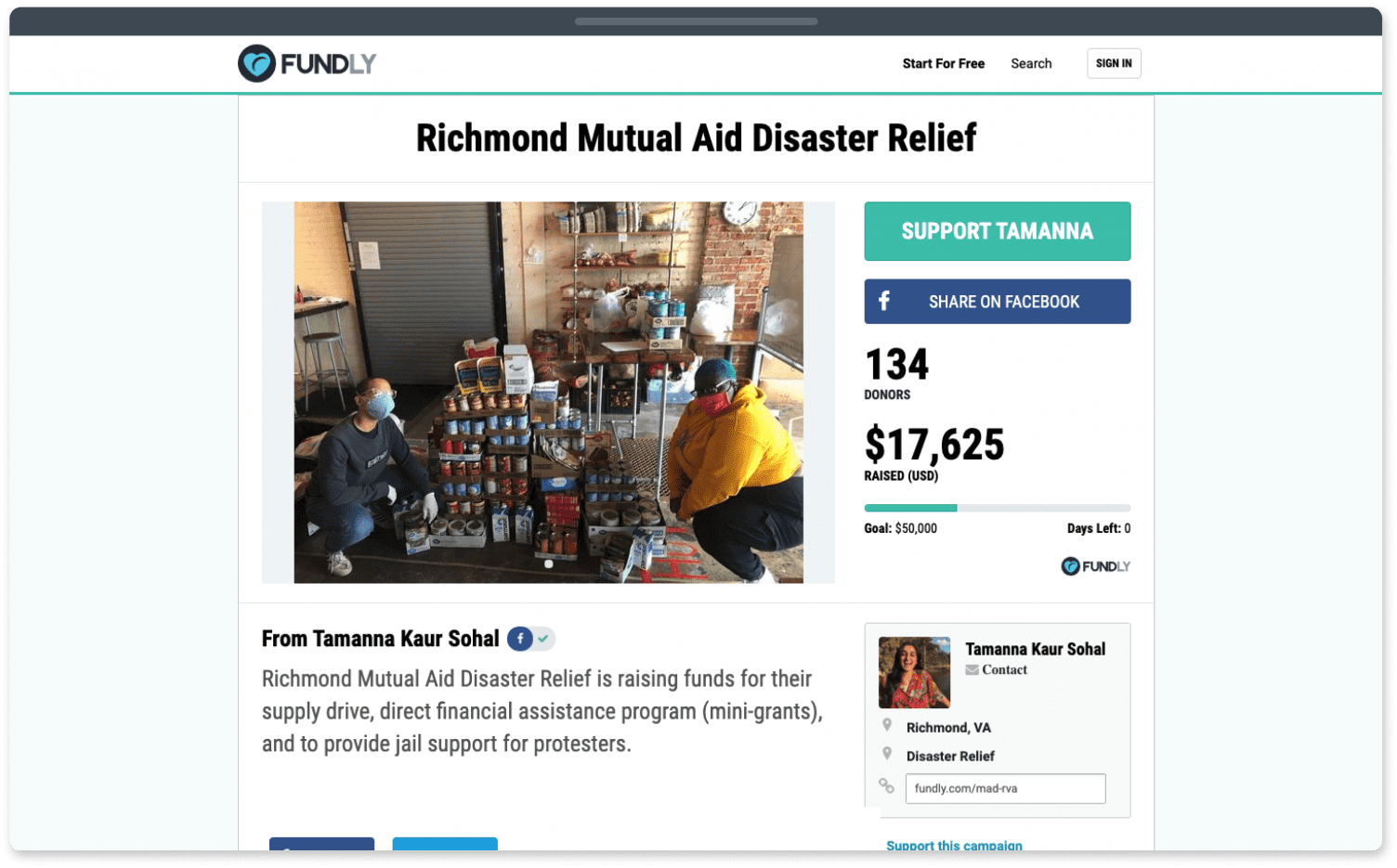 Fundly's affordable fundraising website comes loaded with dozens of helpful features. Make your fundraising page stand out by featuring impactful photos and videos front and center, then customize the description to share your story. Your supporters can then visualize the reason you're raising money, inspiring them to give.
No Minimums
With Fundly, there's no minimum amount you have to raise in order to keep your funds. Payments are processed quickly and can be withdrawn within 7 days after the initial donation. Their platform is powered by Stripe's payment processing tool, which automatically processes and transfers funds to your bank account.
Mobile-Friendly
Your mobile-friendly donation page will look great and be fully functional on any device. And built-in social sharing tools make it easy for supporters to share your cause with their personal network. Share progress updates directly on your fundraising page, keeping your donors in the loop with how much you've raised and how close you are to meeting your goal.
Email Alerts
When your campaign begins, you'll receive email updates and alerts that will help direct you through the starting stages. These updates are an easy way to keep track of your progress and keep supporters in the know.
Pricing and Fees
Fundly charges a 4.9% platform fee and credit card processing fee of 2.9% + $0.30 per transaction.
---
Best for schools and teams
EdCo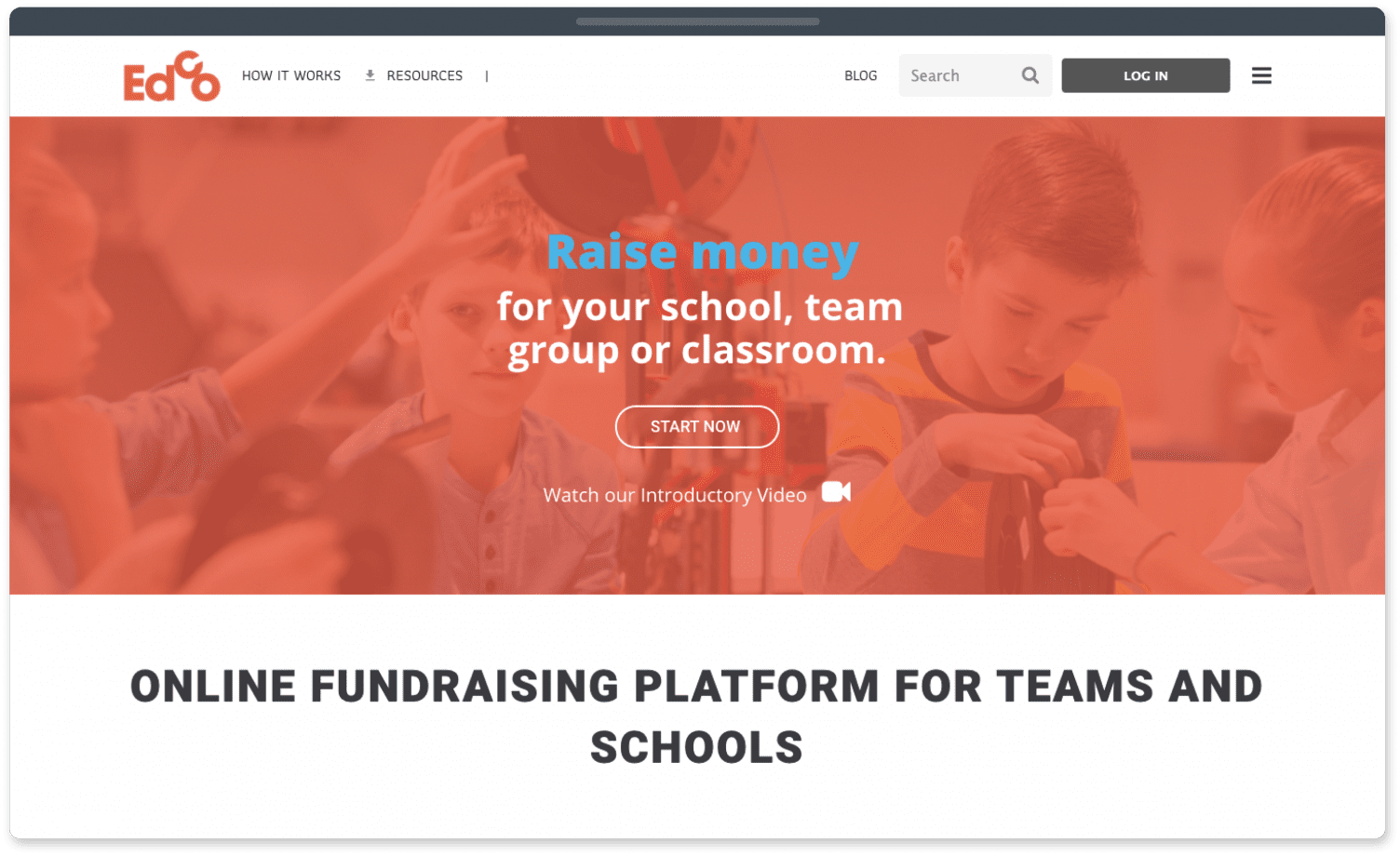 EdCo believes that fundraising is a team sport! This is particularly true for K-12 schools or clubs, where a single individual often leads the charge to cultivate team spirit for an overwhelming fundraising project. With EdCo's straightforward digital tools, it's easier than ever to get everyone involved, so you can split up the responsibilities and minimize the pressure of fundraising with a peer-to-peer approach.
Quick Setup
Set up your school, club, or team's fundraising page in just 5 minutes, then get started promoting your campaign. Students and parents can get in on the action with easy social media sharing tools.
Email & SMS Text Tools
This fundraising platform is scalable, making it perfect for any size group. Supercharge your campaign efforts with EdCo's email and SMS text tools to promote your cause and boost donations.
Tax Deductible
Best of all, any donations to an EdCo-hosted campaign are tax-deductible, and EdCo will grant you instant access to your funds. They'll process payments, provide donation receipts, send automatic thank you notes, and send the money directly to your bank account. By taking all the admin hassle out of the equation, EdCo team fundraising might be the perfect way to take your project to the next level.
Pricing and Fees
| | |
| --- | --- |
| Fee Type | Price |
| Service | 4.9% |
| Credit card processing | 2.9% + $.30 per transaction |
| Corporate match | 10% per match |
---
Best for gift matching
Double the Donation
70+ integrations & partners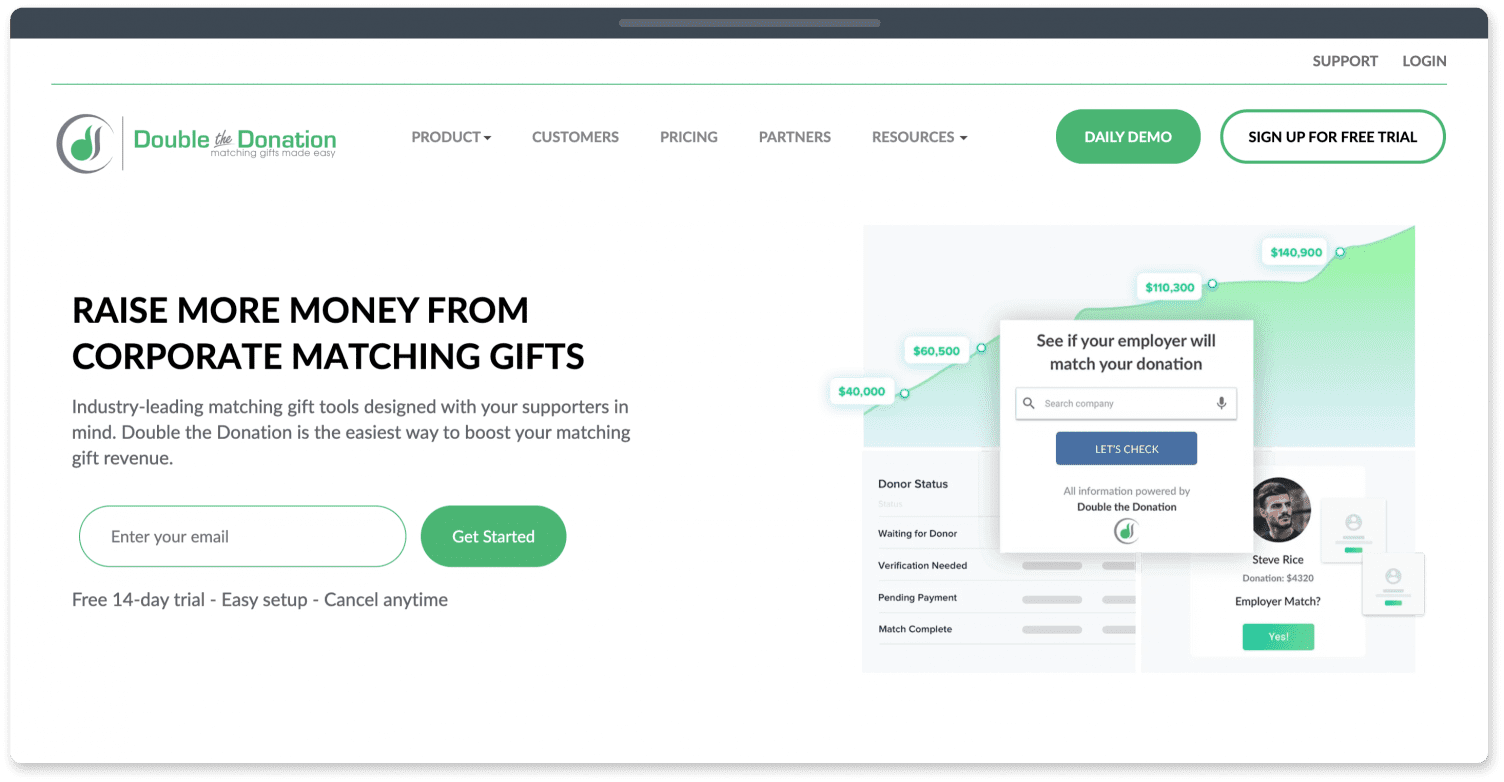 Double the Donation empowers charitable organizations to harness the power of corporate philanthropy to boost fundraising campaigns. Backed by the world's largest and most up-to-date matching gift database, they're the leading provider of corporate giving information. Their platform makes it easy to locate match-eligible donations by doing all the research for you.
Integrations
While Double the Donation is not a standalone fundraising site, the platform easily integrates with many leading providers, making it easy to multiply donations. Their embed code makes it easy to add the searchable database to any page on your website, such as your donation page or your 'Ways to Give' page.
Easy to Use
Donors can determine their match eligibility within seconds. All they have to do is type in their employer's name, and they'll be met instantly with available eligibility details, next steps, and links to any necessary request forms.
The database is frequently and rigorously updated, so you never need to worry about missing out on matched gifts from qualified donors.
Enterprise Solutions
For large organizations that already raise more than $25,000 in matching gifts each year, Double the Donation offers 360MatchPro, a more robust solution that automates the entire process. 360MatchPro integrates directly into donation forms, CRMs, social fundraising software, and other nonprofit technology solutions to capture employment information and automate the follow-up with donors about their eligibility.
Pricing and Fees
Double the Donation's premium tool is offered at $499 per year, and 360MatchPro starts at $3,000 per year.
---
Best for donor management
Kindful
Extensive fundraising tools
Unlimited fundraising pages
Donor management capabilities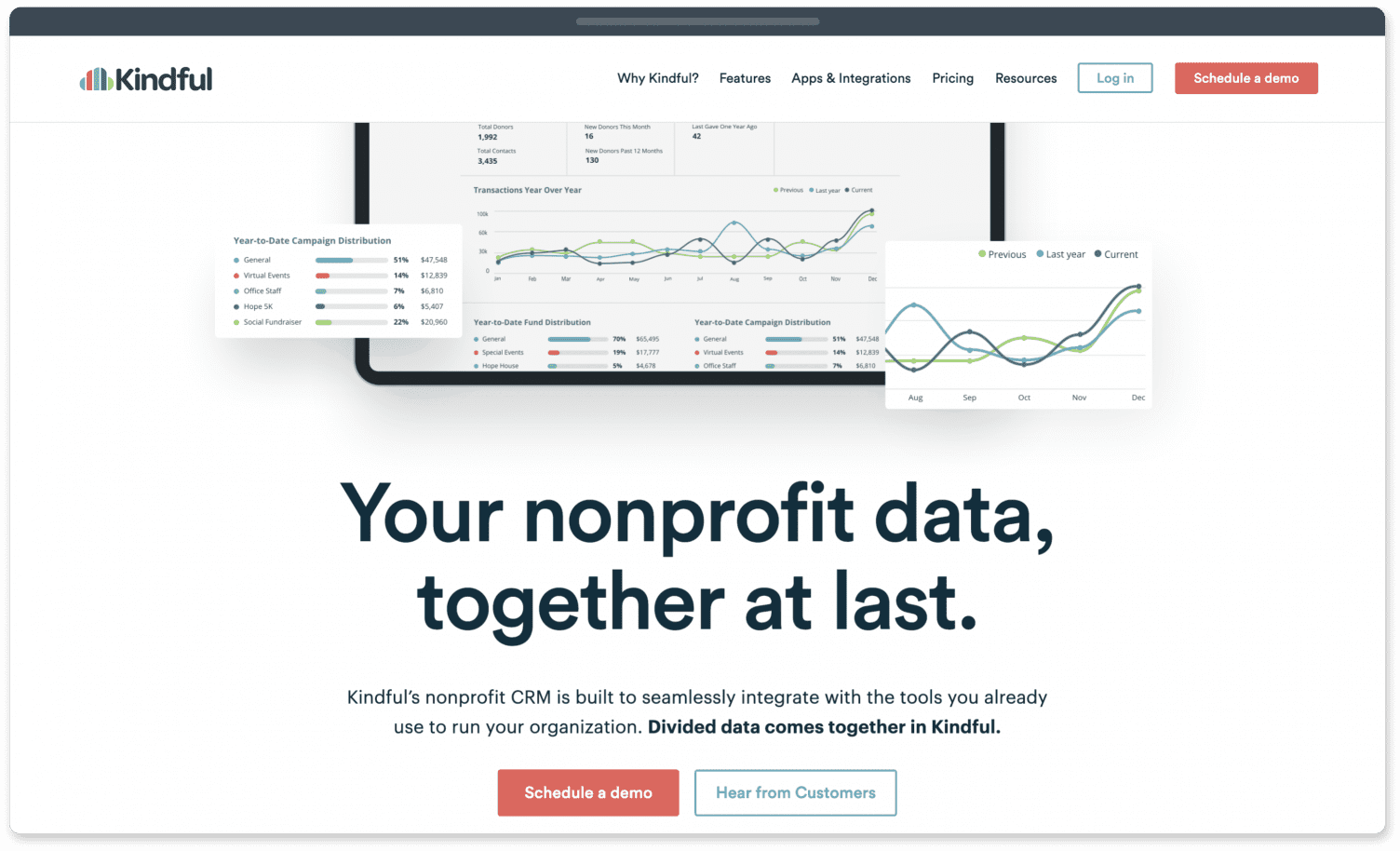 Kindful offers a suite of fundraising and donor management tools that help nonprofits build stronger relationships with their communities, improve their donation processes, and raise awareness for worthy causes. Plus, Kindful was recently acquired by the well-known donor database provider Bloomerang, which will only make their fundraising platform stronger and more robust.
Fundraising Tools
Their platform comes fully-equipped with a range of tools, so you can supercharge your fundraising efforts. Take advantage of popular features like unlimited fundraising pages, embeddable donation buttons, recurring giving, event registration, crowdfunding, and text-to-give. The donor data you gather from these fundraising tools will flow directly into their robust donor management system.
Donor Management
Gain a holistic view of your supporters and locate opportunities to boost engagement with must-need features like donor life cycle analytics, list segmentation, donor accounts, unlimited admin users, and relationship tracking. Kindful empowers all-sized organizations to easily track fundraising efforts and communications from one central location.
Integrations
Their platform integrates with more than 50 different software providers including other leading fundraising websites and apps, like Classy, Hubspot, and Double the Donation.
Pricing and Fees
Fee Type
Price
Fundraising site
Starts at $100 for up to 1,000 contacts
Startup costs
$199
Payment processing
2.9% + $0.30 per transaction for credit cards
1% + $0.30 per transaction for ACH payments
---
Best for startups
Fundable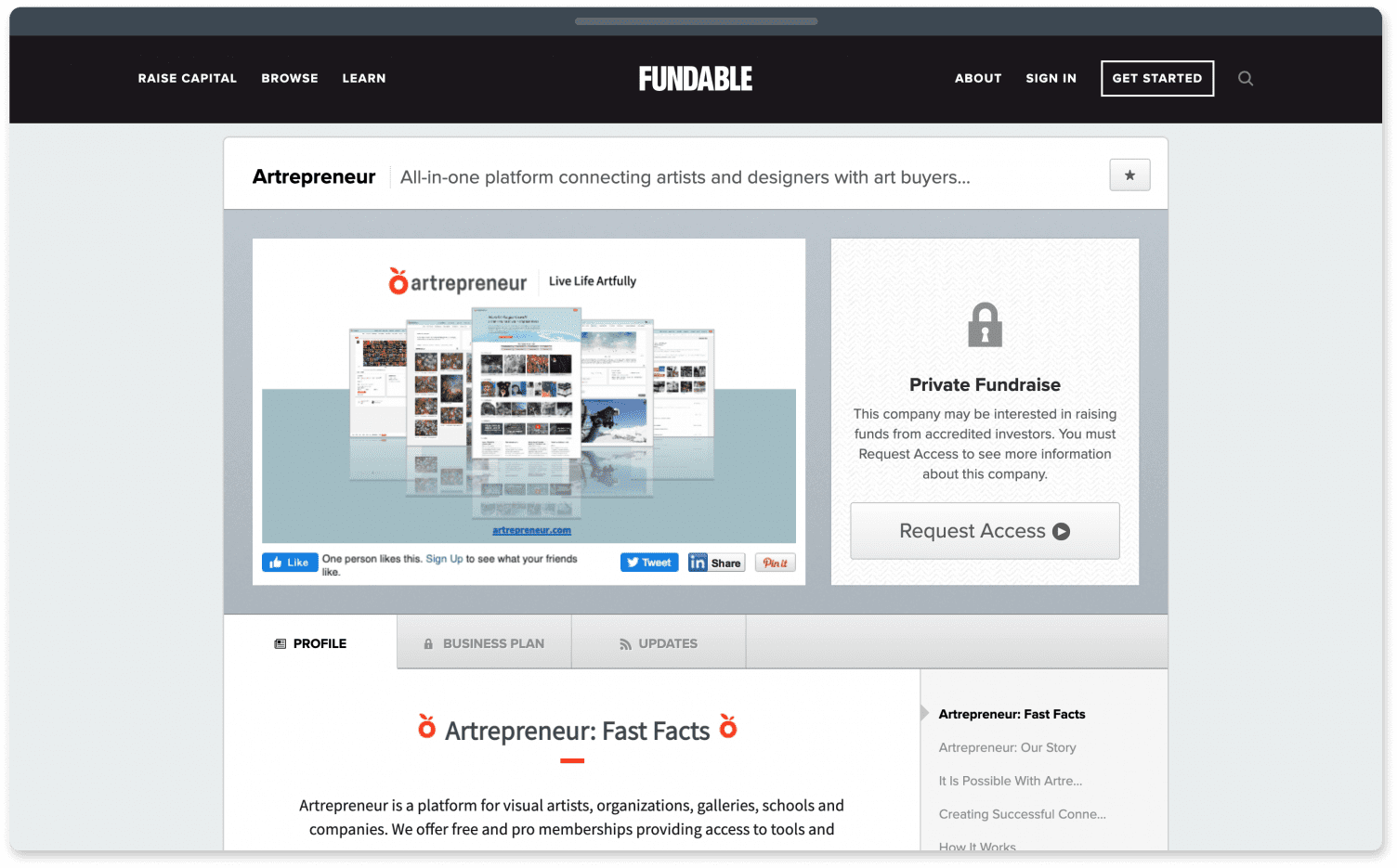 While most large crowdfunding sites focus on charitable causes, Fundable is all business. Fundable is a powerful fundraising site that enables startups to navigate the fundraising process and engage a large network of backers. From profile creation to marketing, they'll be there to help every step of the way during your fundraising campaign.
Campaign Options
They give users the choice of launching either a traditional rewards-based campaign or an equity-based campaign. Here's a quick overview of these options:
Rewards-based crowdfunding: Funders back the company with the expectation of receiving a non-financial reward in return (like goods and services).
Equity-based crowdfunding: Backers get a share of stock in the company, but with Fundable, they must be accredited investors.
Goal Requirements
Compared to other fundraising websites, Fundable takes a different approach to payout. They use an all-or-nothing approach for the rewards-based model. In other words, you must meet or surpass your goal to collect your funds. The equity-based option offers a bit more flexibility, though. If you choose to end your campaign early, you can collect the funds but only if investors support the decision.
Free Fundraising Guides
With many helpful resources available and a team with tons of first-hand experience, Fundable will likely provide you with a positive, successful campaign.
Pricing and Fees
Fundable charges a platform fee of $179 per month and a credit card processing fee of 3.5% + $0.30 per transaction.
---
Best for innovative tech
Indiegogo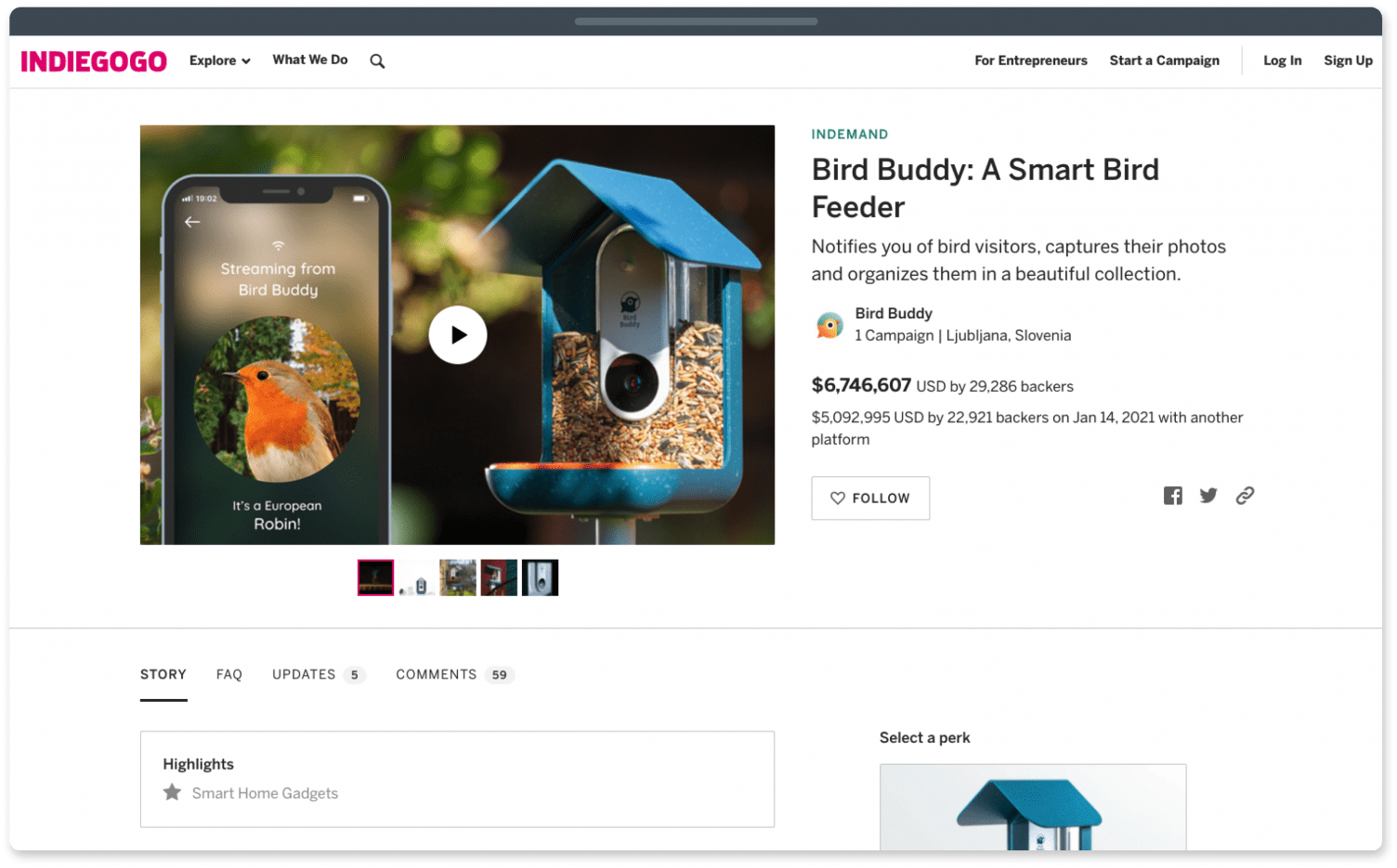 With more than 650,000 projects housed on the site and 11 million monthly visitors, Indiegogo is where groundbreaking products and projects take flight. Indiegogo is a leading fundraising site for work in categories like tech, social innovation, and design marketing. Since its inception, it's helped products and projects raise over $1 billion.
Funding Options
Our favorite feature of Indiegogo is their option to choose between a fixed funding goal (all-or-nothing like Kickstarter and Fundable) or a flexible funding goal for your campaign. With flexible funding goals, you receive the funds you raised even if you don't reach your goal.
Customization
Their customization features for campaign pages enable users to really make the page their own and tell the story behind their product. You really gain full control of the page making it easy to do things like:
Fully customize your page with videos and photos that convey your mission, project, or product.
Add compelling text to portray the importance of your efforts.
Easily share your fundraising page on your favorite social media sites.
Offer unique, limited-time perks and pricing for the earliest backers.
Free Resources & Guides
Request access to Indiegogo's free Crowdfunding Field Guide at any time to learn how to build up your campaign, craft strategies, and get the most from your fundraising resources.
Pricing and Fees
Indiegogo charges a platform fee of 5% of all funds raised and a credit card processing fee of 2.9% + $0.30 per transaction.
---
Best for creative projects
Kickstarter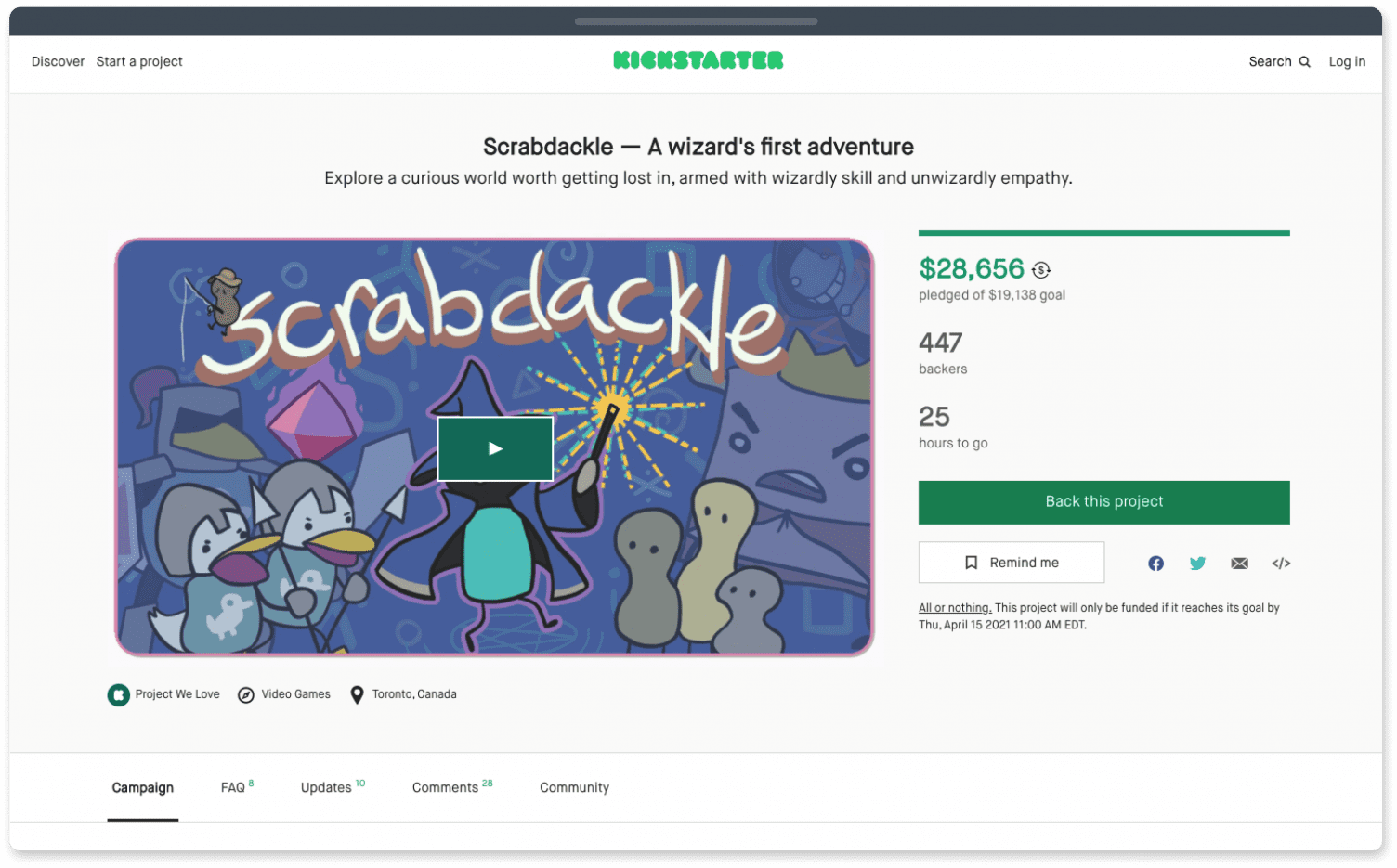 Kickstarter is one of the most well-known fundraising websites out there. Worthwhile causes turn to this platform to share creative visions with a community that will come together to fund them. No need to deal with extensive grant applications or donors asking you to modify your campaign's message.
Kickstarter gives people the tools they need to pursue daring ideas on their own terms, helping creators gain momentum for their work.
From art and music to design and tech, Kickstarter empowers creators to make a lasting impact on society, culture, and the economy. Since its launch in 2009, 19 million people have backed a project on this platform, $5.6 billion has been pledged, and nearly 200,000 projects have been successfully funded.
Available across the globe, people anywhere in the world can fund your campaign using this fundraising site. While nonprofits are welcome to launch projects on Kickstarter, they can't promise to donate to a charity or cause. Instead, funds must go toward facilitating the project outlined on the page.
Pricing and Fees
| | |
| --- | --- |
| Fee Type | Price |
| Fundraising site fee | 5% of all funds raised |
| Payment processing for pledges | 3% + $0.20 per pledge |
| Payment processing for pledges under $10 | 5% + $0.05 per pledge |
---
Best for micro-lending
Kiva
Micro-lending fundraising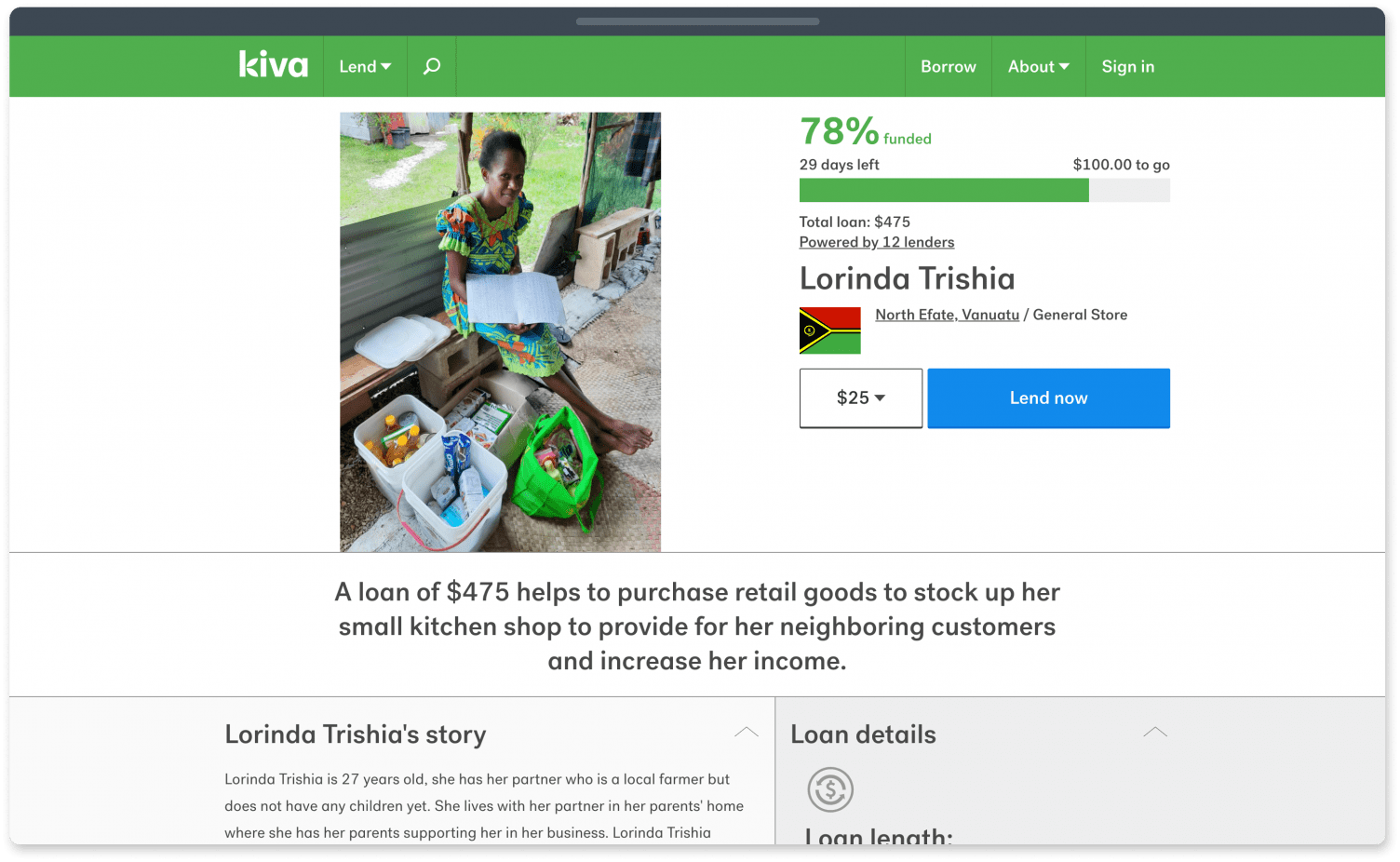 Founded in 2005, Kiva has a mission to expand financial access to help underserved communities improve their lives. Through micro-lending fundraising websites like Kiva, your friends, family, and people halfway around the world can play a special part in your story.
Micro-Lending
Kiva's platform works on a loan system for microfinance organizations. When individuals donate to your cause or mission, they're simply giving you a loan that you'll pay back over time, which is naturally a huge incentive and encourages giving.
When you apply for a loan, local nonprofits or lending institutions that are monitored by Kiva will review your application. Once approved, it's then posted to Kiva for lenders to support and you can set your loan goal, explain your cause, and add imagery to stand out amongst other listings.
Pricing and Fees
The only fee you'll encounter is an interest rate on your loans! Interest fees vary by project.
---
Best for crowdfunding scientific research
Experiment
Built for scientific projects
Created by industry leaders
No charges if goal isn't met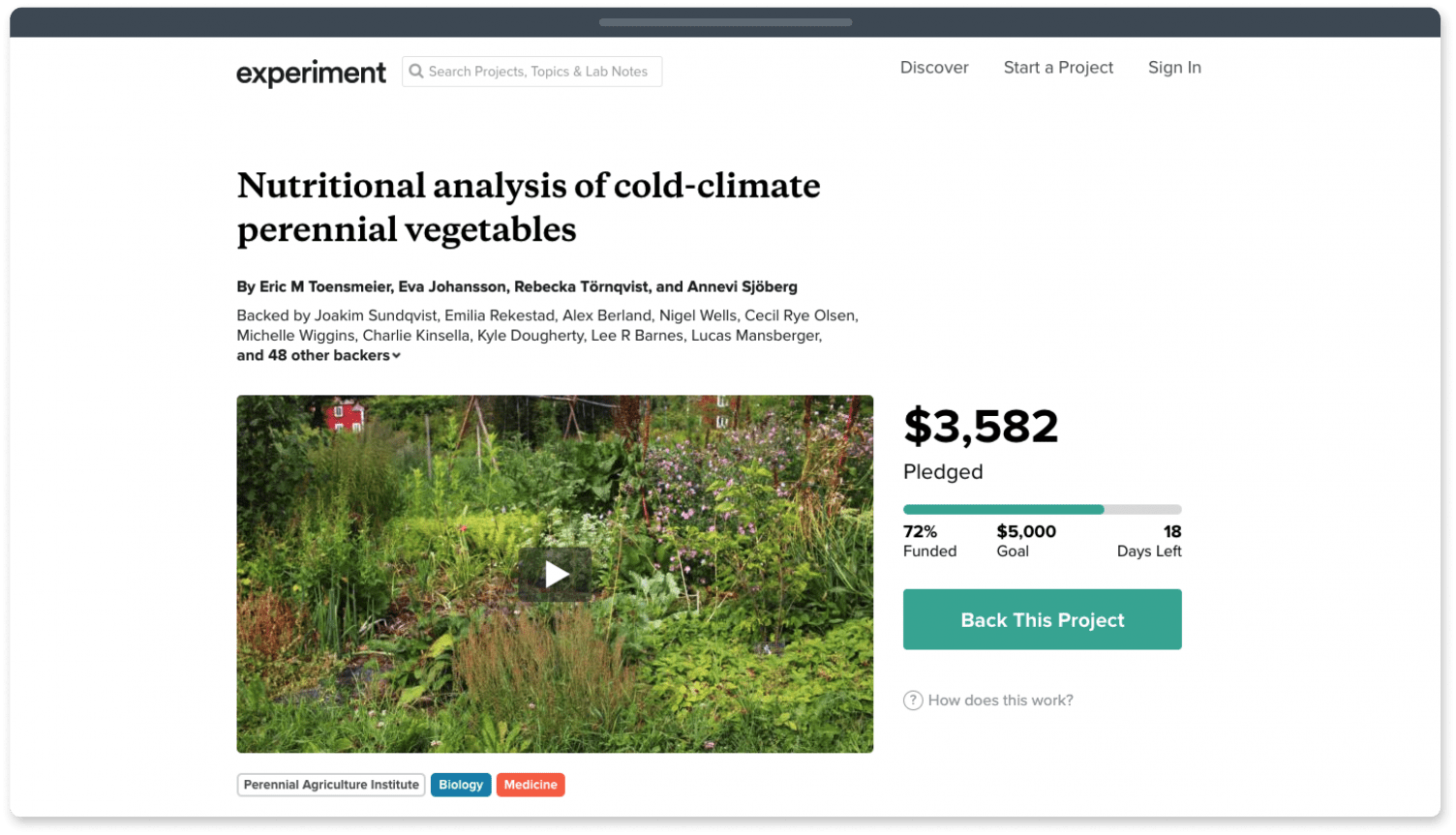 Just like any other nonprofit, research institutions need adequate funding to continue working and impacting society. Often, generic fundraising sites don't help these institutions connect with the right audiences. That's why Experiment designed the ideal fundraising site for scientific projects.
All-Or-Nothing Funding Model
Run by a team of scientists, designers, and technologists, Experiment helps "fund the next wave of scientific research" by offering a straightforward fundraising approach for scientists and research projects. Campaigns operate on an all-or-nothing model, meaning your campaign must reach its fundraising goal in order for your supporters' pledges to be charged. If it doesn't, all pledges are returned, making it much more appealing for funders to pledge in the first place.
No Overhead
With nearly 50,000 supporters pledging $9.4 million for 1,000 experiments, your campaign is sure to receive funding! Plus, there's no overhead involved, compared to 50%-60% when receiving a grant. Backers directly fund the project scientists and help push the boundaries of scientific knowledge.
Pricing and Fees
Fee Type
Price
Fundraising site
8% (free if the fundraising goal is not met)
Payment processing
2.9% + $0.30
Payout
Free for ACH direct deposit
$20 for check payouts
$30 for PayPal payouts
---
Best for classroom fundraisers
11. DonorsChoose
Founded by teachers for teachers
Customizable fundraising pages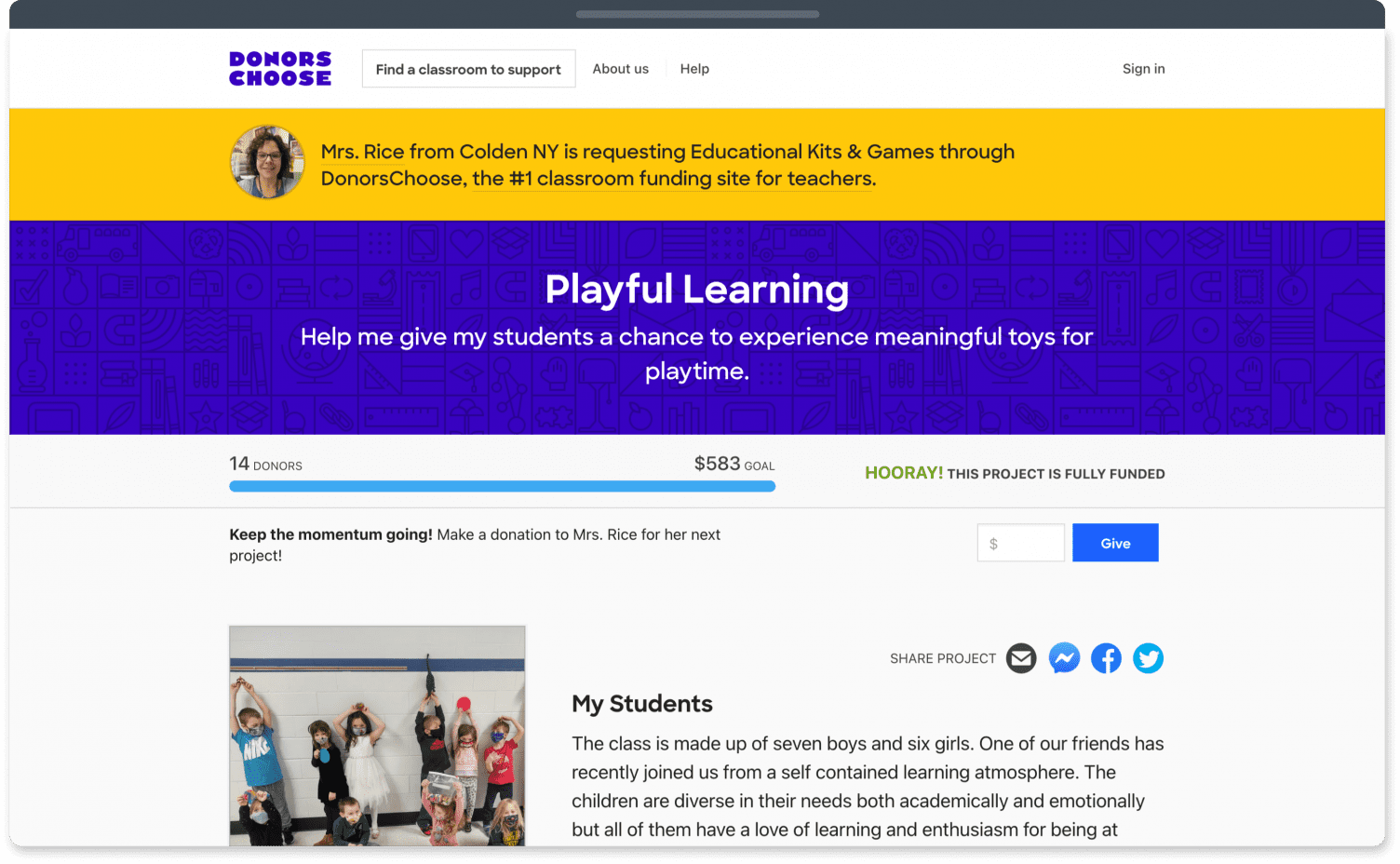 Founded in 2000 by a Bronx public high school teacher, DonorsChoose is a popular fundraising site for teachers in need of supplies and materials for their classrooms. It connects teachers with philanthropic donors across the country, so they can collect much-needed materials and provide an enriching learning experience for students.
Easy to Use
Start by browsing their directory of approved providers, and request the items your classroom needs. Share pictures and tell your story. Spread the word about the campaign so your friends and family can lend a hand. Then, the donor community at DonorsChoose will take care of the rest. DonorsChoose will order everything for you and ship it directly to you.
Trust and Transparency
From vetting every project request to sending resources instead of money, financial transparency and accountability are the core of this fundraising site's model.
Built-In Network of Supporters
With help from more than 4.7 million donors, DonorsChoose has funded nearly 2 million projects and improved more than 600,000 teachers' classrooms. By creating a project on this fundraising site, you become part of a trusted network of educators, donors, foundations, and corporate partners who share a passion for education.
Pricing and Fees
Since teachers request classroom materials instead of monetary donations, DonorsChoose is free for teachers around the U.S.! Payment processing and shipping costs vary based on the vendor. Plus, if the actual cost for a funded project is more than its posted price, DonorsChoose will pay for increases up to 10%.
---
Best for fundraising events
DoJiggy
Secure payment processing
Several plans to choose from
Large selection of fundraising tools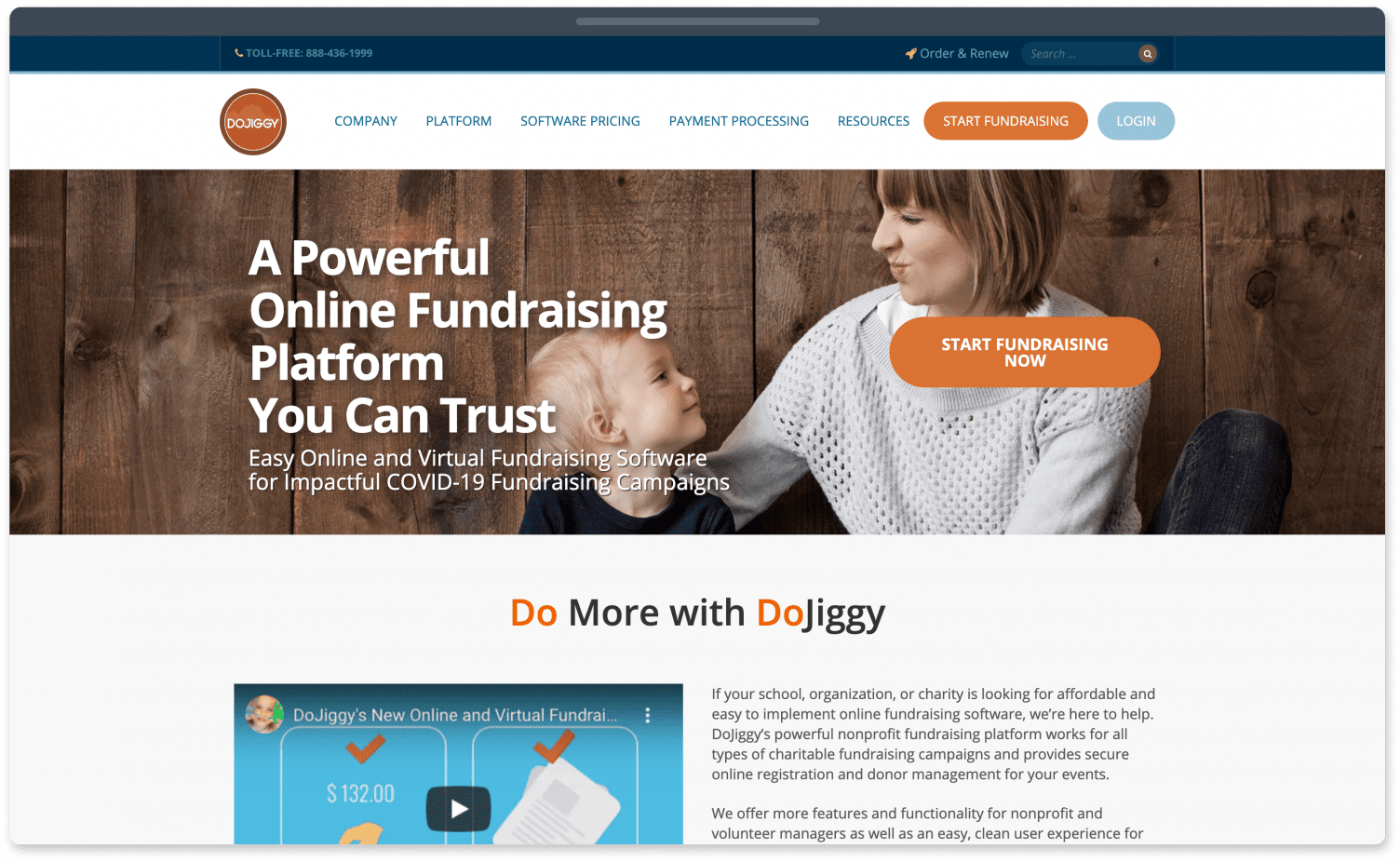 If you're looking for a cost-effective way to boost your charitable efforts, DoJiggy may be the fundraising platform for you. Since 2003, this platform has empowered nonprofits and schools to gain funding for their initiatives with tech-based solutions.
Robust Set of Fundraising Tools
Gain access to powerful fundraising software like their online donation tools, crowdfunding, and peer-to-peer campaigns, and online storefronts to sell merchandise. Backed by their event management platform, you can also pull off standout fundraising events. Take advantage of specialized tools like:
Golf tournament software
Raffle fundraising tools
An online charity auction platform
Streamline Admin Work
The experts at DoJiggy are constantly looking for innovative ways to grow philanthropic communities and streamline the administrative work of fundraising campaigns. If you use this robust fundraising platform, you'll have access to everything you need to raise funds online and build brand awareness for your cause.
Pricing and Fees
| | |
| --- | --- |
| Plan | Price |
| Crowdfunding and eStore platform fees | 4.9% or free using the optional tipping method |
| Charity auction platform fees | 4.9% |
| Fundraising raffle and a-thon events platform fees | 7.9% or free using the optional tipping method |
| Events pro package | $299 per event |
| Golf pro package | $299 per event + 1% platform fee |
| Pro stores starter package | $9 per month + 3% platform fee |
| Pro stores package | $25 per month + 1% platform fee |
---
When it comes to raising money for your cause, the fundraising website you choose plays an instrumental role in your success. With so many options available, it can be challenging (and sometimes overwhelming) to narrow down your options. Whether you're fundraising for a nonprofit, school, or a loved one, this list serves as a great starting point.