When your nonprofit organization launches a campaign on Bonfire, you'll get access to your brand new organization profile page (org. profile page). This page is your home to highlight information about your organization, showoff fundraising stats, highlight your Bonfire Store, your campaigns, and showcase any Giving Campaigns that are fundraising on your behalf.
This page can be customized to make it yours, and we're going to walk you through a few ways to do just that.
Add a Header Image and Logo
One of the first customizations you should make to your org. profile page is adding your Nonprofit's logo. This will be used as your avatar on this page, as well as within your Organization Information box that appears on campaign pages that are either created by you or launched to fundraise on your behalf. You can upload a .JPG or .PNG and the file can be up to 5 MB.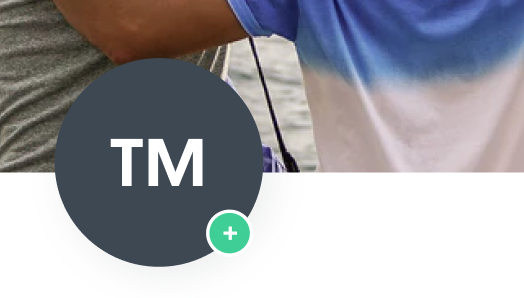 You can also add a custom header image to your org. profile page. Simply upload a .JPG or .PNG file that is 5 MB or less. We recommend sizing your image to 1600px by 900px to fit the proportions of the header. Once you've uploaded your header photo, you can overlay a custom color layer and adjust the opacity to your liking.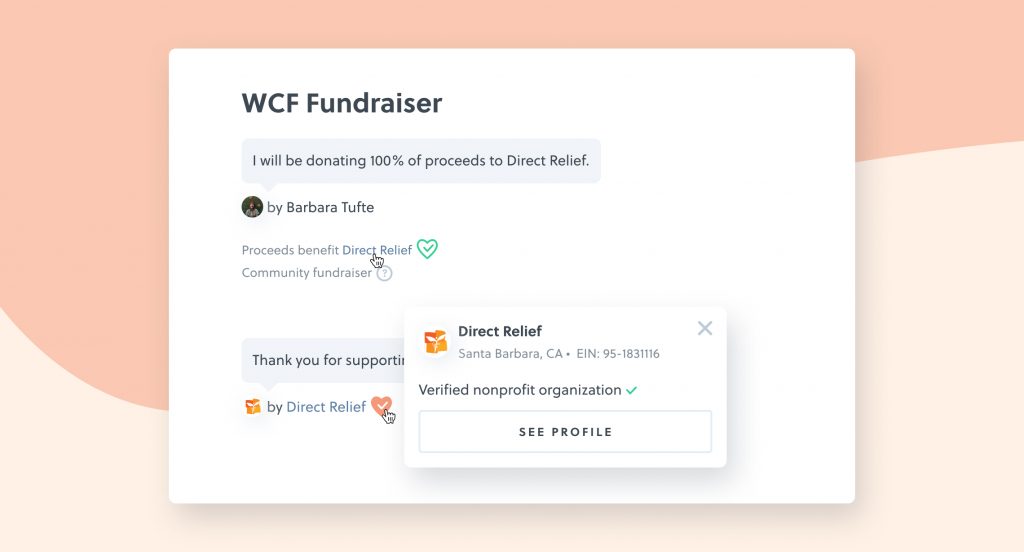 If you don't want to add an image to your header, you can make your header a solid color. Choose from one of the default colors we offer, or add your own by putting in the hex code of your desire color.
Tell Your Story
When Bonfire creates your org. profile page, we populate your page with information that appears on your Charity Navigator profile. The majority of this information can be edited to your liking.
Edit your organization's tagline to highlight the mission of your organization, or your main goals of your Bonfire Fundraising effort.
Edit the description box to explain more about your nonprofit organization, and the work you do.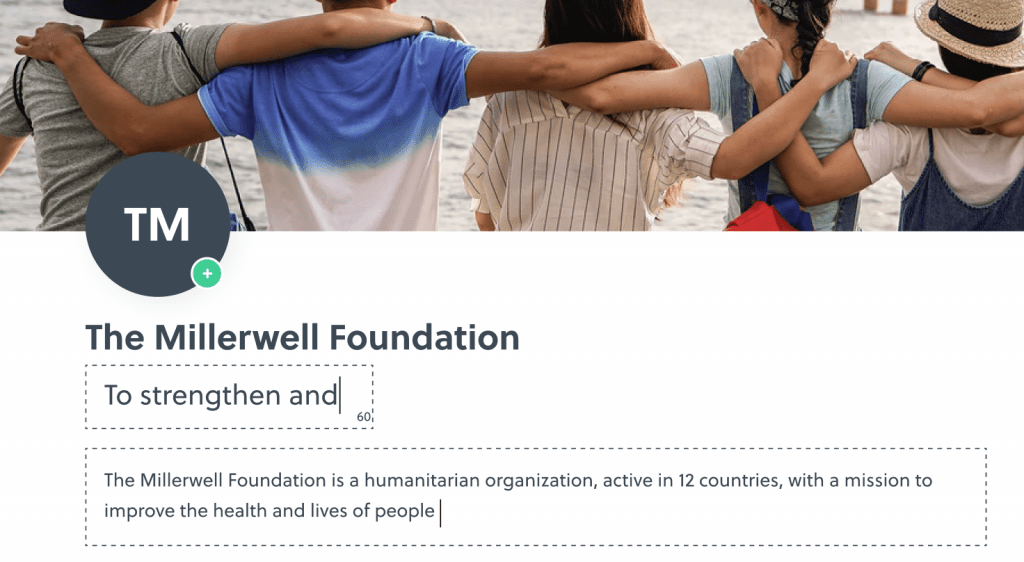 Note: you cannot edit your Organization name, since that is defined by the official name of your Nonprofit in the Charity Navigator database.
Your org. profile page is a place for buyers to learn more about your nonprofit and the work that you do. We recommend taking the time to ensure your page truly tells your story.
Add Links to Your Website and Social Profiles
It's important to link to your website and any other social platforms from your org. profile page so that your supporters can easily connect with you outside of Bonfire. Link to your profiles on Facebook, Instagram, Twitter, and more.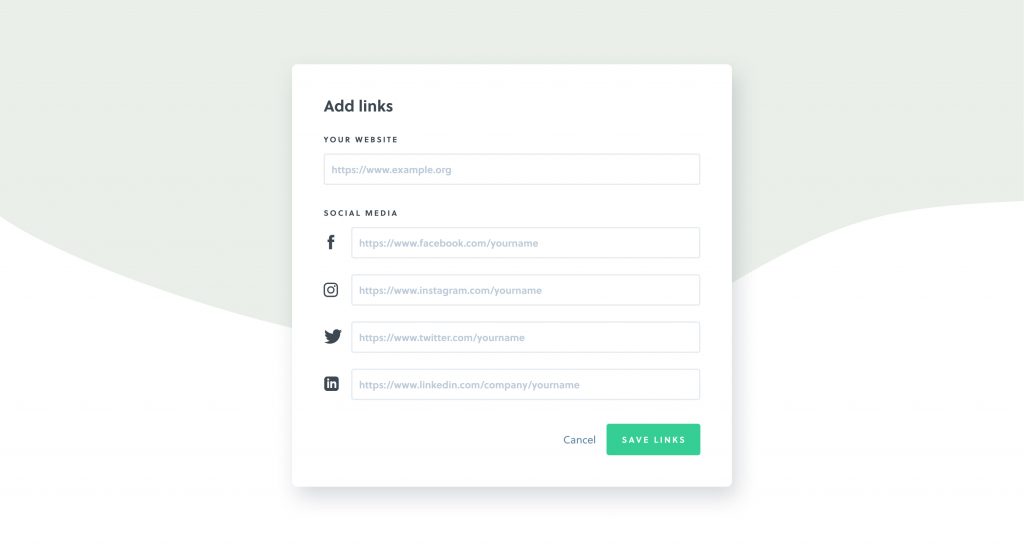 Pin Your Favorite Campaigns
One of the coolest things you can do with your new org. profile page is to use it to promote all of the Bonfire Campaigns running that benefit your nonprofit. On your org. profile page, you'll see that there are a few different places where products will be featured. Each of these sections can be reorganized or even hidden, based on your needs.
Your Store
If your organization has a storefront on Bonfire, it will also be highlighted here on your org. profile page. Your supporters can then easily see the products you have available in your store right here on this page.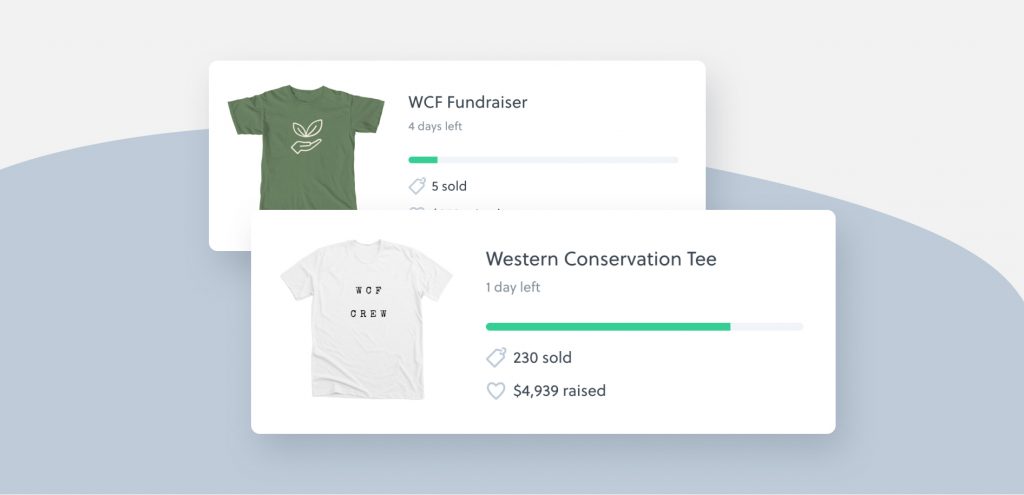 Your Active Campaigns
You will also have a section on the page that highlights active Campaigns being run directly by your nonprofit. Within this section, you can actually pin campaigns to the front of this lineup. Pinning campaigns can be helpful if you:
just launched a new t-shirt campaign for an upcoming event or occasion and you want it to be front and center for your supporters to be able to find it easily.
have an evergreen campaign that's a favorite amongst your supporters and is always on and active. This is typically a shirt that features your logo and tagline.
Giving Campaigns
With our Giving Campaign feature, anyone can launch a campaign and have their proceeds sent directly to the nonprofit they're raising money for. When your supporters launch a campaign that's connected to your nonprofit, their campaigns will begin to appear in the Giving campaigns section of your org. profile page.

You can use the pin feature to display the top-performing fundraisers that have been launched on your behalf at the top of this section. You can also use this section to showcase fundraisers that are actively fundraising for an upcoming event or special occasion like a 5k race, an awareness day, or other classic peer-to-peer events that your nonprofit organizes.
Reorder the Layout

When you're editing your org. profile page, you will notice that you have the option to reorder different sections on the page to move them up and down. This allows your nonprofit to decide what is most important to you and which sections your users want to see first.
Hide Certain Elements and Sections
Your nonprofit might also decide that you want to hide certain sections or elements that appear automatically on your page when it's created.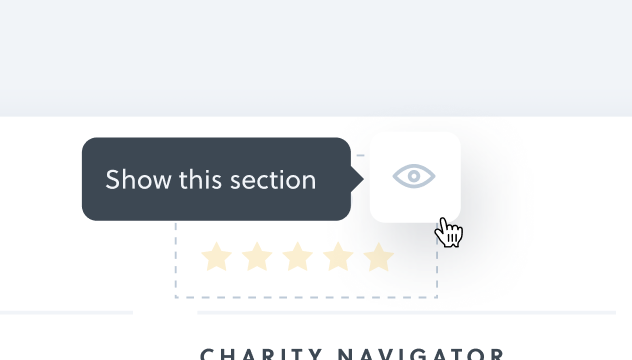 If for any reason you want to hide the following elements, you are able to do so:
Your Charity Navigator rating – you may decide to do this if your nonprofit is working to improve this rating.
Individual Campaigns in the Active and Giving Campaigns section – you may choose to do this to keep your org. profile page clean and focused on specific initiatives or events that might be happening.
How much money you've raised – Bonfire displays the lifetime dollars raised across all Campaigns owned by your nonprofit organization and all Community Fundraisers. If this is a number you're hoping to grow, you can hide this number until you're ready to show it off to the world.
How many people have supported your organization – this shows the number of distinct supporters your organization has had across all campaigns you've launched and

Giving Campaign

. You may choose to hide this number as your nonprofit is first getting started with Bonfire.
You can also hide entire sections of your profile if you wish. These sections include:
Your Store
Community fundraisers
Active campaigns
Giving campaigns
Organization profile details
Final Tips
Once your org. profile page has been created and you've customized it to your liking, you should share the profile with your supporters. Include it in upcoming emails and newsletters, share it on social media, and link to it on your website.
The more active your profile is, and the more people that launch campaigns to fundraise on your behalf, the more it will attract new potential donors and supporters.
Peer-to-peer fundraising is an amazing way to get your supporters engaged in your fundraising efforts and gain access to new audiences. Use Community Fundraising with Bonfire for annual fundraising events like:
5k/races
Awareness days
Auctions
Galas
Other peer to peer events
Especially in this unique season, it's important that your nonprofit has robust options for online fundraising. With Bonfire, you can run t-shirt fundraising events from the safety of your home, all while supporting the nonprofit that means so much to you.