Designing a shirt can feel like a daunting task. In this post, we'll walk through some tips on how you can design a t-shirt that your community will love.
T-shirt designs are most successful when they are artistic, but also contain a theme that the buyer identifies with. Our sellers create custom t-shirts for a variety of reasons. You can design shirts to:
Raise awareness of a social issue or initiative
Connect your community with matching t-shirts
Promote an organization or company
Fundraise for a cause
Showcase your creativity
Whether you are designing a t-shirt for one of the reasons above, or another purpose, we're here to help you design the best shirt possible.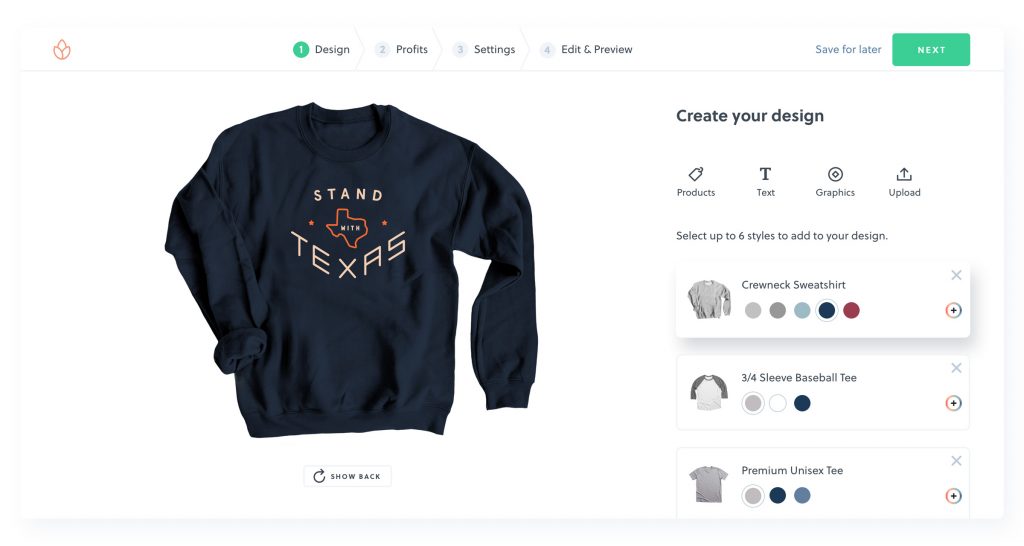 Follow these 7 tips from our team of expert designers to design your shirt like a pro.
Use Existing Assets & Context
Custom apparel is a great place to reuse and repurpose existing creatives like brand logos and marketing illustrations. Many of these assets already contain imagery, typography and color palettes that resonate with your audience.
The original March For Science logo, shown on the left, was designed by the national organizers of the march. As sister marches began creating their own t-shirts, they used the colors and logo icon as inspiration but made the designs personalized to their geographic area and audience. Local organizers had the creative freedom to create relevant, contextually-rich designs tailored to their audiences, while still keeping a cohesive look because they kept the atom logo and color scheme.
If you're designing for a new business, grassroots cause or personal fundraiser without existing assets, research the themes, passions or interests that tie your network together before you start designing. Read our guide to learn more about creating a design for your target audience.
---
Ready to create your own shirt in our design tool?
---
Gather Inspiration
If you would rather design something fresh, collect inspiration photos of t-shirt designs you like. You can check out Bonfire's Staff Picks, Instagram, or Pinterest to see some of our favorite designs. Here's a selection of designs we've loved lately.
Once you have a selection of 3-5 designs that inspire you, take some notes about what you are drawn to in each one. Is there a specific illustration style or font that you would like to use? Is there an ink color pairing you keep falling for?
Add Depth to Your Design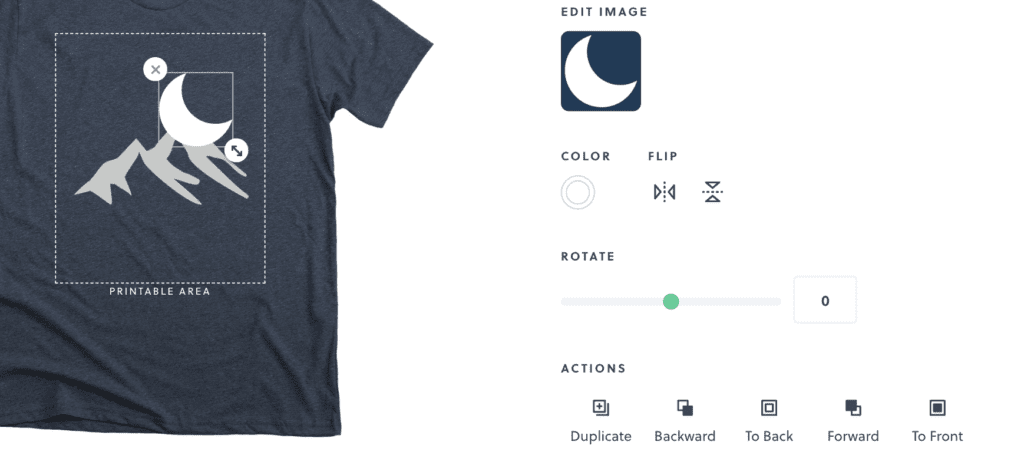 In our design tool, consider using the Layer tool in the sidebar to send elements forwards or backward to easily add depth to your design without the need for Adobe Photoshop or Illustrator.
📚 Related Reading: 10 Creative Ways to Use Our Design Tool Like a Pro
Use the Printable Area to Your Advantage
Bonfire provides sellers with a printable area box that directly translates to the screens used in the printing process. You can completely fill in this rectangular printable area for the largest print possible, or shrink your design for a smaller print.
When deciding where to print on your shirt, there are a few different options to consider. You can print your design large and centered, or shrink your design and put it on the top right side of the shirt as a "pocket print". You can also get creative and print your design aligned to the left or right for a more dynamic effect.
Use Typography
Broad, appealing phrases will maximize the interest in your shirt and in turn, bring in more sales. Typographic designs are a way that anyone can create an awesome t-shirt design, without any expensive design programs.
Think about what unites your audience. Design with relevant words or sayings that will reinforce a sense of community around the shirt's subject matter. Use unique fonts on your shirt to create a piece of art out of just these words or pair your phrase with other design elements and imagery.
Our design tool has over 170 free t-shirt fonts to help you create something truly unique. You can also find lots of free creative fonts online, or write something in your own handwriting to create your design.
📚 Related Reading: The Best T-Shirt Fonts to Use in Your Next Design
Select the Right Colors
Picking colors of the design itself is important when designing a t-shirt. The first rule of thumb is to always use light ink colors on a dark shirt and darker ink colors on a light shirt. This creates a contrast between the print and the shirt itself so your design will really "pop". While printing black ink on a black shirt may be trending in some audience groups, most buyers would be disappointed if they couldn't see the shirt design on the t-shirt it was printed on.
The most popular t-shirt colors purchased on Bonfire in the last year were Black, Dark Heather Grey, and Midnight Navy. So, you may want to keep that in mind when thinking through what ink colors you want to choose.
White ink is an easy win and shows up well on most shirt colors. However, if you want to play with more colors, explore complementary colors that create a pleasing mood when used together. We recommend using 3 or fewer colors to maximize your profits and create a clean, aesthetically pleasing design.
Our t-shirt design tool makes it easy for you to test color options out and see what looks best. We've worked hard to make sure that the t-shirt images in our design tool match what the shirts look like in real life. So, if you don't like the way your design and t-shirt pairings look online, you are really not going to like them in person.
Screen Printing Standards
Screen printing is the industry standard method for printing custom designs on t-shirts and other apparel items. It uses one screen per color to push ink through the design on the screen, onto the shirt. When designing, it is important to remember that this method can't print gradients of colors. This includes sections of gradually fading colors made in programs like Photoshop as well as photographs from a camera which can contain 1000's of different colors.
A vectorized image is a design made out of mathematical lines and curves that design applications can scale infinitely without losing quality. You won't have to worry about this if you create your design inside Bonfire's online design tool. However, if you are creating your own art, remember to use less than 8 colors, so Bonfire's designers can vectorize your design to be ready for screen printing.
Turn photographs you love into amazing t-shirt designs by having a designer create a vector illustration based on the photo. This photo of Oshie the Golden Retriever was turned into the printable t-shirt design on the right.
Not sure how to make your design print-ready? The Bonfire Support team is here to help you make your design look awesome. Our Design team also reviews each and every design that goes through the Bonfire system to make sure that your shirts will print perfectly!
Use our t-shirt design tool to create your custom shirt today.