Fundraising Ideas That Are Perfect for Elementary, Middle, & High Schools
---
If your school needs to raise money for an upcoming project or event, it's important that you pick a fundraising idea that right for your school's financial needs and goals. But figuring out what that perfect idea is can be the hardest part sometimes! That's why we've put together this list of 12 fundraising ideas that are perfect for every school.
Our favorite fundraising idea for Schools
T-shirt fundraiser
Fundraising Potential: 👍👍👍👍👍
Cost: 💵
Popularity: 🆒🆒🆒🆒🆒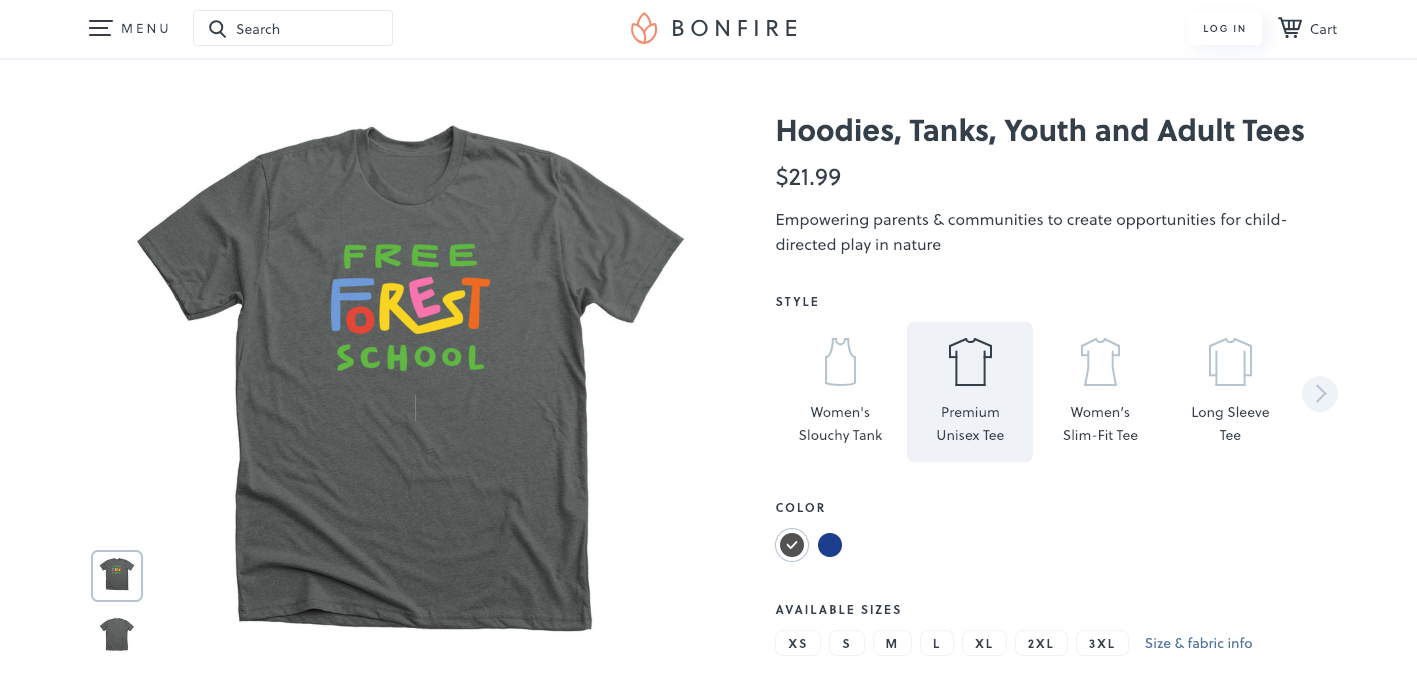 Launching a t-shirt fundraiser for your school is an easy way to raise money and offer a tangible item in return for your supporter's donation. When you use Bonfire for your school's fundraiser, you're choosing a low-risk, and high reward fundraising option. Our platform is 100% free to use, and there are no up-front or inventory costs. All you have to do is design and promote your t-shirt fundraising campaign. We'll print and ship all of your shirts directly to your supporters, and send you 100% of the profits.
Get started by designing or uploading your school's t-shirt design in our free design tool. Or, if you don't want to create a design from scratch, check out our library of free editable design templates.
Unique fundraising ideas for schools
Pie the Principal
Fundraising Potential: 👍👍👍

Cost: 💵

Popularity: 🆒🆒🆒🆒
Getting students to participate in fundraising efforts can sometimes be a challenge. Luckily, the Pie the Principal fundraiser encourages students to raise money while having a good laugh in the process.
Students can donate funds, and if they reach the fundraising goal, one lucky student will get to pie their principle in the face.
Keep your fundraiser running for a couple weeks, and give every student the opportunity to get involved. At the end of the fundraiser, hold a school-wide event were the principal gets pied.
Best Seat in the House Fundraiser
Fundraising Potential: 👍👍👍

Cost: 💵💵

Popularity: 🆒🆒🆒🆒
The best seat in the house fundraiser is most effective for high schools and universities, but it can work for any type of school. At its core, the best seat in the house is a raffle that awards the winner two prime seats to a sporting event or theater performance.
Spread the word about your fundraiser, and encourage people to purchase raffle tickets for $1 each.
Sweeten the pot by offering the winner merchandise related to the event, as well as food and drinks. Because this fundraiser is so simple to plan, your school can host several best seat in the house fundraisers throughout the year!
Family Fun Day
Fundraising Potential: 👍👍👍

Cost: 💵💵

Popularity: 🆒🆒🆒
Fun for students of all ages, a family fun event is a great way to bring families together and raise money for your school.  This family fun event can be a school-wide picnic or field day where you can offer games and mini competitions.
Set up the event in your school's gymnasium or outside, and sell tickets that students and parents can use to play the games and purchase concessions.
Before the event, sell family fun day t-shirts that guests can wear during the festivities to further show their support.
Popcorn Fundraiser
Fundraising Potential: 👍👍👍

Cost: 💵

Popularity: 🆒🆒🆒🆒
Who doesn't love popcorn? Get your students involved in raising money for your school by selling popcorn. Organizing a popcorn fundraiser is a great middle school fundraising idea because students will get the chance to sell products to their friends and family.
Find a popcorn vendor that offers a high-profit margin and a variety of flavors to choose from. We recommend scheduling your fundraiser during the holidays or sporting seasons to raise the most money.
Excite your students by turning your popcorn fundraiser into a competition by offering prizes to the students that sell the most popcorn.
Talent Show
Fundraising Potential:👍👍👍

Cost: 💵

Popularity: 🆒🆒🆒
Talent shows are fun for students of all ages. Plus, they promote individuality, allowing students to pursue their interests and display their talents. Hosting a talent show is an easy way for your school to raise money.
The key to a successful talent show is to start promoting it in advance, giving students enough time to register and practice their act.
Make announcements and post flyers around the hallways to generate excitement. Charge a small fee for tickets to the show so family, friends, and fellow students can watch.
Creative fundraising ideas for Schools
Straw Draw Fundraiser
Fundraising Potential: 👍👍

Cost: $

Popularity: 🆒🆒🆒🆒
Great for elementary school fundraising ideas, the straw draw fundraiser is both inexpensive for schools to run and fun for students.
All you need for this fundraiser is a pack of straws and a few small prizes. Write different prizes on a piece of paper and attached them to the straws.
Your prizes don't have to be extravagant. Offer simple things like extra recess time, candy, or free lunch. Charge students (and teachers!) $1 to draw a straw.
Guessing Games
Fundraising Potential: 👍👍👍

Cost: 💵

Popularity: 🆒🆒🆒
Whether you're raising funds for 12-K schools or universities and colleges, guessing games are fun for students of all ages and inexpensive to run.
All you need is a jar full of candy (e.g., jelly beans, M&Ms, or Skittles) and have students and teachers pay a small amount to guess the number of candies in the jar.
Place your jar of candy in a prominent location, and encourage everyone to make a guess. Don't forget to award the person with the closest guess a prize at the end of your fundraiser.
Shoe Drive
Fundraising Potential: 👍👍👍

Cost: 💵

Popularity: 🆒🆒🆒🆒
Hosting a shoe drive is an inexpensive and unique school fundraising idea. Students can bring in their used and unwanted shoes to help support the school.
You can even get the whole community involved by setting up shoe donation drop-off centers around the neighborhood.
Work with a shoe drive organization that will come collect your donated shoes, and give you a check based on the number of pounds of shoes you give.
Book Drive
Fundraising Potential: 👍👍👍

Cost: 💵

Popularity: √√√
There's no better way to raise money and promote reading than hosting a book drive. Ask students and community members to donate old and gently used books to your school.
Set up shop in your school's library, and sell books during the day to students and even teachers.
Best of all, whatever you don't sell can be added to your school library's collection.
Tie-Dye Event
Fundraising Potential:👍👍👍

Cost: $$

Popularity: 🆒🆒
A tie-dye event is a great way to bring your supporters together and have a fun time creating a unique t-shirt. Instead of just selling white t-shirts at your event, you can create a t-shirt fundraising campaign online. Design white shirts with your organization's logo or use a slogan that represents your school.
Buy-a-Brick Fundraiser
Fundraising Potential: 👍👍👍👍

Cost: 💵💵💵

Popularity: 🆒🆒🆒
If your university or college is looking to expand your campus or make renovations to existing buildings, why not host an engraved brick fundraiser. This is a great fundraising idea if you are working to fund a school garden or playground project.
Partner with an engraved brick manufacturer to sell bricks to students, alumni, and faculty. You can even charge extra to have the bricks engraved with the donor's name or the name of someone they wish to honor.
Selling bricks is a symbolic way to represent your new structure, and your school can honor donors by creating a walkway or wall with the engraved bricks.
Scavenger Hunt
Fundraising Potential: 👍👍

Cost: 💵

Popularity: 🆒🆒
Elementary school fundraising ideas need to be fun and engaging, and there is no better way to raise money than with a scavenger hunt. Plus, it gives children the opportunity to work together with their peers and parents to win an awesome prize.
To get started, you'll need to create your clues and hid your items around the school. Allow students to enter the scavenger hunt by themselves or with a group, and charge a small fee to participate.
Reward the students who complete the scavenger hunt with a small prize!
Karaoke Night
Fundraising Potential: 

👍

👍

👍

Cost: 

💵💵

Popularity: 🆒🆒🆒
Who doesn't love a night filled with friends and karaoke? You can organize a karaoke night at your local restaurant to raise funds for any cause by partnering with a local restaurant that does karaoke.
Let the local restaurant know that you're raising funds for a good cause, and ask them if they'd be willing to donate a percentage of the night's proceeds to your school.
Encourage all your friends and family to attend to reap the most rewards from your fundraising event.
Pick An Idea That You and Your School Can Get the Most Excited About
The more excited you and your school are about your fundraiser, the more likely people will gravitate towards your campaign and want to donate. That's why we always recommend choosing a fundraising idea that you're the most passionate about and really want to promote, the rest will take care of itself.
Ready to Launch Your Schools T-Shirt Fundraiser?
You're just a few clicks away from being ready to raise money.