A walkathon, fundraising walk, or walking marathon is a community fundraiser in which participants collect donations from their friends and family to support them walking along a preset course. Donations are typically given on a per-lap or per-mile basis, which means the further participants walk, the more money they raise. 
While similar to marathons and 5Ks, walkathons differ in that they're lower-intensity and usually non-competitive among participants. This is mainly to open up participation to everyone. A walkathon's low-intensity, non-competitive model mobilizes broad-based community support, enabling the hosting organization to boost participation and raise as much money as possible.
Think about how often you hear about charity walks — Relay For Life and March for Babies are just a couple of internationally-known walkathons you've likely heard about from the news or read about online. These events are so popular in the nonprofit community because they work. They bring a massive amount of awareness, unwavering support, and fundraising dollars to all sorts of causes. 
If you're thinking about hosting a walkathon for your cause, you've come to the right place! At Bonfire, we've seen the power that the right fundraising initiatives hold for mission-driven organizations. We've worked with countless organizations to spread the word about incredible causes and to help you expand your reach, we'll walk you through everything you need to know about this type of event, including:
The Basics of Walkathons
How A Walkathon Works
Walkathon Ideas to Boost Registration
With a few best practices and innovative walkathon ideas to create an awesome event, you'll be the hero event organizer your organization needs! Let's dive into what you need to know to start planning your campaign and gain traction in your community.

The Basics of Walkathons
Whether you're a seasoned event planner or this is your very first major fundraising event, walkathons can quickly become complicated without a solid understanding of the basics. Let's review the fundamentals of this type of event, so you can confidently move forward with organizing your fundraiser.
How Do You Raise Money With A Walkathon?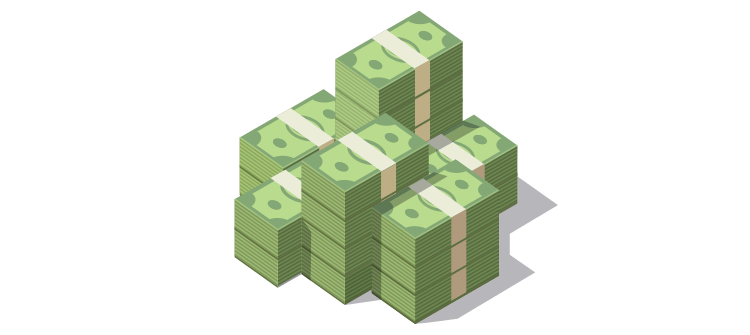 One of the best parts about walkathons is that they provide a variety of fundraising opportunities. As the event planner, it's up to you to determine which strategies will inspire your audience to give.
Some of the most popular and effective ways to raise money for these events include:
Pledge fundraising. This is the foundational strategy that walkathons rely on to raise money. Your event participants will collect pledges for each mile or lap they walk. For instance, someone might pledge $25 for every mile their friend completes. If that person ends up walking an admirable 10 miles, their loved one will donate $250 to the organization. 
Branded merchandise. From t-shirts to mugs, branded merchandise is a fantastic way to raise money for your walkathon. Plus, it's free marketing each time your buyers use or wear it publicly! You can offer it as a freebie in your walkathon swag bag or sell it to your participants to commemorate the great time they had. Bonfire's peer-to-peer event fundraising solution enables participants to offer high-quality, branded merchandise to friends and family in order to drive donations.
Corporate philanthropy. This category largely pertains to lining up sponsorships. However, it can encompass other CSR initiatives. For instance, companies may also offer to match donations that their employees collect, or they may offer volunteer grants to anyone who helps out with your event.
Whatever works best entirely depends on your organization and its audience. Fully commit to any fundraising strategies you pursue, and you'll start raising money for your walkathon in no time!
What Organizations Typically Host Walkathons?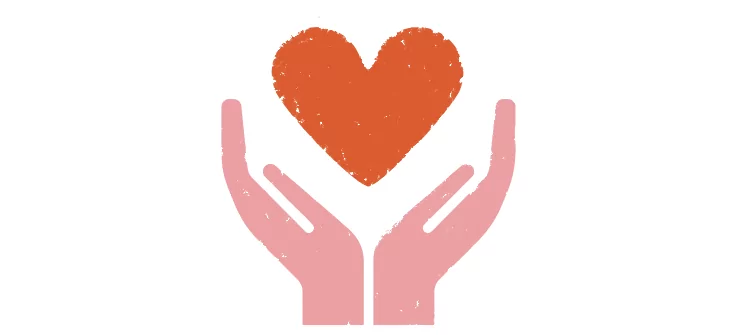 Walkathons are a perfect way to raise awareness for any type of organization, including:
Schools and school groups
Greek organizations
Social and recreational teams and clubs
Animal rights groups
Health awareness organizations
How Long Does It Take To Organize a Walkathon?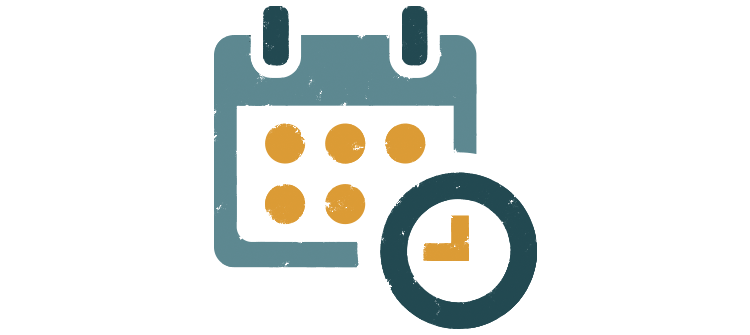 Between recruiting participants, giving them time to fundraise, and holding the event itself, there's a lot that goes into organizing a walkathon. Event organizers should start planning around 6 months in advance to give them plenty of time to work out the logistics and ensure everything's good to go.
What Are The Benefits of Walkathons?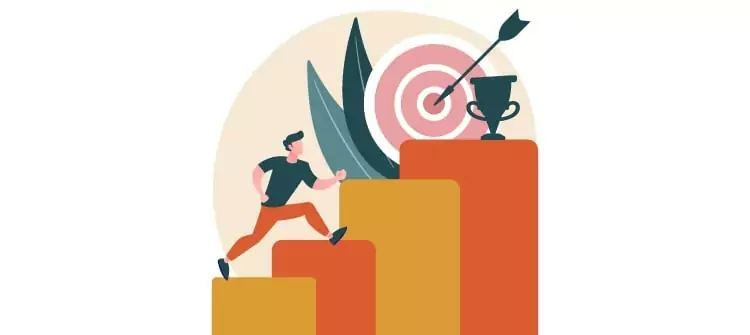 You've probably heard of dozens of different walkathons hosted by all sorts of nonprofits with varying missions. This begs the question of why so many nonprofits turn to this fundraising opportunity.
Here are a few reasons why nonprofits should host this type of event. You can:
Encourage a healthy lifestyle, which is especially beneficial if you pursue a health-related mission.
Bring the community together in support of a charitable mission.
Promote a worthwhile cause through branded marketing materials.
Inspire people to fundraise on behalf of your organization, thereby increasing their commitment.
Gamify an everyday activity (in this case, walking) by encouraging people to compete to walk a certain distance.
When well-planned, walkathons are an enjoyable experience all-around, which will ultimately widen your base of support. If you invest plenty of time into your event and see great results, this can become an annual event on your nonprofit's calendar that supporters look forward to year after year.

How Does A Walkathon Work?
As an event planner, you understand that a lot of hard work goes into organizing a nonprofit event. But what does that look like specifically for walkathons? We'll break it down into eight easy steps for you!

Step 1: Assemble Your Walkathon Leadership Team
First and foremost, you need a team composed of skilled individuals to run point on each aspect of your event. Some common roles on a walkathon leadership team include people to:
Obtain the correct permits, verify health code regulations, and follow relevant guidelines
Find participants to walk and fundraise
Manage volunteers — this includes recruiting, training, and serving as their go-to resources on the big day
Promote the event across various outlets
Follow-up with donors to acquire unfulfilled pledges and thank those who fulfilled their pledges
When you find people who are motivated and well-suited for each role, you'll create a powerhouse team that can jointly pull off a successful walkathon.
Step 2: Work Out The Logistics
At this stage, event organizers should define the basic details of your walkathon. That way, they really get the wheels turning and start spreading the word about your event throughout the community. Your team will need to:
Set the overall fundraising goal. How much do you hope to earn with this event? This will give your participants an idea of the personal goals they should set to help you reach that overall objective.
Choose a date. Make sure to account for your other campaigns and ensure that participants have plenty of time to sign up and raise money. If there's a particular awareness day or month for your cause, that would be the optimal time to host your event.
Line up a venue. Chances are, your town has quite a few event venues to choose from. Somewhere like a local high school track will work great! When you've located a venue, go ahead and design the layout of your course with plenty of water stations along the way. For a virtual walkathon, you won't have to worry about a physical venue or course design. Instead, consider how participants will complete the event on their own, such as by using a fitness app that tracks their distance and pace.
These components will be part of your appeals, so handling them as soon as possible will reduce stress later on and help you build out the entire event timeline.
Step 3: Select Your Walkathon Software
When the fundamental components of your walkathon are squared away, select all the software your team needs to successfully pull off the event. The two types of platforms you might need include:
Crowdfunding and pledge software. You'll naturally need to collect donations for this event to be successful. While you can rely on your donation page, you'll be much more prepared if you invest in crowdfunding, pledge, or peer-to-peer software to get the job done.
A t-shirt design platform. Maybe your nonprofit is selling branded merchandise for your event, your participants are selling it for you, or you're taking a team-based approach and want to unify each group with team t-shirts. You need a trustworthy platform to design and sell apparel for your event. Our peer-to-peer event software makes it easy for your supporters to launch apparel-based fundraisers that are directly connected to your organization's event! Your supporters can sell the merchandise directly on our platform, we'll handle all the printing and shipping, and then send you 100% of the proceeds.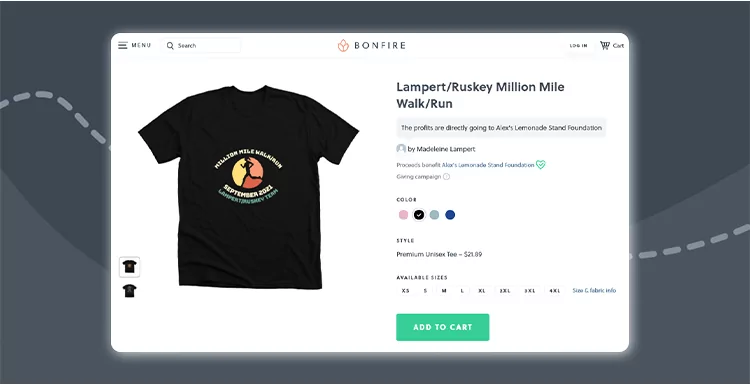 Investing in the necessary software will make your event planning much simpler, reducing stress for your participants and donors. Just do your research into each tool before making any purchases, aiming to select the platforms that fit your budget without sacrificing quality.
Step 4: Design Your Event T-Shirt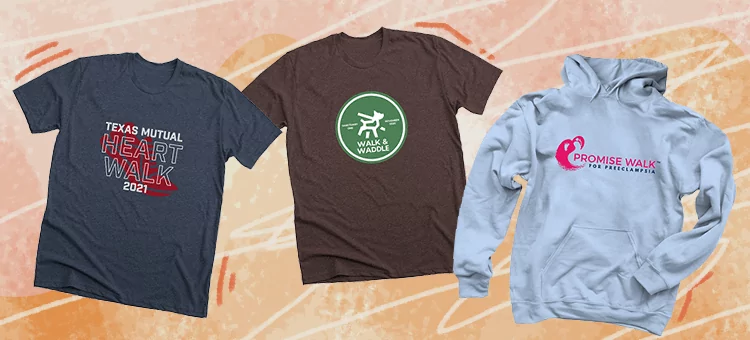 After clarifying the logistics of your event, move on to creating your walkathon t-shirt design. Your t-shirts will play a major role in promotion, both for your walkathon and cause. Think about how often you see people wearing race t-shirts for other organizations. Now is the perfect time to get in on the action!
No matter the size or scope of your walkathon, custom event t-shirts are a fantastic way to develop a sense of community among your participants and promote your cause to prospective supporters, but only if you take the time to create a design that resonates with your audience. 
An effective event t-shirt will communicate three things:
Your group's identity. Infuse your organization's mission and work it into your design. Incorporate elements of your brand that your audience associates with your cause, like your name, logo, and colors.
Your audience's identity. For your supporters to want to buy a shirt, it needs to fit their expectations and preferences. That means understanding how they like to dress and what they value about your organization, then letting that guide the design and shirt styles you choose.
The purpose of your event. While it's important for your t-shirt to fit your organization's visual brand, it should also represent the event itself. Include aspects like your event title and logo to make the design unique to your event.
By designing an event t-shirt that encompasses all of these elements, the value of the design will far outlast the event itself. Even if you're inexperienced at merch design, there's no need to stress. The right platform can make designing apparel a breeze! Our t-shirt fundraising platform makes it incredibly easy to create eye-capturing designs that your supporters will love. Upload your own artwork to get a headstart on your design, leverage thousands of free graphics, or start completely from scratch.
Get started with Bonfire to raise more money at your walkathon

100% free

Easy setup

Fast payouts
Step 5: Recruit Your Walkers and Sponsors
After solidifying the fundamental components of your event, it's time to publicly announce your event and get your supporters involved. Your supporters will be the ones to actually walk in your walkathon and solicit donations from their friends, family, and social networks.
Start by sifting through your nonprofit's CRM to locate people who already have a connection with your cause and would be willing to participate. Organizations also have success recruiting walkathon participants by leveraging channels like:
Social media
Nearby businesses that have a mission that aligns with the organization
Other nonprofits that work in the same area or with the same population
Greek organizations and alumni groups
Whenever someone registers to participate, your team should immediately get them set up with their fundraising pages, encouraging them to tweak it with their personal connection to your cause and set personal fundraising goals.
At this stage, you'll want to look for sponsors that you'll feature on promotional materials in exchange for their financial and in-kind support. Your existing partners are more than likely to hop on board, so start by solidifying their support for your walkathon. 
Then, start calling and sending sponsorship request letters to local businesses whose values align with yours. You can request monetary donations, or inquire about in-kind contributions, such as traffic cones to mark the walkathon course or water cups and tables for your fill-up stations.
Step 6: Promote Your Event
The last thing you want is for your event planning team to put in their blood, sweat, and tears just for no one to show up on the big day! Start spreading the word about your walkathon far and wide. Your organization, participants, and sponsors should all proactively promote the event to their contacts, maximizing visibility beyond your immediate network.
The goal of your promotion should be to boost donations and spread awareness for the cause behind the event. Also, you can continue recruiting participants, so those who are late to the party can still join in on the fun.
Bear in mind that not every participant will know what makes for a dynamite social media post, email, or phone call, so consider providing them with templates and scripts for their conversations. It makes it much easier for walkers to follow along and articulate their connection to the cause when the information is right there.
Everything your event team and corporate sponsors send or post should include a link to your main fundraising page, and you'll want to encourage participants to link to their individual fundraising pages. 
Pro tip: don't forget to leverage your t-shirt in your promotion materials!
Step 7: Hold Your Walkathon
After months of planning and promotion, your walkathon is finally here! Here are some best practices for event day to ensure you pull off your walkathon without a hitch:
Have volunteers arrive around 2 hours early to give them a final rundown and help with setup.
Set up the course with water stations along the way and volunteers to guide participants.
Set up your booths, including your check-in station, t-shirt table, snack stations, and any vendors' booths.
Keep track of everyone's results, such as with individual trackers.
Live report fundraising progress over the loudspeaker or with an online fundraising thermometer as more donations come in and people complete the course.
Event day will look a little different in the virtual space. There will be a lot less to set up, but that doesn't make it any less hands-on for your team. They'll need to proactively communicate with volunteers, and provide updates on social media on progress toward your fundraising goals. At the end of the event, you'll have created a memorable experience for everyone.
Step 8) Follow Up After The Event
Your walkathon may be over, but there's still work to do before you can call it quits. Following up across different areas might take a few weeks, but it needs to be done. Event organizers will need to:
Thank participants and donors for their hard work and contributions.
Collect pledges and regularly follow up with anyone who hasn't given their promised donations.
Share results, including your fundraising totals and top individual fundraisers.
Ensure any donors who bought a t-shirt receive their apparel.
Check if any donors are eligible for a corporate matching gift. Some employers will also match any money that their employees raise through peer-to-peer fundraising.
When it's all said and done, your team can relax and start planning your next big event. If your walkathon was super successful, you might consider turning it into an annual fundraiser and tacking it onto next year's calendar.

Walkathon Ideas to Boost Registrations
All walkathons follow the same framework across a variety of causes. If that's the case, how can you make your organization's walkathon stand out? Let's dive into a handful of ideas that event organizers can use to amp up the excitement and boost registration numbers. 
Create Event T-Shirts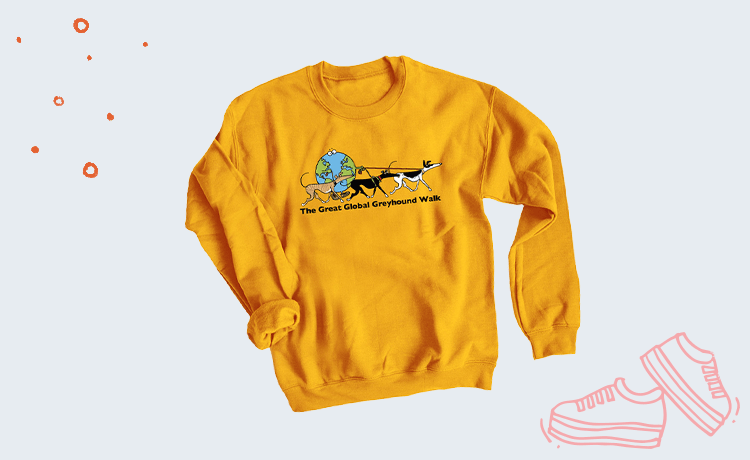 We featured the idea of creating an eye-capturing t-shirt in the basic steps for organizing a walkathon, but the importance of event t-shirts cannot be overstated. When your event organizers invest time in creating a standout design, you can:
Promote the organization and cause well after the event is over. Each time supporters put on their t-shirts, they'll be reminded of the great time they had thanks to your organization. Plus, it can spark a conversation about your cause with others when they wear their t-shirts out in public. Even passersby who aren't feeling particularly conversational might look up your nonprofit if the t-shirt is clearly branded to your organization.
Boost registration numbers. To recruit as many participants as possible, consider giving t-shirts to everyone who registers or meets a certain threshold of donations. Anyone who connects with your cause will naturally gravitate toward quality branded apparel that exemplifies your mission.
Use them to drive donations. You can either sell them separately or tack them onto supporters' peer-to-peer fundraising pages. People will be much more likely to contribute if they're promised a top-notch t-shirt in exchange.
With our free t-shirt design tool, you gain access to everything you need to create a standout design that drives participation, even if you're not an artistic prodigy. Of course, you can also venture to other types of merch, too. It all depends on what your audience wants!
Choose A Fun Walkathon Theme
Walkathons don't necessarily need a theme, but centering your event around one can really make it stand out and entice people to register. You'll find the most success in selecting a theme that aligns with your cause, but you can select any theme so long as it suits your audience. 
Here are a few walkathon theme ideas to spark your imagination and kickstart your brainstorming session with your team:
Dog walk. This walkathon idea is perfect for animal rescue organizations. Encourage everyone to bring along their furry friends to complete the course with them (on leashes to avoid any mayhem).
Superhero walk. Try out this walkathon idea if your organization raises awareness and funds for a particular illness. This walkathon idea is also effective if your event is family-oriented and will have a lot of children participating. 
Color run. A color run is perfect for younger audiences, such as school-aged children. Everyone wears white t-shirts, and you'll set up stations where walkers can load up on non-toxic, colored powder or paint along the way.
If you're having trouble selecting your walkathon theme, consider polling your audience to see what they'd be interested in. This is a great way to boost involvement from the very start and will likely result in a few more participants when their preference wins.
Make It A Virtual Event
Especially with ongoing health concerns and social distancing guidelines, your best bet may be to transform it into a virtual event. This will help ease everyone's concerns and participants will recognize that your organization prioritizes their supporters' safety. Plus, enabling remote participation eliminates geographical barriers and opens up the event to a much wider audience.
With a digital walkathon, participants will still participate around the same time but have the freedom to complete the event at any location they want.
To pull this off, you'll need to rely more heavily on technology since everything from promotion to the event itself will occur in the digital space. The biggest change is that people will need to track their own progress, such as with their smartwatches or a free mobile app. This is the easiest and most reliable way they can report back to your team on their results.
Leverage Peer-to-Peer Walkathon Technology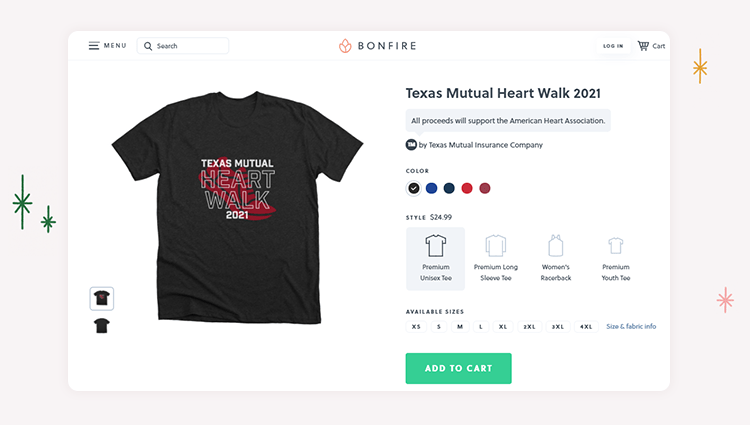 With a heavy reliance on online fundraising, your walkathon will naturally need technology to run various aspects of the event. From recruiting participants to creating event merch, there's a lot of ground to cover, and technology can streamline some of these steps. 
Our event fundraising tools make it incredibly easy to morph donation collection with apparel design and distribution into one convenient solution, directly cutting down on costs. Here's what you can expect with Bonfire:
Intuitive t-shirt design tools. Create quality apparel that showcases your event and cause. Choose from several styles and colors, upload your own artwork, and leverage free graphics to create the perfect design. The result will be a t-shirt that your supporters love and will wear for years to come.
A branded profile for your organization. Create a profile page for your organization that tells your story with a detailed description, images, and social profile links. You can display the campaigns your organizations launch for quick access to the apparel you design. You can also display the

giving campaigns

that supporters start on your behalf to drive traffic to your walkathon participants' pages.
Easy peer-to-peer campaign page creation. Supporters can easily launch a Giving Campaign and select your organization as the beneficiary. Then they can promote their page to their friends and family to raise money for the event.
This is just the tip of the iceberg. You'll also experience frustration-free payouts, receive a contact sheet to stay connected with supporters for future events, and can easily sync your data with other fundraising software using our Classy integration. Even if you've chosen a virtual walkathon, Bonfire makes t-shirt distribution incredibly easy. They'll ship t-shirts directly to buyers, resulting in a low-touch process for your team.
Whether your walkathon is in support of a youth sports team, a mental health awareness organization, or another worthwhile cause, selecting the right fundraising technology will help boost your event's visibility and overall success.
Raise more money at your next walkathon with Bonfire

100% free

Easy setup

Fast payouts
---
Walkathons are a powerful fundraising opportunity that your organization won't want to miss out on. When you invest enough time and effort into planning your event, you stand to spread awareness for your cause, promote a sense of community among your audience, and much more.
If it sounds like this is a worthwhile initiative for your team, follow the guidance we shared in this article. In no time, you'll create a memorable walkathon that your supporters will look forward to every year.