When incorporating custom t-shirts into your organization's next event, there are a few elements that you must get right. Custom t-shirts are a great investment in your event, so it's important to think carefully about every aspect of their design, purpose, and availability.
By making these smart decisions with your Bonfire event t-shirts, you can be the hero of your organization's event!
After all, a great event t-shirt will benefit your organization in several substantial ways. Promote your event, bolster your brand identity, help participants feel more unified, and raise some money, all with beautifully-designed and thoughtfully implemented event t-shirts from Bonfire.

Peer-to-Peer Events
Enhance your organization's events by empowering your community to launch apparel-based fundraisers on your behalf. Learn More
If you're ready to get started on your event t-shirts, remember these 5 essential steps for success:
No matter the size or scope of your organization's event, custom event t-shirts are a perfect way to hit multiple targets at once. From major political marches to community picnics to social advocacy campaigns, event t-shirts are an essential fundraising and engagement tool.
Make thoughtful choices with your shirts to ensure that everyone at your event feels included and part of something bigger than themselves, transforming them into real brand advocates!

1. Create the perfect design for your event shirts
For those without graphic design experience, this first step might seem intimidating. No, you don't need to create the world's most breathtaking or iconic design for your custom event t-shirts to be a success.
All you need to do is focus on creating the perfect design for your event and your organization! Keep it uniquely you.
After all, your donors, volunteers, and attendees don't get involved in your work because you're just like every other organization. Rather, they're attracted to your specific perspective, mission, attitude, and community relationships. Use this to your advantage!

If you've begun designing your event shirts, consider your campaign and audience to make sure you're heading in the right direction. If you haven't yet started designing your products with Bonfire, remember that an effective event t-shirt must communicate three things:
Your group's identity.

How does your organization see itself? How do your supporters see you? Let your t-shirt design communicate the tone of your mission and work.

The purpose of your event.

Why are you bringing your supporters together for an event? While it's a great idea to design a shirt that clearly fits with your visual brand, the t-shirt should still be

specific

to the event.

The identity of your audience.

Simply put, your supporters need to see themselves reflected in your t-shirt before they'll purchase it. This means understanding what they want, how they like to dress, and what they value about your organization.
All of these considerations should translate into concrete design choices. Gather some inspiration, current t-shirt trends, and elements of your own visual brand, then combine them into a distinct and attractive design. Use Bonfire's intuitive design tools to make the process easier, and remember to include text elements specific to your event and organization.
By following some best practices for fundraising and event t-shirt design, you'll ensure that participants will wear your shirt long after the event. This is how an event t-shirt becomes a perfect investment in your organization's public image. A beloved or iconic design becomes an invaluable asset that only appreciates with age!
---
Ready to start designing your event's t-shirt?
---
2. Consider the best ways to offer your event t-shirts
As a t-shirt fundraising platform, Bonfire allows your organization to offer your t-shirts through both online crowdfunding-style campaigns and directly for sale at events.
If you choose to offer event t-shirts through a Bonfire crowdfunding campaign, you'll create your design, set a price and fundraising goal, then promote your shirt. Your participants place their orders, and then you'll remind them to wear their t-shirts on the day of your event.
This method of offering your event t-shirts takes some careful coordination, but it can greatly reduce the logistical stresses of ordering, storing, and physically selling them.
Maybe you'd rather order a large batch of your custom event t-shirts and directly offer them to your participants both before and during the event.
This method requires more planning than a crowdfunding campaign, but it's an extremely effective way to ensure your supporters will be wearing your shirt during your event. With Bonfire Supply, you can now order your custom event shirts in bulk and at cost, so you can easily supply all your staff and volunteers with plenty to sell and share.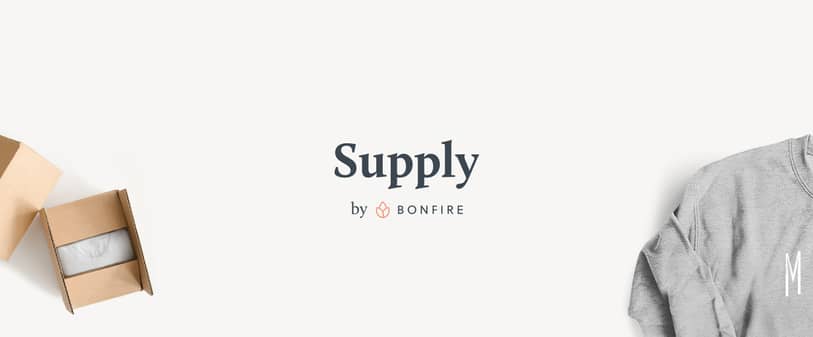 Prior to placing an order, however, gauge interest in an online crowdfunding campaign, and consider offering both options to your supporters. Some would gladly order an event shirt ahead of time (or even after the fact), and it's always a great idea to have more shirts on hand during the event, too.
Debuting and promoting the shirts on social media along the way is a good way to gauge how many shirts you should order. This is also a great way to expand your nonprofit's audience through sharing and social interaction, which helps gain more first-time donors.
Expand your offering methods to include as many participants as possible in the sense of community and purpose that your event shirts will provide!

3. Make sure you order the correct number of t-shirts
If you've chosen to directly purchase your custom event t-shirts through Supply by Bonfire, a few additional steps are crucial to successfully engaging your supporters with your shirt.
Most importantly, try to gauge a rough estimate of attendee and supporter interest in your shirts. After all, discovering too late that you don't have enough t-shirts to satisfy demand would be disappointing for everyone.
Consider promoting your shirts and letting supporters make requests before placing your main order with Supply by Bonfire. You'll need to know roughly how many t-shirts to order of each size, color, and design variation. Without a system in place to record these requests, you can quickly become overwhelmed. Use our t-shirt order form templates to efficiently solicit and record your supporters' shirt orders.
The most important pieces of information to collect for each shirt order are:
Name

Email address

Shirt size

Shirt color

Shirt quantity
Asking for any more information than necessary can become a logistical hindrance as you begin to tally your order totals. Also, if you offer multiple designs or clothing products, provide images or a clear list of your offerings on the order form, which you can then easily promote online.
It's always a good idea to order some extras of your most popular offerings for latecomers and newcomers to your event! Be sure to promote your order form and then place your main order with Supply by Bonfire with plenty of time to spare.
This will give your organization enough time to place a second order closer to the big day if necessary. If you're expecting any last-minute shirt requests or increased crowds at your event, making a second order or purchasing a stock of extra event shirts is a smart move.

4. Create staff and volunteer shirts for your event
Remember, your event t-shirts serve more than one purpose! They're never just for raising funds, spreading your image, or engaging your attendees. They accomplish all of those.
Similarly, your custom event t-shirts will be most effective in every area when they're not only offered to your attendees and participants! You should order enough t-shirts or create special versions for each group of your event stakeholders:
Your donors and participants.

T-shirts will create a sense of shared purpose and community, as well as serve as a fundraising product.

Your event staff.

Give them uniform t-shirts that identify them to attendees who might need assistance or have questions.

Your volunteers.

Special t-shirts can also identify volunteers available to help attendees, but they're also a great thank-you reward for their donated time.
For each group, custom event t-shirts can play an important role. Creating enough event t-shirts for everyone involved will go far to foster a feeling of inclusivity and community during your event!
Remember, it's crucial to strategically promote your event t-shirts to your supporters (especially when you're offering shirts through a Bonfire crowdfunding campaign).
Simply providing your staff and volunteers with event t-shirts, though, is among the best promotional moves you can make!
This is not only because it lets them feel proud of their work but also because it presents an extremely organized and professional image! A well-designed t-shirt for everyone at your event will show potential donors that everyone involved with your organization takes its work seriously.

5. Use your event t-shirts to boost overall engagement
An effective t-shirt campaign, whether in the context of an event or standalone fundraiser (and whether offered online or in person), relies on great design and smart supply decisions to increase availability and a sense of inclusivity.
Event t-shirts are extremely popular for things like marches and advocacy campaigns because they unite your supporters, even if they're not able to be at the event. The shirts allow advocates who won't get to participate in your event to still show their support by purchasing a t-shirt and giving proceeds towards a cause they're passionate about.
Bonfire's t-shirts for the Women's March on Washington is a great case study of the intersection of strong design with an engaging product platform. Check out our interview with the creators of the march's now iconic designs for what became the largest political demonstration in American history.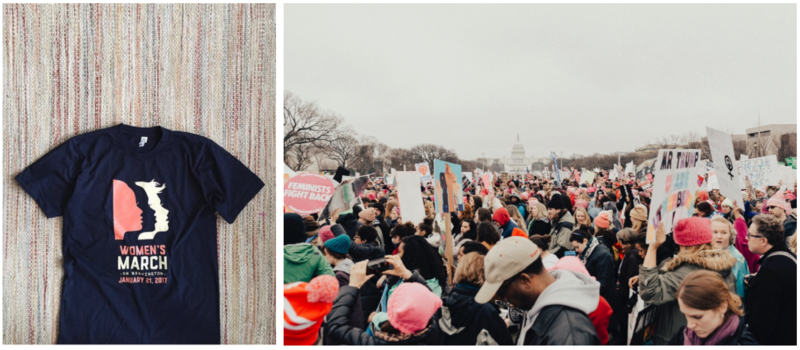 With plenty of commemorative fundraising merchandise available both online and at events, the march's strong designs were a major success for the movement. Participants will likely keep their t-shirts for the rest of their lives.
Even if your event is much smaller or more casual, it's still incredibly important that you encourage all your attendees to wear their t-shirts! Make sure you take plenty of pictures for your social media pages, website, and other promotional materials.
If you create an event t-shirt that you're proud of and your supporters love, be sure to incorporate it or new t-shirts into your broader engagement strategies:
Showcase your t-shirt

in your promotional materials. This can create a strong impression on your supporters who chose not to attend but might in the future.

Offer your shirts online.

Bonfire's Smart Launch tool is a great way to offer your shirts for those who missed their chance to grab one but want to remember the event.

Hold a design contest

for your next event shirt. If your last t-shirt was a hit, your supporters would love the chance to get involved creating your next one!

Create members-only shirts. If you have a program, special shirts just for paid supporters are an easy and effective member engagement strategy.
Promote your shirts and the sense of unity they provide your events before, during, and after! This will maximize their impact as an element of your brand identity and create strong associations between your work and the shirts' design for everyone who sees it.
---
Getting your organization's event t-shirt just right will go a long way to benefit your work in several ways. Your participants, staff, and volunteers will all feel included in helping to promote your image and the work that you do.
Remember these 5 key steps the next time you get started on an event t-shirt for your organization, and be sure to research more fundraising and custom t-shirt ideas! Start with some resources like these:
Are you ready to start your fundraiser?
Create a Bonfire campaign today and sell t-shirts to raise funds.