Incorporating custom t-shirts into your event can help take your event, and your organization as a whole, to the next level. Event t-shirts provide ample promotion opportunities, bolster your brand identity, help participants feel unified, and serve as a highly successful way to raise money for your organization. Whether you're hosting a 5K, a trivia night, or a music festival – you can always count on the fact that participants LOVE event-specific t-shirts. Oftentimes, they go so far as to make their very own t-shirts for themselves and their fellow participants to wear on the big day. 
By having your organization take the initiative to design shirts for the event, you are able to maintain branding continuity, make sure all proceeds from shirt sales benefit your organization, and your supporters will have official event merchandise to cherish for years to come. T-shirts are a great way for your nonprofit to celebrate your event and your supporters at the same time! Have you considered adding t-shirts to your next event, but aren't quite sure where to start? Never fear, Bonfire is here! We've put together a list of steps to help you get it just right. 
Designing Your Event T-Shirt
The design for your event shirt is super important, but don't let that overwhelm you – let that inspire you! This is a chance to create something that participants will cherish long after the event has ended, and that is worth investing in. Whether you've made custom t-shirts before, or this is your first time doing so – Bonfire has a solution to meet your needs. Did you know there's more than one way to go about designing a t-shirt with Bonfire? Let's explore the different options below and find which one is right for you.
Come Up With a Design Concept
For the initial concept of your shirt, start by focusing on these three things:
Your organization's identity – How does your organization see itself? How do your supporters see you? Let your t-shirt design communicate the tone and the mission of your work. 
The purpose of your event – Why are you bringing your supporters together for an event? Your t-shirt should be specific to the event and it should celebrate the event.
The identity of your audience – Simply put, your supporters need to see themselves reflected in your t-shirt before they'll purchase it. This means understanding what they want, how they like to dress, and what they value about your organization.
Once you have solid answers for the three things above, you should have a pretty good idea of the direction for your t-shirt design. 
Choose Your Product
Next, you'll want to browse our product catalog to find the perfect shirt. This is where knowing what members of your community want to wear comes into play. When selecting your product for your design, you want to make sure it's something your supporters will be excited to wear.
Also, think about when your event is taking place. Is it a summer event and a short sleeve tee is the way to go? Or is your event happening in the fall or winter and then long sleeve tees or sweatshirts might be more comfortable? Once you've decided which t-shirt style you want to use, you can move on to the next phase. 
Create Your Own Design 
Inspired to roll up your sleeves and design your event t-shirt yourself? We say – GO FOR IT! Our t-shirt design tool is straightforward and will guide you from start to finish – no previous design skills are required. You can upload your own artwork if you'd like (1500px by 1500px transparent artwork is preferred and we support AI, EPS, PDF, PNG, and JPG files). We also have an extensive font library and collection of graphics for you to use.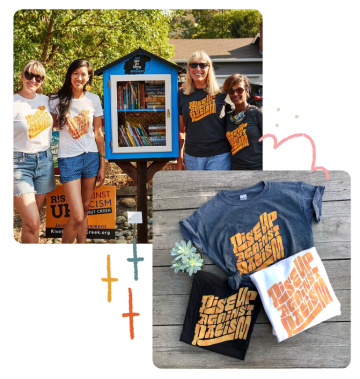 If you're looking for inspiration to help you start your design, browse through Bonfire's Instagram, as well as the Bonfire Marketplace to see what designs other organizations are coming up with! Remember to stay as true to your organization, your event, and your mission as possible, and your supporters will love the design you create for your t-shirt. 
Use a Design Template
Don't have the time or the means to put together your own t-shirt design? No need to worry! At Bonfire, we've created over 1,000 free design templates for you to use. These templates have been grouped into categories to help you choose which one is right for you! Explore categories such as fundraising, races, and special occasions. Once you've selected a design template that will work for your event, you can customize it as much or as little as you'd like using our design tools. Sounds easy? That's because it is! 
Hire a Designer With Bonfire Studio
Looking to hire a professional to create your t-shirt design for you? We've got you covered! Bonfire Studio connects you with our talented team of graphic designers. You provide them with your concept and they take care of the rest – creating a beautiful, one-of-a-kind design just for you! Our Studio designers are experts in decorated apparel and are ready and waiting to make your design vision a reality. There's no reason to stress at all about your event t-shirt design. Let our talented designers take care of it for you, so you can focus on everything else event-related. 
Selling Your Event T-Shirts
You want everyone to have their shirts the day of the event, so it just makes sense to start marketing and selling your shirts long before the event! Let's take a look at some of the ways you can offer your t-shirts ahead of time, and while we're at it – let's talk about the opportunities and benefits of marketing with your merch!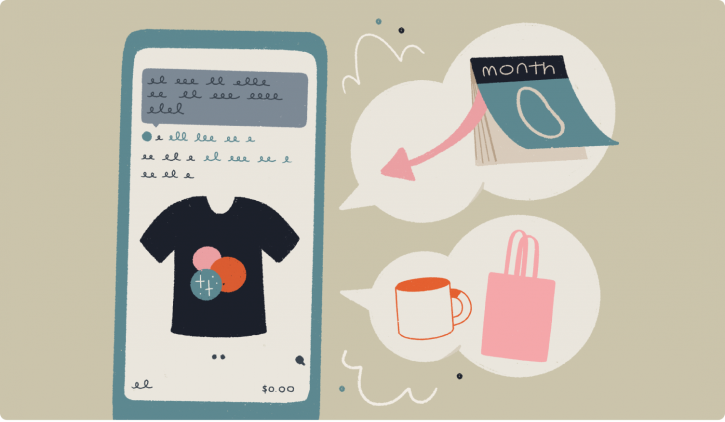 Launch Your Campaign 
It's easy to set up and launch a campaign on Bonfire! When it comes to deciding when to launch your campaign you have two options: you can launch your campaign now (as soon as you're done creating it) or you can schedule to launch your campaign at a later date. Both are great options, so choose whichever one works best for you!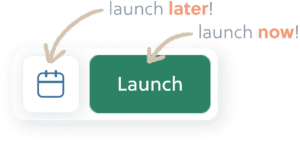 To launch now – click the green Launch button and watch your campaign go LIVE!
To launch later – click the calendar icon to set your desired launch date.
Whichever option you choose, be sure to let your community know the details so they know when to buy! 
Tip: If it's beneficial for you to get started on your t-shirt design now, but your event isn't happening for a while, you can go ahead and build out your campaign and then use the Schedule Campaign feature to schedule your campaign launch closer to the event date!
Once your Bonfire store is LIVE, it will serve as a one-stop shop for your supporters to purchase your event merch. Bonfire campaigns are easily shareable and easily searchable, so your supporters will always be able to find you when they need you.
You can also customize your campaign page to share your organization's story and give more information on the importance of the event you're hosting. People will love the chance to learn more about your organization and will feel even more inspired to purchase a shirt and support. Be sure to set an end date for your campaign to guarantee that all orders ship out with enough time to arrive before the event. 
Promote Your Shirt to Your Supporters
As soon as you announce that there will be merch for your event, your supporters are going to want to know how and when they can buy it. If you launch a Bonfire merch store, include the link to your store in your bio on Instagram and on your organization's website. As your supporters start receiving their merch, encourage them to post and share their excitement! Customer photos and testimonies are incredibly effective promotion tools. Think of your merch as the hype-bringer for your event! 
Advertise Your Merch Along With Your Event Details
Whenever you share information about your event, remember to share info about your merch too! This will help your supporters stay excited. Will you be selling merch ahead of the event? Create a post that counts down to the launch of your Bonfire store (and be sure to include details for your event each time)! Selling shirts in-person at the event? Make sure to advertise where the merch table will be located at the event so people will be able to find it easily. Supporters get excited about merch so share about it often! 
Turn Your Event Into a Peer-to-Peer Apparel Fundraiser
Peer-to-Peer Events empower members of your community to launch apparel-based fundraisers on behalf of your organization's event! 100% of the money raised by their campaigns will go directly back to your organization. Decide whether you would like the team captains to use pre-made templates (designed by your org) or if you'd like them to create custom designs from scratch. Peer-to-Peer Events are a successful way to expand the audience and the reach of your organization.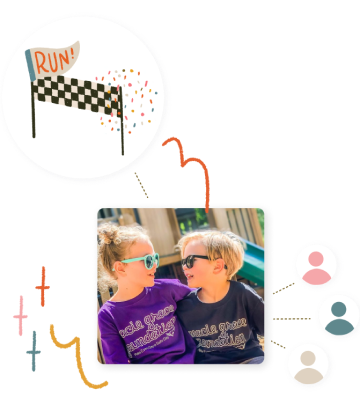 Go Beyond Just Shirts With Your Merch
Surprise and delight your supporters by offering more than just t-shirts for them to purchase for your event! How fun would it be for them to be able to purchase a mug or tote bag with your event design on it? Want to stick to apparel, but still want to expand your merch collection? Check out our sweatshirts and tank tops. Think about the type of event you're hosting and if a certain product or apparel piece makes sense and goes along with your theme – add it to your merch! Our product catalog is full of incredible options for you to choose from. 
Order Shirts Ahead of the Event
Want to have a stockpile of shirts before your event? You can place a direct order through Bonfire Supply and buy items at cost or take advantage of bulk order pricing. Having a physical inventory of your t-shirts before the event is very helpful for promoting your merch, in-person sales, and much more. Let's check out some of the ways your nonprofit could benefit from getting your hands on your merch early on.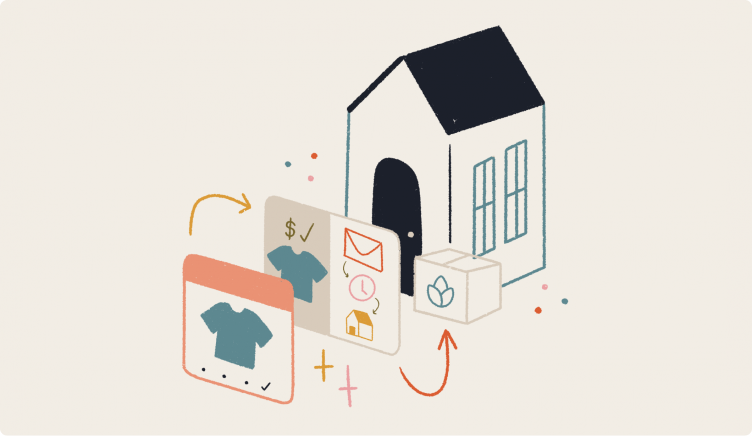 Take Promo Pics in Your Merch
There's no better way to promote your merch than by wearing your merch! If you order your shirts ahead of time you'll be able to take pictures and videos of your merch and post them on Instagram where to talk about the upcoming event, photograph staff sporting their shirts while they pick up supplies or set up the space, take headshot style photos of folks wearing their shirts, and so on. There are so many ways to rock your merch to get your supporters excited to purchase it. Use your creativity and have fun!
At the event itself, you could set up a photo wall and encourage participants to snap a photo in their merch. Always remember to ask folks to tag your organization when they share their pics on social media! This is another awesome way for participants to have fun while also continuing to promote your nonprofit. 
Give Shirts to Staff and Volunteers to Wear at the Event
You'll want to make sure that your staff and volunteers are identifiable at the event, and the best way to do that is to make sure they all have event shirts to wear. If you have stock on hand, set aside the number you need for all staff members and volunteers and distribute them before the event. Want to make special t-shirts for your staff and volunteers only? Design STAFF and VOLUNTEER shirts and place an order for them through Bonfire Supply. 
Sell Your Merch at the Event
And last, but certainly not least, having an inventory of shirts before the big event allows you to sell merch at the event! Folks who weren't able to purchase shirts ahead of time will be grateful for this opportunity, as well as the folks who want to pick up another shirt to send to a family member who couldn't be there in person. Selling merch at the event is a great final push for sales. 
---
There's a lot of hard work that goes into event planning. Our goal is to make the 't-shirt piece' of the puzzle feel less like work for you and more like fun. Follow these steps and you'll feel like an event t-shirt pro in no time. Let's get started on those custom t-shirts for your nonprofit's event today! 
Start designing your custom event shirts on Bonfire

100% free

Easy setup

Amazing customer support