Virtual 5k's are an awesome event to try right now because they're socially distanced, low-cost to host, and easy to organize. With this step-by-step guide, you can quickly set up a Virtual 5K fundraiser to raise money for the cause you care about.

Peer-to-Peer Events
Enhance your organization's events by empowering your community to launch apparel-based fundraisers on your behalf. Learn More
Why Virtual 5k's Are Awesome
Virtual 5k's have been becoming more and more popular, even before the bans on large gatherings and other social distancing requirements became our new normal. Virtual 5k's are a great fundraising idea because participants can participate from anywhere around the world. But they are also extremely low cost to host since there are no costs for street closures, event permits, security, and all the other costs associated with typical races and fun runs.
As the host, you have the flexibility to determine the budget you have for the event, and can tailor costs to meet that budget.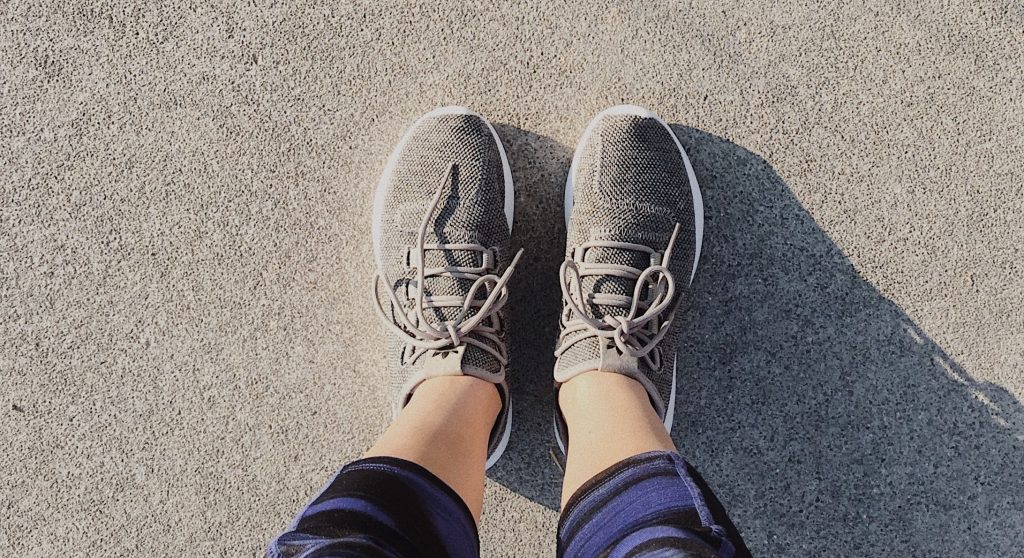 Determine Race Details
The first step to hosting a Virtual 5k Fundraiser is to determine when it will happen, what you're fundraising for, and how you'll raise funds through the 5k. You can raise money by charging participants a fee to run, or you can ask for donations. Another way to raise money is to get participants to collect pledges from their community. There are many ways to monetize your race, even if it's virtual.
Set Up Registration
Once you have determined the details of your Virtual 5k, you need to create your registration for runners. You can do this through a tool like Eventbrite or Facebook if you are keeping your race simple. There are also specific tools out there developed for virtual races, but just keep in mind they likely aren't free to use. If you want your Virtual 5k to be more about raising awareness for your cause, then you may decide to not even have a formal registration. Eventbrite and Facebook are great for simply helping get the word out about your event.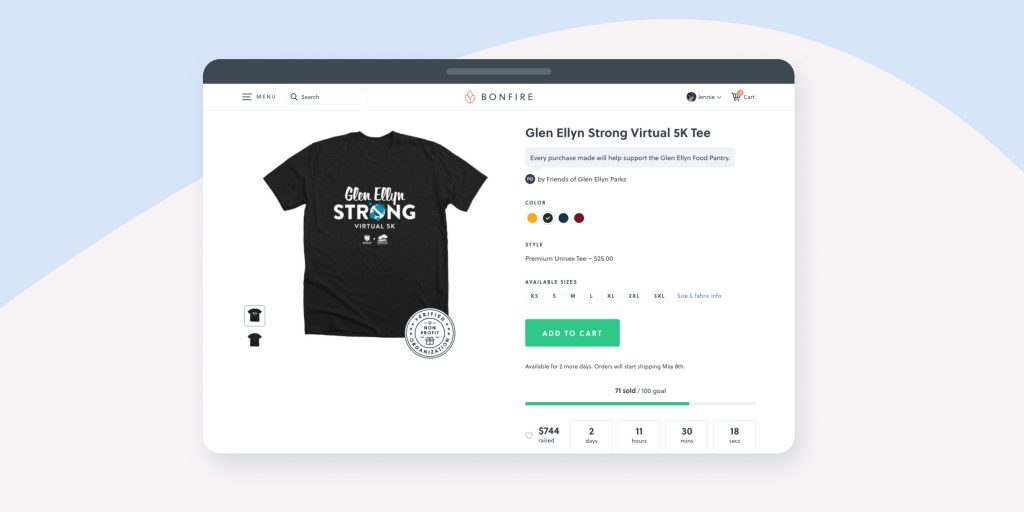 Design Race Day Shirts
One way to commemorate your event and raise extra funds for your cause is to sell special edition 5k t-shirts! This is a great way to fundraise for a cause you care about without charging runners a participation fee. Your community can simply purchase a race shirt, and then go out and run their 5k on your chosen date.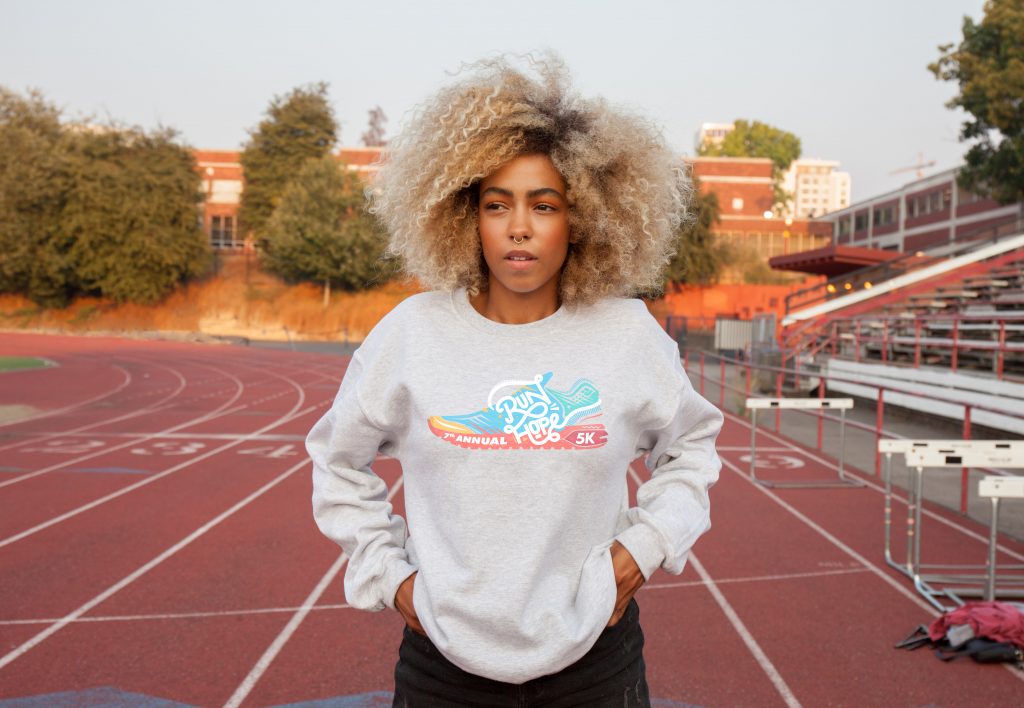 If you're pressed for time, or if you don't want to create your own design, you can draw inspiration from one of our race day design templates. These templates were created by our team of designers and are fully customizable so you can customize the design as much as you'd like. Check out our three most popular race templates below!
Promote the Race to Your Community
The most important step of hosting a Virtual 5k fundraiser is actually getting your community to participate. Share about your Virtual 5k on social media, your website, email lists, and more. Because it's virtual, supporters anywhere in the world can participate. Encourage those in your immediate community to promote the race to their own friends. This type of virality is so easy to take advantage of, especially with Facebook and Instagram. They make it so easy to share content. Make sure your participants know how to register for the event, when to run, and how to get their commemorative t-shirt.
Bonus Tip: Use your Eventbrite or Facebook Event page to promote your race day t-shirt and remind people to get their orders in. Make sure you communicate to them the last day to purchase a shirt in order to get it in time to wear on race day.
Virtual 5K Shirt Examples ▼
Run the 5k
Now it's time to run! There are many ways to engage with your supporters on race day, and really form a community around the race and your cause. Here are a few ways you can make this race virtually interactive with your runners:
Make a playlist and share it with your participants so they have some shared tunes to cheer them on while they run.
Have organizers and special guests share race updates throughout the day on social media. Post live Instagram Stories and Facebook Stories to show yourselves doing your 5k.
Ask participants to wear their commemorative tees, and send in photos and videos of themselves running their race. Ask them to tag you or your organization so you can easily re-share these photos as they come in.
If you are pushing toward a specific fundraising goal, give fundraising updates throughout the day. Make sure you have a way for supporters and participants to donate a little extra toward your cause on the day of the race.
Keep your t-shirt campaign open on Race Day, in case others want to get a commemorative t-shirt.
Go Live on Facebook and Instagram to thank participants and give a final fundraising update at the end of the day. Remind participants to send in their photos, and congratulate those who fundraised the most, ran the fastest, or other awards you may choose to hand out.
Gather Photos and Videos from the Day
Encourage your community to wear their matching shirts and share photos and videos of themselves running their 5k.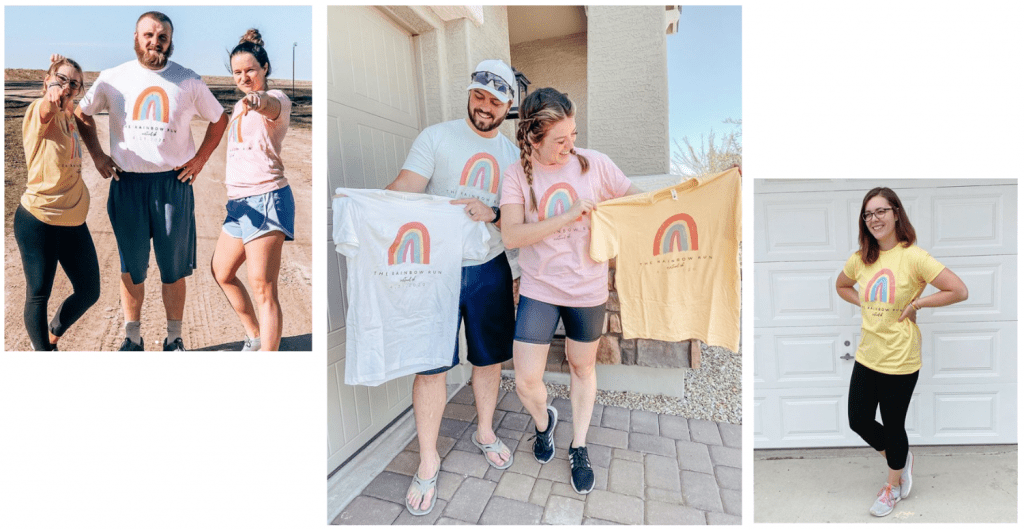 Ask them to share with their own friends on social media why they support your cause and why they decided to run. This is another great way to raise awareness for your cause.
---
You're now officially ready to start your race! Be sure to tag us on Twitter or Instagram to let us know how your event goes and so we can see the awesome shirts you made.

If you have any questions about setting up a virtual 5K and how to set up a supporting t-shirt fundraiser for the race, contact us! Our Support Team is here to help make sure you have everything you need to make your event a success!
Was this article helpful?