5Ks are a popular community fundraising event, and since the summer of 2020, virtual 5Ks have become a staple of many nonprofits' fundraising calendars. It's easy to see why, too. Virtual 5Ks are low-cost, easy-to-host events that encourage your supporters to get out and exercise. Plus, they can participate from anywhere in the world!
Of course, moving any classic fundraising idea into a virtual space can be a challenge. For 5Ks, specifically, nonprofits might have questions about how they'll track participants' race times, build connections with supporters through their event, or even turn their event into a fundraiser at all. 
To help your nonprofit plan your next virtual 5K, this guide will walk through six core steps for hosting this event, including how to:
Determine Your Virtual 5K Race Details
Set Up Registration for Your Virtual 5K Fundraiser 
Design Virtual 5K Race Day Shirts
Promote the Race to Your Community 
Host Your Virtual 5K Fundraiser 
Gather Photos and Videos from Your Virtual 5K Fundraiser
When planning your virtual 5K, keep in mind that there are many creative ways you can truly make this event your nonprofit's own. We'll share a few of our favorite ideas in this article, but be sure to consider your nonprofit's audience, goals, and resources as you create a unique, memorable event just for your supporters. 
Determine Your Virtual 5K Race Details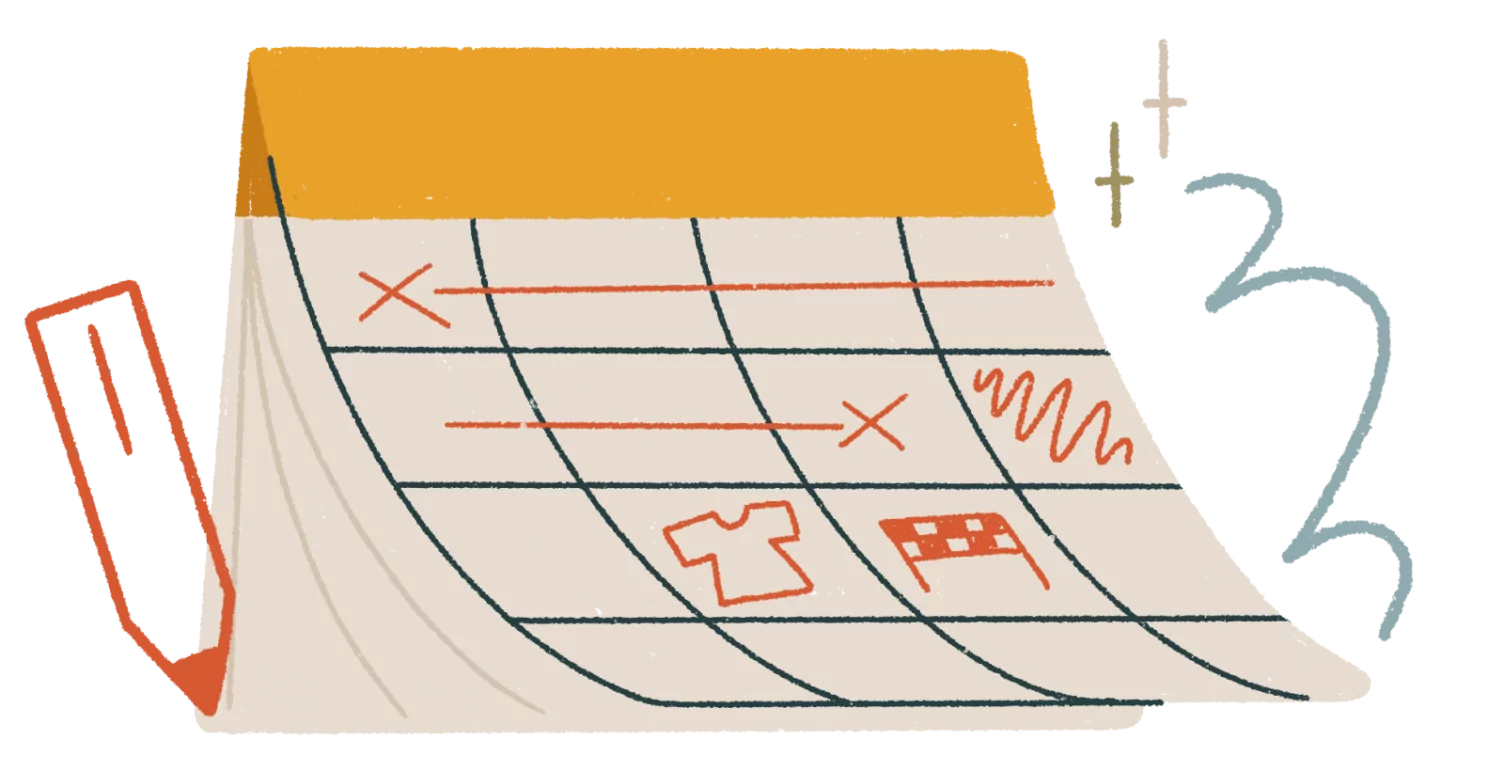 The first step to hosting a virtual 5K fundraiser is determining what initiative or project you're fundraising for, how you'll raise funds through the 5K, and when your event will take place. Let's break down how to answer these questions in further detail:
Determine Your Fundraising Goal
Your virtual 5K should aim to raise funds for a specific project or initiative. Consider your organization's audience, your chosen project's funding needs, and the amount of revenue you expect to raise from your 5K to set an overall fundraising goal you can share with supporters. 
Having a specific goal in mind that both your team and supporters can work towards will help focus your marketing efforts and ensure your event as a whole stays on target . For example, an environmental nonprofit might host a virtual 5K to support their next beach clean-up, or a school might use their 5K as a way to raise funds for new library books. 
Ensure your organization sets a goal that will require some work to achieve but is ultimately attainable. Look to previous virtual 5Ks to gather data on how your supporters have responded to this type of event in the past, such as registration numbers and total funds raised. If this is your first time hosting a virtual 5K, try looking into data for your in-person 5K fundraisers or other virtual events you may have hosted to inform your goal instead.
Choose Your Fundraising Model
There are several fundraising models you can use to monetize your event, and each has its own pros and cons. Here are three methods to consider:
Charging a registration fee. In exchange for participating in your virtual 5K, have participants pay an entry fee. This approach ensures your nonprofit will receive a certain amount of money for each supporter who signs up, though requiring a registration fee can reduce your overall number of participants. 
Asking participants to donate. Instead of requiring a registration fee, you can simply ask participants to consider making a donation when they sign up. By making the payment optional, your nonprofit will likely open up your event to a large audience. Plus, some supporters may donate more than the amount you would have had as a registration fee. However, this fundraising model doesn't guarantee funds like an entry fee does. 
Having participants collect pledges. Pledge drives ask your participants to raise funds on your behalf by collecting pledge donations from their friends and family. For a 5K, these pledges can be based on how fast they completed the race or just flat donations for participating at all. With a pledge drive, it can be difficult to predict how much your nonprofit will raise, but having supporters connect with their friends and family over your event can spread increased awareness about your nonprofit. 
Also, just because your event is virtual doesn't mean you can't still raise funds through merchandise sales. On your registration page, give participants the opportunity to buy a special t-shirt or other item for the race when they first sign up. As part of your event, ask them to post pictures of themselves wearing your t-shirts on race day to help promote your nonprofit further on social media. 
Pick a Date
While you won't need to worry about reserving a venue or closing streets for your virtual 5K fundraiser, you will still need to choose a date far enough in advance so that participants can clear their schedules ahead of time.
Additionally, choose a date far enough in the future to give your event team enough time to properly organize and market the event. Some virtual 5Ks even take place over multiple days, allowing participants to choose to run on whichever date works best for them. Work with your team to set a timeline and determine the best way to generate excitement in the days leading up to your event.
Set Up Registration for Your Virtual 5K Fundraiser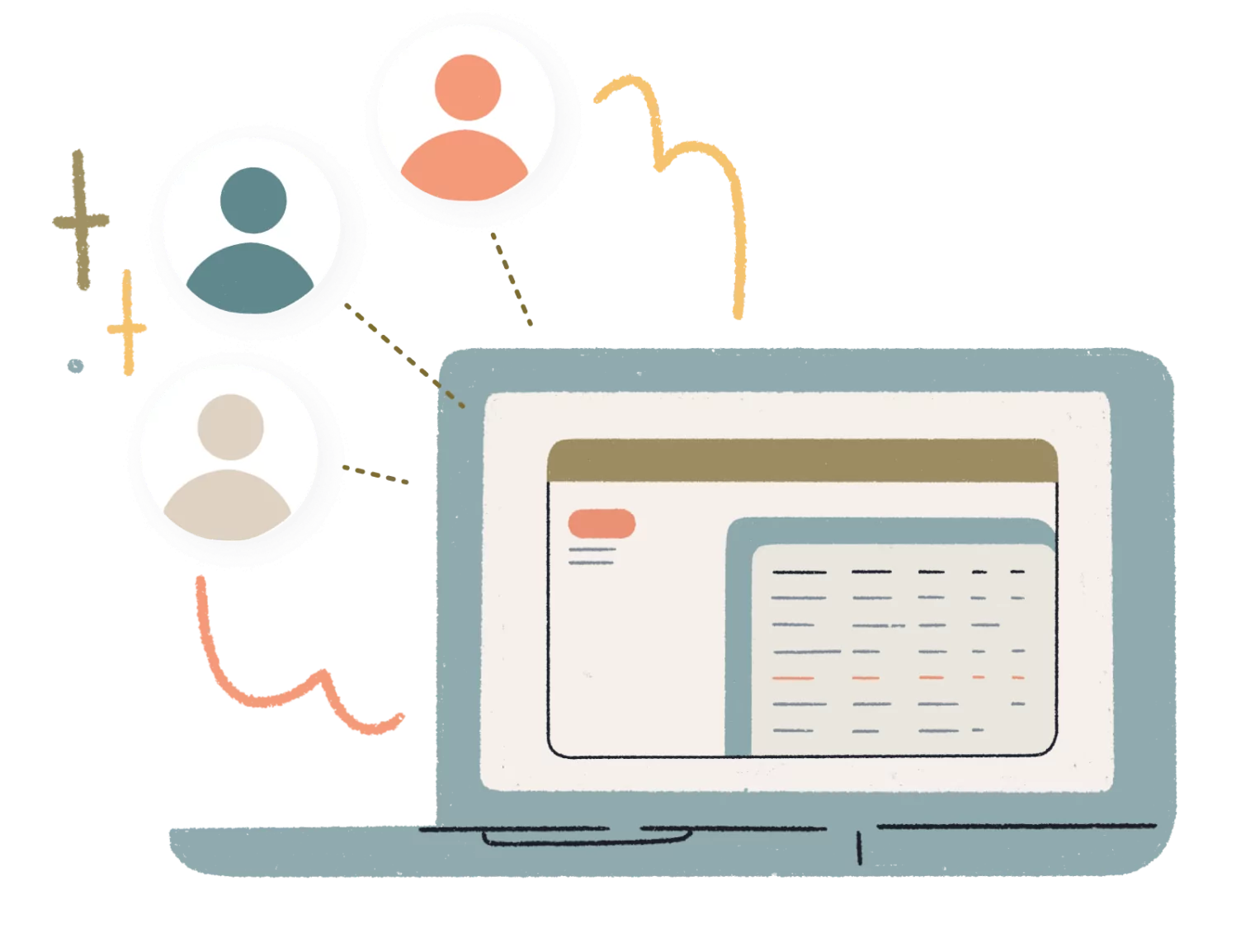 Once you have determined the details of your virtual 5K, you will need to set up how participants will register for your event. For virtual events, encouraging supporters to register ahead of time will allow your nonprofit to take note of and track your total number of participants, even if they're remote. 
Make registration as easy as possible to get more participants signed up for your 5K. You can make your registration process more convenient by:
Keeping it short. Limit the questions on your registration form to only what's necessary to ensure your form is short and to the point. While collecting information on your participants can be useful, too many questions may make them hesitate to sign up at all. 
Using a branded payment page. If you're charging a registration fee or plan to encourage participants to make a donation or purchase during the registration process, make sure your payment page is fully branded to your organization. This will reassure supporters that their financial information is safe, making them more likely to complete the registration process. 
Ensuring accessibility. Registration forms have a few hurdles to consider when it comes to making them accessible. You can make your registration accessible to more of your supporters by marketing required fields with a text symbol rather than just color, ensuring there's a sufficient color contrast between the entry fields and page background, and making it possible to navigate your registration form with just a keyboard.  
You can create a registration form through tools like Eventbrite or Facebook if you are keeping your race simple, or you could invest in specific registration tools developed just for virtual races. Decide how you want to track participants, what information you would like to gather about them, if they will need to pay a registration fee, and if you want to promote other opportunities like donating or buying a custom t-shirt during the registration process. Then, choose the registration tool that best suits your needs.
Design Virtual 5K Race Day Shirts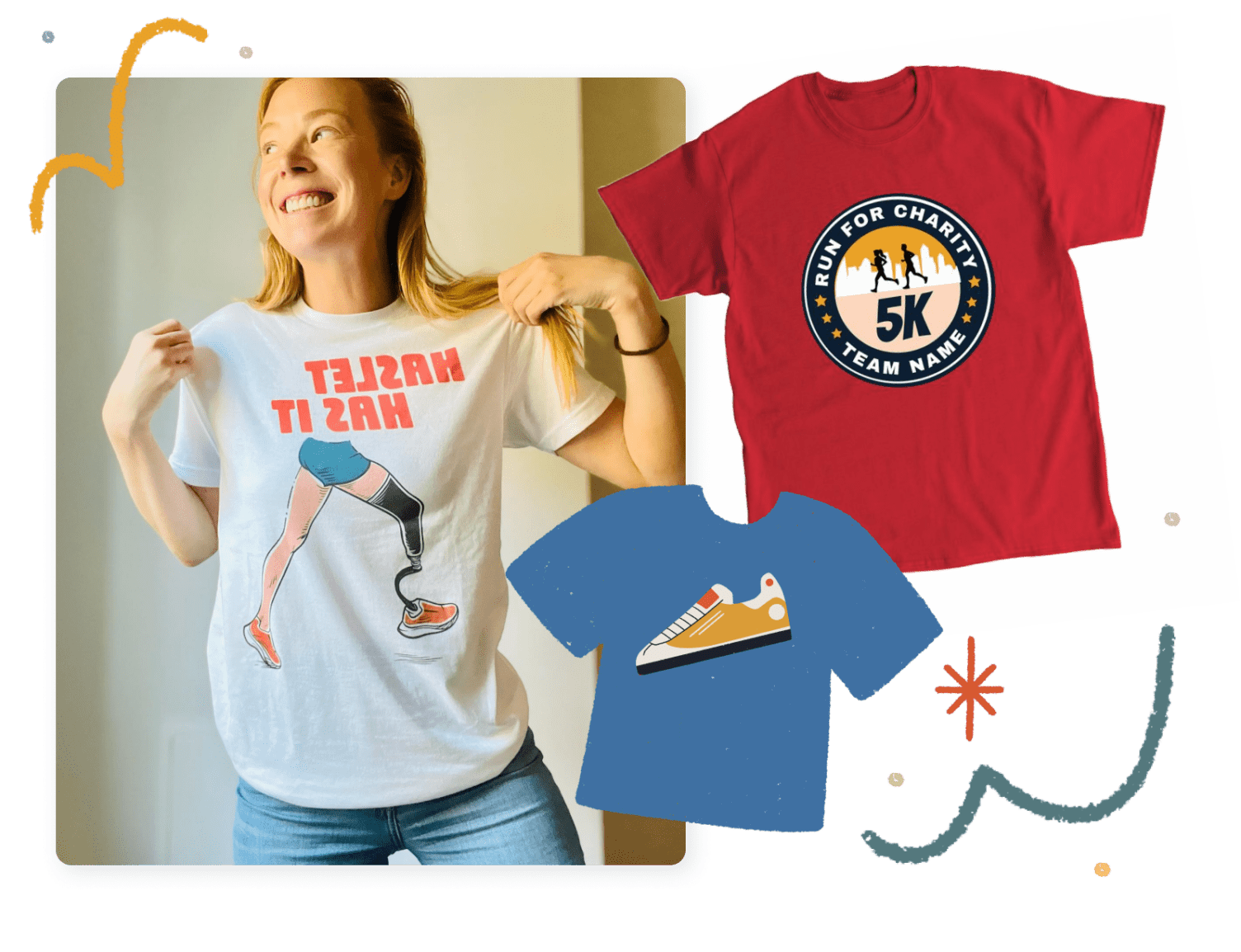 One way to commemorate your event and raise extra funds for your cause is to sell special edition 5K t-shirts. If you'd prefer not to have a registration free for your virtual 5K, this can be another way to raise funds during your event. Your community can simply purchase a race shirt and then go out and run their 5K on your chosen date. 
If you're pressed for time, or if you don't want to create your own design, you can draw inspiration from one of our race day design templates. These templates were created by our team of designers and are fully customizable so you can customize the design as much as you'd like. 
Use these templates to create memorable, eye-catching designs that fit your nonprofit's unique brand identity. Here are a few tips for making your virtual 5K merchandise stand out:
Include your event date. When you add the year to your commemorative t-shirts, it creates a sense of exclusivity by letting supporters proudly display that they were there for your specific event. Plus, if you keep creating new t-shirts for each year you hold your 5K, you can even turn them into collectors' items among your supporters. 
Experiment with color. Your nonprofit's brand colors can be a strong starting point when designing your merchandise, but consider how else you can use color to create an attention-grabbing design. For instance, complementary colors that oppose each other on the color wheel, such as blue with orange and red with green, can create a striking visual contrast, whereas adjacent colors like yellow, orange, and red create a more cohesive and relaxed design. 
Offer a custom design option. Instead of creating one design for all of your supporters, some nonprofits may want to give supporters the option to design their own t-shirts. For example, if you decide to host a peer-to-peer campaign alongside your virtual 5K, you could provide volunteers with several t-shirt design templates and let them make their own. Then, they could sell their custom t-shirts to friends and family as part of your fundraiser. 
Additionally, when selecting a merchandise platform to help design your t-shirts, consider their ordering process. Do you want to buy a certain number of shirts in bulk, or would you prefer a print on demand option? Ask merchandise providers about their shipping methods, fee structures, and other details that might affect how you will sell your merchandise. 
Promote the Race to Your Community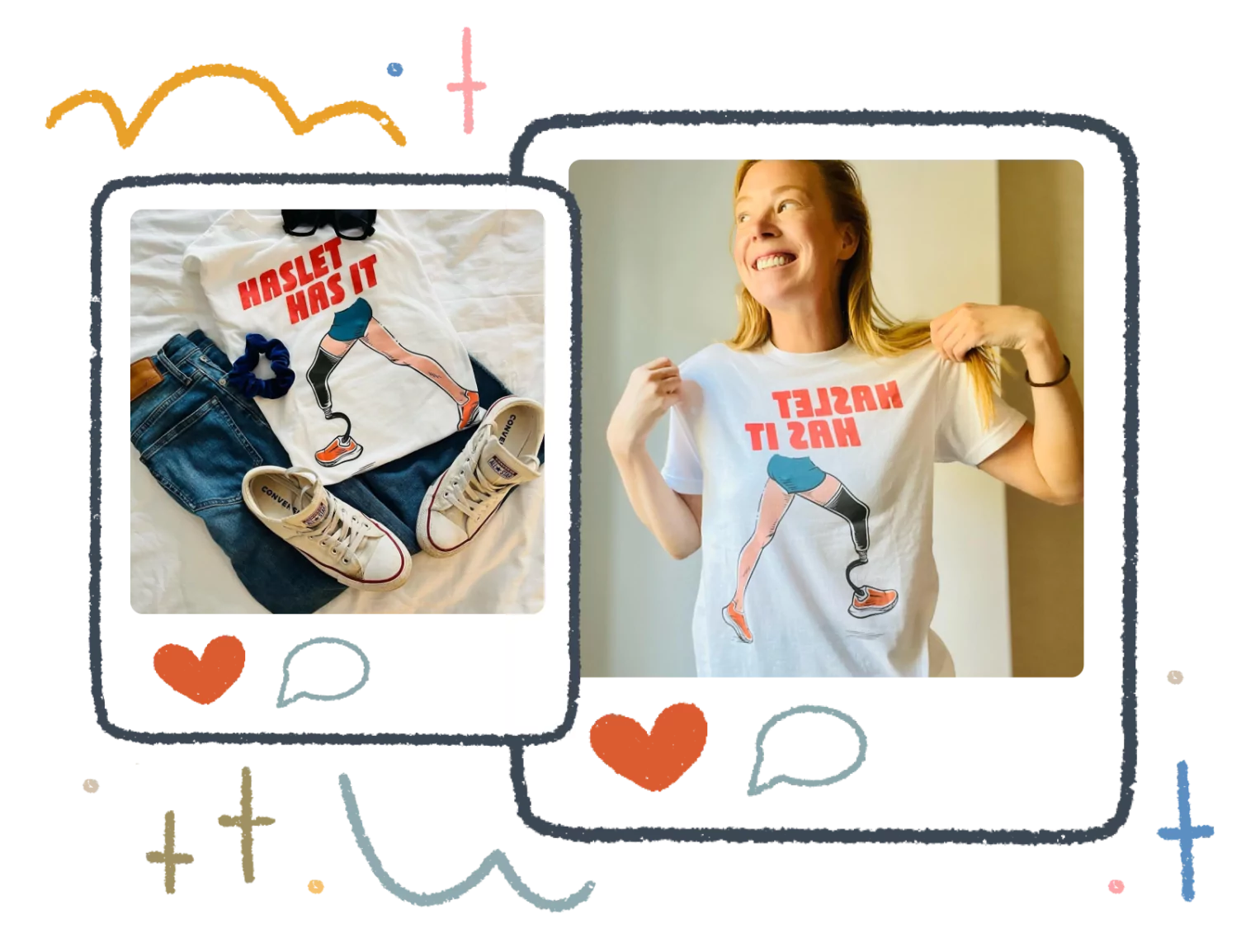 During your initial planning, make sure to consider what is arguably the most important step in the process: getting the word out to your community. After all, your virtual 5K will need participants to succeed.
When promoting your event, ensure you're making the best use of these platforms:
Social media. Platforms like Facebook and Instagram have been staples for nonprofits for several years now and are still an effective way to promote your fundraisers. Create a post with eye-catching visuals, a memorable hashtag, and even an interactive element to encourage supporters to engage with your content and share it with their own followers. We also recommend using a link-in bio tool like Linktree so you can link directly to your campaign across all of your platforms. You can use our free Linktree integration to display your fundraiser and sell your merch directly from your profile. If you don't have a Linktree profile yet, just create a free account, then connect your Bonfire store to your profile once it's published.
Email lists. Email is an effective tool for reaching supporters who are already in your nonprofit's network. Promote your virtual 5K fundraiser in your email newsletter in the weeks leading up to your event, and send a message specifically about your 5K to spotlight the event and share more specific details. 
Your website. Create a dedicated event page for your virtual 5K on your website. This will be your supporters' one-stop location for learning everything about your event. Provide details about when the 5K is and any rules for participating, how to sign up for it, and how to order a special race day t-shirt.
Use your Eventbrite, Facebook Event page, or other event platform to promote your race day t-shirt and remind people to get their orders in. Be sure to let supporters know when the last day to get their orders in before your virtual 5K is so they can have one to wear on race day. 
Helpful tip:
To learn how to manage your Linktree integration, check out this article.
Host Your Virtual 5K Fundraiser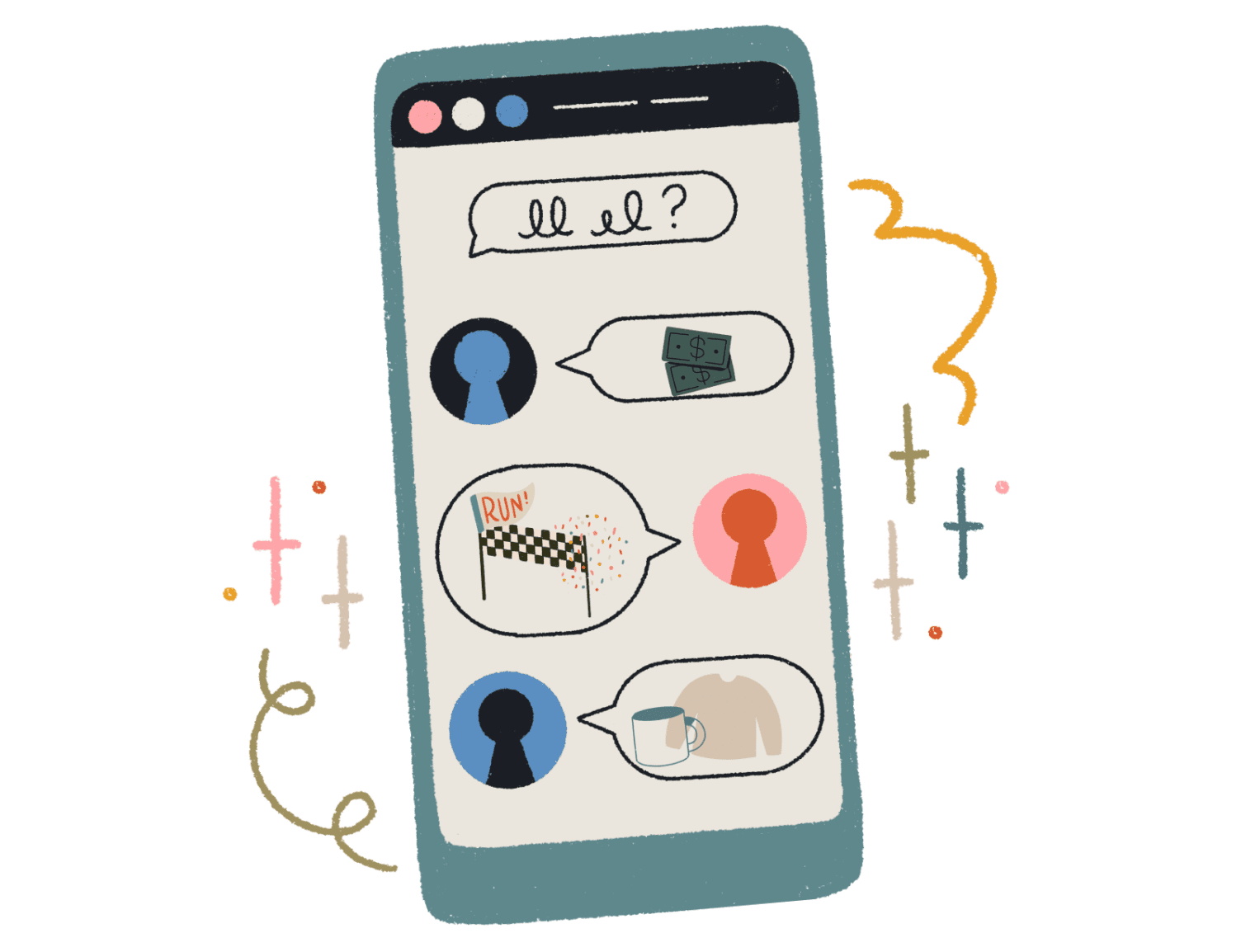 Now it's time to run! There are many ways to engage with your supporters on race day, and form a community around the race and your cause. 
Here are a few ways you can make this race virtually interactive for your runners: 
Have organizers and special guests share race updates throughout the day on social media. Stream or post live updates on social media that show your team participating in your 5K. Be sure to like and comment on any supporters who are posting updates about their own race experience. 
Ask participants to wear their commemorative t-shirts and send in photos and videos of themselves running the race. Ask them to tag your organization in their posts so you can easily re-share these photos as they come in. 
Keep your t-shirt campaign open throughout your 5K. That way, anyone who didn't buy a shirt but might want one after seeing other runners wearing them can purchase their own commemorative t-shirt.
If you are pushing toward a specific fundraising goal, give fundraising updates throughout the day. Make sure you have a way for supporters and participants to easily donate a little extra toward your cause on the day of the race. For example, ensure your donation page is mobile friendly, and even consider creating a text-to-give number.
Make a playlist and share it with your participants so they have some shared tunes to cheer them on while they run. 
Live stream on Facebook, Instagram, TikTok, YouTube, or any other platform your nonprofit is active on to thank participants and give a final fundraising update at the end of the event. Remind participants to send in their photos, and congratulate those who raised the most, ran the fastest, or other awards you may choose to hand out.
From this list of ideas, it should be clear that your event planning team will have two major roles during your virtual 5K: some will be running their own race to show camaraderie with participants, while others will be manning your social media accounts to chat with, encourage, and otherwise connect with your supporters. 
Gather Photos and Videos from Your Virtual 5K Fundraiser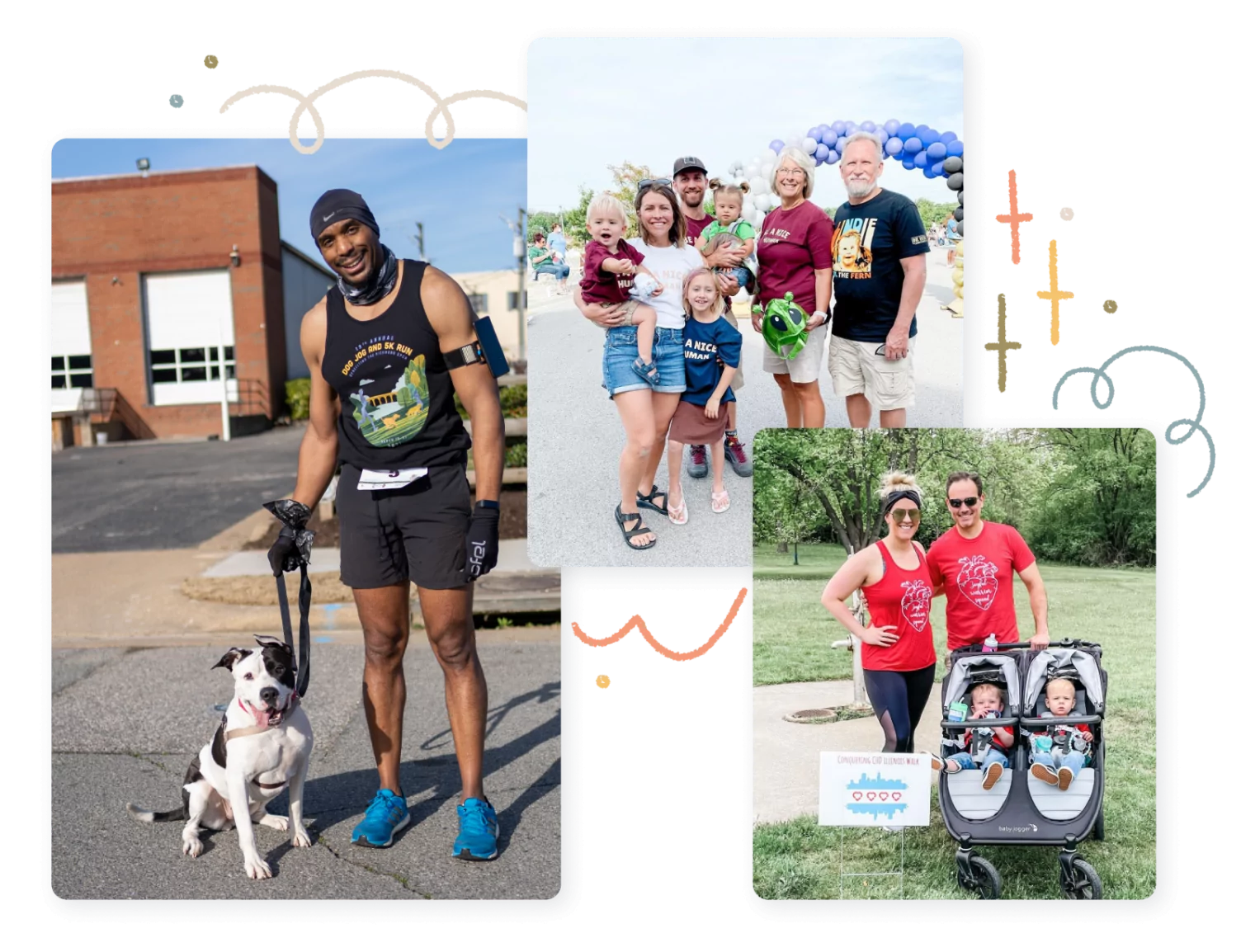 During your race, be sure to encourage your community to wear their matching shirts and share photos and videos of themselves running their 5K. Then, once your race is over, it's time to gather the photos and videos your supporters have created together to celebrate everyone's hard work. 
After your event, you can connect with supporters through their photos and videos by:
Hosting a competition. Try giving your supporters an extra incentive to post their photos by hosting a friendly competition for the best photo or video taken during the event. This can be based on a variety of criteria, such as "silliest," "most stylish," or whatever other category would likely appeal to your audience. 
Using them in thank you messages. During your event's follow-up, reach out to supporters to thank them for their participation in your virtual 5K. Adding photographs of supporters having a good time during the event can help stir the good memories they had of participating, especially if you include one of their photos. 
Leveraging them for future events. If your supporters took great photos during your virtual 5K, consider reaching out to them to ask permission to use them to promote your next 5K. 
When choosing your engagement strategy, consider what will generate the most excitement and long-term interest around your nonprofit. For example, if you host a photo competition, you might let your supporters decide who the winner is based on likes and comments or votes in a poll. This will keep your supporters coming back to your social media page for a few days at least to see new entries and check how well their photos are doing in your competition. 
---
Virtual 5Ks allow nonprofits to take a popular fundraiser online, letting supporters all around the world get moving and help out a good cause. When organizing your virtual 5K, be sure to work through all the details from registration to sharing supporters' photos after the race. Make getting involved easy by providing multiple ways to get involved during the race, from participating and donating to supporting a friend running your 5K by purchasing a commemorative t-shirt.