If your organization or brand has an established email list, you may find that this becomes your most valuable converter of sales for your Bonfire Campaign. The people who have opted to sign up for your newsletter likely have already supported you financially in the past, or at the very least, shown interest in staying up to date with the happenings of your business.
With more and more social media platforms limiting the reach of your posts to your followers, it's hard to make sure that your most loyal supporters know you are selling apparel. In today's social media climate, email functions as a great equalizer. While platforms such as Facebook limit your reach unless you pay to boost posts, email is more certain. Your Facebook posts won't land in every newsfeed of your supporters, but you know everyone on your email list will get the emails you send.
Maximize Your Impact with Email
How do you make sure your supporters read the emails you send? How do you create emails that actually compel people to buy from your campaign? The Bonfire team has seen it all when it comes to promoting campaigns, and now we're passing on our best tips on how to succeed when constructing your email promotion strategy. Let's walk through some insights on how to ensure you make the most of your email contact list.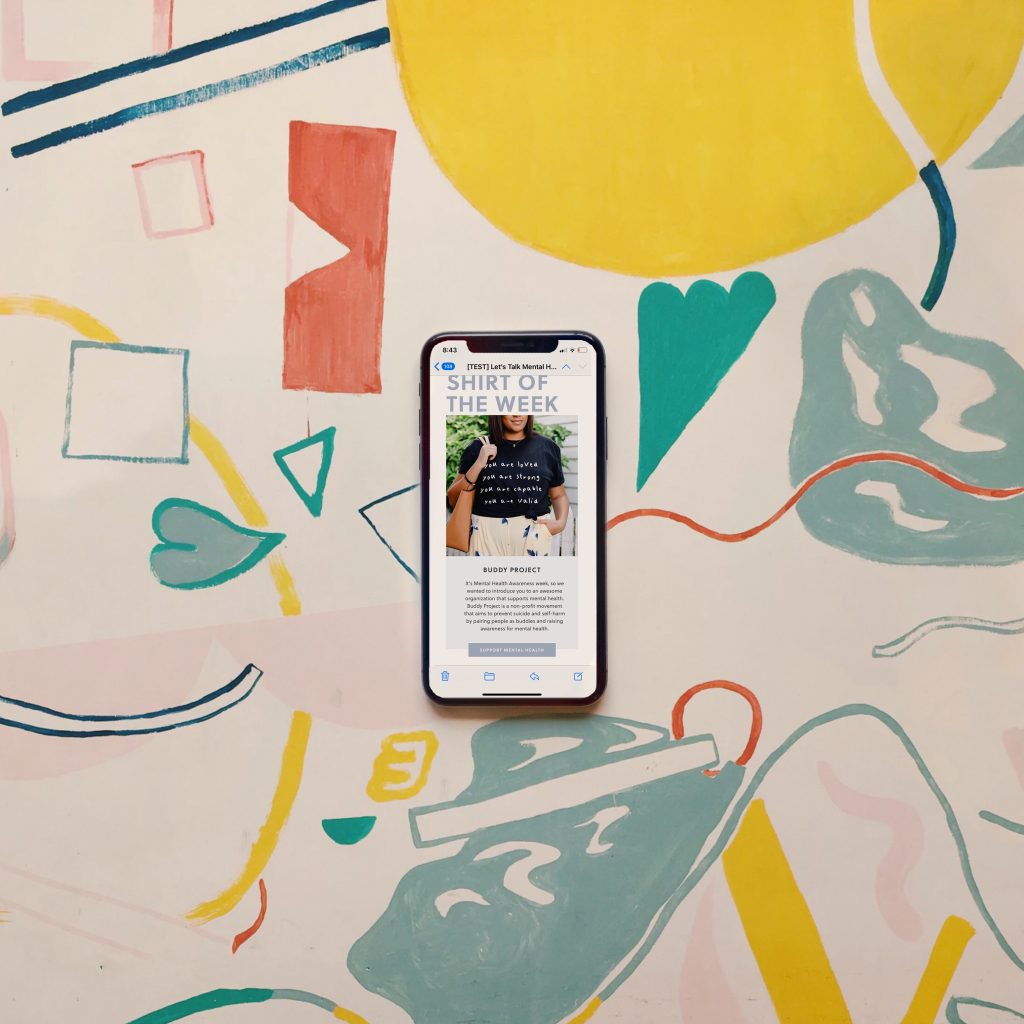 Devote Emails Specifically for Your Campaign
If you have an established community, it's likely you already have set schedule and rhythm for communicating with them and sending out fundraising emails. While you might be tempted to simply add a little snippet into an existing weekly email or monthly newsletter, we have found organizations have more success when they devote a set of emails to narrow the focus to your Bonfire Campaign. If information about your Campaign is nested within a list of other announcements, it loses excitement and opens up opportunities for your community to get distracted by any of the other things going on in your email.
By focusing on just your t-shirt in these promotional emails, it allows you to create a solid email with all the components your supporters need to know to convert them into buyers.
???? Pro Tip
Craft separate emails that are segmented by the different types of donors your nonprofit has. Then write targeted copy in each email that appeals to the different donation behavior of each type of supporter.
Make a Promotion Schedule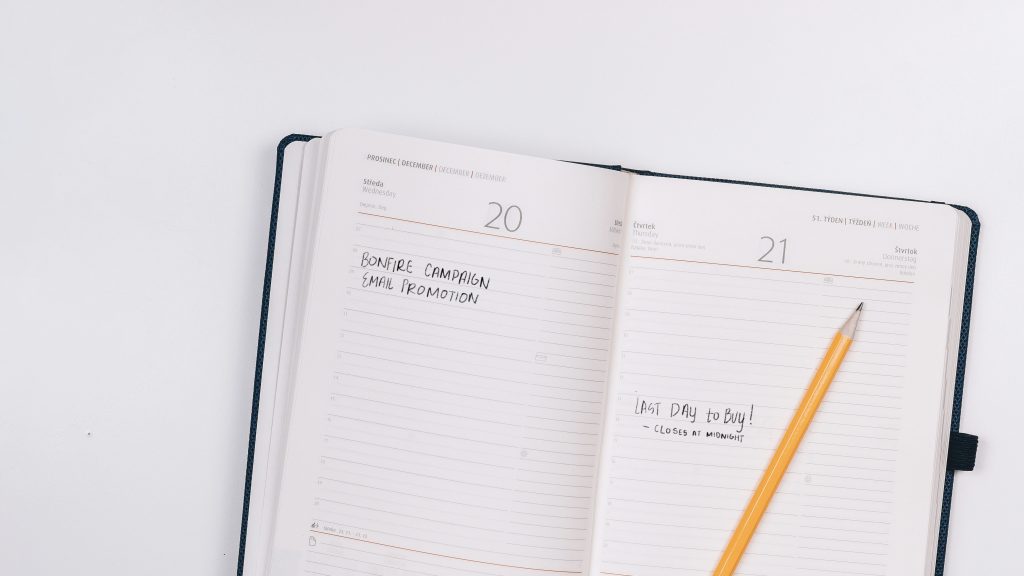 Depending on the length of your campaign and the depth of the story behind your shirt, you will likely find that you need to send out 3-5 emails that fully focus on the shirt and your cause over the course of the campaign.
Here's an example schedule to help you begin to craft your own promotion plan:
Launch Day
Use this first email to announce your Campaign. Ensure you captivate the audience with bold, bright images of the apparel, and include information about the campaign. Further down in this post we will delve into the list of things to include in each email.
Mid-Campaign Email(s)
Remind your audience about the t-shirt campaign, give an update on how it's going, and how close you are to reaching your goals. Also take the time to share more about your story, mission, or maybe the ideas that inspired your design. If your campaign is more than 10 days long, you may find you want to break this up into two emails, to keep the momentum going throughout the life of your campaign.
Last Day
Send out a reminder to your community that it's the last day to purchase a shirt and support your campaign. Create a sense of scarcity by letting them know their time is almost up to buy these limited edition shirts.
Make sure they know that all Bonfire campaigns end at 11:59PM Eastern Standard Time, especially if a majority of your community is in a different time zone.
What to Include in Your Email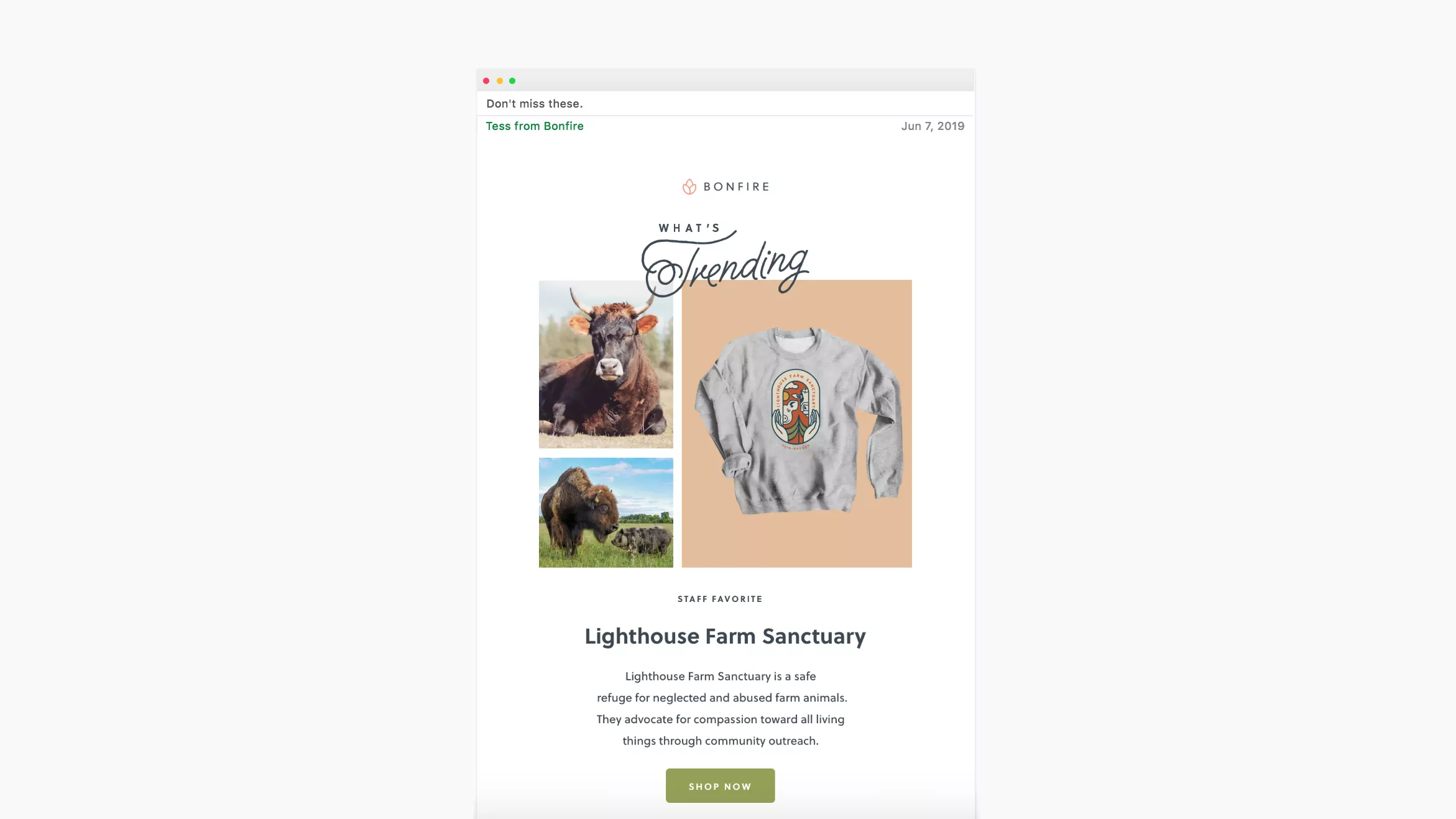 It's important to ensure you are creating emails that not only draw your community into your cause, but also communicate necessary information about your campaign. Make sure every email about your campaign includes the following:
An Image of the Shirt
You'll likely find that it's valuable to print a few shirts ahead of time via Supply to take photos of the shirts you plan to offer. Photos and videos of people in shirts also is proven to convert sales better than just a downloaded rendering of the shirt from the campaign page.
Details about the Campaign
It's important to share information about what you are raising money for, especially if there is a specific project or initiative in mind. It's also helpful to make a note of the last day to buy the campaign.
A Link to the Campaign
Make it extremely easy for your supporters to purchase a shirt by linking to your Campaign page from the email. You also may find that including a "Buy Now" button performs better than simply linking a few words of body copy in the text of an email.
Images that Help Tell the Story of the Campaign
If there is a compelling story or cause behind your campaign, now's your time to tell it. Integrate photos into the email that give context to your needs and goals for the Campaign.
Write a Compelling Subject Line
Now that you've crafted a set of rockin' emails to promote your campaign, you want to make sure that your subject line will entice your community to click. You know your supporters best, and know the level of playfulness your brand permits in email communication. Here are some tips on how to craft a subject line that will stand out in your supporters' email inboxes.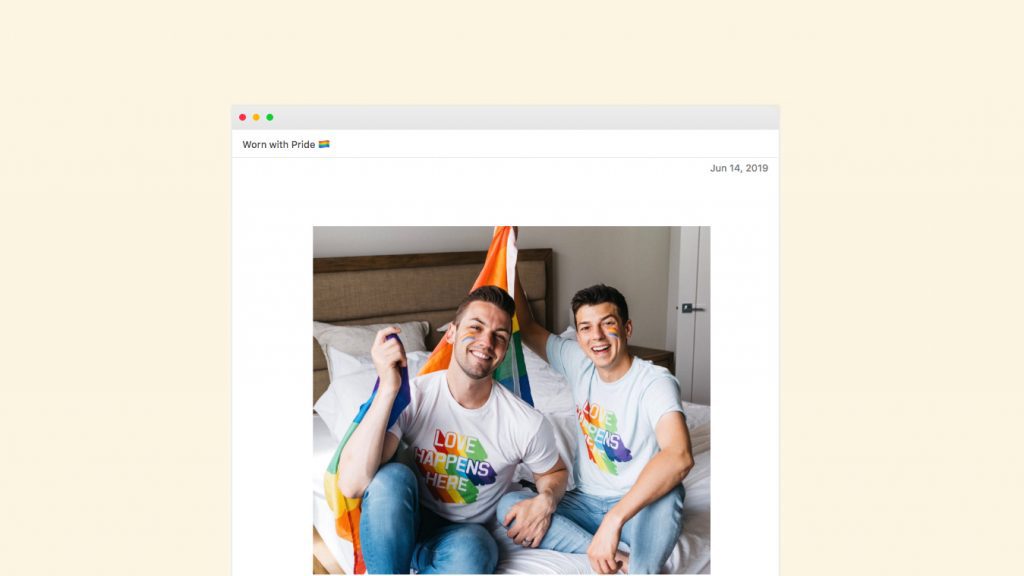 How to Craft a Great Email Subject Line
Get Personal
Make use of personalization tokens in your email template, such as name or location, in the subject line to add a personalized touch. Incorporate the person's name into your subject line to attract their attention in their inbox.
Example Subject Line
Sarah, will you help us reach our goal?
Pose a Question
Engage your community in their inbox by asking them a question with your subject line. When you ask a question, you prompt your readers to respond, hopefully with a "yes"!
Example Subject Line
Have you bought your shirt yet?
Keep it Short
Did you know that up to 77% of email opens happen on mobile phones, and not desktops? We recommend using subject lines with fewer than 40 characters to ensure your community members read the entire subject line.
Example Subject Line
Change the world with this t-shirt
Create Urgency
Acknowledge the scarcity and limited availability of your apparel, especially if it's only running for a limited time. But keep in mind that it's best to use this sparingly. Perhaps use this technique to notate the last day to purchase.
Example Subject Line
Last Chance to get your shirt
Spark Emotion
If your Campaign is for a specific cause or initiative, think about how you can integrate those things into the subject line.
Example Subject Line
Bring Water to an Entire Community
We hope these email newsletter tips will help you craft an awesome set of emails to promote your Bonfire Campaign. We also have other resources If you have questions about how to promote your campaign on Facebook or Instagram. And if you have any other questions about promoting your campaign, we are here to help.