Now that you've designed your shirt and launched your campaign, it's time to spread the word about it! There are a few elements that go into a successful campaign. Arguably the most important role you have as the seller is developing a plan for how you are going to promote your campaign to your community. While there are many ways to promote your campaign both offline and online,  the focus of this blog post is promoting your campaign on Facebook by using (mostly) free tactics.
Facebook is far and away the most popular social network in the world. You would be hard-pressed to find another promotion channel that will give you better bang-for-your-buck than Facebook will. While it is wise to post about your campaign to Instagram, Twitter, or anywhere else you have a community following, chances are you'll find the most success promoting your campaign on Facebook, especially if that's where most of your potential buyers hang out. One of the reasons Facebook is still the number one social media platform for Bonfire Sellers is because of how easy it is to share and reshare content. Word spreads quickly through the community as individuals share your campaign on their own social feeds. 
Before we get started, it should be noted that t-shirt design plays an important part in your campaign's success. Aesthetically pleasing shirts that are created with your community in mind simply sell more than their not-so-attractive counterparts. That said, make sure your shirt design is something that people would actually want to buy and wear. If you're not sure where to begin, follow these top shirt design tips, or check out our free t-shirt templates, and you'll be well on your way to creating a good-lookin' shirt.
With all that out of the way, let's roll up our sleeves and jump into Facebook promotion!
Rally Your Core Supports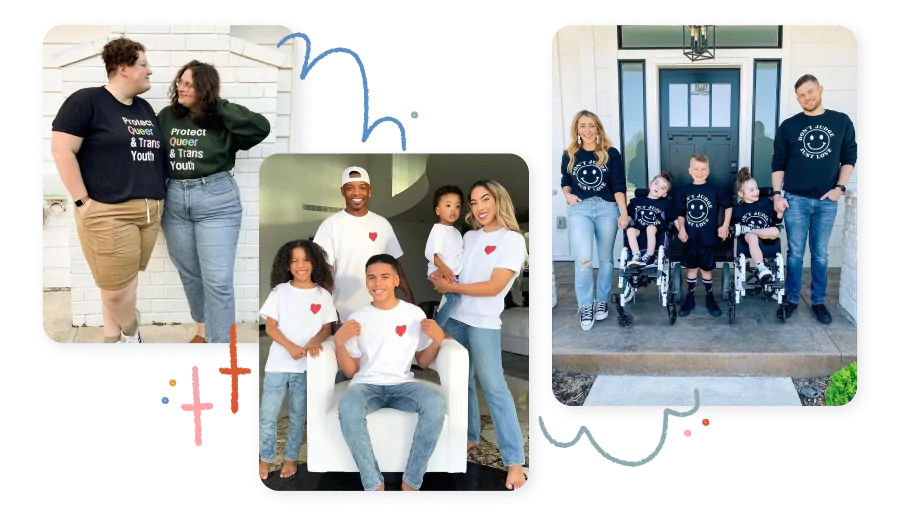 If you've read our Seller Guide chapter on promoting your campaign, you've heard us talk about your core community of supporters. These are your friends, family, or existing donors. This group of people should be the first to know about your campaign and the first to purchase your merchandise. They will also be the ones working to amplify your campaign to their community. Invite them into the process of creating your shirts, and possibly helping pick the designs/colors of shirts you choose to sell. Involving them at the pre-launch stage not only helps you decide on the designs you'll sell, but also gauges how well the design will sell prior to launching.
Here are some other ideas of how you can involve your supporters:
Post a picture of potential shirt colors and ask your community to vote on their favorites.
Post a status update asking them to contribute ideas for graphics or phrases for your shirt.
Post pre-launch status updates to build excitement. For example, "We just finalized the upcoming campaign shirt design. Shirts go on sale next Monday!"
Let them know how they can help you amplify your message by sharing your campaign with their friends and followers.
Tell Your Story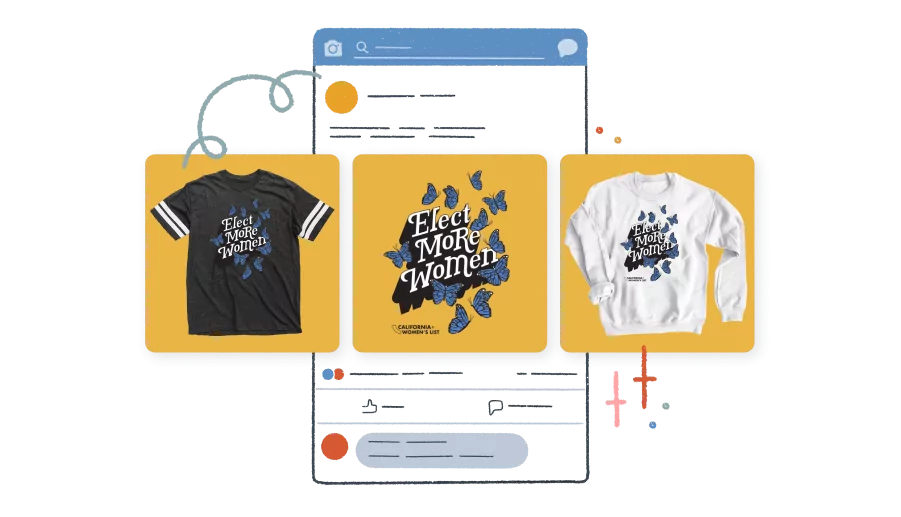 The story behind your Bonfire campaign is what will move your community to support your cause and purchase products. Use your campaign page as well as your posts on Facebook to tell your community why you created your campaign, and what their support will mean for you. Be open and honest about your fundraising goals if you have them, and specifically name what the funds will be used for.
Share Photos of Your Apparel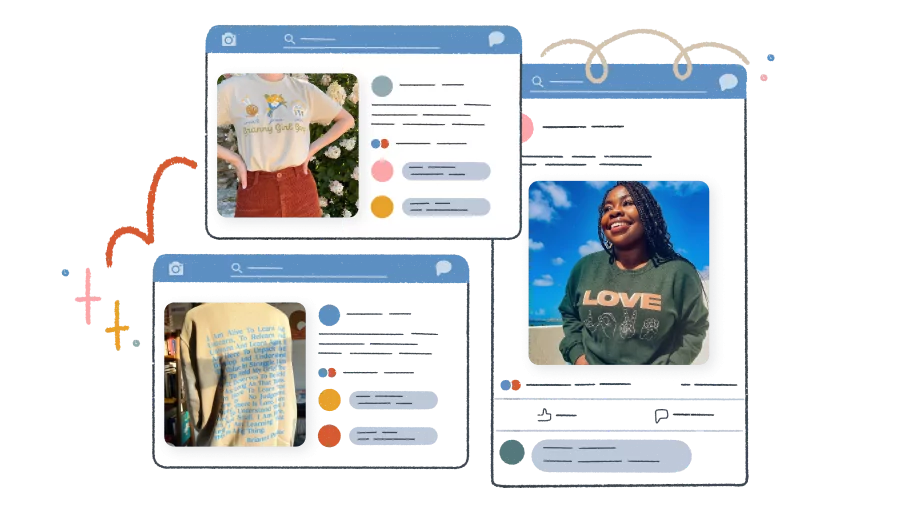 The Facebook algorithm prefers images, and so do people. So make sure your posts have big, bright, exciting images of people wearing or using your products. We highly suggest ordering some products ahead of your campaign so you can photograph them to use in promotions. Once these sample products arrive, we have all sorts of merch photography tips to help you gather a library of incredible promotional photos.
Use Facebook Live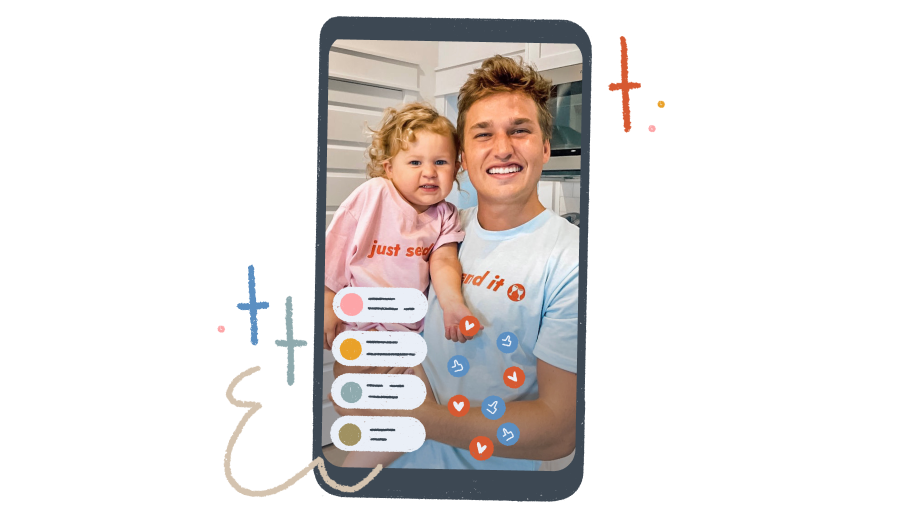 If you haven't experimented with Facebook Live, now is a great time to start. If you are an individual, hop on your FB Live and chat with your friends and family about your campaign, cause, fundraising goals, and meaning behind your design. Wear your products and talk about the soft fabric, sizing, and the awesome design you created. 
If you are a business or nonprofit, here are some other ways you can use Facebook Live:
Hop on FB Live from your FB Page's account and talk to the people who like your page. Explain what the campaign is for and what products will be available.
Interview the creator of the designs that are printed on your shirts, mugs, totes, and more. Ask them about the design process and the meaning behind any imagery or words used on the products.
Host a Thank-A-Thon. Hop on with a few of the core members of your organization and start thanking those who have purchased products.
Give FB Live Video Updates of how the campaign is going and how close you are to reaching fundraising goals. 
Interview members of your team to talk about the impact donations will make for your organization.
If you have a facility such as an animal rescue, give your community a tour of your facility. Along the way, point out all the things that are provided by funds such as the ones you are currently fundraising. Help your supporters see how their money will be used.
Share Your Link on Your Facebook Page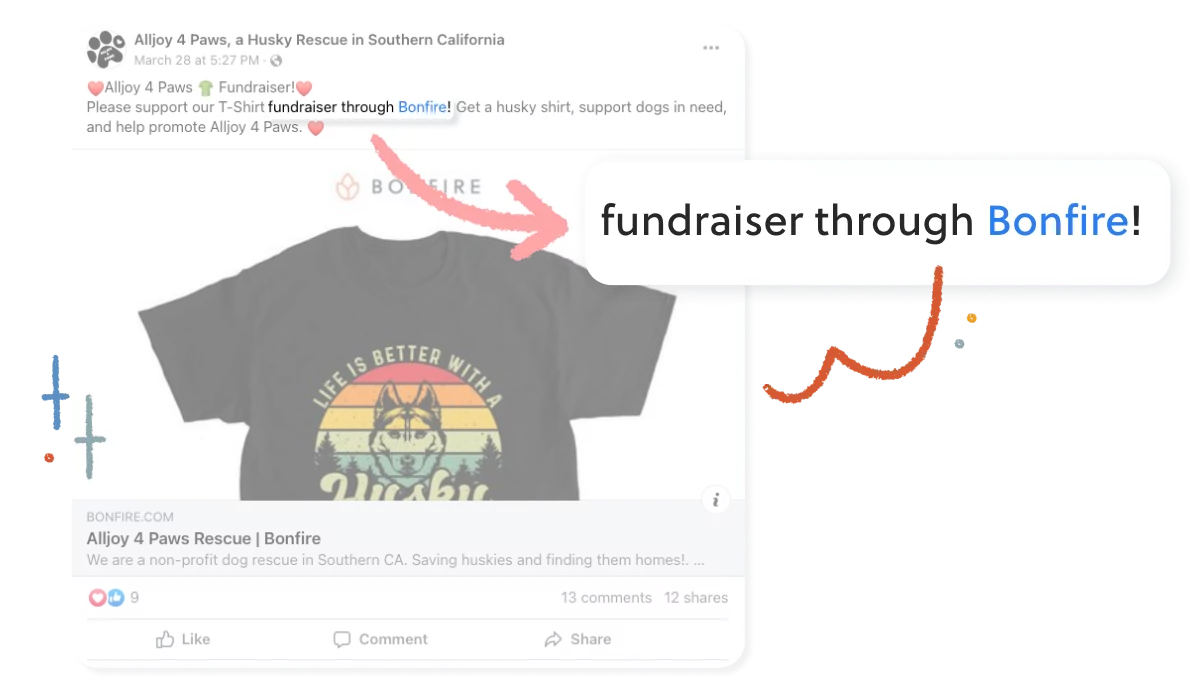 If you have a Facebook Page, make sure you share about your campaign from both your Facebook Page as well as your personal accounts. If you are part of a larger organization or business, encourage your employees to share on their FB feeds as well. The more people who share the post about your products, the more people who will see your post in their newsfeed. 
Amplify Your Reach with Pinned and Boosted Posts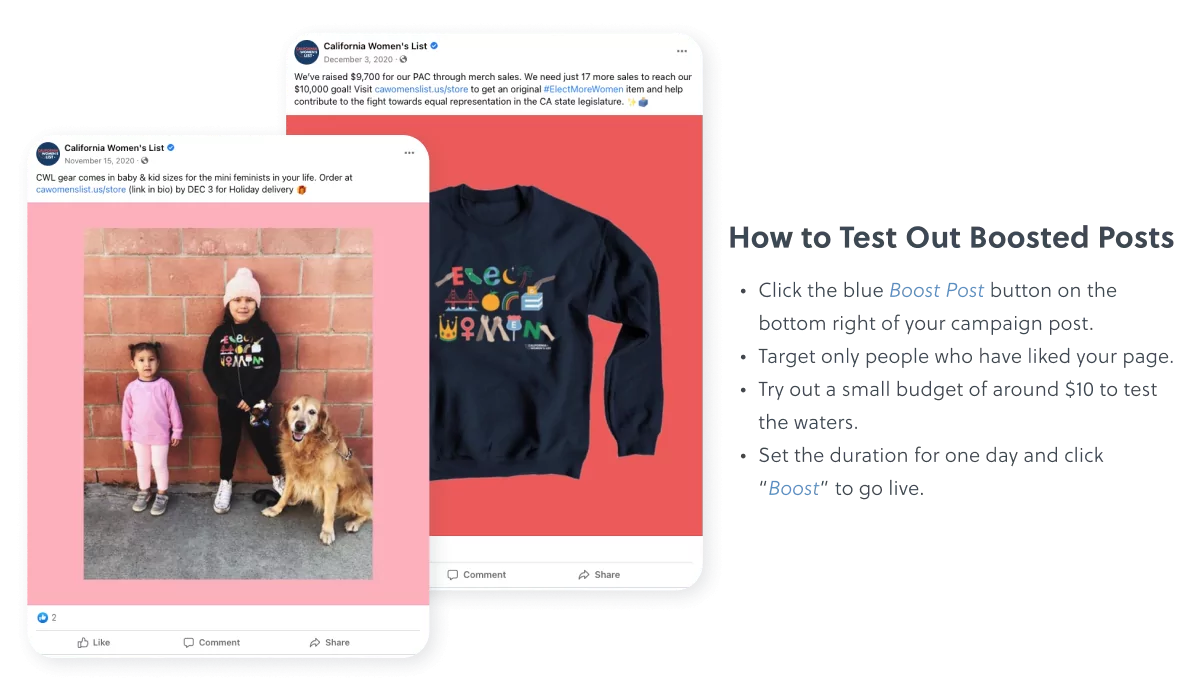 If you are a business or organization with a Facebook page, there are a few extra things you can do to ensure your posts reach as much of your community as possible. After posting about your campaign on your Facebook page, pin your post to the top of your page by clicking on the top right of your post and selecting "Pin to Top". You can also experiment with boosting your posts, which helps get your post in more news feeds.
Create a Facebook Event Page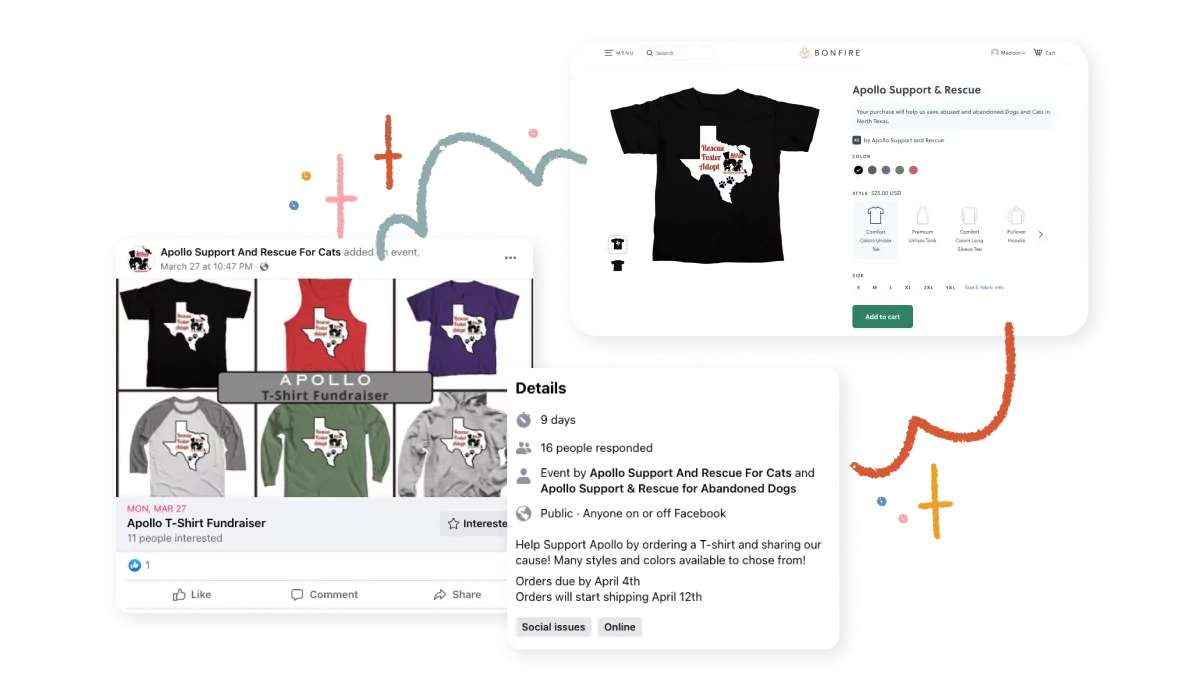 Creating an event works best when done through your personal account, making it a great alternative for smaller/more time-sensitive causes that don't necessarily need a full-blown Facebook page. You can also create an event as a Facebook page, however, you're unable to invite friends. Creating an event also works well if the shirt you've designed is actually tied to an event, or if there's a specific day when shirts are supposed to be worn.
What's great about Facebook events is that when friends say they are going to an event, their friends will see the activity (aka your campaign) on their news feed. This is a fantastic way to passively expand the awareness of your campaign.
Post Campaign Updates
Make sure you have a promotion calendar that spans the length of your campaign. If you need help creating your promotion strategy, check out our famous promotion checklist. It will help you start to build out your framework. The biggest thing to keep in mind is that you should keep your content varied. Switch up the content and images in your posts to keep your community engaged.
Post Pictures of People in Your Shirts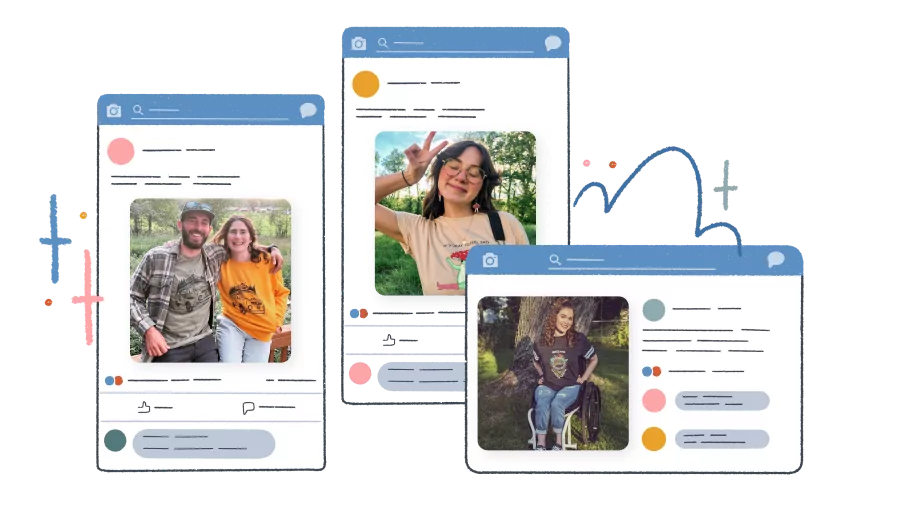 Once products begin to arrive, re-share any photos your community posts of them wearing or using their new gear! As people see your products out and about, they'll want one for themselves. Ask your community to talk about what they think of their products, and how much they love wearing them. 
Let Everyone Know How the Campaign Went
When your campaign wraps up, circle back with your supporters to thank them for their participation, and to give them an update on your campaign's success. If you reached your fundraising goals, celebrate that! If you still have a little way to go, that's okay, too. Remind them that they can still purchase products. If the funds raised will help you build something or buy something, post updates to your community as you accomplish those things. Bring your community along for the ride as you bring your vision to life.
The more they can see the effect their contribution had on your cause or organization, the more likely they'll support you again in the future. 
---
Follow the tips and tricks outlined in this post you will be well on your way to having a successful campaign with Bonfire. If you have any questions about how to effectively promote your campaign on Facebook (or anywhere else) feel free to email us at support@bonfire.com – we'd love to help!
Ready to jump right in?
Start making your own premium custom merch for free on Bonfire.