Now that you've designed your shirt and launched your campaign, it's time to spread the word about it! There are a few elements that go into a successful campaign. Arguably the most important element is developing a plan for how you are going to promote your campaign to your community. While there are many ways to promote your campaign both offline and online – the focus of this blog post is promoting your campaign on Facebook by using (mostly) free tactics.
Facebook is far and away the most popular social network in the world. You would be hard-pressed to find another promotion channel that will give you better bang-for-your-buck than Facebook will. While it is wise to post about your campaign to Instagram, Twitter, or anywhere else you have a community following, chances are you'll find the most success promoting your campaign on Facebook, especially if that's where most of your potential buyers hang out.
Before we get started, it should be noted that t-shirt design plays an important part in your campaign's success. Aesthetically-pleasing shirts that are created with your target audience in mind simply sell more than their not-so-attractive counterparts. That said, make sure your shirt design is something that people would actually want to buy and wear. If you're not sure where to begin, follow these top shirt design tips, or check out our free t-shirt templates, and you'll be well on your way to creating a good-lookin' shirt.
With all that out of the way, let's roll up our sleeves and jump into Facebook Promotion!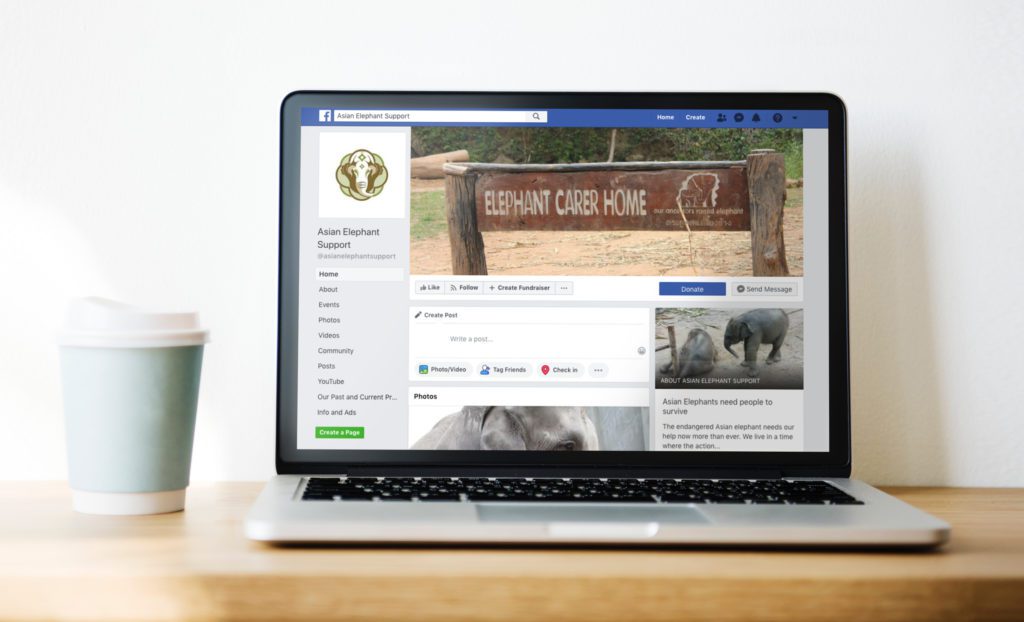 1. Create a Facebook Page
If a Facebook page doesn't already exist for your community, it may be a smart idea to make one, especially if you think most of your audience spends significant time on Facebook. Facebook pages allow you to take advantage of many features not available to personal profiles or groups.
Let's go ahead and set up a Facebook page:
Go here and click the + Create a Page button.
On the next step, select Cause, Community, or Business, and name your page. The best page names are short and descriptive.

Continue the setup process by adding a profile picture and adding the page to your favorites. Feel free to skip the last step ("Reach More People") as we'll cover boosted posts later

Next, upload a cover photo and begin uploading photos that represent your cause.

Once your page is looking snazzy, use the invite feature to invite your friends to like your page.

Take it a step further and message your close friends and family and ask them to invite their friends to their page.
2. Involve Your Supporters from the Start
While this tactic is targeted towards those who have an established Facebook page with a significant and engaged following, it is very effective in generating awareness about your campaigns. Invite your community into the process of creating your shirts, and possibly helping pick the designs/colors of shirts you choose to sell. Involving them at the pre-launch stage not only helps you decide on the designs you'll sell, but also gauges how well the design will sell prior to launching.
Here are some ideas of how you can involve your supporters:
Post a picture of potential shirt colors and ask your fans to vote on their favorites.

Post a status update asking your fans to contribute ideas for graphics or phrases for your shirt.

Post-pre-launch status updates to build excitement. For example, "We just finalized the upcoming campaign shirt design. Shirts go on sale next Monday!"

Let them know they can help by sharing your campaign with their friends.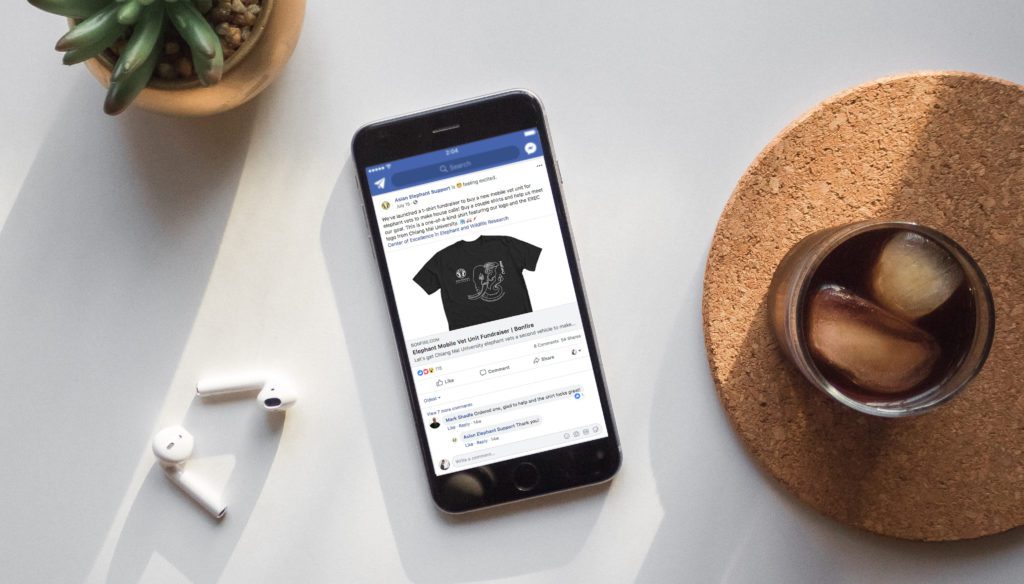 3. Share Your Link on Your Facebook Page
Here comes the fun part – it's time to start selling! Now that you've gotten your page excited about your upcoming shirt, it's time to let them know where they can buy it. We recommend posting your campaign page link to your Facebook page during a time when a majority of your fans are online. You can see this statistic on the Insights tab of your page, under the Posts sub tab.
Here's are some best practices for sharing your link:
Paste the URL to your campaign page inside a status update box and the link preview should automatically appear. Alternatively, you can click any of the share buttons on your campaign page to share an optimized link.

Create a status that includes details about your t-shirt campaign. You can use this template as a starting point: "We just launched these shirts to help [achieve a goal]. Will you join us as we work to [do something] by purchasing a shirt? The last day to buy is [end date]!"

If you have a photo of someone rocking your shirt, include these photos in your posts. It's proven that photos of real people wearing their Bonfire tees convert more sales than just screenshots of shirts from your campaign page.

After posting, pin your post to the top of your page by clicking on the top right of your post and selecting "Pin to Top".
4. Share with Other Popular Pages
By engaging with other popular Facebook pages and groups, you can spread awareness to more potential supporters outside of your community. This one takes some creativity and thoughtfulness but can really pay off if you can get in front of the right audience.
Use the search function on Facebook to find other groups and pages similar to yours. Facebook's search allows you to phrase your searches in meaningful ways. For example, a great search to start with is "Pages liked by people who like [your page name]". Here's a great resource with loads of tips on how to use Facebook's search feature.
Once you've selected your target pages, you can try either (or both) of these simple outreach tactics:
Message admins of popular pages and ask them to share your campaign. This can be done by clicking the Message button (note: not all Facebook pages allow messages). Be polite and respectful when asking, and offer to cross-promote their page/cause.

Post the link to your campaign on other pages and groups Facebook timelines. Make sure your status text focuses on why their audience would benefit to ensure you are not being spammy. As with messaging, some Facebook pages do not allow you to post directly to their timeline.
Keep in mind, this technique of reaching out to other pages works best if you are an organization or part of a larger cause or initiative. A great way to think about whether your campaign will be a good fit for a page or not is by asking yourself this question: "Will people who follow this page care about and find added value in learning about my Bonfire campaign?". If the answer is no, it's probably not worth reaching out to that page.
5. Create an Event
Creating an event works best when done through your personal account (i.e. not as a Facebook page), making it a great alternative for smaller/more time-sensitive causes that don't necessarily need a full-blown Facebook page. You can also create an event as a Facebook page, however, you're unable to invite friends (for free). Creating an event also works well if the shirt you've designed is actually tied to an event, or if there's a specific day when shirts are supposed to be worn.
What's great about Facebook events is that when friends say they are going to an event, their friends will see the activity (aka your campaign) on their news feed. This is a fantastic way to passively expand the awareness of your campaign via the network effect.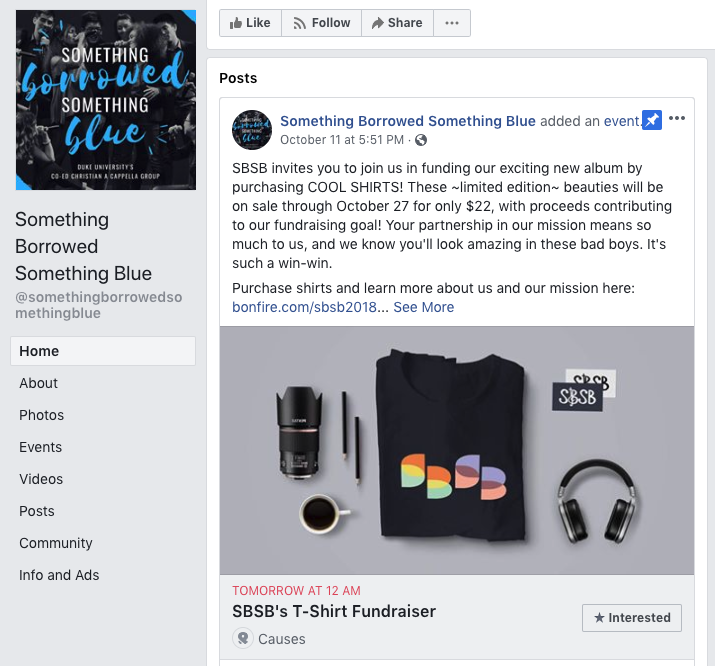 Follow these simple steps to set up your event:
Visit Facebook Events and click the + Create Event button.

Enter your event name and a short summary of your campaign. For the "Location", copy and past your campaign page URL.

Use your campaign's ending date as the actual event date. You can either leave the "Add a time?" field blank, or you can put a time in the evening such as 8 pm.

If you are setting up your event as a Facebook page (not personal account), and you're raising money for a cause, you can select the fundraiser category (using the dropdown: Category > Causes > Fundraiser) to attract more views to your event.

Make sure you make the event "Public" to ensure anyone who is interested in your cause can see your event.

Once your event is set up, add a picture that represents the message of your shirt, or better yet, a photo of someone in the shirt that's for sale.

Finally, post a status update (to your event page) with a link to your campaign page. After posting, click the top right of the post to select "Pin to Top".

You can now use the Invite button to start inviting your friends to attend the virtual event.
6. Tag Friends and Family in the Comments
With Facebook's ever-changing news feed algorithms, it's hard to say if all of your friends will see your posts about your campaign. To be sure that your friends and family don't miss out on buying a shirt, you can tag them in the comments of your status update. They will receive an alert once you do – making it very easy to make them aware of the campaign without you having individually messaging each person.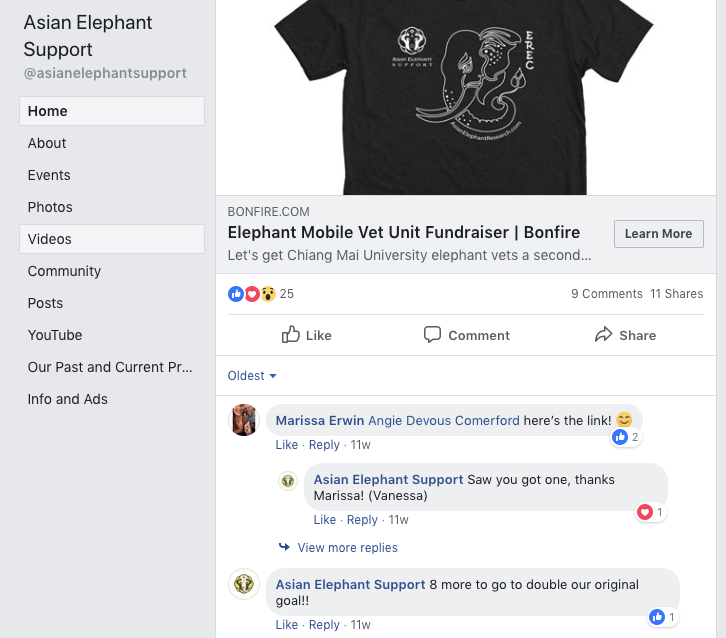 Look at your "Friends" list and make a list of close friends/family that you know would like a shirt and want to help you promote.

Next, tag a small group of close friends in a comment on your pinned post. We recommend tagging about 6-8 people.

They'll get a Facebook notification that you tagged them and will see your campaign page link. This works well for friends that don't check Facebook often or have very busy news feeds.
7. Update Your Followers Throughout Your Campaign
A very effective promotion strategy is to post updates throughout the duration of your campaign. This allows you to maximize your promotion without posting the same thing over and over again.
This is an example messaging schedule you can use for your campaign:
Pre-launch: "What shirt colors should we sell?"
Post-launch: "Shirts are now for sale!"
First-day sales recap: "Our first day of sales was great – let's keep the momentum going!"
Halfway to our goal: "We're halfway to our sales goal!"
Tipped our goal: "We reached our sales goal! Everyone's shirt will be printed!"
2 days left: "Only 2 days left to buy!"
1 day left: "All orders must be placed by midnight tonight!"
Last call: "Last call to buy shirts! Don"t miss out!"
Re-launch: "Our shirts are back by popular demand!"
If you're looking for more inspiration on how to create your promotion plan, check out our extensive promotion guide here. We also provide a free downloadable checklist.
8. Boost Your Posts (AKA Paid Facebook Ads)
Facebook Ads are an excellent platform to further increase awareness (and sales) for your t-shirt campaign. While many organizers can really benefit from using Facebook's paid ads, they don't work for everyone. Going through all the intricacies of Facebook Ads is outside the scope of this blog post, so we've focused on quick actionable tips that will help you generate the most awareness for your campaign on a limited budget.
Here's how to set up your boosted post:
Click on the blue "Boost Post" button on the bottom right of your pinned post about your campaign. That should open a popup with some different targeting options that you can use to specifically target your boosted post.

You'll notice a bunch of different options you can use to target. For most Facebook pages, we recommend keeping the targeting simple. On the other hand, if you have a large Facebook page (100k+ likes) you may benefit from using more advanced targeting methods. More on these advanced methods in an upcoming blog post.

For most pages, they will benefit most from only targeting People who like your page. While targeting People who like your page and their friends will increase your exposure, the friends of your fans might not be as interested in your campaign as your actual fans.

Determining the right budget will be unique to everyone. We recommend starting small ($10-$20) and seeing the results. If you see lots of engagement, likes and shares on your ad feel free to up the budget to something you feel comfortable spending.

Duration can be set for just 1 day (great for testing) or up to 7 days. Which one you select is up to you, just keep in mind that your total budget is divided amongst the days. For example, if you have a $10 total budget with a duration of 5 days, you will only spend $2 a day.
After you've boosted your post, we recommend doing these few additional steps to achieve even better performance:
Go to Facebook's Ads Manager and select your campaign. When inside your campaign, select your active ad set. Now click the blue gear-shaped icon on the upper left side of the screen. From here you're able to adjust many aspects of your boosted post.

Click the Edit link next to the "Targeting & Placement" title – and behold, a plethora of confusing options!

Let's first focus on age. When targeting age, we recommend targeting an age range that is willing and able to buy. We also recommend targeting your audience based on what you know your actual audience is. Once you've made your age selections be sure to click Save.

Finally, make sure you're maximizing your boosted post's reach. Click the Edit link next to the "Budget, Schedule & Optimization", then click the blue Show Advanced Options link. Make sure you are bidding for Post Engagement, then select the first pricing option: Get the most engagements for your post at the best price – You'll be charged for impressions. Don't forget to click Save!
---
Follow the tips and tricks outlined in this post you will be well on your way to having a successful campaign with Bonfire. If you have any questions about how to effectively promote your campaign on Facebook (or anywhere else) feel free to email us at support@bonfire.com – we'd love to help.