Congrats, you just signed up to be a Team Captain for a Peer-to-Peer Fundraising Event!  Now that you've designed your products and launched your campaign, you're probably wondering how you can promote this cause to your community and gain as many supporters as possible. It's time to get creative with your social media and spread the word about the cause that means the most to you. We've pulled together 19 promotion ideas that are guaranteed to get your fundraiser as hyped up as possible while keeping your friends and family involved along the way.
Launch Your Campaign With a Bang!
There are a few things you want to do as quickly as you can once your fundraiser is live. First, ensure you have messaging and visuals set up for all of your core social media channels as well as more direct methods of communication, such as text messages and email.
Consider having your right-hand-gals and guys at the ready to buy the first few items. You can even send some TikToks to your friends that capture the final steps of getting your campaign live. Get the momentum rolling from the start. The sooner you can get your first couple of sales, the better! 
Share Your Why
Your friends and family need to know the heart behind your mission to fundraise for this organization. This pull at the heart is what will motivate them to check out your fundraiser, and hopefully what will get them to purchase an item or two from your campaign.
Think about why you care about the cause of this organization, and why you want your friends and family to contribute to your fundraiser before your campaign is launched so that you have this content ready!
You can make this content into a written post on Instagram, Facebook, an email, or even in a TikTok. 
Share the Design Process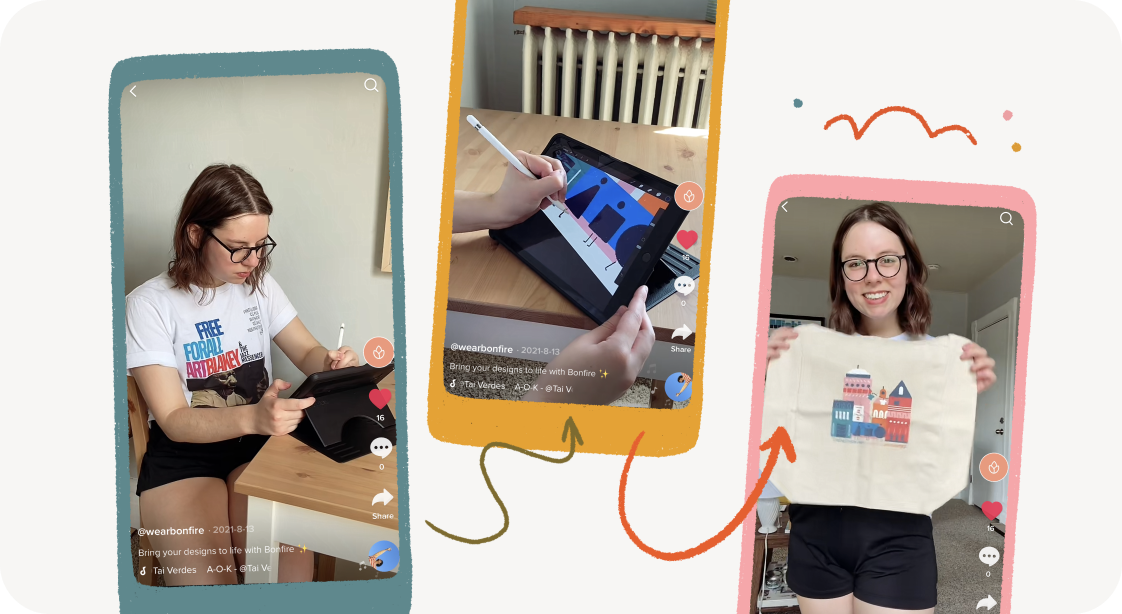 Create a Reel or TikTok where you talk about the process of designing your shirt. Whether you used a design template or created the design yourself, your community would love to see the design process and symbolism around your final design!
This or That?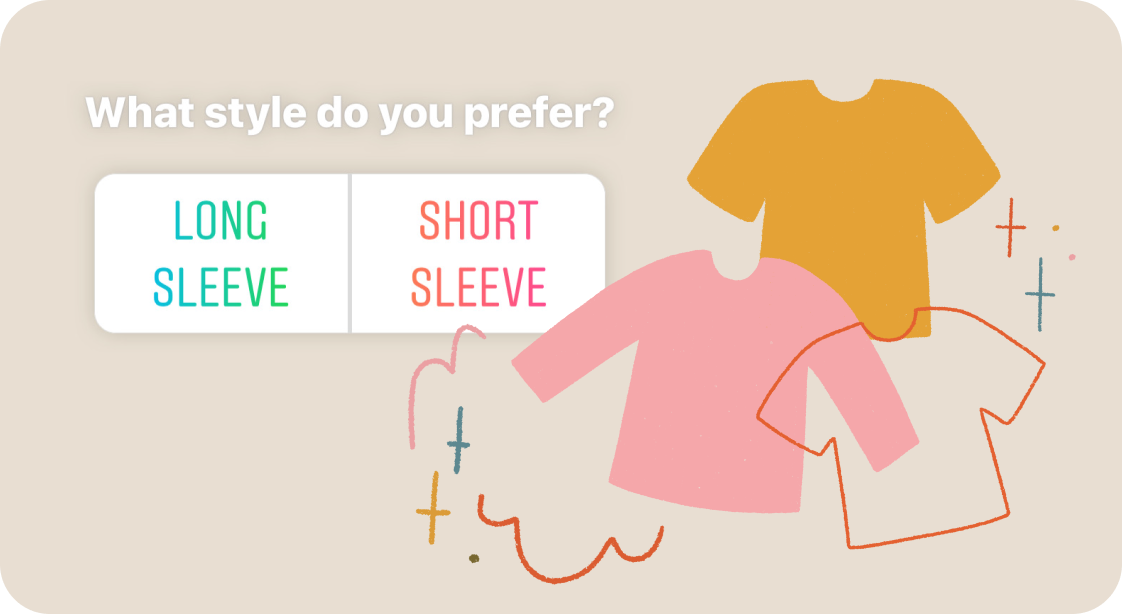 If you have a few different shirt colors and styles for sale in your campaign, think about doing a "This or that?" quiz on Instagram Stories.
Since you'll be promoting your campaign for a few days, it's good to have a broad range of content ideas, so that people don't get bored of a copy/pasted image and text.
Show Off Your Merch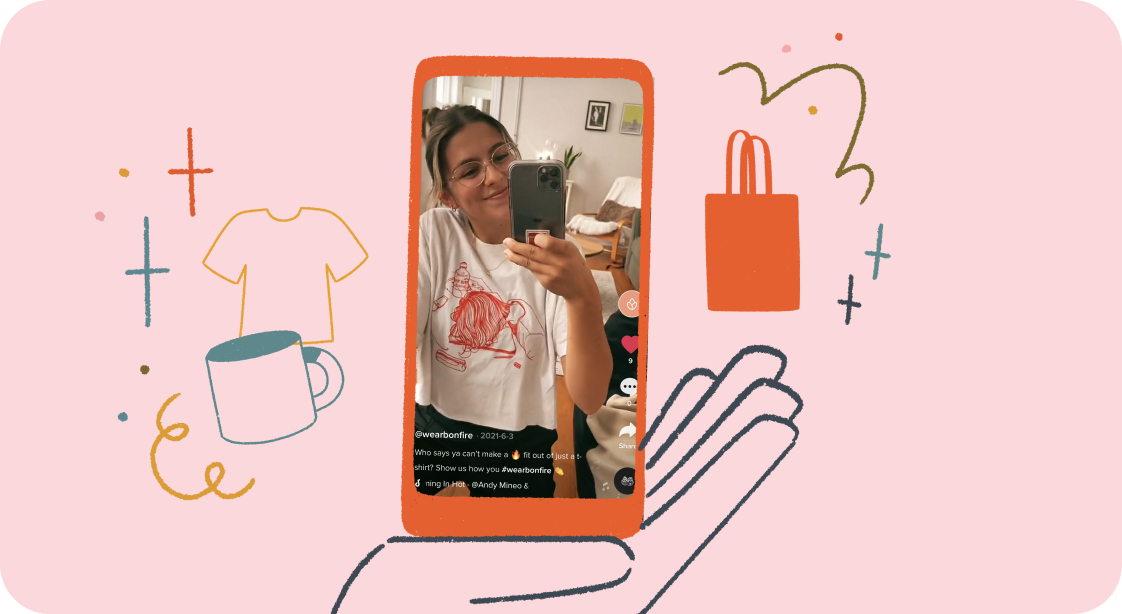 Film a TikTok showing off your merch in action! Walk down the city streets rocking your tee, and show the different ways your friends can style their merch.
If the items you've designed can be worn any day, not just the day of the event, your friends will not be able to resist having a t-shirt, sweatshirt, or tote bag to rock all year long.
Poll "Have You Ordered Our Merch Yet?"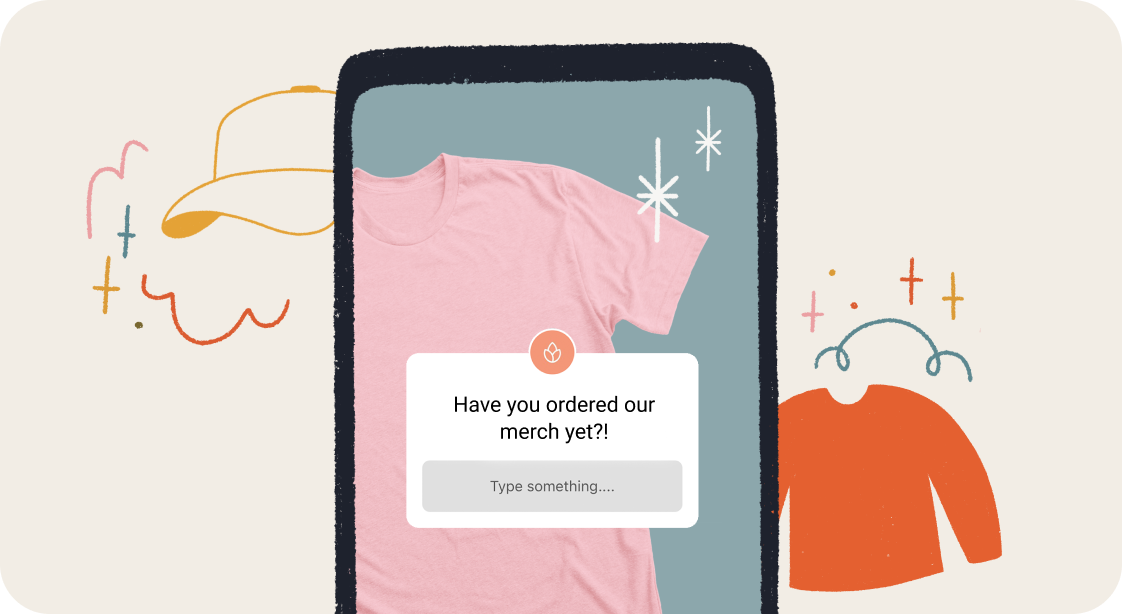 Once your campaign is rounding the corner and approaching the end, this is a creative way to engage with your followers while also gently reminding them that time is running out to get their tee. This approach can make things more fun than a simple post saying "Don't Forget your Shirt!"
Collaborate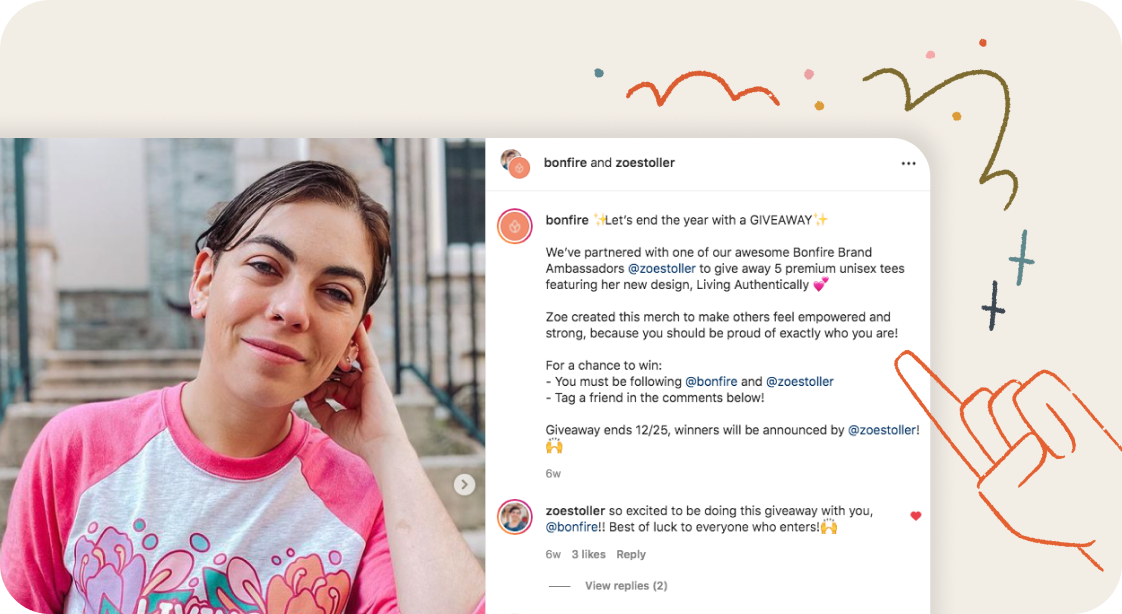 Let's bridge those communities together! Use Instagram's Collab feature to invite a friend, fellow team captain, or even the organization to co-author your next post with you! If they accept, this post will now be on both accounts' main feed, meaning your followers, as well as theirs, will get the content.
If there are multiple Team Captains in your community, consider ways that you can team up to form a sense of competition amongst your community. Maybe a race to 100 shirts sold?!
Send Leaderboard Updates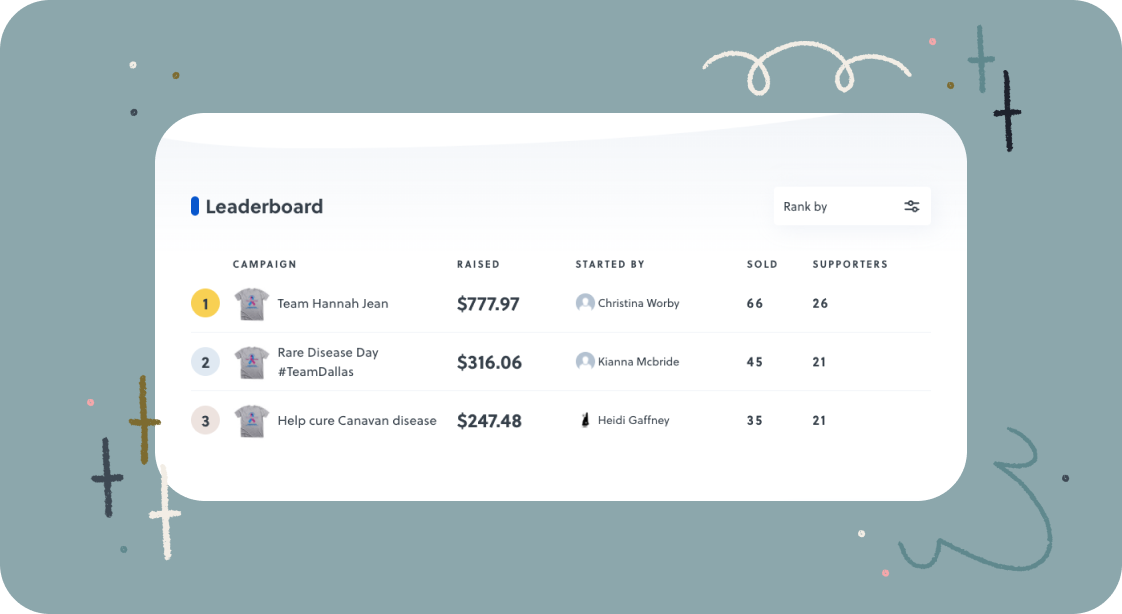 On Bonfire's Peer-to-Peer event pages, we feature the top three selling teams on the Leaderboard. Is your team in the Top 3? If they are, share that with your community! Ensure they are up to date with your leaderboard status, and encourage them to help keep your team in the lead. 
Set Goals and Share When You Reach Them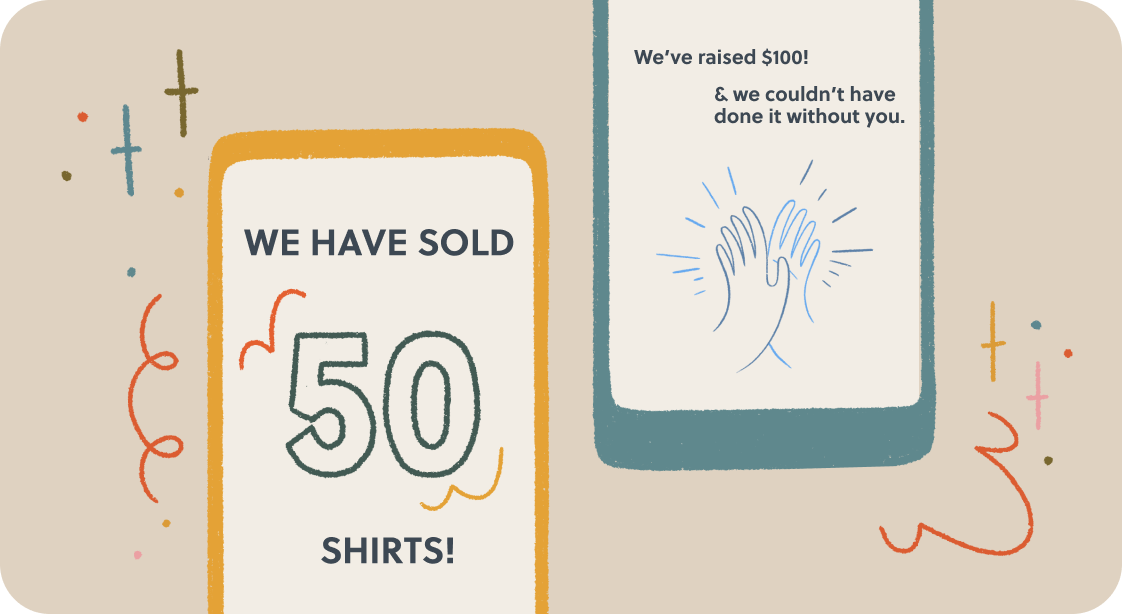 There are all sorts of milestones you can set along the way to your big goal of the event. Whether it's the first $100 raised, 50 items sold or making it to the Top 3, involve your supporters in the journey of fundraising for your org. Share your milestones and thank your community for helping you reach them.
Answer Questions About Your Fundraiser
If this is your first time participating in a fundraising campaign, or your first time using Bonfire, it's likely that your friends and family will have questions about your fundraiser. Whether they are looking for more info about the "why" behind your fundraising efforts or the products themselves, offer up your time to answer some questions.
Use the "Question" feature on Instagram to allow your community to submit questions about your campaign, and then post the answers to those questions, so that people get to know more about what you are doing, even if they didn't submit any questions.
Go Live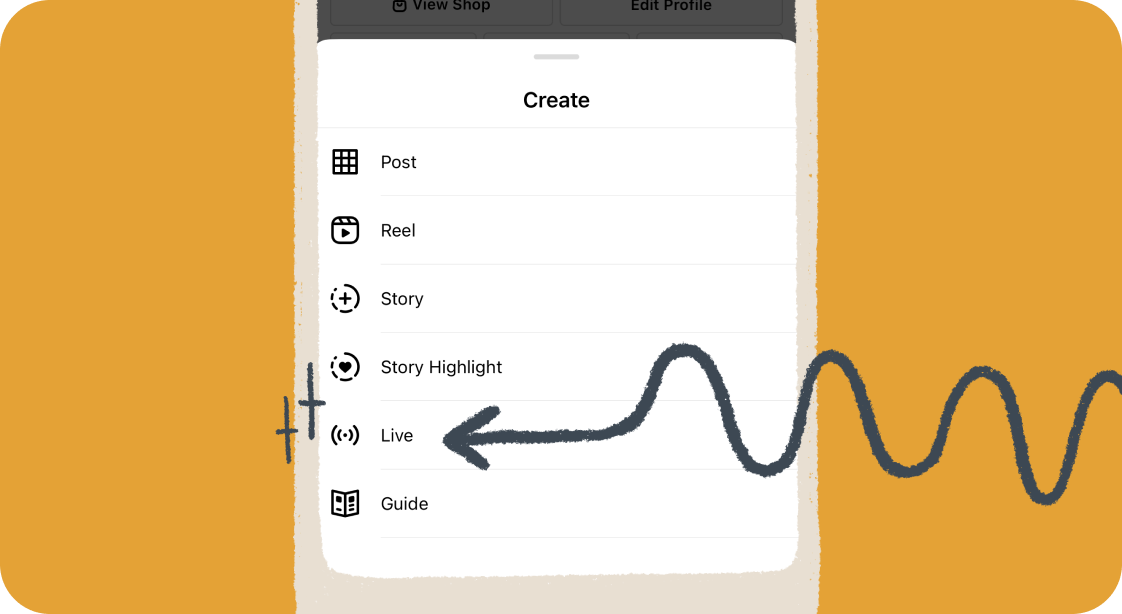 Go live on the platform of your choice to talk about the cause that you are passionate about!  Looking for an added element other than just talking by yourself? Think about interviewing a team member from the organization, a fellow team captain, or one of your early supporters.
Create a Hashtag
Create a hashtag to use as you work toward your goal. Share it with your community so that when your supporters start to receive their merch, you can collect images of all of the people you love supporting the cause that means so much to you.
Not only will this be a great encouragement to you as you push toward your goals, but this also can be great content to repost as a way of saying thank you to your community and including them in your fundraiser in a different way.
(Also, let's be honest, there is great power in positive peer pressure! If your friend realizes they're the only one who hasn't supported your campaign yet, they might feel encouraged to do so!)
Instagram Highlight

Create an Instagram highlight for this special event so that all of the information about your fundraiser, as well as any fun content you or your community shares is all accessible in one place.
Make a Countdown Clock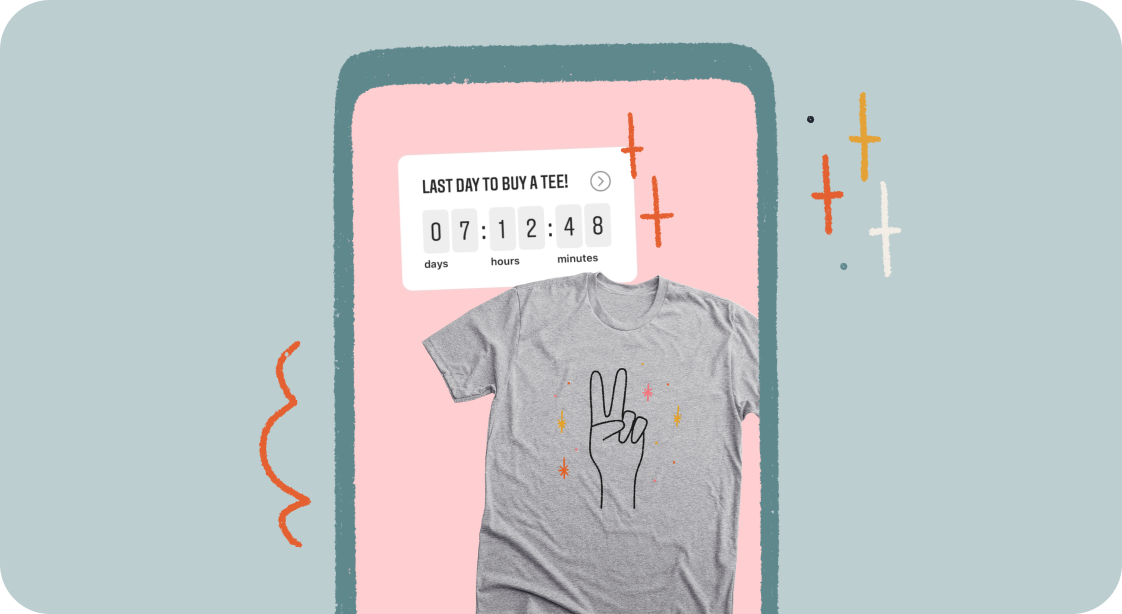 Add a Countdown Clock to your Instagram Story that marks the last day to buy an item from your campaign. This is especially important if you are running a campaign where the items should be arriving by a certain date for an in-person event. You want to ensure that everyone on your Team has their "uniform" for the day of, so help them out by providing an alarm for them.
Even if this campaign isn't for a specific event date, this will mirror the urgency that is expressed on your campaign page, and push those procrastinators to go buy their shirt before the clock runs out.
Just remember, campaigns close at 11:59 PM Eastern Standard Time. (This is especially helpful to emphasize if you are on the West Coast!)
Link to Your Fundraiser
Ensure links to the fundraising campaign are embedded in all of your social media profiles. If your friend or family member wants to contribute to your campaign, you want to ensure that it's incredibly easy for them to do that.
We recommend using a link-in bio tool like Linktree so you can link to your profile across all of your platforms. Then, you can use our free Linktree integration to display and sell your merch directly from your profile.
Bonfire has partnered with Linktree on an integration that allows your community to shop your top campaigns or even visit your full store without ever leaving your profile! This integration is a free and easy way to create a seamless buying experience across all your platforms – Instagram, TikTok, YouTube, Twitter, etc. 
Once you've enabled the Linktree integration, add your unique Linktree URL to all of your bios and be sure to tell your community to visit your "link in bio" to check out your Bonfire store!
Helpful tip:
To learn how to manage your Linktree integration, check out this article.
Unboxing Shirts When They Arrive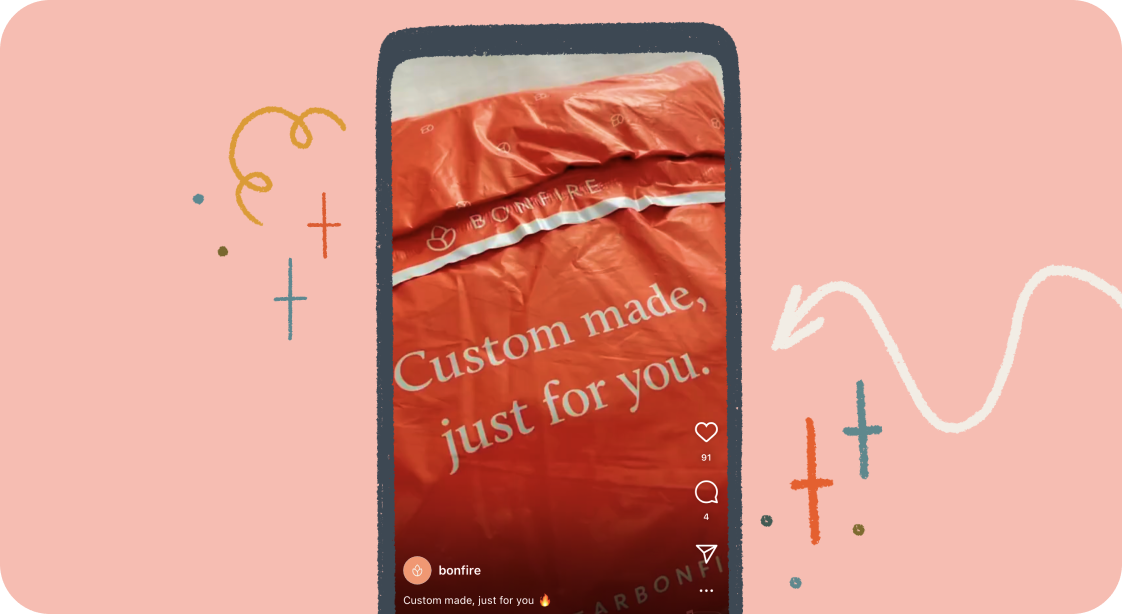 Celebrate the arrival of your items when they get there! Share Instagram Stories or create a TikTok of you unboxing your new t-shirt, sweatshirt, or tote bag.
Ensure you get some close-up footage of the design as well as the products themselves, and try to describe the way the products look and feel so that your friends and family can get a sense of the quality!
Share Your Event Day outfit
If you happen to have created your merch with the intention of wearing it for a fundraising event day, show off your #ootd! While it might be too late for anyone who hasn't bought anything yet to get an item by the event, they can always purchase an item to commemorate the day. This can also be a way to show some styling tips to anyone who did purchase your merch in time.
Share Community Content on Event Day
Get those photos of everyone in their matching t-shirts – it's what you've worked so hard for, and will be so encouraging for your friends and family to see! During the day and after, ensure to share that content with your community through social media, and save them in your Instagram Highlights to look back on! 
Say Thank You, Update Your Community on Fundraising Goals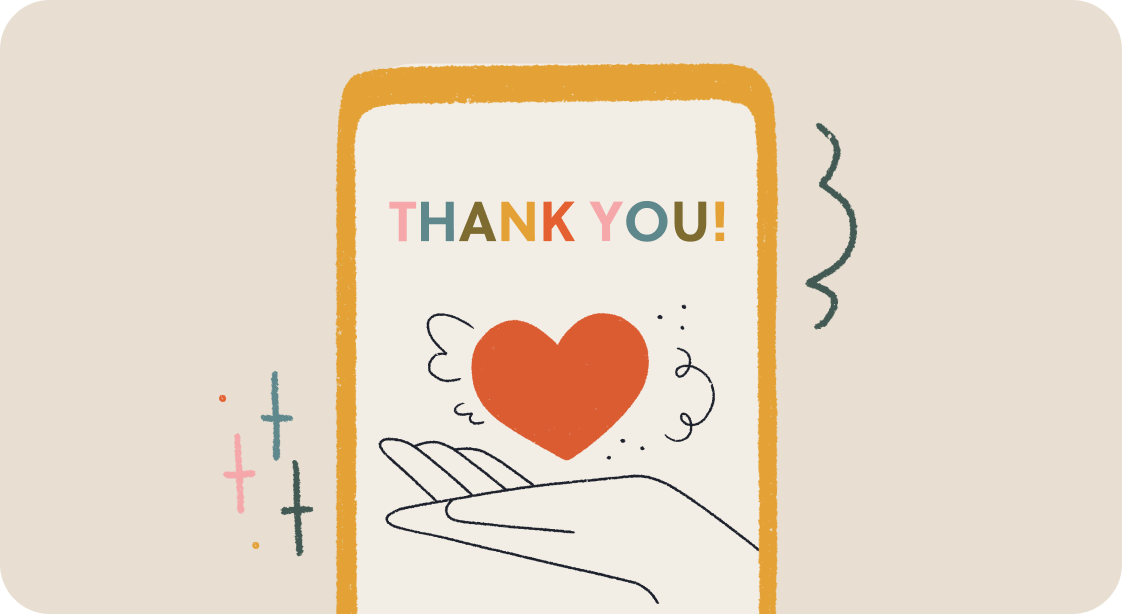 Once your peer-to-peer fundraiser has come to a close, it's time to say thank you to everyone who helped you press toward your goals. Whether you reached your goal or only got partially toward it, you can still thank those who came alongside you as you worked to raise funds for a cause that means so much to you.
Let your community know what you were able to accomplish together, and assure them that you'd keep them updated on future fundraising efforts for this cause. Ask them to send you any photos they'd taken of themselves in their merch as well.
---
Now you are prepared to run a successful peer-to-peer fundraiser that is guaranteed to keep your community as involved as possible. Work with the leaders of your team to decide what works best for you all and tailor your promotional plan to be exactly what you need it to be.
Keep these promotion ideas in your back pocket as your fundraiser takes off, and remember that the most important part is to have fun!