In the age of the Internet, having an online merch store for your community, organization, or business is super important. If you are looking for a way to create a store without paying any upfront costs or buying inventory, consider Bonfire! We make it easy for you to create and launch a free online store to sell your custom merch.
If you're new to Bonfire, or not sure where to get started, you're in the right place! In this guide we'll teach you how to create store that looks great, matches your brand, and helps you sell more merchandise. Let's get started!
Create an Account on Bonfire
All registered users on Bonfire can publish their own online t-shirt store. To start creating yours, all you have to do sign into your account or sign up. If you don't have an account with Bonfire, you'll need to start creating your merch campaigns in order to have products to stock in your online store.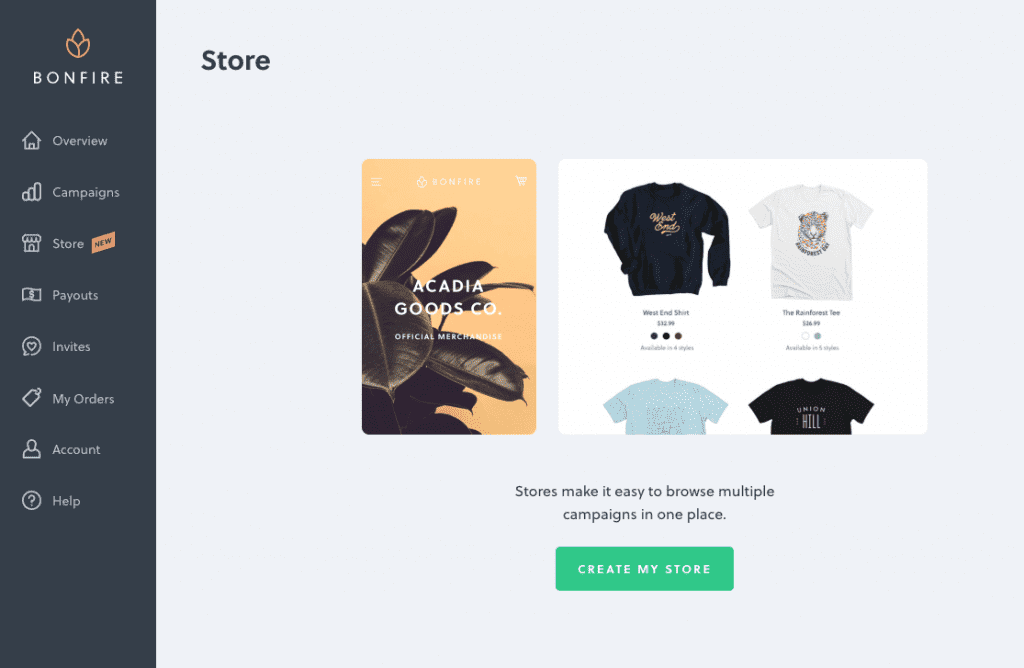 Customize Your Store
Bonfire makes it easy to create a beautiful Store that matches your brand. There are many design choices you can make when designing your store. Here are some tips to make your store look awesome and attractive to your buyers.
Name Your Store
The first thing you'll need to do when you create your store is to name it. Enter your desired store name and click continue. If you have a strong brand name, we recommend using this as your stores name so users can easily find you.
Once you're on the next page, you can edit your store title and subtitle by clicking either of the pencils in the header.
???? Pro Tip
The title and subtitle of your store impact how your store will appear in search results on places like Google and Bing. What you enter in those fields is what will be displayed in search results.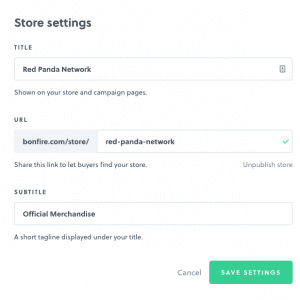 Use these fields to your advantage to promote your merch for your brand. By default, we display "Official Merchandise" as the subtitle to help attract users' eyes to your page in search results. But we encourage you to get creative with your naming conventions.
Choose a Theme
When you set up your Store on Bonfire, you can choose between three preset themes: dark, light and custom. While the dark theme is selected by default, we encourage you to preview them all to see which one is right for you. You can click on the "Edit header" button to choose your theme.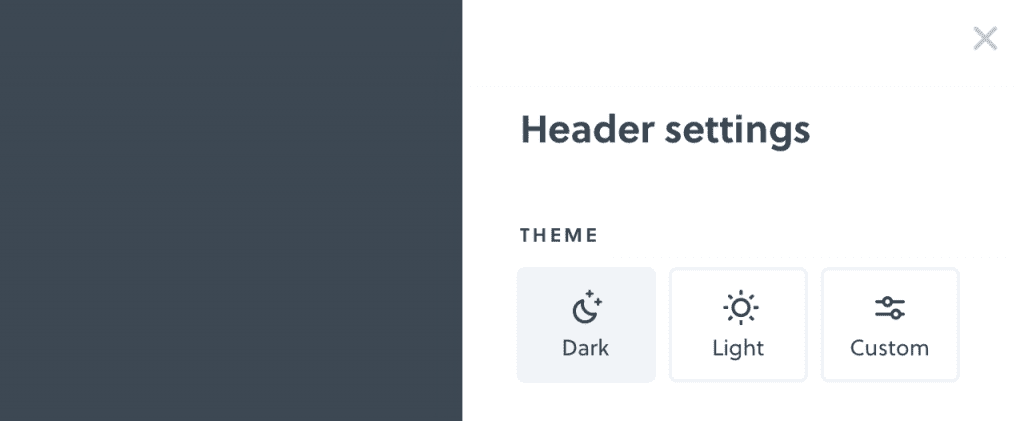 The dark theme usually works best when you plan on uploading a photo to your Store header. If you don't want to use a photo, we suggest picking the light theme, which puts the focus on your Store title in a really elegant way.
If you want more freedom to customize your store, or want to match your brand more closely, you can choose the custom option — where you can also select the header overlay color. Use one of our presets, or enter your own hex code in the input next to it. Play around with the different settings until you find something that looks like your brand.
Customize Your Header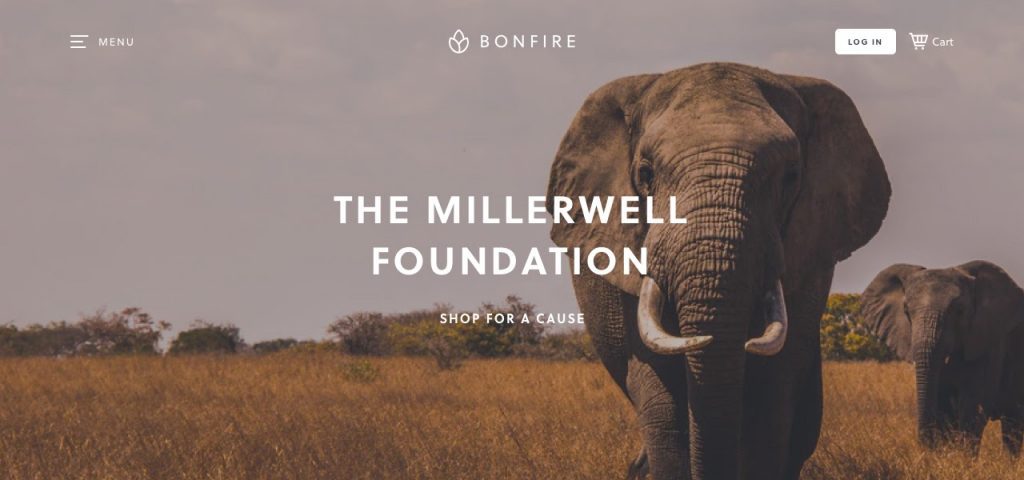 Add a photo background to your header to create a Store that stands out to your users and looks consistent with your brand. We recommend using a 2400px by 900px photo.
If you don't have a photo that represents your brand, check out unsplash.com for a large collection of free, high-quality photography. Find a photograph that helps tell the story of your business, nonprofit, or school.
To enhance the look of your header and the readability of your text, you can use the photo opacity slider to overlay a color on your image. Try different opacity levels to achieve your desired look.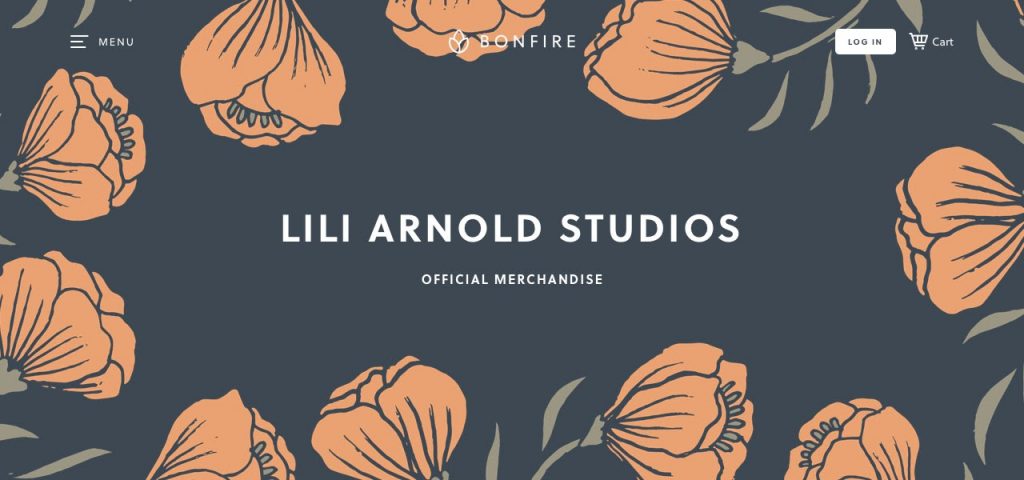 To really make your Store stand out, you can upload a custom header image. If you have access to your shirt's artwork, you can try to incorporate it into the background, creating a visually appealing, cohesive look.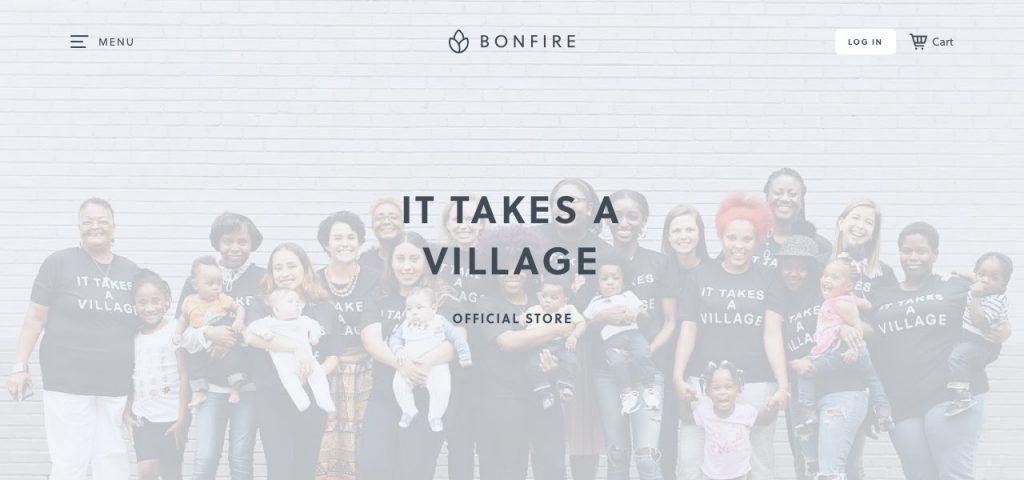 If you have a photo of people wearing your shirts, it might also be a great option for your header. Using a photo of someone in your merch can be a great way to show off the products you've designed.
Design Tips to Create an Eye-catching Header
Designing your header can take some time and adjustments. Don't rush yourself in the process of designing your store. The header is the first thing your buyers see when they land on this page, so it's important they know they're in the right place, and that the design is on point with your brand. Here are a few things to keep in mind when you are creating your store header.

Pay attention when pairing a photo with overlaid text. If the best photo you have is busy and saturated with color, try to increase the color overlay to keep the text legible.

If you plan on adding text on top of your photo, you probably want to make sure the photo you are using doesn't have any text on it. Otherwise, things can get pretty messy.

Avoid using dark text on dark images, or light text on light images. This can make it difficult for your buyers to see the title of your Store, which would be a big bummer.
Use an Image Instead of Text
If you have an established brand or want more control over the way your store title is displayed, you can also upload a custom image to replace the header text.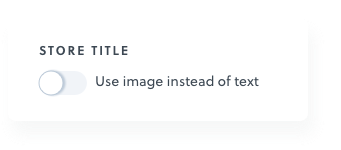 Simply toggle the title settings "off" and upload the image you'd like to use instead. You can choose to either keep the subtitle as is or remove it by deleting it from the Store Settings.
If you wish to go this route, transparent PNG files will work best. If you don't have a transparent file of your logo handy, you might not want to use this design option.
Customize the Sidebar
Once your header is looking sharp, take a look at the Store sidebar if you have one. A great first step is to upload your logo to the sidebar. Keep in mind that this logo will also show on any Campaign page that is added to the Store. Logos on a white background look best.
In the sidebar, you can add a short bio about you, your organization, or business. There's also a place where you can link to your social media accounts and website. The sidebar helps visitors know they are in the right place, and also helps them learn more about you, and where else they can find you.
Lastly, scroll to the bottom of the Store page to add a secondary title or a long description. This is a great place to dive deeper into the meaning of your Campaigns or organization.
Choose What Products You Want to Display

There are so many merch options to sell in your Bonfire Store. From t-shirts and sweatshirts to tote bags and hats, there are dozens of options to choose from. We even have a wide selection of products for kids, too. There are a few ways to think about the way you run your online merch store:
Evergreen Campaigns
In order to have a robust store for your community, you'll likely want to have a campaign or two in your store that's always available for people to purchase. This design could be based on your logo or something else that you'd want to keep selling all year long.
Limited Edition Options 
It can also be super helpful from a marketing perspective to sell short-run products for a limited time in your store, too. This could be a great option for shirts that are meant for a certain event, holiday, or season.
Having a mix of both evergreen and limited edition merch options can be an easy way to ensure your buyers can purchase the products they are looking for, but also encourage extra purchases too. For instance, if a buyer comes to your store looking for a Limited Edition shirt, they might add an evergreen tote bag to their cart when they see it being promoted in your store.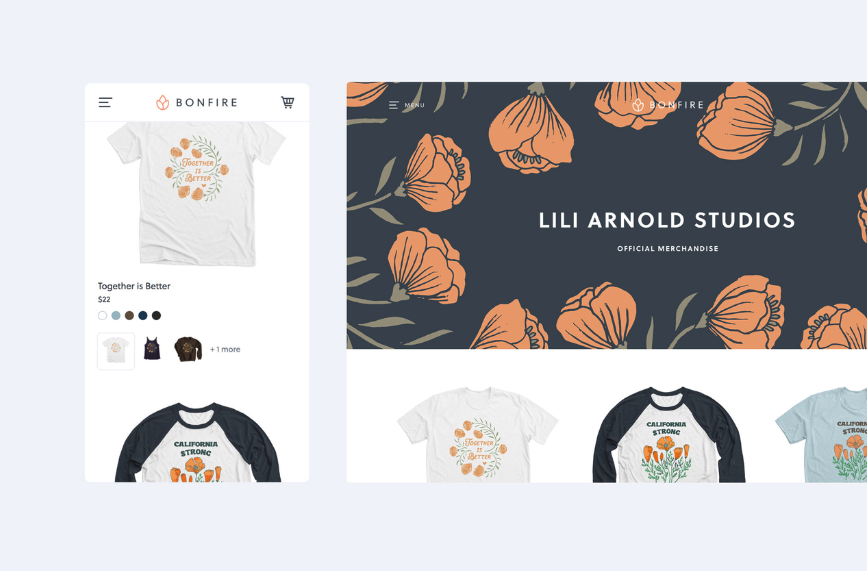 Keep in mind, your Store doesn't have to feature every single Campaign you've done with Bonfire. You can pick and choose which Campaigns are in your store, and this is something you can change over time as well, as your marketing or fundraising strategies shift.
Use campaign expander to show all products available
There are two ways to show off your products in your store. If you use Campaign Expander, your store will show all of the products available in each campaign in your Store. If you turn Campaign Expander off, your store will just show the featured product for every Campaign you add to your Store. There is no right answer as to which setting is better, it's mainly about your preferences and how many products you are offering.
Publish and Promote Your Store
Once you've taken some time to build out your store and product offerings, it's time to publish your Store. This will make it visible to everyone, and ready for you to start sharing with your community.
Share on Social Media
Now that your store is live, you can promote it on Facebook, Instagram, and more. Wherever your community gathers, share your link. If you haven't thought through your promotion plan yet, you may want to take some time to think through a marketing strategy for the custom apparel in your store.
Add Store Link to Website and Social Media Bios
Adding your Store link to a prominent location on your website homepage is one of the easiest ways to make sure your community always knows where to get their gear. Updating your social media bios with your store link is another great way to drive supporters to your merch store. Use a tool like LinkTree if you need more than one link in your Instagram bio.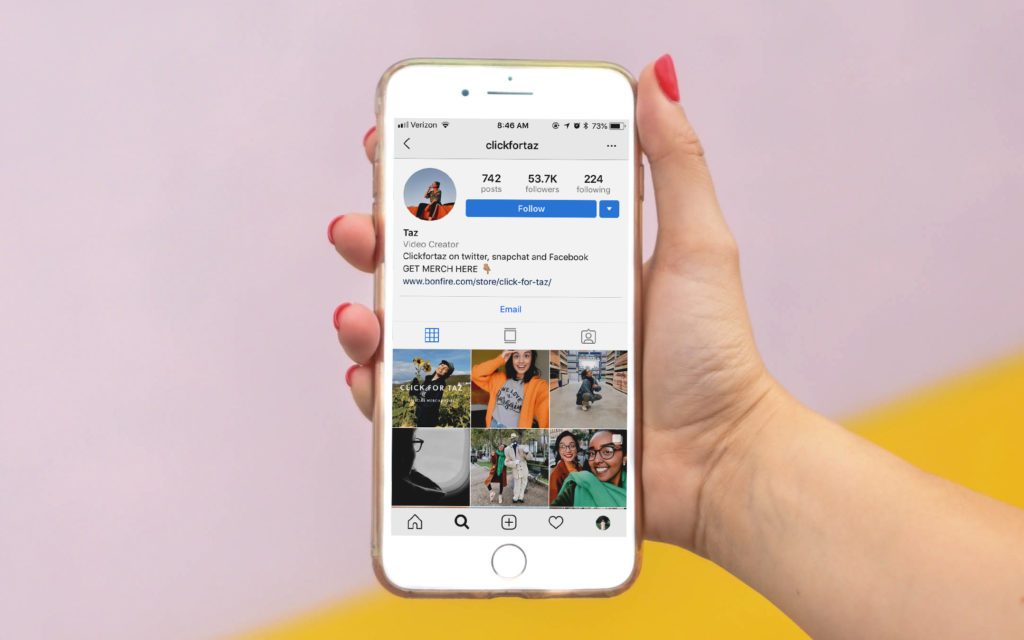 Promote In Email Newsletters
If email newsletters are a large communication avenue for your community, let your supporters know about your new store by sending out an email to your mailing list.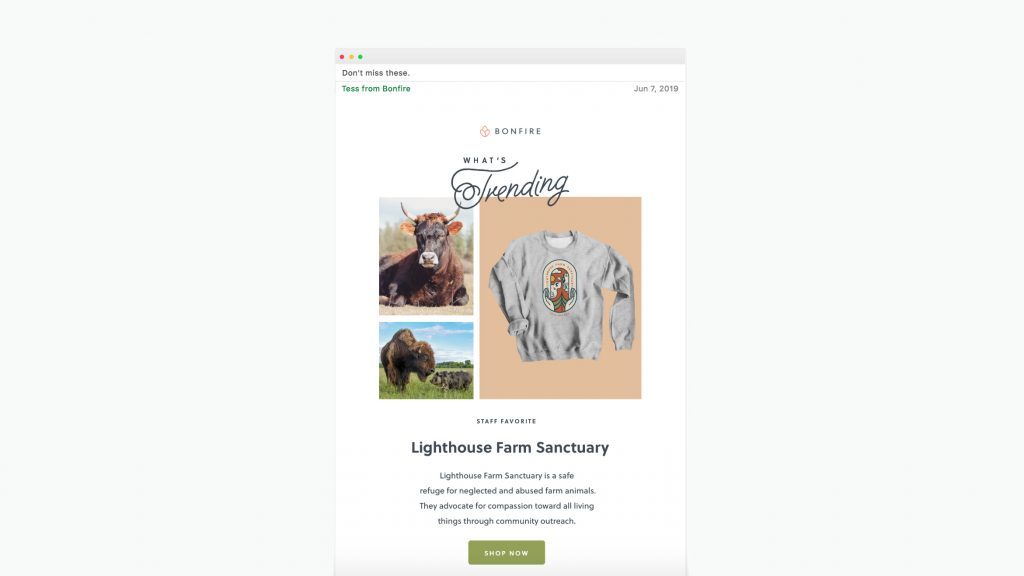 Creating a Store on Bonfire is easy, risk-free, and free to launch. If you've been looking for a better way to run a store for your nonprofit, brand, business, or project, this is the way to do it. You can test out merch ideas to see what is most popular, without having to take a risk by printing inventory.
If you have questions about creating or customizing your Store, feel free to reach out — our Support Team is standing by to help.