Incorporating product sales into your fundraising strategy can provide your nonprofit with immediate and tangible benefits to your supporters and your cause. Rather than relying solely on donations, offering something in return creates a mutually beneficial relationship that creates an ongoing revenue stream and gives your nonprofit a consistent way to fund your initiatives. 
When selecting the products you're going to offer, it's important to consider factors such as pricing, market demand, and alignment with your mission. By choosing items that resonate with your cause, you can spark conversations, raise awareness, and attract new supporters who may not have been previously aware of your work.
To help you make the most of your fundraising potential, we've curated a list of the best products for your nonprofit to sell. Let's jump right in and discover how these products can amplify your impact!
1. T-Shirts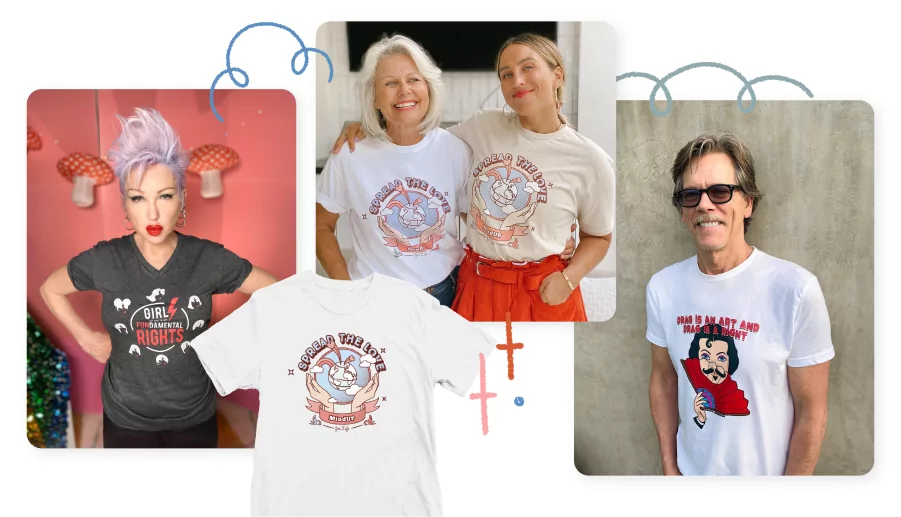 T-shirts are a great fundraising product because of their widespread popularity and appeal. Who doesn't love a good t-shirt? They're comfortable, practical, and can be worn by your supporters for years to come.
Why We Like This Product for Fundraising Purposes
T-shirts can easily be customized to align with your organization and/or fundraiser. 
They can be ordered in bulk at a relatively low cost. This makes it possible for you to sell t-shirts on site at fundraising events.
T-shirts are perfect for fundraisers that take place during the summer months. Your supporters can rock your merch while still keeping cool and comfortable. 
Since they are unisex and come in a number of different colors and styles, there's sure to be something for everyone to purchase and enjoy.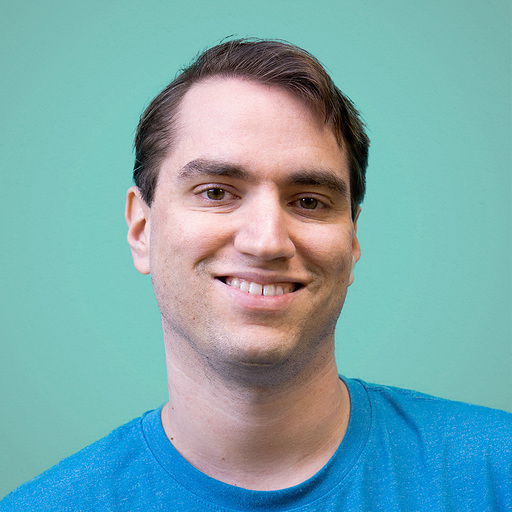 "I love the Premium Unisex Tee. Not only is it one of our best and most popular options, but it's an easy recommendation for my sellers if they're looking for something easy, comfortable, and classic when getting started with their fundraising."

– William Chase, Account Executive
What Types of Fundraisers This Product Is a Good Fit For
Charity Runs/Walks: T-shirts can be sold to participants or given out as a memento for charity runs, walks, or other similar events. People often appreciate receiving a shirt that represents their participation in a specific event and that supports a cause.
School Fundraisers: T-shirt sales are popular in school fundraisers. They can be customized with the school's name, logo, or event-specific designs, and sold to students, parents, and staff members to support various school initiatives or projects.
Community Events: At community events such as festivals, fairs, or concerts, organizers can create event-themed shirts and sell them to attendees. Proceeds can go towards event costs or supporting local causes.
Sports Teams/Clubs: Fans and supporters can purchase shirts to show their team spirit while also contributing to the team's expenses or equipment needs.
Design Tips
If you're selling shirts for a specific event, consider incorporating the event's logo or poster design into your shirt's design.
Focus on eye-catching imagery and a powerful message related to your fundraiser. The more unique and specific your shirts are, the more likely they are to capture the attention of your supporters. To enhance their appeal, make these shirts available for a limited time, building a sense of exclusivity and urgency among buyers.
Favorites From the Bonfire Product Catalog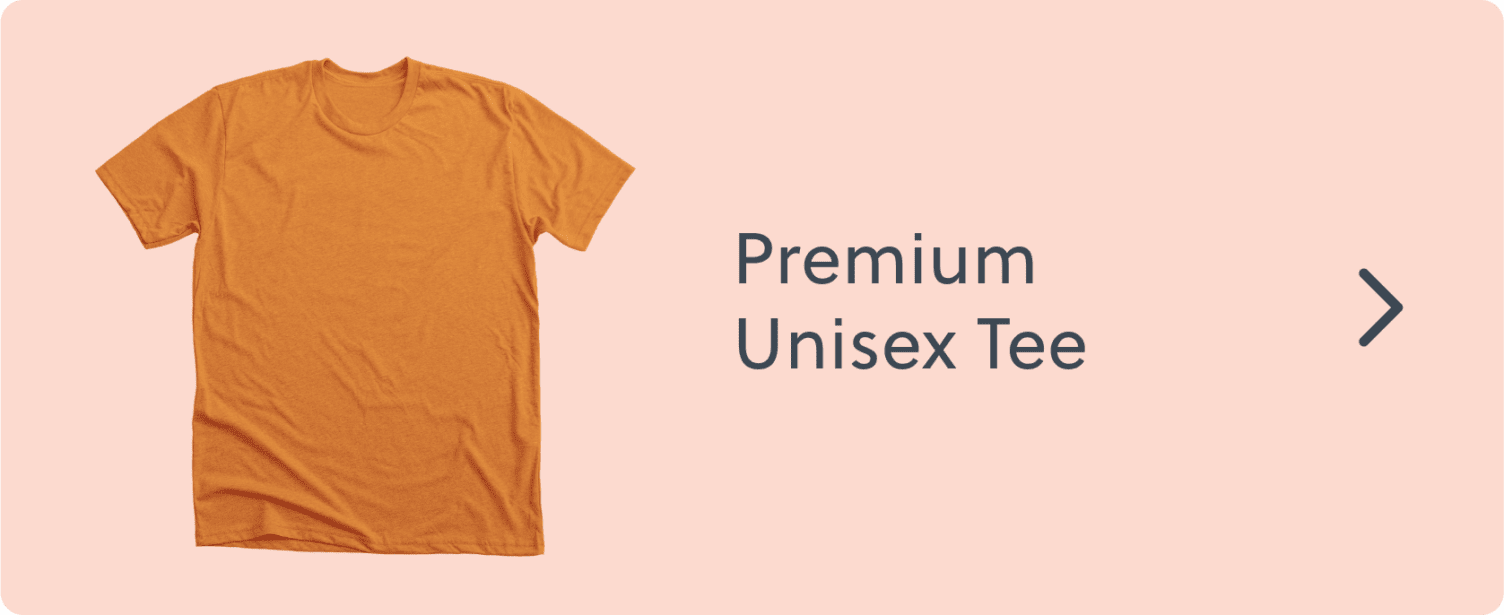 2. Tank Tops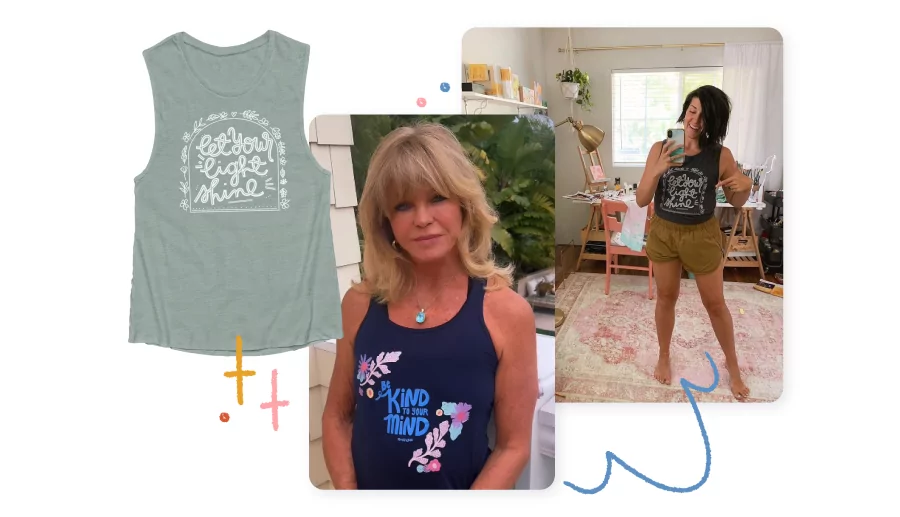 Tank tops are an excellent choice to sell for fundraisers that take place during warmer months. As temperatures rise, people tend to gravitate toward sleeveless shirts – creating a demand for seasonal garments like tank tops.
Why We Like This Product for Fundraising Purposes
Tank tops can be produced at a relatively low cost, especially when ordered in bulk quantities. This cost-effectiveness allows you to maximize your fundraising potential and keep prices affordable for your buyers.
Since the cost of tank tops tends to be lower, this encourages even more people to make a purchase and support your cause.
Tank tops can be particularly beneficial for team-based fundraisers, creating a strong visual representation of your collective efforts.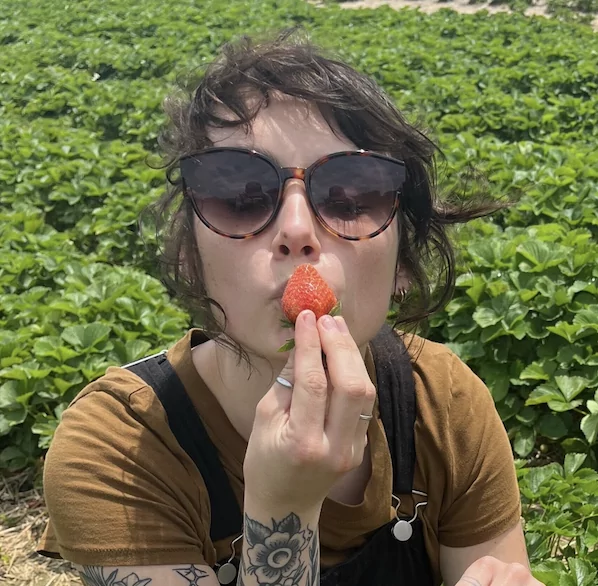 "You can't go wrong with the Premium Unisex Tank Top! As something to work out in, your go-to summer shirt, or just as staple in your wardrobe, these are so versatile and comfy. Truly flattering on all body types, especially if you like a loose fit. No matter the occasion, they're a must-have. Premium Unisex Tank Tops are a great addition to event based fundraisers, like a 5k or a charity walk, where people want to rep matching shirts, but don't want to get hot while moving around!"

– Amber Gauldin, Account Manager
What Types of Fundraisers This Product Is a Good Fit For
Charity Runs/Walks: Tank tops can be great for participants in charity runs or walks. They offer comfort and freedom of movement, making them ideal for physical activities. 
Sports Tournaments: If you're organizing a sports tournament to raise funds, custom tank tops can either serve as uniforms for the teams or players can wear personalized tank tops to represent their team and/or the cause they're supporting.
Music Festivals/Concerts: Tank tops can be popular attire for music festivals or concerts, especially in warm weather. Offering custom tank tops can provide attendees with a keepsake while also promoting your cause.
School or College Fundraisers: Tank tops can be used for fundraising efforts within educational institutions. Whether it's a sports team fundraiser, club event, or a school-wide initiative, custom tank tops can be customized with the school logo, mascot, or a specific message to support the cause.
Design Tips
When designing your custom tank tops, select a color palette that aligns with your cause or represents your event's theme. Be sure that the content of your design communicates the purpose of the fundraiser clearly and concisely. Use bold and legible fonts to convey your message effectively, whether it's the name of the organization, a slogan, or the cause you're supporting.
Aim for a harmonious design by ensuring that the colors, fonts, and graphics all work well together. Avoid overwhelming the design with too many colors or complex patterns that may distract from the main message.
Favorites From the Bonfire Product Catalog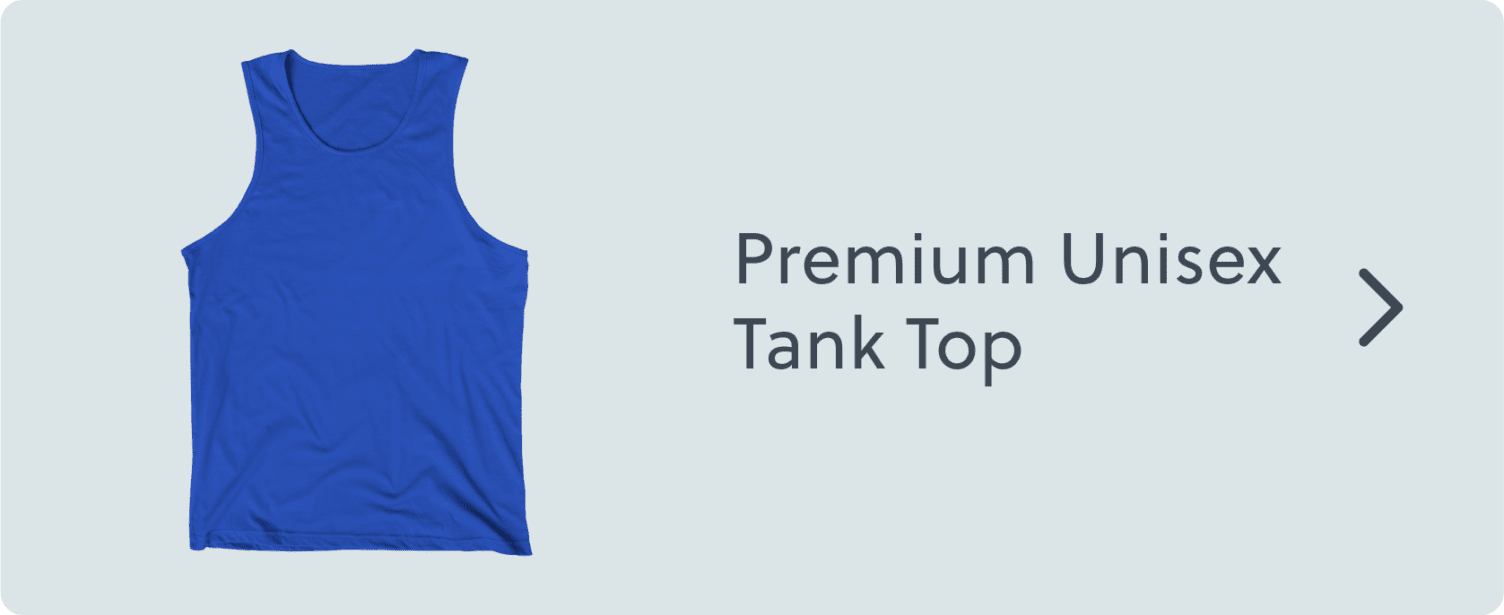 3. Sweatshirts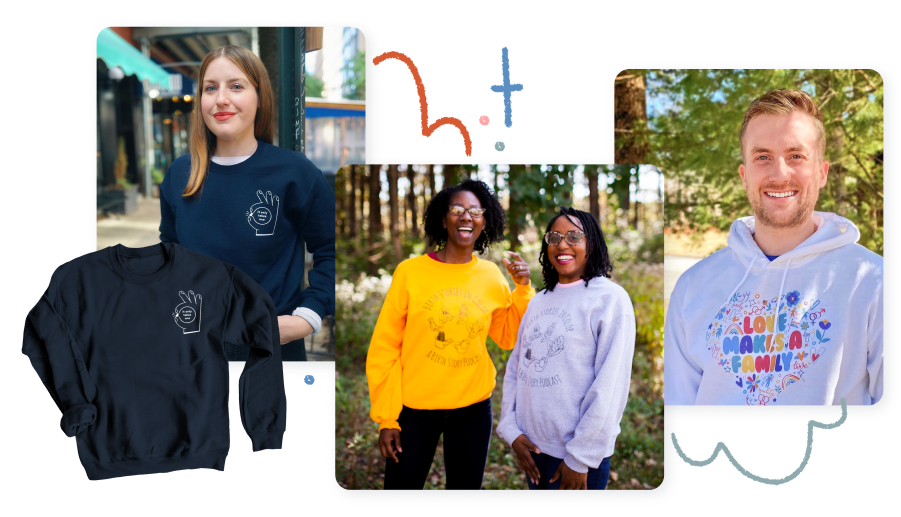 Sweatshirts are an undeniable crowd-pleaser, regardless of whether you opt for the classic crewneck or the cozy hoodie style. Not only are they stylish and comfortable, but sweatshirts also hold a permanent place in many people's wardrobes. By offering trendy sweatshirts with your logo or custom design, you can attract a broader customer base and generate more interest in your fundraising campaign.
Why We Like This Product for Fundraising Purposes
Sweatshirts are crafted from durable materials, which means they are built to withstand daily wear and frequent washing. This guarantees that buyers can enjoy wearing their sweatshirts for an extended period of time, prolonging the visibility of your cause or event.
Sweatshirts can also be sold at a higher price point compared to some other fundraising products. This allows for a potentially higher profit margin, enabling you to raise more funds for your cause. It's important to always make sure you strike a balance between setting a competitive price and ensuring affordability for your target audience.
For events and fundraisers that take place during colder months, sweatshirts are the perfect product to sell.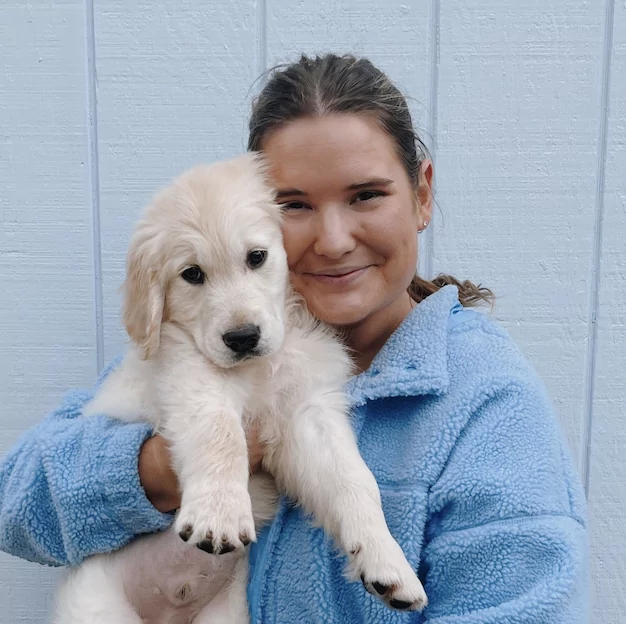 "I love the Crewneck Sweatshirt – it comes in so many sizes and colors and is such a comfy staple. I love recommending sellers offer a short sleeve and a long sleeve option since everyone has their own preference – this can help to maximize sales and ensure there is something for everybody in your campaign. Personally – cool summer nights or chilly winter mornings you can find me in a Bonfire Crewneck."

– Raegan, Strategic Account Executive
Favorites From the Bonfire Product Catalog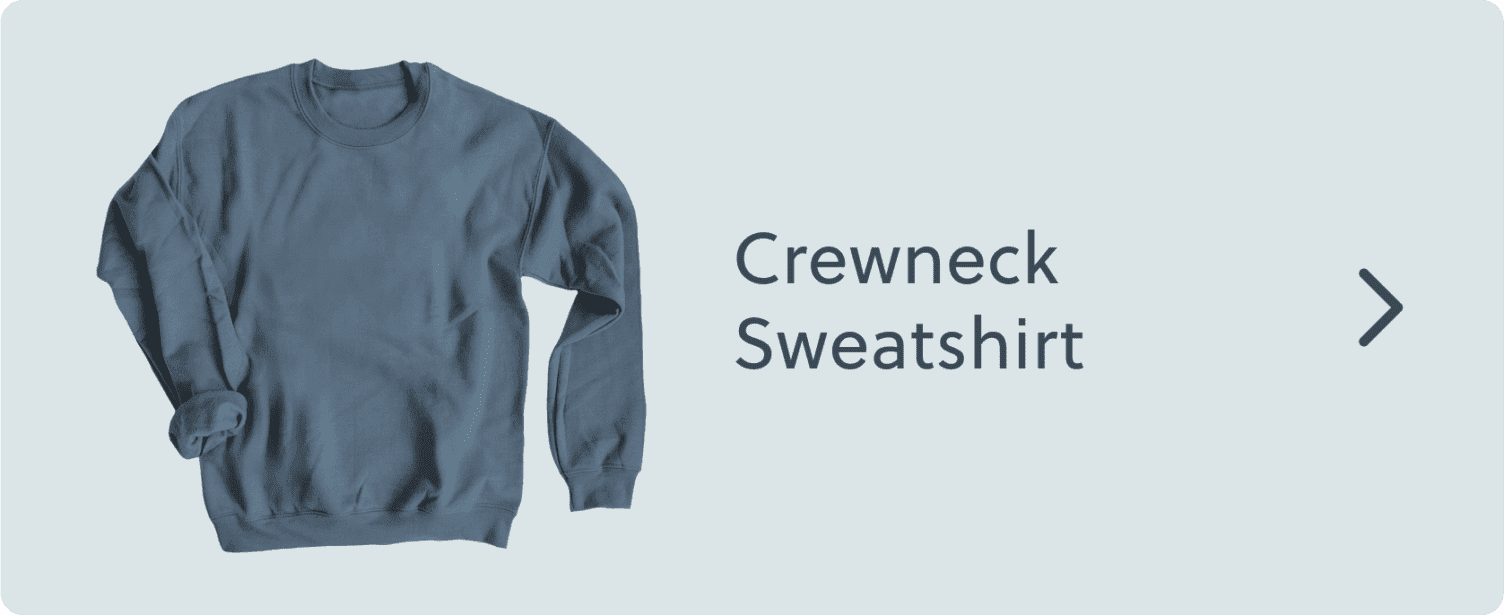 What Types of Fundraisers This Product Is a Good Fit For
Camping or Hiking Expeditions: Fundraisers that involve camping trips, hiking challenges, or outdoor adventures can utilize sweatshirts to provide participants with warm and functional attire. 
Winter Festivals and Holiday Events: Sweatshirts are a natural fit for winter-themed fundraisers or holiday events. Participants and attendees can wear customized sweatshirts featuring festive designs, spreading holiday cheer while supporting a good cause.
School or College Fundraisers: Sweatshirts can be popular among students, faculty, and alumni for school or college fundraising events. 
Outdoor Festivals and Fairs: Fundraisers held at outdoor festivals, fairs, or community gatherings can benefit from sweatshirts as merchandise. Attendees may be more inclined to purchase sweatshirts to support the cause while keeping themselves warm in cooler outdoor environments.
Design Tips
Focus on a central theme or message that represents your cause or organization effectively. A simple and clear design ensures that the message is easily recognizable and memorable.
Consider the placement of the design elements on the sweatshirt. Experiment with different sizes and proportions to find the right balance. Keep in mind that the design should be visible and recognizable when someone is wearing the sweatshirt.
4. Tote Bags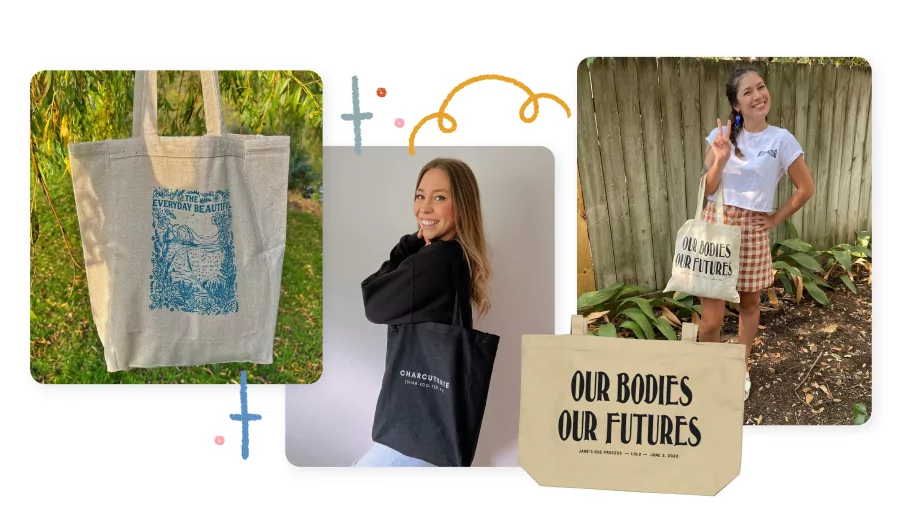 Tote bags are eco-friendly and offer incredible practicality and versatility. Your supporters can use them for carrying groceries, books, gym clothes, beach essentials, and a wide range of other items. Since they are so useful for daily life, your supporters will use their tote bag again and again.
Why We Like This Product for Fundraising Purposes
Tote bags are suitable for all ages and genders, making them an inclusive fundraising product.
Whether targeting students, professionals, or environmentally conscious individuals, tote bags can cater to diverse groups, expanding your potential customer base.
Tote bags offer a large surface area that can be customized with logos, slogans, or artwork related to your cause or event. This allows you to showcase your organization's branding or promote a specific message associated with your fundraising campaign.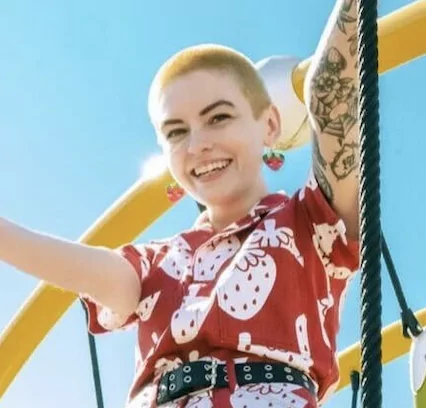 "I'm a fan of our Premium Tote Bag! It's versatile enough to use as my daily bag, and the canvas material is durable for hauling my stuff around town. I always encourage folks to fundraise with our totes because they're such a great way to spread the word about a cause every time someone uses it!" 
– Rose Harvey, Sales Manager – Emerging Accounts
Favorites From the Bonfire Product Catalog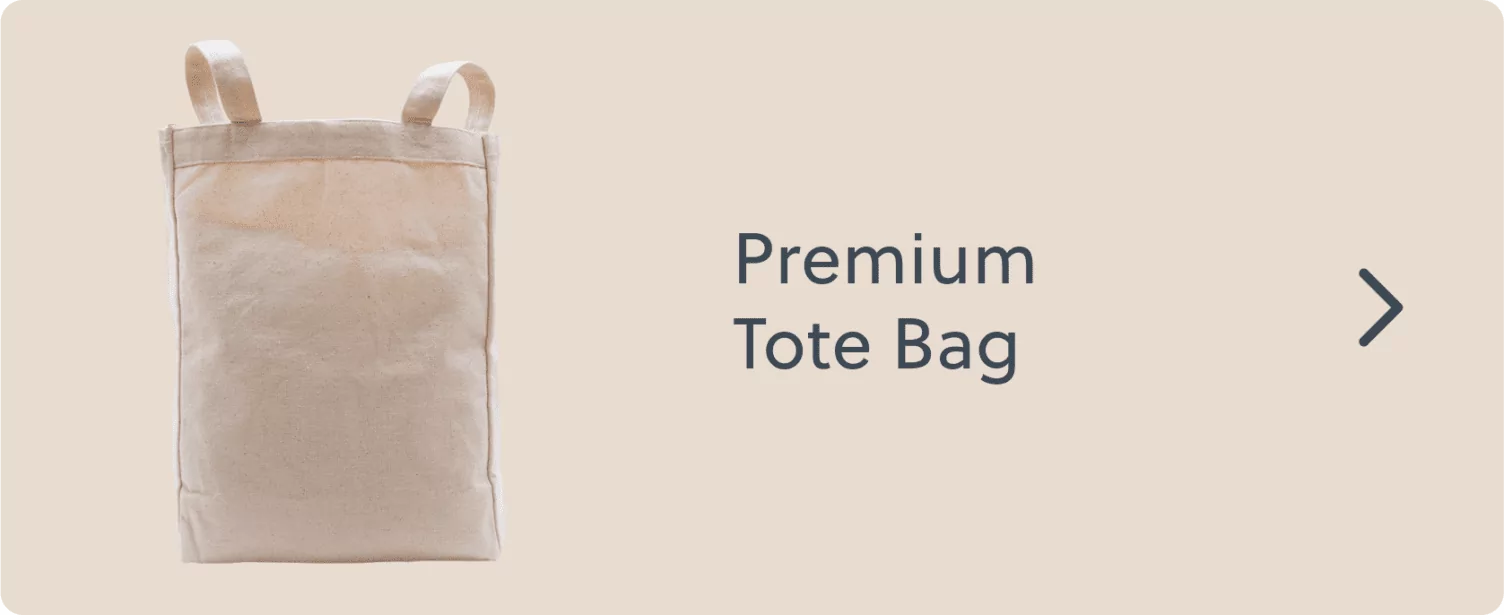 What Types of Fundraisers This Product Is a Good Fit For
Environmental and Sustainability Campaigns: Tote bags align well with environmental causes and sustainability initiatives. They can be used as an alternative to plastic bags, promoting eco-friendly habits and reducing single-use plastic waste.
Farmers Markets and Community Events: Tote bags are popular at farmers markets and community events where people often purchase fresh produce, handmade goods, or local products. 
Nonprofit Conferences and Workshops: Tote bags can be given to attendees at nonprofit conferences, workshops, or educational events. Participants can use the bags to carry event materials, notebooks, or promotional items.
Design Tips
Keep the design simple and uncluttered, focusing on a central theme or message that represents your cause or organization. Use bold and eye-catching colors to make the design stand out.
Include relevant and visually appealing graphics or artwork. Ensure that the design is appropriately sized to fit the bag and maintains its visual impact when the bag is in use.
5. Long Sleeve Tees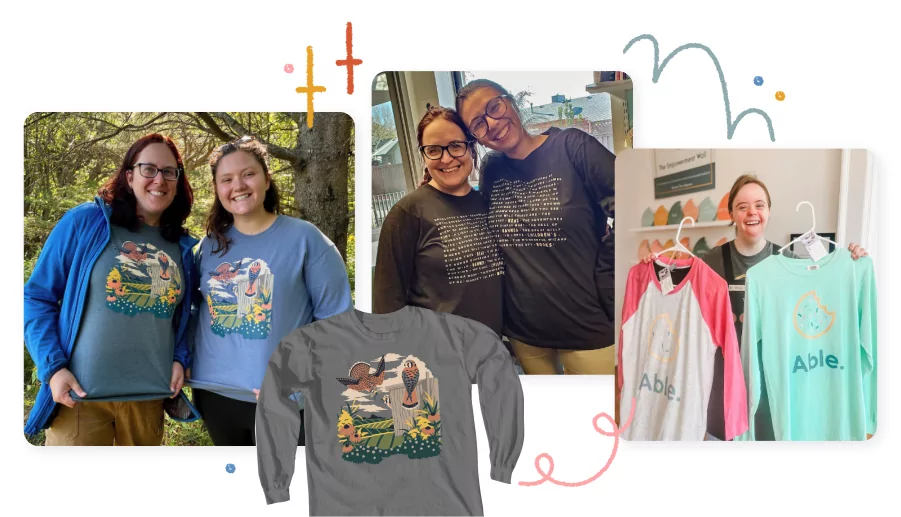 If you're searching for a clothing item that's great for multiple seasons, look no further than long sleeve tees. These versatile garments offer the perfect balance of warmth and coverage for cooler weather while still ensuring comfort and breathability. With their year-round appeal, long sleeve tees are an easy choice for supporters, boosting their potential for sales and popularity.
Why We Like This Product for Fundraising Purposes
Long sleeve tees offer added protection against the sun's rays and/or environmental elements. This makes them great for fundraisers that include outdoor activities.
It can be beneficial to offer a short sleeve and long sleeve option for your supporters to choose from. No matter their sleeve preference, they'll feel set up for success when they wear your merch. 
Long sleeve tees offer versatility beyond a specific event or season. They can be worn throughout the year, both indoors and outdoors. Whether it's layered under jackets in colder months or worn alone during milder weather, long sleeve tees have a longer shelf life compared to other seasonal merchandise items.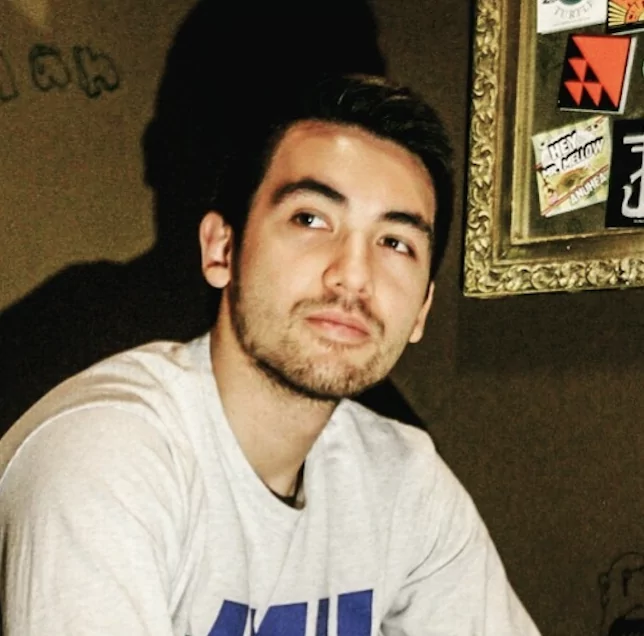 "I have a lot of different apparel items in my closet but my favorite one by far is the Comfort Colors Long Sleeve Tee. Just by the word " Comfort " in the name, you can tell that it's a very soft shirt and I love that it's 100% cotton. It's a heavyweight fit so not only does it feel good but it tends to be more durable. It comes in a lot of different colors and is not only popular amongst adults but also the younger community. I recommend going for a unique color like Seafoam, Island Reef or Blue Jean."

– Michael Chinen, Mid-Market Account Executive
Favorites From the Bonfire Product Catalog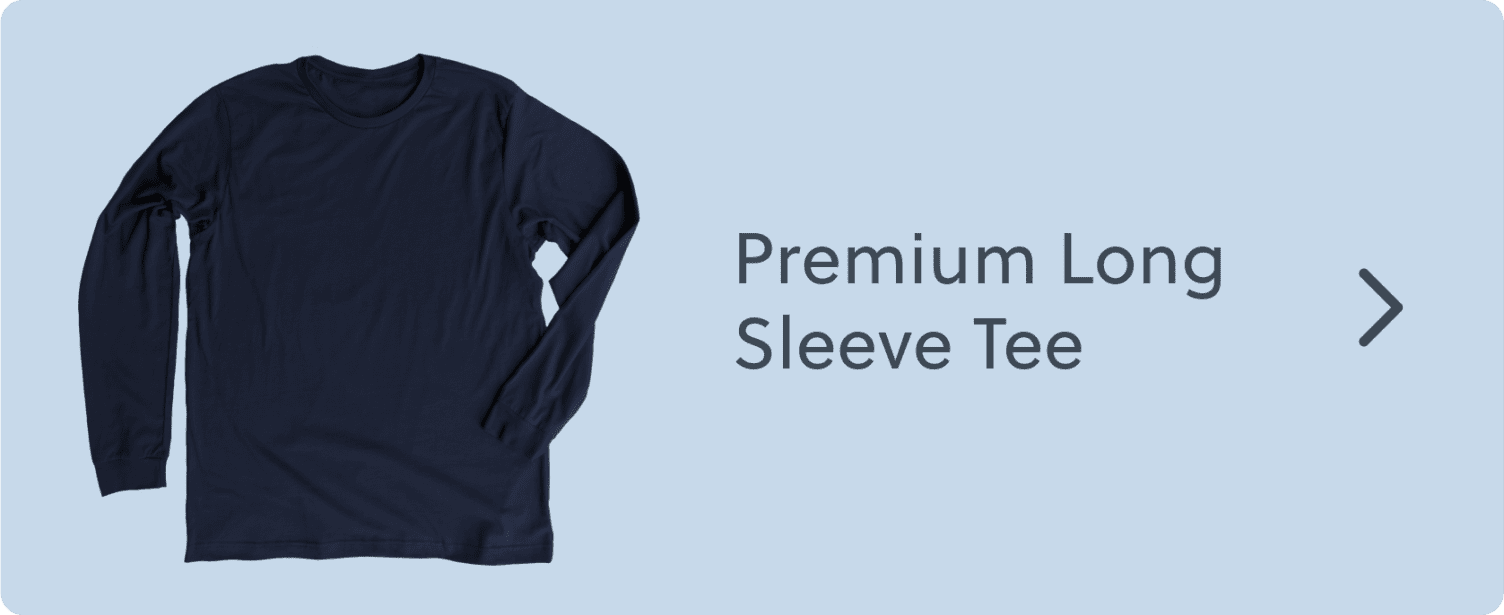 What Types of Fundraisers This Product Is a Good Fit For
Outdoor Adventures: Fundraisers that involve outdoor adventures such as hiking challenges, camping trips, or cycling events can benefit from long sleeve tees. Participants can wear the tees as a functional and practical clothing option to protect themselves from the elements while promoting the cause.
Volunteer Drives and Community Service Events: Long sleeve tees can be given as a token of appreciation to volunteers who contribute their time and effort to a cause. They serve as a tangible reminder of their participation and can help foster a sense of pride and belonging within the volunteer community.
Charity Walks/Runs: Long sleeve tees are perfect for charity walks or runs held during colder weather. Participants can wear the tees during the event to stay warm and comfortable.
Design Tips
When creating the design for your long sleeve tee, remember that you have space on the back to play with as well. Long sleeve tees look awesome with a small logo or image on the front off to one side and a large graphic on the back.
Use contrasting colors to make sure all of the design elements pop. Remember to pay attention to how the colors you choose for your design will look on the fabric of the long sleeve tees.
---
When it comes to achieving success in your fundraising efforts, choosing the right products to sell is crucial. By carefully considering factors such as practicality, target audience appeal, customization options, cost-effectiveness, and promotional opportunities, you can select products that resonate with your supporters and effectively contribute to your fundraising goals. Remember, the best products for fundraising not only generate funds but also create a sense of community, spread awareness, and leave a lasting impression on your supporters.
Launch your own apparel fundraiser.
Get started for free on Bonfire today.
Written by: Hayden Ireland / Content Specialist
Illustrated by: Madison Summers / Lead Marketing Designer