The holidays are here and we have an exciting announcement that is sure to make selling even more festive and fun this season – Bonfire sellers can now offer promo codes for their campaigns! This is a big deal and this release could not have come at a better time. Let's learn how to use promo codes on Bonfire so you can add some extra cheer to your shop this year!
What are Promo Codes and How Do They Work?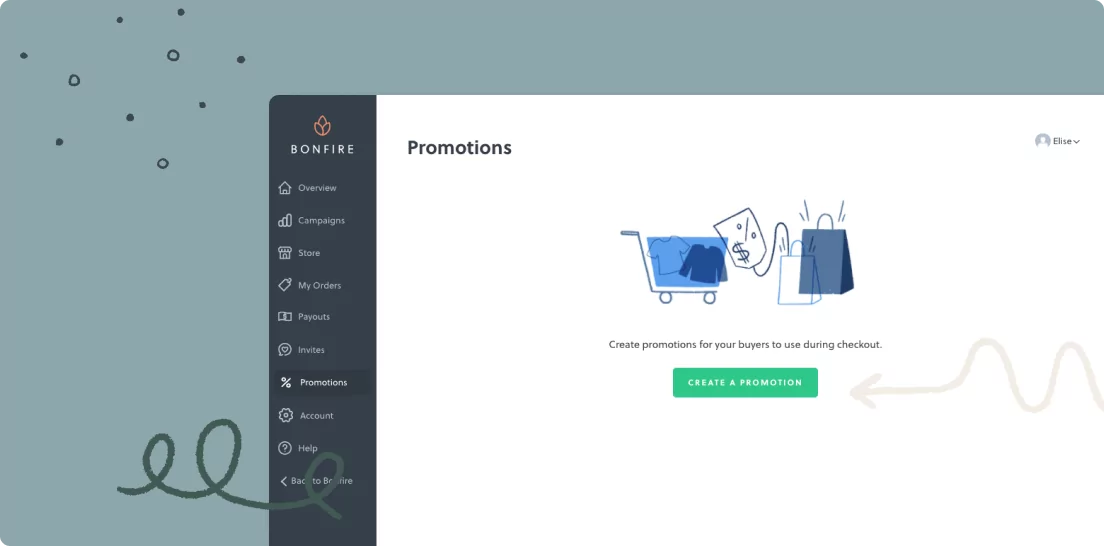 Promo codes are coupons or promotional discount codes created by you, the seller, that allow buyers to purchase items at a reduced cost when they type in the code during checkout. Sellers set their custom discount percentages for their promo codes and then Bonfire takes that discount off the purchase. Easy peasy!
How Do I Set Up Promo Codes?
Creating promo codes for your community is super easy. Navigate to the 'Promotions' tab in the left menu of your Dashboard. From there, click 'Create A Promotion' and start crafting your promotion.
When creating a promo code, it's important to come up with a set of words and numbers that go along with the type of promotion you're offering so it's easy for customers to remember. For example, if you were having a 15% discount for winter, you might choose something like ItsSnowJoke15 as your promo code. It doesn't have to be a pun, of course, but if you can make people smile – why not! You know your audience and your buyers best, and you know what they would appreciate when it comes to this type of thing, so use your best judgment and have a good time.
Once you have solidified the code itself and decided on the discount percentage, you'll be asked to choose a date on which this promo code will expire. This will be incredibly helpful if you want to offer this promo code to buyers for a limited time – perhaps until an upcoming event or holiday. Next, decide on the total number of uses for your promo code – either limited (where you set the number of usage times) or unlimited (where the promo code can be used infinite times).
Sellers can edit or cancel their promo codes at any time – however, it's important to note that any sales in which the promo code was used before it was canceled, will still go through with the discount applied. Also, only campaigns with high enough profit margins will qualify to use promotions – but don't worry, the system will alert sellers if this is the case.
When Should I Use Promo Codes?
Promo codes can be used at any time, but tend to attract the most buyers when used as an incentive to buy on the big calendar days of the season. Since we are at the start of the holidays there are lots of promo code-worthy days coming up! Black Friday, Small Business Saturday, and GivingTuesday are a few really good ones to choose from. Pick one or do a promo code for each! On Black Friday, Small Business Saturday, and GivingTuesday people will actively be looking for places to shop and will be thrilled to receive a discount. Offering promo codes to your buyers will help increase your sales and help build customer loyalty. Everybody loves a discount and buyers especially appreciate being given a discount during the holidays when every dollar counts.
---
We're super pumped about promo codes and we hope you are too! Don't wait – start using promo codes for your Bonfire store as soon as possible. 'Tis the season to up your sales revenue and show some appreciation to your buyers!

Written by: Hayden Ireland / Content Specialist
Illustrated by: Madison Summers / Lead Marketing Designer