We're excited to announce that Bonfire now offers Print on Demand Campaigns, a new and faster way to sell custom apparel to your community. This has been one of our most requested features from our community of sellers, and we couldn't be more excited to finally be able to make it happen.
Print on Demand Campaigns
Historically, orders from Campaigns have been printed and shipped in batches every 2-21 days. With Print on Demand, your orders will start being printed at the end of each day and will be shipped out immediately after. Other features and benefits of Print on Demand Campaigns on Bonfire include:
100% free to use
Products are printed & shipped faster
Buyers receive their order faster
Amazing customer support
Full access to our catalog of premium products
We manage the printing & shipping of orders
How to Start a Print On Demand Campaign 
In the second step of the Design Tool, choose to either print "In batches" or "On demand." Hover over the question mark icon for a quick reminder of the differences between printing in batches and printing on demand.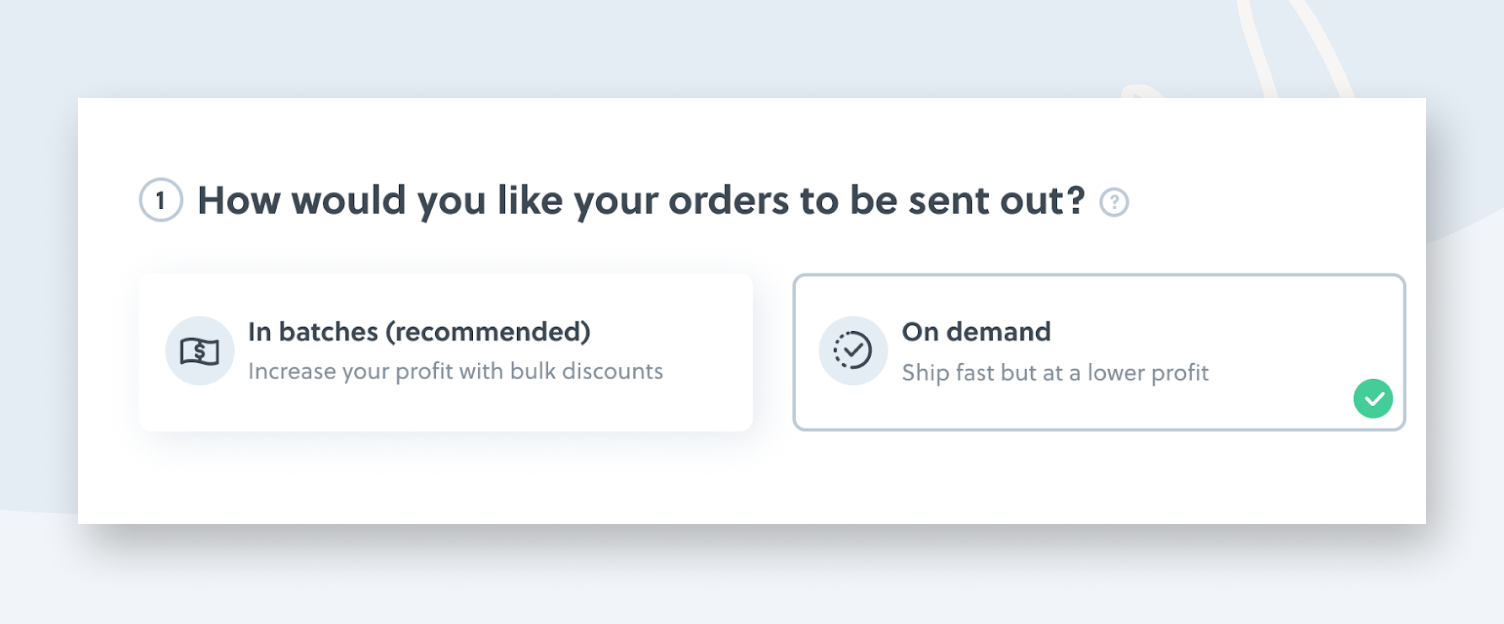 If you ever want to switch a Print on Demand Campaign to a Batch Campaign, or vice versa, all you have to do is:
Navigate to the Campaign section of your Dashboard.
Select the Campaign you would like to modify and click "Edit" from the menu.
Choose to either print "In batches" or "On demand."
What's the Difference Between Batch and Print on Demand Campaigns?
While products will be printed and shipped faster from Print on Demand Campaigns, your profits are going to be slightly lower compared to what you can make with Batch Campaigns.
Why Do Print on Demand Campaigns Have Lower Profits?
As you sell more products during a Campaign, your product's base cost goes down as it is cheaper to manufacture in higher quantities. Bonfire then passes these savings on to you in the form of higher profit margins.
With Print on Demand Campaigns, each batch lasts only 1 day and the base cost of your products resets to the default for a sales volume of 1 at the start of each new batch. In comparison, Batch Campaigns can last between 2-21 days, giving you more time to sell more products, reduce your base cost, and increase your profits.
What Type of Campaign is Right for Me?
If you're looking to maximize your profits or run a short-term promotion, then Batch Campaigns might be a better option for you. If you're looking to have an online store with sales coming in sporadically over the span of a few months or you want your shirts printed and shipped to buyers as soon as possible, then Print on Demand Campaigns could be what you're looking for.
---
If you have questions about Print on Demand campaigns, be sure to reach out to our Support Team, or, check out our Help Center articles to get a more in-depth look at everything we covered here.
Ready to launch your own print-on-demand campaign?

100% free

Faster printing

Faster shipping