If you're a creator looking to monetize your brand and expand your revenue streams, selling merch can be an excellent investment. With so many print-on-demand and dropshipping platforms out there these days, it can feel somewhat challenging to find the perfect platform for you. That's why we've compiled a list of 8 of the best merch websites for creators. 
In this post, we'll explore what makes each of these platforms stand out and help you find the one that's just right for your unique merch needs. Whether you're an influencer, artist, or business owner – keep reading to discover which merch website is best suited for you!
What's the difference between print-on-demand and dropshipping?

A dropshipping platform is an e-commerce solution that allows online stores to sell products without storing any inventory. The host platform partners with third-party wholesalers or manufacturers to fulfill orders as they come in and ship them directly to customers.

A print-on-demand platform offers the same features as a dropshipping platform, but also allows you to customize your products by uploading your own designs.
Bonfire
Who They Are
Bonfire is an online print-on-demand platform where creators can design, sell, and buy custom products.
What They Offer
A closer look at a few of our favorite Bonfire features.
If you are looking for a print-on-demand custom merch platform that's free-to-use, easy to set up, and offers high quality products to choose from – Bonfire is a great option for you! It's also an awesome platform to use if you are looking to set up a fundraiser for an organization or cause that you care about!
Printful
Who They Are
Printful is a print-on-demand platform, as well as a fulfillment company, that helps creators turn their ideas into custom products.
What They Offer
A closer look at a few of our favorite Printful features.
Printful is a good choice for creators who want to customize every aspect of their order fulfillment to match their brand. It's also great for creators who are interested in selling additional items alongside their custom merch.
Spring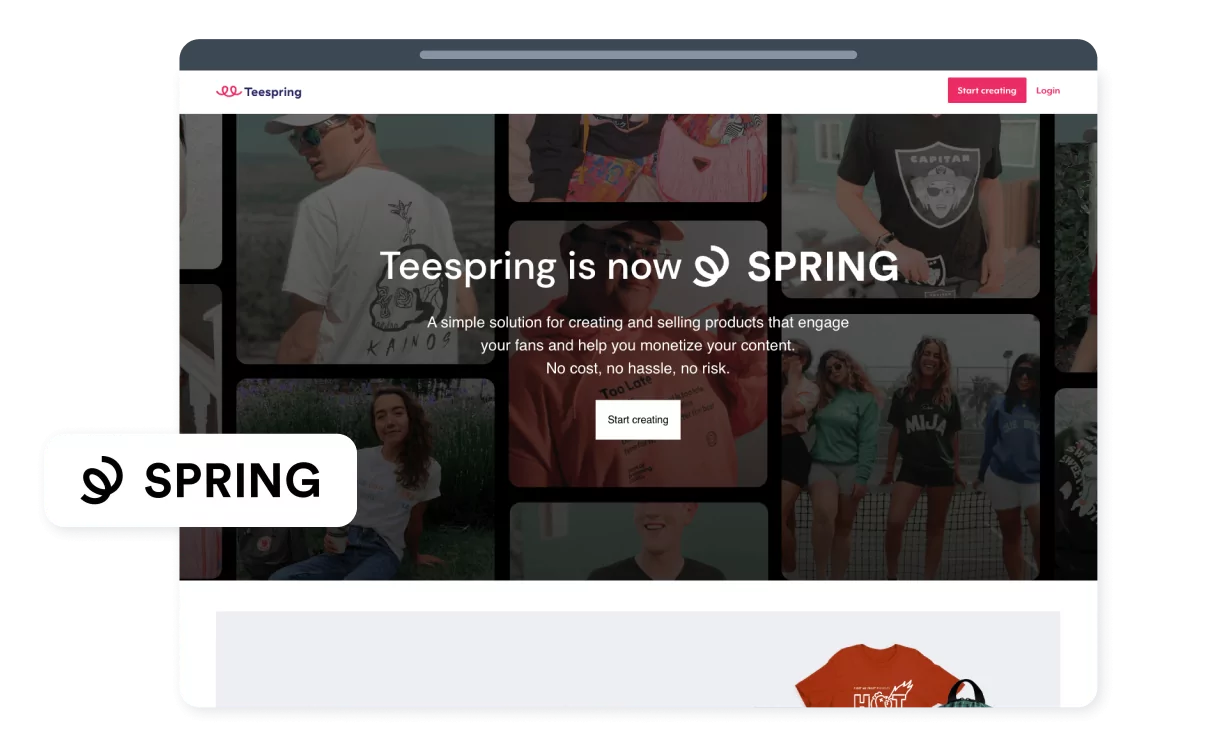 Who They Are
Spring (formerly Teespring) is a print-on-demand platform that allows creators to design and sell custom merchandise online without having to worry about storing any inventory.
What They Offer
A closer look at a few of our favorite Spring features.
No Upfront Costs or Inventory

Spring's platform is free-to-use, and there are no upfront costs required. They also handle order processing and fulfillment, making it an easy and efficient option for creators who want to sell merch online.

Marketing Tools

Spring offers a variety of marketing tools to help you promote and sell your products. You can create social media ads, email campaigns, and referral programs. These marketing tools come in handy when you don't have a lot of extra time to put towards marketing materials.

Analytics and Insights

Spring provides you with detailed analytics and insights about your sales and revenue. This data can be helpful when it comes to planning out your marketing strategy.

Integrations

You can integrate Spring with major ecommerce platforms like Shopify, WooCommerce, and BigCommerce. Integrations like these allow you to have control over how and where you sell your products. They also have integrations with Twitch, YouTube, OnlyFans, and PopUpShop.
Spring is the way to go for creators who want to offer a wide variety of custom merch options in their online store. It's also helpful for creators who already have an established presence on platforms like Twitch or OnlyFans.
Modalyst
Who They Are
Modalyst is a dropshipping platform that lets creators grow their brands and sell merch. Because Modalyst is a partner with AliExpress, creators on their platform have access to an extensive catalog of products.
What They Offer
A closer look at a few of our favorite Modalyst features.
No Upfront Costs or Inventory

If you're looking for a platform that doesn't require an initial investment, Modalyst is a great option. They don't charge any upfront costs, and they'll take care of the order processing and fulfillment for you.
The basic features of Modalyst are available to you free of charge. If you are interested in more features for your shop, you can upgrade your subscription with their various pricing plans.

Large Product Catalog

Modalyst has a large catalog of high-quality products and AliExpress items for your dropshipping website. They've also partnered with over 500 ecommerce distribution sites.

Official Dropshipping Partner of AliExpress

Modalyst dropshippers have access to millions of products available on Aliexpress.com. This is great if you're looking to offer super unique items in your store.

Integrations

Modalyst offers integrations for Wix, Shopify, and BigCommerce.

Pricing Plans

Modalyst offers various pricing plans with different features to meet your needs.

Hobby: $0/month
Start Up: $35/month
Pro: $90/month
For creators who are interested in expanding their e-commerce business over time, Modalyst is an excellent option because of their dropshipping partnerships, extensive product catalog, and optional upgrades within their platform.
Printy6
Who They Are
Printy6 is a print-on-demand platform that enables creators to design and sell custom products online.
What They Offer
A closer look at a few of our favorite Printy6 features.
No Upfront Costs or Inventory

When using Printy6, there aren't any upfront costs and you don't have to worry about storing inventory. Printy6 takes care of everything for you.

Rapid Delivery

A tracking number is usually available for orders within 2-4 business days and they guarantee quick delivery.

Integrations

Printy6 integrates with Shopify, Etsy, WooCommerce, BigCommerce, and Amazon. Seamless integrations make it easy for you to have full control over the experience of your buyers.

No Printing Restrictions

Printy6 can print as many colors as you want for your product designs. Some print-on-demand platforms have restrictions on the number of colors you can use for your designs so this could be a pretty exciting feature for you!

Customizable Brand Packaging

On Printy6, you're able to customize your packaging to match your brand. This includes, but is not limited to: washing labels, packaging boxes, packaging bags, etc.

International Shipping

Printy6 ships internationally to over 230 countries around the world. No matter where you want to ship your products – Printy6 can help you get them there!
Printy6 works well for creators who want to take their custom merch to the next level by printing designs with unlimited colors and personalizing their packaging.
Spreadshirt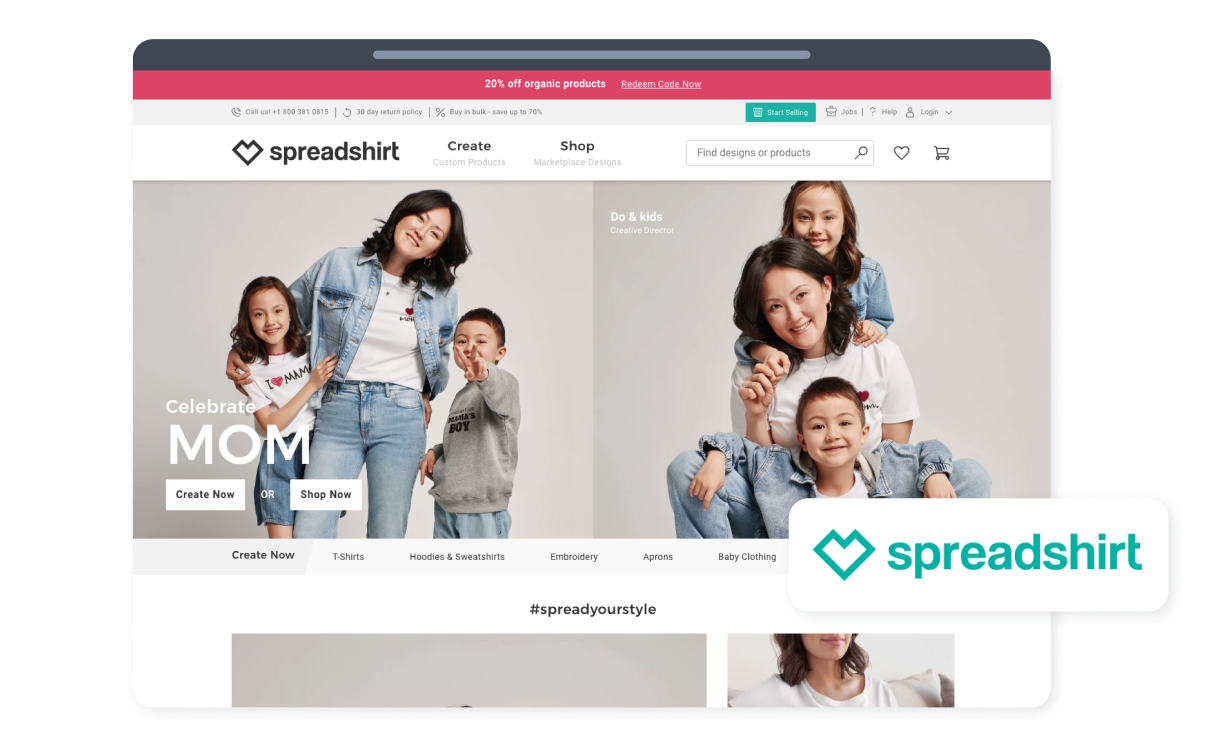 Who They Are
Spreadshirt is a German-based print-on-demand platform that allows users to create, design, and sell their own custom merchandise online.
What They Offer
A closer look at a few of our favorite Spreadshirt features.
No Upfront Costs or Inventory

There are no upfront costs when using Spreadshirt's platform. They also take care of all printing and shipping tasks.

Integrations

Spreadshirt integrates with major e-commerce platforms like Shopify, Etsy, and WooCommerce making it easy for you to sell your merch however you'd like!

Marketplace Options

There are two options to choose from when deciding where to sell your custom merch on Spreadshirt – Spreadshop or Spreadshirt Marketplace.

Spreadshop gives you full control over the appearance of your store and full control over the products you offer. Spreadshop also claims to offer the highest commissions in the industry.
Selling on Spreadshirt Marketplace lets you share your designs with 100K+ daily visitors. Spreadshirt Marketplace offers less control over store appearance and product lines, but since they handle all marketing for you, it could be a great option for creators who don't have a great amount of time to put toward marketing efforts.

Wholesale Orders

Spreadshirt makes it easy to order custom merch for groups or businesses by offering wholesale prices for bulk orders of 25+ items.

Fair Return Policy

If you have any issue with your order from Spreadshop, you have 30 days (from your original purchase date) to return it. They allow you to exchange your item for a new one, or you can exchange your item for a voucher that can be used towards your next purchase.
Spreadshirt is helpful for creators who are looking to make custom merch for their community and/or creators who are looking to make custom merch for a group, team, or small business – since they have wholesale options and discounts.
Redbubble
Who They Are
Redbubble is an Australian-based print-on-demand platform that gives independent artists a meaningful new way to sell their creations.
What They Offer
A closer look at a few of our favorite Redbubble features.
No Upfront Costs or Inventory

By choosing Redbubble's platform, you avoid upfront costs and have all your printing and shipping needs taken care of for you.

Marketing Tools

Redbubble offers marketing tools, such as promotions, advertising, and analytics to help you maximize your sales.

Design Community

Redbubble has a vibrant design community. Their platform is full of incredible custom designs for buyers to choose from.

Design Protection

Redbubble offers anti-piracy and watermark features to help protect your designs.
Choose Redbubble if you are a creator in search of a free-to-use, print-on-demand custom merch platform that's user-friendly, features a wide selection of quality products, and offers anti-theft protection for your designs.
Shopify
Who They Are
Shopify is a Canadian-based dropshipping platform that lets you start, grow, and manage a business. While you cannot design custom merch on Shopify, you can launch and run an all in one online store.
What They Offer
A closer look at a few of our favorite Shopify features.
Customization Options

Shopify offers a wide range of customization options, including themes and apps, that can help you create a unique online store that truly reflects your brand.

Website Building

Shopify provides a website builder that allows businesses to easily create and customize their own online stores.

Own Your Site Domain

You can use your own domain name with Shopify. If you have an existing domain name, you can connect it to Shopify from your store's admin. If you don't have a domain name yet, you can either buy one through Shopify or from a third-party provider.

Payment Options

Shopify integrates with over 100 payment gateways. This makes it easy for you to accept payments from buyers all over the world.

Shopify POS System

Shopify offers POS (point of sale) systems for brick-and-mortar retailers, allowing businesses to sell products both online and in-person.

Pricing Plans

You can try Shopify free for 14 days. After your trial ends, you can choose a pricing plan that best suits your needs. Each plan includes features that are customized to meet the needs of your business.

Basic Plan (most popular) – $39/month
Shopify Plan – $105/month
Advanced Plan – $399/month
Shopify is a go-to option for creators who aren't necessarily interested in creating custom merch, but who want to sell curated products in an online store.
---
Each of these 8 merch websites offer excellent options for creators looking to sell their designs online. Whether you are an independent designer, a small business owner, or an e-commerce store owner – there is a platform that can cater to your needs. So, take your pick and start monetizing your designs today!
Ready to start selling merch the easy way?
Design and sell premium custom merch for free on Bonfire.
Written by: Hayden Ireland / Content Specialist
Illustrated by: Madison Summers / Lead Marketing Designer