Emily Nicolaides upcycles T-shirt waste into an awesome wall hanging for the Bonfire HQ.
The Bonfire Campaign model is designed to minimize t-shirt waste by only printing t-shirts that are bought and paid for– no leftover inventory, and no boxes of t-shirts in the garbage. But sometimes shirts print incorrectly or are returned because of sizing issues. We typically collect these t-shirts and recycle them or donate them to a local nonprofit. But, recently we collaborated with local weaver Emily Nicolaides to create a beautiful 100% recycled t-shirt wall weaving for our office in Richmond, Virginia.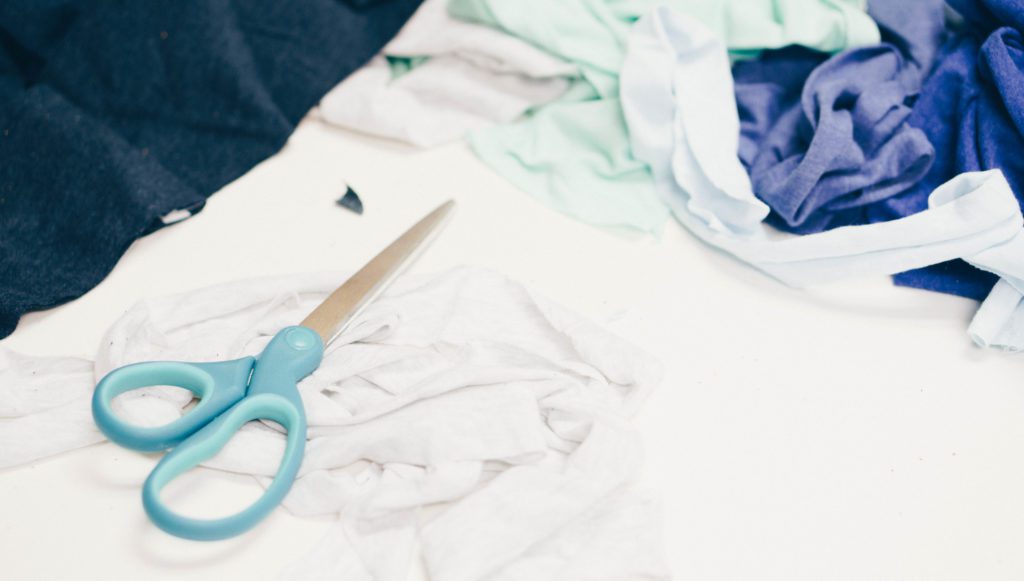 We started by cutting up t-shirts into long strips. Then, Emily began weaving the piece. She started from the bottom and wove for the rest of the workday right here in our HQ. Team members hopped in throughout the day to try their hand at weaving. By the end of the day, something really incredible was starting to take shape.
While Emily worked, we asked her a few questions about her creative process, and how she got into weaving. Keep reading for our interview with Emily.
How did you become interested in weaving?
I grew up with grandmothers who lived on opposite sides of the world but practiced similar fiber arts. My American grandmother taught me how to crochet, while my Cypriot grandmother taught me to knit. Then in college, while I was studying Women's Art History, I began to recognize my love for textile arts. Weaving became my focus when I realized that every culture has a tradition and a history of weaving. I was drawn to the inclusivity of the practice and knew that I had found my medium.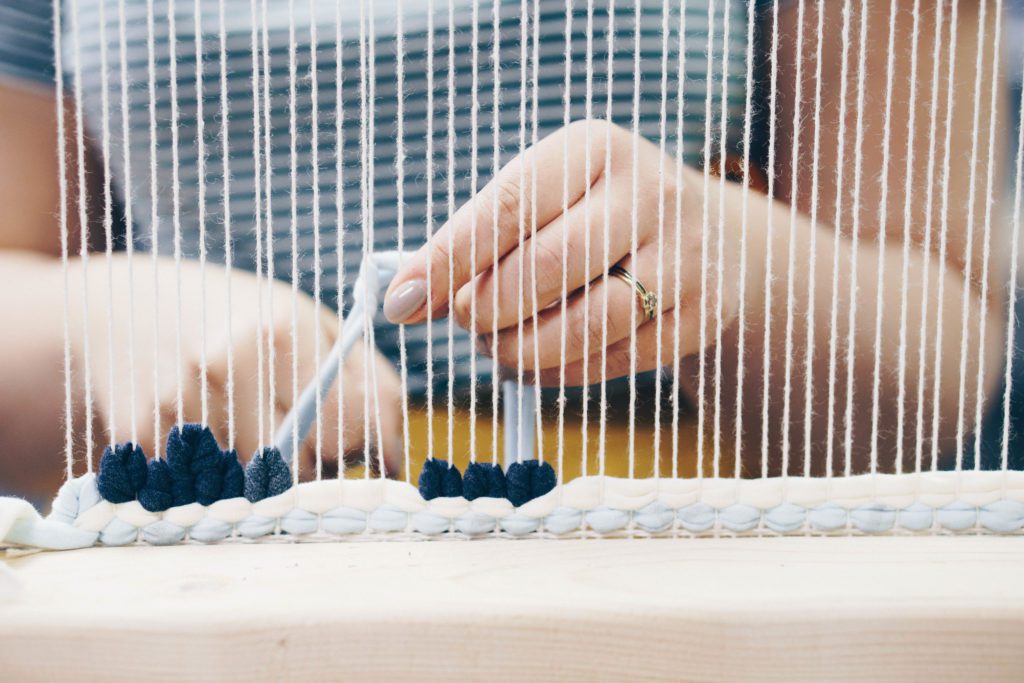 How has the evolution of weaving informed your work?
We are fortunate to live in a time where we don't have to rely on the laborious process of hand weaving to clothe ourselves and our families. This would not be the case were it not for the development of the Jacquard loom in the early 1800s, making the manufacturing of textiles cheaper and faster. This loom utilized a punch card system, which in the late 1800s was utilized for the earliest form of data storage by Herman Hollerith and the 1890 US Census. Hollerith's company later became IBM. This link between weaving and computer technology has been a major area of influence for why I continue to weave. I see my role as a weaver as an opportunity to show others this ancient process and how weaving is still relevant today.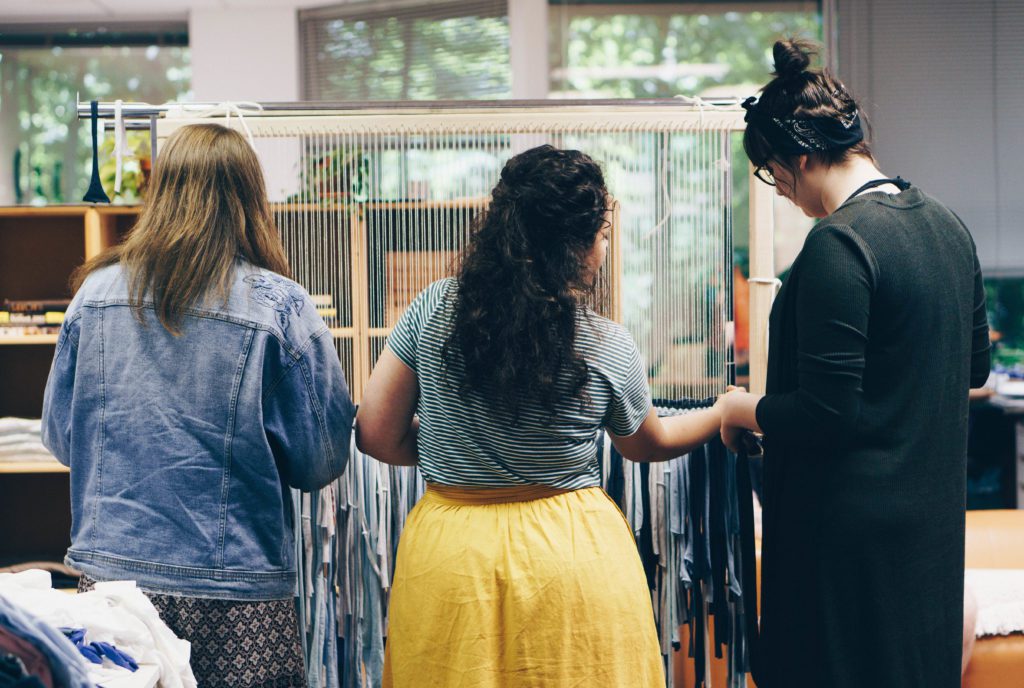 What ideas do you explore in your work?
I'm currently weaving a new body of work exploring my mental health. While creating art is a vulnerable practice in itself, this body of work is the most personal art I've ever made. It explores the ups and downs of mania, the emptiness of depression, and the journey of learning to manage symptoms. Weaving teaches the weaver so many important lessons about patience, contemplation, grit, and the power of community. This has had a profound impact on my life, including my mental health. The goal of this work is to bring comfort to those with similar experiences and insight to everyone else.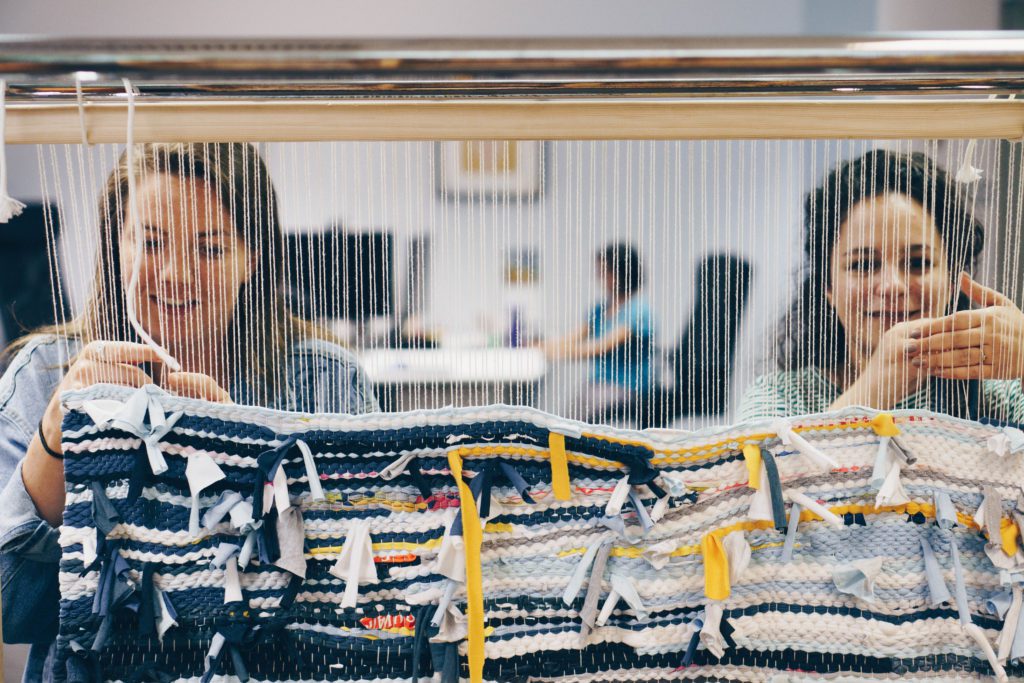 What got you interested in weaving with recycled materials? What makes working with recycled materials more challenging?
In my education of the history of cloth, I've learned a great deal about fast fashion. About how women and children around the world are not only underpaid for their work, but in danger because of these fast processes that drive prices down. After working in a popular retail chain, I stopped buying clothes for a year. Since then, I've only purchased clothing that is secondhand, handmade or made in a safe and sustainable way for both the environment and the hands that made the clothing. While I alone cannot change the state of our fashion industry with a handful of thoughtful purchases, I feel a conviction because of my profession to do my part and be a voice for change in my community. This leads to how and what I choose to weave with.
I love the challenge of working with found materials. Sometimes I purchase yarn from thrift stores or secondhand craft stores. Sometimes friends bring me boxes of electrical wiring, clothing beyond repair or picture frames. The challenge is that different materials respond differently when woven. Copper wire, for example, takes up more room than jute of equal width. This creates a much looser structure, that while impractical for a utilitarian piece, looks beautiful in a wall hanging. I treat materials as my palette and love to watch what happens when weaving with recycled materials.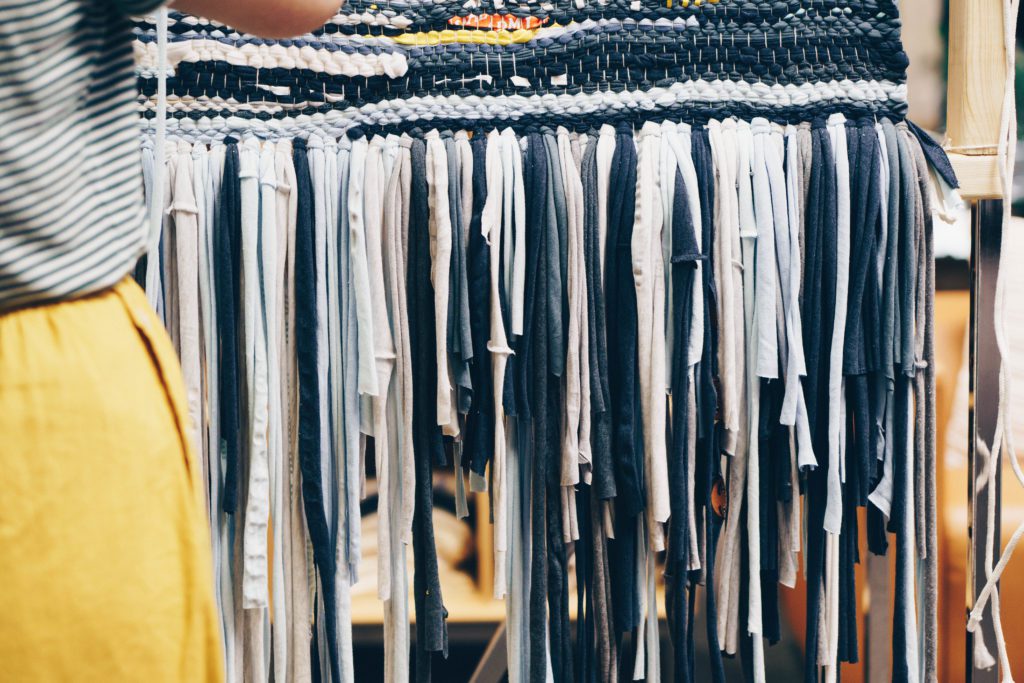 Describe your workspace: Messy or organized? What do you surround yourself with to inspire you?
Personally, I would describe my studio as organized, but the untrained eye might call it messy. I have a giant built-in table with tons of storage. It's covered in piles of rope, unfinished projects, and weaving tools. My walls are covered in finished and unfinished projects, parts of things that could be something, and empty looms waiting for their next assignment. There are bookshelves filled with yarn, organized by color. There are baskets filled with scraps of fabric and bits of whatever. I share my studio with other artists including illustrator and printer Emily Delahunty of Morris & Norris, contemporary jeweler Caitie Sellers, and painter Kevin Sabo. My studio mates constantly inspire me. I'm a very competitive person, so when I see them creating beautiful work, it motivates me to do the same. I'm surrounded by boss babes and art. It's the best studio I've ever worked in.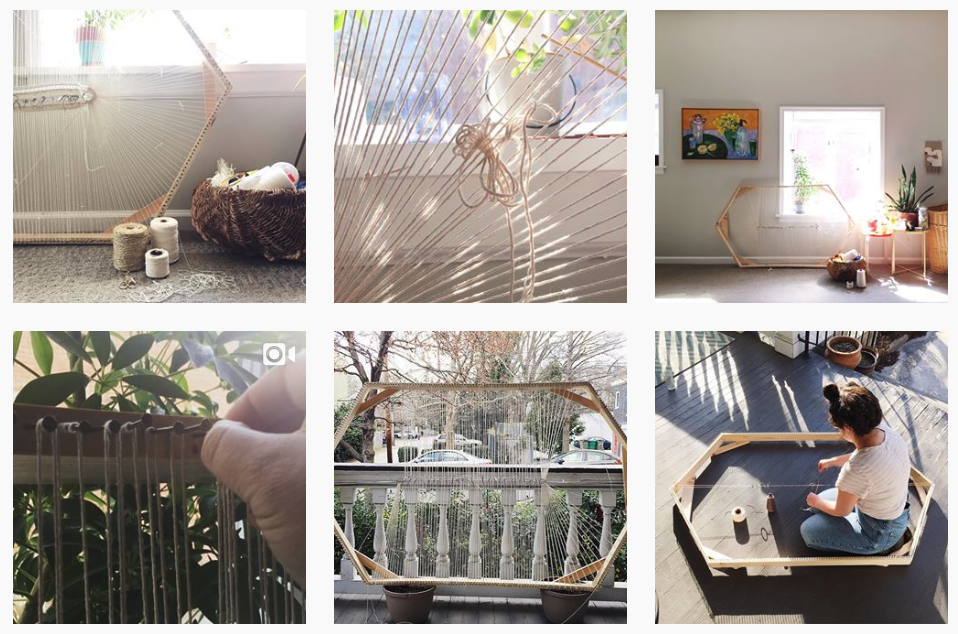 Do you have any creative rituals/ things you do to feel inspired?
I have a creative practice I call Make 30 Minutes, that I go to when I feel out of ideas or like I don't have time to make what I want. Make 30 Minutes started a couple years ago when I was working multiple jobs, seven days a week. I felt like I wasn't accomplishing anything in my creative life and had an empty loom in my bedroom crying to be warped. So I started waking up early or going to bed later, to make time to weave. After six months, I finished a three-by-six-foot tapestry and it serves as a reminder that there's always time for the things that bring me life.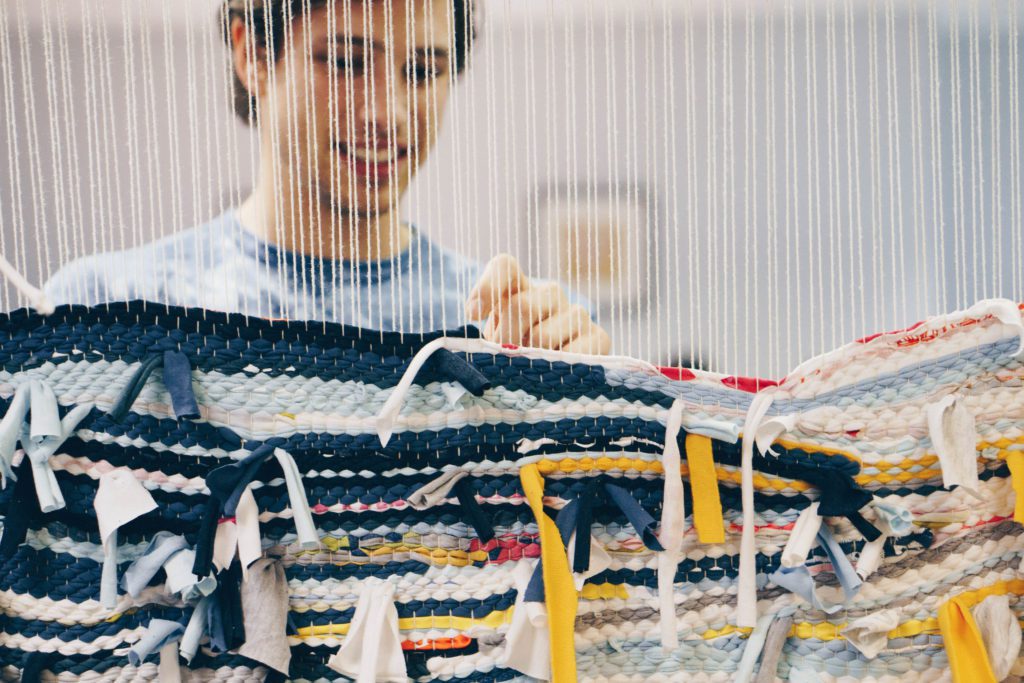 Talk about what it was like to work with T-shirts… what made it interesting?
I loved weaving with T-shirts! My favorite part was utilizing the prints on the shirts to bring other colors and textures into the piece. There are so many fantastic pops of pinks and yellows that balance the cool muted tones of the predominant colors in the piece that I wove with the Bonfire team. There is this fantastic part where three sets of eyes peer out from the mass of fringe along the bottom. You have to look closely to see them but it's a serendipitous moment where the print of a T-shirt elevates the entire piece.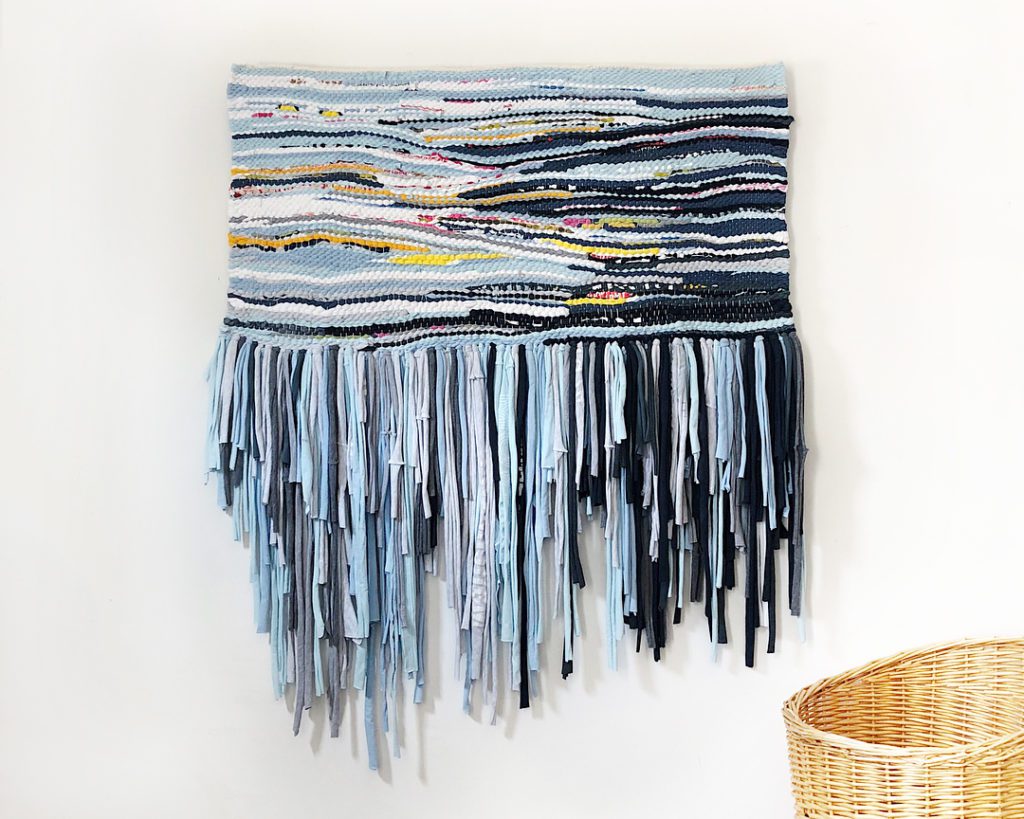 You mentioned you listen to podcasts while you work… any great listens lately?
I love so many podcasts from comedy to politics to technology. My tried and true go-to podcasts are 2 Dope Queens, Weave, The Daily, Typology, and StartUp. Most recently I'm loving local podcast Southern Nightmare and Jen Gotch is OK…Sometimes.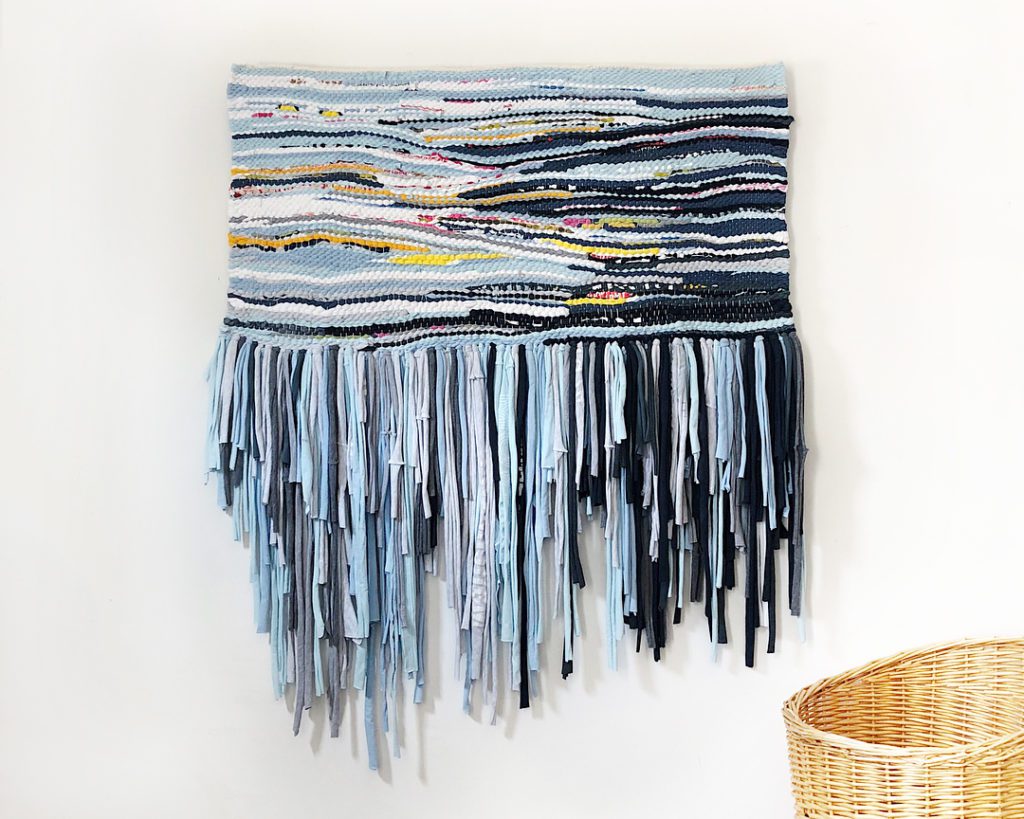 ---
To learn more about Emily Nicolaides, you can check out her website or follow along on Instagram. If you're local to the Richmond, Virginia area, keep an eye on her Instagram for workshop opportunities!
Have an idea of something else we could create with our t-shirt waste? Let us know!

Want to read more interviews like this one?
Bonfire Stories is a place for our users to tell their story
and how Bonfire has helped them along the way.