There's a recent trend in health and wellness popping up from coast to coast: boutique workout studios. These creative fitness classes can cost more than a pair of yoga pants, which limits access to the very few who can afford the price tag. Class for a Cause is a movement to alter the culture of the boutique workout class. The hope of founders, Kim Bielak (NYC) and Bre Vergess (LA) is to draw attention to the lack of fitness education access in most communities around the world. When not working at their full-time jobs, Kim and Bre are growing Class for a Cause and National Fitness Day to have a year-round impact on health and wellness in underserved communities and boutique workout studios alike.
Continue reading for our interview with Kim Bielak, Co-Founder of Class for a Cause, as we learn how she's working to make health and wellness accessible to everyone.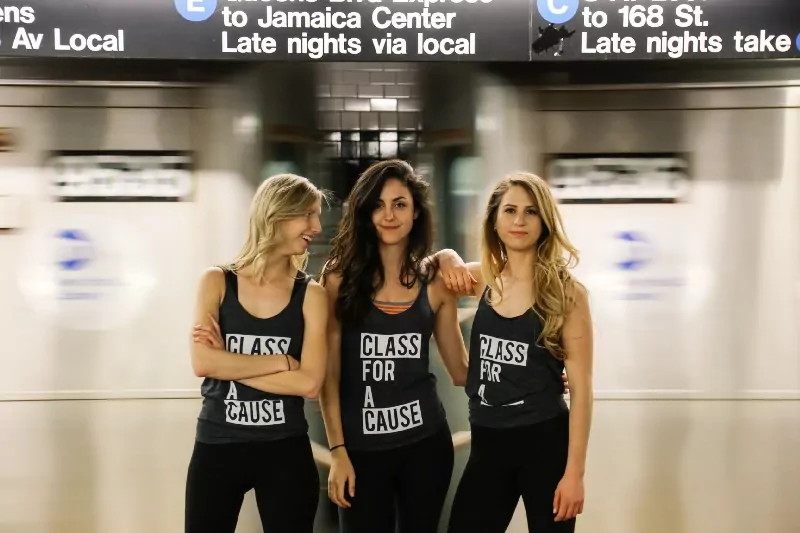 Tell us a little bit more about you, Class for a Cause, and who makes up the team.
I'm a pretty average California transplant in New York, but I'm also a dancer and noticed a trend when almost all my friends from my former dance years were going into fitness, so I'm lucky to have a network of a lot of passionate girls rallying their friends and helping in different ways.
The rest of the core team came together through some of my closest friends to whom the cause just spoke to. My co-founder Bre is based back in LA where we're from, and was actually my inspiration to start running in the first place. My friends Wendy, Kelsey, and Natalie have also been vital in hustling and connecting us to some really pivotal partners. Everyone came together really organically with something different to offer. It's crazy how all the pieces seem to just fall together.
What made you want to start this movement?
The idea for Class for a Cause actually came out of a trip to Colombia I took last summer. I remember the moment journaling on a long layover, reflecting on the stark contrast between the neighborhood one of my good friends lives in that was just getting its first gym, with the neighborhood the tourists go to that felt like a mini Santa Monica, flush with green juice and fancy coffee bars. I realized this wasn't just a phenomenon in another country, but also in my backyard, in the divide between Manhattan and the Bronx, or any other metro being filled with boutique fitness studios and juice bars. I am such a strong believer in the today's trends in health and wellness to have a positive impact on society, but I wanted a way that people could both do good for themselves and expand the reach of this impact outside their immediate community at the same time. The rest is history!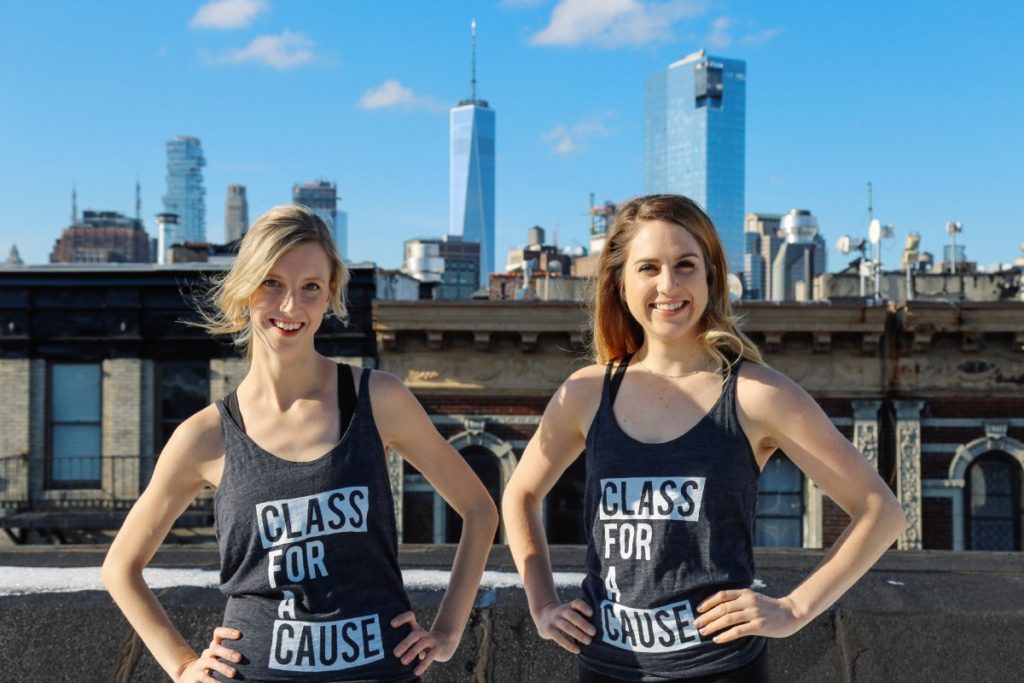 What is National Fitness Day? Did you create it?
We actually did start National Fitness Day! We were just looking for a relevant day on which to host our first Class for a Cause event, and we absolutely could not believe it when after some ferocious Googling we could not find an overarching National Fitness Day in the US yet! Because we so strongly believe in the power of fitness to change lives, we decided to put a stake in the ground and declare one day to celebrate strength and empowerment through it. I mean, how cool would it be to have everyone across the country working out on the same day? Our goal is to fill the streets with runners and the studios with friends.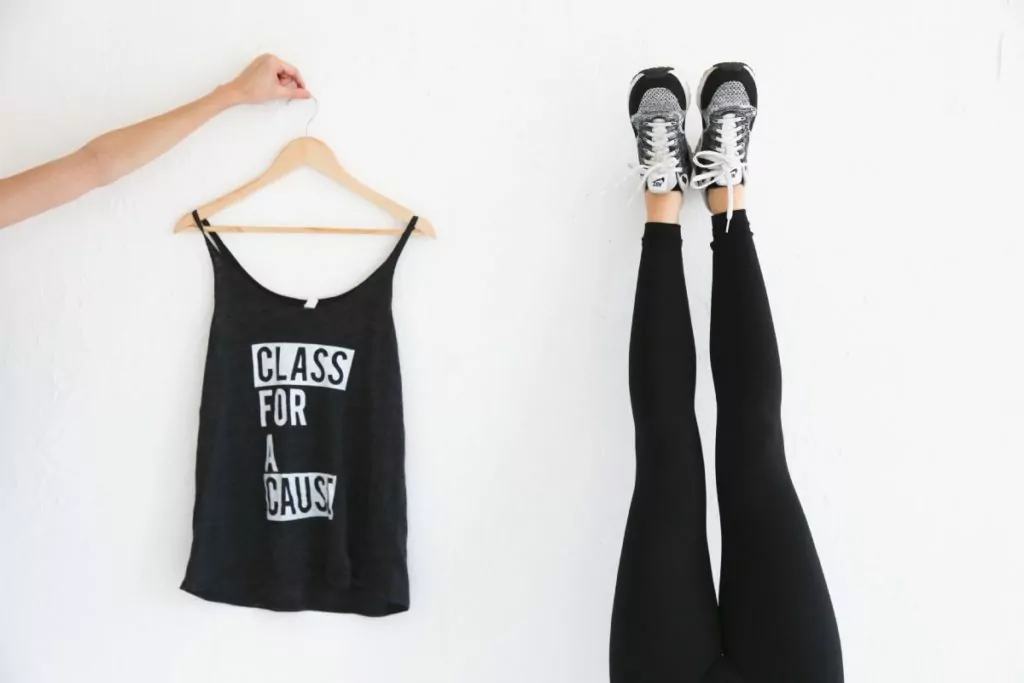 You are donating 100% of the proceeds of this first Class for a Cause event to Girls on the Run International (GOTR). How did you learn about this organization, and what made you choose to partner with them?
Around the same time that I was searching for a cause to put our first year's efforts toward, a few different friends brought up Girls on the Run, and their mission resonated instantly. I mentioned above that I was not previously a runner, and in fact was one of those people who was adamant I never would be. But when I signed up for my first half marathon and forced myself to do it more than 3 times, I started to physically watch myself get better run by run, and the confidence and empowerment that comes alongside that is just unbeatable. I knew that this was the idea Girls on the Run was founded around, and we are so excited to be able to raise money to make a difference and support more girls going through the program.
Are you involved with the local Girls On The Run chapter?
Absolutely, and it is truly one of the highlights of my time in New York. Right now, I'm on the events team helping plan for their Sneaker Soirée fundraiser in April and the girls' 5K in June and hope to eventually be able to become a coach to have a more 1:1 impact. It's also been a great community to tap into with other like-minded girls who are passionate about supporting each other and making a difference.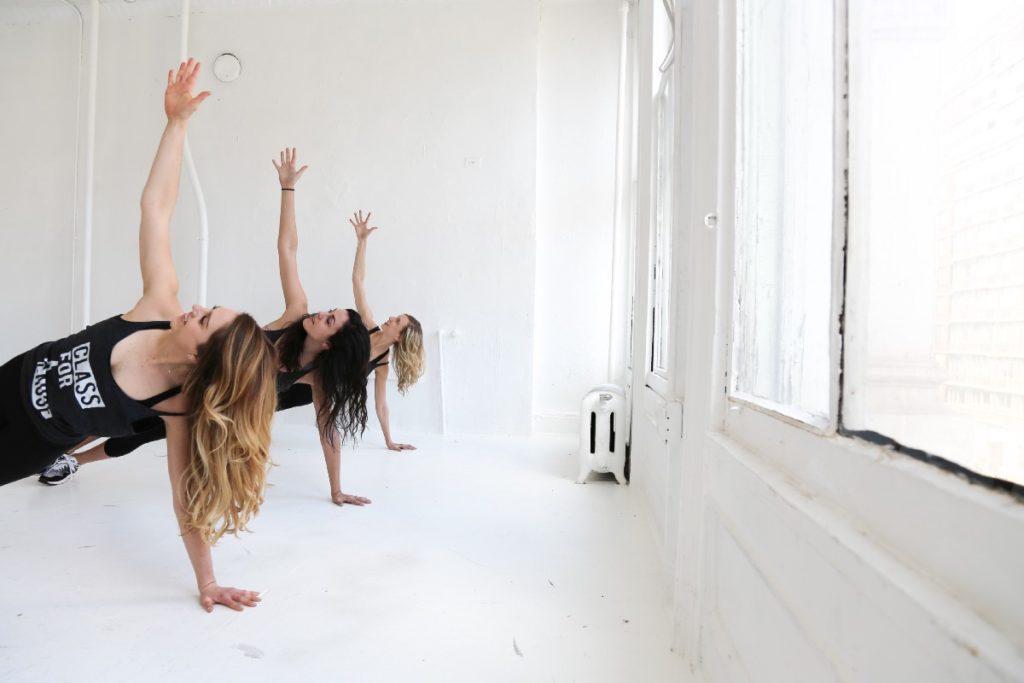 What will you be doing on National Fitness Day? How are you celebrating?
I'm aiming to join a different workout happening in the city every hour, on the hour. But for now we're working on finalizing details of a special Class for a Cause-hosted workout in the morning, and then organizing my coworkers for a spin class together after work. Some celebratory drinks (or smoothies) will also be in order after.
What's next for Class for a Cause?
It's amazing the type of organic interest we've had that we never would have expected. While the idea originally began as a one-day event, we're going to look at ways we can actually leverage the brand to make an impact year-round, whether it's continuing to sell shirts or partnering with more studios to host more charitable events. Much more to come, so be on the lookout and follow us at @classforacause to stay up to date!
---
If you would like to get involved in the Class for a Cause movement, you can check out their Premium Slouchy Tank for sale here until May 10th. They've raised over $3,400 so far. All proceeds are going to Girls on the Run International.
And on May 10th, celebrate National Fitness Day by wearing your new tank to your usual Fitness class or other exercise activity!

Want to read more interviews like this one?
Bonfire Stories is a place for our users to tell their story
and how Bonfire has helped them along the way.