If you are interested in creating a shirt, but aren't necessarily interested in doing the design work yourself or hiring our design team to customize a shirt for you – don't worry, Bonfire has got you covered! You don't need a design background or even any design software. Our talented team of designers has created over 800 free design templates for you to customize! 
Benefits of Using Templates
There are so many benefits to using one of our templates to get started with your design. 
If you don't have the time or resources to work with a designer, templates can help you create an awesome shirt on your own – quickly and for free!
All of our designs can be altered to match your aesthetic and meet your needs. You can change the colors, fonts, icons, and more. 
Templates are organized into 19 top-level categories, with new designs being added to the library all the time. Finding the perfect design for you will be a breeze. 
Ready to get started using templates? Let's do this!
How Do I Find Templates?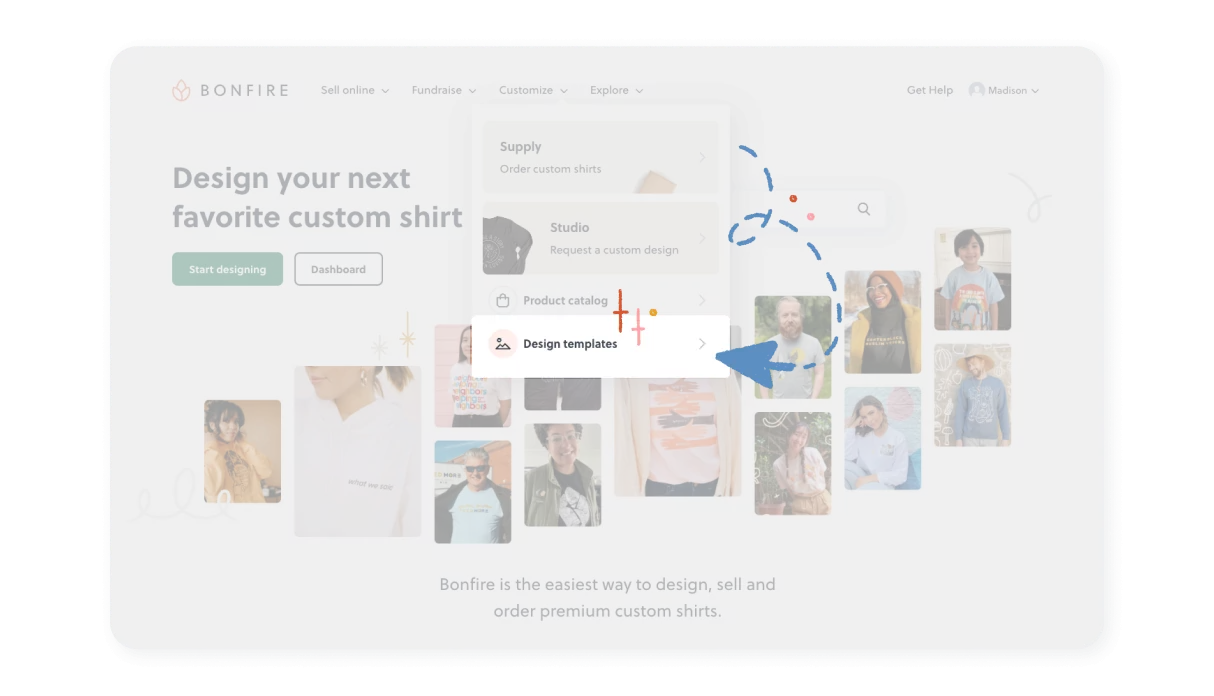 You can access our templates library directly from our homepage! 
Once you're on our main templates page, spend some time scrolling through to get a feel for the different design templates we offer. Do any catch your eye? Be sure to take note of those as you browse.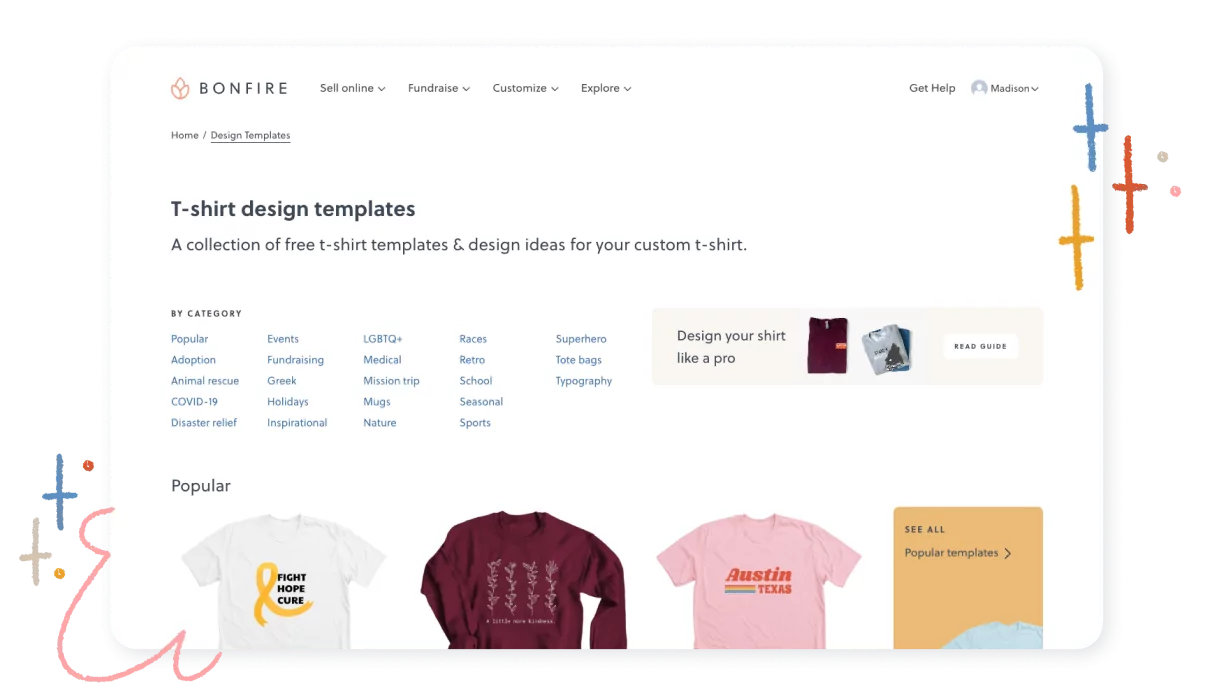 Choosing a Template that Works for You
Alright, now it's time to select a template and start making it your own! We've grouped our templates into 19 top-level categories to make this part easier for you. 
Here are a few of our top design template categories: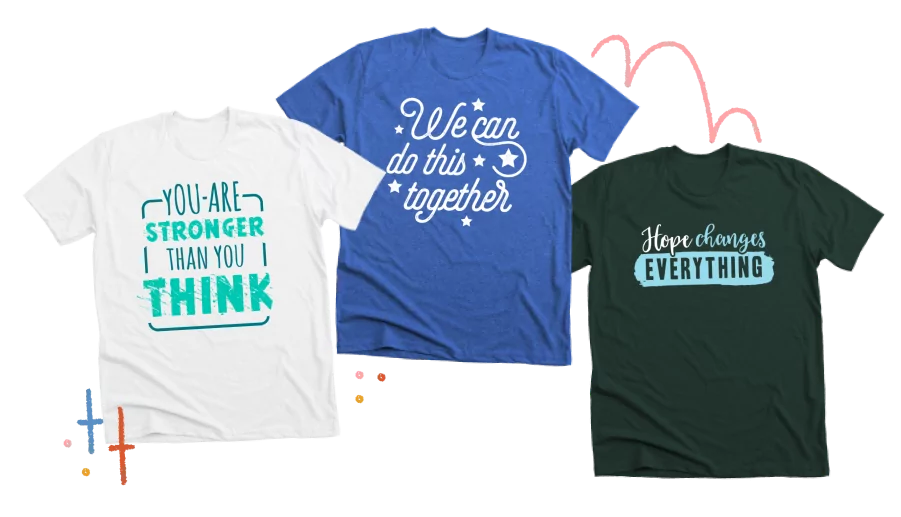 If you are looking to create a shirt to fundraise for an event, cause, or organization – this category is for you! 
Many of the templates in this category feature clear, bold text paired with recognizable imagery. These designs are sure to carry out your message and bring attention to your cause.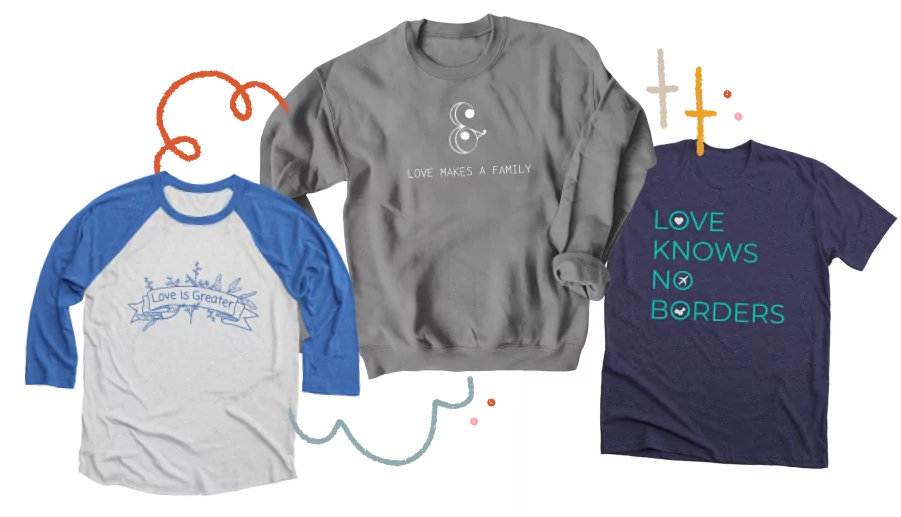 These designs will help you create a shirt to help fund your adoption fundraising journey.
Positive messages and hopeful imagery set designs in this category apart. These designs are warm, inviting, and will inspire conversation, connection, and awareness.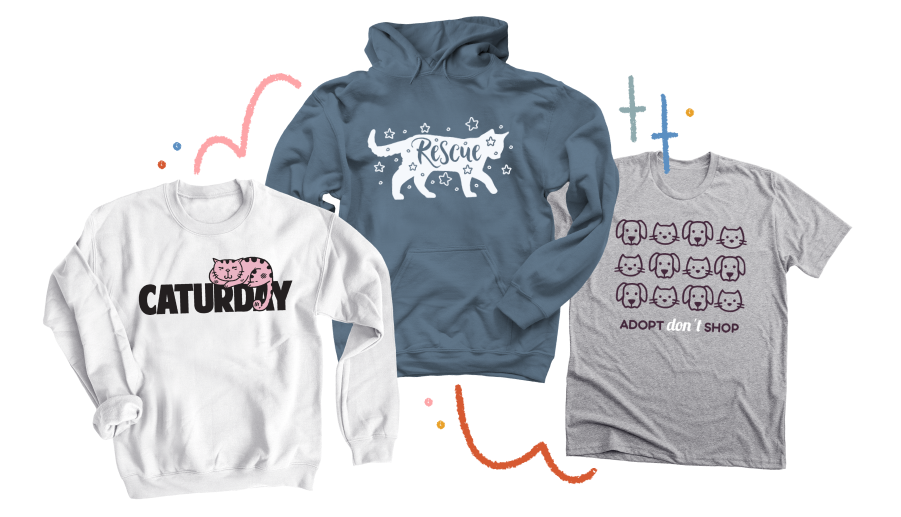 Looking to raise money to support a specific animal rescue organization or advocate for pet adoption and rescue? This category has just what you need!
With bright colors featuring animal illustrations and symbols, these designs are playful and fun – just like your animal friends! 
Choose a category you'd like to browse and select 'See All' to view even more template options. Pay attention to which design you connect with and feel drawn to. Once you've decided on a design you like, go ahead and click on it to begin customizing!
How to Customize Your Template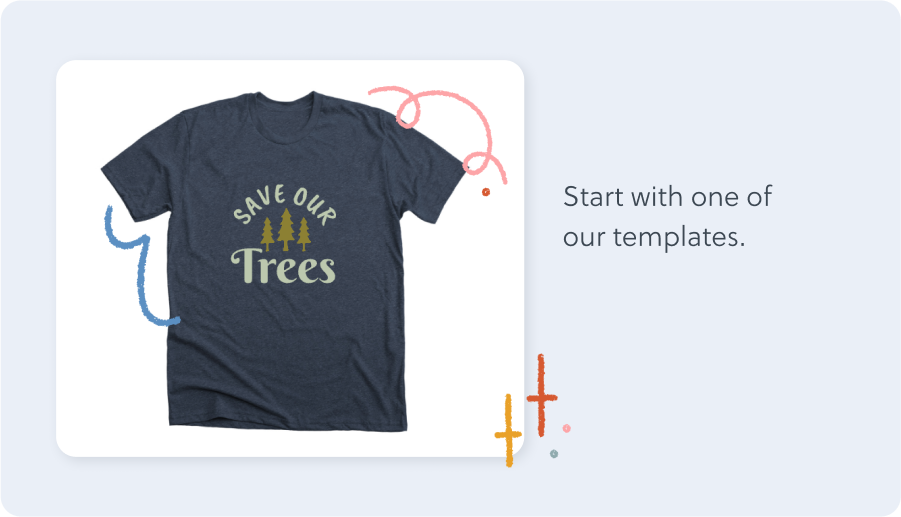 Once you're in the design tool, you'll see a mock-up of a shirt with the design you selected. We've included some handy tools to help you customize your template. How much or how little you edit is entirely up to you! Each editing tool is user-friendly and guides you through the process.
Fonts and Text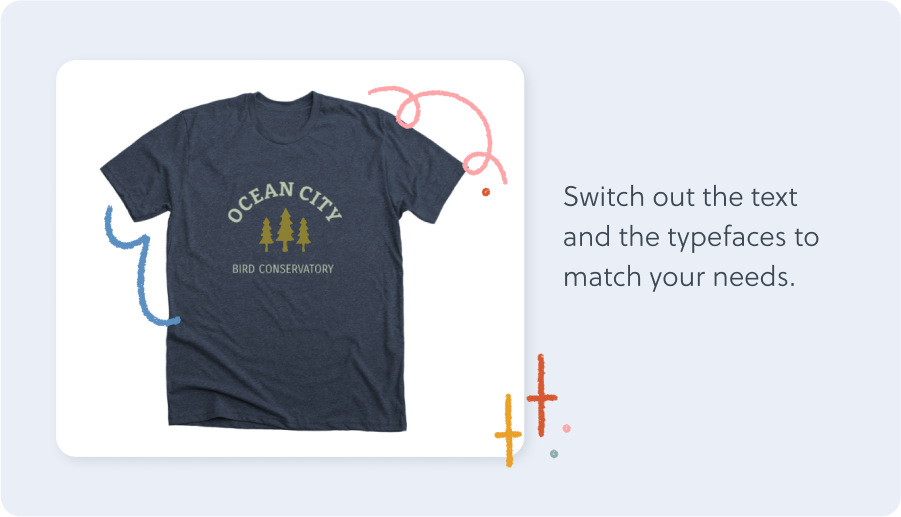 We have an incredible font library for you to choose from! Your font choice is one of the first things people will notice about your shirt design. It's important to choose a font that pairs well with your message and stands out. Try different fonts and see how each one changes your overall design. 
Imagery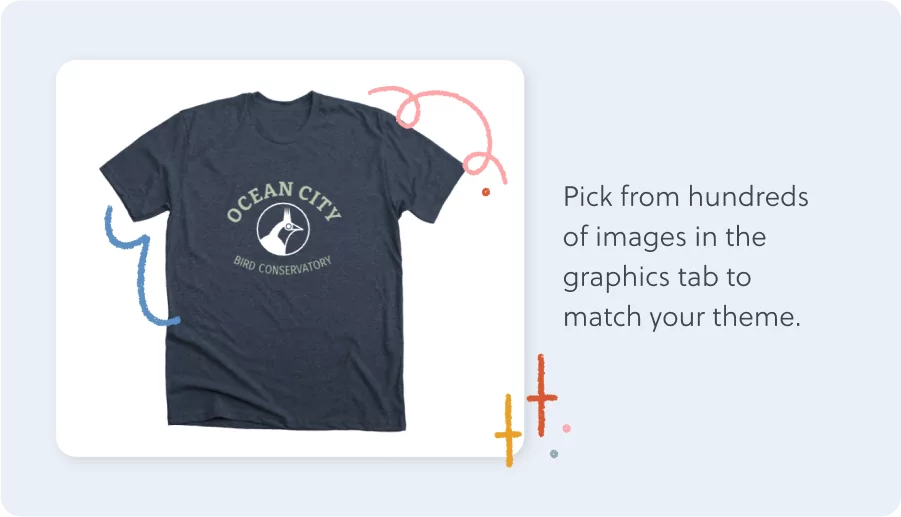 Our extensive clip art gallery is full of beautiful images you can add to your design! Images can help reinforce your message and add some extra flair.
Ink Colors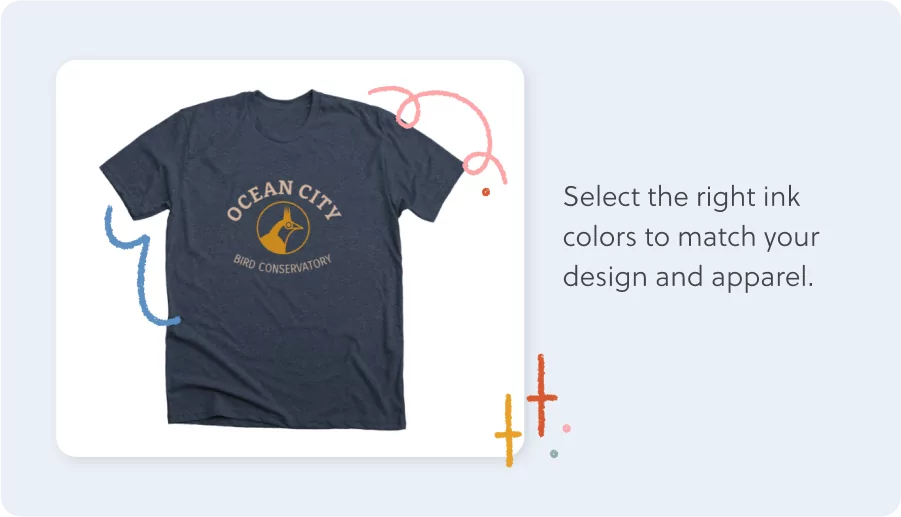 Choosing your own ink colors can help make your design POP! When customizing your ink colors, be sure to think about and pay attention to what ink colors look best with your selected product colors. Using light-colored design elements on dark-colored products (or vice versa) creates eye-catching contrast that always works well! 
Finishing Touches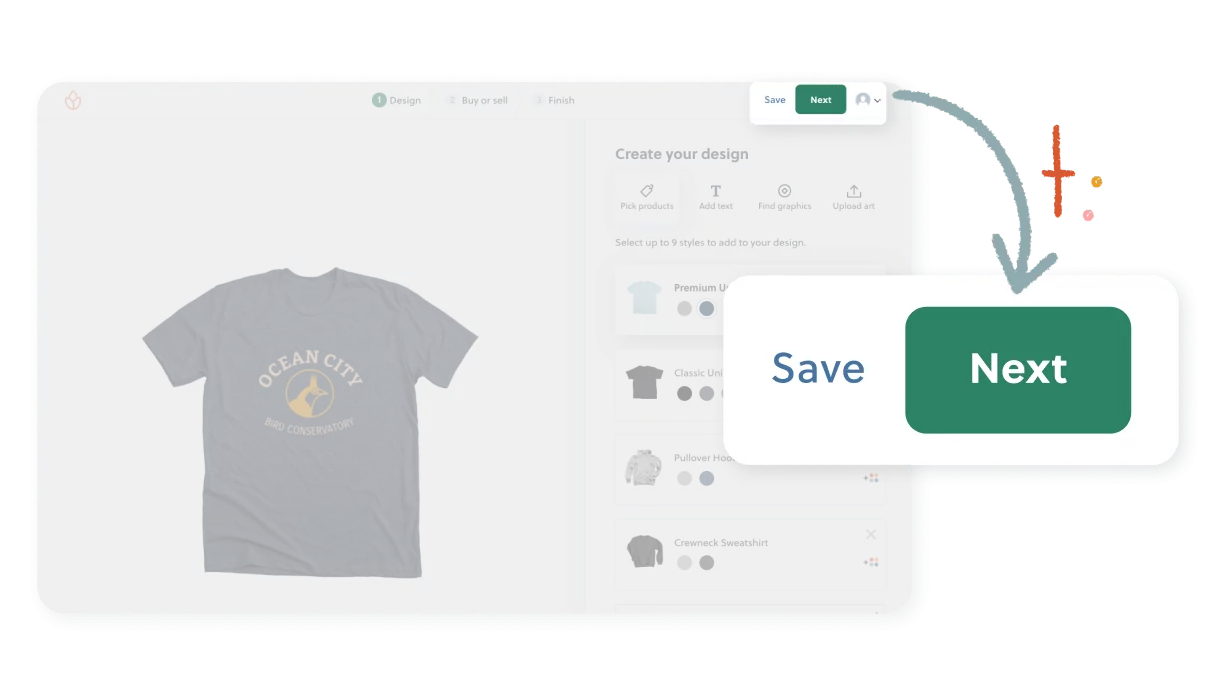 Want to check out more products that are available to you? Click 'add products' and start exploring! See what your design looks like on different styles of shirts or sweatshirts. Each clothing choice will offer different size and color options. Feeling extra adventurous? Take a look at some of the other types of products we offer as well! What would your design look like on a coffee mug or a tote bag? Check it out and see!
As soon as you've decided on the final list of products you'd like to offer, look over your selections one more time to make sure you are satisfied with all aspects of your design. Feel good about what you've put together? You should, you did an incredible job! Yay you! You have completed your shirt design and are ready to move forward to the next step!