You've already mastered creating content for YouTube, now it's time to learn how to use the tools and features offered on YouTube to promote and sell your very own custom merch!  
Whether you have 100 subscribers or 1M subscribers, your online community wants to celebrate and support you! One of the best ways they can do this is by buying and wearing custom products you've designed. Selling merch allows you to monetize and elevate your brand, and your online community gets to directly support you and get awesome things in return! It's a win-win situation.
Let's explore how to sell merch on Youtube. 
Make Your Merch
First things first, let's make sure you have a collection of great items that you can sell on your YouTube channel! Creating your own custom merch is easier than you might think and it's also super fun. There are platforms online that give you access to hundreds of customizable products to choose from, design templates, professional designers, printers, and customer support to help out and handle the bulk of the work for you. This allows you to continue focusing your time and energy on doing what you do – creating your content. 
Pick a Merch Platform
There are a number of different online platforms available for creating your custom merch. Each option offers different perks and features, so be sure to check them all out and see which one will work best for you. Online sales platforms make it easy to design, customize, launch, promote, sell, keep track of, and ship your products. 
Some platform examples are Bonfire, Printify, Spreadshop, Merch By Amazon, Printful, and Zazzle.
Bonfire
Bonfire is a free online platform that makes it possible for anyone to design, sell, order, and buy custom products. Bonfire has impressive teams of people that take care of payment processing, order fulfillment, and customer service so you can focus on your community.
The tools and features available to you on Bonfire and the awesome folks that make Bonfire a success are here to channel your creativity and passion into beautifully crafted custom merch that helps you connect even further with your community. 
Create a Design That Resonates With Your Subscribers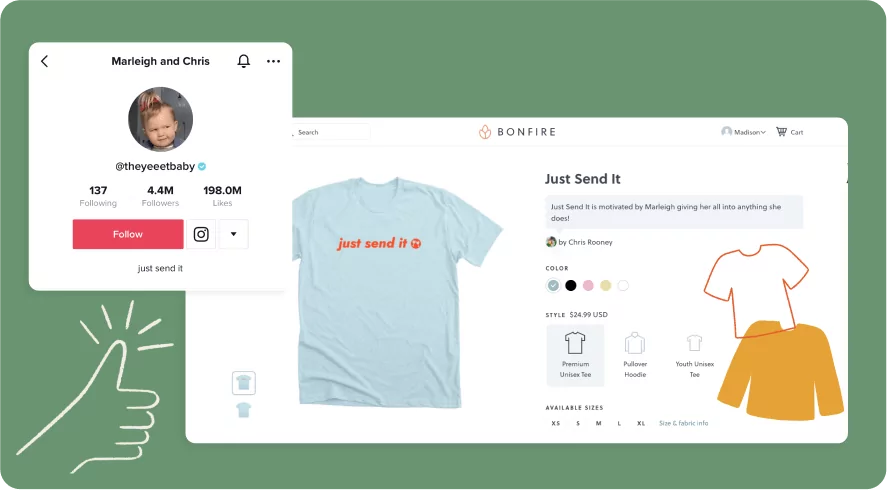 By now, you have developed a relationship with your subscribers and you know what they like to see. Use this knowledge to inspire and influence the design for your merch. You could include your logo, a popular catchphrase that you use in your videos, an illustration that goes along with your brand, or text that emphasizes your overall message. It's important to use words and images that your audience will associate with YOU. Have fun with it and create products that you love and are excited to wear and share. If you love the products you've designed, your subscribers will love them, too.
Helpful resource:
The Best YouTuber Merch & What You Can Learn from Them
Select Products That Your Subscribers Will Love
There are a ton of different customizable products out there for you to choose from. Pay attention to whether your subscribers have asked for any specific types of items so you can choose products they'll be thrilled about. It's nice to have a few options available as well – for example, you could offer a crewneck sweatshirt, a unisex tee, and a tote bag. Having different options to choose from allows your fan to pick out a style they are most excited to wear and use day in and day out! 
After selecting your merch options, you can choose which colors you would like to offer those products in! Play around with different color options and choose the ones that work best with your design. You want the custom products you create to stand out and look incredible. Contrast is your best friend here!
Promote Your Merch
Once you have your collection ready to go, it's time to make sure that you tell your subscribers so they can start shopping! You can share and promote your merch in your very own created content, but you should also be aware that YouTube has some pretty handy tools to help you out with promoting your products. Here's a list of some self-promotion ideas as well as the tools provided on Youtube. Let's take a closer look so you can start showing off your awesome designs! 
Showcase Your Merch in Your Videos
Take 1-2 minutes during your usual video content to shout out your newest products! For example, you could be wearing or using an item from your collection and speak to your audience about that experience directly. If you're rocking a hoodie from your merch collection, talk about the fit and feel, point out details that you like, and show your excitement about the design. If you're drinking out of a customized mug from your collection, hold it close to the camera so your viewers can get a good look at it and mention some specific reasons why you love using that mug. You can even share some different ways the mug could be used – for morning coffee or afternoon tea, for holding your favorite office supplies on your desk, or perhaps for your water cup while painting. 
Feel free to get creative when showcasing your products during this designated video time. Remember to always include information on how your viewers can purchase these items. You can also announce new product launches, any promotions you might have going on, or limited edition runs of specific items. 
Make a Video That's All About Your Merch
Create a video that is solely dedicated to showing off the products you've created. You could edit together clips of you wearing different apparel options while doing various activities, film an unboxing video, or tell the story and inspiration behind the designs you've created. The point of these dedicated promotion videos is to shine a spotlight on your collection and share your excitement and love for what you've created with your viewers.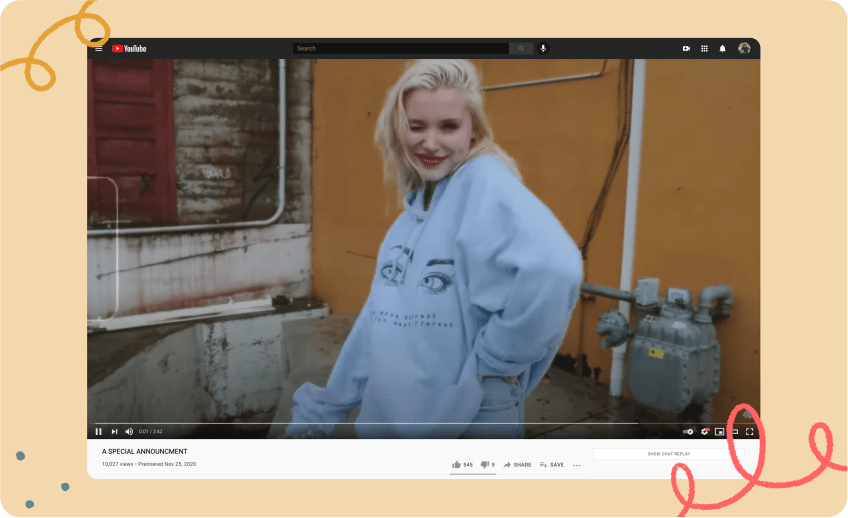 Wear Your Merch In Your Videos
Wearing your merch while filming is an easy way to showcase and promote the items you're selling without having to do a specific shout-out during every video. It's fun for your viewers to see the products in action! Be sure to use the video description section to let people know what apparel items you're wearing and how they can purchase them. 
Use Bonfire's YouTube Merch Shelf Integration
YouTube's Merch Shelf feature allows eligible channels to showcase and link their available products for sale directly under their videos. You can feature up to 12 items at a time on your Merch Shelf and you have the ability to customize the order in which they are displayed. You can also select specific products to be displayed under certain videos. You are able to pause or turn off your Merch Shelf at any time if need be. Our YouTube integration makes it possible to seamlessly connect your Bonfire store with your Youtube account and share your products on your Merch Shelf! 
This is only available if you are a verified creator on Bonfire. Certain restrictions apply to YouTube's Merch Shelf, so be sure to check out the guidelines and see if you are eligible to take advantage of this feature. 

Helpful resources:

Verified Creator Guidelines

YouTube Merch Shelf
Include Your Store Link in Video Descriptions
It's a great idea to include a link to your online store in your video descriptions so that your subscribers always know where to look to access your merch. This is extra helpful for videos where you talk about the products you are selling or are wearing your favorite hoodie from your shop.

Link to Your Store From Your Video End Screens
Inside YouTube Studio, you have the option to create end screen cards for your videos on your channel. You can use end screens to shout out new product launches, create a poll for viewers to vote for what merch they'd like to see next, and link directly to your merch store. End screens are easy to make and are incredibly helpful for your viewers. 
Involve Your Community 
Your online community loves to feel included. Whether you are asking them to vote on design choices and product options, encouraging them to share their merch photos and videos, or asking for their feedback on their purchases, you are showing your appreciation for their involvement and their support. Remind your followers to tag you in their posts and use your hashtag so you can see the items you've created being worn and used out in the world. Share these posts and videos on your social media!
These posts are also a great way to spread the word about the merch you're selling without it being just another photo of you in a shirt. Thank your community whenever you can with shout-outs, features, and giveaways, because after all, they are the reason you do what you do!
---
Hopefully, these tips and ideas have motivated you to start selling your custom products on YouTube! It only takes a few steps to get the process rolling and then it's up to you how far you'd like to take it! Selling merch on YouTube is an extension of the creativity and passion that you are already putting into your content – this way, your subscribers get to experience and enjoy your creative vision in their daily lives by owning and loving your merch.
Ready to jump right in?
Start making your own premium custom merch for free on Bonfire.