The Story Behind Creating the Women's March Brand
You likely heard about the Women's March on Washington. You likely saw someone supporting the demonstration by knitting a pink cat-eared hat, sharing a#WhyIMarch post, inviting networks to local Facebook events or purchasing commemorative merchandise. If you didn't march, you likely know one of the 4.2 million participants who marched in DC or over 600 sister marches on Saturday, January 21, 2017.
But, what you may not know is the story of the creative agency, Big Monocle, and the passionate, hardworking team who created the brand strategy and creatives for the Women's March on Washington.
Read on to learn how purpose, late nights and collaboration with a close-knit creative community brought life to an organizing grassroots movement —  now the largest demonstration in American history.
---
Tell us a little bit more about your team and Big Monocle.
Jeffrey White (Content Strategist, Big Monocle): We are a creative agency with offices in San Francisco & San Jose, California and Provo, Utah. We're a digital agency known for fun and compelling consumer campaigns and awesome branding. We work with both fortune 100 brands and startups.
Our team for the Women's March project consisted of myself, our founder, Amy Stellhorn, Lisa Brown, Julie Brigham, Wolfgang Strack, and Nicole LaRue. Nicole and Wolfgang joined the team from outside the company.

What made you want to do pro bono work for WMW?
Jeffrey: We regularly do pro bono projects. Many of us have nonprofit backgrounds and in general we like to use our powers for good.
Amy Stellhorn (Founder and CEO, Big Monocle): The 2016 election season was rife with shocking and unacceptable treatment of women. I've never seen anything like it in my life. The overt misogyny was devastating for me and many women I know.
Nicole LaRue (Owner and Illustrator, Small Made Goods): I've been absolutely reeling from the election and hoping, wholeheartedly, that I might find a way to do something hugely valuable and something extremely relevant. And since I don't always have the art of words, I can only protest with my design.
Wolfgang Strack (Design Director, Strack Design): We moved to the US in 2011, partly because of its greater diversity and legacy of equal and civil rights movements. Witnessing somebody raise to the top by appealing to an era before of all those achievements took us by surprise and made me want to support the Women's March with whatever is needed.
How did you learn about WMW?
Amy: I had been following the movement, but it was Teresa Herd, VP and Global Creative Director at Intel, who reached out with the opportunity. She wanted to do something for the Women's March, and brought her strong relationships with creative agencies and production houses to the organizers. We're one of several who volunteered support.
What did your design process look like?
Lisa Brown (Art Director, Big Monocle): It was super intense. We had less than a week to bring our concepts to life. It was an all hands on deck effort across agencies to get the fastest and best thinking. Because our bandwidth was already planned out we worked mostly in the margins. It was a lot of nights and weekends. In the end it was one of Wolfgang's sketches that ended up being selected.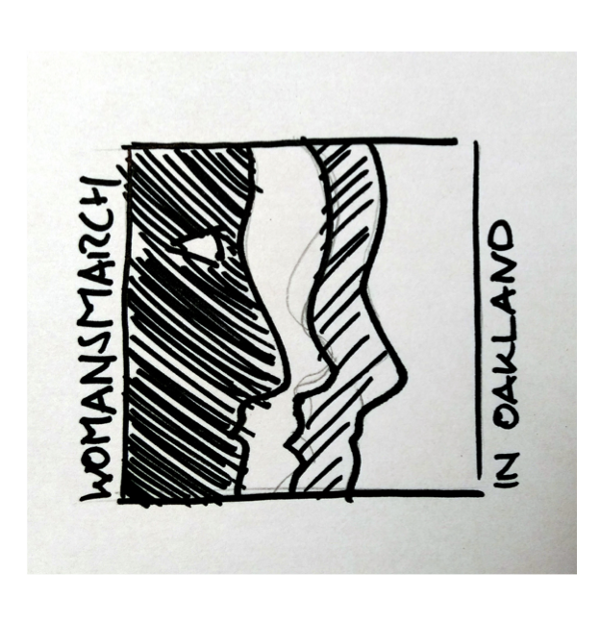 Wolfgang: The idea was that we'd have multiple silhouettes representing a group of women from different backgrounds, coming together to build a movement. The silhouettes are not supposed to represent ALL women though — we would need at least a dozen variations to try to get close — rather they symbolize the ideas of diversity, solidarity, and determination. It needed an illustrator to bring it to life, and that's when Amy reached out to a long-time friend and colleague, Nicole LaRue.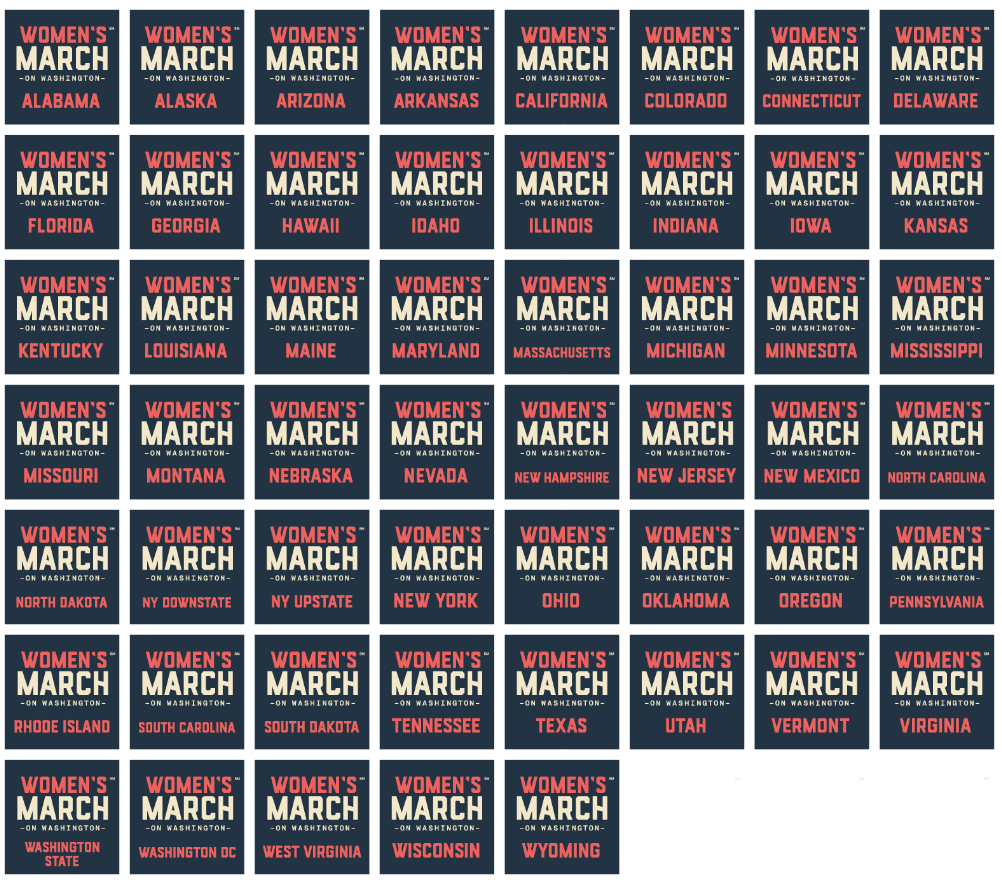 Nicole: It was truly a run-with-it process. I took the design concept and worked wildly! I'm absolutely proud to have created something that conveys the idea of diversity and of women speaking up in a united voice.
Once the logo design portion was decided, I was thrilled to create additional hand lettered designs featuring feminist maxims, rounding out the design of the campaign merchandise. Girl Almighty! The Future is Female! I Fight Like A Girl! Wild Feminist! I hope the women who wear these shirts, carry these bags, wave these flags and bear these pins will be greatly stirred!
Your design has helped Women's March raise over $1.3 million (not including sister marches and local chapters) with custom apparel and donations on Bonfire. How does it feel to see this amount of support with a month left to the marches?
Amy: It feels amazing. It's one of the coolest things we've ever done.
What advice would you share for other designers out there working to brand startups, causes or organizations with custom apparel needs?
Amy: One unexpected reaction we got as we circulated the symbol was that people instantly said "I would wear that on a shirt." or "Where can I buy the shirt?" The symbol is fresh and simple. It's impactful. If you can get this kind of response to your creative before you go into production, you'll be even more successful.
What's next for you guys?
Amy: We have marched in DC and San Francisco and we're sticking with the movement, continuing to be creative partners of the organization.
---
Get to know award-winning Big Monocle and see their amazing work for startups to Fortune 50s. Stay updated on the Women's March's website or shop for official merchandise . For more information on selling shirts with Bonfire, visit www.bonfire.com.

Want to read more interviews like this one?
Bonfire Stories is a place for our users to tell their story
and how Bonfire has helped them along the way.