March is Women's History Month, and we are celebrating by showcasing a collection of campaigns from the Bonfire Community that are raising funds to uplift, empower, and amplify women.
Purchasing products from any or all of these campaigns will help support the people and organizations that are fighting, striving, and hoping for a better, more equitable future for women everywhere.
I'll Have What He's Having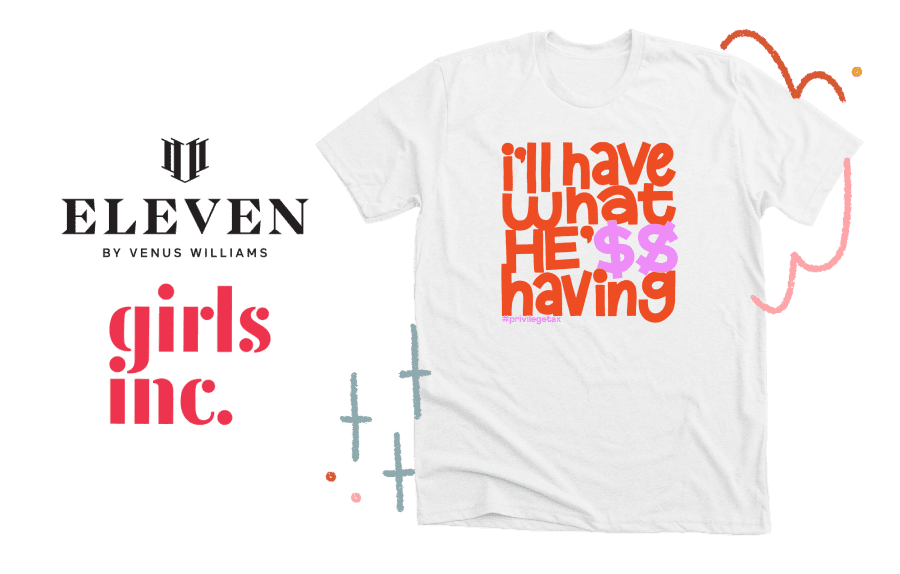 The I'll Have What He's Having campaign was created by Venus Williams and her brand EleVen by Venus Williams to raise awareness about wage inequality and to raise funds for Girls Inc., a nonprofit that works to ensure all girls have the experiences and opportunities to thrive. Venus Williams' inaugural #PrivelegeTax campaign is shining a spotlight on wage inequality during Women's History Month and is fighting to close the gap across all industries. Original artwork for this shirt was created by artist Keisha Leon.
Education Is Power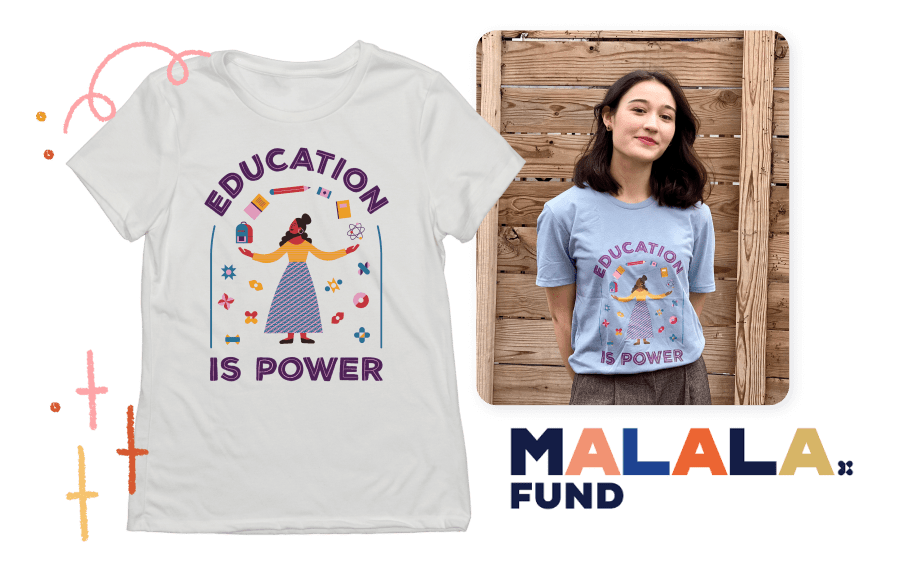 The Education Is Power campaign is donating 100% of proceeds to Malala Fund, an organization created by Malala and Ziauddin Yousafzai in 2013 that champions every girl's right to 12 years of free, safe, quality education. Malala Fund invests in education activists and advocates who are driving solutions to barriers to girls' education in their communities. Original artwork for this campaign was created by Meroo Seth.
The Free Black Women's Library / Reading Room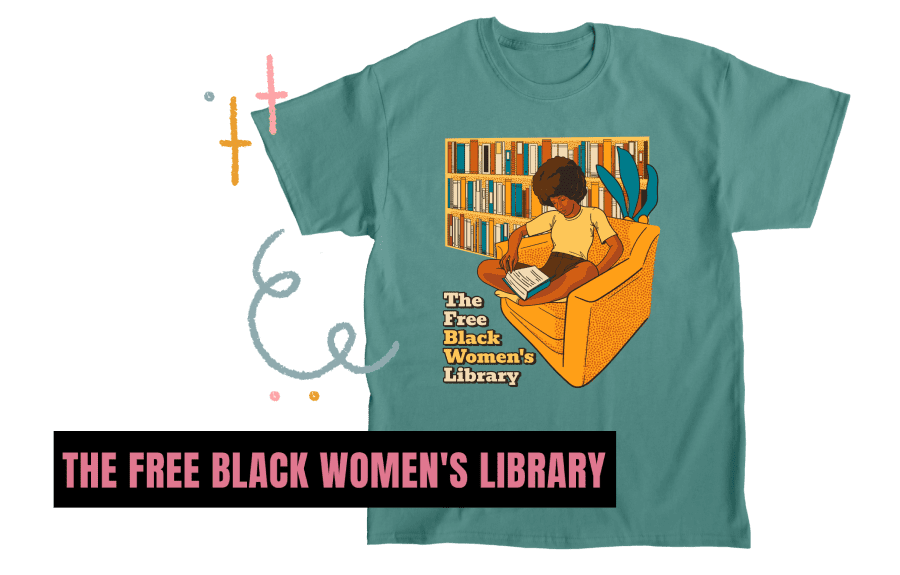 The Free Black Women's Library, a social art project that features a collection of 4,000 books written by Black women, is opening a Reading Room in Bedford Stuyvesant, Brooklyn. This space will serve the community as a literary hub and creative co-working space. The Free Black Women's Library / Reading Room campaign is raising funds to cover renovation costs for the new Reading Room.
Girls Outdoors Club: Mushroom Logo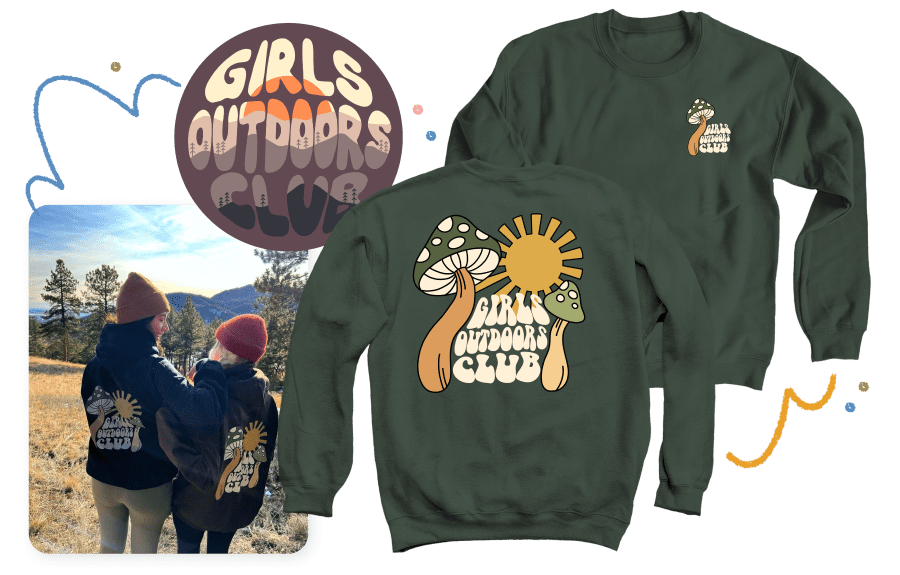 The Girls Outdoors Club is all about bringing feminine energy to the outdoors and motivating others along the way. Outdoor activities can oftentimes seem intimidating and Girls Outdoors Club is striving to change that! They host meetups, connect like-minded women, and build a supportive community. The Girls Outdoors Club: Mushroom Logo campaign features a fresh, new take on their logo, and is raising funds to support future meetups.
Feminist and Free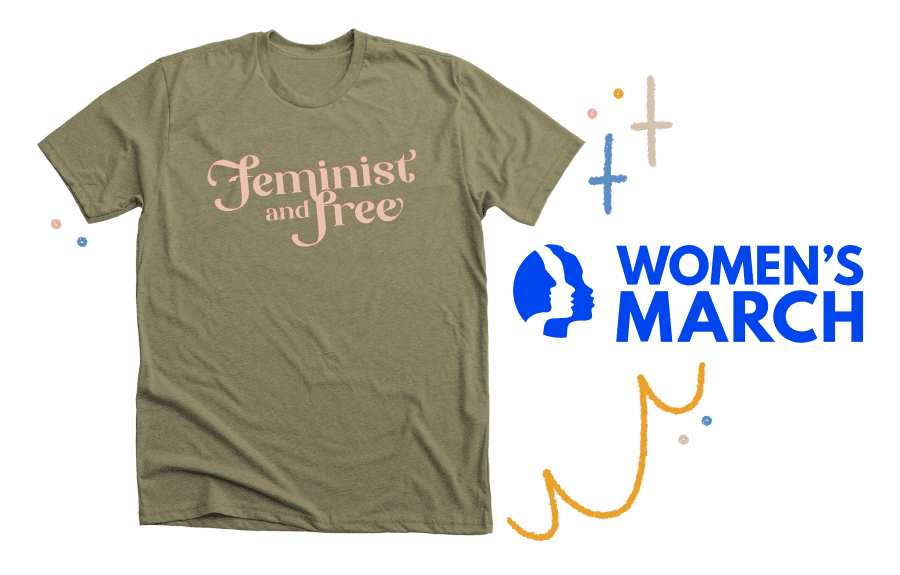 The mission of Women's March is to harness the political power of diverse women and their communities to create transformative social change. They do this by providing intersectional education on a diverse range of issues and creating entry points for new grassroots activists & organizers to engage in their local communities through trainings, outreach programs and events. The Feminist and Free design was created by Women's March for their Bigger Than Roe March which took place on January 22, 2023 (the 50th anniversary of Roe vs Wade) and consisted of unified marches all over the country. This design is still available and continues to support the never-ending mission and incredible important work of Women's March.
Don't Mess With Texas Girls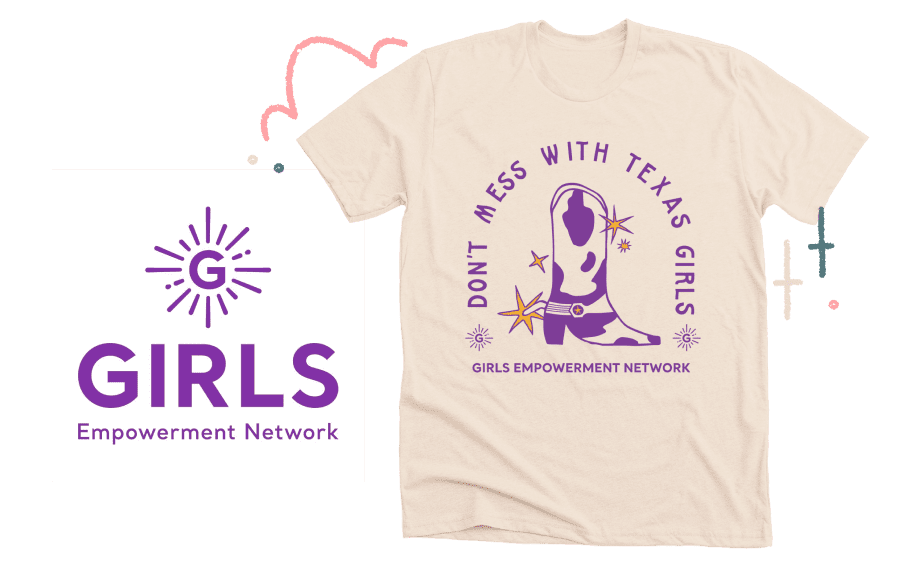 The Don't Mess With Texas Girls campaign by Girls Empowerment Network is raising funds to support their mission to ignite the power in girls by teaching them the skills to thrive and believe in their ability to be unstoppable. Their mission comes to life in their programs through a curriculum designed to increase each girl's self-efficacy (her belief in her ability to succeed.) Girls Empowerment Network welcomes youth across the gender spectrum – they center the experiences of girls in grades 3-12, including those who are cis, trans, non-binary, and gender expansive.
Woman, Life, Freedom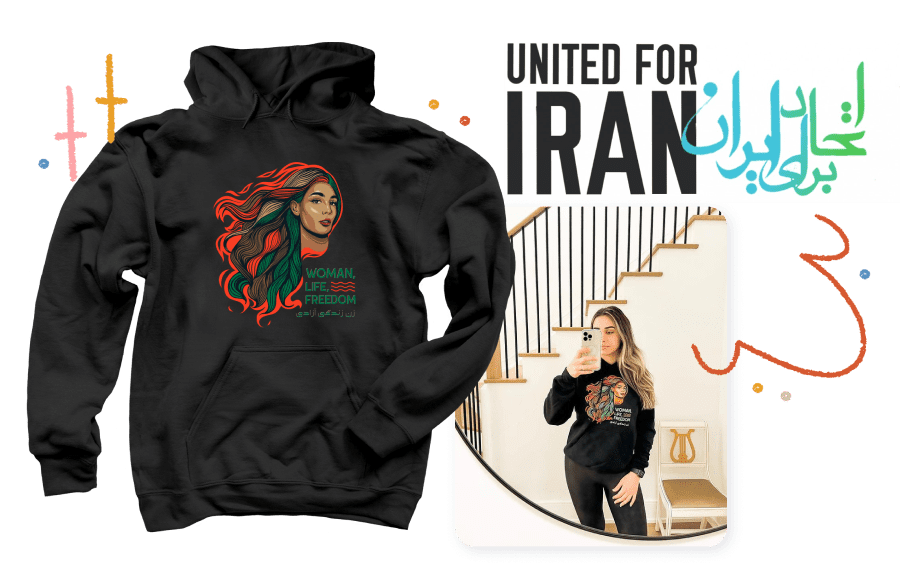 The Woman, Life, Freedom campaign was created by Human Rights Activist, Elica Le Bon to raise funds for United for Iran, an independent nonprofit organization based in the San Francisco Bay Area that works for civil liberties in Iran. United for Iran strives to improve human rights conditions, increase the capacity of civil society, and engage citizens through technology.
Embrace Equity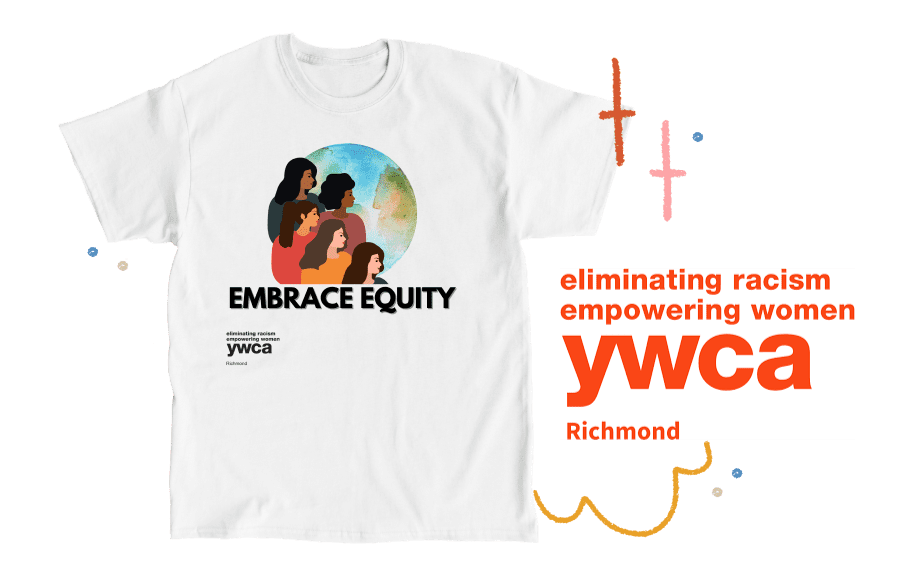 YWCA Richmond is dedicated to eliminating racism, empowering women, and promoting peace, justice, freedom, and dignity for all. The Embrace Equity campaign is raising funds to help support YWCA's programs that promote racial, social and economic equity for women, girls and their families. YWCA serves all people regardless of race, gender identity or expression, age, national origin, ethnicity, immigration status, faith, sexual orientation, disability, or English language ability in the Greater Richmond region.
Freedom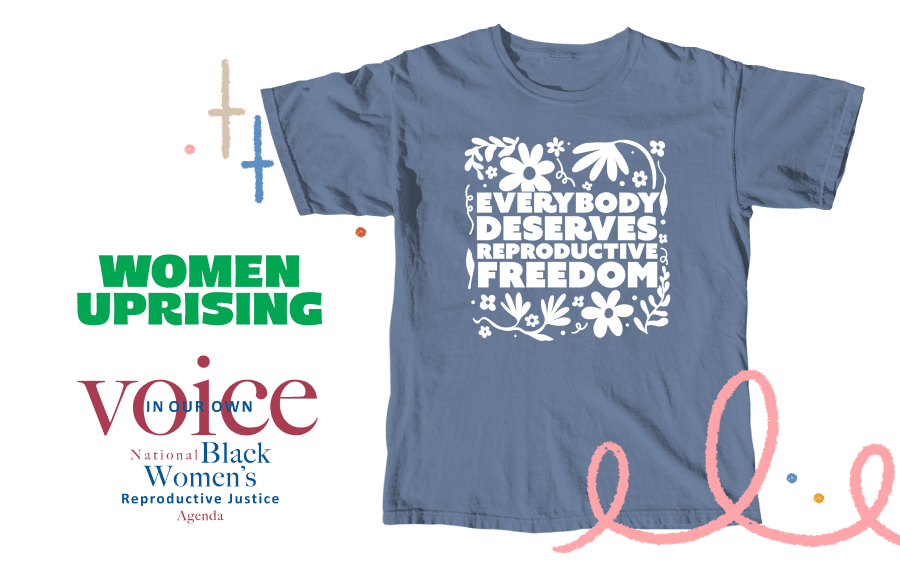 Women Uprising, a collaborative effort of 3 women-owned businesses: Fenomenal, Wild Rose, Superfrau, created the Freedom campaign to raise money for In Our Own Voice: Black Women's Reproductive Justice Agenda. IOOV is a national-state partnership focused on lifting up the voices of Black women leaders at the national and regional levels in their fight to secure Reproductive Justice for all women, femmes, and girls.
Women's History Month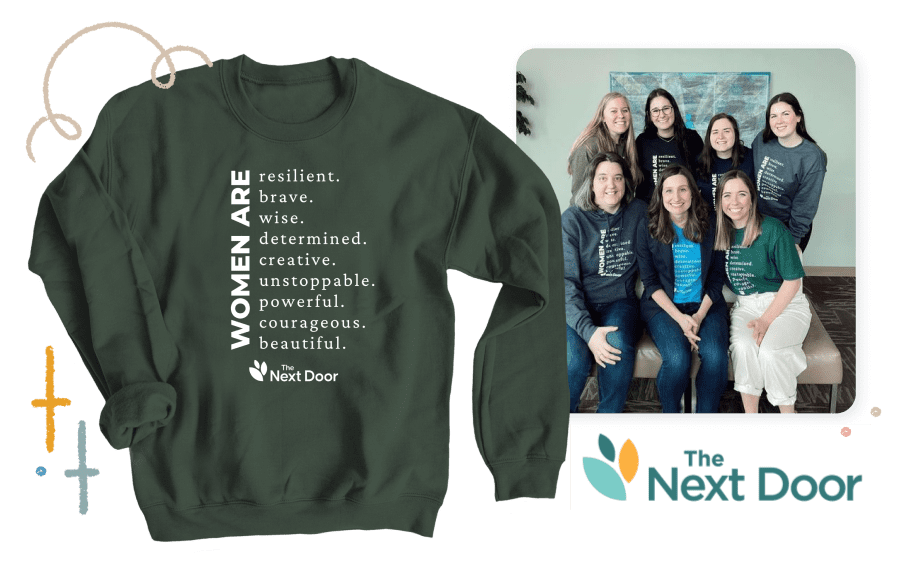 The Women's History Month campaign was created by The Next Door, a treatment facility in Nashville that is dedicated to walking alongside women struggling with addiction and empowering them for lifetime recovery. The Next Door provides services to women who are impacted by addiction, mental illness, trauma and/or incarceration. In recognition of the common need among residents for mental health and addiction counseling, The Next Door provides an integrated model to address the co-occurring disorders.
Strong Women, Strong Voices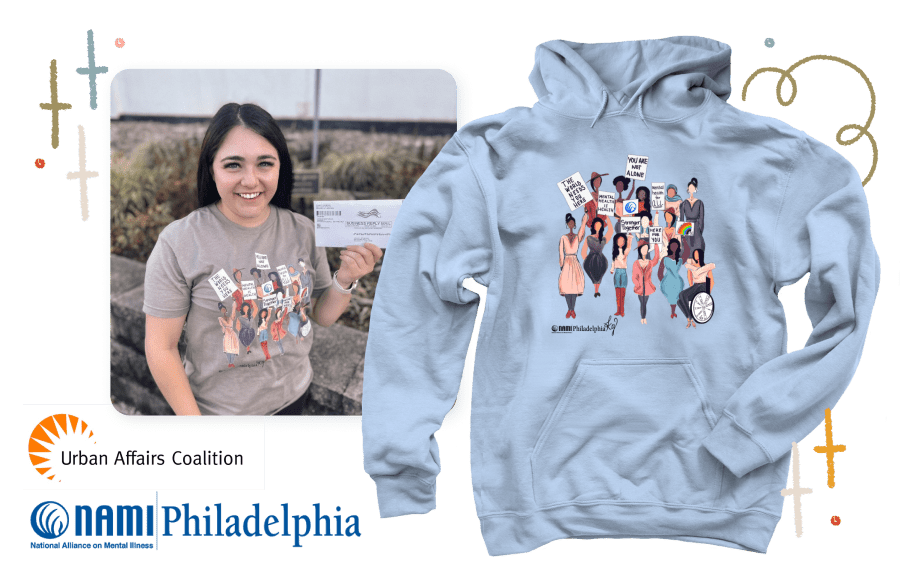 The Strong Women, Strong Voices campaign from NAMI Philadelphia is fundraising for Urban Affairs Coalition, a home for nonprofits in the Greater Philadelphia region. The Urban Affairs Coalition unites government, business, neighborhoods, and individual initiatives to improve the quality of life in the region, build wealth in urban communities, and solve emerging issues. Original artwork for this campaign was created by one of NAMI Philly's Board Members, Volunteers, and Mental Health Advocates, Komal Gulati.
Not Your Bun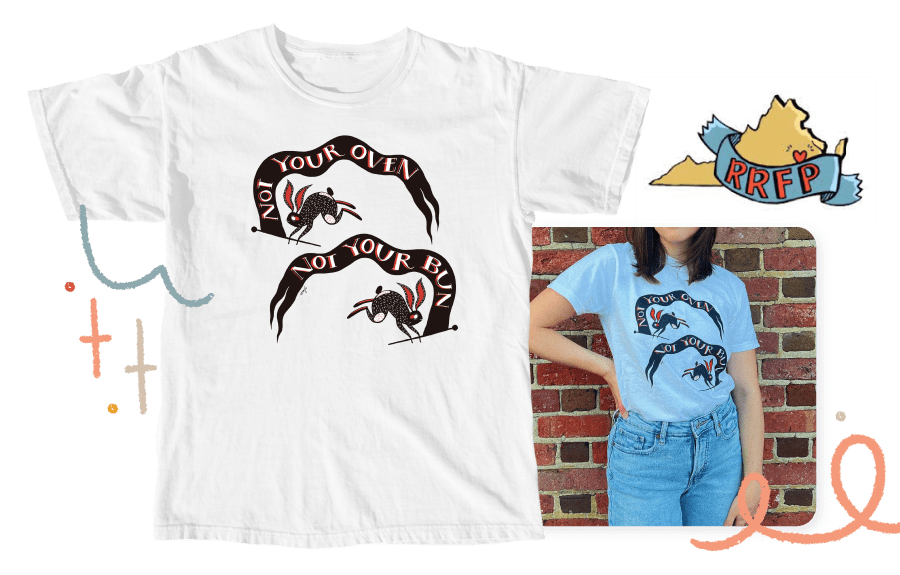 Hazel Cimino designed and created the Not Your Bun campaign and is donating 100% of the proceeds to Richmond Reproductive Freedom Project, Virginia's grassroots abortion fund. RRFP provides practical and financial support for abortion services in Virginia and surrounding communities.
CRT Women's History Month Fundraiser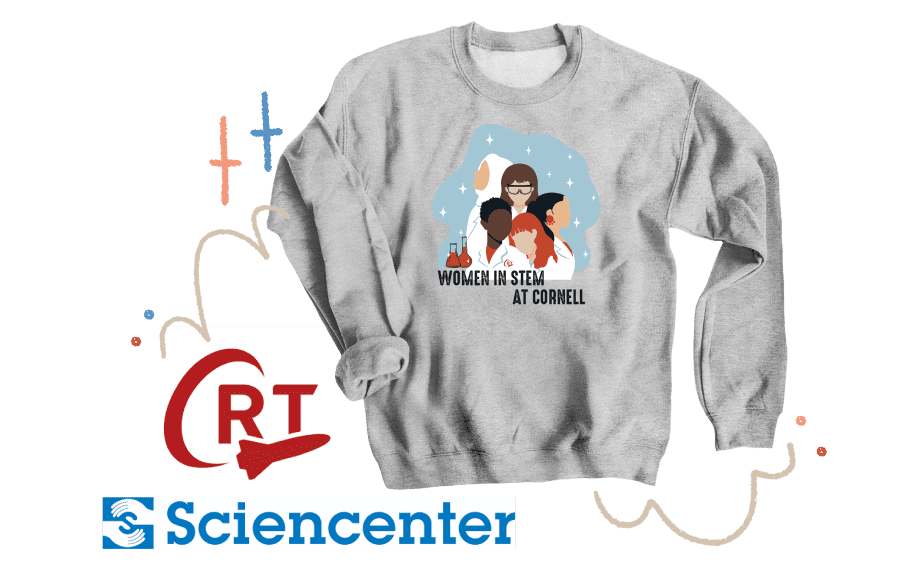 The CRT Women's History Month Fundraiser was created by the Cornell Rocketry Team, an engineering project team dedicated to designing, assembling, and launching high-powered rockets to compete in the annual Spaceport America Cup. All proceeds from this campaign will go directly to the Sciencecenter, a non-profit hands-on science museum in Ithaca, New York. The Sciencenter is a nationally recognized museum that hosts thousands of guests locally and also reaches over 1.5 million guests worldwide through their traveling exhibitions and outreach programs.
What a Beautiful Day to Respect Women's Rights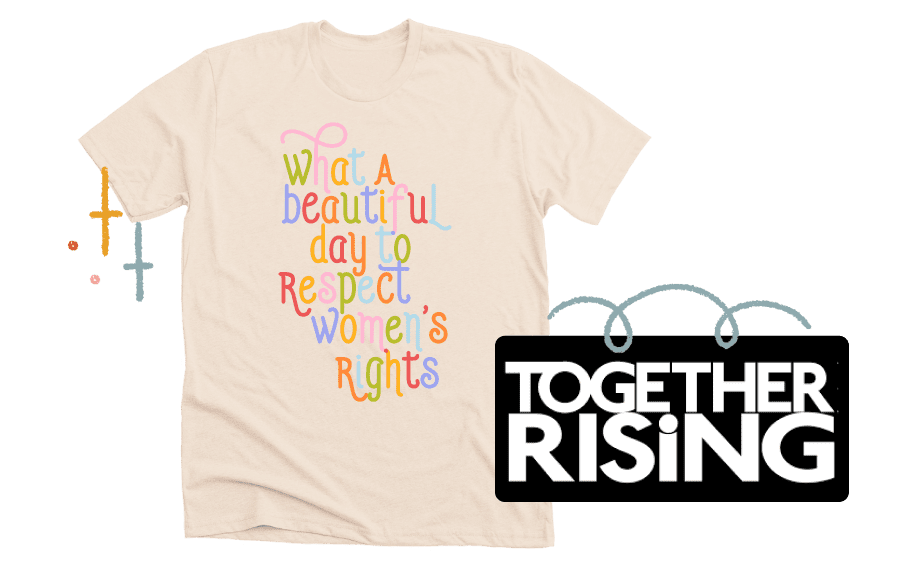 The What a Beautiful Day to Respect Women's Rights campaign was created by Whitney Berkowsky of Otto & Berk to raise funds for Together Rising, an all-women-led nonprofit organization (founded by renowned author and podcast host, Glennon Doyle) that has revolutionized grassroots philanthropy—raising over $45 million for women, families, and children in crisis. The mission of Together Rising is to transform collective heartbreak into effective action.
Inclusive Outdoors!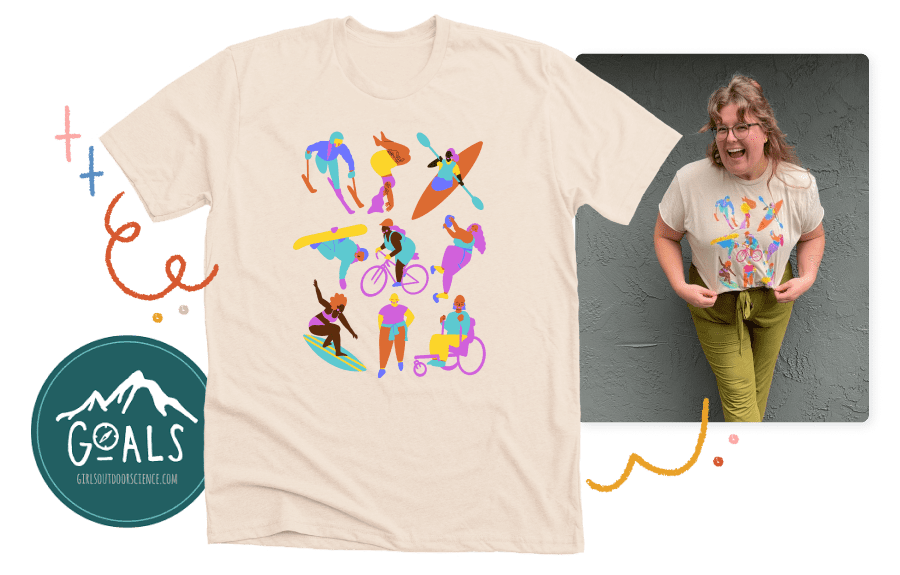 Multimedia artist Olivia Chase created the Inclusive Outdoors! campaign to support Girls' Outdoor Adventure in Leadership and Science, a free summer science program for high school girls and gender expansive youth to learn science hands-on. Participants in GOALS engage in citizen science and independent research as well as lessons in leadership and outdoors skills.
---
These are just some of the campaigns on Bonfire that are advocating for a more equitable world for women of all ages, backgrounds, and ethnicities during Women's History Month. Be sure to check these out and support one – or more, and also remember to browse our marketplace to view even more campaigns!
Want to start your own fundraising campaign?
Create and launch a Giving Campaign on Bonfire in just a few easy steps and start raising funds for a cause you care about.
Written by: Hayden Ireland / Content Specialist
Illustrated by: Madison Summers / Lead Marketing Designer