When the Black Lives Matter movement reached new heights in 2020, we began to see hundreds of community fundraisers raising money for organizations fighting racism across the world. 
In the midst of protests, marches, and gathering in solidarity, art and design became an integral part of communicating the messages of activists. As more Black Lives Matter fundraisers started launching on Bonfire, we started to see a shared language of imagery and symbols being used to call for justice and change.
So, we caught up with the artists behind a few of the stand out campaigns that truly emulate the power of design:
No More Names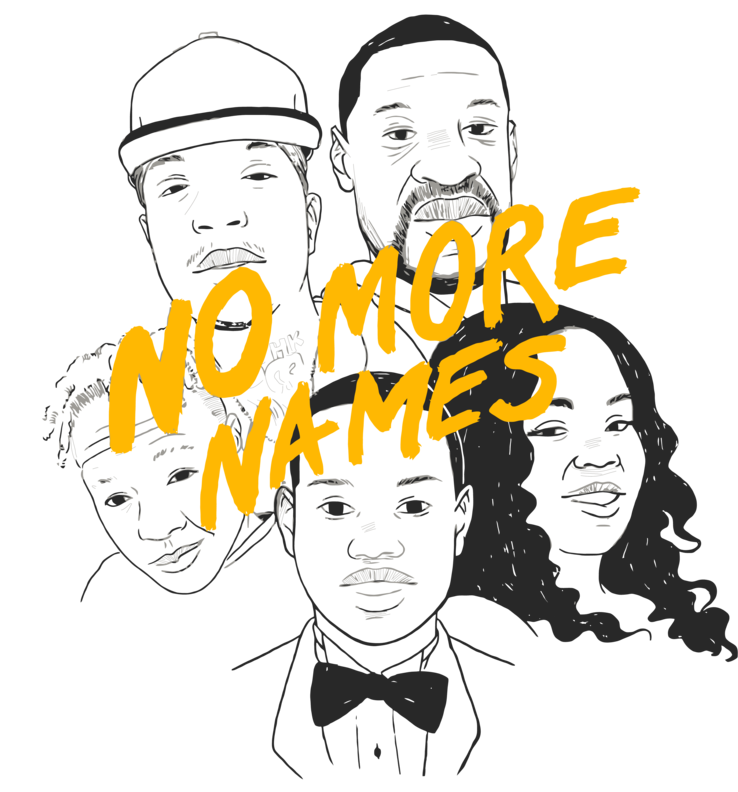 All profits from the No More Names campaign were split evenly between Arizona-based nonprofit, Black Phoenix Organizing Collective and the Colorado-based nonprofit, Colorado Freedom Fund, Lindsey's two home states. She writes, "we should be able to choose apparel that advances both the message and the means of the Black Lives Matter movement."
Behind the design of 'No More Names' is Jeffrey Burke, an illustrator + designer, from Pheonix, Arizona. I had the opportunity to speak with him about his work:
"The goal of the project was to raise money for organizations like Poder in Action and Denver Justice Project that directly support the Black Lives Matter movement. Going into it, we did not expect it to raise as much money as it did, and we are so grateful to everyone who helped up support these causes.

The idea was to raise awareness for those who lost their lives due to systemic racism and police violence. George Floyd, Breonna Taylor, Ahmaud Arbery, Tony McDade, Dion Johnson, and countless others have been added to a list of names being chanted in the streets out of remembrance, grief, and frustration for the senseless loss of life. While it is still important to say their names, the "NO MORE NAMES" phrase came out of the community as a plea to stop adding names to that list. I thought it was important for this phrase to be combined with their portraits because behind every name is the face of those that have gone too soon."
---
No Justice No Peace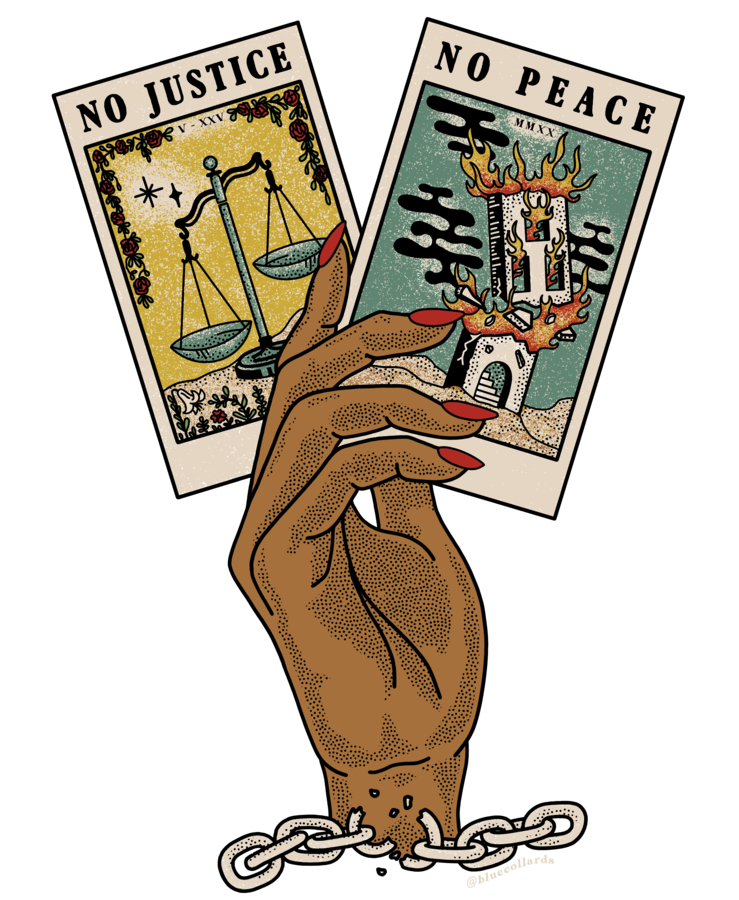 Manda Sesko, known by her community as Blue Collards, created the No Justice No Peace t-shirt campaign at the peak of the social unrest in the summer of 2020. This campaign raised over $84,000 which was all donated to Black and Pink Org and The Okra Project.
While talking with Manda, she gave me a bit more insight into her creative process:
"This is not business as usual. This is me trying to navigate my role as a useful ally and use what skills I have to show up for communities in crisis.
The elements within each card in this piece I've titled 'The Future is in Our Hands' is based on traditional tarot imagery ~ heavy influence is pulled from both the 'Justice' and 'Tower' cards from the Major Arcana; A tipping scale representing an imbalance between the systemically racist power the state lords over its marginalized people and a burning, falling building representing the unrest that ensued following the murder of George Floyd, respectively. The date of which tragedy is marked at the top of each card in Roman numerals (5/25). A Brown hand presents the cards as if to say "we have received no justice and no peace, therefore, those are the cards being dealt right back."
---
Worthy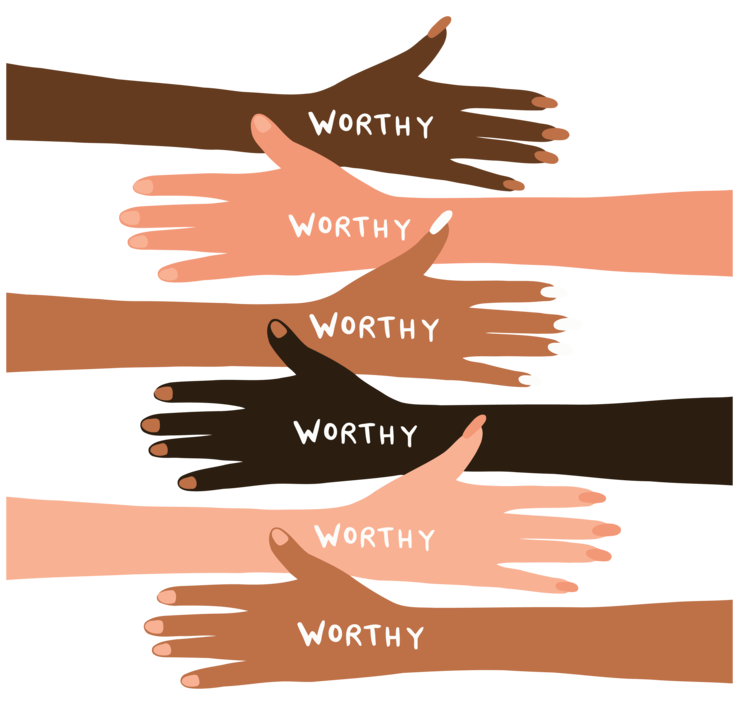 Dani created two designs in response to the racial injustice happening across the world, Worthy and It Should Matter. While talking with the artist, she told me about the intentions behind her work:
"My designs were inspired by the art I make that's geared towards anti-racism, empathy, and being a good neighbor. I want people to be reminded of the importance of seeing the inherent worth in every person and the work that still needs to be done to make the world a more inclusive, equitable place!"
---
Informed Not In Fear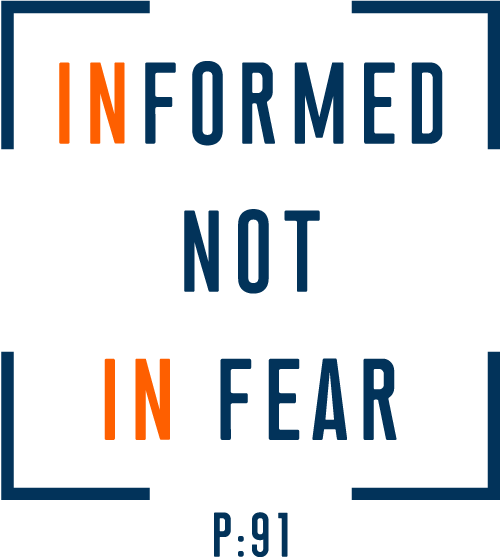 Jor él Quinn created the Informed Not In Fear campaign in late March 2020. Between the t-shirts and face masks he sold with this design, he raised over $1,000. Jor él and his community, including his young daughter, are always rocking their shirts to remind themselves not to be fearful, but instead to channel that energy toward staying educated and informed.
While talking with Jor él, he explained how this campaign came to life, including his creative journey:
"Emphasis on, but not limited to this year full of uncertainty, called 2020. So many stories, updates, and information is being given, daily. It's our duty to know the information, but trust in, believe in and live by the truth. Know what's up! Know the facts, but believe the truth! Be Informed Not In Fear.
I decided to use an open square, if you will. Every line of the square has an opening. Only the corners remain. To me, this represents living with structure, yet not being confined to society's, or anyone's, restrictions. Thinking for yourself! Not consuming everything you're force fed but rather keeping in mind that the freedom to choose which report you will believe, is very available for you.\
I want people to look at and read my design and THINK. I'd love for people to read this and be immediately calmed and stripped of any worry from anything they've heard and be fearless in what seem like extremely fearful times. I'd love if people would see this design and desire to be educated and have peace, knowing that all things are working together for good. My desire is that people wear this proudly and for all who see them wearing it, the dominion effect occurs!"
---
Explore more campaigns supporting the Black Lives Matter movement on our site here.