Whether you're running for a local, state, or national election, one thing we've learned from recent years is that selling merchandise is an essential part of your political campaign fundraising and marketing strategy. If your campaign doesn't have an online merch store, now is the time to make one, and here's why.
Activate Small-Dollar Donors
If you've been following the recent election coverage, you've likely heard that there's growing distrust and dislike for candidates with big donors funding the majority of their campaigns.
Grassroots fundraising and low-dollar amount donations have been not only newsworthy but also on the rise. Many candidates have found creative ways to activate small-dollar donors, and selling apparel is a fantastic way to do just that. Turn merch sales into campaign contributions, so that your supporters can get the gear they want, and fundraise for your campaign at the same time.
Walking Billboards
This sounds silly but it's true. Whenever someone wears a shirt or tote bag with your logo on it, your name is getting publicity. Supporters become walking yard signs showing their support for your campaign, and better yet, those shirts can become easy conversation starters to get the word out about why you're the candidate to vote for this coming election day.
Unity for Volunteers at Rallies and Canvassing Days
Having a store provides a way for your supporters to purchase branded gear to wear as they canvas neighborhoods and volunteer at campaign events and rallies. By wearing matching apparel, your volunteers not only can feel unified, but it also helps attendees know who to talk to if they need help or have questions.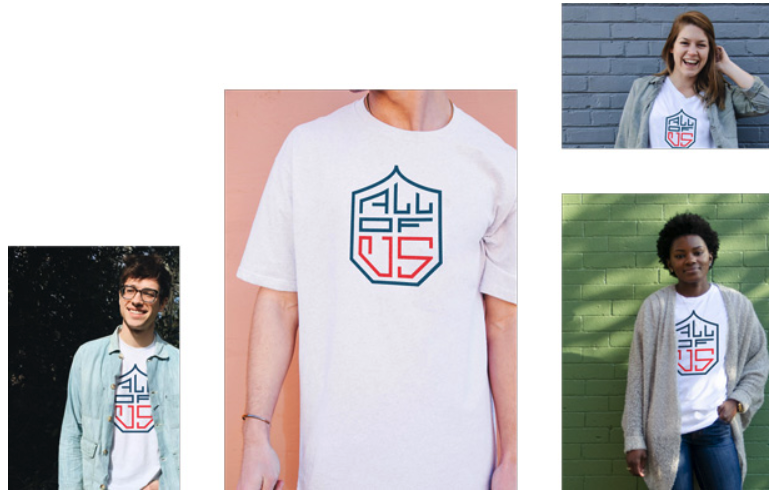 Social Media Content
There's nothing better than a group photo of a bunch of people in matching t-shirts. Capture awesome content for social media and email newsletters by snapping some photos of your team in their new shirts. This helps the image of your campaign feel cohesive, organized, and intentional.
Save Time by Using An Online Fulfillment Platform
Instead of setting up your own store, paying to print merchandise for inventory, and using volunteer resources to ship out orders, set up your store online. It will save you time and money and allow your volunteers to spend more time out on the streets canvassing and less time fulfilling orders at headquarters.
Setting Up Your Campaign's Online Merch Store
Now that you've realized the importance of merch to amplifying your campaign fundraising efforts, let's walk through the important things you need to keep in mind when setting up your online merch store.
One of the easiest and fastest ways to fulfill your merch with zero risks is by using a platform like Bonfire to host your store. Bonfire is the only platform that allows you to create your merch store for free, and sell your merchandise without ever having to spend money upfront. Simply create your merch store on Bonfire, promote your store, and Bonfire will print and fulfill all orders and send them directly to your supporters, while you get a fast and easy payout of the profits.
Bonfire has all the tools necessary to ensure that your campaign is Federal Election Campaign Act compliant. We've done all the hard work so you don't have to.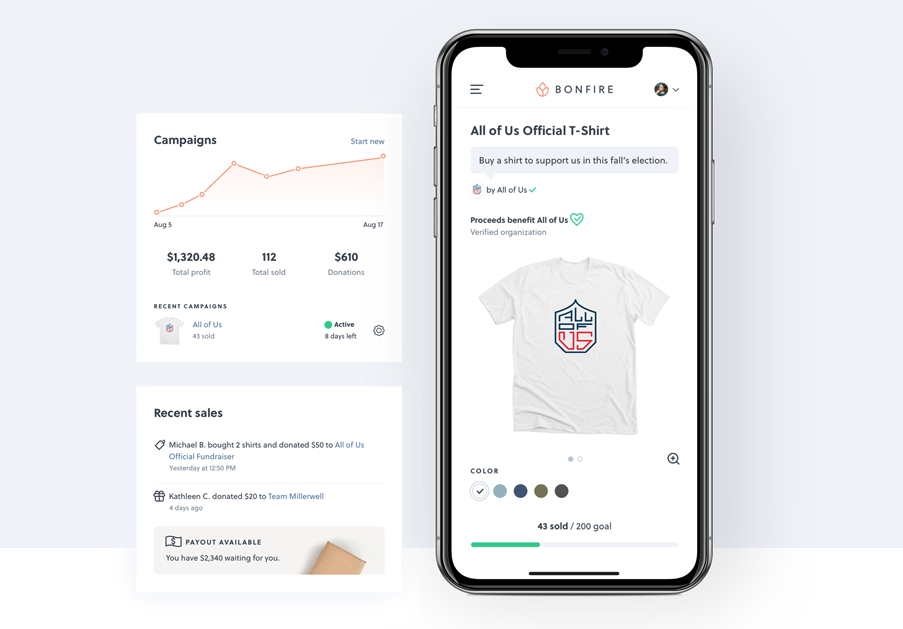 Benefits of Using Bonfire to Sell Merch & Accept Contributions for Your Campaign
Verify your campaign account with Bonfire, and you'll get access to our full access to our exclusive political fundraising features.
Sell Official Branded Merch for your Campaign
Create your Store of branded campaign merch and fill it with your customized t-shirts, sweatshirts, and tote bags.
Then link to your Store from your your campaign's website and social media, and send out email blasts to let your supporters know it's live.
Collect and Download Donor Information

In order to be compliant with Election Law, we ensure that you can legally collect all necessary information from your buyers so you can properly report about all donors. You can then download spreadsheets of this information to keep on file, add to your email and mailing lists, and more.
Maintain Individual Donation Limits
To be compliant with the Federal Election Campaign Act, Bonfire can limit donations from individuals so that they are $100 or less, and their purchase from your campaign cannot exceed $2,800 total.
Support U.S.–only Checkouts
You probably know this, but Federal law prohibits individuals who are not a citizen of the United States from making any type of direct or indirect donation to any local, state, or federal campaign.
Accept Donations
When a supporter checks out from your store, they can choose to add an additional donation to their purchase, up to $100 per supporter. This allows you to make a little extra money per checkout, especially if you have a marketing strategy around asking them to add an extra $5-$10 on top of their merchandise purchase.
---
Setting up a Store with a law-compliant platform like Bonfire will save your team time, and help word spread about your political campaign. Having an online store on Bonfire will ensure that your supporters can easily support your campaign while getting the promotional gear they want at the same time.