Pet celebrities are more famous than they've ever been, and buying your friend some merch featuring their favorite animal makes for a great gift idea this holiday season.
We've reviewed all of the pet celebrity shirts that are for sale on Bonfire, and handpicked the top 11 items for you to choose from. Find your friend's favorite social media pet below to purchase their gift!
Tika the Iggy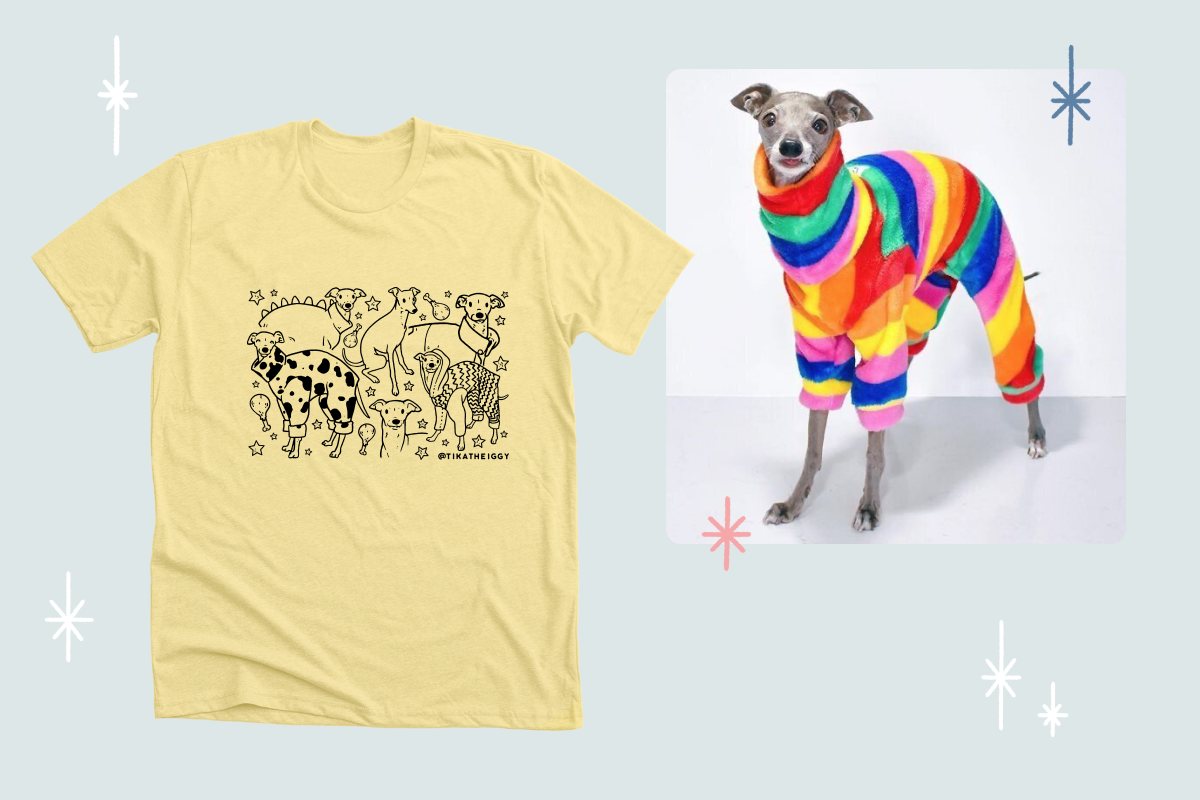 There's no doubt about it – Tika has taken the whole world by storm. She's a Fashion Icon with quite an impressive following. Tika might be small in size, but her looks in her TikTok videos and Instagram photos serve BIG attitude. If you have a friend who loves to follow along with Tika and all of her colorful custom-made outfits, get them a Tika the Iggy Doodle tee so they can feel like a Fashion Icon, too.
Jill the Squirrel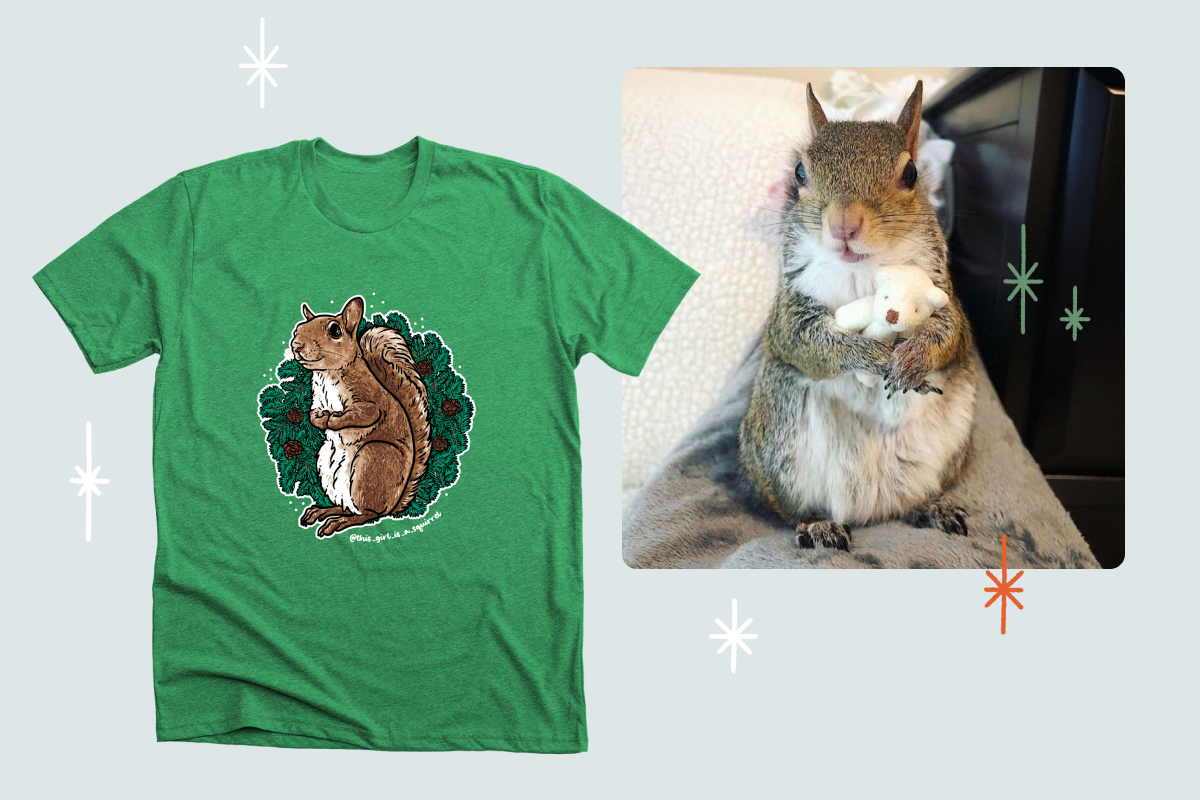 Jill loves posing for the camera while wearing tiny hats and other accessories, and also loves napping while holding her miniature teddy bear. Jill is just about the cutest thing we've ever seen and we're sure you know at least one person who feels the same. The This Girl is a Squirrel Holiday Edition tee featuring Jill makes the perfect gift for anyone who wants to feel extra playful and festive this holiday. 
Pickles the Pug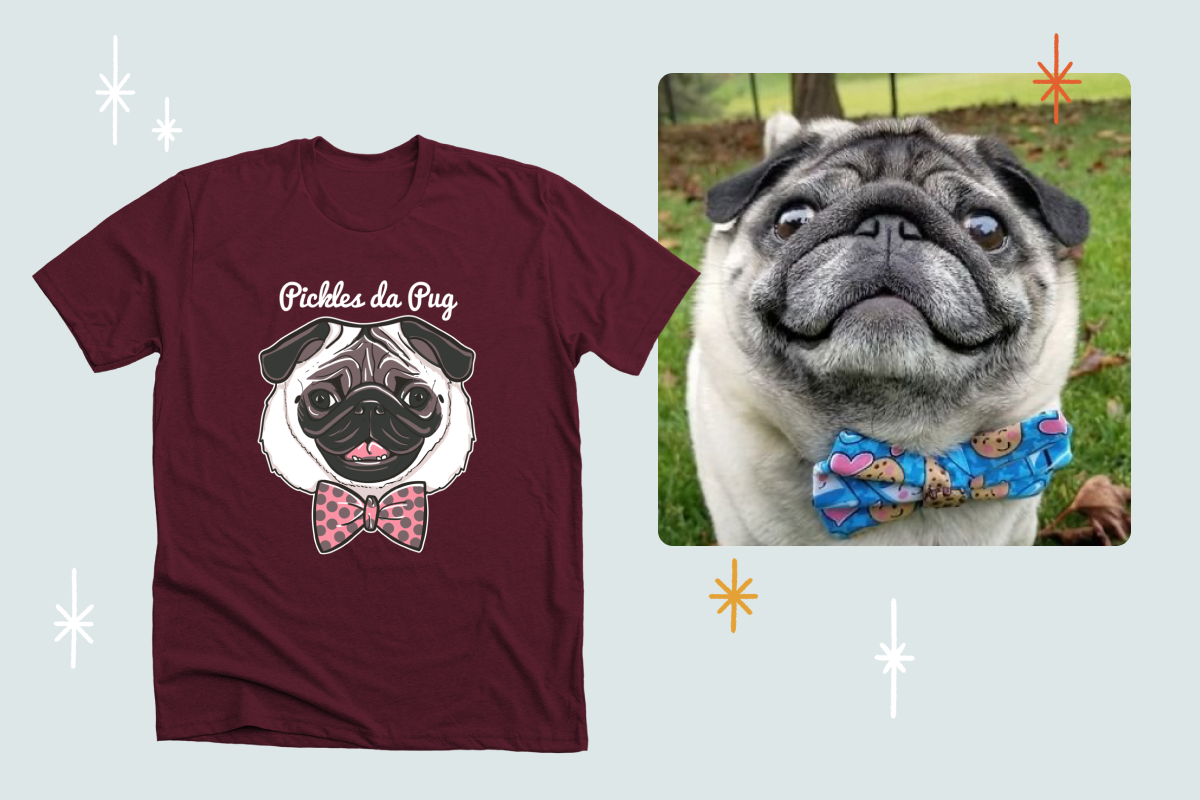 Pickles spends most of her time surveying the outside world from her favorite spot on the back of the couch. She has won the hearts of thousands with her raspy bark and sassy personality. Pickles is also helping to raise awareness for dogs with epilepsy. We have yet to meet someone who isn't a fan of Pickles. You can't go wrong gifting this Pickles da Pug tee that's guaranteed to make everyone smile.
Eevee the Ewok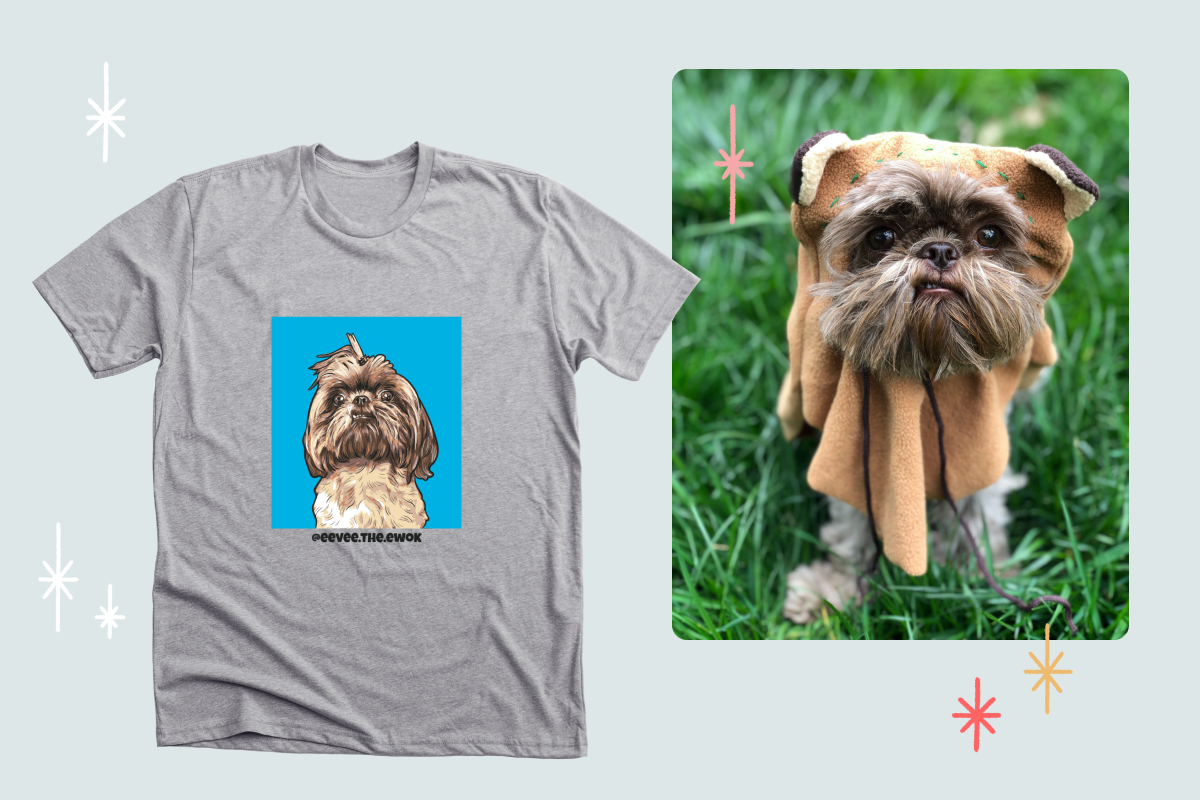 Feeling inspired by these pet celebrity shirts? Use our free design tool to design and sell your own custom shirt in just a few minutes. If you're not sure how to make your design, check out our guide on how to design a shirt, or, reach out to us through Bonfire Studio and we'll create a custom design for you!
Dodger & Rosie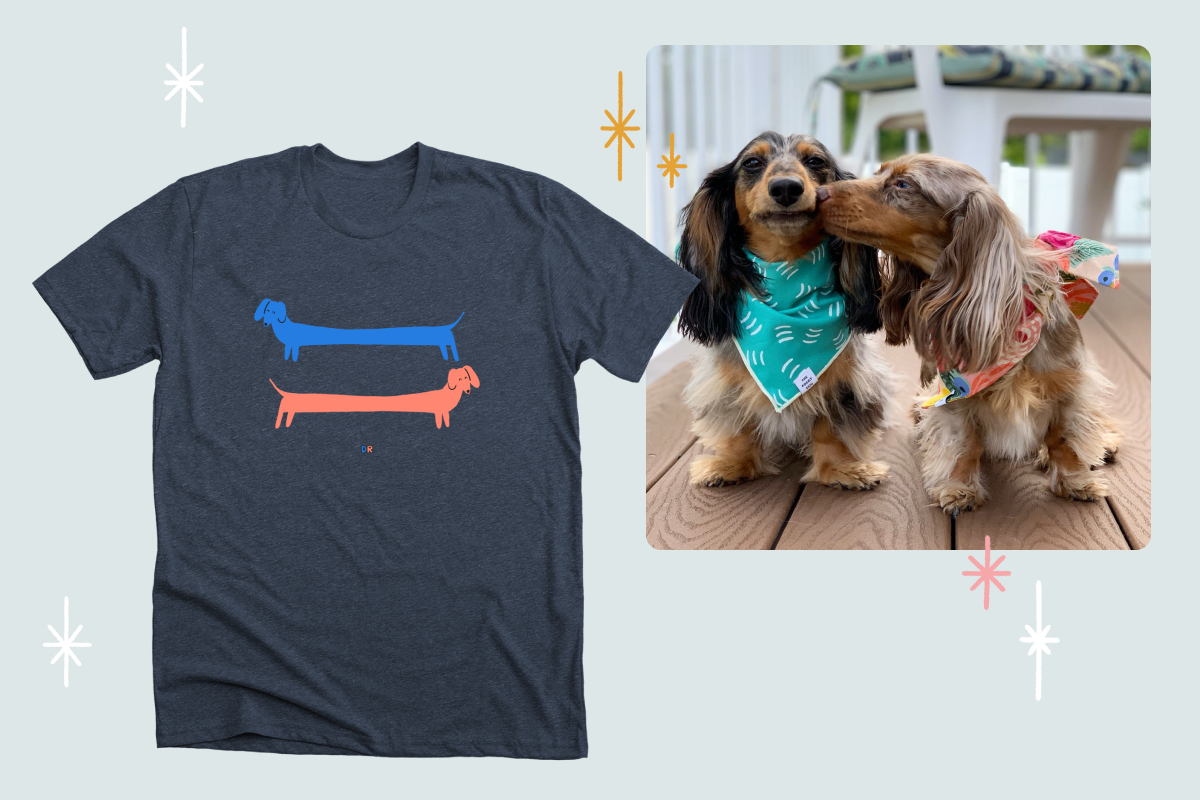 Dodger and Rosie are half-siblings and whole-hearted friends. These inseparable cuties do everything together and always have lots of fun. This Dodger & Rosie tee is an awesome present for your adventure buddy, who always has your back.
Tank the Brown Lab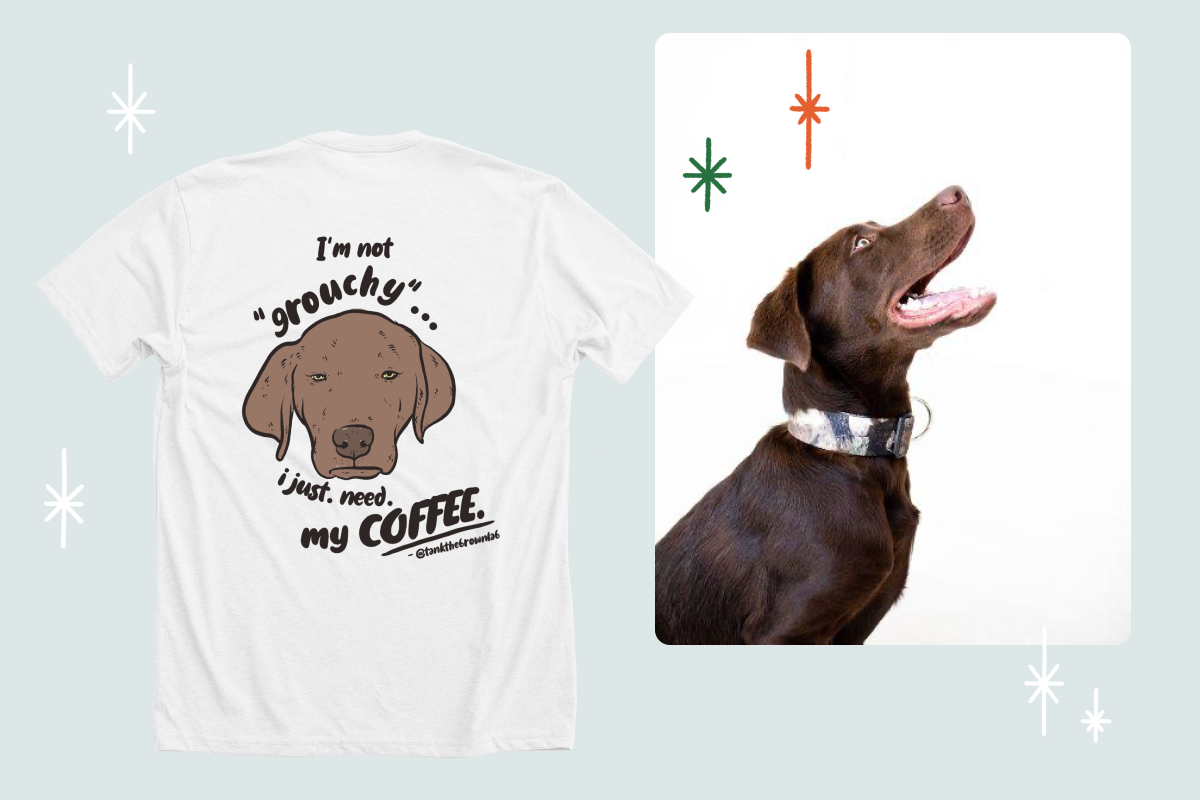 Tank is the self-proclaimed King of ZOOMIES, but it was actually a TikTok video of him falling asleep in a car that started his rise to fame. Anybody else relate to those energy shifts? This Grouchy tee featuring an illustration of Tank before his metaphorical cup of coffee is a great gift for the dog lovers and coffee lovers in your life.
Bean
Bean starts the day off right with "waking up with bean" videos on his Instagram and TikTok. He has a lot of things to say and a lot of different meows to use to get his points across. Bean is an independent man and knows you've got to 'shake off the haters' sometimes. Do these character traits remind you of anyone you know? If so, be sure to get them a Shake Off the Haters sweatshirt featuring a very meowy Bean.
Belarus the Cat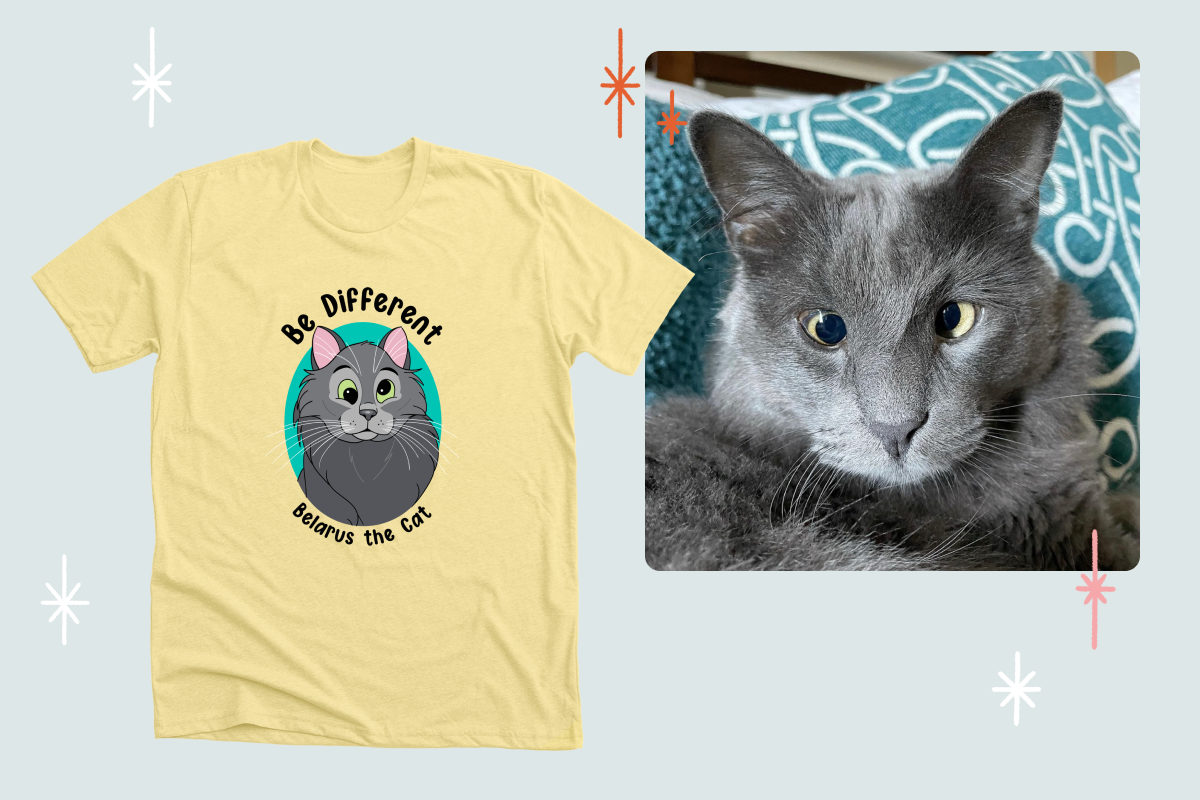 Belarus is a total lovebug. He enjoys lap snuggles, bird watching, and climbing onto and into things. Belarus and his family want to spread the message that different is beautiful! When you buy this Be Different Belarus tee for someone this year, 100% of the profits go to San Francisco Animal Care & Control.
Eggnog the Bulldog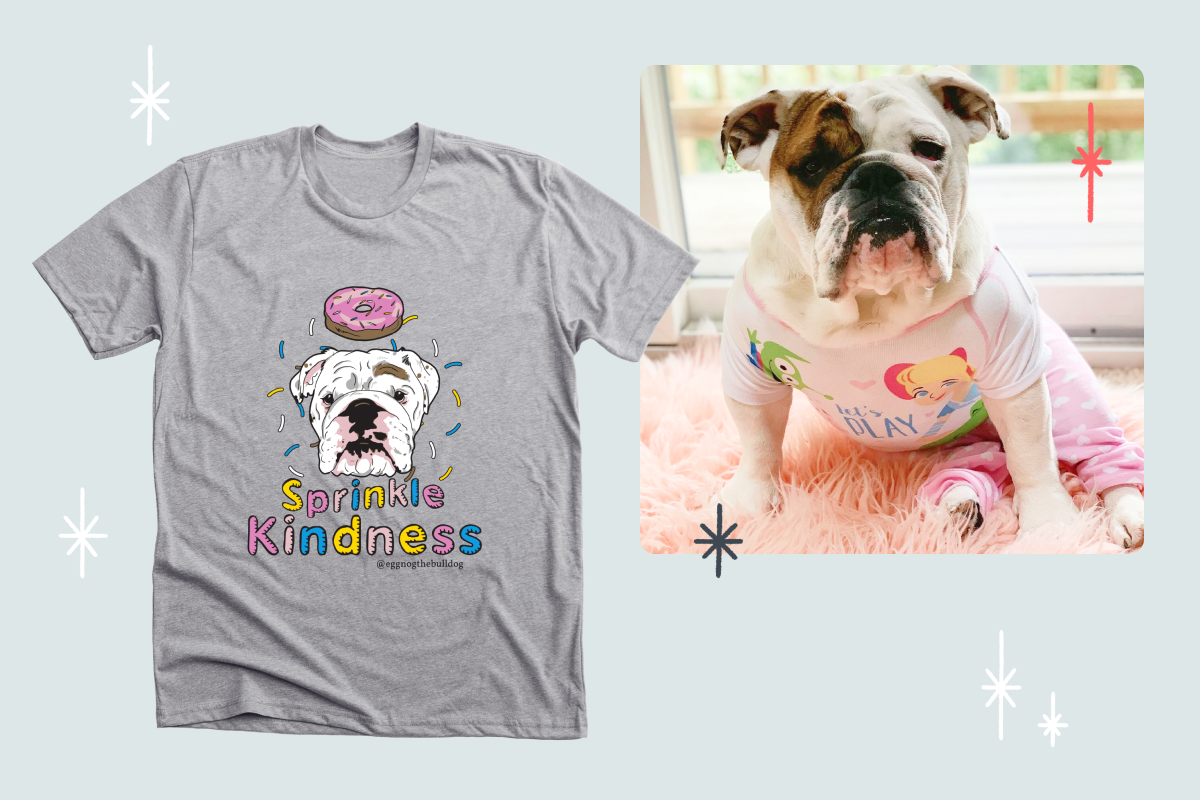 Eggnog and her sister, Igloo will snatch your heart right up. They love to dress up and put on a show. This Sprinkle Kindness tee featuring an illustration of Eggnog surrounded by donut sprinkles is a burst of joy that anyone would love to have.
Fenway & Wrigley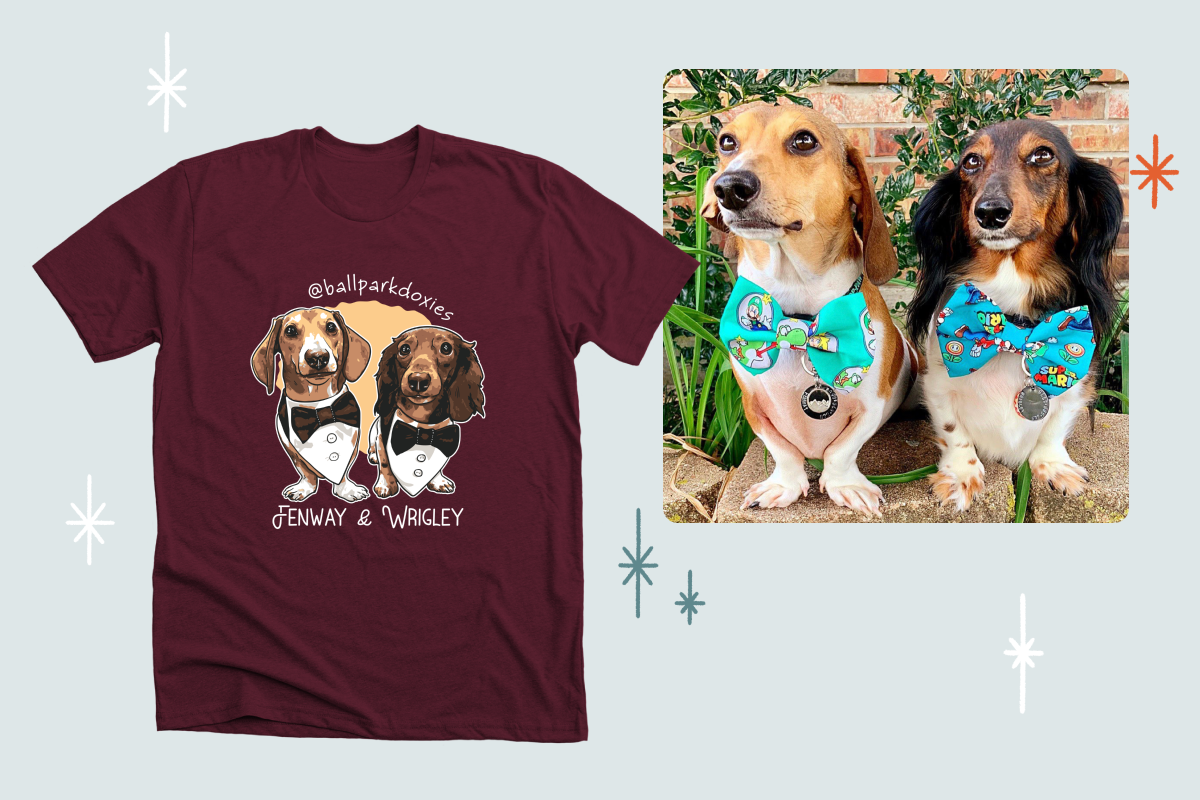 Fenway and Wrigley are two peas in a pod. These little buddies enjoy wearing matching bow ties and bandanas. There's never a dull moment with Fenway and Wrigley (and their brother and sister) and that's the way they like it. The Fenway & Wrigley @ballparkdoxies tee features an illustration of them looking incredibly dapper. In addition to being super cute, this tee also helps buy toys for their local animal shelter.
Zoe & Zeke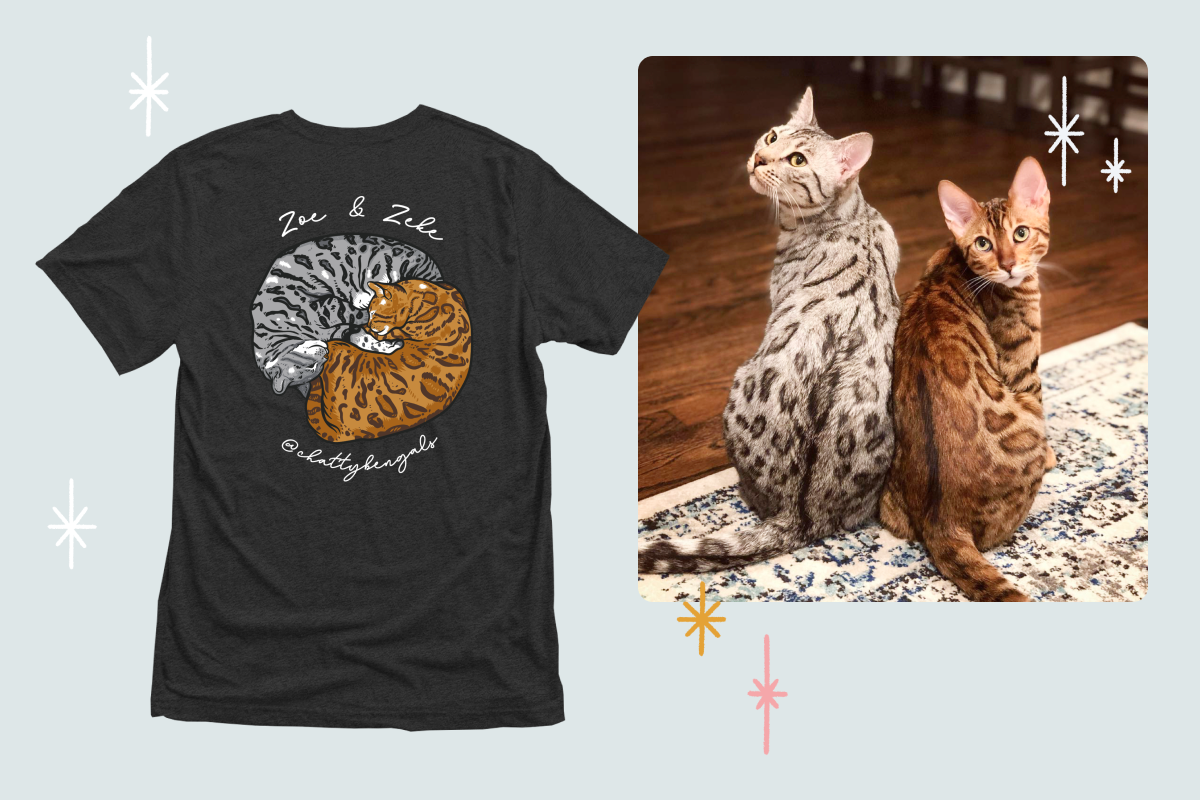 Zoe and Zeke, two very vocal Bengal cats, are striking to look at and enjoyable to watch. They like to give "advice" in their videos and they curl up together every chance they get. This Chatty Bengals tee showcases their bond and would be a wonderful gift idea for that friend you feel incredibly close to.
---