So you've been called to go on a mission trip!
Following your passion and faith to serve a community far from home is an admirable project, but not a cheap one. Chances are you need to raise some funds to support your travel and other mission trip expenses.
Custom t-shirts are a great way to fundraise for your upcoming mission trip! Regarded as one of the most dependable fundraising tools by nonprofits of all sizes, a t-shirt fundraiser can be particularly effective for individuals reaching out to their family, friends, and community.
This makes t-shirts a fantastic mission trip fundraising idea!
If you want to use custom t-shirts to fundraise for your upcoming mission trip, read through these key questions to make the most of your campaign:
---
Eager to start raising money for your mission trip?
---
1. What platform should I use for my mission trip fundraising t-shirts?
It's the digital age — if you need to design, create, promote, or sell anything, there's a tool for that. The choices can become overwhelming, especially with the concrete goals and deadlines of mission trip fundraising.
When looking for a custom t-shirt fundraising platform, remember that any fundraising tool should make it easier to pursue your mission, not more complicated!
Research some top-ranked t-shirt fundraising platforms, but always look for the options that offer the most flexibility. This is very important when fundraising individually or in a small group, since some platforms offer few options and hold you to unrealistic requirements, such as:
Offering no way for supporters to directly order their own shirt.
Requiring an unrealistically large minimum order of shirts.
Forcing you to distribute all the shirts your friends order.
As a custom t-shirt platform designed for fundraising, Bonfire is an excellent partner for your mission trip fundraising ideas!
With some of the most flexible and user-friendly options available, raising money with Bonfire custom t-shirts is a no-brainer. For example, with a Bonfire custom shirt fundraising campaign, you're not on the hook for placing a single bulk order and distributing all the shirts by yourself.

Use One of Our Free T-Shirt Designs to Get Started
2. What are some design trends for mission trip fundraising shirts?
Your mission trip fundraising t-shirt needs to be eye-catching!
Your close family and friends will already want to support your mission by ordering shirts, but attracting support from the broader community can provide a huge boost to your online fundraising campaign. To catch this kind of attention for your mission trip fundraiser, focus on design!
There are a number of design trends that currently see a lot of success when incorporated into custom mission trip fundraising t-shirts. Of course, yours should be original and unique to your exact goals and motivations, but trends can offer a great jumping-off point. Consider these:
Simple, outline-style designs
Bold phrases in unique typography
Inspiring verses relevant to your mission
Check out our guide to the Top Mission Trip Design Trends, based on mission trip t-shirts created and sold through Bonfire's fundraising platform!
Designing the perfect t-shirt requires some careful thought. Start by considering exactly what kind of product you'd like to offer your supporters. Check out our catalog of products for an idea of the variety that Bonfire can offer for your fundraising campaign: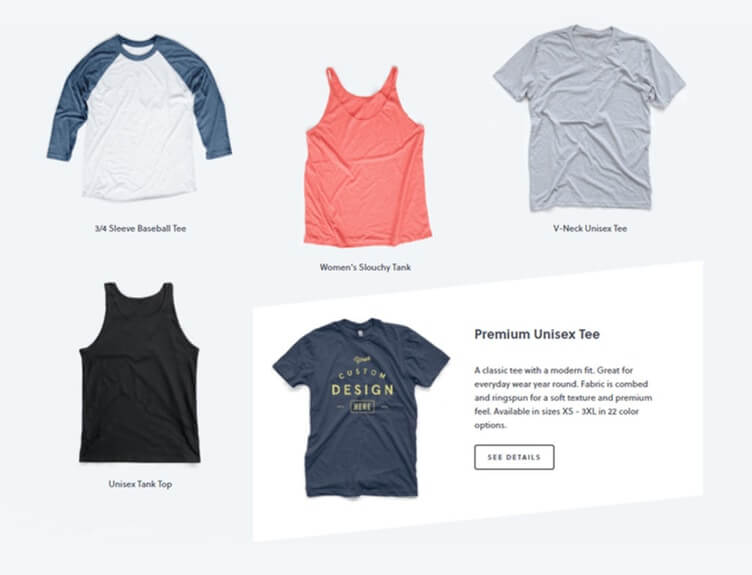 Next, follow our best practices on how to design a t-shirt. Think about your goals, the nature of your trip, and the kinds of design elements that will interest your friends, family, and members of your church.
An effective mission trip fundraising idea will engage broader sections of your community, not just the people you're close to!
Keep exploring for more visual inspiration! We regularly feature some top nonprofit and personal fundraising t-shirt designs on Bonfire's Instagram, so scroll through and take note of any designs that really stand out to you. Gathering inspiration from successful t-shirt designs is a great way to brainstorm ideas for your own.

3. How should I offer my custom t-shirts to my supporters?
Once you finalize your perfect mission trip fundraising shirt design, consider the best way to offer your shirt to those who want to support your goals.
If you use Bonfire to design and sell your custom fundraising t-shirts, you'll have a few options:
Sell your shirts online through an individual crowdfunding campaign. Your friends, family, and any interested community members can order your shirt through a dedicated Bonfire page. The shirts will be printed and shipped directly to them — prepare for your trip instead of driving around town delivering shirts!
Sell your shirts to raise money for your church's mission trip fund. Bonfire even lets you offer shirts and collect funds to be donated to a nonprofit, like your church. This can be a smart idea for small groups all raising money for the same mission trip. Plus, Bonfire provides supporters the option to make an extra donation when ordering a shirt.
Offer your shirts as a fundraising item for the nonprofit you're going to serve. If you'll be traveling in order to join a development project for an international nonprofit, Bonfire's fundraising capabilities are a perfect match. Sell your shirts and collect funds to donate directly to the nonprofit managing your mission.
Place your own direct order of custom mission trip fundraising t-shirts. With Supply by Bonfire, you can easily order as many custom shirts as you need for your whole missions team. That way everyone can wear their shirts during your travels, plus you'll all share a memento from your life-changing experience!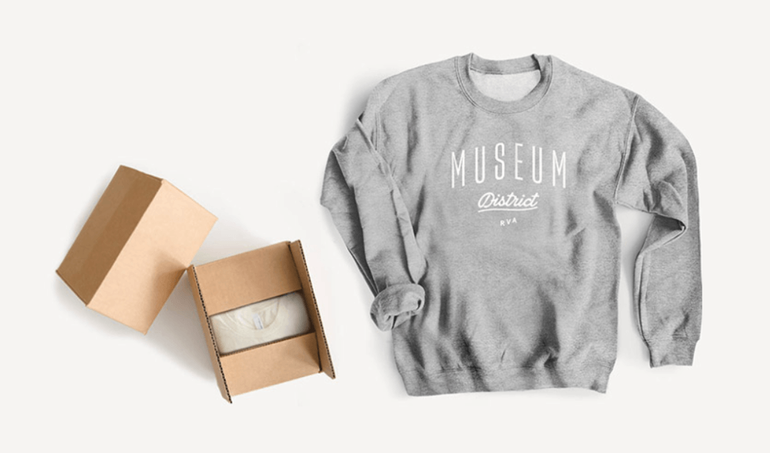 Any of these methods for offering Bonfire t-shirts can be an extremely effective mission trip fundraising idea! For both individual or small group fundraising projects, having these kinds of options allows you to make the smartest choices that best suit your goals.
Be sure to weigh all your options when choosing which strategy for offering your mission trip shirts. One deciding factor might be the fact that t-shirts your supporters order online through Bonfire will be delivered to them directly — you won't need to ship them yourself.


4. How much can I raise with mission trip fundraising t-shirts?
With a top t-shirt fundraising platform like Bonfire, the amount you raise is completely up to you!
You're already driven by your passion and faith to complete a mission trip. We believe that a fundraising platform shouldn't slow you down along the way.
If you choose to offer your shirts through an online crowdfunding campaign, Bonfire gives you the freedom to set your own prices and fundraising goals. This essentially means that the success of your custom t-shirt campaign depends on how extensively you promote your shirt's crowdfunding page.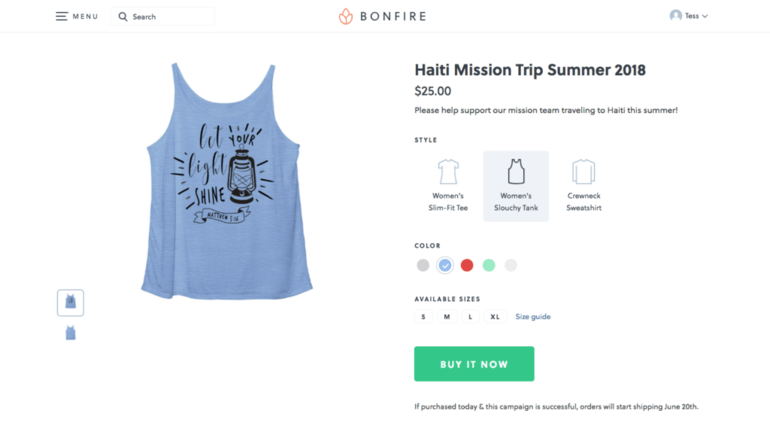 Your church, friend group, family, and social media followers are all perfect audiences for your fundraising t-shirt.
Bonfire provides some easy tools to customize your campaign description and share your page online to help get you started!
---
Custom t-shirts are among the most effective mission trip and personal fundraising ideas. Your family and friends will be excited to support you, and members of the broader community will be rewarded for their support with a well-designed shirt!
Fundraising is never a walk in the park, but Bonfire's flexible options and tools are designed to help. They'll simplify the whole process so you can reach your goals quickly and start pursuing your mission! Keep exploring for even more fundraising ideas and strategies:
Are you ready to create a mission trip t-shirt?