Going on a mission trip is a life-changing experience, but it's also expensive. If you're looking for interesting ways to raise funds for your next adventure, a t-shirt campaign could be right for you.
The first step in setting up your mission trip t-shirt fundraiser is designing your products. We know that this seemingly simple first step can actually be the most intimidating part of the process. So, we've gone through our community design archives to bring you some inspiration. We hope this will help you create a mission trip shirt that your community will love!
Country Outlines
Where are you going on your mission trip? Incorporating the shape of the state, country, or continent you are traveling to is a simple way to make a generic design specific to your trip. You can either outline the country or fill the space in. Think about how you can combine words that define your trip with the outline of the location. Does the country look similar to a letter in the alphabet? Can you fill the outline with a meaningful phrase?
Bold Phrases
Let the words speak for themselves. Short and spunky text designs are a great way to appeal to potential customers, while also speaking to your heart for serving.  Get creative when you're spelling out meaningful words. Think about how you can layer parts of a word on top of each other or use unique fonts to draw attention to a keyword. Bold statements about love, kindness, and changing the world make for a great mission trip shirt design.
Inspiring Verses
Is there a phrase or scripture that is constantly popping up in your head? Don't ignore that! Draw or write it out and incorporate it into your design. Consider phrases that have been encouraging to you or your community as you have been preparing for this trip. Shirts with an illustrated verse can appeal to your broader community, and even those who don't know you, just because the design looks so cool or because that's a verse that they love too.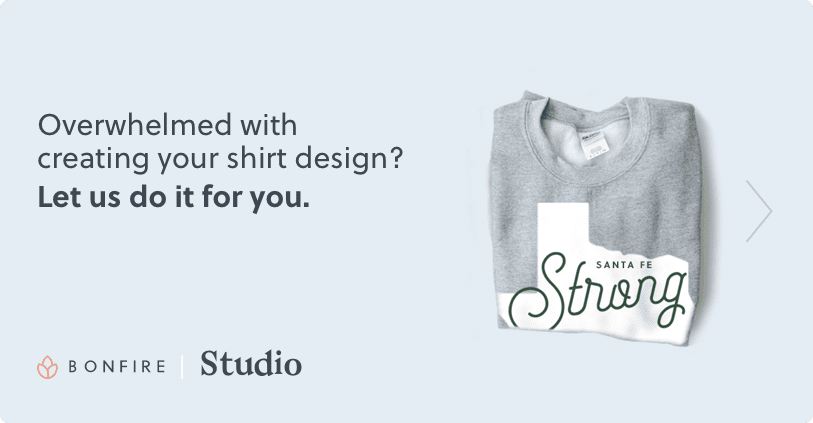 Don't forget!
Launching a campaign on Bonfire is the fastest and easiest way to fundraise online. Don't forget to take advantage of the content areas we provide on your campaign page. Use this space to inform your customers about why you are going on this trip and what you're most excited about for this trip. Explain the design you chose for your mission trip shirt, especially if there's significance to the phrases or verses used. You can even mention specific parts of the trip that you still need to pay for, such as a plane ticket or hostel fees. This will help your customers feel engaged, and that their donation is actually making a difference.
Need help getting started on your mission trip shirt?
We've created a collection of free mission trip t-shirt design templates to help inspire you. All you have to do is find a design you like, and then you can start to edit the text to be specific to you, and start selling your shirts! If you still need help, our Customer Support Team is here to help every step of the way!