You've got an eye for design, a passion for creating, and your followers just can't get enough of your art. Let's get your name and your work out there for everyone to see and enjoy by making custom merch! Your followers will be so excited to wear your designs, and they'll love this unique opportunity to help support you financially. This is a chance to bring even more inspiration and beauty into the lives of your community! Whether your followers are aspiring artists themselves or collectors/admirers – they will all be huge fans of your merch collection. Let's jump right in and start creating merch!
Artwork-ready Merch Ideas
To help you get started, we've put together a list of best-selling artwork-ready merch items for you to choose from, design, and sell. These pieces will resonate with both you and your community. Each product is a blank canvas just waiting for you to add your creative magic!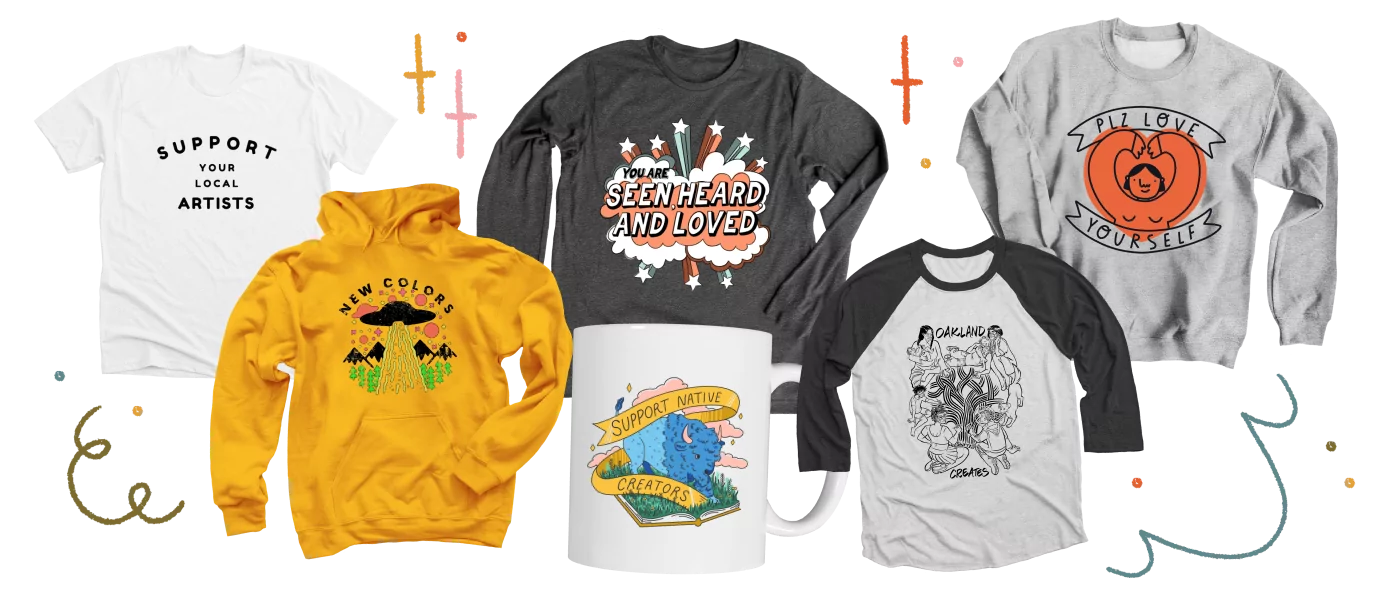 T-Shirts
Every artist appreciates a classic tee. Our Premium Unisex Tee is incredibly soft and ready for all-day wear. Throw on this tee and spend some long hours at the studio. Paint splatters? No problem! They'll add to your shirt's design and probably make you and your supporters love it even more. 
Long Sleeve Tees
A chill in the air can't keep you from finishing a project when you're wearing our Premium Long Sleeve Tee. The fabric and sleeve length will keep you cozy while you work without causing you to get too toasty. This tee has a modern fit, a stylish look, and everyone in your community will be reaching for it to wear over and over again. 
Crewneck Sweatshirts
Making multiple trips to the art supply store or the hardware store? Our Crewneck Sweatshirt and Midweight Crewneck have you covered. You'll be ready for anything in this classic fit sweatshirt that will have you looking super put-together no matter what. This crewneck is a great option to have in your store and it's nice for layering on top of a tee or even under a jacket for colder days. 
Hoodies
You can't go wrong with a hooded sweatshirt for days when you just want to feel comfortable. Add our Pullover Hoodie or Midweight Pullover to your merch collection and it will become an instant favorite. It has a drawstring hood and front kangaroo pocket for maximum coziness and easy storage for markers, paintbrushes, or pens. This hoodie is perfect for sketching at a park or coffee shop. Wherever you or your followers like to work, this hoodie is ready to post up and get the job done. 
Baseball Tees
Painting a mural? Teaching a hands-on art class? Selecting pieces for a gallery show? You'll be able to move freely and keep your creative groove going in our ¾ Sleeve Baseball Tee. Add some extra flair to your tee by picking just the right color for the arms. You'll be ready for any challenges and opportunities the day brings when you wear this tee. 
Mugs
Getting an early start or working late into the night? Our 11 oz. Coffee Mug will be with you through it all. Whether you drink coffee or tea, this mug will keep you fueled up and ready to go.  
Artwork-inspired Designs
The creative work that you do is so important and your art has made a huge impact on your community. Let's make your artwork even more accessible for people by turning it into merch! Once you've picked the perfect products to sell in your merch store, you can get busy transforming them into wearable art! Here are a few inspiring design approaches ideas for you to play around with.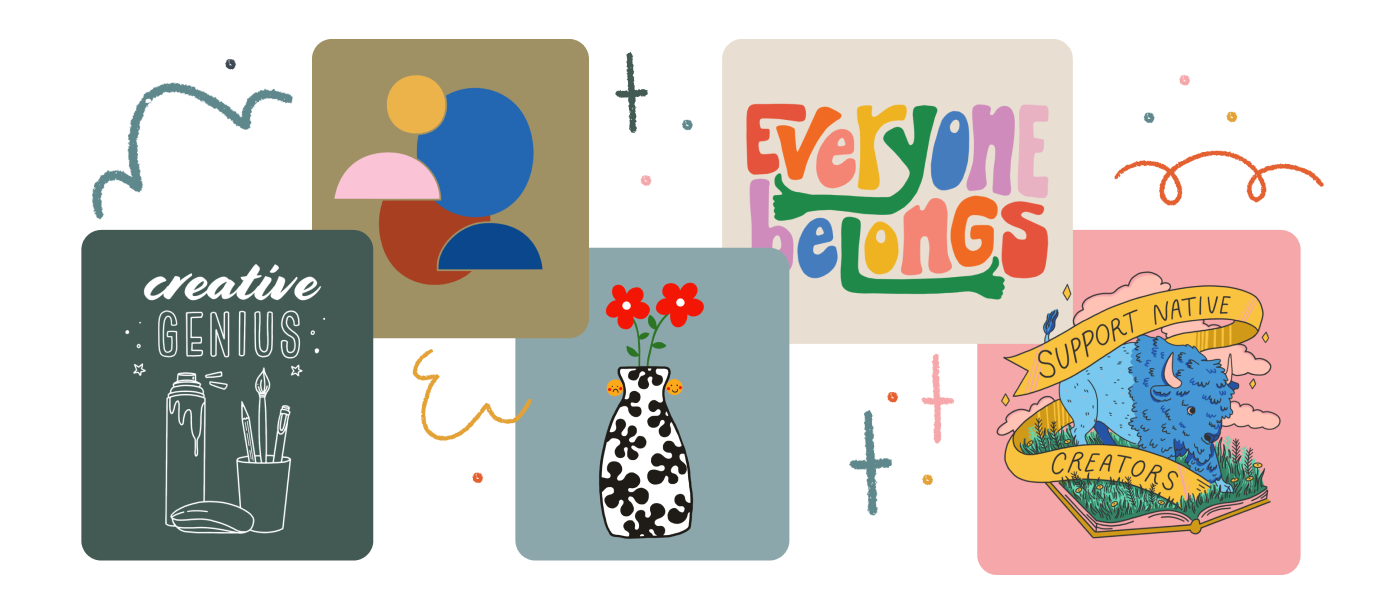 Turn Your Most Popular Artwork Into Merch
This might seem obvious to you, but one of the best and easiest ways to create merch is to feature your art as the design! Your followers will love the chance to wear your art and enjoy it whenever they want! Depending on your typical medium, this might require a little time and creativity – but fear not – there are many ways to translate elements of your art into the merch you want to create. If you need help, you could partner with an artist friend or reach out to our design team! 
Advocacy Merch
If there's a cause you care about, use your art and your creativity to amplify that message! Whether you choose text, imagery, or both to represent your cause, your merch design can raise awareness in an incredibly meaningful way. 
Limited Edition Merch
Transform your merch into exclusive, limited-run collector's items!  By only making certain products available for a limited time, you establish an element of exclusivity. If someone in your community misses a launch, their FOMO will ensure they never miss another one. These types of limited-run sales are exciting for your community and will spark a ton of interest. 
---
These products are well crafted, thoughtfully designed, ready for the long haul, and the perfect merch items for artists (of all kinds). We hope you feel excited to turn these products into your very own collection. We can't wait to see what you create and we really, really can't wait to see what your merch collection inspires others to create, too.
Ready to jump right in?
Start making your own premium custom merch for free on Bonfire.