The most profitable TikTok merch happens when creators take the time to create a thoughtful design that connects with their followers. Too often we see TikTokers with millions of followers selling merch that only features their name in the design. And almost every time, the creator is disappointed by how many products they sell. Without fail, we've learned that more subscribers doesn't always mean more sales.
At Bonfire, we have helped TikTok creators, on all levels of popularity, create merch for their subscribers. We've seen the greatest successes and biggest letdowns, and we have the insight to help you have the most successful merch run ever.
Let's explore some of the common design themes of the best TikToker merch that's been sold on Bonfire to learn how you can create merch that your fans will love.
Allie + Sam
@allieandsam • Allie: she/her • Sam: she/her
Allie and Sam are a same-sex married couple who are passionate about spreading love, kindness, and good vibes. They document all of their adventures together, including their newest and biggest adventure which is their journey to motherhood! They share openly about the joys and struggles they experience while going through IVF (In vitro fertilization) and FET (frozen embryo transfer).
Their Merch
The Rainbow Love Collection features an illustrated rainbow in soft, neutral colors. All proceeds from this collection go directly towards Allie and Sam's Baby Fund! This design is available in lots of different apparel styles – Premium Unisex Tee, Premium Long Sleeve Tee, Classic Unisex Tank Top, ¾ Sleeve Baseball Tee, Unisex Youth Tee, and Youth Crewneck Sweatshirt. This design is also available as a mug!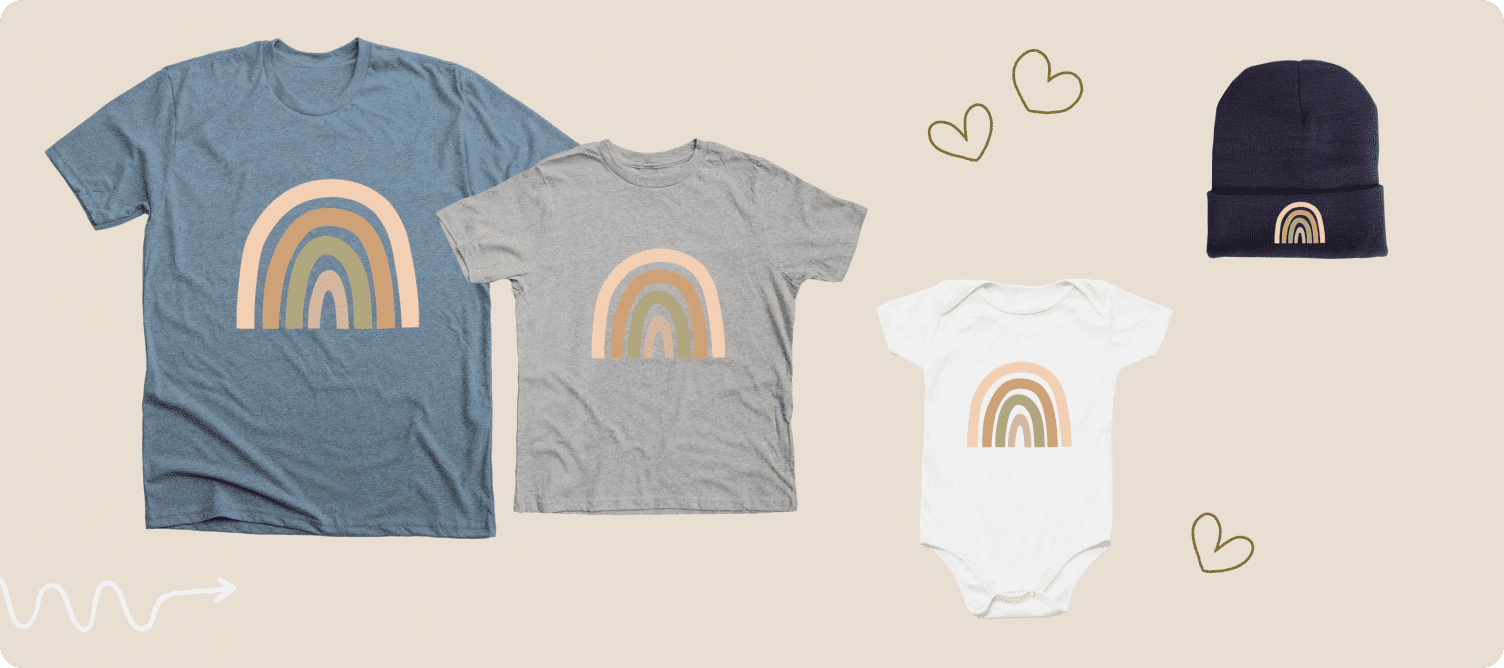 What Works
Allie and Sam have developed a personal relationship with their followers through the honesty and authenticity of the content that they share. This connection has helped their followers feel invested in their story and want to support them on their journey. By creating a merch store on Bonfire, Allie and Sam created the opportunity for their followers to donate to them and their Baby Fund directly.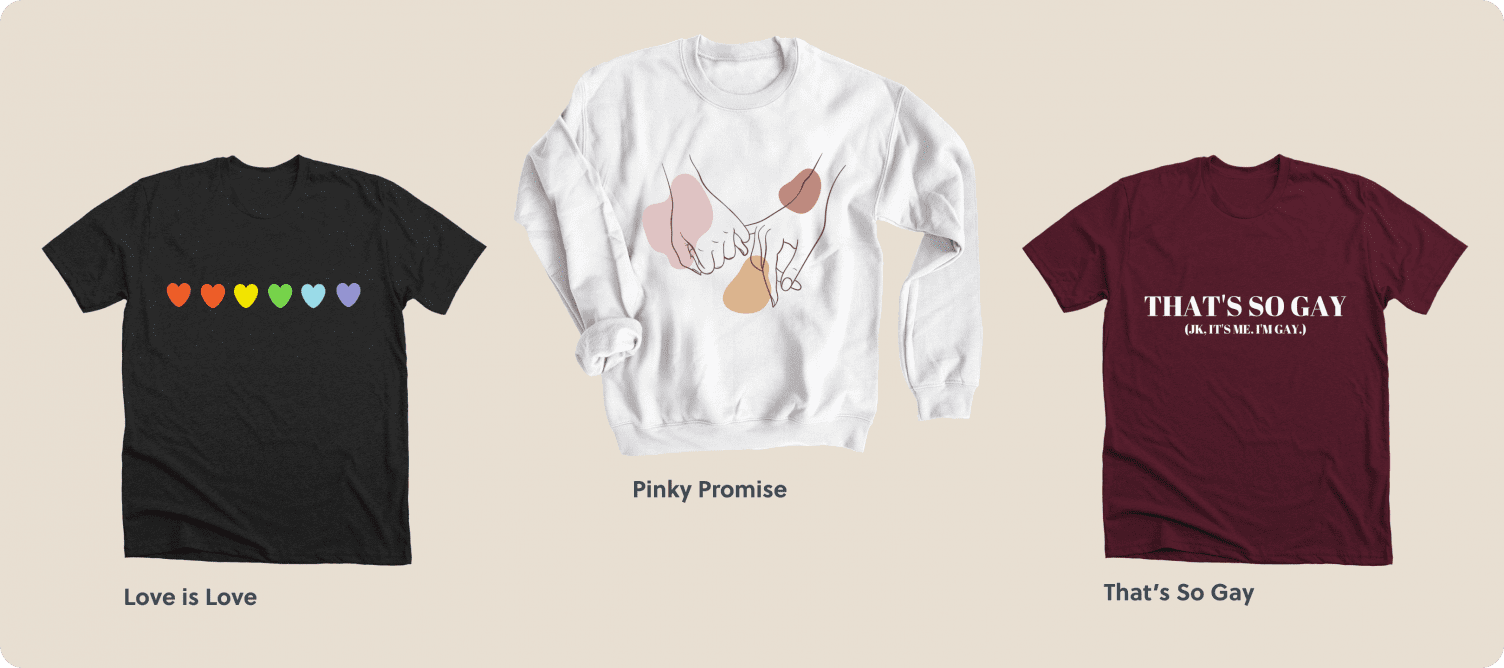 They chose to feature minimalistic shirt designs in their online merch store which helps their designs resonate with a wide range of their supporters. They also offer apparel options for adults and children. By offering styles for children, they have created space for families and folks of all ages to show support for them as well. 
Skye Hitchcock is a mama of 3 who posts about her life and her kids. Her family is renovating a school bus that they've named Boulevard, that they live and travel in! 
Their Merch
The Chase The Sunset Retro Collection is inspired by their bus renovation project! The colors are rich and bright, just like the sunsets they hope to chase once Boulevard is complete. There are 5 birds in the design which represent the 5 members of Skye's family.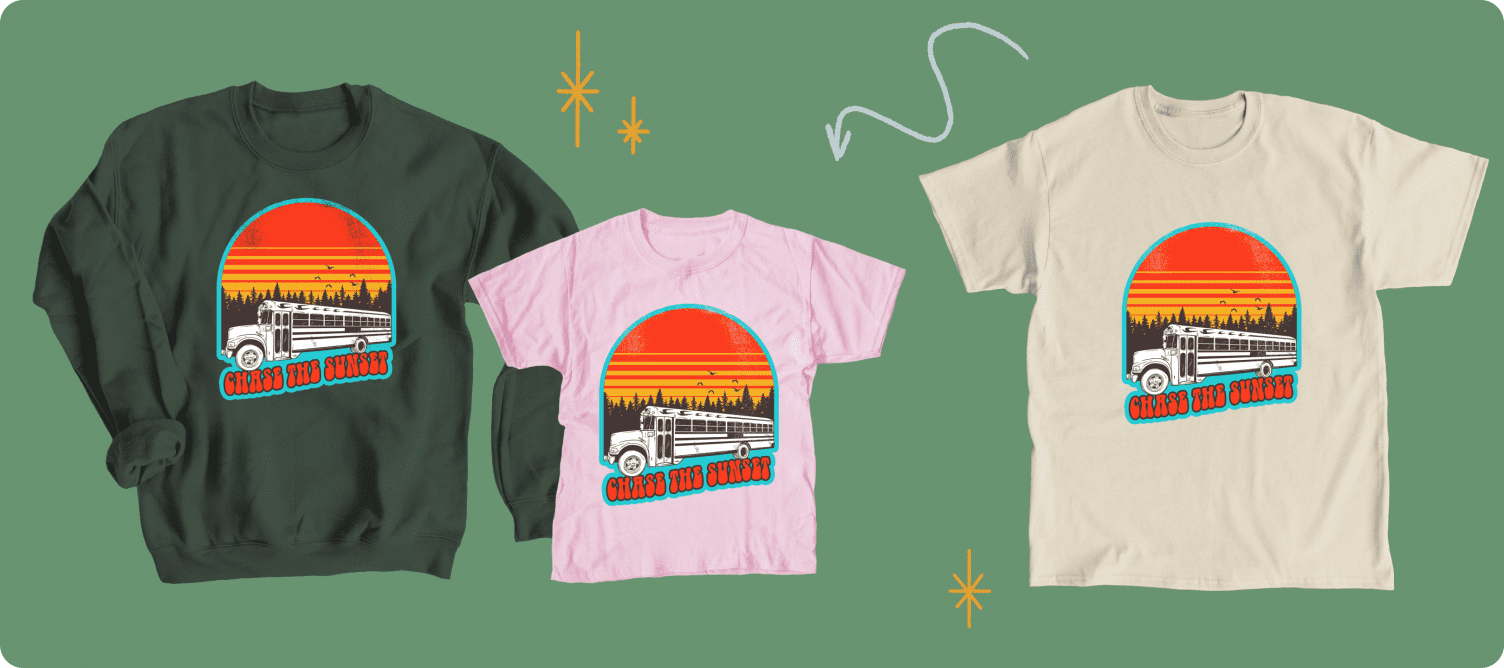 Details like this add a personal touch that buyers really appreciate. This design is available in many different apparel options – Classic Unisex Tee, Classic Long Sleeve Tee, Crewneck Sweatshirt, Triblend Unisex Tee, Comfort Colors Long Sleeve Tee, Women's Slim Fit Tee, Comfort Colors Unisex Tee, Youth Unisex Tee, and Youth Crewneck Sweatshirt. 
What Works
Skye has created a following of people who love to watch her "conversation style" videos and keep up with the happenings of her family. By including her followers in their bus renovation project and creating merch to fund the process, she has made it possible for her followers to play a role in helping to make their family's dream come true.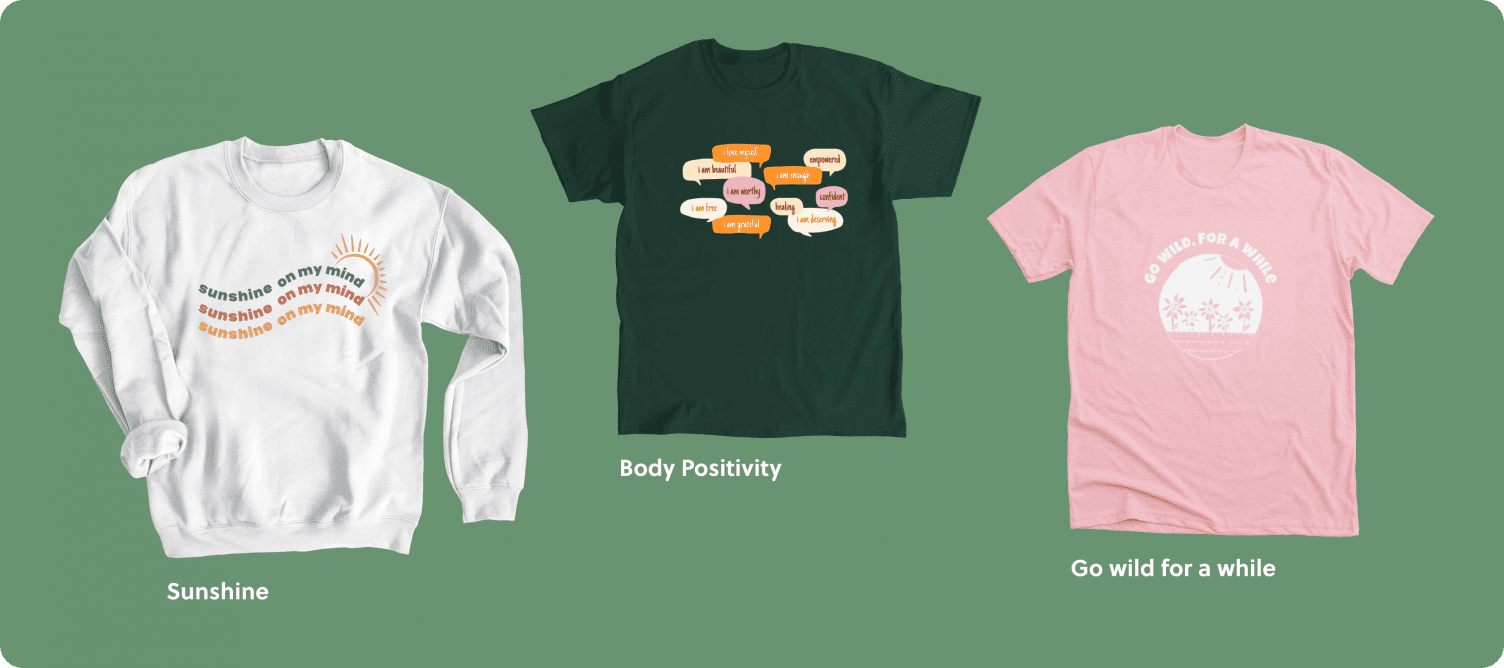 Her designs have a retro feel which plays off of nostalgia and appeals to a lot of people who appreciate that style. Skye has also created apparel in a large selection of options which guarantees that there will be something for everyone. Her brand consists of family life, so it's important that she included apparel options for children. 
Brittany Lupton
Brittany is a fitness trainer who offers classes on @fitbodyapp, has her own YouTube channel, and is passionate about fitness, education, and motivation. Brittany strives to inspire everyone, but especially women, to commit to becoming the best versions of themselves and live healthy lives.
Their Merch
Brittany's Each Day is a Fresh Start Smiley collection is a wearable reminder that each day is a chance to start over and recommit to your goals and to yourself. She has chosen a soothing color palette and a handwritten style font for her design, both of which make her apparel feel calm, cozy, and easily wearable. This design is available in a Cropped Hoodie, Pullover Hoodie, Crewneck Sweatshirt, Comfort Colors Long Sleeve Tee, and Comfort Colors Unisex Tee.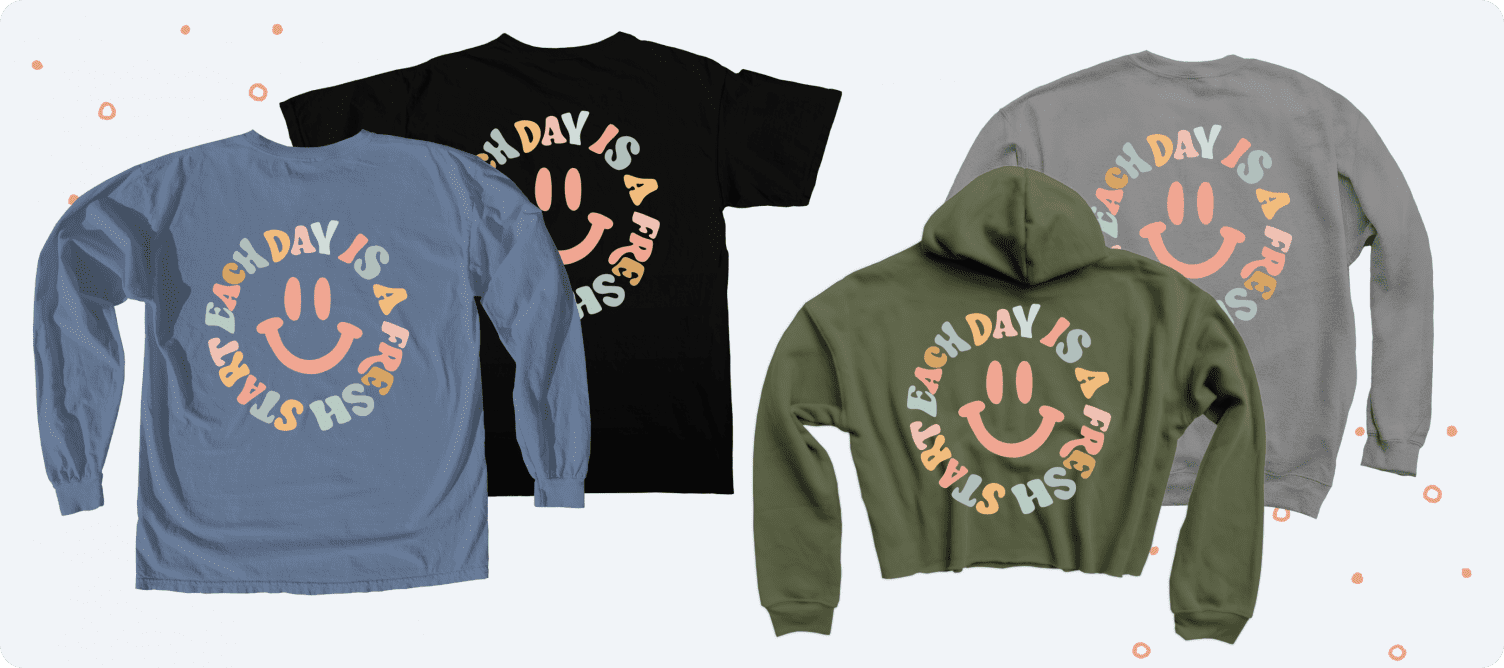 What Works
Brittany's followers are looking to her for fitness and lifestyle motivation. By creating her own custom apparel that features her inspirational messages, Brittany has made it easy for her followers to feel confident and inspired in their day-to-day lives beyond her videos.
The messages on the apparel look and feel like words from a friend who is cheering for you and rooting you on. 
Tika the Iggy
Tika, an Italian Greyhound who lives in Montreal with her Dads, Thomas and Louis, is a Fashion Icon with an impressive following. She has over 200 stylish outfits (most of which are custom-made) that she models in her videos on TikTok and her photos on Instagram. In January of 2021, Tika was even featured in Vogue. Tika (and her Dads) seek to bring glamour, fierce looks, and a whole lot of color and joy to the world.
Their Merch
Tika's Doodle Design collection features line drawing illustrations of Tika rocking some of her iconic outfits. In the design, Tika is surrounded by stars and pieces of her most favorite food, chicken. This design is available as a Premium Unisex Tee, Pullover Hoodie, Classic Unisex Tank Top, and a Youth Unisex Tee.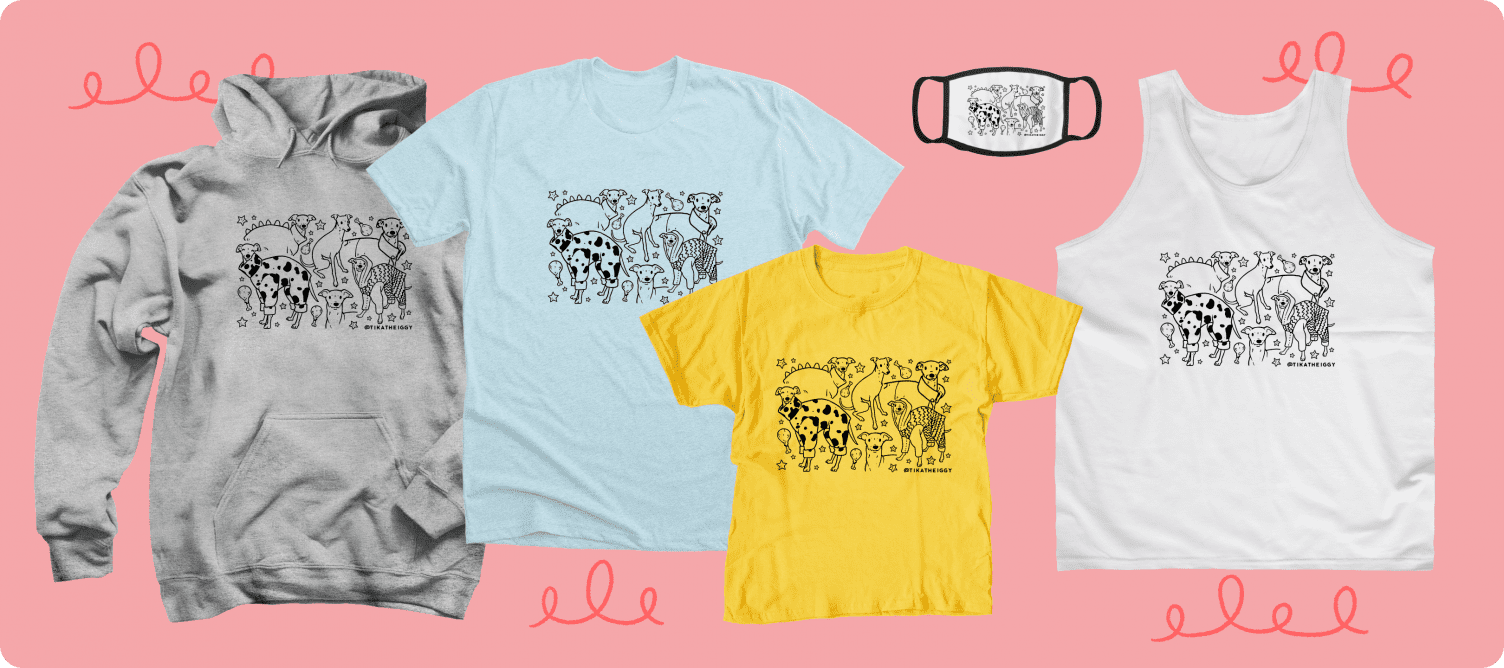 What Works
Tika rose to the height of her fame during the global pandemic when her "Love it, Couldn't Wear it" video on TikTok went viral. This video showcased a few outfits of Tika's that she had planned to wear in 2020, but then couldn't because of lockdown. Because so many people around the world were struggling with sadness due to canceled events, seeing video clips of an adorable little dog wearing her fancy outfits at home became an inspiration to a huge number of people. The content of this video was cute, funny, and incredibly relatable. Suddenly, Tika became a fashion icon.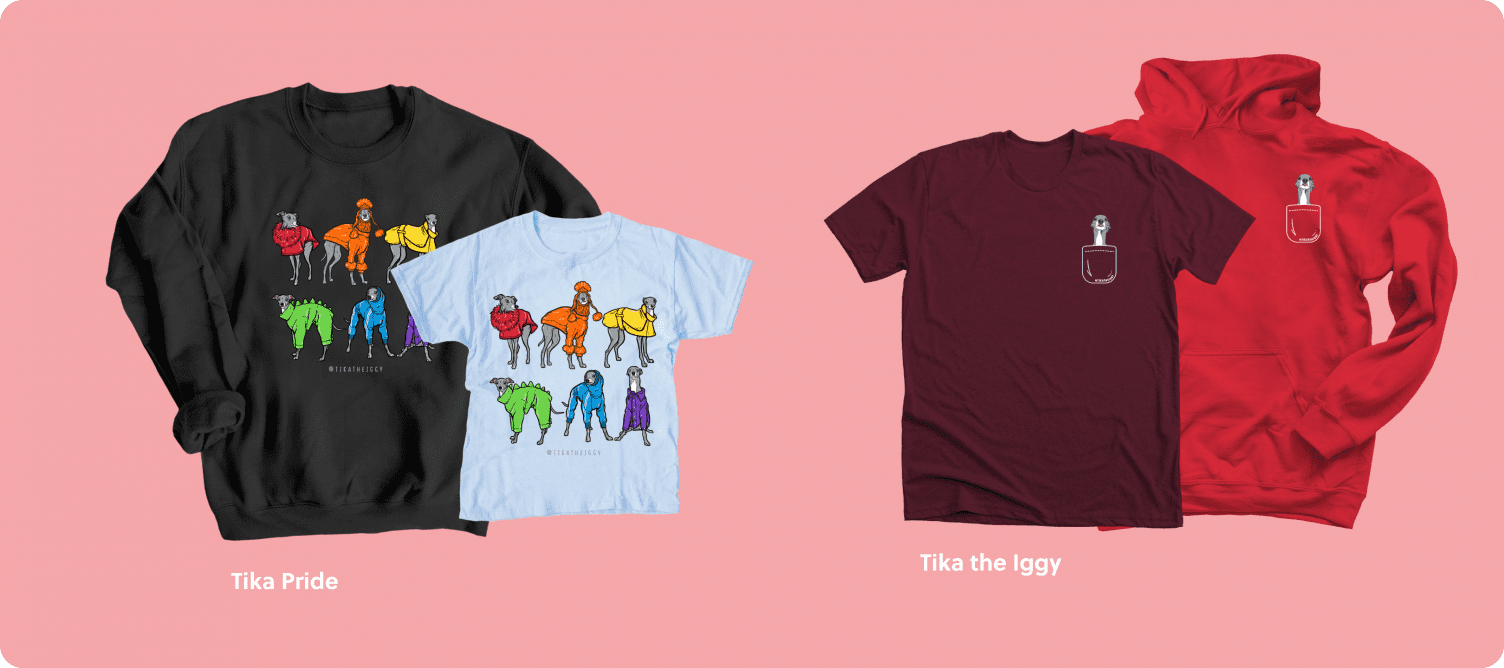 Tika's outfits, designed by her Dad, Thomas, with the help of different designers, are always incredibly couture, but they are also always comfortable. The comfort aspect is incredibly important to Tika and her Dads, so it makes perfect sense that Tika would have a line of merch that is also super stylish and comfortable. Now, whether Tika's fans are stuck at home, or not, they are able to be as fashionable and as cozy as they want.
Meredith Mason
Meredith founded the That's Inappropriate blog in 2014 after a lifesaving surgery left her seeking to live in a more meaningful and impactful way. That's Inappropriate is a parenting blog inspired by Meredith's experiences raising 3 children and feeling like she is losing her mind on a daily basis. Meredith created a community for parents to thrive instead of merely survive. Her blog has since expanded to include the Filter Free Parents blog and a podcast called Take It or Leave It.
In her videos on TikTok, Meredith shares an honest take on the ins and outs of parenting and marriage. By using social media as an outlet to express herself, share experiences, offer advice, and also reclaim her personal identity, Meredith has made a safe space for other parents to do the same.
Their Merch
The Tell me to relax one more time… collection features big, bold text saying, "Tell me to RELAX one more TIME…", an extremely relatable phrase for anyone who has been stressed out and told to simply "relax". The text has a handwritten style and feels like it could have come from a scribbled note that was taped to the front of the fridge as a visual warning. Meredith's humor definitely shines through her apparel collection.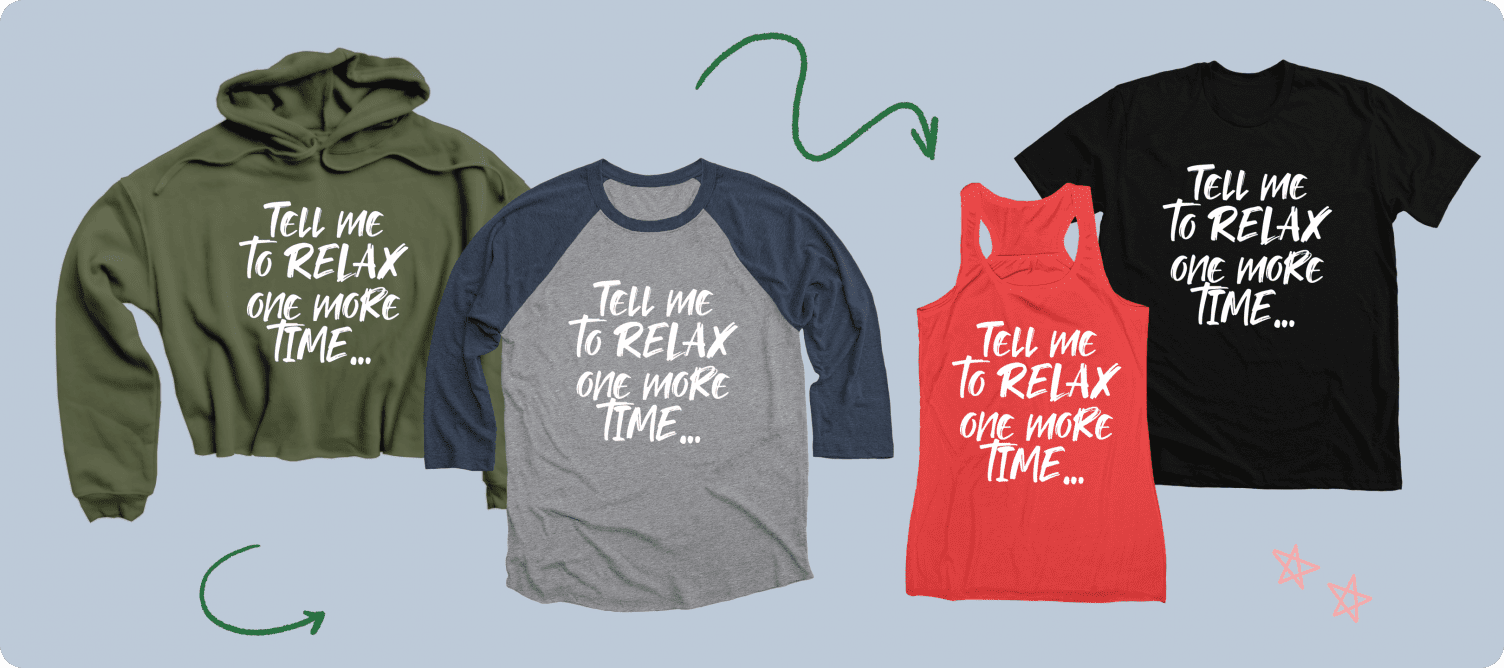 This design is available in a lot of different apparel styles – Crewneck Sweatshirt, Pullover Hoodie, Premium Unisex Tee, ¾ Sleeve Baseball Tee, Women's Racerback, V-Neck Unisex Tee, and a Cropped Hoodie.
What Works
Meredith has done an amazing job capturing an authentic and honest glimpse into motherhood/parenthood and her accounts have resonated with a huge community of people. Because her experiences are "imperfect" and real, her followers feel a strong connection to her and enjoy being along for the ride while she figures things out. Meredith's merch collections feature apparel that is fun, humorous, nostalgic, and full of color.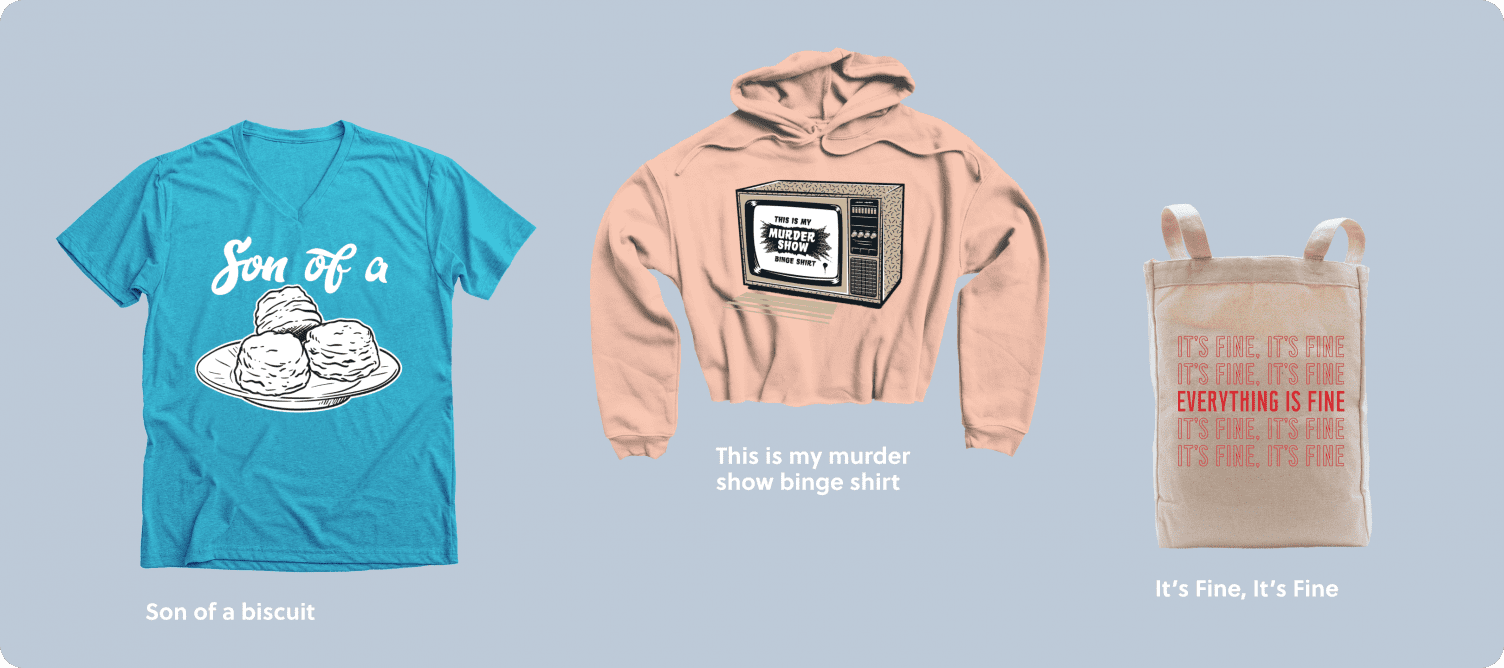 Her goal with her merch is to bring laughter to situations that could very well be frustrating. Turning everyday stressors into light-hearted comedy is the genius of Meredith's brand, and her merch is a perfect representation of that.
Jeremiah Jacques
@jmdelore • he/him/they
Jeremiah is a self-taught makeup artist and influencer from Florida who is making big moves in the makeup industry with their intense creative talent and expression. Jeremiah's makeup looks are works of art – bold, colorful, and incredibly innovative. Through their makeup artistry, they aim to inspire and empower others to share their beauty with the world and freely express themselves.
Their Merch
Jeremiah's Express Yourself collection features an illustration of a paint palette covered in flowing stripes of colors with text surrounding the design that reads, "Express Yourself". The entire design is bursting with rainbow colors. On their campaign page, Jeremiah refers to the collection as, "Apparel that encompasses embracing, owning, and fully expressing all parts of your identity. It's about loving your full authentic self in spite of society telling you otherwise. In the end, it's about empowering others to live for themselves and themselves alone."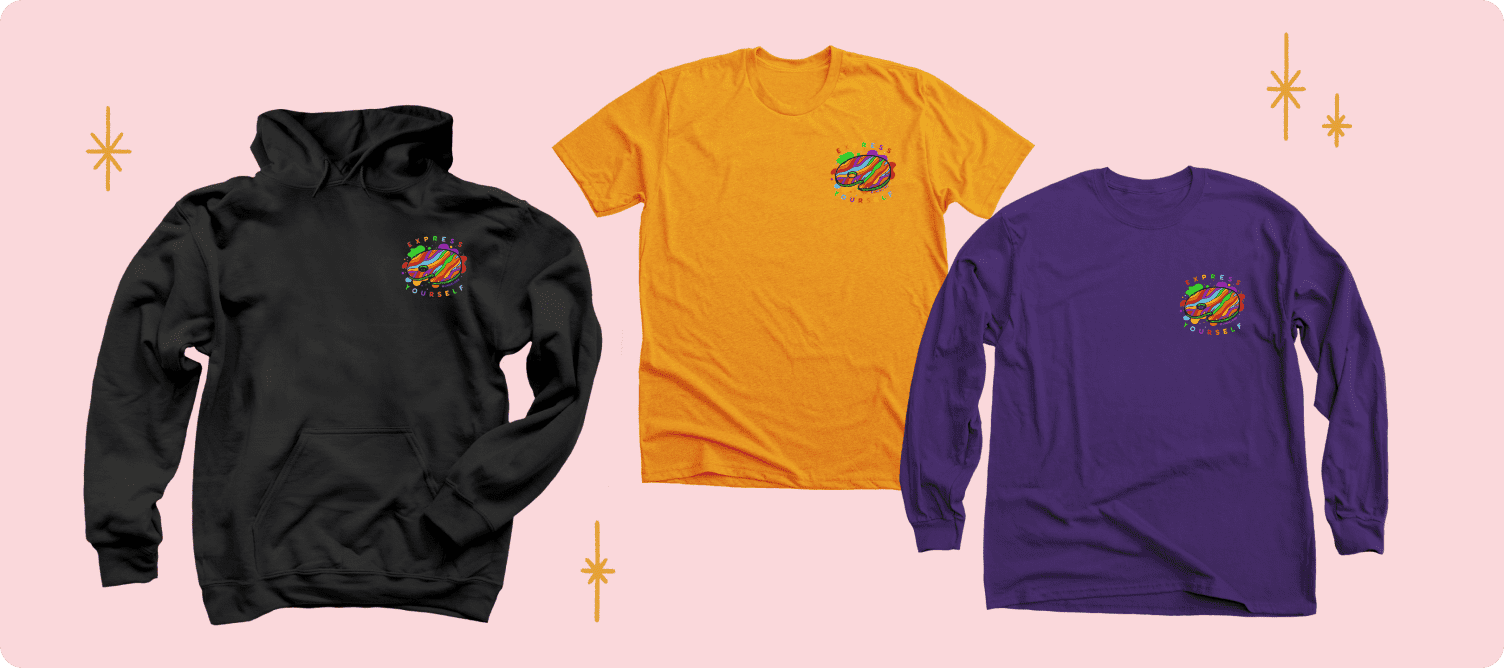 This collection is available in a Classic Long Sleeve Tee, a Pullover Hoodie, and a Premium Unisex Tee. 
What Works
Jeremiah's followers are drawn to the way they use their faces as a canvas, creating masterpieces with makeup. Jeremiah honed in on this concept with the creation of their Express Yourself collection by having the design feature a painter's palette that is full of color and possibility. They also leaned into their message of unapologetic self-expression by including the words, "Express Yourself". Jeremiah created a design that their followers can wear as a reminder to live authentically.
Marleigh and Chris
Chris Rooney runs the @theyeeetbaby account that centers around his adorable niece, Marleigh pouring drinks and saying silly toddler things – with an emphasis on her catchphrases, "Just send it" and "Yeet!" Chris started featuring Marleigh on his personal Instagram account and then soon realized she needed her own due to her growing popularity. The duo now has 1M followers on Instagram and 4.4M followers on TikTok.
Their Merch
The phrase, "Just send it", featured on Marleigh and Chris' merch design, is their well-known tagline and another way of saying "just do it", or "don't think, go for it". The design also includes a small icon of a circle with two wine-style glasses clinking together for a "cheers!" The apparel is available as a Premium Unisex Tee, Pullover Hoodie, and a Youth Unisex Tee.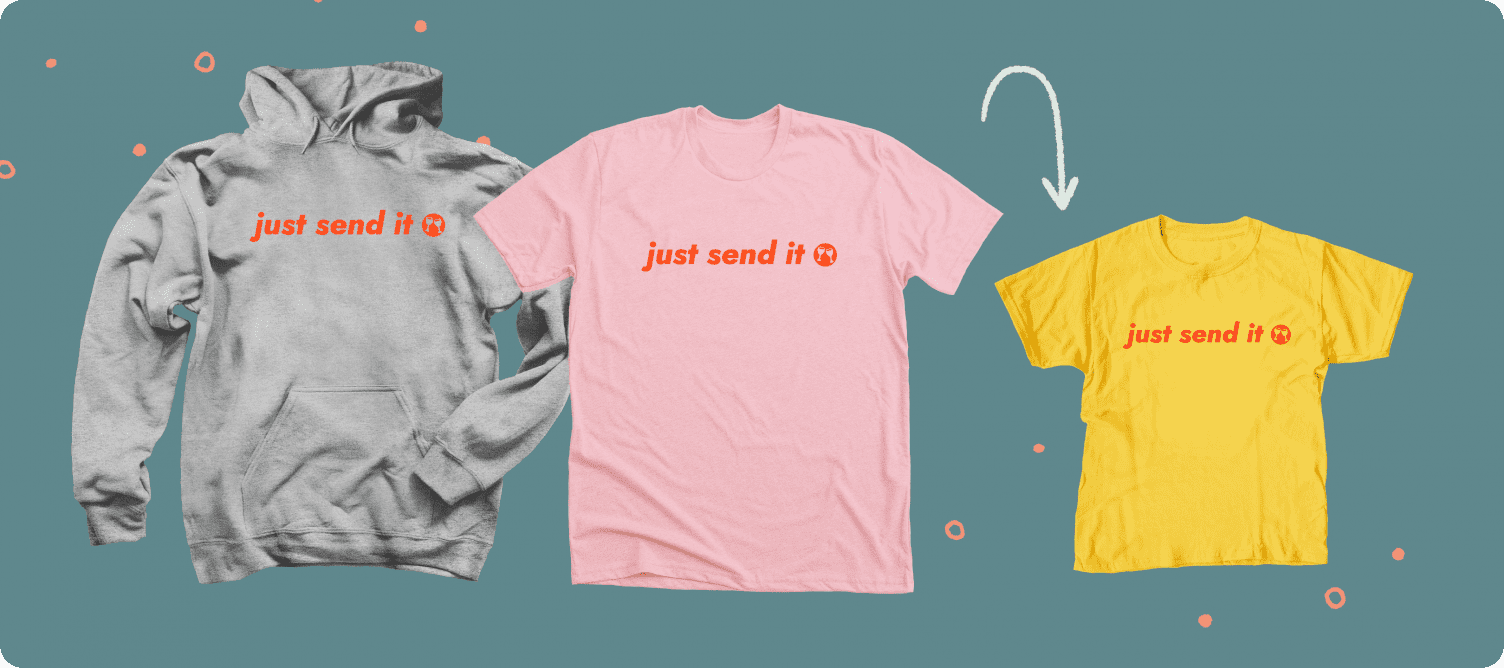 What Works
For their design, Chris kept it simple and gave the people what they wanted – Marleigh's signature catchphrase, "Just send it". The clinking glasses in the design represent the bond he has with Marleigh by showcasing one of their favorite pastimes, making (toddler appropriate) drinks together.
By featuring an activity that brings him and Marleigh closer, supporters can connect with the sense of love and family that is the true heart and soul behind @theyeeetbaby. Since Marleigh is a toddler, it was important that they included youth apparel options in their collection so that kids could also rock Just send it merch!
---
These TikTok creators are using their platform to its full potential – making both content and merch that their followers love! By creating a merch collection that is thoughtfully designed with your supporters in mind, you will deepen the existing connection that you have with your online community. Use the best practices of these TikTik creators to influence and inspire your own merch!
Ready to create your own merch?
Design & sell custom merch on Bonfire that your subscribers will be eager to buy.