June is Pride Month, a time to celebrate the LGBTQ+ community, uplift LGBTQ+ voices, and support the ongoing fight for LGBTQ+ rights. This Pride Month, we encourage you to wear your pride, boldly and with purpose!
We've pulled together a list of Pride Month-inspired campaigns from the Bonfire Community that are raising funds for LGTBQ+ organizations and initiatives.
When you purchase a shirt from any of the campaigns listed below, you'll be directly supporting people that are working to advance LGBTQ+ rights, promote acceptance and equality, and empower the LGBTQ+ community.
Celebrate Queer Joy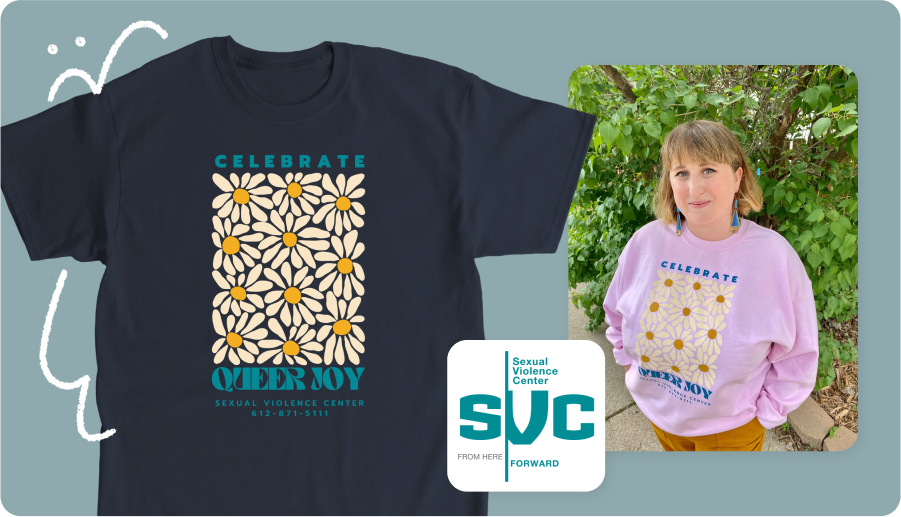 The Celebrate Queer Joy campaign was created by Sexual Violence Center, an organization that supports people impacted by sexual violence through crisis intervention, case management, outreach, education, and systems change.
This design emphasizes the importance of celebrating queer joy – "With historic attacks on the basic civil and human rights of our LGBTQ+ siblings, it is imperative that we take a moment and remember to celebrate QUEER JOY. It's not just about survival, or healing, or resistance. It's about joy, too."
When you purchase a shirt from this campaign, you'll be helping to support Sexual Violence Center's programming.
We Belong Everywhere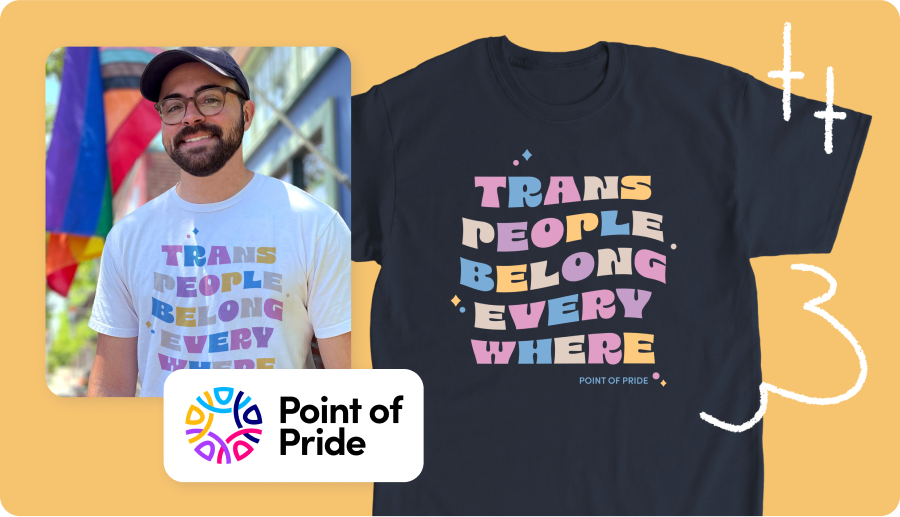 The We Belong Everywhere campaign was created by Point of Pride, a trans-led nonprofit that provides financial aid and direct support to trans folks in need of health and wellness care. "In sports, in schools, in the workplace, in conversations around healthcare and public policy and so much more… trans people belong everywhere."
100% of the proceeds raised from this campaign will help Point of Pride continue to offer:
Free chest binders and femme shapewear, mailed discreetly to recipients in all 50 states (and 100+ countries and counting!) These garments help trans folks live more safely, comfortably, and authentically and come at no cost to recipients.
Access to permanent hair removal services for trans femme folks, often considered a cosmetic luxury and unaffordable for many in our community.
Access to gender-affirming surgery and HRT services for trans folks, many of whom lack the financial resources and/or inclusive health insurance coverage needed to obtain healthcare.
Drag is an Art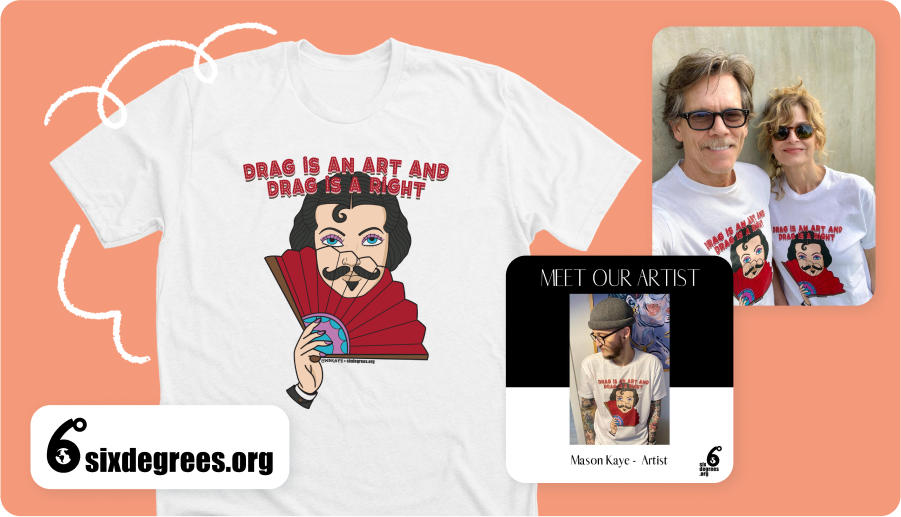 The Drag is an Art campaign was created by SixDegrees, an organization launched by actor and philanthropist, Kevin Bacon, that harnesses the power of connection to support grassroots nonprofits and their often-overlooked social missions.
This Pride Month, SixDegrees is standing up and speaking out against Drag bans and anti-LGBTQ+ policy. "Drag is a centuries old art form, and it is at the heart of the queer community because it is a celebration of their joy and their history. As of May of 2023, politicians across the country had introduced over 450 anti-LGBTQ bills overwhelmingly targeting trans youth." The design for this campaign was created by trans artist and activist, Mason Kaye.
Purchasing a tee from this campaign helps SixDegrees continue to grow programming that fights inequity and injustice.
Support LGBTQIA2S+ Healthcare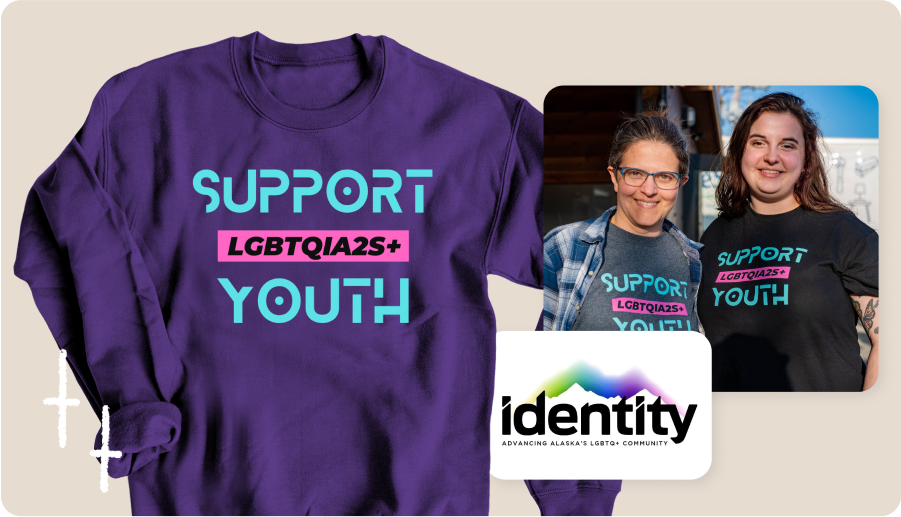 The Support LGBTQIA2S+ Healthcare campaign by Identity Inc. is raising money to help them expand their healthcare services and community programming. Identity Inc. is Anchorage's only LGBTQIA2S+ focused community center and the only LGBTQIA2S+ focused nonprofit clinic in Alaska. Their services include gender affirming medical care, parenting support and resources, and information on gender transitioning. They also provide support for companies that are seeking guidance and training on how to create affirming spaces in the workplace.
Making a purchase from this campaign helps Identity Inc. continue their work to advance Alaska's lesbian, gay, bisexual, transgender, intersex, asexual, two-spirited + community through advocacy, education, health care and connectivity.
Harmony 2023 Pride Shirt Campaign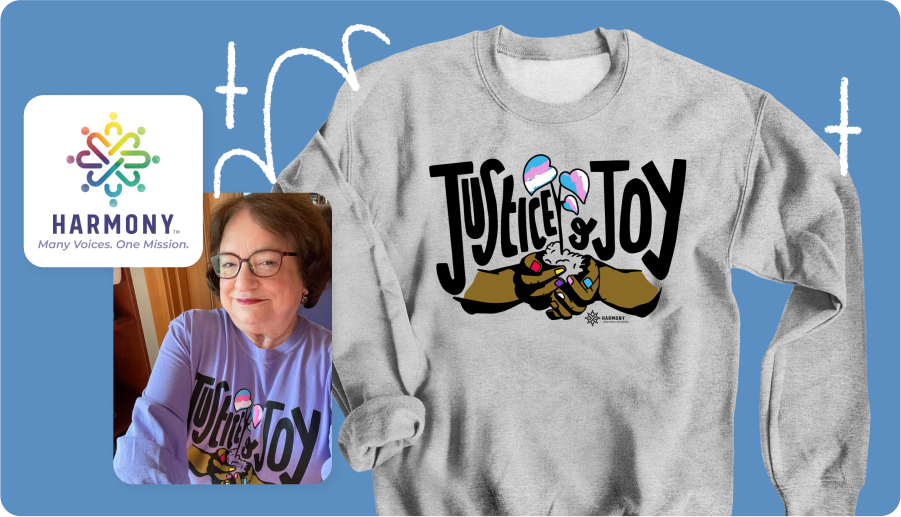 The Harmony 2023 Pride Shirt Campaign was launched by Harmony (formerly GALA: Gay and Lesbian Acceptance Inc.), an organization that works to ensure Queer / 2SLGBTQIA+ persons can fully participate in the Community of Christ at all levels of the church and in all areas without exception.
The inspiration behind their Pride Month design was "greatly influenced by the rise in anti-Trans legislation around the world, especially in the United States where more than 460 proposed anti-LGBTQ+ bills are currently being considered." The design itself : "Two hands, representing the larger Queer Community and its various intersections, support and protect the growth of a budding plant with Trans flag colors on its leaves. This is symbolic of Queer unity and oneness to protect and ensure the safety, dignity, and legal rights of the Trans Community during these difficult times. We owe it to the Trans Community, who has continually supported other members of the Queer Community for decades, to stand up and fight for their right to exist and thrive."
Buying a shirt from this campaign helps support queer voices in the Community of Christ and helps raise awareness about the rise of anti-trans legislation.
Let Me Be Perfectly Queer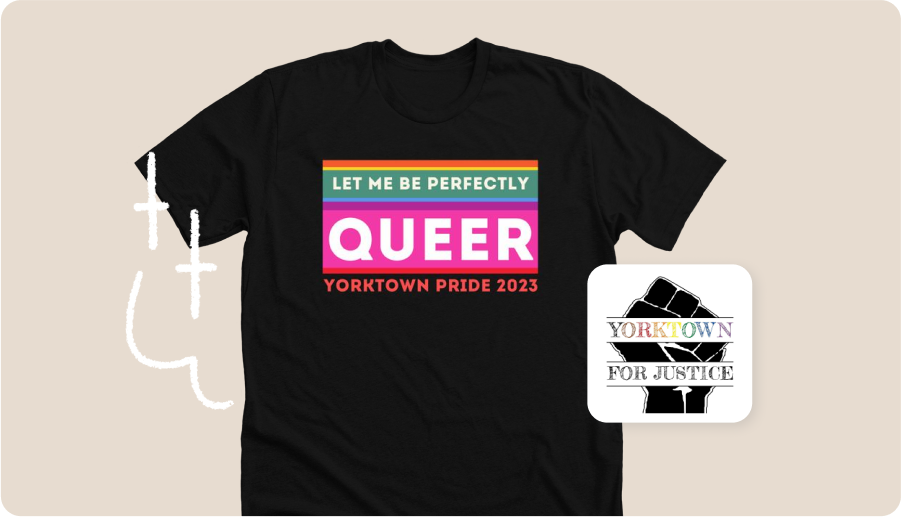 The Let Me Be Perfectly Queer campaign is raising funds for Yorktown for Justice, a grassroots membership organization and nonprofit that brings residents together to take on big issues at the local level. Yorktown for Justice is committed to bolstering social, racial and economic equity via community events, educational workshops, art and music functions, charitable food and clothing drives, and much more.
Your purchase helps support the work of Yorktown for Justice and also helps fund their Yorktown Pride 2023. This year their event includes a march in Westchester, NY, followed by a festival with guest speakers, performers, vendors, and bilingual Drag Story Time.
Feminist Press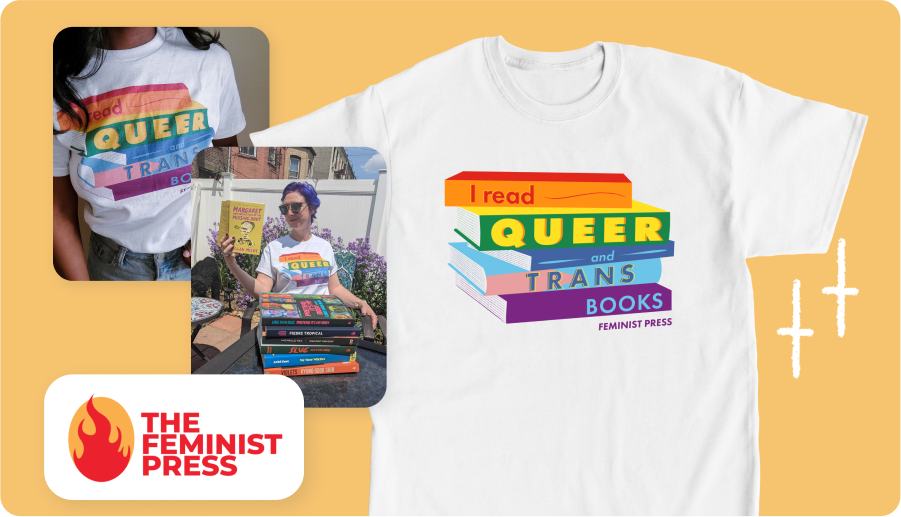 The Feminist Press campaign was created by The Feminist Press, a nonprofit organization that publishes books that ignite movements and social transformation. The Feminist Press aims to lift up insurgent and marginalized voices from around the world to build a more just future, and publishing works by queer and trans writers is an essential part of what they do. The design for this tee was created by artist and designer, Alicia Prieto.
This campaign aims to spread the following messages:
"Queer and trans readers need to see themselves in books. Books show us new possibilities for our lives—and when you haven't seen experiences like yours represented in literature before, it's hard to overstate how powerful and life-affirming that can be."
"Queer and trans artists need platforms for their work. In a moment when trans rights and trans lives are threatened by hateful, violent legislation, we must support queer and trans writers and designers whose livelihoods depend on their art."
Proceeds raised from this campaign will help The Feminist Press continue to publish groundbreaking books by queer and trans authors.
Mass Audubon Pride Month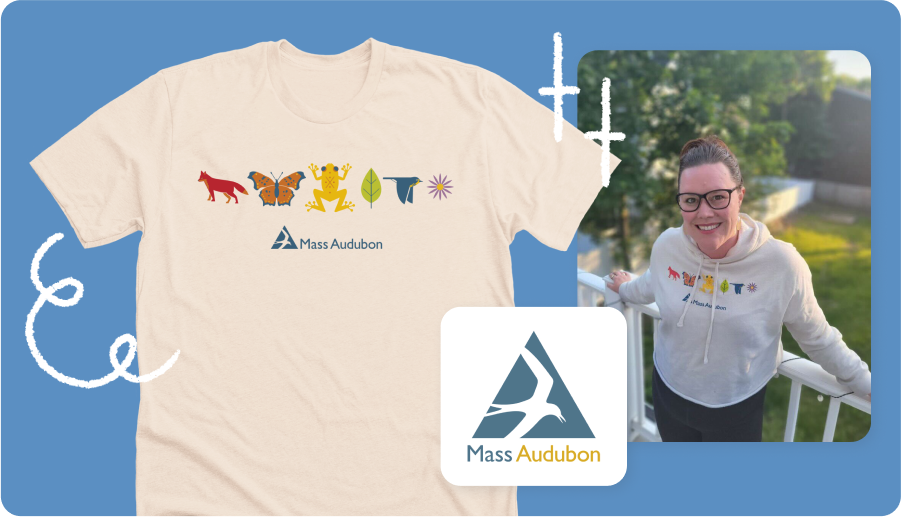 The Mass Audubon Pride Month campaign was launched by Mass Audubon Society, the largest nature-based conservation organization in New England, to show their support for the LGBTQ+ community this Pride Month. Throughout June, Mass Audubon wildlife sanctuaries will be hosting events for members of the LGBTQ+ community. Check out their full list of events, including Pride festivals, LGBTQ+ nature walks, game nights, and other ways for queer-identified folks to connect with nature and each other.
The design for this campaign features a rainbow of native wildlife. "Did you know that the green stripe in the original Pride flag was selected to represent nature and the healing benefits of time spent connecting to the natural world?" 
Buying a shirt from this campaign directly supports Mass Audubon Society and helps fund their wildlife sanctuaries, programs, and classes.
Progress for Florida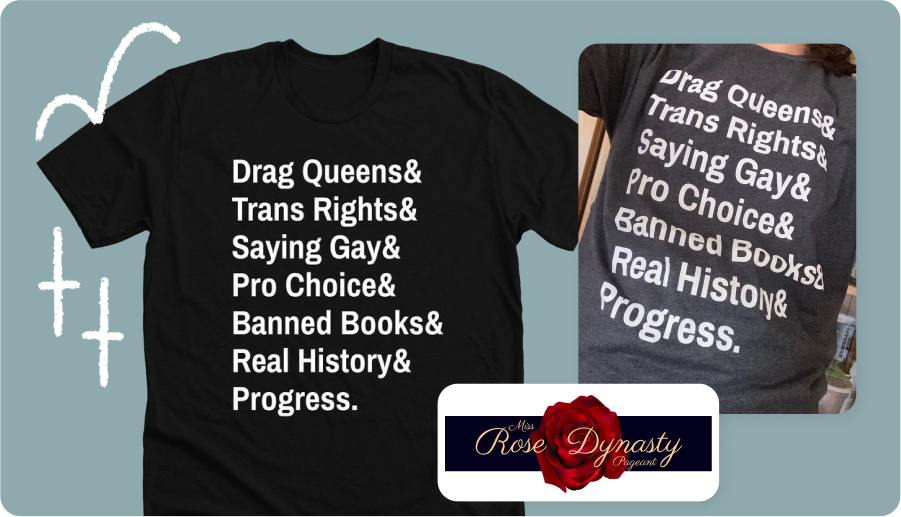 The Progress for Florida campaign was started by a group of LGBTQIA+ Affirmative Therapists of Florida to raise funds for The Rose Dynasty Foundation, a nonprofit that "spreads the message that everyone is Loved, Accepted, and Wanted through family-friendly drag events." Through mentoring, fundraising, fostering community, and promoting awareness of resources, The Rose Dynasty Foundation provides a safe and family friendly space for all people no matter their gender, race, sexual orientation, and/or religion.
Proceeds from this campaign helps support The Rose Dynasty Foundation's programs and events. "Wearing this shirt while you're out and about is an easy way to show your marginalized neighbors that you see them and they are not alone."
Free Library of Pride 2023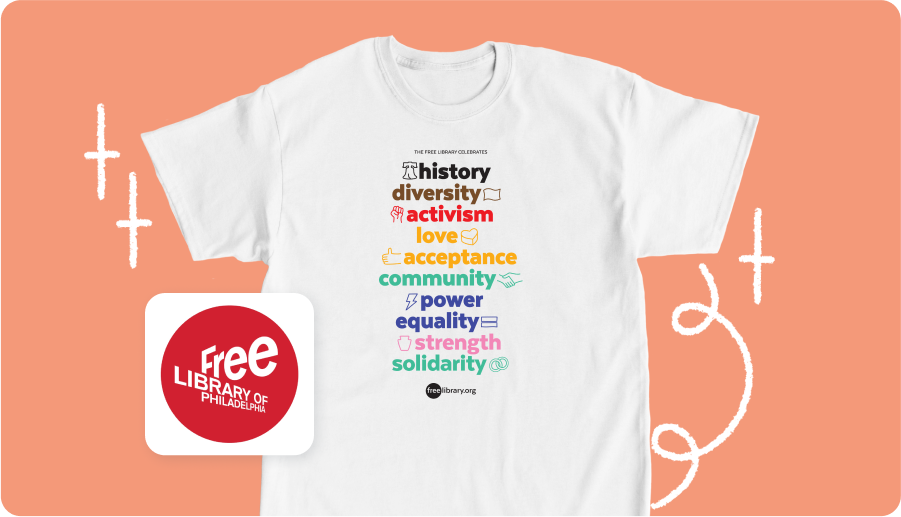 The Free Library of Pride 2023 campaign was created by The Free Library of Philadelphia to celebrate Pride Month! All June long, The Free Library will be uplifting LGBTQ+ lives, stories, and histories through drag queen storytimes, craft workshops, book talks, trivia events, lectures, and more.
100% of proceeds raised will benefit The Free Library of Philadelphia Foundation and support their mission to build an enlightened community devoted to lifelong learning.
---
By proudly wearing any of these vibrant and meaningful designs, you're not only showing your support for the LGBTQ+ community but you're also contributing to fundraising efforts that uplift and empower those in need. Together, we can create a brighter and more inclusive future for all. Happy Pride Month!
Launch your own apparel fundraiser for Pride Month.
Get started for free on Bonfire today!
Written by: Hayden Ireland / Content Specialist
Illustrated by: Madison Summers / Lead Marketing Designer