YouCaring and Bonfire have a lot in common. They both have a primary mission to help people help themselves, or others. They provide life-lines for individuals facing hardship and a platform for do-gooders to those in need.
Why YouCaring and Bonfire Make the Perfect Duo
When used in tandem, these two fundraising resources can give you an advantage. Bonfire enables anyone to design custom T-shirts and sell them to raise funds and foster community spirit. YouCaring empowers people to raise funds through crowdfunding and creates a hub for friends, family, and community members to provide emotional and financial support. Using both equips you with more ways to raise money and awareness for your cause.
What's unique about these fundraising tools is that they both operate on a fee free model. Unlike other fundraising sites that charge 5% or more to use their platform, Bonfire and YouCaring are 100% free.
How do I use them together?
Step One: Pick your Cause
Do you have a cause close to your heart you need to raise funds for? Maybe you're cousin needs help paying medical bills after a car accident or you want to raise money for your local animal charity. Regardless of the cause, online fundraising is the perfect tool.
Step Two: Create your Campaigns
Once you know what you're raising funds for, you can start your YouCaring campaign. Fill out your campaign description, pick a name, and add photos. Then start your Bonfire t-shirt campaign. Get creative with your shirt design and make sure to add a description.
Step Three: Copy and Paste
Now it's time to utilize both platforms together! Copy and paste your YouCaring campaign URL in your Bonfire campaign's description, hen copy and paste your Bonfire campaign URL in your YouCaring campaign description. Urge your donors to check out both offerings.
Step Four: Alchemy
Take pictures of yourself and your community wearing your custom shirt, and post them to your YouCaring campaign, Bonfire campaign, and social media. Do the same when supporters send you pictures of themselves wearing the t-shirts. Host fundraising events and sell extra t-shirts . Give away shirts as prizes to those who give a certain amount. Take pictures of local celebrities wearing your t-shirt. Get creative with integrating the two campaigns.
Get inspired from these examples
Carrick's Journey
Carrick was diagnosed with a rare form of Leukemia at birth. After three months of intense treatment he went into remission. This three month old survived cancer. Family and friends of the Wood family leveraged several fundraising tools to help offset costly medical bills. They created a YouCaring fundraiser, they launched a Bonfire campaign, and they chronicled their journey on their campaign's Facebook page. Their inspirational story received some local press coverage and it helped introduce new potential donors to their cause.
#FrancisPartyof4
Karen and Chad Francis are adopting baby #2 but they need help to bringing her home. The adoption process can be extremely costly. Karen started a crowdfunding campaign and soon after a Bonfire campaign. Her custom T-shirt reads "love makes a family." The couple created a unique hashtag #FrancisPartof4, which made it easy for supporters to follow their story on social media.
Support the DeZeeuw Family
A friend of the DeZeeuw family stepped in to help when hardship hit. Their youngest daughter Anna was in need of a heart transplant fast, so their friend Jessica turned to YouCaring and Bonfire. She started a YouCaring fundraiser and they kept supporters up to date with detailed fundraising updates. Then she designed a symbolic T-shirt on Bonfire that showcased Anna's need for a heart and the team fighting for her, which they named Anna's Avengers.
Ready, Set, Fundraise
Whether you're raising funds for your college tuition or to pay for an emergency surgery, Bonfire and YouCaring are ideal fundraising tools.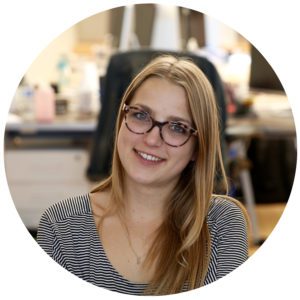 Author bio:
Paige Kutilek
As the Acquisition Marketing Lead at YouCaring I'm keen on creating meaningful and thoughtful content that will have an impact. I'm a dedicated individual with a creative touch who is always eager to learn more. Lover of cats, avocados, and tea.