Selling t-shirts is an incredible way to unify your supporters, build a community, raise funds for an upcoming project, and boost awareness for your cause. Organizations and individual fundraisers can sell t-shirts online through Bonfire's fundraising website, but what about selling t-shirts offline?
From fundraising events to community gatherings to in-person sales, there are several occasions where directing donors to an online t-shirt order form just isn't ideal.
Using a paper t-shirt order form is a great alternative that lets you record orders when you're selling t-shirts in person. And once you have all the orders from your event, you can purchase your t-shirts in bulk, allowing you to secure t-shirt sales in any situation and complete orders quickly.
But before you can get started, you need an organized way of keeping all your t-shirt orders straight. Your process will need to be simple, as supporters will expect a seamless experience so they can get back to enjoying your event's festivities.
Here's what we'll cover:
Luckily for you, we've crafted some tips and tricks to help you collect your t-shirt orders so you can make placing bulk orders a breeze. Let's get started!
Features to Include on Your T-Shirt Order Form
Just like an online donation form, the printed version of your t-shirt order form needs to have the essential components so that you can accurately put in your order and give supporters the right shirts.
A successful printed t-shirt order form should have the following components:
Name and contact information of the supporter. Obtaining your supporters' contact information is essential because it allows you to follow up with supporters once the t-shirts are printed and send them to the correct people. Plus, you can use the contact information to reach out to supporters for your next event. Having a supporter's contact information can also be essential when confirming a person's order if you're unsure about the color or size.
Size and color. Next to contact information, collecting your supporters' preferred colors and sizes is vital. Leave enough space on your form to write out the full color name. That way, there's no confusion on whether a supporter wanted a navy or royal blue shirt.
Quantity. Include a quantity section in your t-shirt order form to help save yourself some time. Instead of writing the order out twice for a donor that wants two of the same shirt, you can just enter the number in the quantity section. This also makes entering your orders in bulk much faster.
We recommend keeping your form short, sticking to the necessary features. Not only will it take less time to collect the information, but it leaves less room to make mistakes when writing down orders. Plus, that's all the information you need to complete your purchase with Supply by Bonfire.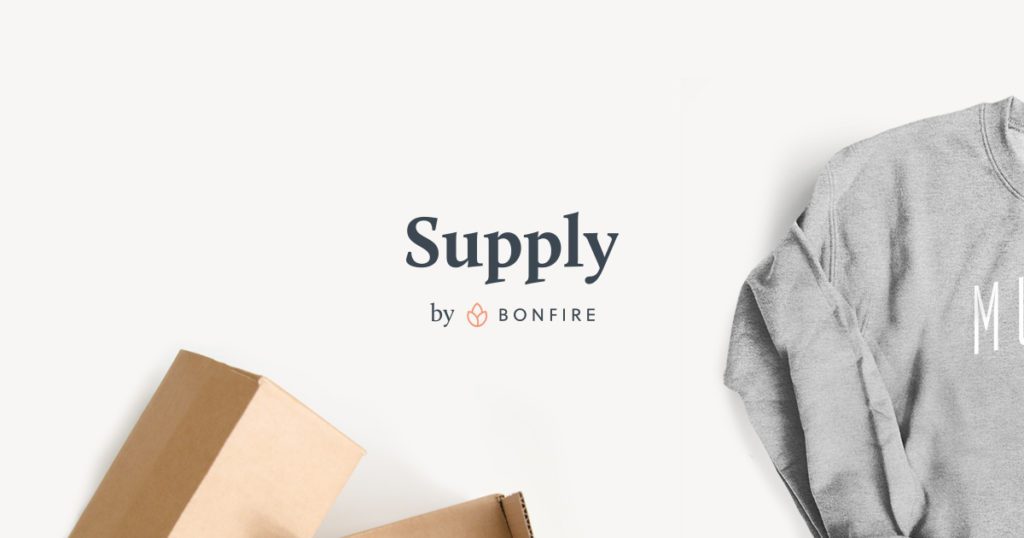 Pro Tip: When it comes to creating your t-shirt form, keep it simple. Only include the necessary features and leave plenty of room to write down the information.
T-Shirt Order Form Templates
Now that you know what features to include in your form, let's look at the two ways you can create your own t-shirt order form.
T-Shirt Order Form Excel Template
A t-shirt order form in Excel will help you organize orders recorded offline so you can enter them online and place your order.
The Excel template is a great fix for events like large-scale school campaigns. Teachers can use the spreadsheets to record their students' t-shirt orders and then easily transfer all of them to the online t-shirt order form.
Plus, Excel is flexible enough to meet all of your fundraising needs. For example, if you need to add another color or size option to your form, you can easily edit your Excel template and print out updated forms.
Pro Tip: An Excel template is the perfect solution for supporters who aren't comfortable with an online order form or don't have the ability to access the form.
T-Shirt Order Form PDF Template
Because Excel spreadsheets can be tough to print legibly, you might want to consider using the PDF version of our t-shirt order form.
The functionality is almost identical to the Excel template as long as you use a table or grid like we've done in our PDF. Plus, the PDF version tends to be a lot easier to read and use in person!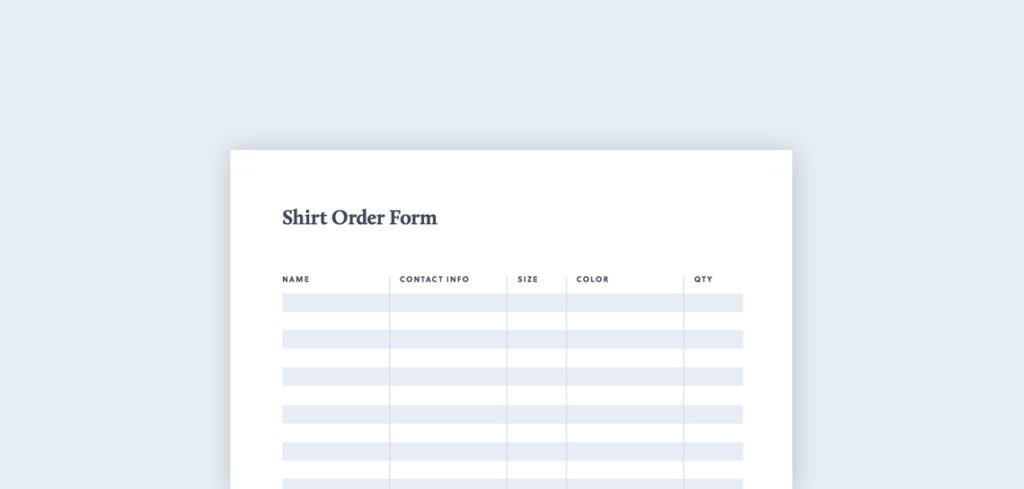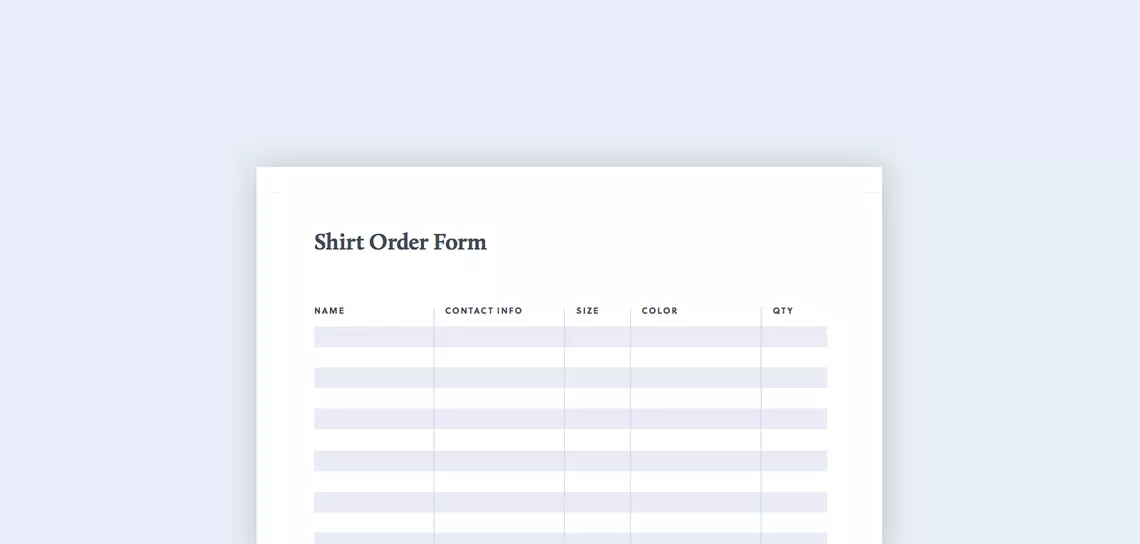 PDF forms are also great for sharing an order form across multiple browsers. No matter which browser you download the PDF form from—Chrome, FireFox, Safari, Explorer, etc.—the format will stay the same! You won't have to worry about cells and rows being rearranged, resulting in an unusable table.
Pro Tip: From Excel to PDF documents, there are so many different ways to create your t-shirt order form! Just make sure you have plenty of forms on hand to collect all the orders that might come in.

Ordering With Your T-Shirt Order Form
Now that you've created your form and collected your orders, it's time to submit your order into Bonfire's bulk ordering system.
Once you've placed your order, the shirts will be shipped to you. Best of all, you can order as many t-shirts as you want; there are no minimums and Bonfire even offers discounts on bulk orders!
Ordering your t-shirts just takes a few simple steps:
Design your shirt: Start by uploading your artwork and picking your t-shirt styles and color options. At this stage, you'll need to design a shirt for every style and color choice you offered to your supporters.
Start your bulk order: Once you've fine-tuned your design and selected all your shirt styles and colors, you can start ordering your shirts in bulk. If you just want to order shirts, you'll need to select the "Order Direct" option to start your bulk order.
Choose your quantities: For this step, you'll need to have all your filled out t-shirt order forms. That way, you can start entering quantities for the specific sizes and t-shirt styles your supporters ordered.
Place your order: After all your orders have been entered into Bonfire's bulk order form, you're ready to check out! We'll provide an estimate of when you should receive your delivery and ship your shirts directly to you.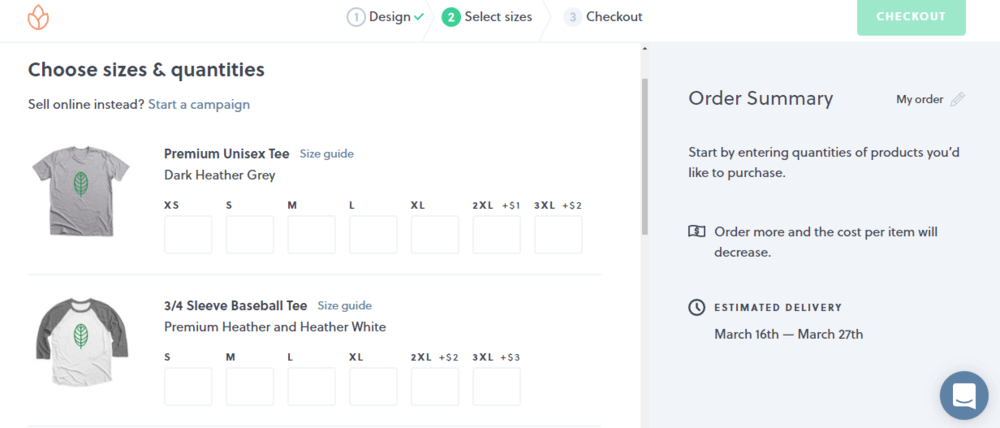 As you can see in the image above, all you have to do is add the quantity for each size, style, and color combination and confirm your order.
That's why having a simple, easy-to-read t-shirt order form is essential. Your form will help make placing bulk orders easy because you can add the quantities as you run down the list of orders on your forms.
Additionally, you can order extra shirts in the popular sizes and styles for the supporters that might want to purchase another shirt after seeing your awesome design in person.
Pro Tip: Keep all your order forms in a single location so you'll have all the information you need when it's time to place your order.
---
Now that you have our best tips for crafting the perfect t-shirt order form, you can use our template to help your selling process even more. There's nothing holding you back from hosting a successful t-shirt fundraiser!
Be sure to continue your fundraising research with a few additional resources, too:
Are You Ready to Start Custom T-Shirt Order?
Get started for free in our t-shirt design tool.