Selling t-shirts is an incredible way to unify your supporters, raise funds for an upcoming project, and boost awareness for your cause. Organizations and individual fundraisers can sell t-shirts online through Bonfire's t-shirt platform, but what about selling t-shirts offline?
From fundraising events to community gatherings, there are several occasions where you'll direct donors to a paper t-shirt order form to simplify in-person sales. The types of t-shirt order forms you use will vary depending on the context in which you're selling them.
To help you get started, we've created four different types of free t-shirt order form templates, and we've broken them down into four categories — classic, nonprofit events, schools, and team order forms. Pick and customize the best t-shirt order form template that matches your needs. Each template is available in two different formats:
A PDF for individual buyers to fill out when buying from your fundraiser.

A spreadsheet to help you collect t-shirt orders in bulk at an offline event.
Explore all of the different order forms below, or, download all of the Excel and PDF versions of the form here!
Forget the forms — let Bonfire handle your
t-shirt orders for you!


No minimums

Bulk discounts

The Classic T-Shirt Order Form
Sometimes, a generic t-shirt order form is all you need. Capture all the essential details like their name, shipping information, t-shirt size, and payment data. While perfect for individual fundraisers, these classic t-shirt order forms work for any cause.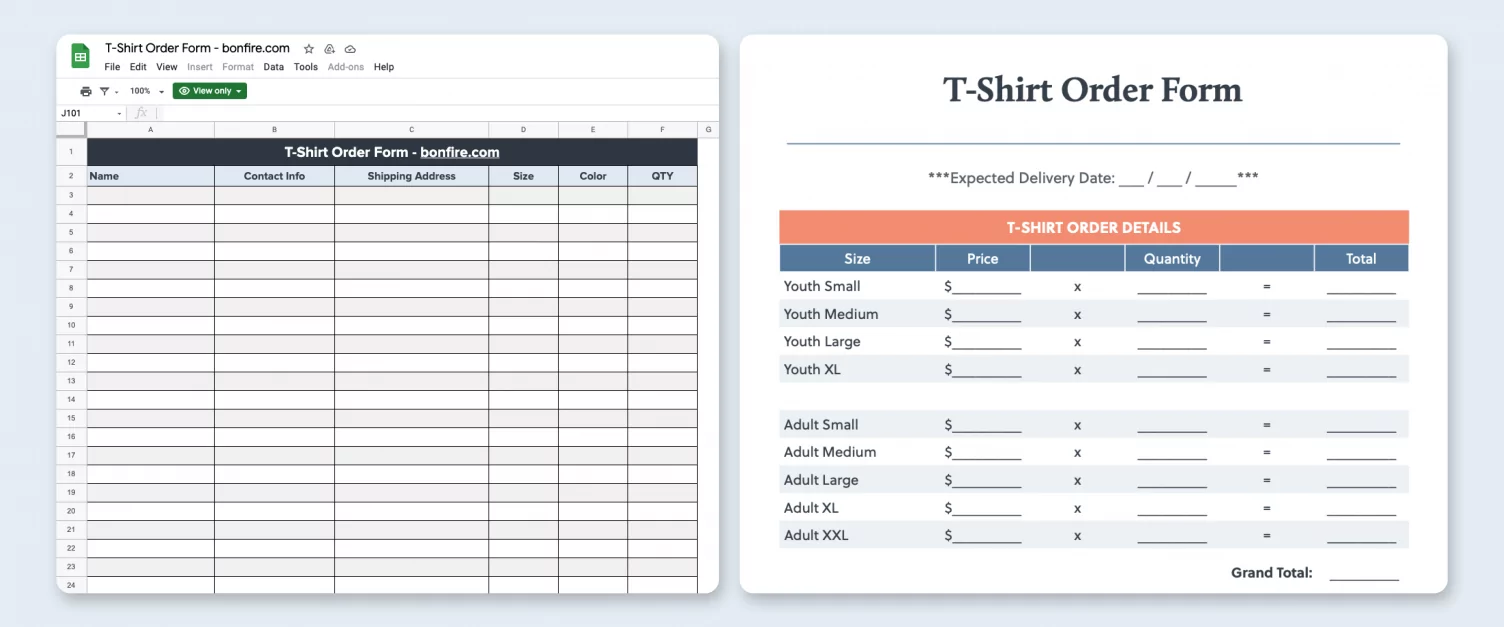 Bonus resource:
Need inspiration for your t-shirt design? Make your merchandise stand out by exploring these top design trends for 2021.
T-Shirt Order Forms for Nonprofits & Events
For nonprofits, apparel is an excellent way to develop more brand recognition in the community while generating revenue for the cause. Whether you're hosting your annual 5K race or a charity concert, events offer a natural opportunity to raise money by selling custom t-shirts. Supporters will enjoy receiving an item in return for their contributions and sporting your branded t-shirts when they're out and about.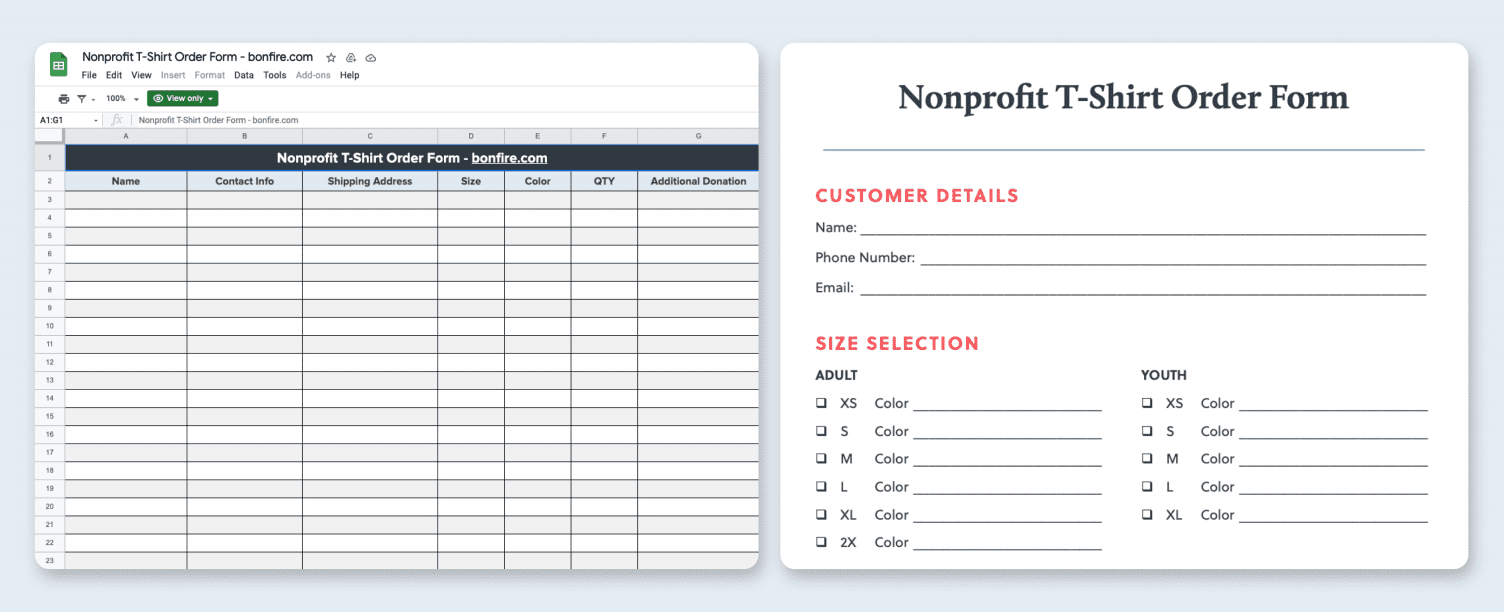 Bonus resource:
Whether you're new to merchandise fundraising or want to revamp your next campaign, check out these fatal mistakes to avoid in your next t-shirt fundraiser.
T-Shirt Order Forms for Schools
Encourage your students to show some school spirit with t-shirts and other branded apparel. T-shirt fundraising for schools is a great way to raise money for your classrooms, sports facilities, the arts, and afterschool programs to build an engaging learning environment. Arm your volunteer team and students with these free and easy-to-use t-shirt order form templates.

Bonus resource:
Our expansive list of school fundraising ideas covers several campaign ideas that work for any grade level, from elementary to high school.
T-Shirt Order Forms for Sports Teams
Give your avid fans the opportunity to financially support your team with t-shirt sales. Between new equipment, facilities, and travel expenses, it's rarely cheap to lead your team to victory. T-shirt fundraisers are a fantastic way to earn money to cover these costs, boost team spirit, and promote an active lifestyle. When selling merchandise at your next game, give one of the following t-shirt order forms a try.

Bonus resource:
Need more ideas for your next fundraiser? Our list of team fundraising ideas will help you cover any sports-related expenses, putting you on the path to victory.
How to Make Your Own T-Shirt Order Form
The printed version of your t-shirt order form needs to have the essential components so that you can accurately place your bulk order and give each supporter the right shirt. 
The specifics will vary, but a successful t-shirt order form should include the following information:
Name and contact information: Gathering phone numbers and email addresses enables you to reach out if you have any questions regarding someone's order (like verifying color and size).

Size and color: Leave enough space to indicate the size and full color name.

Quantity: Include a field to indicate how many shirts the buyer wants. That way, you don't have to fill out the form twice when a supporter wants to order two of the same shirt.

Shipping information: Knowing each recipient's address allows you to send the t-shirts to the correct person once they're printed.
Keep your t-shirt order form short, only sticking to the necessary features. It'll take less time to complete and leave less room for errors. Plus, that's all the information you need to complete your purchase with Bonfire Supply.
Ordering Your T-Shirts
Once you've collected all your orders, it's time to submit your order your custom t-shirts with Bonfire's bulk ordering system. Our ordering process makes it easy to add the quantity for each size, style, and color combination. Best of all, you can order as many t-shirts as you want — no minimum requirements either. We even offer discounts on bulk orders!
Want an estimated cost of your custom t-shirt order?
Use our free t-shirt pricing calculator.
 Ordering your t-shirts takes just a few simple steps:
Design your shirt: Start by using one of our templates, reaching out to our design team, uploading your own artwork, or using thousands of free graphics in our design tool. Pick the exact colors and designs you offered supporters.

Start your bulk order: After fine-tuning your design and selecting the shirt styles, you can start ordering in bulk by selecting the "Buy Now" option. 

Choose your quantities: Reference your t-shirt order forms and choose how many of each style and size combination you'd like to order.

Place your order: After entering all orders into Bonfire's bulk t-shirt order form, you're ready to check out! Enter your shipping and payment information. We'll provide an estimate of when you should receive your delivery.
Pro tip:
You can create an online campaign on Bonfire and choose to have the shirts shipped to the individuals or have them shipped to a single location using our Group Shipping option. This will make it much easier to collect and distribute your t-shirt orders — no manual input needed.
---
Now that you know how to craft the perfect t-shirt order form, grab a template from above and get started. These templates will help you capture all the essential information, so you can spend less time making sense of jumbled order details and more time raising money. Remember, Bonfire's platform makes designing your merchandise and submitting your orders as easy as possible, resulting in a successful t-shirt fundraiser.
Forget the forms — order your shirts through Bonfire!


No minimums

Bulk discounts