Your passion for living a fitness-driven lifestyle has been an inspiration to many. Your community looks to you for encouragement, motivation, and helpful tips on how, they too, can achieve their fitness goals. You've shared lots of recommendations with your followers, from what music you like to listen to while you exercise, to what protein powder is your favorite for a post-workout boost. Surely your followers have asked your opinions on fitness wear as well. What if you offered your own collection of fitness-ready merch? That way your followers can rock your looks while they crush their goals, one by one. Let's start designing your merch today!
Fitness-ready Merch Ideas
We've put together a list of our favorite gym-ready merch here for you to check out. These products are cool, comfy, and completely ready for whatever fitness challenges you and your followers want to take on.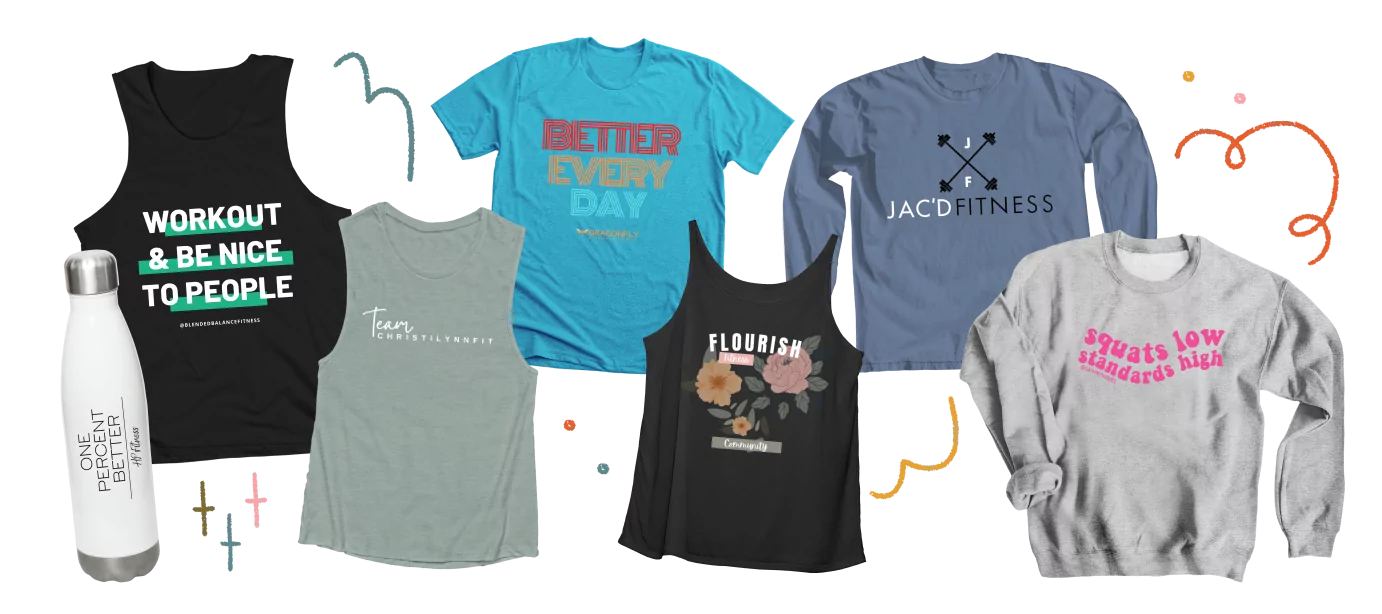 Unisex Tank Tops
Our Premium Unisex Tank is a no-brainer when it comes to putting together an outfit for the gym. Anyone who puts on this tank will instantly feel workout ready. It has a unisex cut, looks great on everybody, and it's also really comfortable. You and your followers will be sweating in style in this tank, for sure.
Unisex Tees
Have followers who prefer wearing t-shirts instead of tanks to the gym? Our Premium Unisex Tee is the perfect thing for them. It has that wonderful pre-worn feel right from the get-go. Trust us when we say, this is going to be their new favorite tee. Whether exercising in the living room, garage, or gym, this shirt will give them an extra boost of confidence and energy.
Comfort Colors Tees
Looking to offer some post-workout wear? Our Comfort Colors Long Sleeve Tee and Short Sleeve Tee are great options. When the workouts are done, your followers can reward themselves for all their hard work by throwing on this heavier-weight long sleeve tee and enjoying its comfy goodness.
Crewneck Sweatshirts
Keep your followers motivated to make the commute to the gym, no matter how chilly it might get outside. Our Crewneck Sweatshirt is here to save the day, whatever the weather. This super-soft sweatshirt is nice to wear over a workout tank or tee until you're warmed up and ready to get to work.
Women's Slouchy Tank Tops
Our Women's Slouchy Tank is ready for warmer weather or intense workouts. It's flowy, flattering, and really soft. You and your followers will love this lightweight option.
Women's Racerback Tank Tops
You can never have too many workout tanks, right? Our Women's Racerback Tank has a draping fit that will set it apart from the rest. Offer this tank in your store for your followers to add to their collections. 
Fitness-inspired Design Ideas
There are tons of reasons why your community loves following you and keeping up with your fitness journey. You offer them the motivation and the inspiration they need to create and tackle their very own fitness goals. You hype them up, you encourage them to keep going, and you celebrate their successes with them. Let's pick a few of your followers' favorite things about you and feature them in your merch designs! Here are some fitness-inspired design ideas to help flex your creative muscles. 
Inspirational Messages
What motivates you in those last few reps, or that last mile or lap? The mantras you use are likely the perfect words to inspire your next merch design. Your followers will love the opportunity to carry your motivational messages with them to the gym, cycle class, yoga studio, etc. 
Minimalist Designs on Workout Attire
What would you wear at the gym? Your followers love your technique, but they also love your gym-ready style! Design merch that you'd want to wear, too, and take advantage of our amazing catalog of workout products. 
Mirrored Motivations
Create merch that features a special saying, signoff, or slogan that is unique to you and your community. Print the wording in a mirrored design so your followers can read it and feel supported while they exercise in front of a mirror. Your encouragement will be the push they need to finish their workout strong! 
---
These customizable products are ready to hit the ground running with you and your followers. They are designed for comfort and built to last, so you can go that extra mile with confidence. Having a supportive community is huge when it comes to making positive changes, building habits, and committing to a healthy lifestyle. Your merch will be the extra encouragement your community needs to keep moving forward and stick to their goals. We hope you're pumped up and excited to start designing your fitness-ready merch today!
Ready to jump right in?
Start making your own premium custom merch for free on Bonfire.