December is right around the corner, and if you haven't already, now's the time to start thinking about your holiday season sales plan. Whether you are fundraising for your nonprofit or creating products to sell for profit, the coming weeks are some of the best to have a Bonfire campaign up and running. With Black Friday, Small Business Saturday, and Giving Tuesday, there's so much potential to have your best sales days of the year.
Last Day to Sell: December 10th
Before we start planning the details of your holiday campaign, let's talk holiday deadlines. All Campaigns and must end on or before December 10th in order for the orders to be guaranteed for December 25th delivery. This means your last day to Launch a Campaign is December 4th.
Since all of Bonfire's products are made-to-order, it takes between 7 and 14 business days after a campaign closes for shirts to arrive after your campaign ends. We don't want any disappointed buyers, so we have chosen a deadline that we can stand behind 100%.
For peace of mind, we also provide customer support and delivery tracking for your buyers. Please keep in mind that our December 10th guarantee is for Domestic shipping only. International shipping may require more time.
Design your Tees
The first step in planning your Giving Season sales strategy is deciding what you want to sell. There are many factors that go into deciding what type of design to create. Depending on the type of community you have, you may choose to make your shirts fit the holiday spirit by the shirt design itself, or, you might just create more holiday-themed promotional images for shirts that can be worn all year long.
No matter what option you choose, keep in mind that you'll get the most impact by launching a fresh and new design for your Holiday Season campaign.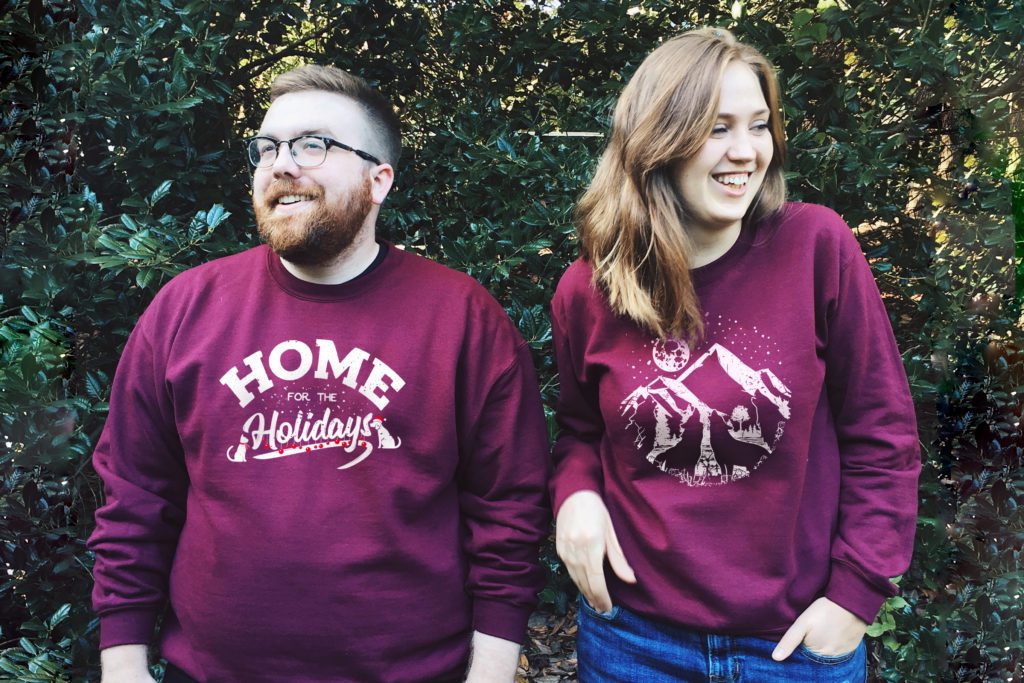 Holiday-Themed Shirts
T-shirt designs that embrace the holiday spirit work really well for organizations like animal rescues or nonprofits that run t-shirt campaigns on Bonfire all year long. You can create a holiday-themed design by adding holiday imagery into a design that fits in the theme of your other shirt offerings. Or, think about how a catchy phrase can be altered a bit to make a nod to the holiday season AND spread your message at the same time. What holiday puns could make a cool shirt for your community?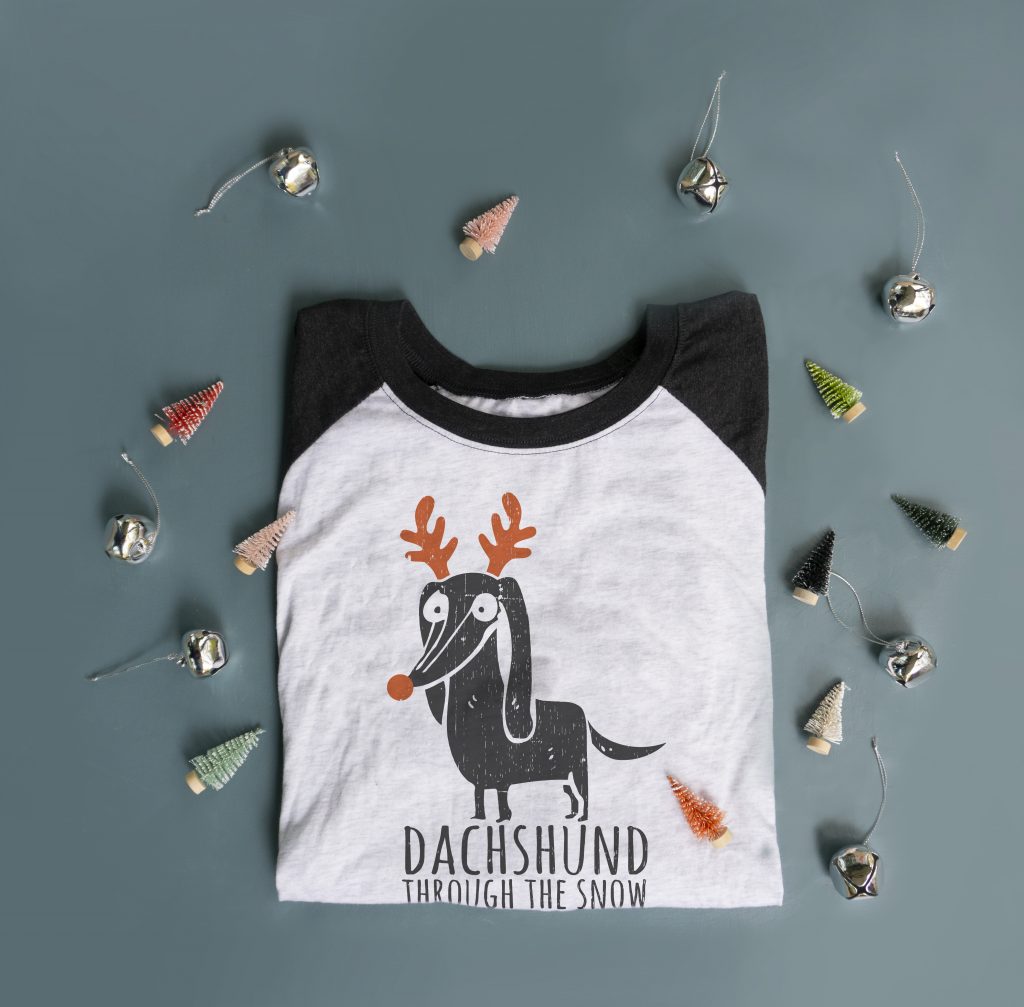 Limited Edition Shirts
If adding Christmas trees, snowflakes, and Santa hats don't vibe with your brand or business model, no fear! There are so many other ways to take advantage of the giving season, even if you keep your designs in line with the rest of your products. Think about launching a Limited Edition t-shirt that is only available for the 2018 Holiday season. The limited nature of the offering will push people to buy now since they can't just come back for it later.
Giving Tuesday Shirts
Creating apparel to go along with the rest of your Giving Tuesday strategy is an excellent way to maximize funds raised for your nonprofit on this big day! Creating a Bonfire Campaign for Giving Tuesday is one of the best ways to activate small-dollar donors in your community, and give your supporters something in return. You'll likely notice your buyers ordering more than one item, since it is the giving season, and your apparel will make perfect gifts for people who support your cause. For nonprofits, Giving Tuesday is often the best sales day of the year for their Bonfire Campaign.
Choose the Right Launch Day
Depending on the cause behind your shirt, or the reason for creating your Bonfire Campaign, one of the top sales days may make more sense for you to launch your campaign on than others. Let's dig into what each sales day is, and which types of campaigns may want to launch on each day:
Black Friday
Did you know that 30% of annual retail sales happen between Black Friday and Christmas?* Launch your Bonfire campaign on November 23rd to take full advantage of the entire shopping weekend. People will have their credit cards warmed up from those 4 am trips to the malls and will be ready and waiting to continue their purchases online. Black Friday is a great day to launch any campaign, whether it's for profit or fundraising.
Small Business Saturday
Small Business Saturday is an annual day to celebrate and support the small local businesses people love. If you are selling products as an extension of your small business brand, this could be a great day to launch a limited edition shirt campaign. Offer a way for your loyal customers to support you in a unique way from the comfort of their couch.
Giving Tuesday
Giving Tuesday is a global initiative of giving, and serves as the kickoff of the charitable giving season. If you use Bonfire as an extension of your nonprofit or organization's fundraising efforts, this is the Launch Day for you! And if your nonprofit organization has not taken advantage of this day in the past, perhaps this year is the time to start! After a weekend of crazy sales, long checkout lines, and fighting huge crowds for the best deals, buyers will be ready to transition their mindset to end-of-year giving and picking up some gifts that give back to the world. If your t-shirt campaign is donating proceeds to a cause, or fundraising for your organization, Giving Tuesday is a great day to launch the promotion of your Bonfire campaign.

Marketing Your Holiday Campaigns
Once you have a plan around what and when you'll be selling your shirts, you now have to create a strategic promotion plan for your campaign. We've got an extensive guide to promoting your campaign, but we also want to share some holiday-specific tips to help you as you market your holiday shirts!
Holiday-Themed Images
Switch up your usual promotion image look for something that feels more festive. We've found that photos of real people in t-shirts convert sales better than just the Bonfire mockup images alone. So, order some of your shirts ahead of time so that you can get some quality photos of people rocking their t-shirts while drinking hot cocoa, cutting down a Christmas tree, or wandering through the snow. Don't have access to models? Think of creative ways to show your shirts getting wrapped as a gift or surrounded by festive props like colored lights or sugar cookies.
Tell Your Story
If your t-shirt campaign is fundraising for a cause or nonprofit initiative, it's important to really tell the story behind your t-shirt, as well as communicating the impact t-shirt sales will give. During the holiday season, and especially on Giving Tuesday, people are looking for creative ways to give back to the causes and organizations they care about. By launch a large-scale fundraising campaign featuring a fresh design, a specific goal or impact, and thoughtful promotional images, you'll set your organization up for an amazing end-of-year fundraiser.
During the holiday season, and especially on Giving Tuesday, people are looking for creative ways to give back to the causes and organizations they care about. By launch a large-scale fundraising campaign featuring a fresh design, a specific goal or impact, and thoughtful promotional images, you'll set your organization up for an amazing end-of-year fundraiser.
---
No matter which day you choose to launch your holiday season campaign, Bonfire is here to help you create the perfect holiday t-shirt campaign. Check out our holiday inspiration board, or send us a message.