If you are a creator of any sort, you've likely had a season of life where you've stopped and asked yourself how you can do all the things you want to do. Juggling work, family, friends, and your creative side-hustle can leave you worn out and drained of inspiration and energy. When illustrator Kristen Barnhart started a new full-time job, she struggled to find the proper balance of keeping her personal brand and shop alive while also finding rest when she was off the clock. With the help of Bonfire, she's been able to achieve more with her business, while also making space for herself!
Continue reading for our interview with Kristen, where we learn a little more about her creative journey, how she grew her community, and how she's found a way to continue making the work she loves, even in a new and busier season of life.
---
Tell us a little bit about yourself!
Kristen: I'm an illustrator and graphic designer based in Dallas, Texas. I graduated in 2018 from UNT with a degree in communication design AKA graphic design. During my junior year of college, I opened an Etsy shop with 1 enamel pin and a few art prints for sale. From there, things just grew! I realized I could make more products and sell them and make money instead of working as a cashier at Target. Around that time my fiancé gifted me a DIY screen printing kit. That was a total game changer! I watched youtube videos and started to figure out how to screenprint at home. It was a very scrappy setup, but it worked! I left Target and Etsy and opened my own online shop. I started selling screen printed shirts that eventually funded even more products for me to list in my shop. During this time, I graduated from college and started freelancing and selling products from my shop full time. Fast forward to now and my online shop is temporarily closed, I'm working full time for an in house agency at a major snack food corporation, and still freelancing! 
But if you want some non-work related things about me: I have 2 cats, I'm marrying my BFF soon, I love tv, I HATE OLIVES, and I got 2nd place in a junior fishing rodeo when I was like 11.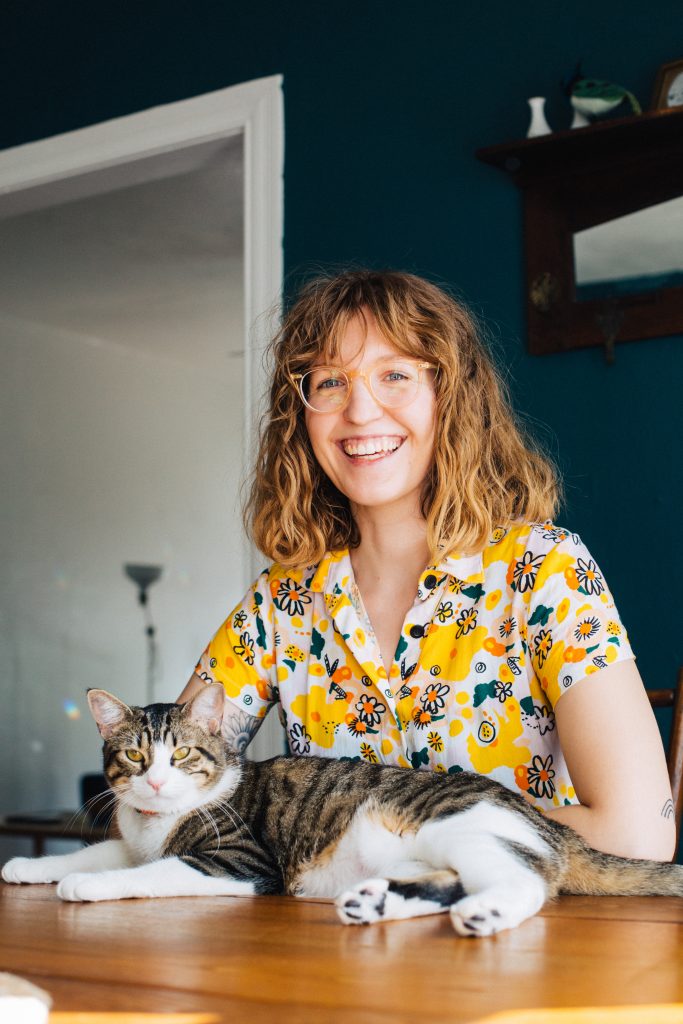 What inspires your art, and what ideas are you exploring when you create?
Kristen: Most of my artwork comes from normal everyday scenarios, pockets of weirdness in life that make me laugh, think, cry, FEEL something. I love incorporating short phrases and writing into my artwork. I used to journal a ton growing up but don't do it so much anymore. Maybe this art and writing stuff is homage to that. It's very therapeutic to draw and write something that helps me process a moment or remember a funny thing I saw or heard.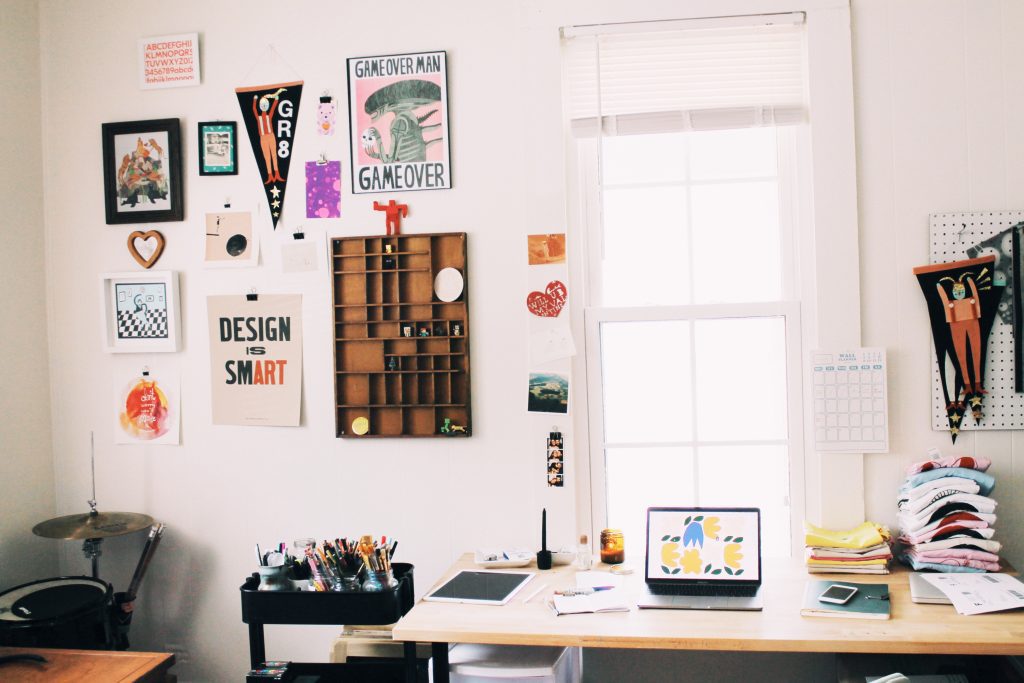 Do you have any creative rituals? How do you get inspired?
Kristen: NOOOOOPE. I have absolutely zero creative rituals. I think I've spent a lot of my life wishing I was the kind of person that made tea and perfectly set their desk every time they were ready to be creative, but wishing those things and never being that thing makes me feel like shit (sorry am I allowed to curse?? haha) SO – I've just accepted who I am! And who I am is someone who draws when I feel like it. I let an idea marinate in my brain until I'm ready to draw it. Or I forget it and wait till the next great idea comes around ha. Paying attention is really what I do. Paying attention inspires me.
What's it like to have such a global following/community?
Kristen: It's really cool! And it's also weird. I recognize and talk to quite a few people who have followed me on Instagram since the beginning and we've formed internet relationships that are really normal for never meeting in real life. That's what I really like about social media. I thankfully haven't run into many weirdos or mean people. it's a very uplifting, educated, creative, funny group of people that are in my corner of the internet. I think that's why it's easy for me to post things that might be seen as "vulnerable". Then I remember my college professor and aunts and uncles and boss follow me. Haha, that will definitely make you think twice about what you're posting.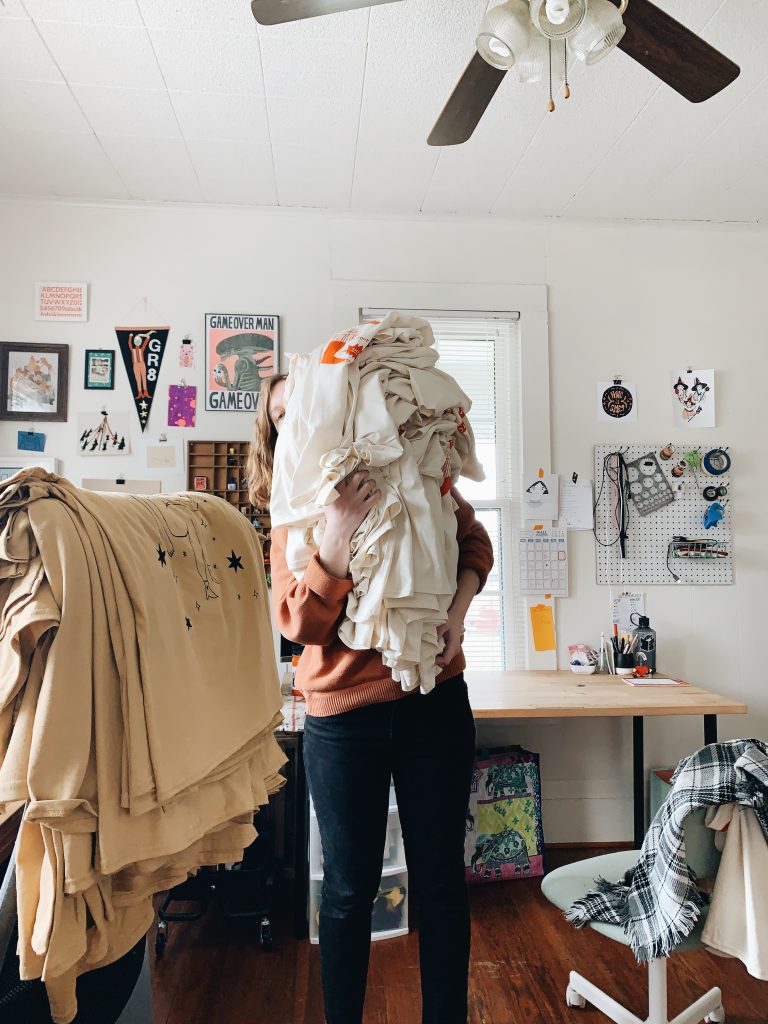 You used to print your shirts yourself and recently started using Bonfire to fulfill your product orders. What made you make this change? 
Kristen: I started screen printing a couple years ago and I'm really glad I was able to learn that skill when I did. It helped me make money to live and it served as a creative outlet.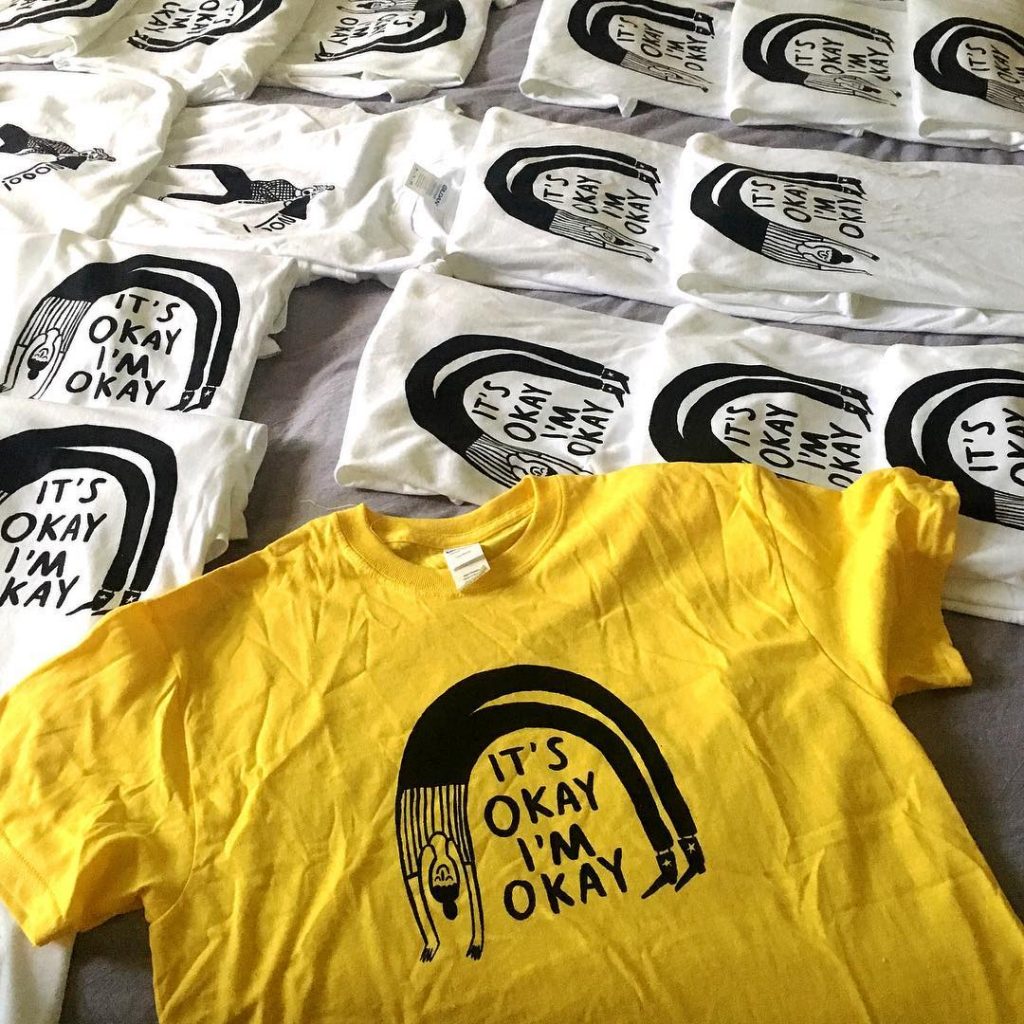 One of the first shirts I designed was the It's Okay I'm Okay shirt. I sold it for like 3 years!! Still am! Insane. It's the shirt that inspired my very first Bonfire campaign. It's a revamp of the original.
Anyway, as I mentioned earlier, last year I decided to try something new and get a full-time job. Full-time jobs are FULL TIME! Like ALL DAY!
So, in the beginning, I was coming home to online orders I had to pack and ship when really all I wanted to do was watch 5 episodes of tv and drink wine. I was feeling annoyed and I wasn't able to put 100% effort into the online shop. I have used printing and fulfillment services before, so I figured that would be a good option! I closed my shop temporarily and decided to focus on releasing limited edition t-shirt designs through Bonfire until I'm ready to open my shop again. This change allows me to enjoy my free time AND still create fun shirts for people – STRESS-FREE. Win, win!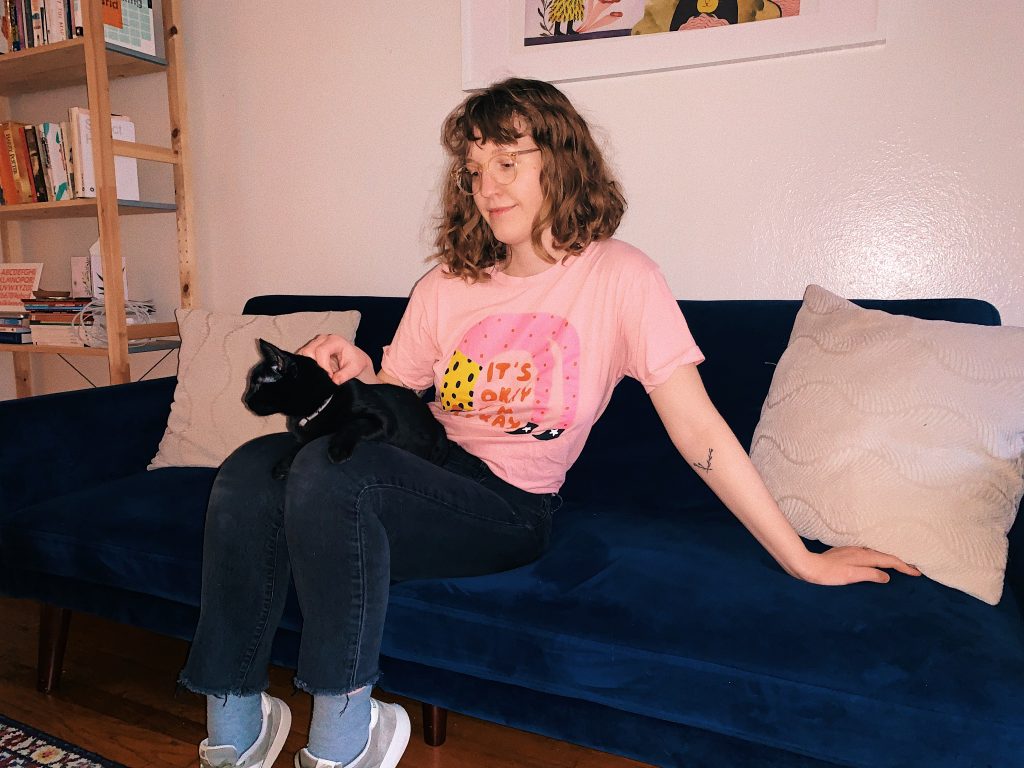 How do you maintain and balance your own creative practice while working full time?
Kristen: As you can probably tell, I'm a very "feel it out" kind of person. My full-time job still allows me to be creative in a more structured way. I'm able to draw in between projects at work or while I'm waiting for feedback. It's like studying or sharpening your creative skills. Just because you're at work doesn't mean you can't find little moments for personal creativity. So whether I'm at work or at home, if I feel that creative idea tingle, I'll create! If not, you'll probably find me petting my cats and watching true crime documentaries.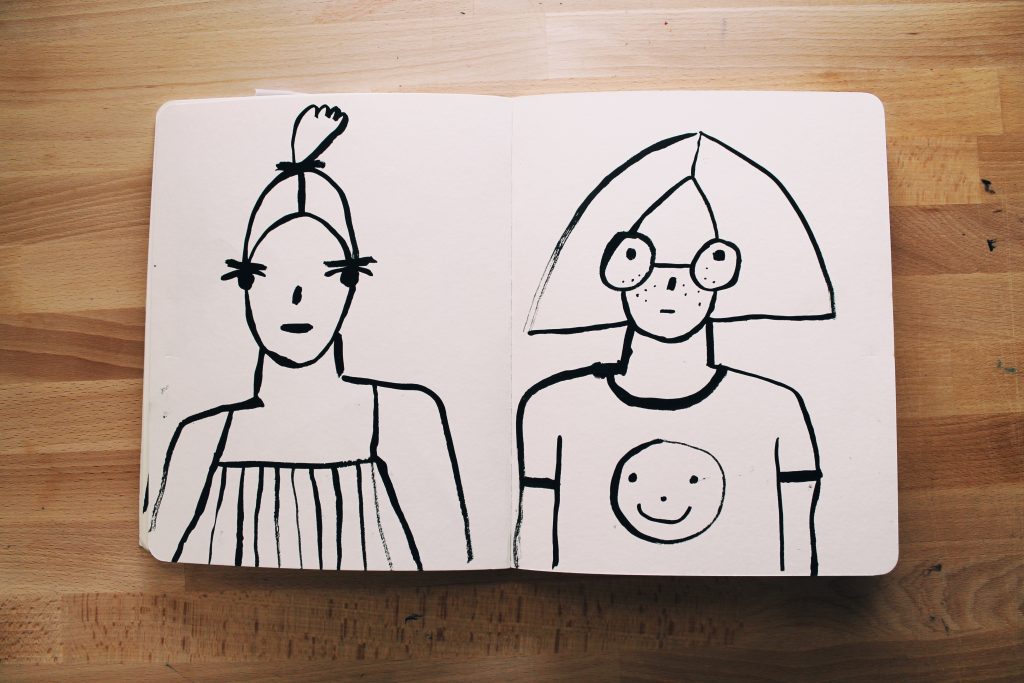 What do you hope your community feels when viewing your art? Or, what do you hope they get out of it?
Kristen: Relatability is huge for me. I want someone to look at my work and either laugh and say "this is so me", or cry and say "this is so me", or both. I spent a lot of time doing pop up markets and selling my goods and I LOVE watching people look at my products. It's hilarious and the scope of reactions is so cool. It's really interesting to see what kids think of it and then what an older person might think. I really enjoy that everyone can find something about it to relate to, regardless of age, background, whatever. That's the beauty of art and words!
---
Kristen is currently selling her It's Okay!! shirt on Bonfire. You can also find more from Kristen on her Instagram and Website.

Want to read more interviews like this one?
Bonfire Stories is a place for our users to tell their story
and how Bonfire has helped them along the way.