At Bonfire, our purpose is clear: to strengthen communities that inspire a kinder world. We know that in order to accomplish this mission, we, as a company, need to make sure that we are doing everything we can to take the best possible care of our people, our communities, and our planet.
That is why we're committed to making Bonfire a more sustainable and eco-conscious platform for designing, selling, and purchasing custom merch. With every design, every purchase, and every step we take, we're actively moving towards a more environmentally-conscious future. Together, we can build a world that is not only kinder, but also greener.
To create our Earth Conscious Merch collection, we've partnered with two impactful manufacturers that put the needs of people and the planet first – Gildan and Allmade. Let's take a look at our Earth Conscious Merch collection and learn more about the collaborations that make it possible. Together, we are taking innovative strides to contribute to a more sustainable future.
Our Earth Conscious Merch Collection
We're thrilled to introduce Bonfire's Earth Conscious Merch collection. With each product in this collection, we've taken careful steps to prioritize the environment, using materials that are gentler on the planet and production methods that reduce harm. By embracing this collection, we're not only elevating our product range, but we're also excited to demonstrate that fashion and sustainability can go hand in hand.
Our Earth Conscious Partnerships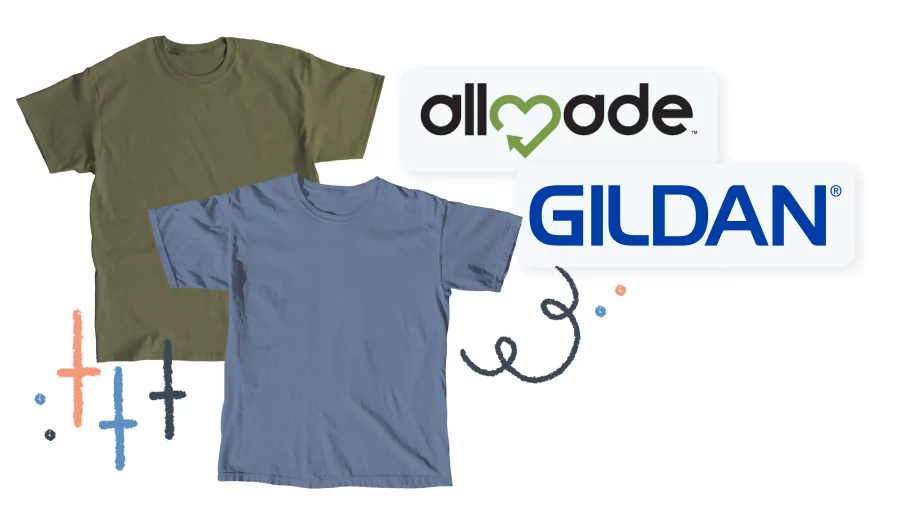 Gildan
Gildan, one of the world's foremost vertically-integrated manufacturing companies, is known for its dedication to sustainability and ethical practices. Since their beginning in 1984, the folks at Gildan have been re-imagining and building the future of responsible apparel making. Their vertical integration manufacturing model provides them with unparalleled control and visibility across the full value chain and allows them to implement industry-leading labor and environmental practices throughout.
Gildan owns the majority of their supply chain, which means they control and manage multiple stages of the production process. From sourcing their own raw materials to assembling the garments and distributing the final products, Gildan pays as much attention to what goes into the work as what comes out of it.
A Few Reasons Why We Love Gildan
They offer routine insight into their responsibility initiatives, progress made, and future targets by reporting all environmental, social, and corporate governance (ESG) results on an annual basis.
They prioritize sourcing high-quality, sustainably grown cotton and primarily buy U.S. cotton—a crop strictly regulated by United States Department of Agriculture and the Environmental Protection Agency guidelines. Roughly 90% of the cotton used to make Gildan's apparel comes from the United States.
They make their apparel with respect for natural resources and the climate:

All water that is used for dyeing is treated until it is safe enough to be returned to nature.
They reuse agricultural waste to produce steam for power, reducing the need for fossil fuels.
Allmade
Allmade is a sustainable apparel brand that focuses on creating high-quality clothing using environmentally-friendly materials and ethical manufacturing practices. In 2017, they embarked with strong momentum, dedicated to lessening the industry's environmental footprint and simultaneously establishing dignified, fair-wage jobs that empower individuals to provide for themselves and their families.
The team behind Allmade is incredibly passionate about creating a better shirt for a better tomorrow. They strive to use only the best materials so that everyone can feel good about wearing their products. Due to the unique blend of their shirts, Allmade apparel is carbon neutral!
A Few Reasons Why We Love Allmade
Every shirt from Allmade is produced using sustainable practices within ethical manufacturing facilities.
They utilize eco-friendly materials like organic cotton, polyester recycled from plastic bottles, and TENCEL Modal made from renewable beech trees – all sourced from the US.
They've partnered with their sole distributor, SanMar, to further lower their carbon footprint as a part of their C-Free product line.
Allmade tees are crafted with less water than conventional tees. They also use less co2 during production, which helps reduce their overall carbon footprint.
They invest in the communities that they manufacture in, building better jobs and communities around them. Allmade partners even provide safe housing and childcare.
---
We take immense pride in forging partnerships with forward-thinking and eco-conscious manufacturing companies like Gildan and Allmade, and we're thrilled to extend this commitment to our new Bonfire Earth Conscious Merch collection. These collaborations align seamlessly with our commitment to responsible practices and our dedication to offering products that make a positive impact.
With Gildan's extensive experience and dedication to sustainability, alongside Allmade's unwavering focus on ethical production and social responsibility, we are able to provide our customers with a range of options that reflect our shared values. Our Earth Conscious Merch collection embodies this ideal, featuring meticulously crafted products that prioritize the environment while maintaining quality and style.
Through these partnerships and the introduction of our new collection, we empower our community not only to wear with purpose, but also to contribute to a more sustainable and compassionate world. Together, we're taking meaningful steps toward a greener future – one where each shirt represents a positive change we are proud to make.
Ready to go greener for your next campaign?
Launch a free apparel fundraiser using Earth Conscious Merch today.
Written by: Hayden Ireland / Content Specialist
Illustrated by: Madison Summers / Lead Marketing Designer