Whether you're a seasoned fundraising expert or just starting on your fundraising journey, understanding how Artificial Intelligence (AI) can amplify your efforts is the key to staying ahead of the competition and making a real difference in the causes you care about.
There's one specific AI tool that you should add to your fundraising toolkit immediately, and that's ChatGPT. Trust us when we say that ChatGPT is the secret weapon you didn't know you needed. It's the perfect solution to help you effortlessly tackle all the written content needs for your campaign. 
With ChatGPT as your virtual writing partner, you'll be able to say goodbye to the time-consuming struggles that come with creating compelling content. ChatGPT is going to revolutionize your approach, leaving you with more time to focus on what truly matters – making your fundraising campaign a resounding success. 
Let's take a closer look at ChatGPT and learn how its current capabilities can be utilized to enhance your Bonfire campaign. 
Throughout this blog post, we will use an educational example of a fundraising campaign. All written content for this campaign was created with the help of ChatGPT.
Using ChatGPT to Help Name Your Campaign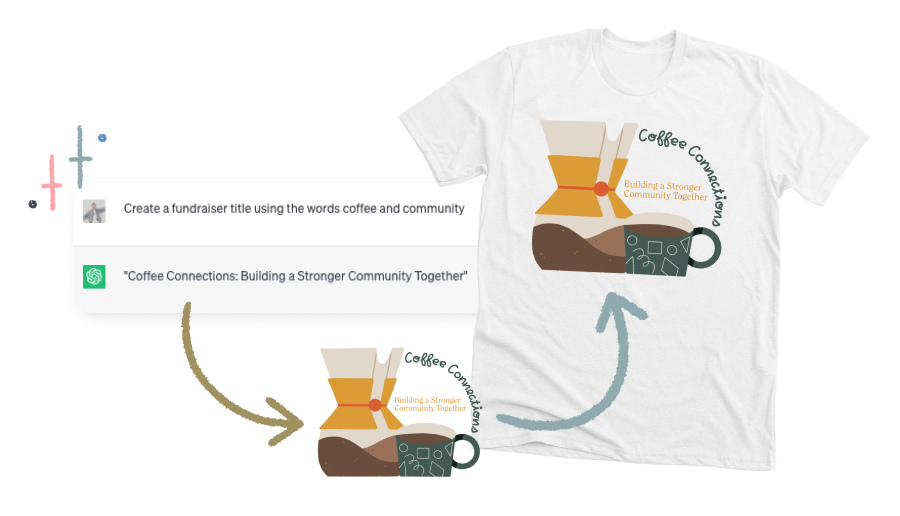 Let's kick things off by using ChatGPT to name your campaign! Did you know that naming your campaign helps with memorability among your supporters, establishes brand awareness and identity, and helps express your dedication to your cause? Pretty cool, huh?
Okay now how do you get ChatGPT to suggest campaign names for you? All you have to do is type your question / prompt into ChatGPT's text box. When writing your prompt, it helps to focus on a few specific keywords.
For example, you could use something like: 
"Create a fundraiser title using the words _____ and _____."
Fill in the blanks with words that are relevant to your cause / campaign / organization. You can also include things like:
"Give me 5 examples of campaign names…"  or even descriptive words like, "Please come up with a fun, summertime campaign name…"
The more direct and specific you are with your prompt, the better.
Using ChatGPT to Craft Clear and Compelling Messaging
Have you ever found yourself feeling stuck, uninspired, or unmotivated when it comes to creating new promotional content for your campaign?  Let's be honest, it can sometimes be difficult to come up with new ideas one right after the other, especially when your subject matter generally stays the same.
In order to maintain successful communication with your supporters, as well as a consistent posting schedule on social media, you can lean on ChatGPT to help you out, save you time, and recharge your creativity.
Instagram Captions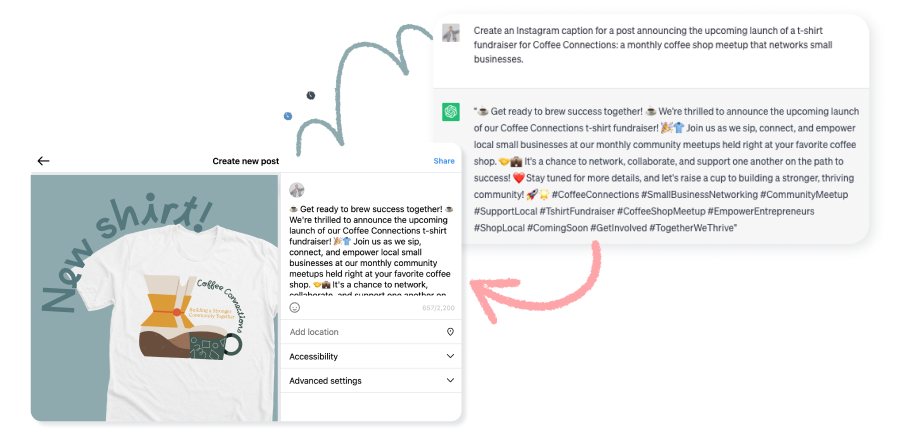 When posting campaign content on Instagram, ChatGPT is great at helping you write captions! Once you've picked your image to post, think about what the goal of your post is and start typing your prompt in ChatGPT's text box. Don't overthink it, stick to information you have, and simply tell ChatGPT what you need it to do for you.
For example:
Prompt: "Create an Instagram caption for a post announcing the upcoming launch of a t-shirt fundraising campaign for Coffee Connections: a monthly coffee shop meetup that networks small businesses." 
ChatGPT response: "☕ Get ready to brew success together! ☕ We're thrilled to announce the upcoming launch of our Coffee Connections t-shirt fundraiser! 🎉👕 Join us as we sip, connect, and empower local small businesses at our monthly community meetups held right at your favorite coffee shop. 🤝💼 It's a chance to network, collaborate, and support one another on the path to success! ❤️Stay tuned for more details, and let's raise a cup to building a stronger, thriving community! 🚀🌟 #CoffeeConnections #SmallBusinessNetworking #CommunityMeetup #SupportLocal #TshirtFundraiser #CoffeeShopMeetup #EmpowerEntrepreneurs #ShopLocal #ComingSoon #GetInvolved #TogetherWeThrive"
See how easy it can be to use ChatGPT for Instagram captions? You can copy and paste the response right into Instagram as is, or you can edit the wording however you'd like before sharing. ChatGPT even includes emojis and generates hashtags for you! 
Here's another example of a ChatGPT generated Instagram caption:
Prompt: "Write an instagram caption to let our supporters know there's only one more week to buy merch from our Bonfire campaign that supports Coffee Connections."
ChatGPT response: 🚀 Last Call to Grab Your Exclusive Coffee Connections Merch! ☕️ Time is flying, and there's only ONE more week left to snag our incredible Coffee Connections merch from the Bonfire campaign! This is your final chance to support our cause and wear the spirit of meaningful connections proudly. Don't miss out on your favorite tees, mugs, and sweatshirts – every purchase fuels our mission and helps us keep brewing those inspiring meetups! Link in bio to shop now. 🛍️💕 #CoffeeConnections #LimitedTimeOffer #SupportLocalMeetups #BrewingConnections
Helpful tip:
ChatGPT loves to include emojis, especially when it's providing content for a social post. You can choose to keep the emojis or edit them out! Remember, you should always edit ChatGPT's responses to align with your mission.
Campaign Description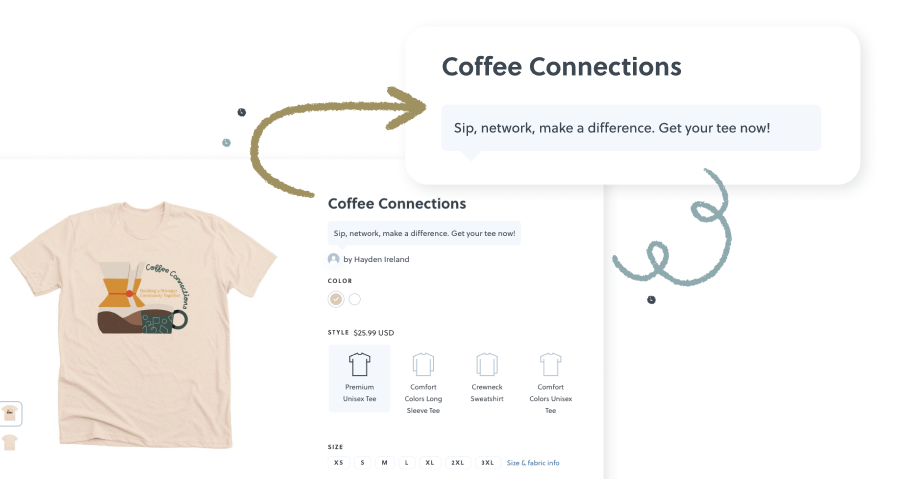 On your campaign page, there is a section just below your title where you get to include a short description of your campaign. There's a 90 character count limit for this section, but don't you worry – ChatGPT can help you sum up the mission of your campaign in a short, attention grabbing statement. 
Here's an example:
Prompt: "Write a short description for a t-shirt fundraising campaign benefitting Coffee Connections that would encourage supporters to buy shirts. Use up to 90 characters. Give me a few options."
ChatGPT response:
1. "Fuel connections, wear unity. Support Coffee Connections! ☕🤝"
2. "Sip, network, make a difference. Get your tee now! ☕👕"
3. "Empower your community. Buy a tee, support Coffee Connections! ☕👕"
4. "Brewing change together. Grab a tee, join Coffee Connections! ☕🤝"
5. "Networking with heart. Tee up for Coffee Connections! ☕👕"
6. "Sip, unite, impact lives. Support Coffee Connections! ☕🤝"
7. "Tee off for a purpose. Coffee Connections needs you! ☕👕"
Helpful tip
Sometimes when writing your prompt, it's helpful to give ChatGPT a few sentences of information to work with. If you aren't getting a desired response, try wording your prompt differently or perhaps providing more information. 
Campaign Bio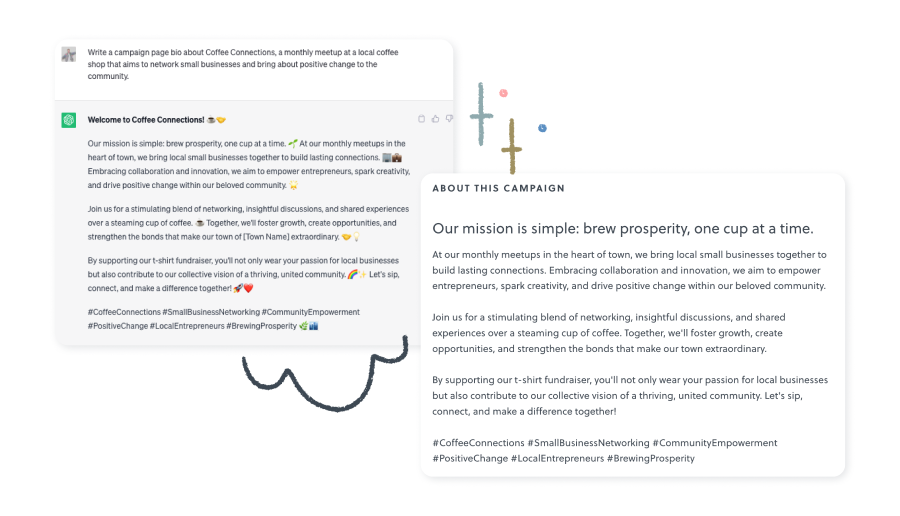 Your campaign bio is where you get to share your story, introduce your cause, and build trust and credibility with your supporters. Your bio plays a vital role in conveying the purpose, impact, and legitimacy of your fundraising campaign. Feeling a bit of pressure to get your bio just right? Don't worry, you can do this – and ChatGPT can help! 
Here's an example:
Prompt: "Write a campaign page bio about Coffee Connections, a monthly meetup at a local coffee shop that aims to network small businesses and bring about positive change to the community."
ChatGPT response: "Our mission is simple: brew prosperity, one cup at a time. 🌱 At our monthly meetups in the heart of town, we bring local small businesses together to build lasting connections. 🏢💼 Embracing collaboration and innovation, we aim to empower entrepreneurs, spark creativity, and drive positive change within our beloved community. 🌟
Join us for a stimulating blend of networking, insightful discussions, and shared experiences over a steaming cup of coffee. ☕ Together, we'll foster growth, create opportunities, and strengthen the bonds that make our town of [Town Name] extraordinary. 🤝💡
By supporting our t-shirt fundraiser, you'll not only wear your passion for local businesses but also contribute to our collective vision of a thriving, united community. 🌈✨ Let's sip, connect, and make a difference together! 🚀❤️
#CoffeeConnections #SmallBusinessNetworking #CommunityEmpowerment #PositiveChange #LocalEntrepreneurs #BrewingProsperity 🌿🏙️"
As always, you have the freedom to tailor ChatGPT's response to perfectly match your organization and cause. Whether you choose to copy and paste ChatGPT's responses or draw inspiration from them, the choice is entirely yours. Let your creativity flow and make the most of ChatGPT's flexibility to best serve your needs!
Once you have landed on the best possible bio, add it to the "About This Campaign" section on your Bonfire campaign page. A well-crafted campaign bio can be the driving force behind mobilizing your community and achieving your fundraising goals, so you'll want to display it for your supporters as soon as you can. 
Email Copy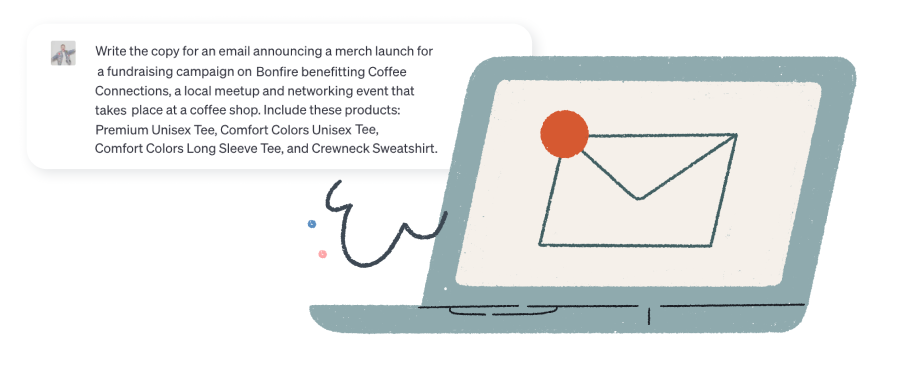 It's Important to keep your supporters engaged and informed throughout your campaign and email is an excellent way to accomplish just that. ChatGPT can save the day and save you tons of time by writing any and all email copy for you. 
Here's how:
Prompt: "Write the copy for an email announcing a merch launch for a fundraising campaign on Bonfire benefitting Coffee Connections, a local meetup and networking event that takes place at a coffee shop. Include these products: Premium Unisex Tee, Comfort Colors Unisex Tee, Comfort Colors Long Sleeve Tee, and Crewneck Sweatshirt."
ChatGPT response: "Subject: ☕ Brewing Community Connections: Get Your Exclusive Coffee Connections Merch Today! 🌟

Dear [Coffee Connections Community],

Get ready to show off your love for Coffee Connections like never before! We are thrilled to announce the launch of our exclusive merchandise line, created to support our fundraising campaign and elevate your experience at our cherished local meetup and networking event.
Now, you can wear the spirit of Coffee Connections with pride, all while contributing to the growth and enrichment of our community. Check out our stunning collection of merch, available for a limited time on Bonfire!

👕 Premium Unisex Tee: Our custom-designed premium tee offers the perfect blend of comfort and style. Crafted from the finest materials, it's a wearable symbol of your dedication to fostering connections and inspiring one another.
👕 Comfort Colors Unisex Tee: Experience the ultimate softness and a vintage feel with our Comfort Colors tee. It's not just a shirt; it's a testament to the warm and inviting atmosphere we cultivate at Coffee Connections.
👕 Comfort Colors Long Sleeve Tee: Embrace the cozy vibes of Coffee Connections with our long sleeve tee. Perfect for those slightly cooler days, it's a must-have addition to your wardrobe.
🧥 Crewneck Sweatshirt: Wrap yourself in comfort and solidarity with our premium crewneck sweatshirt. Whether you're attending our meetups or exploring new networking opportunities, this sweatshirt is a stylish companion to carry the spirit of Coffee Connections.

Every purchase you make supports our mission to make Coffee Connections events even more enriching and engaging. From bringing in inspiring speakers to organizing interactive sessions, your contribution will play a pivotal role in shaping our community's future.

How to order: Visit our Bonfire campaign page at [Link to Bonfire Campaign], where you can explore the entire merch collection and place your order securely. Don't wait too long, as these exclusive items will only be available for a limited time!

Join us in showcasing the power of a simple cup of coffee to foster connections, inspire greatness, and strengthen our bonds as a community. Together, we can make a significant impact on the lives of those who attend Coffee Connections.

Thank you for being an essential part of Coffee Connections and for helping us grow stronger with each gathering.

With warmest regards,
[Your Name] Coffee Connections Team

P.S. Share the news with friends and family, and let's make this merch launch a tremendous success! Every purchase counts and contributes to the success of our fundraising campaign. #BrewingConnections #CoffeeConnectionsMerch"
Remember to read through the entire response from ChatGPT to make sure the information is correct. ChatGPT is an incredibly intelligent tool, but it is still capable of making mistakes. We recommend bringing the copy over to a word document for editing purposes. When reading through – fill in the blanks, personalize, and rewrite any sections that need additional attention. Once your edits are complete, your email is ready to send to your supporters! It's as easy as that! 
Helpful tip:
You can specify a word count limit or character count limit for ChatGPT to use when crafting content for you. Sometimes ChatGPT's responses can tend to be a bit lengthy. If that happens, you can ask it to create a shorter version for you. 
Tips for Getting the Best Answers From ChatGPT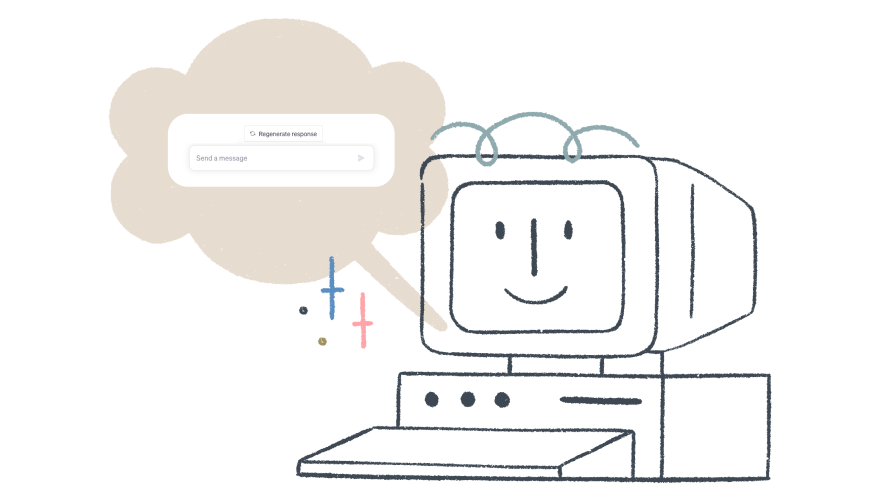 You're probably going to start using ChatGPT a lot, so here's some tips (direct from ChatGPT itself) that will help ensure you get the very best answers every time. 
Be Clear and Specific: Frame your questions or prompts in a clear and specific manner. This helps ChatGPT understand exactly what you're looking for and reduces the chances of receiving vague or irrelevant responses.

Provide Context: If your question requires some background information or context, include it in your prompt. Providing context helps ChatGPT understand the topic better and can lead to more relevant answers.

Ask Single Questions: Avoid asking multiple questions in a single prompt, as it can confuse the model and may not yield the desired focused response. Instead, break down complex questions into individual ones.

Use Prompts with Examples: When applicable, use examples in your prompts to illustrate the type of answer you're looking for. It can help guide the model and improve the quality of the response.

Specify the Format: If you want the answer in a specific format (e.g., list, step-by-step, pros and cons), make sure to mention it in your prompt.

Control the Response Length: You can specify the desired response length to get more concise or comprehensive answers. For instance, you can request a short answer or a detailed explanation.

Experiment and Iterate: If you don't get the desired response in the first attempt, feel free to rephrase your question or provide additional context to refine the response.

Correct Misunderstandings: If ChatGPT gives an inaccurate or off-topic response, you can point out the misunderstanding and ask the model to try again.

Use System Messages: You can use system-level instructions to guide the behavior of the model explicitly. For example, you can ask the model to think step-by-step or to debate pros and cons before providing an answer.

Be Patient: While ChatGPT is powerful, it may not always give perfect answers. If you encounter an unsatisfactory response, try rephrasing the question or asking for clarification. Sometimes, a bit of back-and-forth can lead to a more useful response.
---
Harnessing the power of ChatGPT for your t-shirt fundraising campaign is a game-changer that can elevate your written content to new heights. With ChatGPT as your trusted writing companion, you can focus on the heart of your fundraising initiative and create an unforgettable impact. Embrace the future of AI-powered content creation, and let ChatGPT help you make your t-shirt fundraising campaign as successful as possible! You've got this! 
Ready to join forces with ChatGPT on your next campaign?
Launch a free apparel fundraiser on Bonfire today!
Written by: Hayden Ireland / Content Specialist
Illustrated by: Madison Summers / Lead Marketing Designer