In our world today, there are so many important causes that need our immediate attention and support. If you're looking for ways to help out a cause, consider creating an apparel-based fundraiser to raise money for an organization that you feel passionate about. Launching a Giving Campaign on Bonfire makes it incredibly easy to raise funds and send all proceeds directly to the organization of your choice.
Let's learn more about Giving Campaigns to see why they are an easy and effective way to take action, raise money, and make a positive difference.
What Are Giving Campaigns?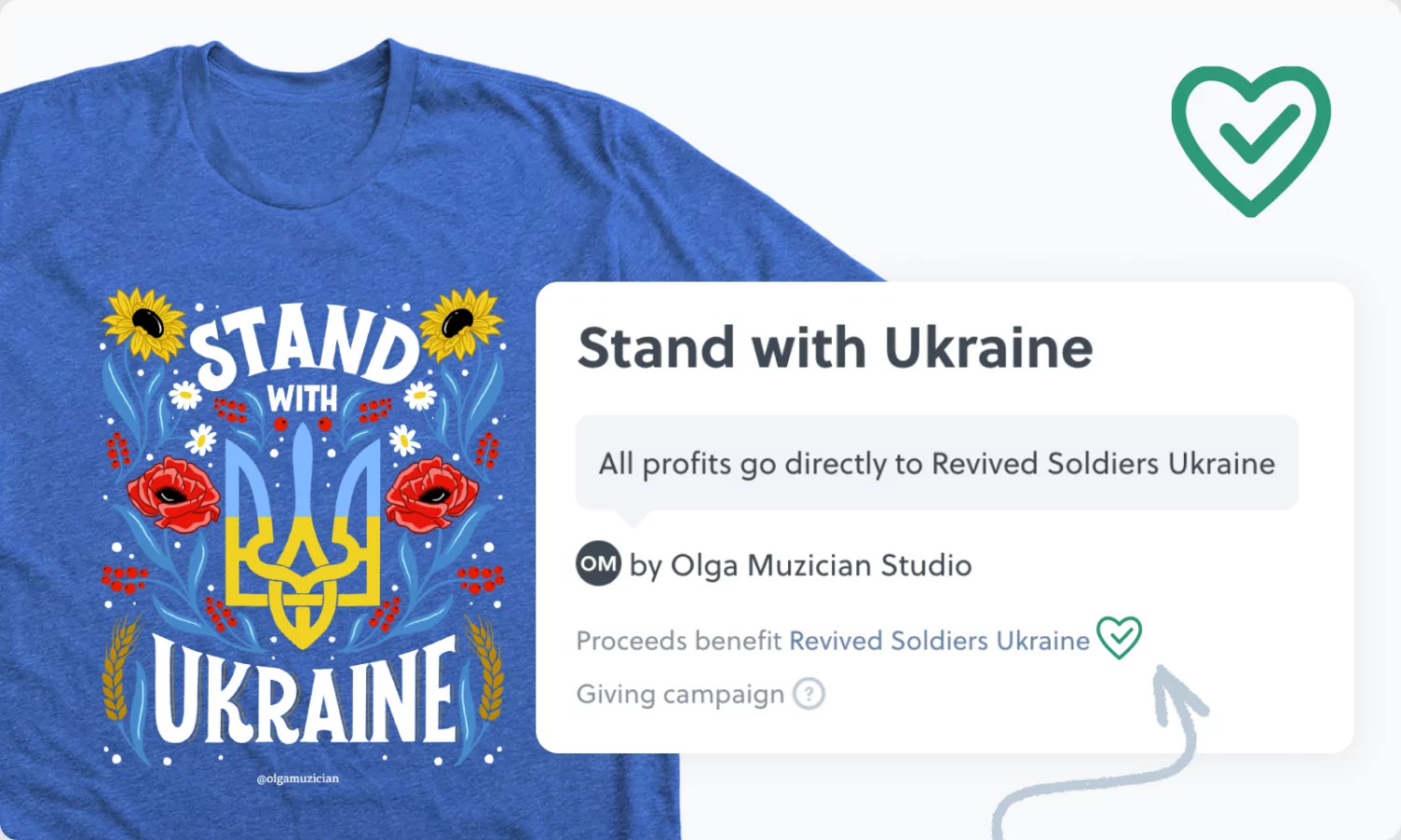 Giving Campaigns are apparel-based fundraisers that are directly connected to a 501(c)3 organization that you select. These campaigns display an official badge that lets your buyers know that all proceeds raised from your sales will be sent to that nonprofit. Setting your campaign as a Giving Campaign builds trust with your buyers and also takes the responsibility off of you to handle funds. Bonfire takes care of all the work for you and ensures the money you raise gets exactly where it needs to go.
How to Set Up Your Giving Campaign
Setting up a Giving Campaign is simple and straightforward. Let's take a closer look at each of the steps.
Create Your Design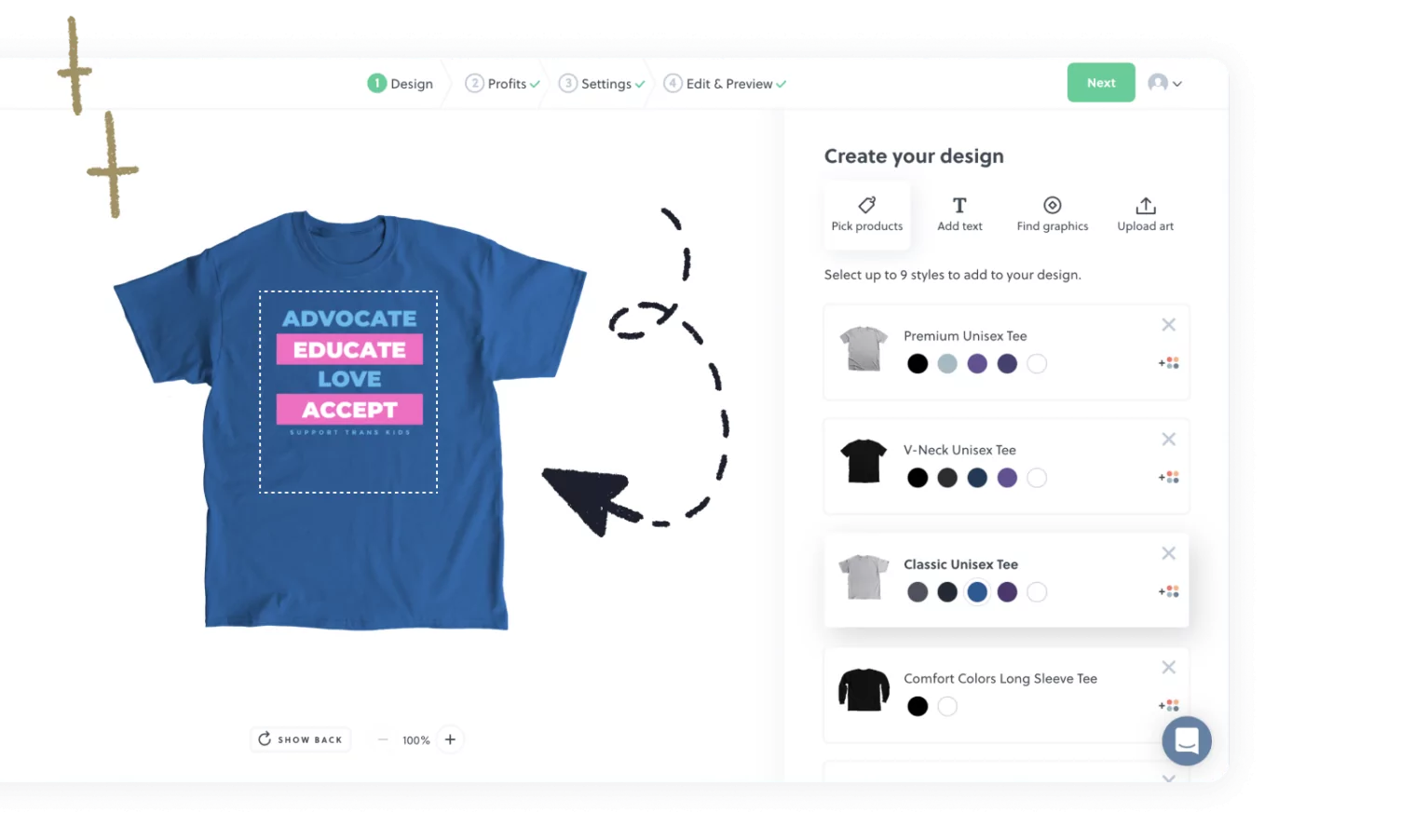 The very first step is designing your merch! It's important to make sure your design reflects the organization you are fundraising for and/or the reasons why you are passionate about fundraising for this particular cause. Once your design is finalized, you'll select products and color options from our product catalog. Think about your target audience when choosing what products to offer for this campaign and include a variety of options.
Helpful tip:
When selecting product colors, look for hues that contrast well with your design. Think dark colors for light designs and light colors for dark designs. Giving Campaigns tend to feature striking imagery and bold text, so pick product colors that let your designs shine.
Get Your Items Ready to Sell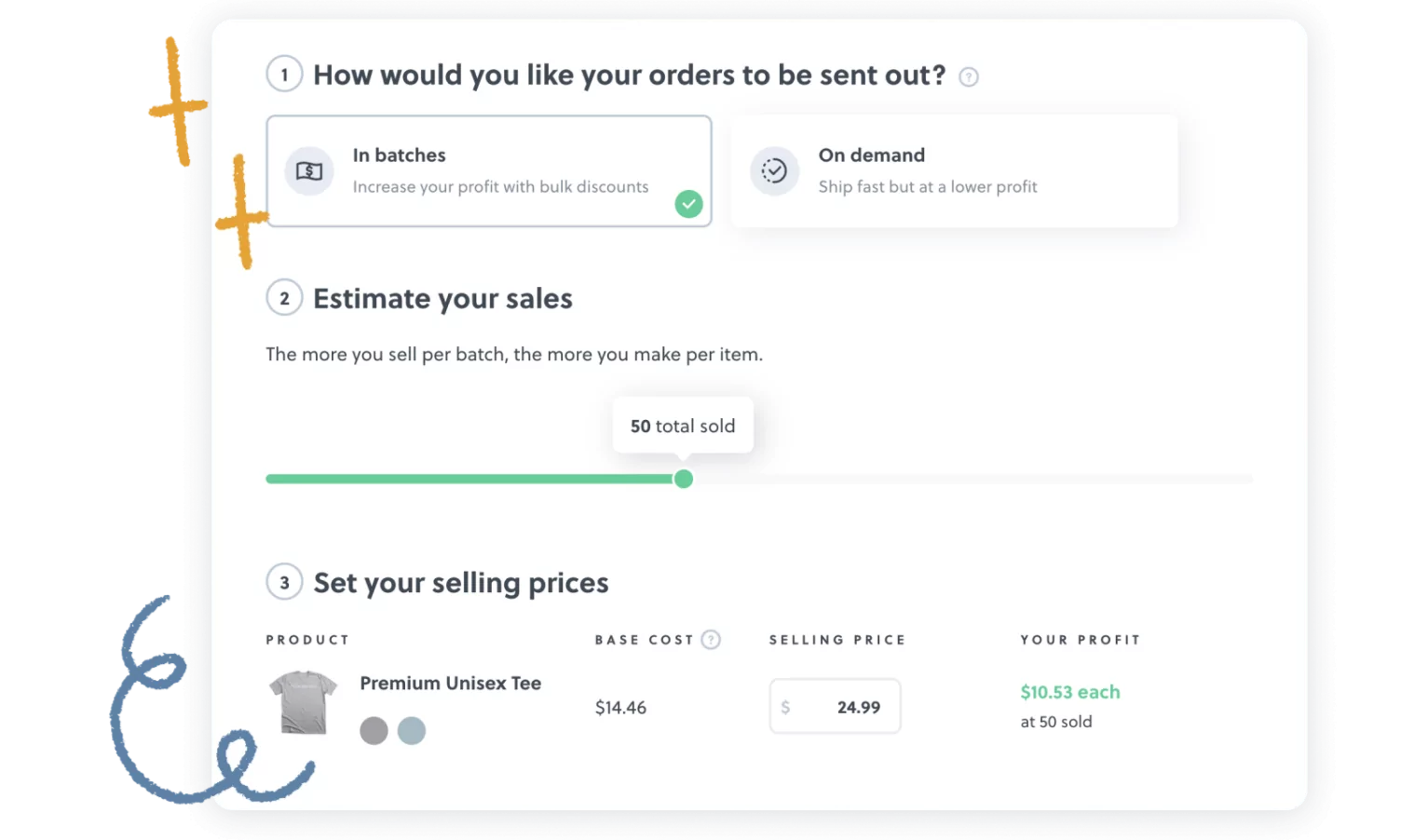 After you have solidified all aspects of your design, you'll navigate to the second step in the setup funnel that allows you to set the prices for your items, estimate your number of sales, and decide how you would like your orders to be sent out.
Helpful tip:
Setting your orders to be sent out in batches increases your profit and therefore increases the amount you can donate to your chosen organization. The more you sell per batch, the more funds you collect per item.
Set Your Campaign as a Fundraiser and Select an Organization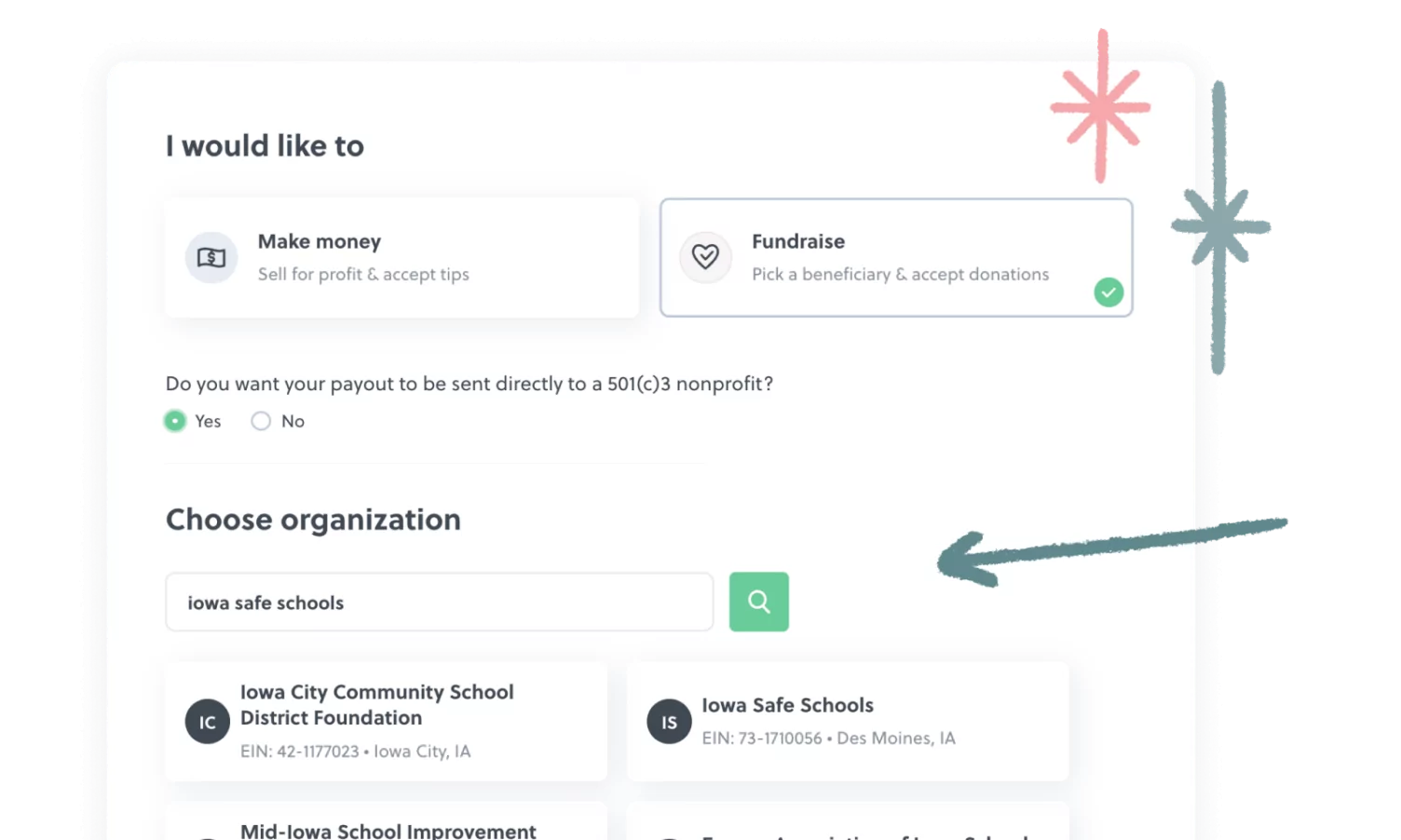 Next, you will be prompted to choose whether you would like to sell for profit or sell to fundraise. In this case, you will select 'Fundraise' and then select that you would like to send your payout directly to a 501(c)3 of your choice.
Then, use the search bar to find and select the organization you want to raise money for. As long as the organization can be found on Candid you'll be able to find it in our search tool. You can search for the organization using its name or EIN.
Helpful tip:
Use our Cause Explorer to help you find the perfect cause to fundraise for. Already have a cause in mind for your Giving Campaign? Use Cause Explorer to help you find additional causes to fundraise for! You can have multiple Giving Campaigns running at any given time.
Show Your Community Who You're Fundraising For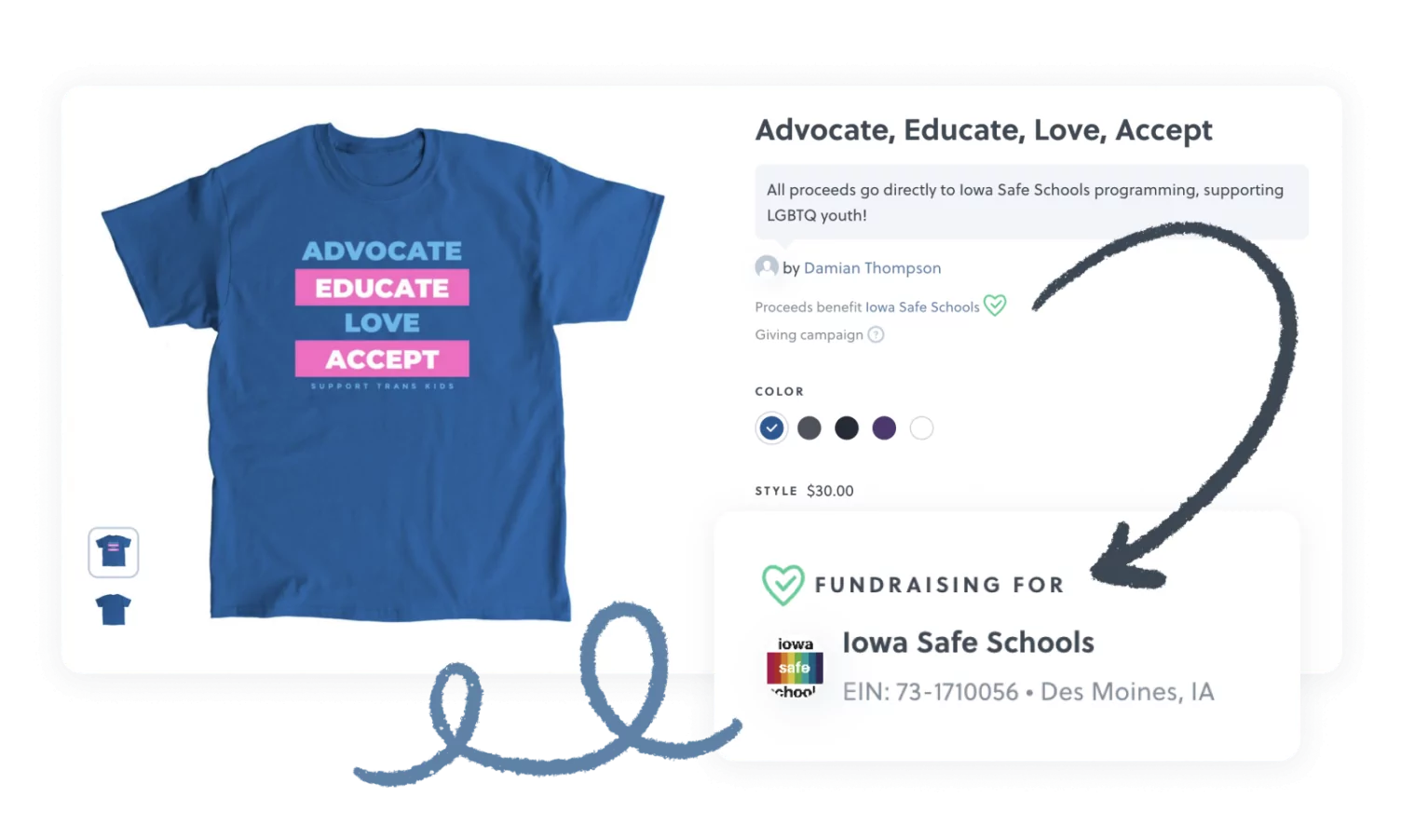 The next step will be to customize your campaign page. This is your opportunity to share your story, talk about why you decided to launch this Giving Campaign, and why this cause matters to you. You can also add photos and videos to the campaign page to enhance your story.
Since your Giving Campaign is directly linked to the organization you are fundraising for, your page will automatically display that information for your supporters. Your community can learn more about the cause and the organization itself by clicking the green heart next to the name of the nonprofit. Clicking the heart will take them to a page where they can see the organization's location, EIN, and verification status.
Helpful tip:
Including a call-to-action in the description tagline and additional information in the 'About this campaign' section of your page helps to further legitimize your Giving Campaign and fundraising efforts.
How to Promote Your Giving Campaign
As soon as you launch your Giving Campaign, it's time to start sharing and promoting it to your community. Here are a few tips and tricks to help you get started.
Share Your Giving Campaign With Your Community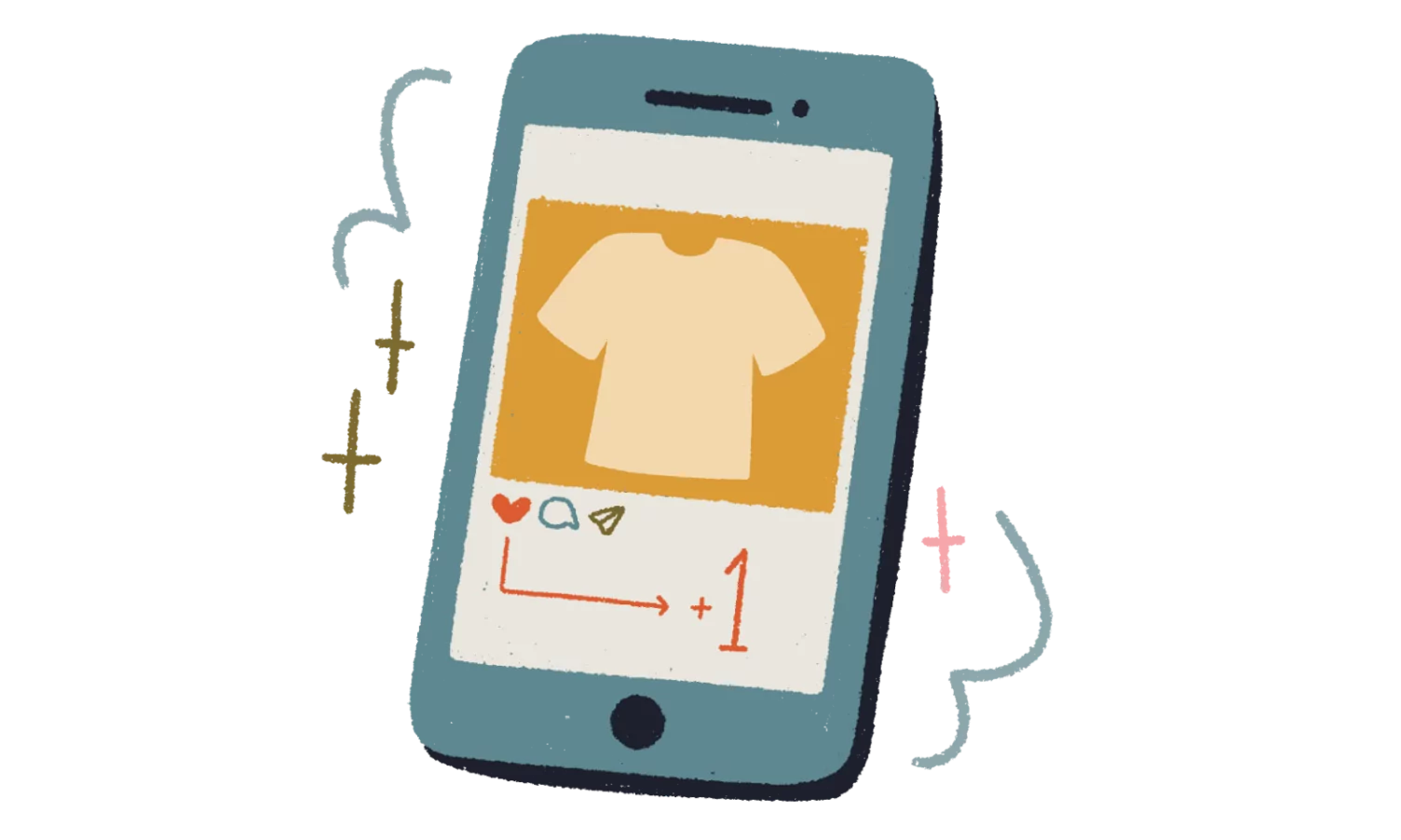 It's important to make sure everyone in your circle knows about your Giving Campaign. Once your campaign launches, we recommend making a dedicated post about it across all your different platforms like Instagram, Facebook, and Twitter.
Be sure to include the link for your campaign page in your social media bios so people have an easy way to access your page. We recommend using a link-in bio tool like Linktree so you can link to your profile across all of your platforms. Then, you can use our free Linktree integration to display your Giving Campaign and sell your merch directly from your profile. If you don't have a Linktree profile yet, just create a free account, then connect your Bonfire store to your profile once it's published.
Helpful tip:
To learn how to manage your Linktree integration, check out this article.
You should also text your campaign link to your friends and family so they can share it with everyone in their circles.
Don't be afraid to get creative and have fun with how you share your campaign! The more fun you have with it, the more people will gravitate to your promotions.
Give Your Community Updates on Your Giving Campaign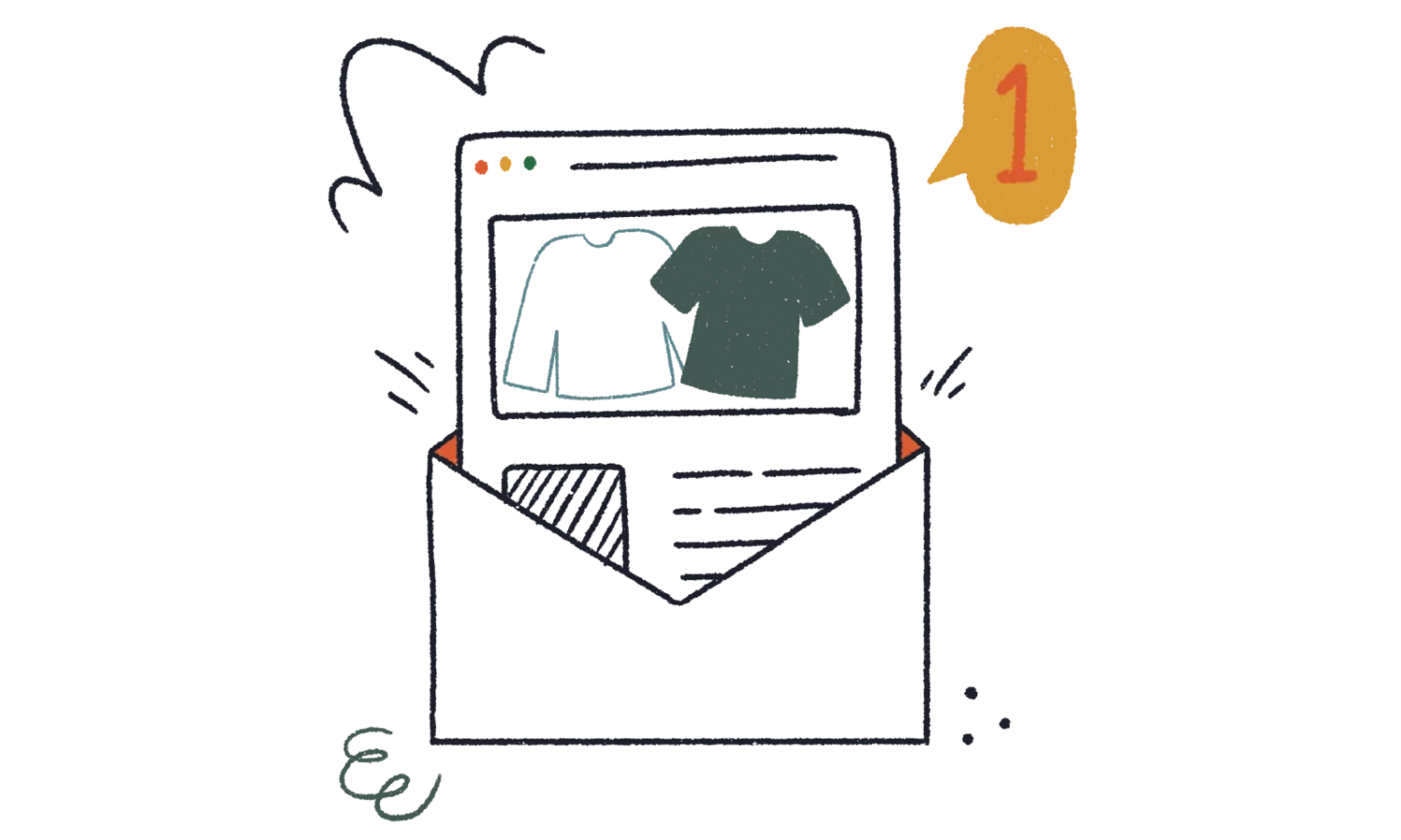 It's always a good idea to remind people about your campaign. Share about it frequently and let people know how your campaign is doing. Are you close to reaching your fundraising goal? Share the exciting news! Keeping your community involved will inspire them to support your campaign and maybe even inspire them to help you reach more people to raise more money.
Thank Your Community for Their Support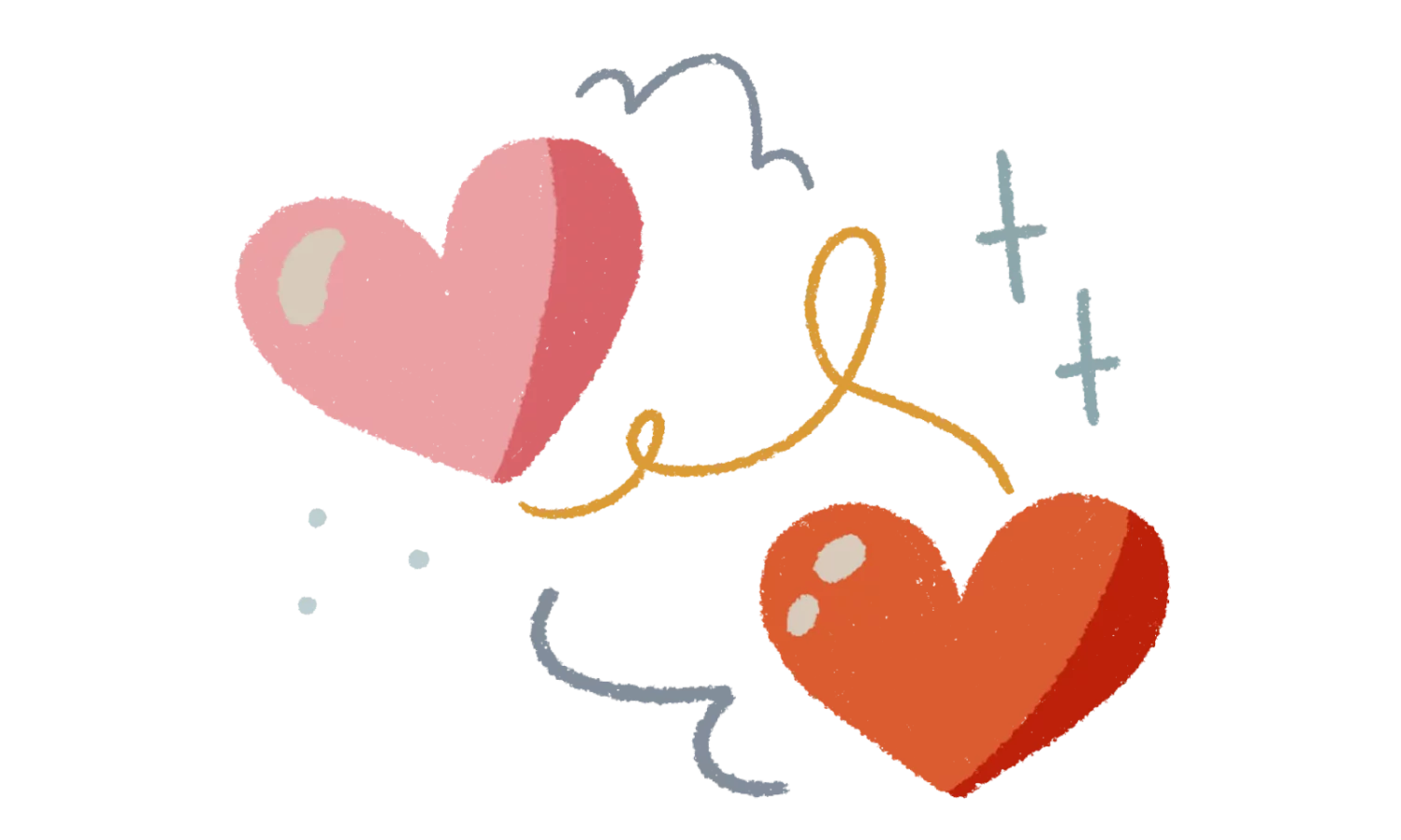 You wouldn't be able to reach your fundraising goal without the overwhelming support of your community. Remember that and thank them for their help and involvement.
Ask buyers to share photos of themselves rocking your merch. You could even create a specific hashtag for your fundraiser if you wanted to and ask your buyers to include it in their posts. If they give their consent, re-share their photos and posts to celebrate them and show your gratitude! It also helps to get more people excited about supporting your campaign if they see your merch being worn and loved.
No matter how much money your Giving Campaign raises – count it as a success! Thank your community for helping you donate money to an organization you believe in.
If you reach or surpass your fundraising goal, celebrate big time with your community! It truly takes a village to achieve something like that.
---
To continue the incredible work that they are doing, nonprofits need all the funding they can get. Giving Campaigns are a great way for you to support your favorite organizations. In times like these, every little bit helps, and every person can participate in the movement for change.
We hope you feel inspired to create and launch a Giving Campaign today. Browse our Cause Explorer to help you choose a cause to support, and let's get started!
Ready to launch your own Giving Campaign?

100% free

Easy set up

Hassle-free payouts

Written by: Hayden Ireland / Content Specialist
Illustrated by: Madison Summers / Lead Marketing Designer