Looking to give gifts that give back to the environment this year? We've got you covered! We've pulled together a list of incredible eco-conscious Giving Campaigns on Bonfire that are sure to please all the nature-lovers in your life.
The Pollinator Protectors campaign donates 100% of its funds to Endangered Species Coalition, a nonprofit organization working to stop the human-caused extinction of at-risk species. This shirt celebrates 4 species of pollinators: bats, birds, butterflies, and bees!
The Growing Change in Guate campaign is raising funds for the Highland Support Project, whose reforestation efforts empower Indigenous women in the highlands of Guatemala.
The Protect What You Love campaign is raising proceeds to support the SeaSmart Diversity Scholarship run by SeaSmart Ocean Conservation. This scholarship is offered to address the underrepresentation of women and minorities in marine science studies and awards funding for participation in their SeaSmart Summer Program.
The Monarch Butterfly & Pollinator Love campaign is raising funds for the conservation efforts of Monarch Joint Venture. Their mission is to protect monarchs and their migration by collaborating with partners to deliver habitat conservation, education and science across the United States.
The Share the Land campaign by the Northern Colorado Wildlife Center, is helping to fund the rescue, rehabilitation, and release of native Colorado animals. This design features the Ornate Box Turtle, whose numbers are drastically declining along the front range of the Rocky Mountains due to urban development.
The Save the Dark campaign by The International Dark-Sky Association, the recognized authority on light pollution and the leading organization combating light pollution worldwide, is working to raise funds and raise awareness.
The Soil Food Web campaign is fundraising for GMO Free USA Inc, a nonprofit organization dedicated to advocating for clean food, food transparency, and food environmental justice.
The Plants Plants Plants campaign funds KidsGardening, a national nonprofit that creates opportunities for kids to play, learn, and grow through gardening, in their work to support educators and families with grant funding, original educational resources, inspiration, and community to get more kids learning through the garden.
The Lead With Trees campaign is raising funds for the California Urban Forests Council, an organization that is helping to advance smart investment in green infrastructure through education and outreach, community-based activities, and collaborative action. They envision thriving and prosperous California communities transformed by healthy trees and green spaces.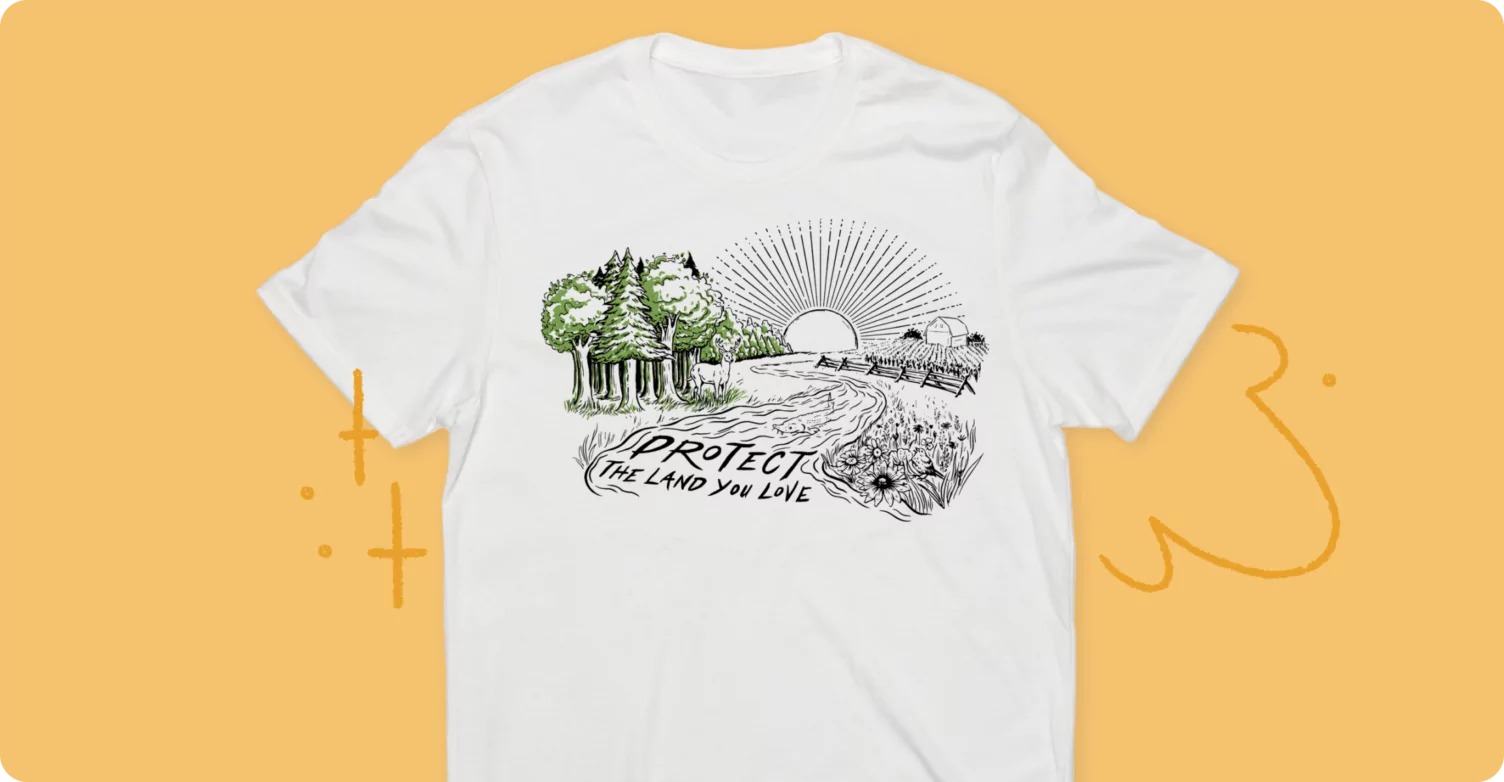 Protect Our Forests in the Richmond Region
Price: $28.49 – $33.49
The Protect Our Forests in the Richmond Region campaign is donating 100% of their profits to the Capital Region Land Conservancy Inc. This organization is working to conserve and protect the natural and historic land and water resources of Virginia's Capital Region to benefit current and future generations.
---