Mask fundraising is a low-risk, high-return fundraising strategy that can help your nonprofit raise money for your cause and keep your supporters safe at the same time. While it's very similar to a t-shirt fundraiser, there are a few key differences you should consider before launching your mask fundraiser. In this guide, we'll go over everything you need to know to create and launch a successful face mask fundraiser for your cause.
Find a Mask Fundraising Platform
Picking the right fundraising platform can make a huge difference in how successful your campaign is. The platform you choose should offer a variety of design capabilities, promotion tools, and selling features that help you maximize your fundraising efforts. We recommend finding a platform that offers:
Several mask styles. Offer your supporters a variety of mask styles, so there's an option for everyone, and you don't miss out on sales because you didn't have a specific style or size. If your community has many kids or younger fans or participants, make sure the platform offers kids' masks.
Robust design tools. Pick a platform with a powerful design tool that lets you customize your design directly on your mask. This way, you can see how your design will look when printed, and you can make any necessary adjustments before launching your campaign.
User-friendly website. It should be easy for you to create and launch your campaign, and purchasing a mask should be a breeze for your supporters.
No inventory costs. If this is your first mask fundraiser, it's hard to know how many you'll be able to sell. Find a platform that has no upfront or inventory costs, so there's no risk of you losing money on your campaign or ending up with a box of leftover masks.
If you choose Bonfire as your fundraising platform, not only will your organization gain access to all of the features and tools we just mentioned, but when you register with Bonfire as a verified nonprofit, your processing fees get reduced from 8% to 3.5%, and you'll be able to download the contact information of all your campaign supporters.
Design Your Face Mask
A well-designed face mask can be the difference between a few sales and a few hundred sales. But, compared to t-shirts, face masks have a much smaller surface area to work with. To help you create the best possible mask, keep these design tips in mind:
Use fewer colors. Maximize your profits by using only 1-3 colors in your design.
Upload high-resolution images. When you upload your design to the mask, make sure it has a resolution of at least 1500 x 1500 pixels so it doesn't lose its quality when printed.
Use your organization's branding. Make a stronger connection to your community by choosing colors that are already associated with your organization's brand and logo.
Keep it simple. The printable area on masks is only about a 4-inch square. Keep your design simplified and text large so it can still be read from 6 feet away.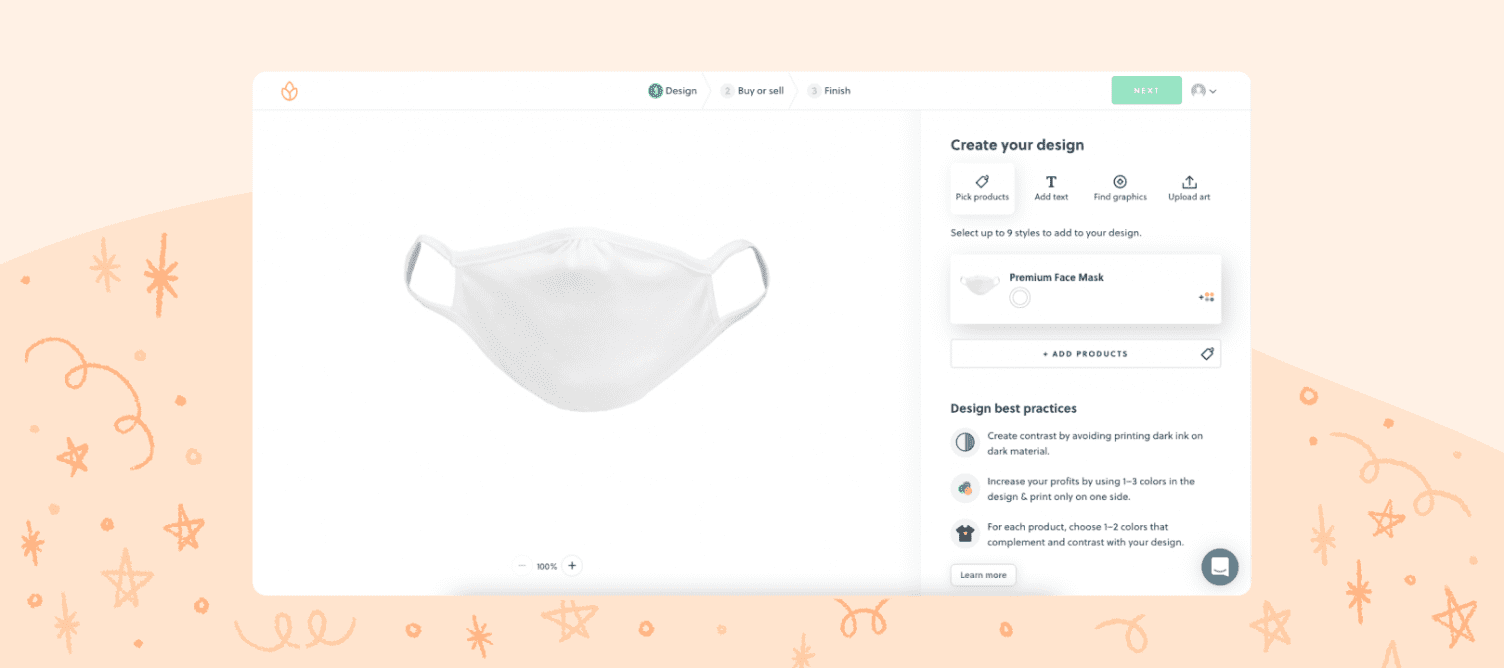 When you design your face mask, keep in mind that you can also design other merchandise that matches your masks. That way, you can create a set of merchandise with the same type of design and reflect your mission the same way.
---
Related Reading: Face Mask Design Ideas
---
If you launch your fundraiser with Bonfire, you can easily create customized face masks, shirts, mugs, tote bags, and other merchandise that can sell from your online store as a part of your organization's fundraising efforts.
Customize Your Campaign Page
The design of your campaign page is almost as important as the design of your mask. Your page should invoke trust in your supporters, make contributing easy, and give supporters some context around why you launched this fundraiser.

Follow these tips to create a campaign page that increases engagement with your supporters:
Use a descriptive heading. The heading is the very first thing people will see on your page. Use clear, descriptive, and simple words that draw users to your campaign.
Tell the story of your campaign. Help your supporters make a personal connection with your campaign by telling them about the cause you're raising money for and how you'll use the funds you raise.
Visually communicate your mission. Show your organization's work and how this campaign will impact those efforts by uploading photos and videos to your campaign.
Launch and Promote Your Mask Fundraiser
When your campaign page is complete, it's time to launch your fundraiser and start promoting and selling your masks to your community. Start by reaching out to your key supporters and donors and ask them to share your fundraiser with their community. You could even order some masks ahead of your campaign and send them to your top supporters so they can take some promotional pictures with the merch.
Download Our Promotion Checklist
We created this free checklist to help you promote your campaign from start to finish. Download it, print it out, and use it to help you reach your sales goals!

To help you keep everything organized, create a calendar for the duration of your campaign that outlines all the promotions, emails, and posts you'll be running throughout the fundraiser. This kind of planning will ensure you have engaging content spread out throughout your campaign.
Facebook
The immense advantage to using Facebook for promotion is that you can incorporate long-form text, images, and videos to support your campaign. Write about what your campaign will support and a story of the people your organization will be helping. Be sure to include images of your mask and other apparel you are selling.
Instagram
Prepare some engaging photos that feature your custom masks and promote them on Instagram to catch the attention of your supporters. You can share basic product photos that display the mask with detailed shots of your design or order some masks ahead of your campaign so you can take some candid pictures of people in the masks.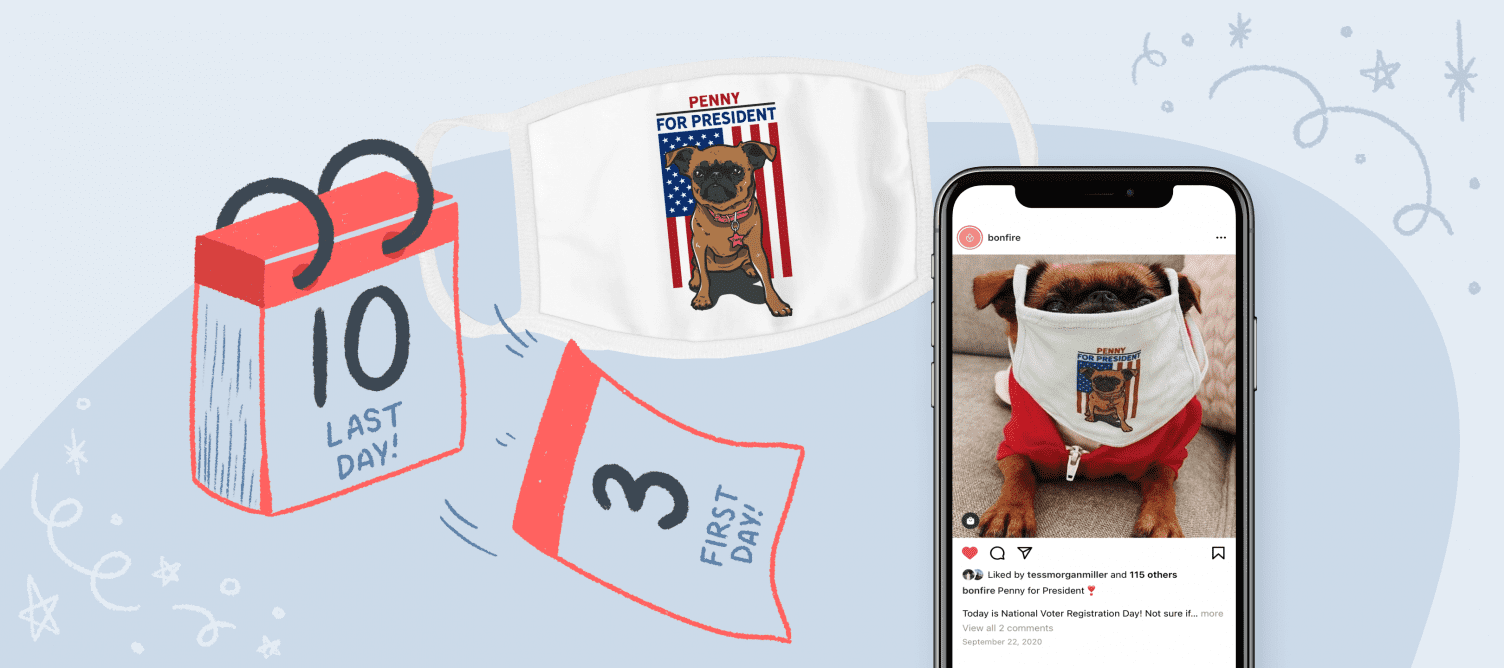 Include the link to your campaign in the bio of your profile so that interested supporters can reach your mask fundraiser in just one click. When you share your photos and videos on Instagram Stories, use the "swipe up" feature to encourage your supporters to check out your campaign.
Email
You're likely already emailing your supporters on a consistent basis, and adding a promotional bit to them about your masks could distract users from the other vital content in the message. To avoid this, create unique, one-of-a-kind emails that are just for promoting your mask fundraiser. If possible, limit emails about other subjects during the duration of your fundraiser to keep your community-focused on your campaign.
When you write these promotional emails, it's important to remember that the subject should catch your supporters' attention right away. Take time to craft a specific, actionable subject line that will stand out in your supporters' overflowing inboxes. Try to tie it back to your mission and make sure it's short, personal, urgent, and emotional. Your subject line is what will drive people to click through to learn more about the campaign.
Website
Ensure everyone who comes to your website knows about your fundraising campaign by adding a link to your campaign in your website's main navigation and publishing a blog post. The blog post is an excellent place to expand on your story about why you've chosen to launch this fundraiser and how you plan to use the money you raise.
Thank Your Supporters
Once your fundraising campaign has ended, it's time to collect the money you raised and thank your supporters. If you hosted your fundraiser on Bonfire, then your payout will be available to you in your Account Dashboard at the end of each bach.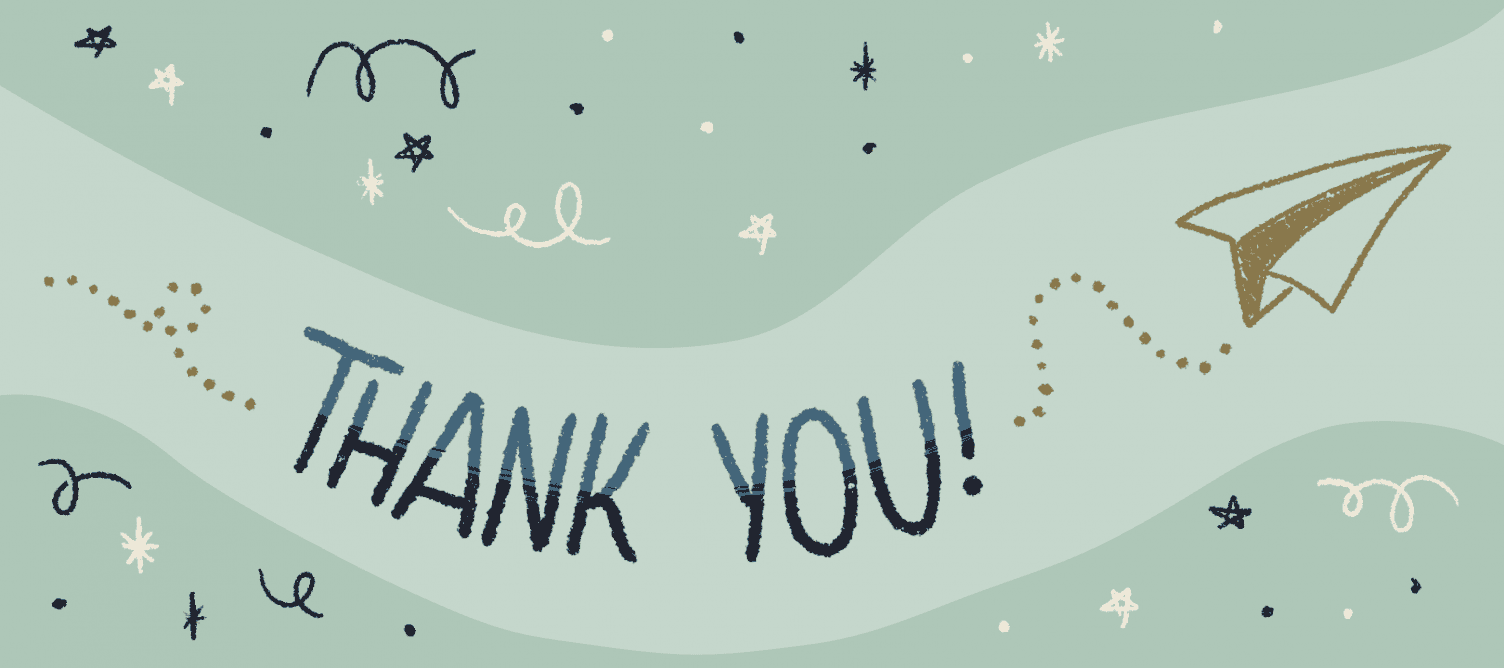 Then, send a thank you message to every person who contributed to your campaign. Personalized thank you letters are the most common way to thank supporters, but you can also call to them or send them personalized thank you gifts. Be sure to express your gratitude for their support and let them know the impact their purchase has made on your cause.
Start Your Mask Fundraiser Today
Fundraising for nonprofits is as essential as it's ever been, and mask fundraising is just the latest trend that your organization should be using to raise money. Launch your mask fundraiser for free on Bonfire to see how easy it is to get started.