Today is Bonfire's 10th birthday! Over the last ten years, we've grown from a 3-person team to 160+, changed our name once, sold millions of t-shirts, hoodies, tote bags, and more. But most importantly, for the past ten years, we've lived one mission: to strengthen and inspire communities, through a commitment to designing the greatest and easiest online customer merch experience.
In 2021 alone, we added 20,259 new sellers to our community and raised millions for nonprofits through Giving Campaigns. 13,059 verified Nonprofits actively used our platform to fundraise for their cause, and 4,964 Creators used Bonfire to sell custom merch to their supporters. We also published 480 new design templates, bringing our library of free customizable designs up to 1,117. This design resource makes creating campaigns on Bonfire accessible to anyone, no matter how much design skill they have! 
Did you know? We began as BonfireFunds in 2012. With a focus on community fundraising, we grew and grew until we realized in 2016 that while fundraising would be a big element of our future, we wanted to expand our community to anyone who wanted to create and sell custom apparel – whether for fundraising or for profit. In October 2016, we launched Bonfire.com, with our most successful campaign to date, Women's March on Washington, launching weeks later.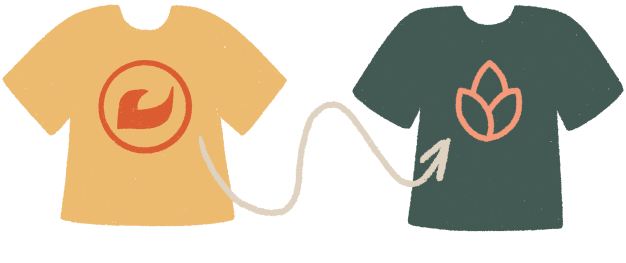 As we look toward the future, we see many other opportunities for Bonfire to grow into an even better tool for our sellers for creating, buying, and selling custom products. We're also simply excited to see how our sellers use the recently added features from 2021.
New Features in 2021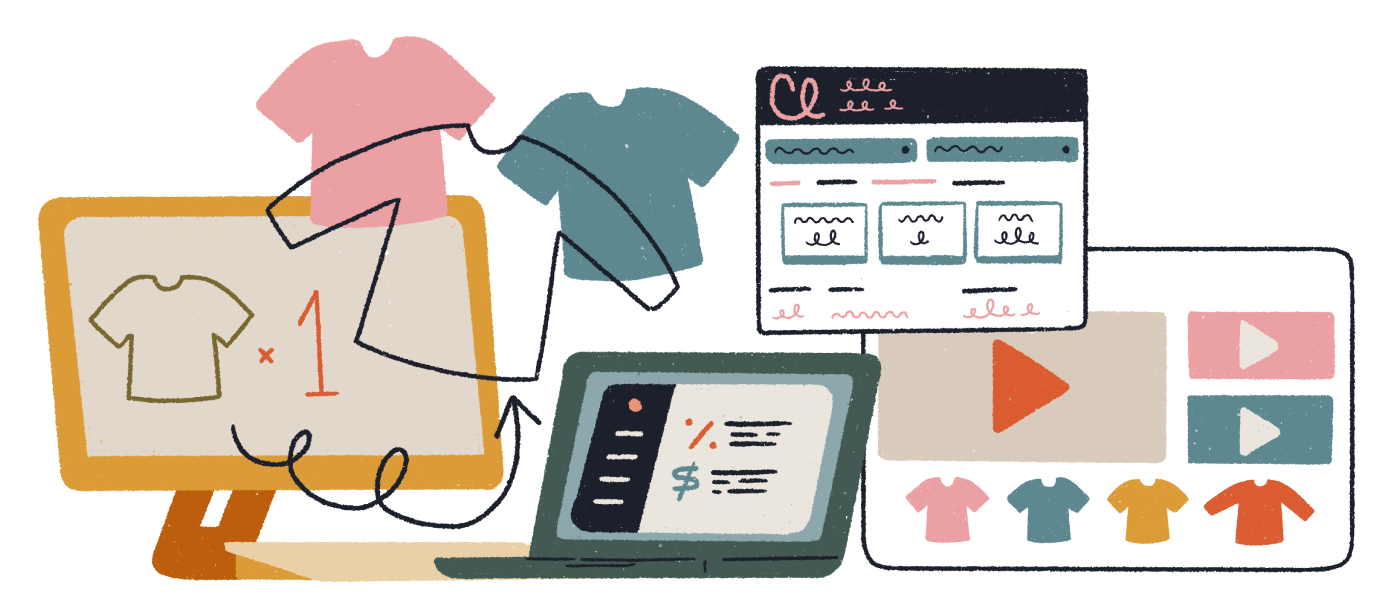 This past year, we launched some game-changing features that will make selling on Bonfire even better for all of our sellers.
Promo Codes – Allow buyers to purchase items from campaigns at a reduced cost when they type in the promo code during checkout. 
Youtube Integration – Qualified creators can now sell Bonfire merch directly below videos and live streams with the YouTube Merch Shelf integration.
Print on Demand – It's finally here! Enable POD on your next campaign, so orders go to print at the end of each day, and your buyers get their merch even faster!
Classy + Neon  Integrations – Use our peer-to-peer fundraising integrations to make it easy for your community to create and sell custom shirts alongside your Classy or Neon campaigns. You'll reach your fundraising goals faster and look great while doing it.
In 2021, we kicked off our Bonfire Brand Ambassador Program by selecting an exclusive class of Bonfire Sellers who embody the very best of what a Bonfire Seller could be. They will have unique access to coaching sessions from Bonfire experts, opportunities to provide feedback about how Bonfire could improve and suggest new products, receive exclusive gifts from our team, and so much more.

Interested in becoming a Bonfire Brand Ambassador? You can submit an application here!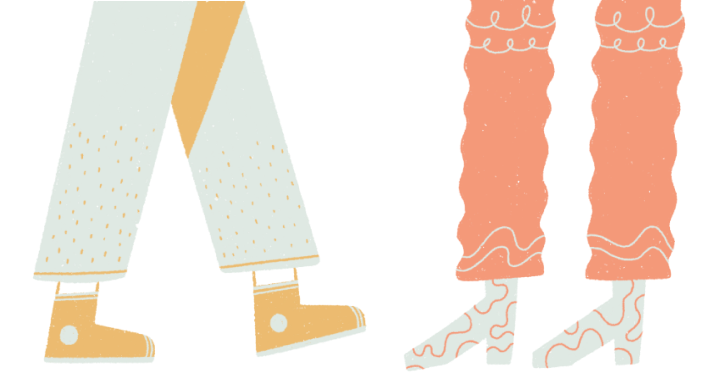 Our team is constantly at work to make selling on Bonfire easier and better than it was before, and great things are on the horizon for 2022. But before we look ahead, we want to look back, and commemorate the only way we are even here 10 years later…our community!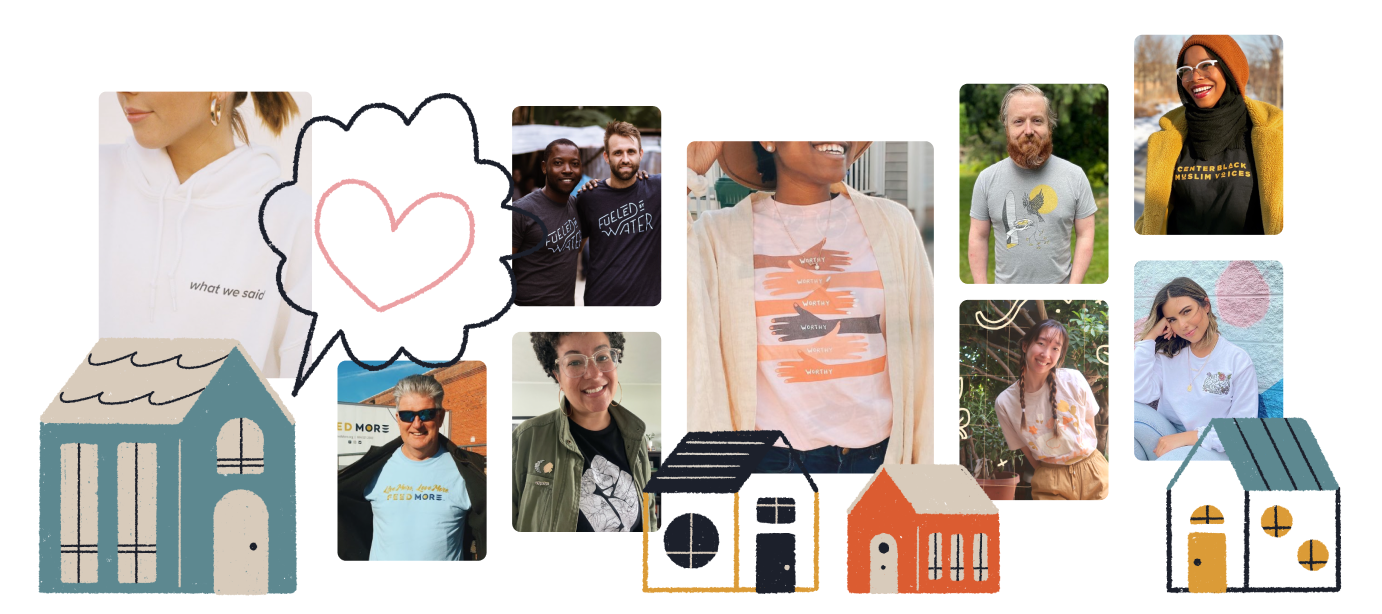 If you have ever been to the homepage of Bonfire.com, or our original site, Bonfirefunds.com, you have been greeted with dozens of smiling faces staring back at you, adorned in custom t-shirts or carrying custom tote bags or sipping out of custom mugs, created by them, and for their community. We know that the only reason we exist today is because of the thousands of sellers who have trusted us over the last 10 years, and thus, it's YOU that you will see on our homepage.
Some of our Favorite Sellers 
To commemorate this exciting milestone, we asked the Bonfire team to share with us their favorite Bonfire campaigns during their time here. These different campaigns span the entirety of our 10 years and represent a host of different causes and types of campaigns.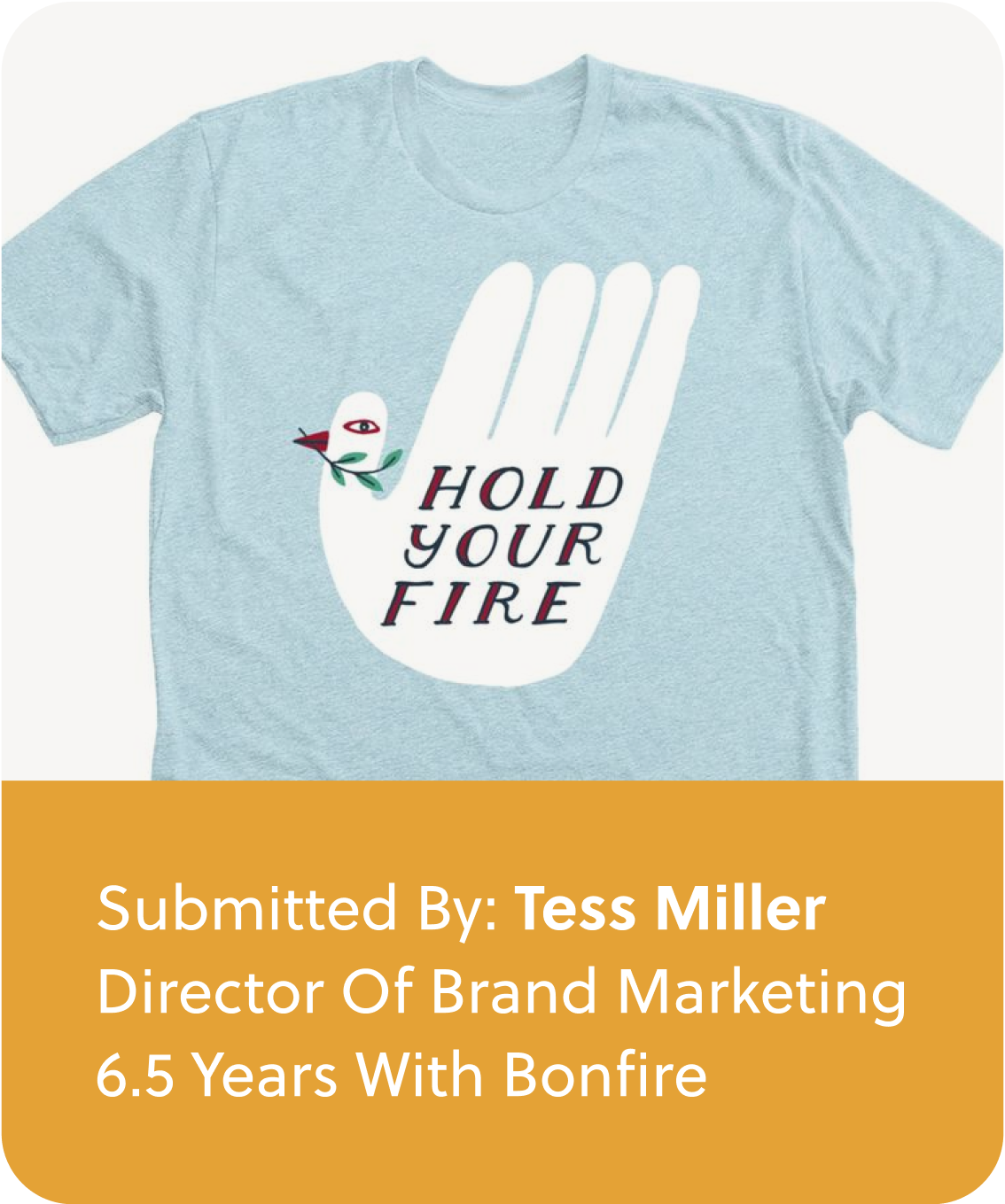 When I was Brand Manager here at Bonfire, one part of my job was to seek out compelling stories of Bonfire sellers and tell them to our community. When I came across Kristina Filler's campaign in the wake of the Parkland Shooting and March For Our Lives, it encapsulated so much of what I was feeling inside but couldn't find words to express. I immediately reached out to her to see if we could interview her for our blog, and it was such an honor to learn more about her story.
When Kristina was young, her father was killed outside the school he taught at. The 21st anniversary of his passing happened a few days before the shooting at MSD High. When she saw the news, she was inspired by the students' resistance. She knew there was more she could do to enact change in her community. Her Hold Your Fire campaign raised over $11,000 for Everytown, and she sold over 1,000 shirts – 1,000 walking billboards of her message of peace.
---
Created by Richmond-based artist/hair studio owner, Manda Sesko, the "No Justice No Peace Tarot" campaign is one of my favorites. I love that Bonfire did such a great job at creating a safe space for people to bring awareness and raise money for the Black Lives Matter moment and for people who were wrongly convicted or jailed for either peaceful protesting or because of the color of their skin. I'm so proud to work at a place that stood on the right side of history!
---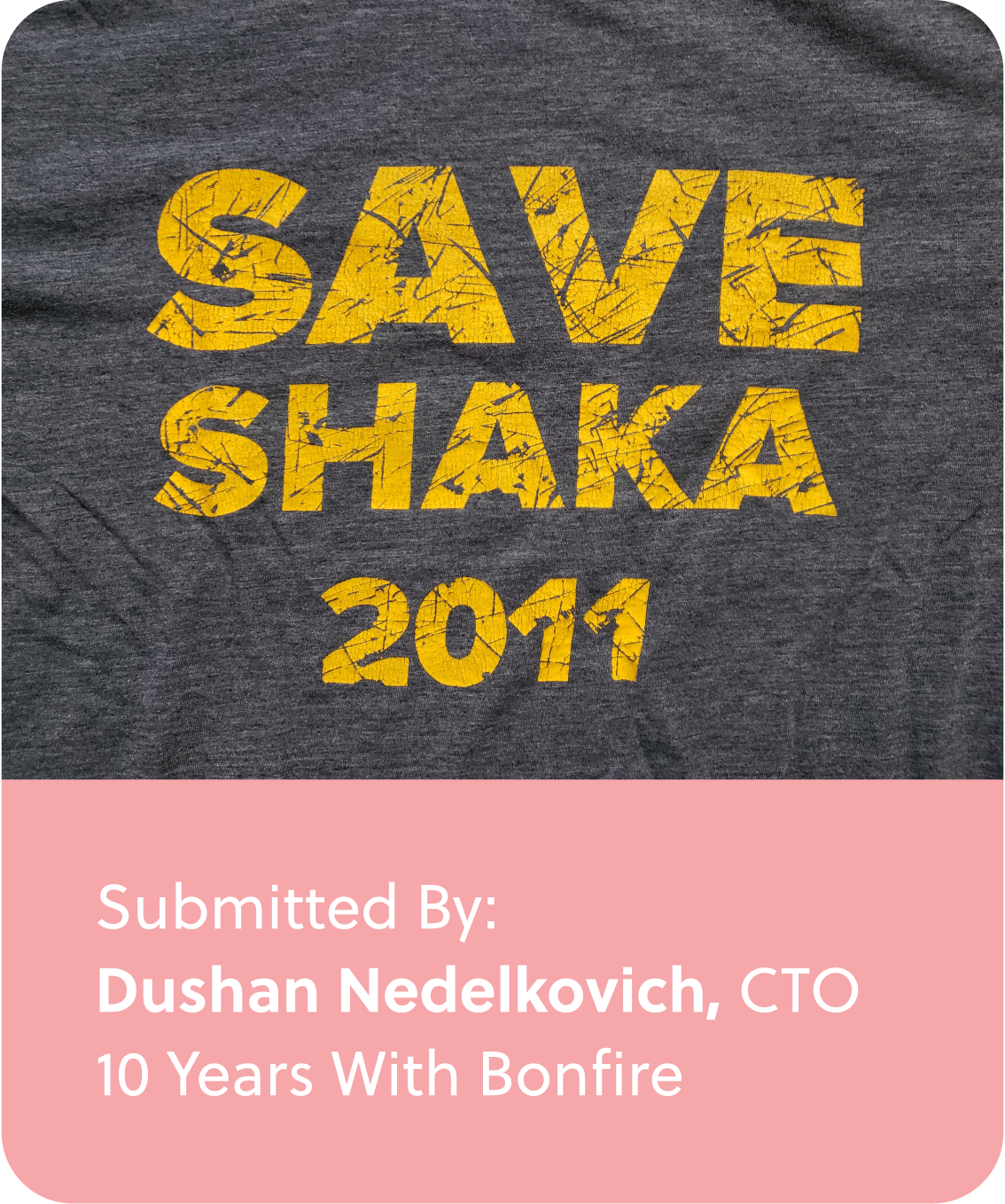 ---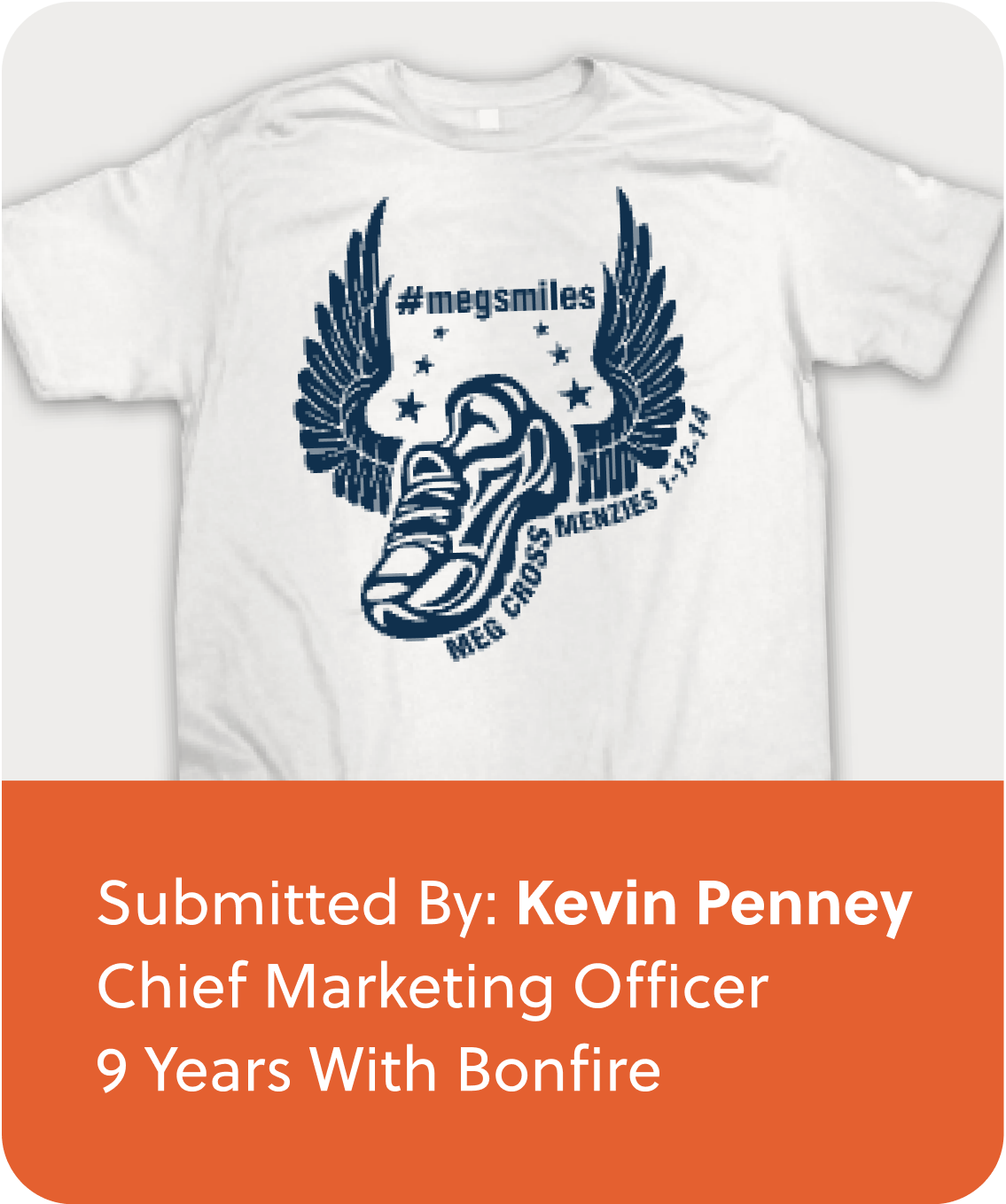 Meg's Miles
Megs' Miles hit so close to home in many ways, and in many ways, we felt like we were part of the community. And when the combination of FB group traffic, and RunnersWorld traffic took our site down, it was the first time I remember understanding the impact of what we do here at Bonfire. While the story is a sad one, Meg's legacy still lives on with the annual MegsMiles 5k (happening this Saturday!).
---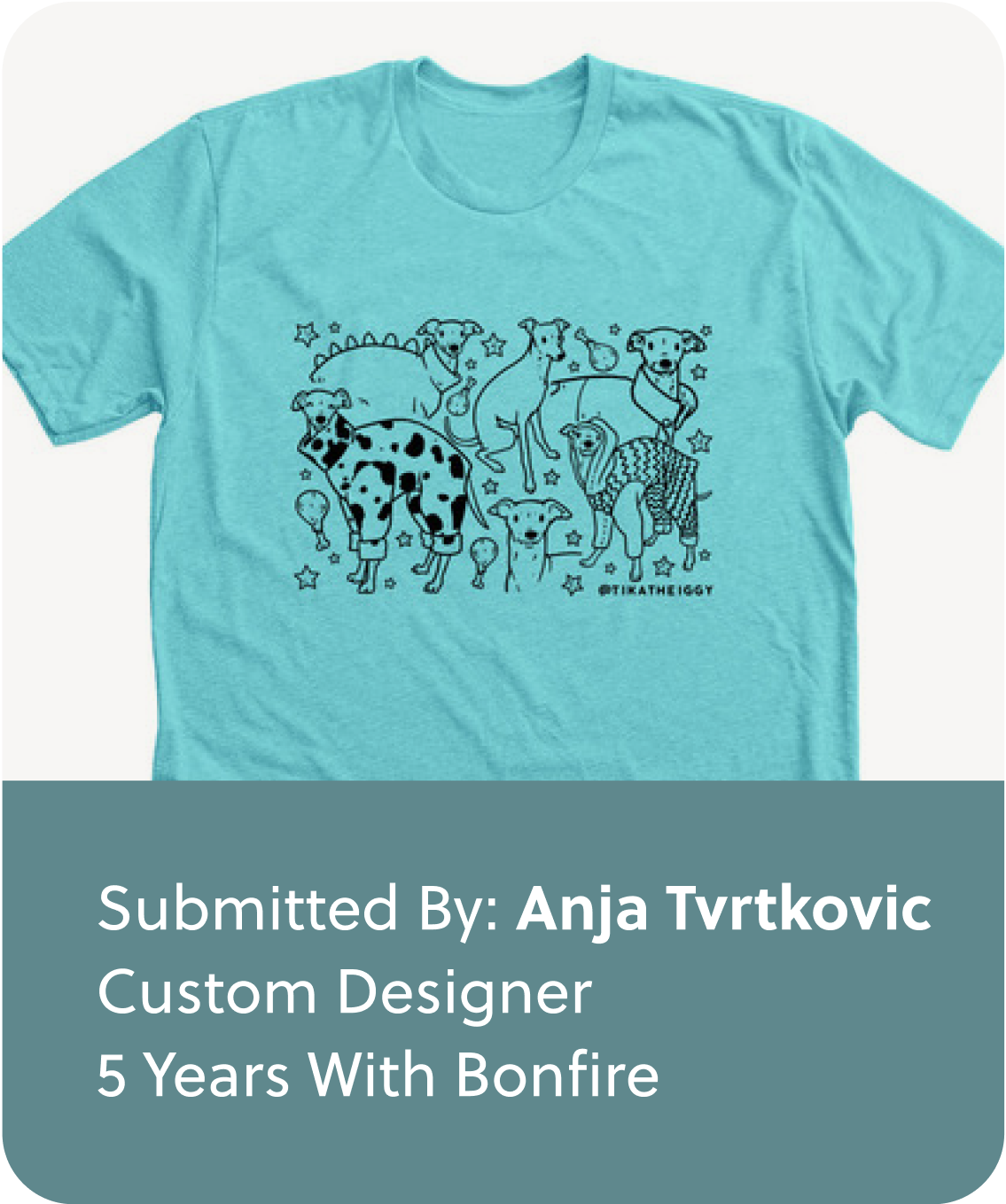 ---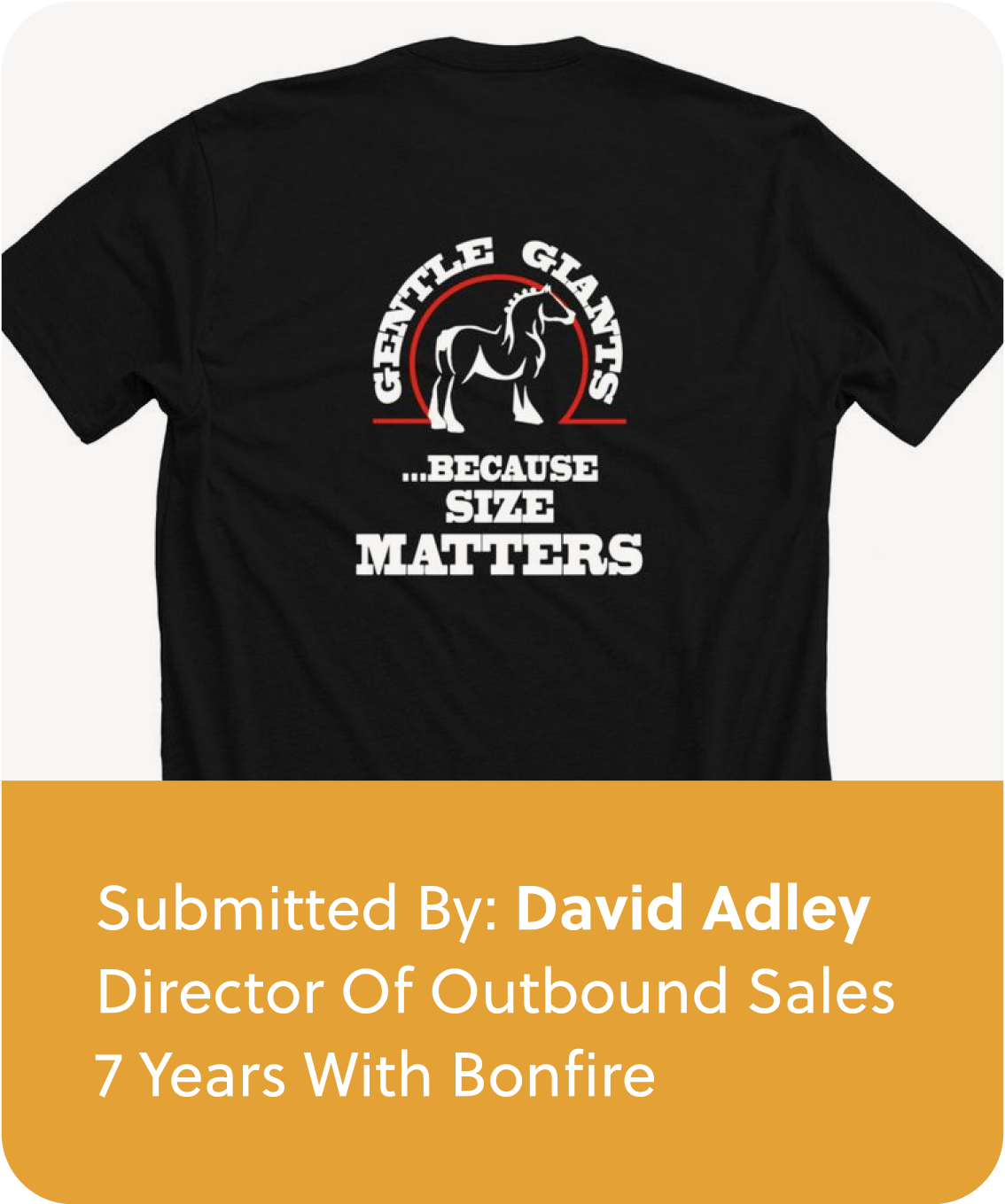 Size Matters, by Gentle Giants Draft Horse Rescue
There is one Bonfire seller that will always hold a special place in my heart: Gentle Giants Draft Horse Rescue
I'm actually mildly terrified of horses (let alone giant draft horses!), but I knew this particular rescue had something special going on way before they ever launched on Bonfire. Take one look at their Facebook page, and you'll see how much they care about their rescues and how well they engage with their supporters. 
The feeling was so strong in fact, that I wrote and filmed a (now very cringeworthy) song during my early days as a sales rep to try and convince them to launch on Bonfire (back then we were still called Bonfire Funds!).  Thankfully my songwriting efforts were not in vain, and the founder of Gentle Giants got back to me in December of 2015. But still, the campaign launch eluded me.
So, I enlisted the help of our CEO Brian Marks. We decided to take a 3 hour road trip from Bonfire's headquarters in Richmond, VA to Mount Airy, MD where Gentle Giants is located. 
We were welcomed very hospitably by the founder of Gentle Giants, Christine Hajek, who gave us a tour of the 300+ acre facility. I even agreed to ride one of the gentle giants (albeit very slowly) and conquered my fear of horses that day! 
Needless to say, a beautiful partnership was formed, and Gentle Giants finally launched their first campaign in October of 2016.
They've since gone on to sell nearly 2000 items and raise over $20,000 on Bonfire. More importantly, they've rescued over 1,000 horses who have been adopted into permanent, loving homes. I'll forever be grateful to Gentle Giants who inspired me to step out of my comfort zone and in awe of the wonderful work they do!
---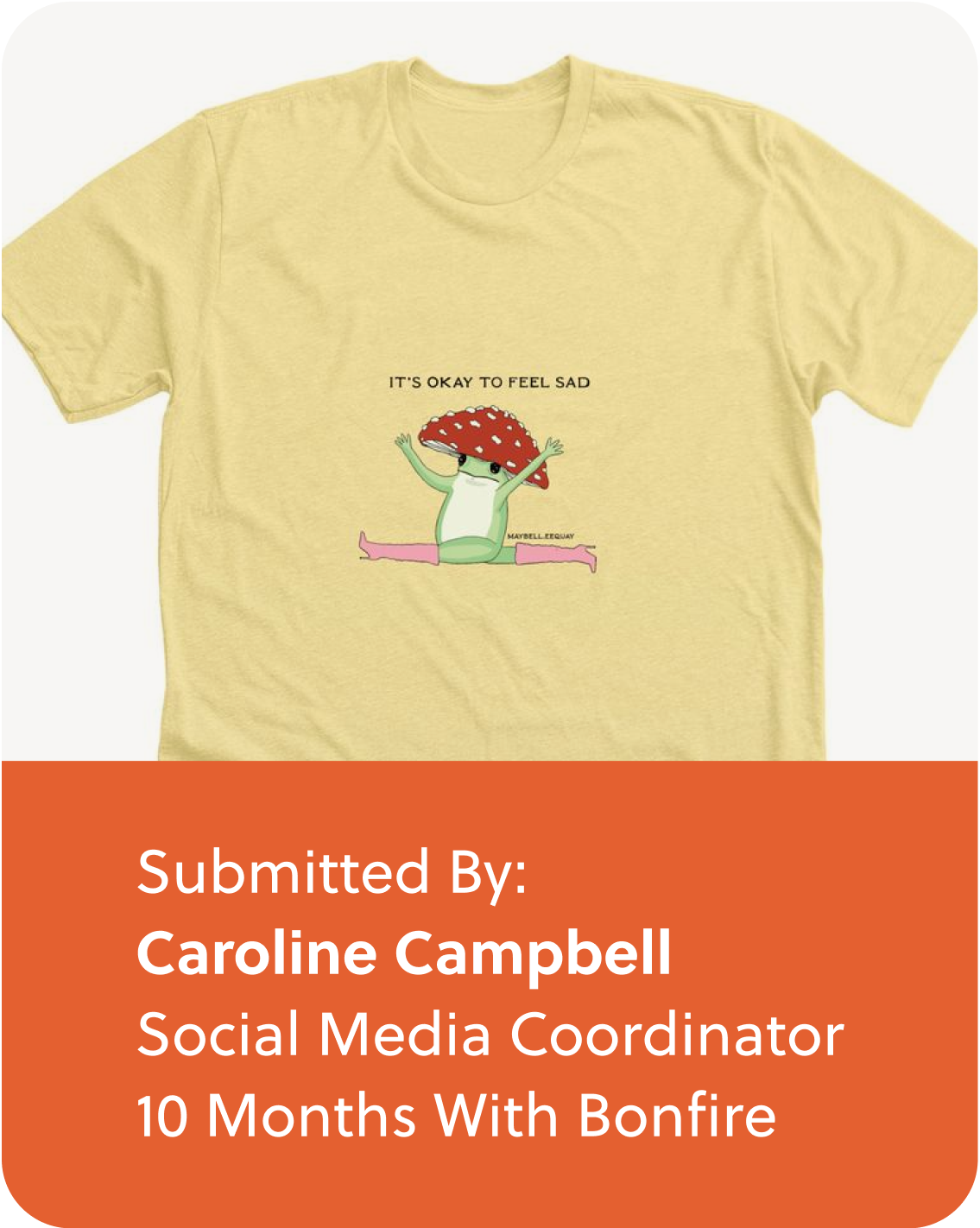 Maybell Eequay's mushroom frogs bring me so much joy. Her designs perfectly capture those little inner thoughts and feelings we all have – happy or sad. There is just something so comforting, and hilarious, about them and I'm always looking forward to what she creates next!
---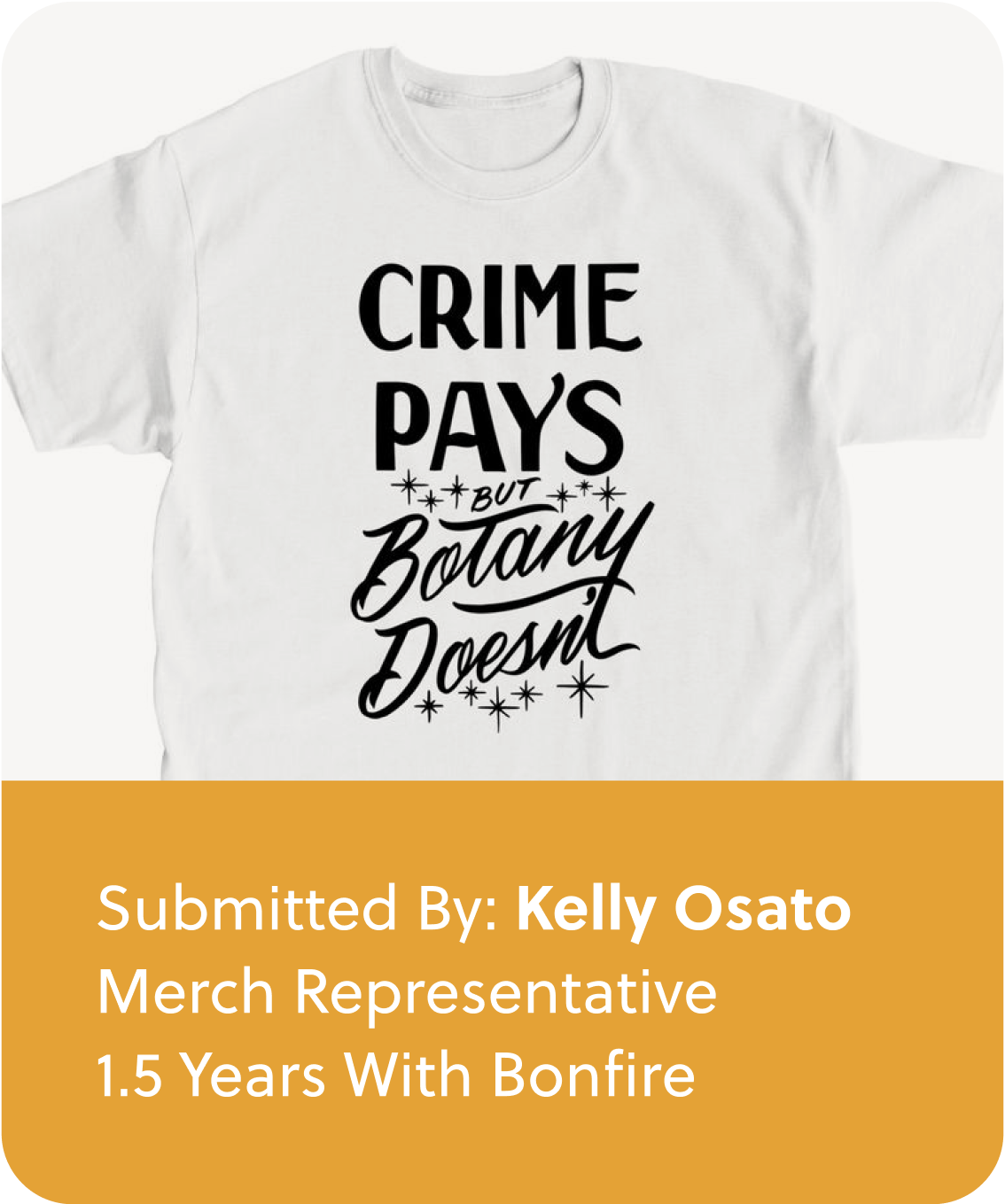 Crime Pays But Botany Doesn't has changed my worldview forever, inspiring me to be more inquisitive about the natural world around me and a more intentional gardener. My curiosity about their merch is what first drew me in—the Department of Unauthorized Forestry shirt design in particular—which led me to look up their YouTube channel and I've been hooked ever since.
While I'm endlessly fascinated by the flora and fauna documented by "a Misanthropic Chicago Italian" who casually "botanizes" a wild variety of Earth's natural spaces, from wondrous protected reserves and geologic splendors to roadside rest stops and strip mall parking lots, it's the deep knowledge and hard truths he delivers with irreverent, regionally accented expletives that keep me avidly tuned in. In my opinion, CPBBD is the height of low-brow edu-tainment.
---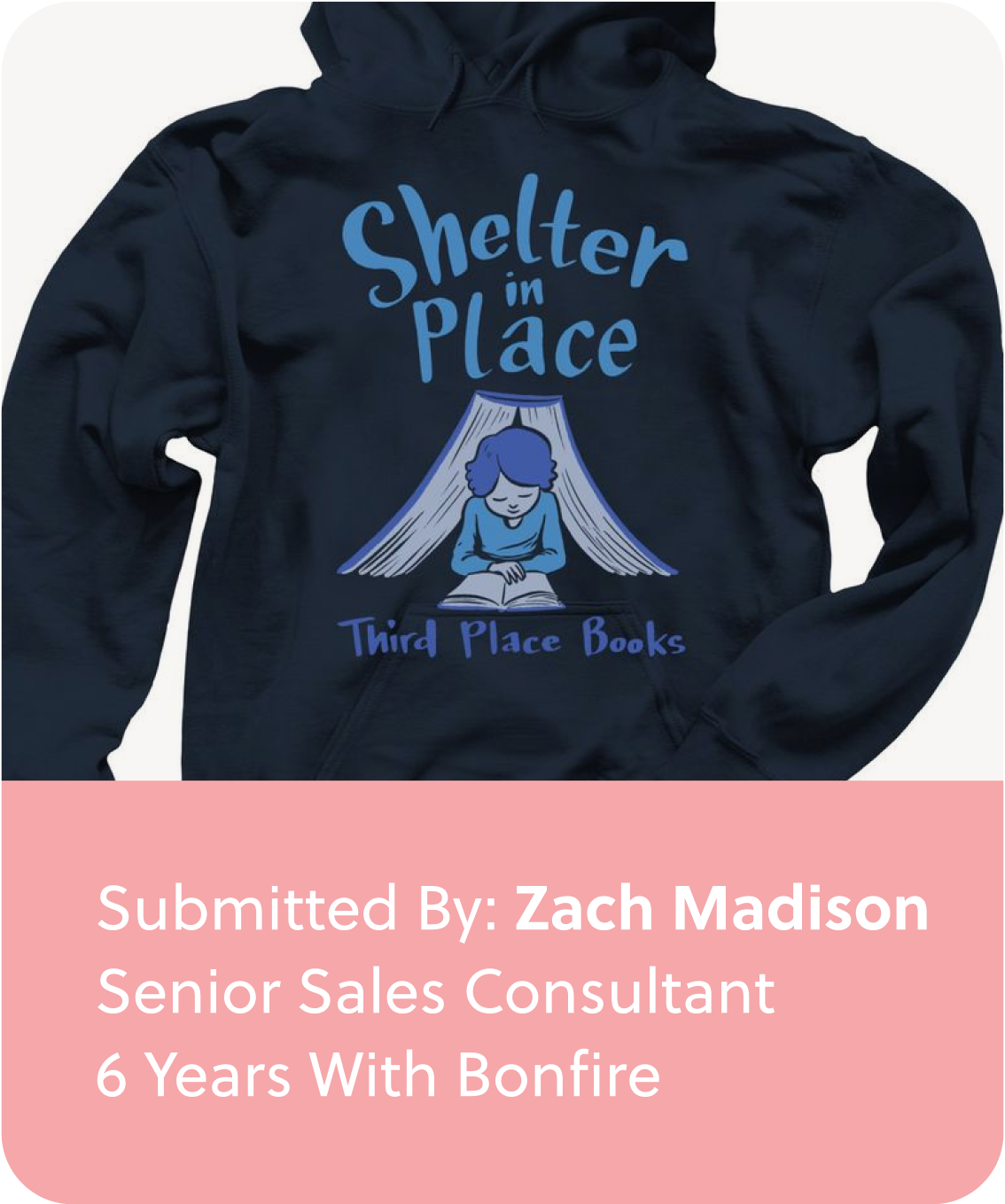 Indie Bookstore Campaigns of 2020
This is not a single campaign or seller, but the indie bookstore fundraising wave of early 2020 was quite meaningful to me. My fondness for the written word and indie bookstores traces back to my youth. To be able to help so many bookstores stay afloat during the darkest days of the pandemic was, so far, a highlight of my tenure at Bonfire. 
---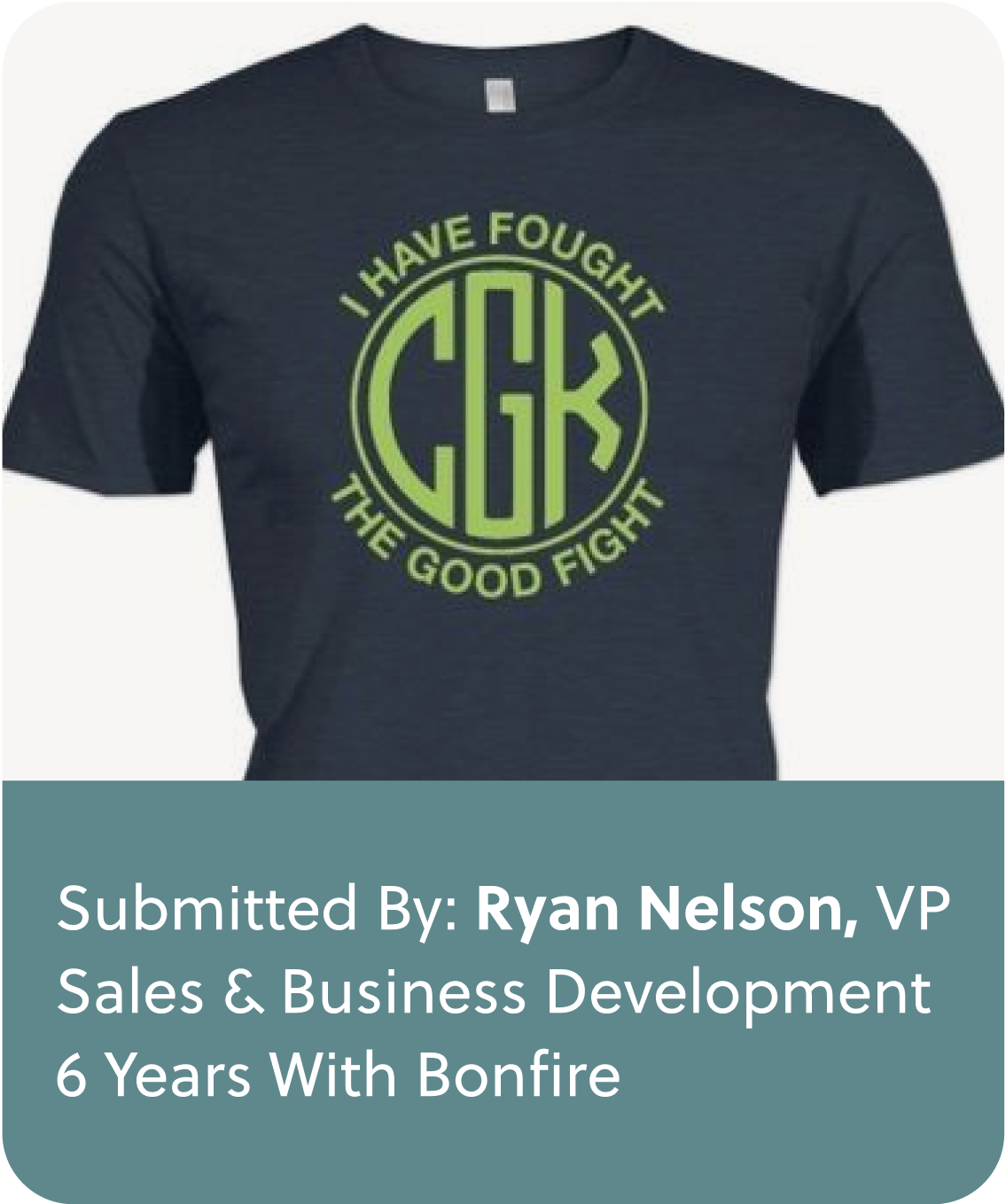 The Gallagher family lives in my neighborhood, and their daughter Cameron was a babysitter for my children (she babysat for my kids a few days before she passed). Her tragic death took quite a toll on my neighborhood and the surrounding community. I'll never forget how the shirt/fundraiser became this uplifting/inspiring moment that the community gravitated to in such a dark time. Cameron's dad, Dave, has mentioned to me several times that the fundraiser was one of the sparks that ultimately led to the creation of the Cameron K Gallagher Foundation.
---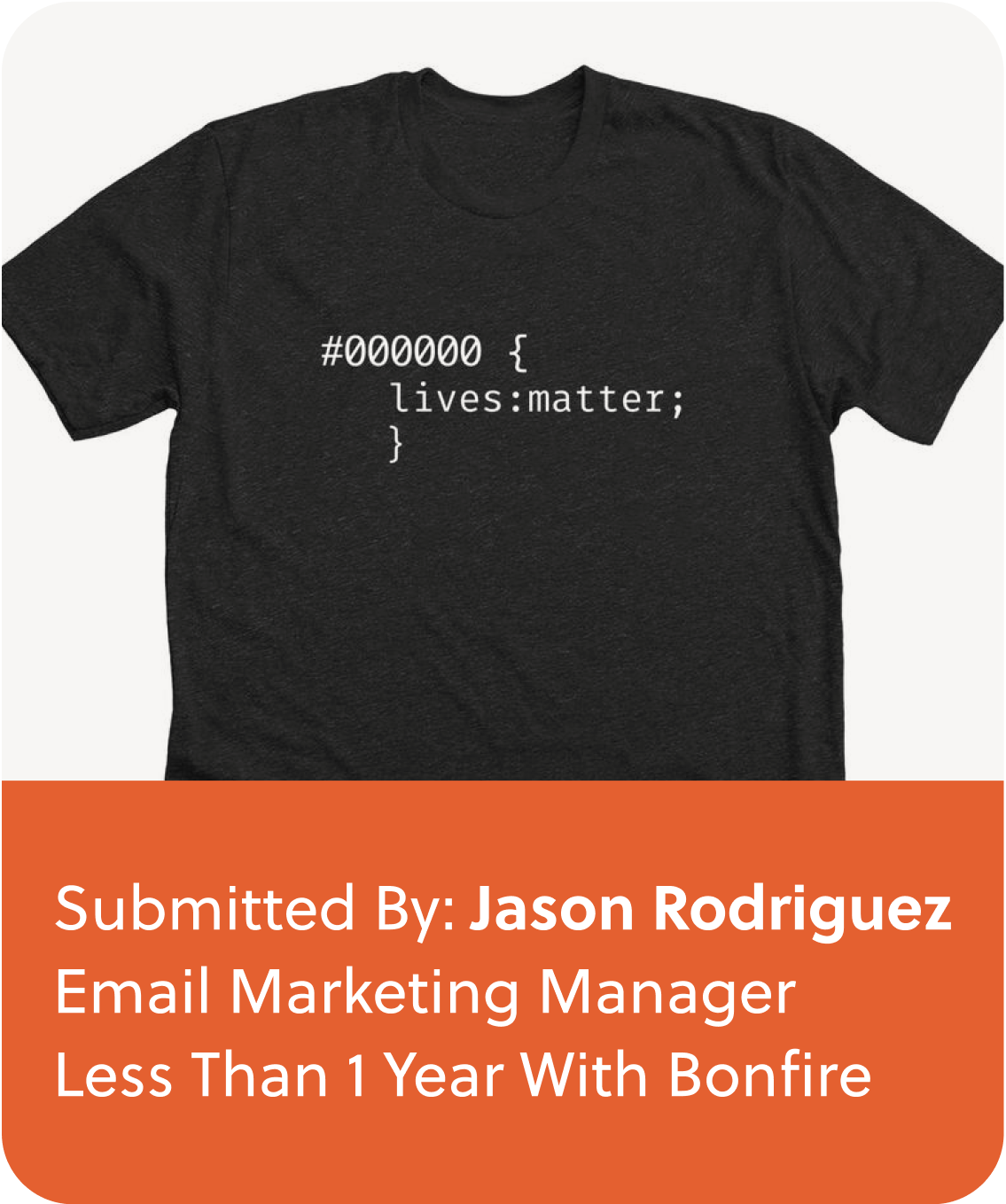 I bought this shirt when it first came out and it's been amazing to see the impact the campaign has had. The design speaks to my inner coder while the message speaks to my frustrations with the rampant inequality and racism that's, unfortunately, still rampant in America. The campaign creator, Allison Valiquette, has managed to raise over $50,000 dollars for groups supporting Black LGBTQIA+ people, including the Trans Justice Funding Project, The Okra Project, the Marsha P. Johnson Institute, and more. Wearing this shirt reminds me of all the work that still needs to be done but, more importantly, that there are people out there working to make progress towards equity and equality.
---
Thank you for being a part of the Bonfire community. At some moment in the past 10 years, you heard about us, explored what we were all about, and said "yes" to partnering with us. For that, we thank you. As we continue to grow and evolve, we hope you stick along for the ride and help us shape the future here, too.
We want to hear from you. If you have an idea about how we can be better in our next 10 years together, contact us here. If you want to be a part of what Bonfire is doing by making a career here, check out our open positions. Just looking for more ways to connect with us? Follow us on LinkedIn, Instagram, or TikTok.