July is Disability Pride Month, and at Bonfire, we are celebrating by featuring some of our favorite Disability Pride-inspired campaigns! Be sure to check out these campaigns and support as many as you can during this month – and keep the support going all year long!
Disability Isn't a Bad Word Campaign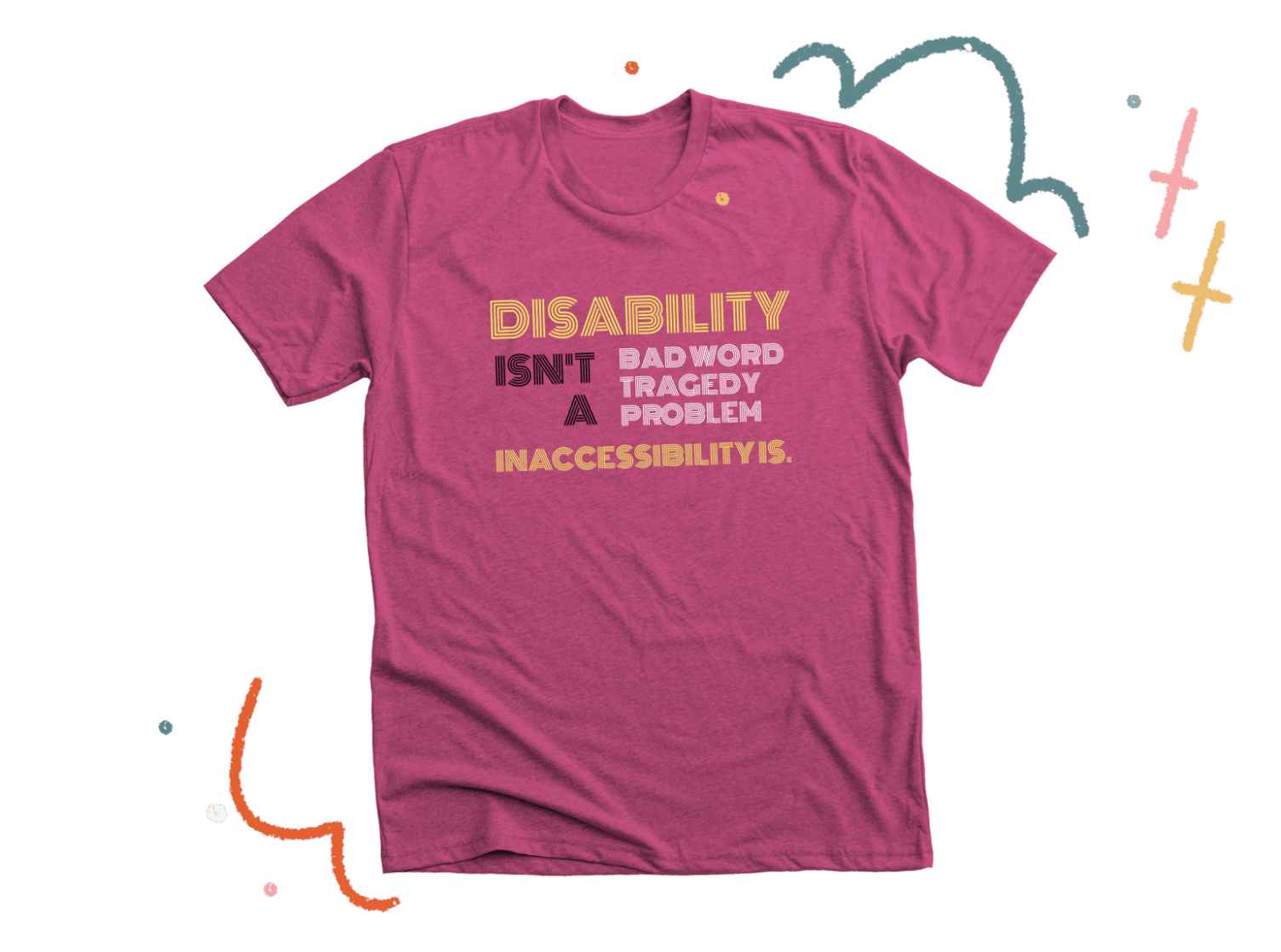 The Disability Isn't a Bad Word campaign was created by Hope for HIE, an organization that began as a virtual network of parents seeking to connect after their children had been diagnosed with HIE (Hypoxic Ischemic Encephalopathy). They work to improve the quality of life for children and families affected by neonatal and pediatric-acquired Hypoxic Ischemic Encephalopathy through awareness, education and support. Their Disability Isn't a Bad Word campaign aims to tackle ableism and show that advocating for accessibility makes the world a better place for everyone.
The design features a bold font and eye-catching colors. The text is in all caps and reads, "DISABILITY ISN'T A BAD WORD / TRAGEDY / PROBLEM. INACCESSIBILITY IS."
Diversity Includes Disability Campaign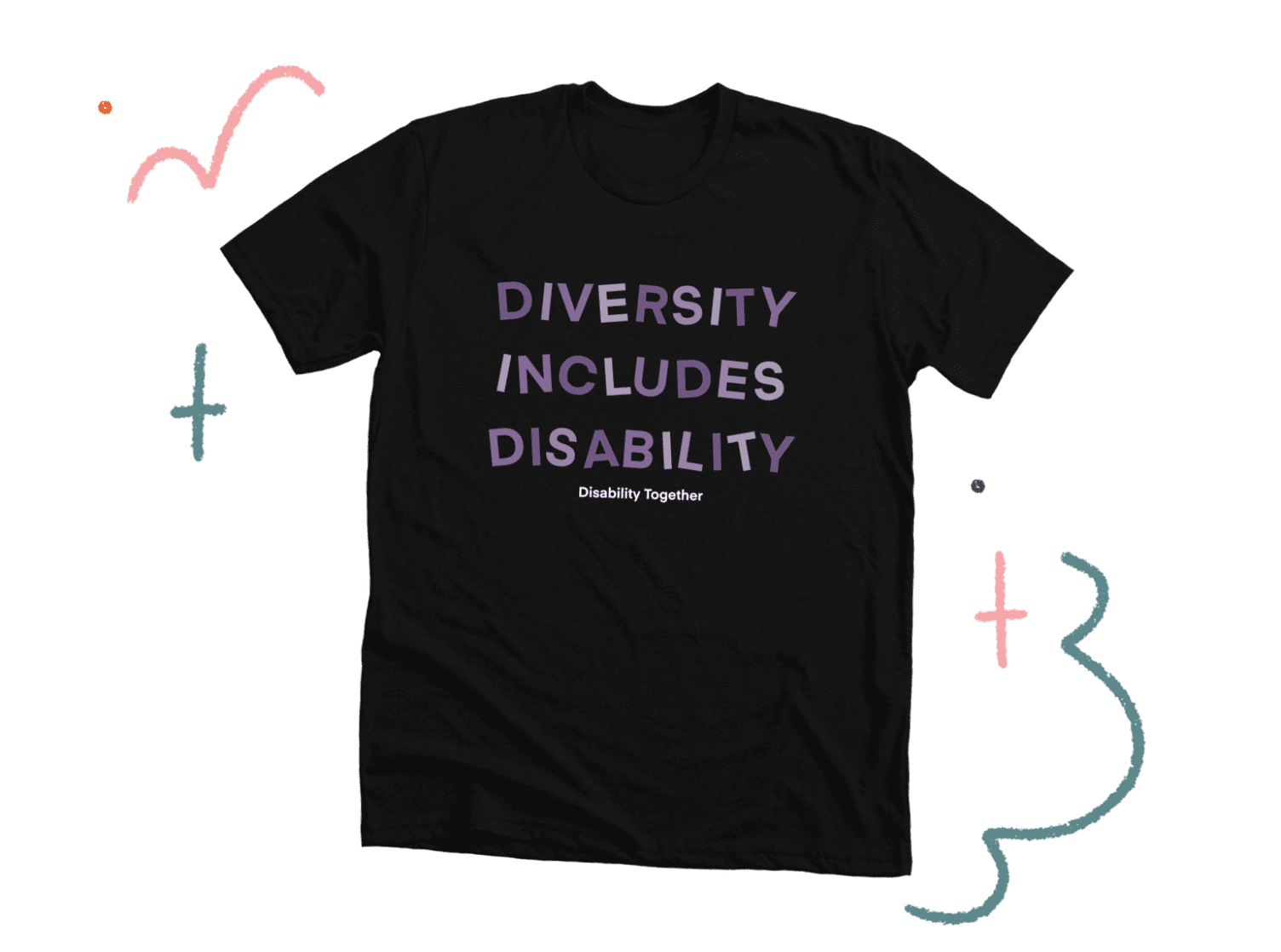 The Diversity Includes Disability campaign was created by Disability Together, is a future nonprofit aiming to provide representation and awareness for all disabilities and education for everyone. Disability Together is proudly created and run entirely by disabled people. 100% of proceeds from this campaign will go directly to Disability Together to help them continue to grow and do the work that they do.
The design of this shirt includes asymmetrical letters in all caps that read, "DIVERSITY INCLUDES DISABILITY". The letters of these words are various shades of purple. The organization name, Disability Together, is written underneath in smaller, all white letters.
VH Disability Pride Month Campaign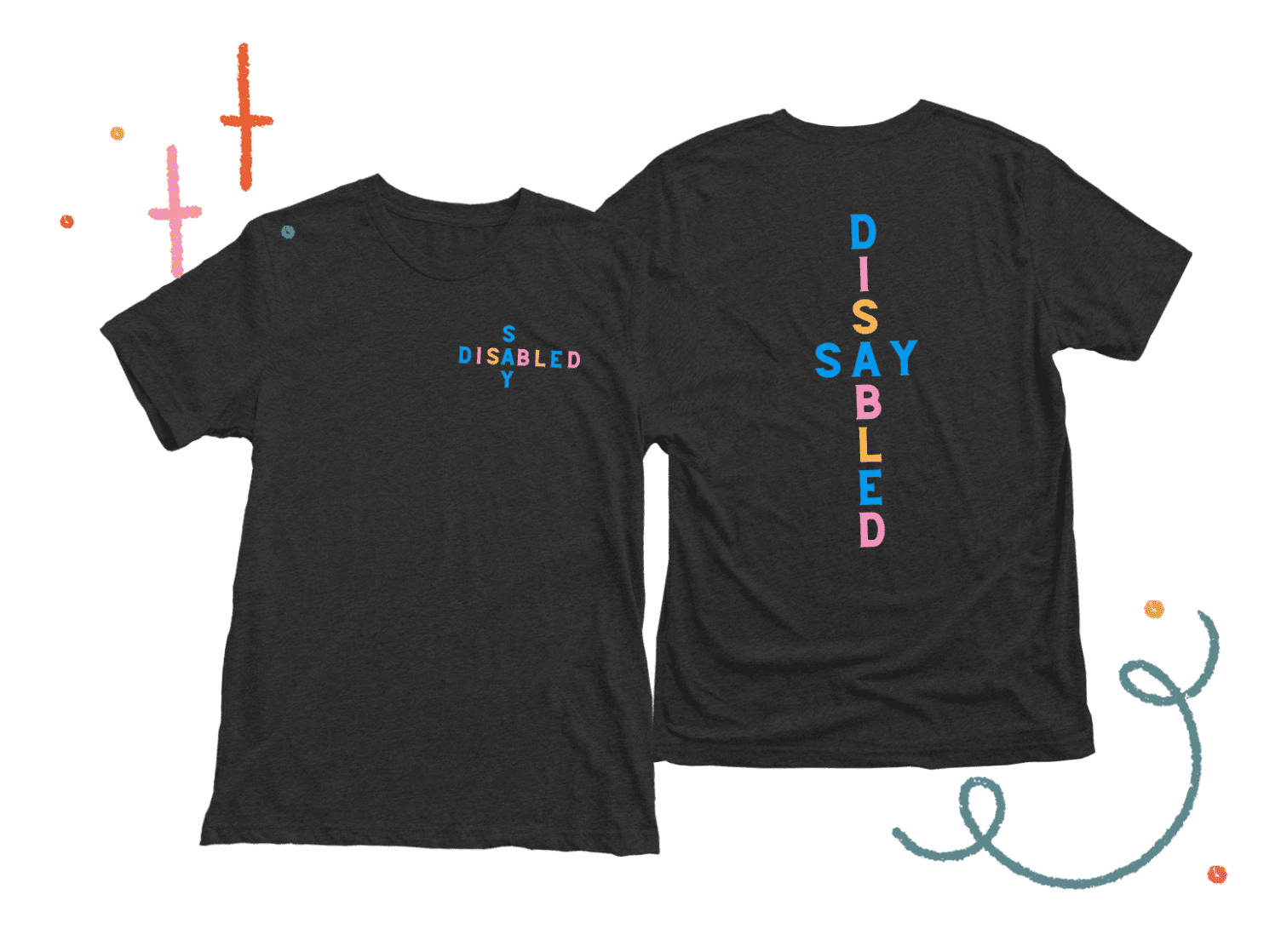 The VH Disability Pride Month campaign was started by Volunteer Humanity, an organization that strives to advance the education of youth and adults through publicly beneficial volunteerism. Their volunteer programs are built specifically for high school and college students and their programs combine in-person and online service, personal scheduling, and project variety. 100% of the proceeds will fund their disability advocacy and relief projects.
The front of the shirt includes a textual two-word design. The text written out vertically reads, "SAY" and the text written out horizontally reads, "DISABLED". The two words overlap each other and display the message, "SAY DISABLED". The back of the shirt includes the same two words but with "SAY" written out horizontally and "DISABLED" written out vertically this time.
National Disability Theatre Campaign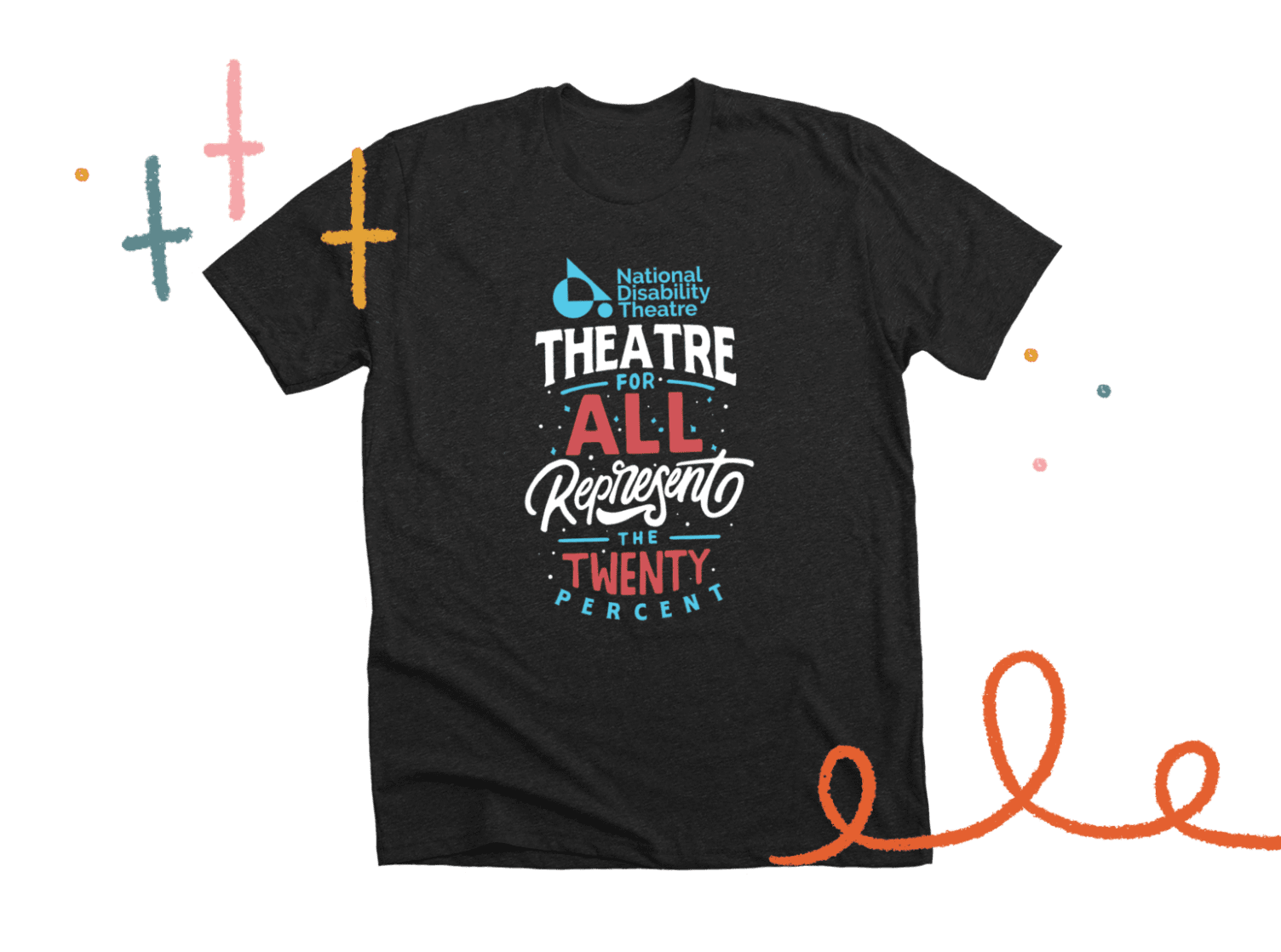 The National Disability Theatre employs professional theatre artists who create fully accessible, world-class theatre and storytelling; changes social policy and the nation's narrative about disability culture; and provides a guiding model in accessibility for the arts and cultural sector. Their 4 main goals are:
To show that a large professional theatre company can be run by people with disabilities.
To radically transform theatrical practices by telling stories through a lens of disability.
To lead the nation in inclusion, representation, and access with support from the top leaders in disability and entertainment.
To powerfully spark greater inclusion for people with disabilities in all economic sectors.
All proceeds raised from their National Disability Theatre campaign will benefit the theatre directly.
Their design features the National Disability Theatre logo at the very top, followed by text that reads, "THEATRE FOR ALL. REPRESENT THE TWENTY PERCENT." 20% of the American population has a disability, and this shirt is a call to action to better represent that 20% in theatre, on tv, and everywhere that stories are being told.
Disability Rights Are Human Rights Campaign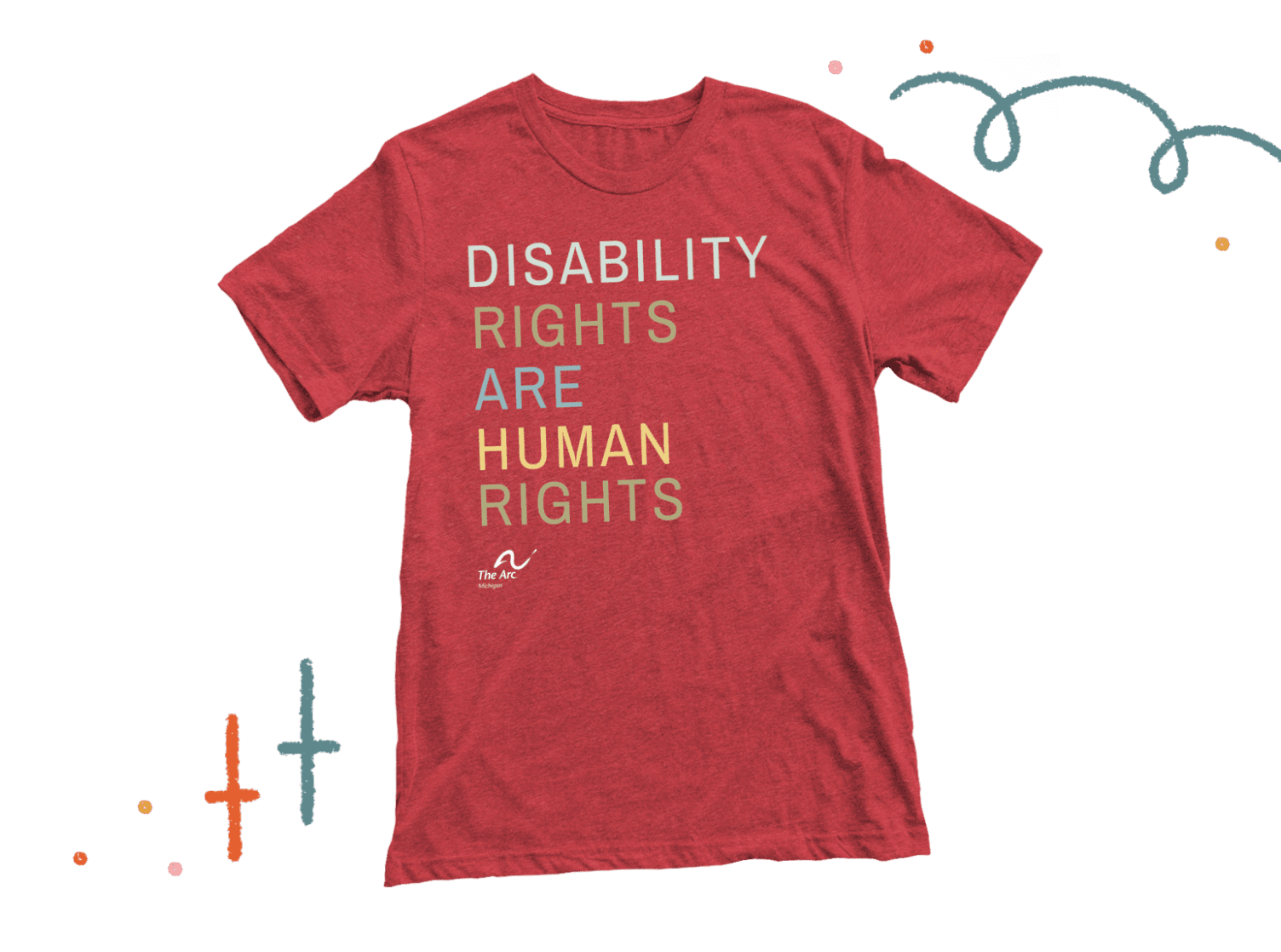 The Disability Rights Are Human Rights campaign was created by The Arc Michigan, an organization whose mission is to promote and protect the human rights of people with intellectual and developmental disabilities and to actively support their full inclusion and participation in the community throughout their lifetimes. All funds from this campaign will go directly to The Arc Michigan.
The design of this shirt includes large, colorful text that reads, " DISABILITY RIGHTS ARE HUMAN RIGHT". The text is vertically aligned, left adjusted, and easily legible.
We Believe. Campaign
The We Believe. campaign supports Tablespoons Bakery, a nonprofit bakery and vocational culinary training program through the non-profit Next Move Program, that provides internship experiences and employment opportunities for young adults with developmental disabilities. They empower students with diverse abilities to achieve their employment goals through professional training experiences in the culinary arts and entrepreneurship.
Their design features clean, all white text that reads, "Inclusion & Cookies & Belonging & Community." There is an illustrated sprinkle cookie inside each of the ampersands.
Disability Access Collection Campaign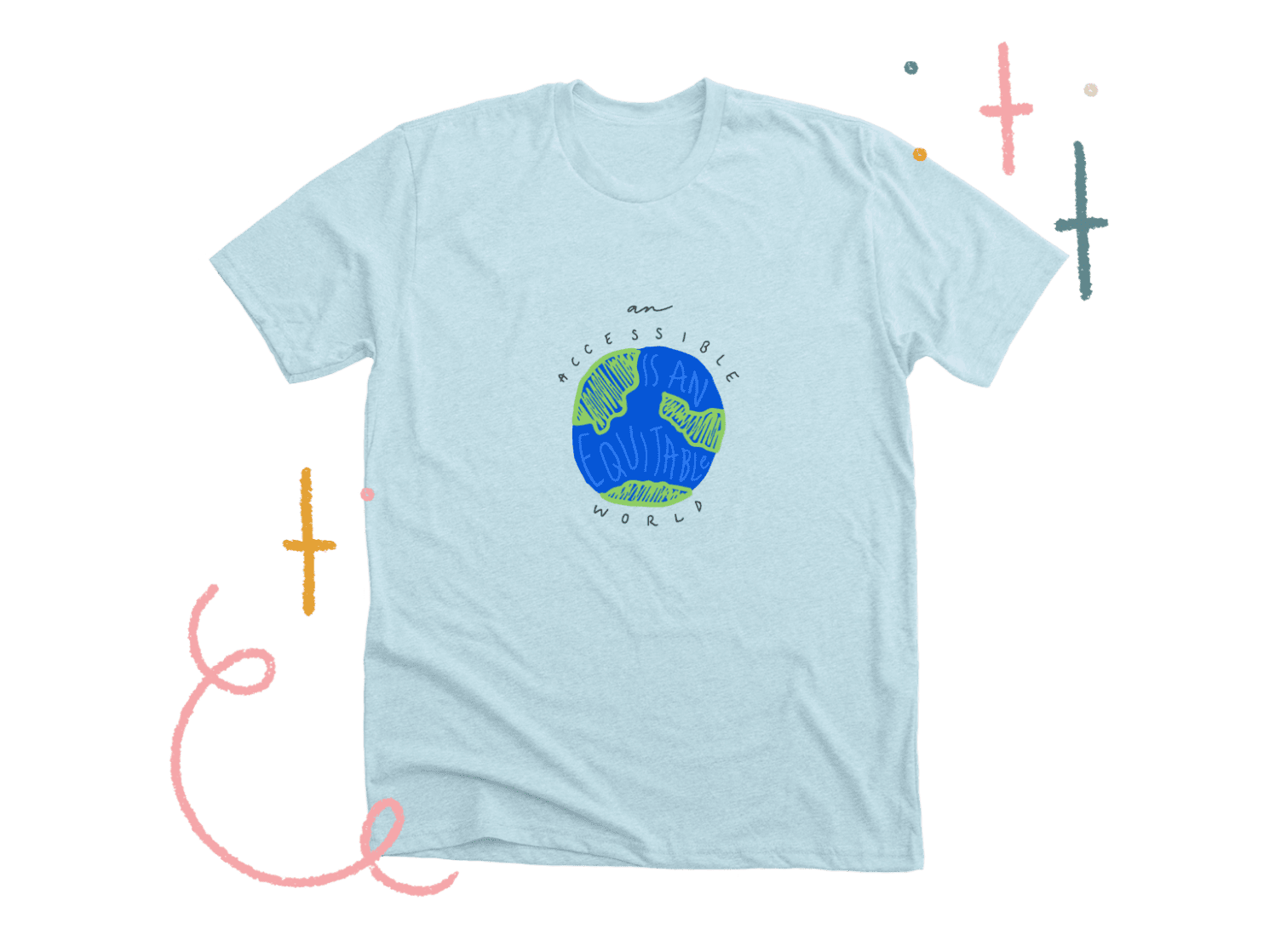 The Disability Access Collection campaign was created by K&C: Unrestricted, an interabled couple who are working to normalize disability. They made this campaign in honor of the anniversary of the Americans with Disabilities Act, and "in celebration of how far we have come and as a reminder of the many accessibility barriers still in place". K&C: Unrestricted run an Instagram page that offers "short, casual, & transparent takes on disability", and they have an Etsy store with items that raise awareness about inaccessibility issues. Funds from their Bonfire campaign help them continue their work to promote an accessible world for everyone!
The Disability Access Collection design consists of an illustration of the earth in the center of the shirt, with handwritten text surrounding it. The text above and below the globe reads, "an accessible world" and the text inside the globe reads, " is an equitable". All together the text can be read as "an accessible world is an equitable world".
---
These are just a few of the campaigns on Bonfire that are raising funds and raising awareness during Disability Pride Month, and beyond. Be sure to check these out and support one – or more, and also remember to browse our marketplace to view even more campaigns!
Interested in starting your own campaign to raise proceeds for an organization advocating for Disability Rights/Awareness/Visibility? Use our Cause Explorer tool and launch a Giving Campaign today!