We're excited to announce our partnerships with the Women's March on Washington and a growing number of its sister marches as local chapters continue to organize across the world.
The national campaign has raised more than $100,000 in under a week — with all proceeds from merchandise sales to fund the logistics and expenses. As interest in the shirts grows, sales continue to approach the group's current goal of 10,000 shirts sold. Orders of the limited-edition apparel can be placed until 12/28/2016 at 11:59PM EST.
The Women's March on Washington store includes made-to-order t-shirts and sweatshirts manufactured and printed in the United States of America. The navy blue shirts have the march's popular three-female silhouette logo designed by Big Monocle, a full-service creative agency located in Redwood City, California.
The initial batches of shirts will be printed and shipped in time to be worn for the national and sister marches, which are scheduled to take place on Saturday, January 21st, 2017 — the day after the presidential inauguration. Other chapters that have launched with Bonfire include Colorado, Minnesota, Rhode Island, Washington State, New York, Arkansas, Mississippi, Oklahoma, Hawai'i, San Diego, Denver, Sacramento, Indianapolis, Hilo and Oahu.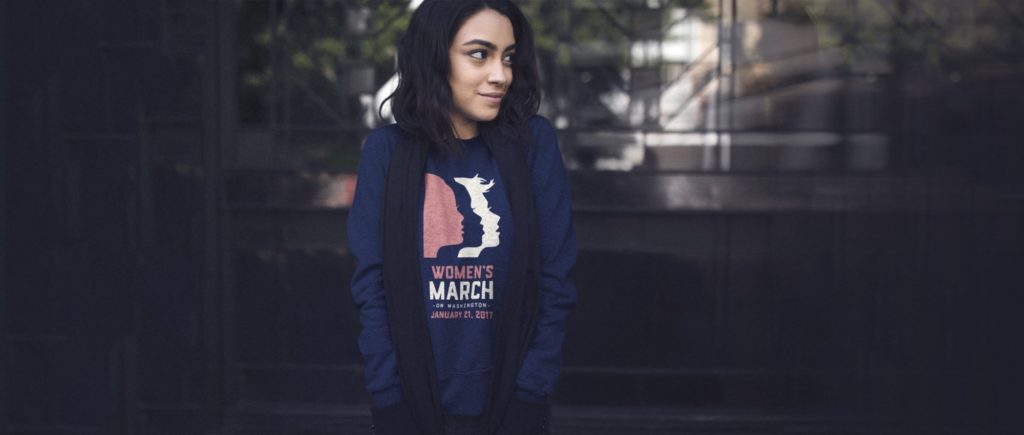 To purchase a shirt or donate to Women's March on Washington, visit: merch.womensmarch.com. To stay up to date and learn more about event logistics, visit: www.womensmarch.com. For more information on selling shirts with Bonfire, visit: www.bonfire.com.

Want to read more interviews like this one?
Bonfire Stories is a place for our users to tell their story
and how Bonfire has helped them along the way.