ACCO is the nation's oldest and largest grassroots organization dedicated to childhood cancer. They work to make childhood cancer a national health priority by shaping policy, supporting research, raising awareness, and providing educational resources and programs to kids with cancer, survivors, and their families.

ACCO launched its Peer-to-Peer fundraiser on Bonfire during Childhood Cancer Awareness Month. Families could customize their official ACCO Cancer Awareness Design for their specific family members. Over 870 families have created campaigns for their sick children so far.
$69,062 raised to date
5,617 products sold
873+ sellers
3,416 supporters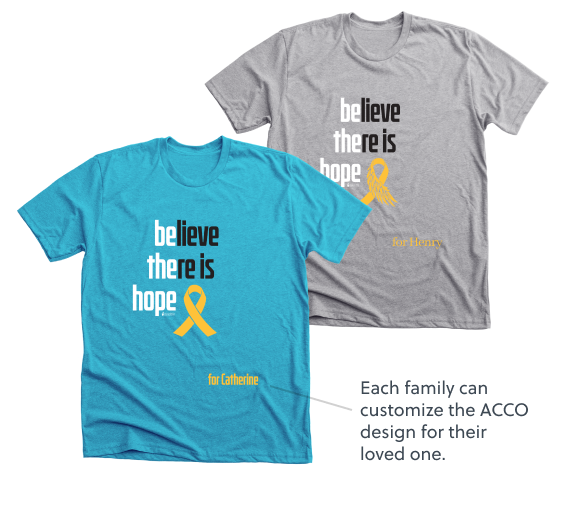 "Every September, the American Childhood Cancer Organization releases a special edition shirt for Childhood Cancer Awareness Month. This year, ACCO wanted to make the sale personal by designing a shirt that could be customized by each supporter and after some searching, we found Bonfire. We worked with Bonfire on a Peer to Peer which facilitated supporters to customize their shirts and share on their social media. Bonfire has been with us every step of the way, from shirt designs to designing the landing page to our specifications. They have been ready to help at any time and have been extremely responsive for any needs from our customers or from ACCO. We have loved working with Bonfire to facilitate this sale, it has been a success and we look forward to working on many more projects in the future."
– American Childhood Cancer Organization

Want to read more interviews like this one?
Bonfire Stories is a place for our users to tell their story
and how Bonfire has helped them along the way.